The creator economy is booming.
In fact, it's become an estimated $100 billion industry over the last few years.
That number is set to get even bigger thanks to all of the attention and investment that the creator economy is drawing in this year.
With so many new players entering the game – from the 50 million creators to the stream of tools and platforms that support them (hey, that's us!) – it makes sense that the industry and its trends are evolving rapidly.
Looking for the current 411 on the creator economy? You've come to the right place.
We've collaborated with 10 experts to share their predictions for the creator economy's biggest trends in 2022.
From content monetization to NFTs, we've covered it all.
Strapped for time? We've compiled a list of the gist.
Just click on any of the links below to skip to the topic you'd like to know more about…
If you're strapped in and ready to read from start to finish, just keep on scrolling.
The Creator Economy: What Do The Numbers Say?
Before we get into predictions of what's to come, let's get up to speed on where we are now.
Here are 8 statistics that will give you a glimpse into the significance of the creator economy in 2022…
The entire creator economy's estimated valuation is around $104.2 billion. (Influencer Marketing Hub)
The global market size valuation for influencer marketing is estimated at $13.8 billion, more than double what it was in 2019. (Statista)
Of the 50 million creators worldwide, 46 million are amateur creators (92%), and 4 million are professional creators (8%). (SignalFire)
Creators are most likely to be young (63% Gen Z), and female (48%). (GWI The Creator Economy Report 2022)
Creator economy startup investments were estimated to have hit $5 billion in 2021 alone. (The Information)
41% of US creators use websites or blogs to connect with their audiences off of social media. (eMarketer)
15% of consumers subscribe to a creator's membership site; which is 8% higher since the beginning of 2021. (GWI The Creator Economy Report 2022)
78% of consumers have discovered a new product while watching creators' videos. (Statista)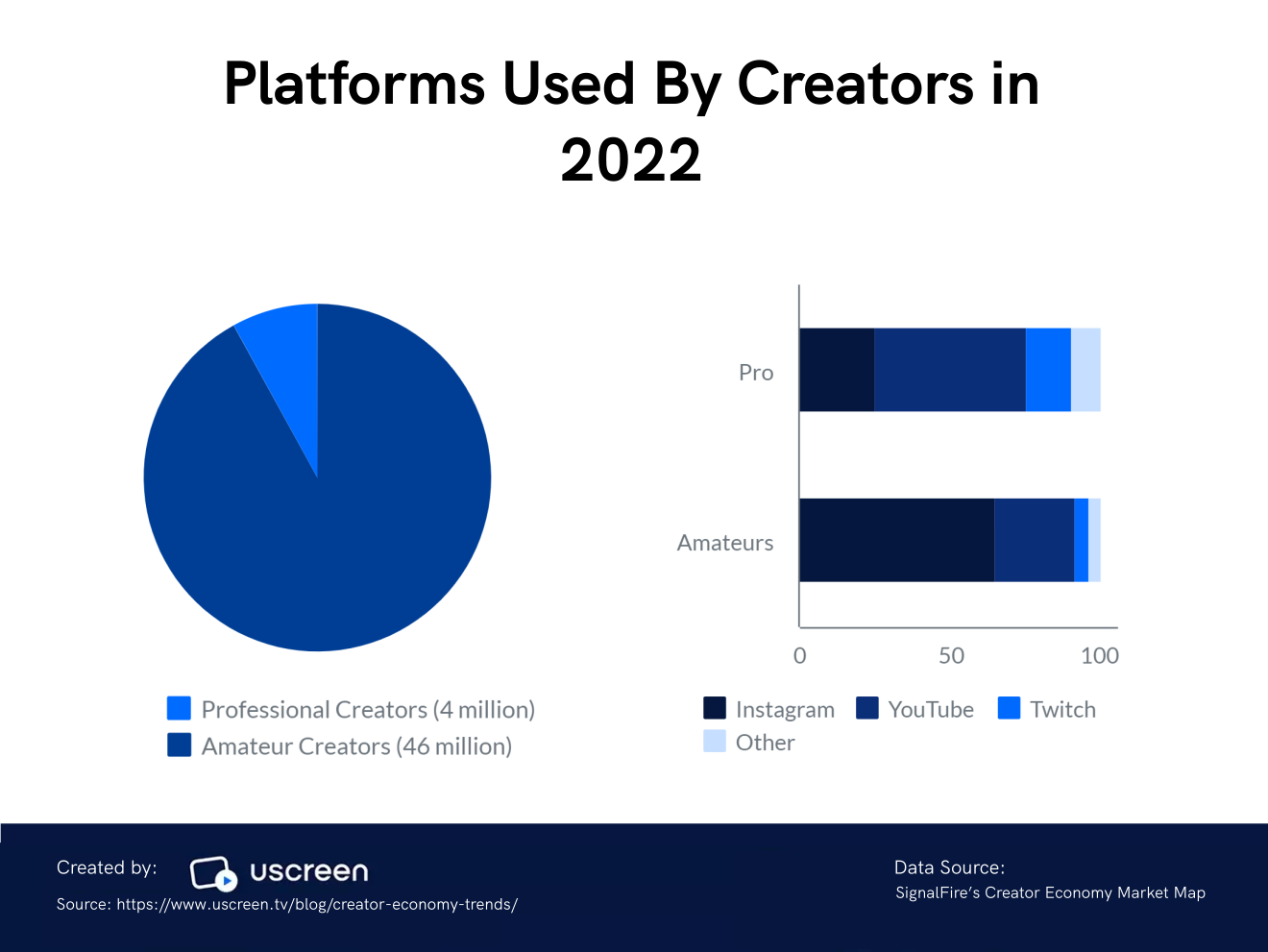 That's a lot of numbers. Ready to move on to the wordy bit now? Let's do it…
1. Micro-Influencers Will Step into the Spotlight
This year more brands are starting to value follower engagement over following size.
Small audience and great engagement? It's your time to shine!
The biggest trend I believe we'll see in the creator economy this year is the rise in the power of the micro-influencer. In years past, millions of followers and the most aesthetic Instagram feed ruled the game.

Those days are over. With the rise of TikTok and authenticity being valued more than ever, the people who create a genuine connection with an engaged audience will come out on top, and millions of followers are no longer necessary!

Brands are recognizing this shift and seeing the conversion potential offered by the authentic micro-influencer. More and more are bravely coming on to the scene every day ready to collaborate with these companies while demanding fair compensation.

Micro-influencers are the key to breaking through the noisy world of phony advertising, and they are not going anywhere anytime soon.

Julia Bobak, Content Creator, Home Grounds
Takeaway: Micro-influencers? So hot right now. If you're looking to monetize your Instagram or other social networks by landing a brand sponsorship, keep in mind that your value lies in your engagement, and brands worth collaborating with will recognize that.
2. More Creators Will Own Their Audience
Remember that one school project that you poured your heart and soul (or bare minimum, we won't judge) into?
And then, the unthinkable happened. The program you were working in crashed, and all of your work was hurled into the technological abyss.
Platform algorithms can be just as temperamental, and your entire audience is much harder to replace than a 2,000-word document.
That's why creators are opting to own their audience in 2022.
There's been a growing interest from creators in owning their own platforms, rather than being at the behest of the larger tech companies and social media sites.

All of the talk about deplatforming and tech censorship have run concurrently alongside reports of declining revenue for these near-monopolies—suffice to say, creators are wary, or at least want to hedge their bets.

When you own your own domain rather than publishing on another's, you have more control. Creators are not necessarily web developers, designers, or marketers, but the tools available to easily become one are more prevalent than ever.

When you have your own website—you control the design, you handle the marketing, and you hire people to help you get that done. Really, the creator economy is becoming more like the regular SMB economy, and that's a good thing. More independence can certainly lead to bigger, more novel ideas.

Jeffrey M. Gabriel, Co-Founder, Saw.com
Takeaway: Creators are saying au revoir to unreliable income, and howdy to full control over their content, as well as direct access to their audience. If you're not already up on the trend, make 2022 the year that you create your own membership site.
3. Community Will Offer Creators Stability
If creating YouTube videos were a game, the constant algorithm changes and demonetization would feel a lot like playing on hardcore mode.
In this case, a solid community is a lot like that one squad member who always has your back.
Increasingly, creators are seeing the value of adding community to their social media presence and networks through platforms such as Discord and Guild.

Not only does this help creators avoid daily battles with ever-changing social media platform algorithms to reach their audiences, community helps deepen relationships with fans and also gives them an opportunity to explore additional revenue streams with members.

Creators are using monetization techniques such as tokenizing their communities, developing recurring revenue models through subscriber community spaces. Community doesn't just happen.

It takes time and effort – something that creators innately understand, as many have built their personal brands from nothing.

Michelle Goodall, CMO, Guild
Takeaway: Community is arguably the biggest key to success and stability as a creator. Invest time into building, nurturing and monetizing your online community – in that order.
4. Monetization Tools Will Innovate Around Creator Needs
2022 is a beautiful time to be a creator.
There are countless startups and established platforms focused on helping creators monetize their content. And, if they're anything like us, the creator's needs are at the center of their products.
The biggest trend this year in the creator economy will be more and more creators turning to secondary platforms to monetize their work. Traditional platforms will continue to be relevant as audience pipelines—an easy and natural place for viewers to find channels and topics they resonate with—but creators will be increasingly motivated to convert those viewers into patrons elsewhere.

We're already seeing the rise of new creator owned spaces like Substack, and NFT trade markets like Open Sea where creators are in control of the sale and continue to get a share of royalties as their material travels. This is solving long-term problems that have plagued creator economies like the music industry for decades.

Patrick Parker, Founder and CEO, SaaS Partners
Takeaway: Traditional platforms in the creator ecosystem like YouTube and Twitch are effective ways to build an audience, though ad revenue splits and creator funds can be less than reliable. Leverage these as pipelines to drive your audience to your monetization alternatives in order to build stable streams of income.
5. Ecommerce Will Transform Creators Into Brands
More and more creators are labeling themselves as entrepreneurs because, well, that's what they are. If you're also looking to secure that title this year, consider taking a swing at Ecommerce.
This year, Ecommerce will be how one transforms from creator to brand. Ecommerce today has to be digitally omnichannel, which can be achieved by doing the following…

Leveraging social commerce: collaborate with a millennial or Gen-Z-focused brand that emphasizes creating content and building a creator mindset for its internal team as well as customers. Basically, brands that are looking into social shopping as a revenue stream and are super-focused on a target group that you can influence.

Utilizing livestream commerce: today's consumers seek entertainment, discovery, and consideration in one go. Live Shopping is the trend that's going to come of age. As creators, you can leverage this for promoting your own brand or make money off affiliate links for Ecommerce brands you collaborate with.

Investing in brands: large-scale influencers can also invest in Ecommerce brands. As creators, you can find out a brand that you believe in, and simply monetize your expertise and consumer insights by working closely with the founders. This just inverts the whole revenue model.

Joining the NFT trend: in a world of hyper-tech-led Ecommerce, you can create and launch NFTs that are exclusive to your brand and style. For instance, Shopify for Ecommerce allows creators to mint and list their NFTs on popular blockchains.

Kausambi Manjita, Founder and CEO, Mason
Takeaway: Whether you plan to sell merchandise, NFTs, or your own brand of products, remember that omnichannel can be the most effective strategy. Leverage social and live stream Ecommerce, and even invest your time and expertise into a brand that you love.
6. Viewers Will Demand Companion Content
Do you ever invest a lot of time (like a lot, a lot) into a single piece of content?
And then, once the content creation process is as finished as your celebratory margarita, you wonder if the journey has to end here. Perhaps your audience wants to see some behind-the-scenes content?
Spoiler alert: they do.
Consumers are ingesting content in more ways and on more platforms than ever. One trend that has emerged and will be a driver going forward is the extension or repurposing of original content across other forms of media. 

We will no longer see a single streaming TV series or documentary that is done in isolation as a stand alone piece of content. Creators are now extending the runway for a given story to include companion content. 

The ability to move across content platforms has taught consumers to want more from their content and to want flexibility in accessing it. Podcasts, like other content, no longer live solely in the realm of Spotify or other audio-only apps. 

Creators must be savvy to understand that all stories are now told in many ways and content served up through streaming, OTT apps and video vehicles now has an audience waiting for it there. Platforms like Amazon and Roku are now building their own smart TVs, an indication that the technology has both shaped and now drives consumer demand for streaming and internet-based content.

Jeffrey White, Co-Founder and CEO, PodTV
Takeaway: Your audience is looking for 'bonus' content. When planning your next video, consider repurposing your content into another format, or creating behind-the-scenes content to accompany it. This often requires much less effort and planning than the main video itself, so the return on investment could be big.
7. Audio-Focused Experiences Will Be Big
Tap, tap… is this thing on?
We hope it is, because audio-only content is catching everyone's eye – or ear, technically – this year.
In 2022, we'd be remiss to exclude audio-focused experiences and social platforms as a major—and critical—part of the creator economy.

Clubhouse picked up on the spark and well-established social media giants like Twitter and Facebook have quickly jumped on the audio development, with Twitter introducing Twitter Spaces and Facebook relaunching Live Audio Rooms.

With so much valuable audio real estate available, it will be crucial for creators to ensure their brand is not only represented visually, but audibly as well.

With audio social media becoming a major player in the game—especially when considering that, unlike visually-based social media, audiences can tune in and participate while doing other tasks like making dinner, going for a drive, etc.—we will see a trend of audio-first experiences and this will likely be the biggest difference between this year and last year.

Angela Hawkins, VP of Marketing, Voices
Takeaway: High-quality audio-focused content is set to be big in 2022. Hop on the growing trend and dip your toes into content diversification by launching a podcast, or by hosting regular live sessions in audio-only spaces.
8. More Brands Will Listen to Creators
Who's the boss? You are, as it turns out.
Creators are finally being recognised as more than just a channel for influencer marketing. Brands are pulling creators into the creative process earlier on, so that their collaboration is more… well, collaborative.
This year the number of brand collaborations with TikTok creators will increase, and the relationship between brands and all creators will continue to become less transactional, more collaborative, and brands will realize the value of bringing on creators into the process as early as possible.

Brands will leverage creators earlier for consulting on the campaign, they will lead with curiosity and ask the creators more questions on how the brand should communicate with their audience instead of instructing, and brands will create deeper relationships with the creators that drive value.

Ashley Riske, Head of Business Strategy, #paid
Takeaway: Brand partnerships and collaborations are becoming more true to name. This year, when you land a brand deal, advocate for yourself to be involved as early in the process as possible. The brands that you work with will likely jump at the opportunity, and it almost always results in a win-win.
9. Gen Z Creators Will Blaze Employment Trails
If anyone knows anything about trends and trailblazing, it's Gen Z.
They might be best known for their TikTok affinity and making low-rise jeans cool again (we're still holding a grudge about that one), but the young generation is also leaving their mark on employment models.
Individual innovators are already outgrowing the term 'solopreneur'. When I was at YouTube in the early days, I saw this happen: early producers would start generating video on their own, and if they were successful, they would establish staff and a true business around the material.

Today's Gen Z creators are developing these firms in a fundamentally new approach.

They rely on decentralized teams of contributors rather than full-time employees (FTEs); team composition is flexible, even temporal, and distributed from the beginning; and income structures are community-controlled and frequently based on tokens rather than dollars.

These are significant changes that render many old small and medium-sized business (SMB) software solutions obsolete. In the coming year, I believe we'll see the introduction of new tooling designed just for Gen Z creators.

Adam Wood, Co-Founder, Revenue Geeks
Takeaway: Gen Z are remodeling traditional employment structures to better align with today's flexible and unconventional requirements. Keep an eye on how and why this works, it might come in handy if and when you're considering assembling a team.
10. NFTs Will Be An Additional Stream of Revenue
An active revenue stream for some, an absolute mystery to others, a potential opportunity for all: NFTs.
The fact that crypto assets have entered the market is probably the biggest difference between the creator economy in previous years compared to this year. Social tokens can ensure a quick and handy income coming directly from creators' fans, while NFTs bring an additional dimension of scarcity to the story.

NFTs will enable creators to target the most loyal fans and earn money by selling exclusive rights to their artwork.

There's no doubt that the young digital natives will find many new ways to capitalize on new circumstances and we'll surely see some game-changing innovations in the creator economy this year thanks to crypto assets.

Jesse Tutt, Founder and CEO, Guru
Takeaway: Non-Fungible Tokens are currently a hot commodity. If it's something you're interested in pursuing, start by doing your research and taking time to consider if it's an opportunity that aligns with your brand.
Wrapping This Up…
The creator economy is only getting bigger and better in 2022 and beyond. We hope that we've given you a good idea of what to expect this year, and how to prepare for it.
Got a favorite trend from this list? Found another helpful tip for pivoting this year? Give us a shout on Twitter or Instagram, we'd love to hear from you!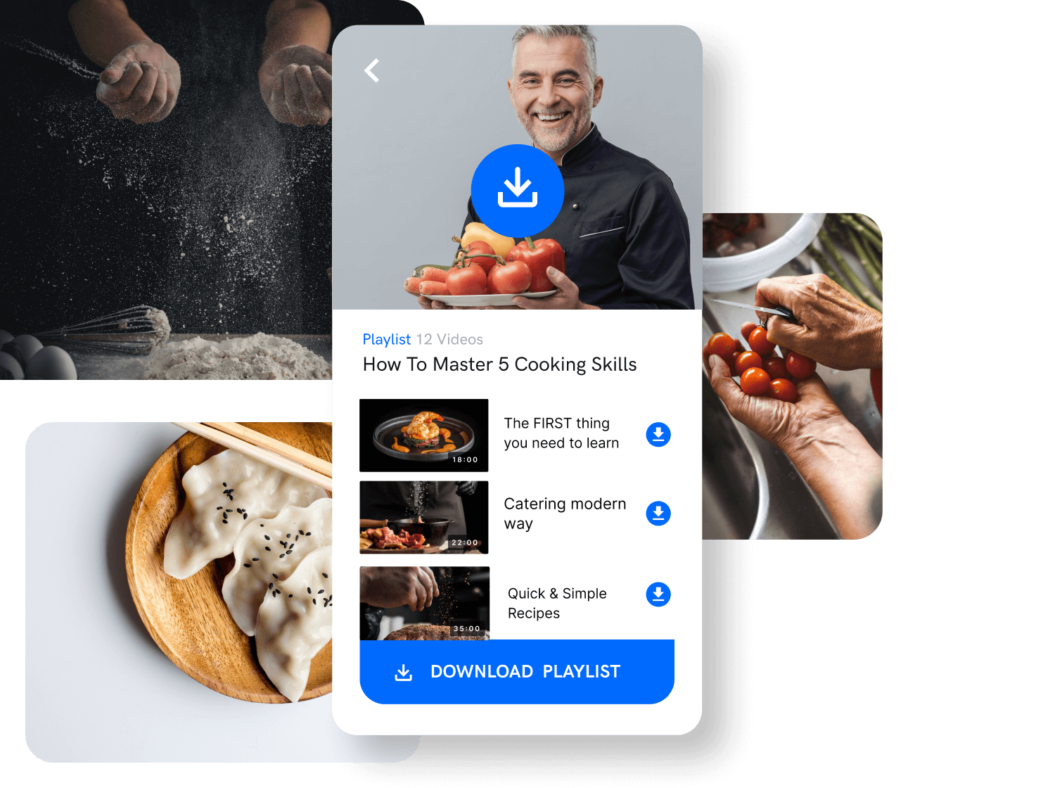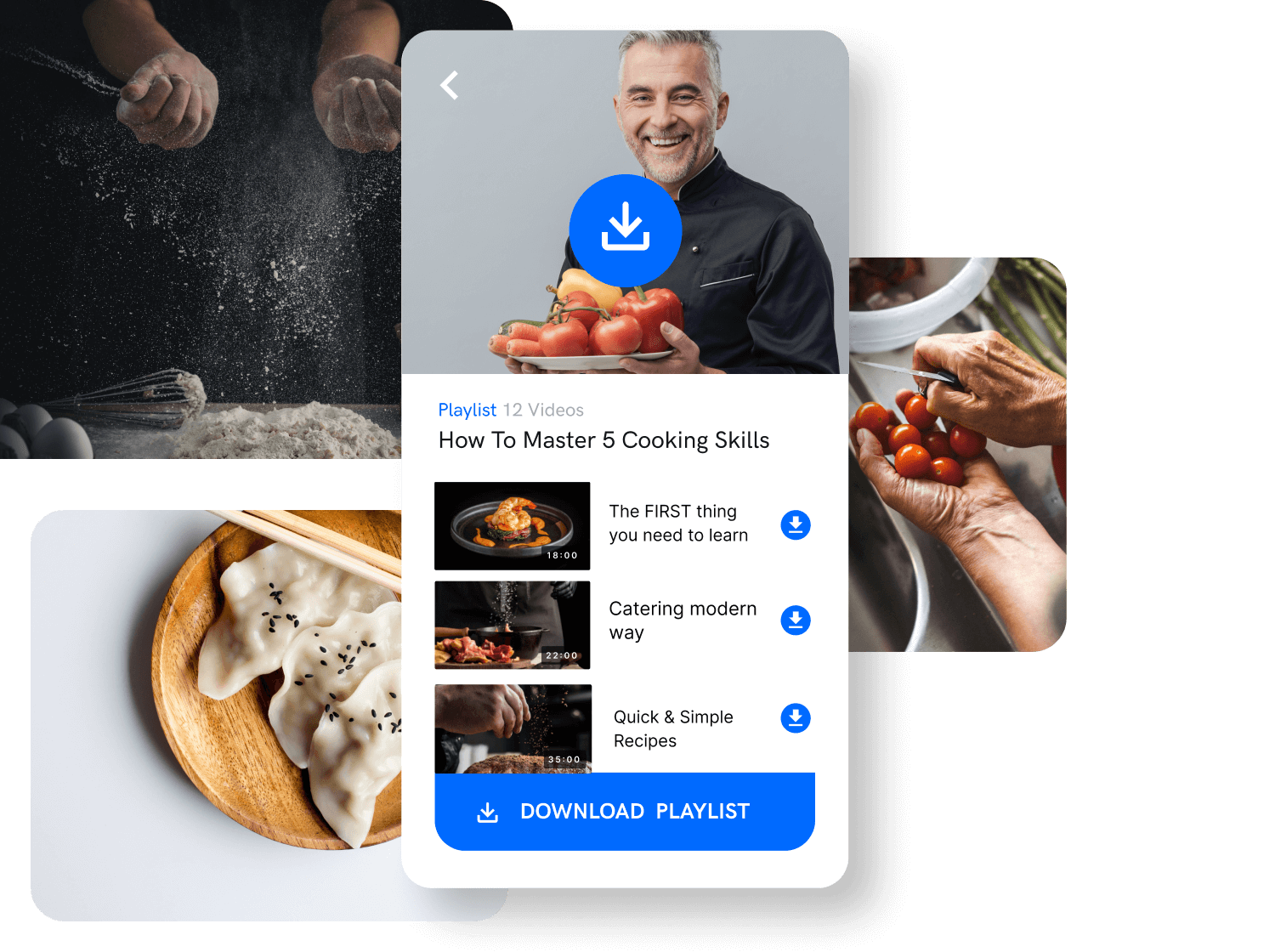 Start your 14-day free trial today!