Live streaming platforms have become popular for creators to connect with their audience in real-time.
Whether you're a fitness instructor, musician, or gamer, a premium streaming experience can build trust and credibility with viewers. A live streaming platform helps you deliver on that.
But as a $7.5 billion industry, there are hundreds of live streaming tools. How do you know which is best for your business?
Let's dive into the best live streaming platforms based on features, audience, and price.
Top live streaming platform picks
| | | |
| --- | --- | --- |
| Name | Best for | Price |
| Uscreen | Experienced creators | $$ |
| Restream | Budget-conscious streamers | $ |
| Twitch | Gamers | Revenue share |
| Vimeo | Professional broadcasters | $$ |
| Brightcove | Enterprises | $$$ |
| Dacast | Non-technical streamers | $ |
| IBM Video Streaming | Media companies | $$ |
| TikTok Live | Gen Z Influencers | Revenue share |
| YouTube Live | Social media influencers | Revenue share |
| Be.Live | Beginners | $ |
| Zoom | Business professionals | $$ |
| Kaltura | Educational institutions | $ |
How to choose the right live streaming platform
You can stream live content on a lot of platforms. Most help you go live smoothly and offer basic embedding tools and analytics.
However, some offer tailored features for different types of businesses.
As you compare options for your live streaming strategy, keep the following considerations in mind:
Authentication. Viewers should be able to access live content securely. Find a solution with secure login options, such as single sign-on (SSO) or OAuth.
Scale. Your live streaming solution should handle many viewers at once without impacting the stream's quality. Look for adaptive bitrate streaming, which adjusts video quality based on the viewer's internet connection and ensures smooth playback for everyone.
Customization. Make sure you can customize the appearance of your live stream with branded overlays, logos, and graphics. Verify that you can white label the platform to maintain a consistent brand presence across all your online channels.
Distribution. Choose a platform that lets you stream to multiple platforms and websites simultaneously. Automatic "Go Live" notifications when your stream starts are useful for increasing viewership and engagement, too.
Streaming limit. Aim for a platform with unlimited streaming hours to avoid any restrictions on your creative output.
Marketing and engagement. Choose a live streaming platform with lead generation tools like giveaway builders and email campaigns to help promote your content. Your provider should also offer pre-registration pages and live event countdowns to create excitement for your upcoming streams.
Monetization. Some providers let you auto-record live content and turn it into video-on-demand (VOD). Opt for a a platform that lets you monetize streaming through subscriptions, memberships, and pay-per-view. Support for live streaming to over-the-top (OTT) apps can also open up additional revenue streams for creators.
Best live streaming platforms compared
1. Uscreen
Best for: Experienced creators
Reasons to buy:
Fully branded, immersive viewing experience
Easy to sell subscriptions and memberships
Low latency, high-quality streaming across social channels
Uscreen is best for experienced creators and educators who want to deliver on-demand and live video content to their audience. Our platform is designed to be user-friendly and easily accessible, with a focus on audience engagement for live video streaming.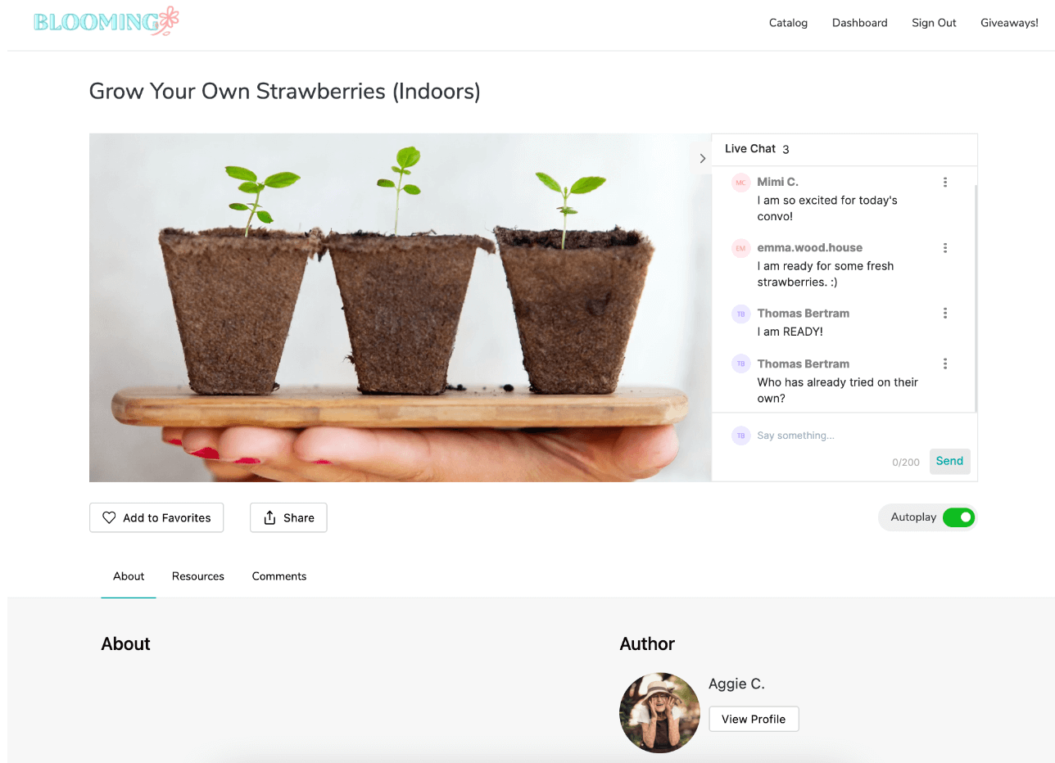 Uscreen helps creators diversify their content strategy to engage their members better, foster relationships, strengthen retention, and sustain revenue growth.
Increase engagement and retention
Uscreen uses Akamai CDN, a global and well-established content delivery network. This ensures low-latency streaming and high-quality video delivery, providing a seamless and enjoyable experience for viewers even during periods of high traffic.
This means you can be flexible with your content and delivery. You can offer different types of live streams, such as Q&A sessions, tutorials, live podcasts, or behind-the-scenes looks at your creative process.
Uscreen also offers a ton of tools to engage your audience, such as:
A pre-registration page to make registration simple for viewers.
Live chat to interact with your audience during a stream.
Live Event Donations to collect donations from viewers during a stream.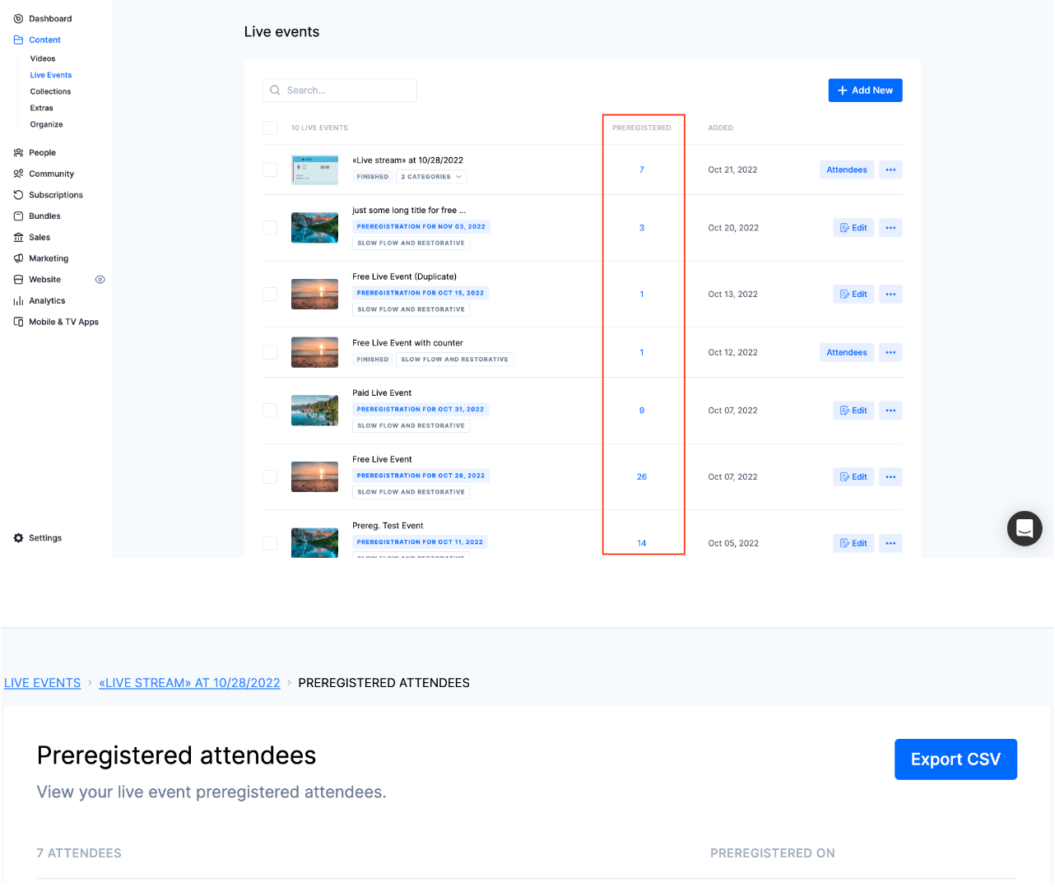 The best part? Uscreen has various community features to help you forge a strong bond with your audience and grow a community around your content.
Easily monetize your live streams
With Uscreen, you can efficiently monetize live streams, catering to different viewing preferences while ensuring a steady flow of income from your live streaming website.
Through memberships, subscriptions, and pay-per-view (PPV), you can capitalize on your content and give viewers flexible access to your broadcasts.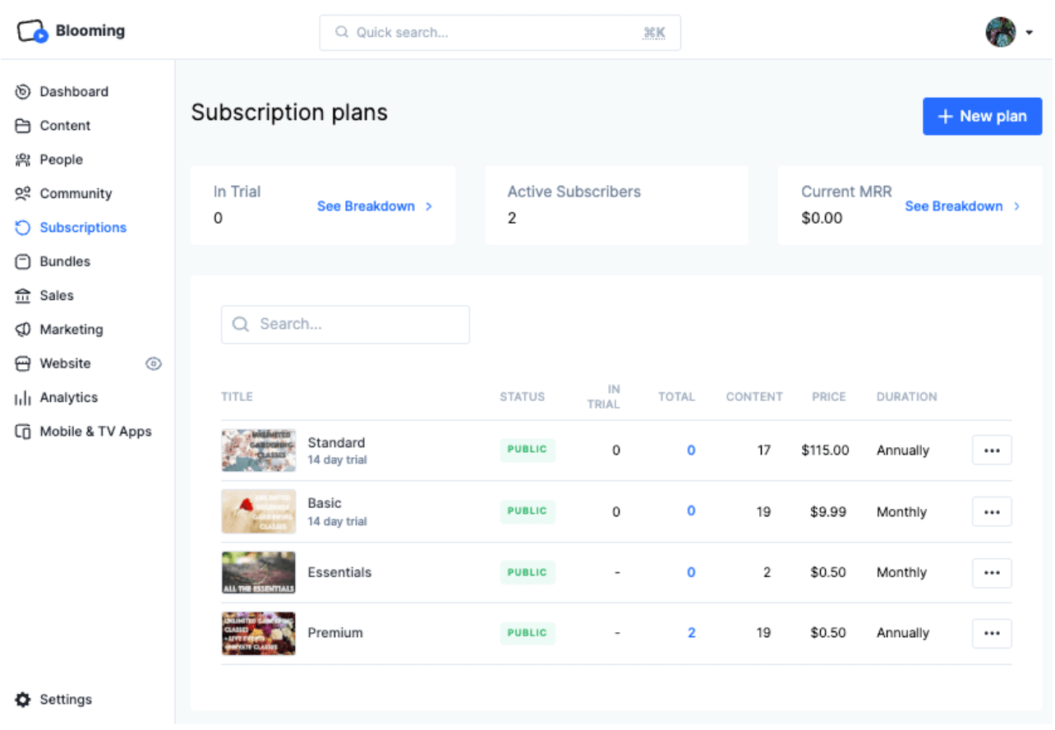 Uscreen's auto-record to VOD feature adds another dimension to content monetization. You can automatically convert live broadcasts into VOD content, allowing viewers to access live content at their convenience.
Manage live streams from one dashboard
There are a lot of steps involved in managing and monetizing live content. Uscreen's dashboard works right "out-of-the-box," consolidating all essential information and tools into one place.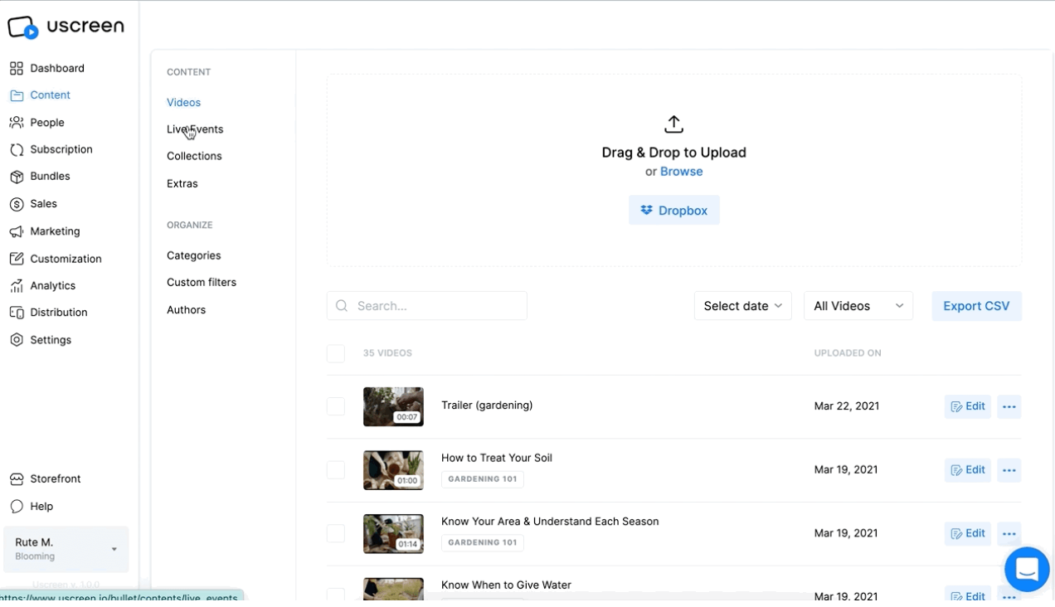 That way, you can:
Go Live in minutes.
Monitor content performance.
Track viewer engagement.
Categorize and schedule live streams.
Send email and push notifications for events.
A central dashboard also helps you promote a more professional and cohesive brand image. With a unified platform to manage and showcase your offering, you can maintain a consistent feel, which builds trust and credibility with your audience.
Live stream to any app
As a creator, we know you genuinely care about the viewer's experience. That's why Uscreen delivers a superior live streaming experience across any device.
With adaptive streaming and responsive design, your video quality automatically adjusts based on the viewer's internet connection speed and device capabilities.
Uscreen also supports a variety of devices through its OTT platform. Stream to iOS and Android smartphones, tablets, desktops, smart TVs, and popular streaming services like Roku, Apple TV, and Amazon Fire TV.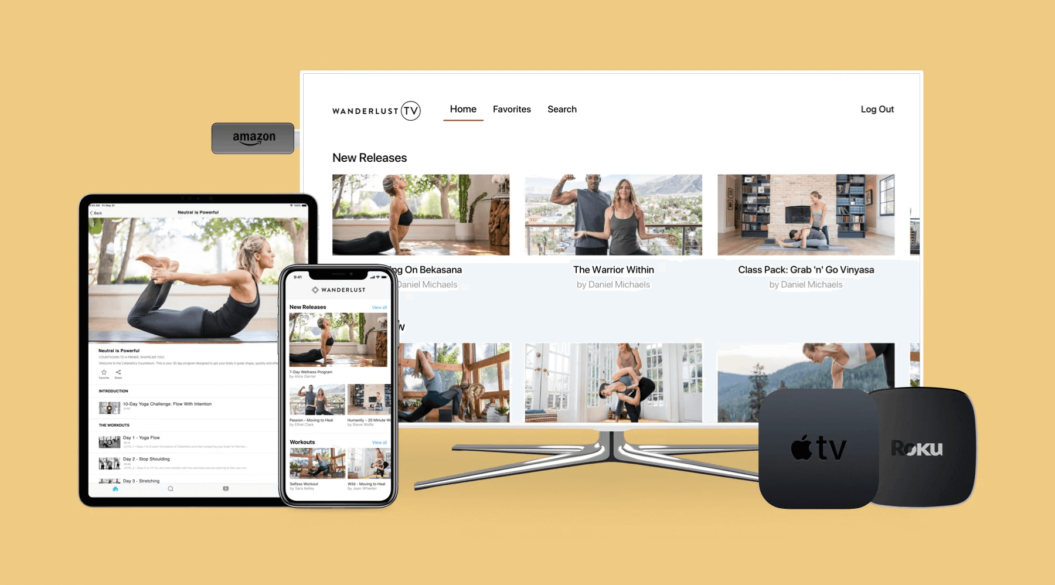 Overall, Uscreen delivers a top-notch streaming experience across a variety of devices, ensuring viewers can access and enjoy their favorite content whenever and wherever they choose.
Other notable features:
HTML5 full HD online video player.
Customizable VOD templates with branding options.
CRM capabilities.
API access.
Multi-guest streaming.
Robust analytics and reporting tools.
Free lead generation and marketing tools.
Pros:
Privacy controls to limit subscriber access.
Pay-per-view video sales.
Push notifications to keep users engaged.
Live streaming with chat functions.
Full ownership of your data.
Unlimited streaming on all Uscreen plans.
Community building tools.
Free trial: 14 days.
Pricing: $$
It's simple with Uscreen.
Build, launch and manage your membership, all in one place.
2. Restream
Best for: Budget-conscious streamers
Reasons to use:
Free 'Basic' tier.
Multichannel streaming.
Analytics.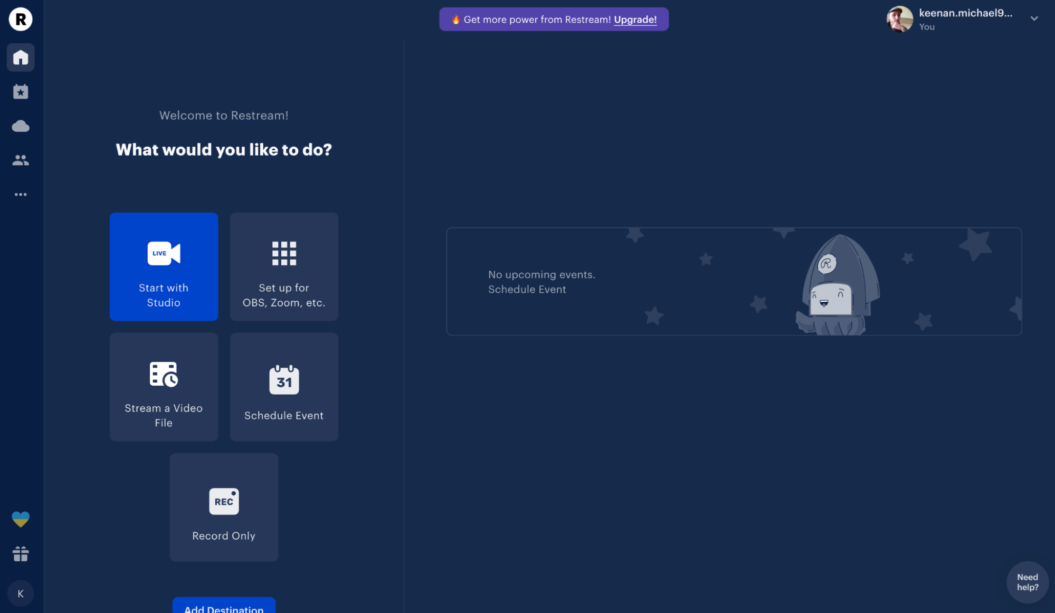 Restream is a powerful live streaming service that lets you broadcast live content to multiple channels at the same time. With one account, you can choose from over 30 platforms at once, including:
Instagram Live
LinkedIn Live
You don't need any special equipment to use Restream, just a standard webcam and microphone.
Features:
On-screen captions and comments.
Screen sharing.
Hi-res audio.
Copyright-free background music.
Insightful data.
Stream monitoring.
Multistreaming.
Pros:
Invite up to five guests from live streams.
No time limits on sessions.
Access to chat tools.
Real-time channel toggling.
Cons:
Reported incidents of drop frames.
Limited characters for title and description box.
Free trial: Free plan available.
Price: $
3. Twitch
Best for: Gamers and eSport streamers
Reasons to use:
Discoverability.
Custom emotes.
Affiliate and partner program.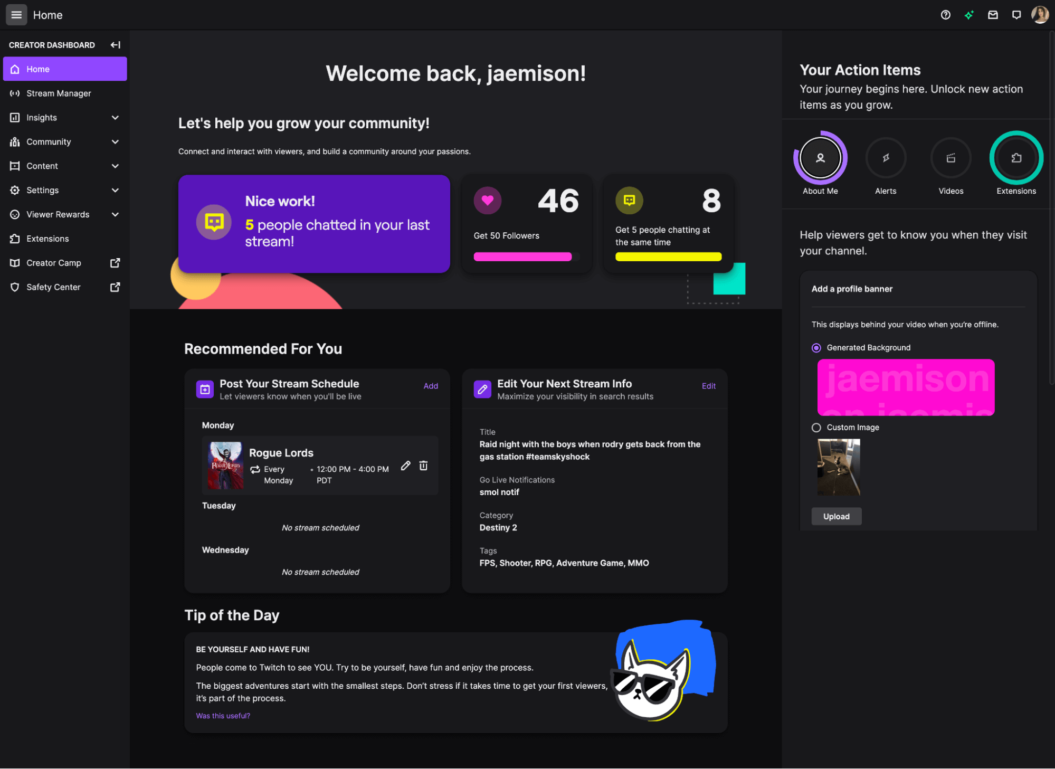 Twitch is the leading live streaming platform for gamers, with over 31 million monthly users. It offers premium video streaming and a user-friendly interface. You can stream with hardware or software encoding tools or through your gaming console.
Twitch also has a range of features, including chat, polls, and audience analytics. Users primarily focus on streaming video game content, but also:
Creative arts
Talk shows
Music
Launched in 2011, it quickly gained popularity amongst gamers and was acquired by Amazon in 2014. Creators, viewers, and advertisers alike flock to Twitch for live entertainment.
Features:
Follows.
Chat room.
Subscriptions.
Emote slots.
Ad revenue.
Subscriber badges.
Verified badge.
VODs and Clips.
Pros:
Stream from PC, Mac, Xbox, Playstation, or mobile phone.
Massive global audience.
Monetization options.
Integrated with Amazon Prime Gaming.
Cons:
High competition.
Limited non-gaming content.
Moderation challenges.
Price: Revenue share.
4. Vimeo Livestream
Best for: Professional broadcasters
Reasons to use:
High-quality, multichannel streaming.
User-friendly.
Customizable player and branding.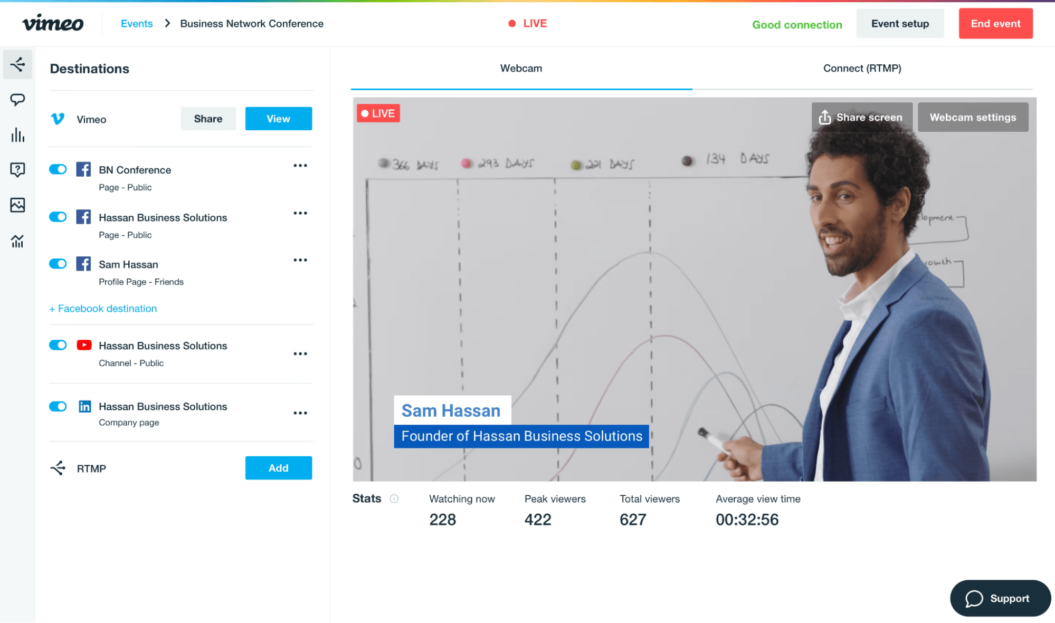 Vimeo Livestream is an all-in-one live streaming platform offering various features for businesses and organizations. It allows for custom branding, analytics tracking, and password-protected streams.
Vimeo Livestream also offers a variety of pricing plans to suit different needs and budgets. You can try Vimeo Livestream for free.
Features:
Full HD 1080p Live streaming.
Brand control for your player and apps.
Ad-free streaming.
Steaming to social networks.
Unlimited live events.
Auto-archiving and video management.
Live polls, Q&A, audience chat, and graphical overlays.
Pros:
High-quality streaming.
Store and organize their live streams in a video library for on-demand viewing.
Interactive streaming tools to engage with the audience.
Range of live stream customization options.
Cons:
Limited audience reach.
Registration limitations.
Free trial: 7 days.
Price: $$
It's simple with Uscreen.
Build, launch and manage your membership, all in one place.
5. Brightcove
Best for: Large enterprises
Reasons to use:
Advanced video analytics.
Video cloud integration.
Robust security features.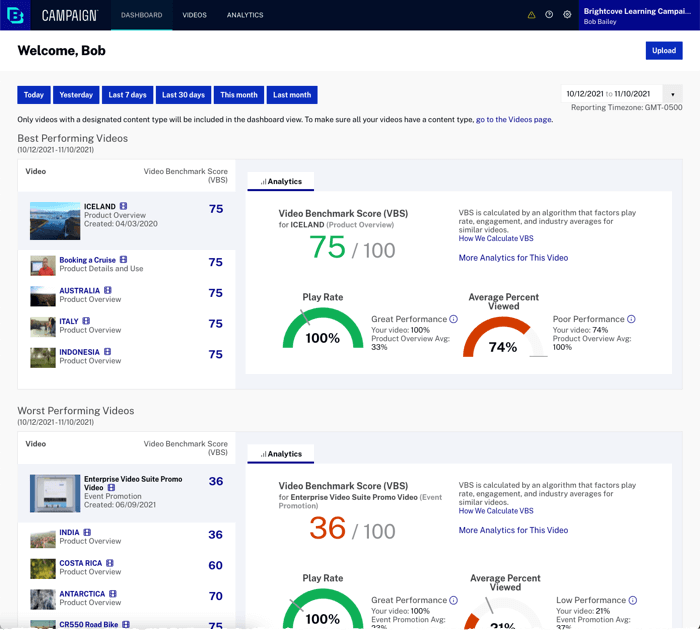 Brightcove is a leading global provider of cloud-based video solutions, offering versatile and powerful live streaming software that caters to large enterprises and organizations.
Through the platform, you can deliver high-quality live video content across various devices and platforms. Brightcove also offers server-side ad insertion, client-side ad insertion, and pay-per-view monetization.
Features:
Video hosting and CDN services
Ad integration support
Adaptive bitrate switching
APIs and SDK
Integration with video subscription tools
Analytics, including geolocation and engagement
Pros:
Comprehensive feature set, including live streaming and VOD.
Reliable and high-quality video delivery designed for large enterprises.
Extensive customization options.
Enterprise-level security, including RTMP, encryption, and access control.
Cons:
Pricing structure is tailored to bigger companies.
Platform's extensive features may be overwhelming for newer streamers.
Steeper learning curve.
Limited self-service options.
Free trial: No.
Price: $$$
6. Dacast
Best for: Non-technical streamers
Reasons to use:
White label streaming.
Monetization options.
Low latency.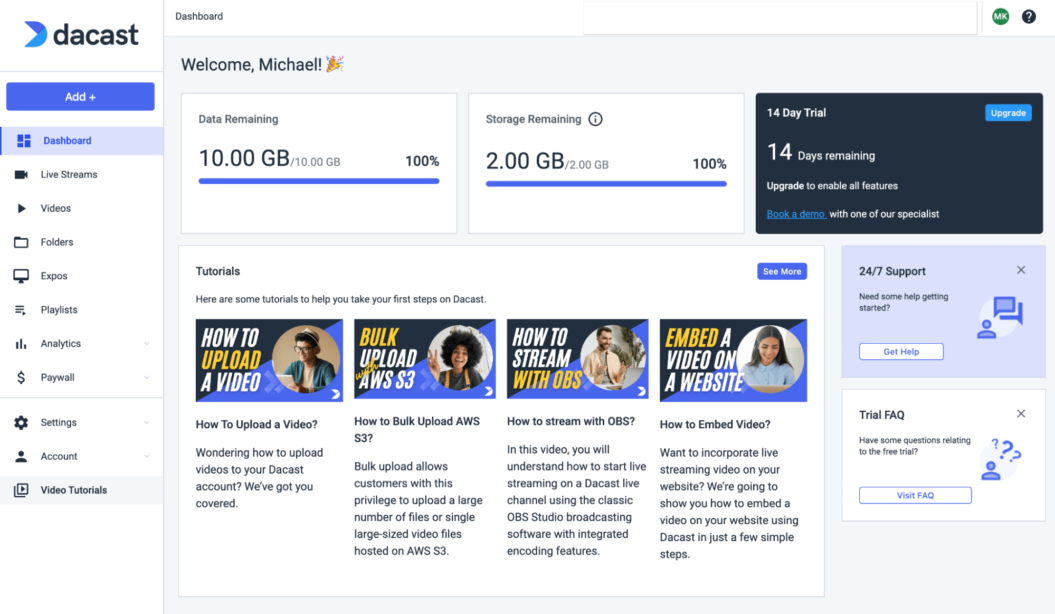 Dacast is a live streaming platform that enables broadcasters to stream high-quality videos to audiences worldwide. With Dacast, users can create their own live and on-demand video streaming channels with the ability to monetize their content.
Dacast supports RTMP, RTSP, and HLS ingest protocols, allowing a variety of streaming software and hardware to be compatible with the platform. It also offers round-the-clock customer support for users, assisting with technical issues and platform-related questions.
Features:
Stream from webcam or digital camera and encoder
Premium Akamai CDN
Customizable HTML5 video player with paywall
Social streaming module
Detailed analytics
Password protected streaming
Pros:
White label features such as adding a watermark logo.
Full API access to build custom workflows.
Partners referral program
Cons:
Steep commission structure, 9% of earnings plus commission fees.
Can only accept USD and EUR transactions.
Free trial: 14 days.
Price: $
7. IBM Video Streaming
Best for: Media companies
Reasons to use:
AI-driven insights.
Enterprise-level security and scalability.
Customizable video players and API integration.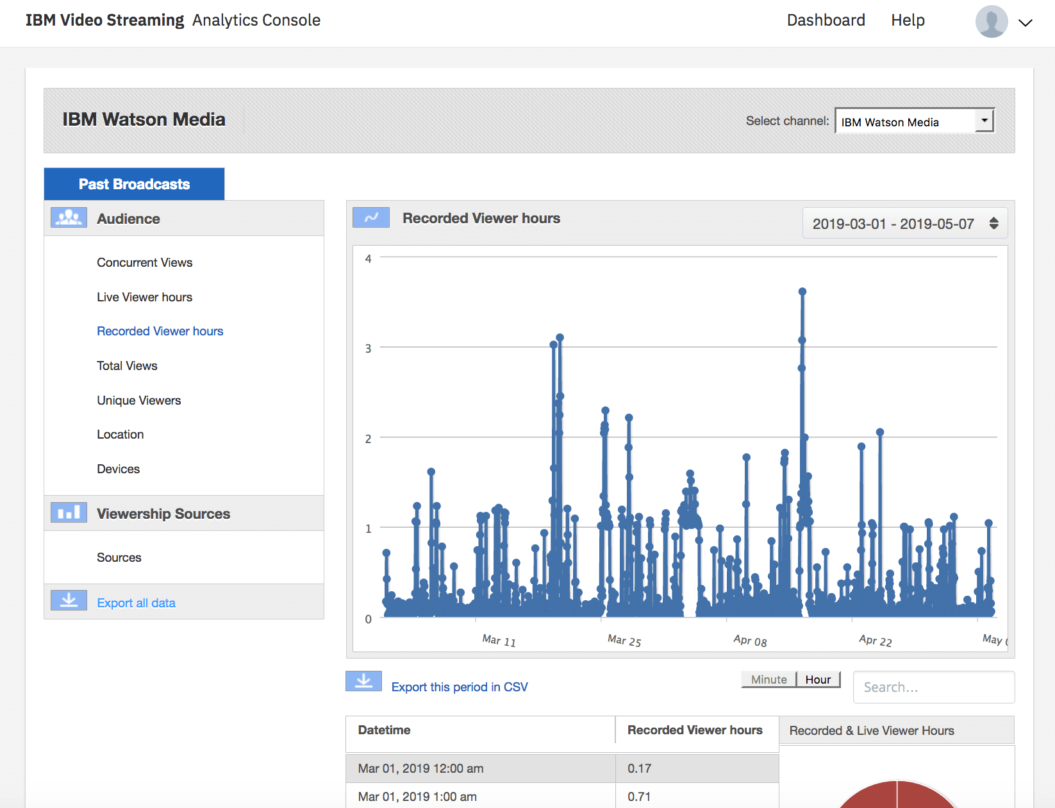 IBM Video Streaming is a powerful, enterprise-grade live streaming solution made for big organizations, media companies, and live stream event organizers.
With a suite of advanced features, IBM Video Streaming is the best choice for those who need a robust and scalable live streaming service. The platform also leverages IBM Watson's AI capabilities to generate automated video highlights, transcriptions, and translations, helping you better understand and cater to your audience.
IBM Video Streaming has a lower-priced package starting at $99 per month. But you're limited to 5 channels, 100 viewer hours, and 1 TB of video storage, which may not work well for active streamers.
Features:
AI-driven automated captioning
Multi-CDN distribution
End-to-end encryption
Engagement tools like live polls
Compatibility with various third-party platforms
Pros:
No restrictions on resolution or bitrate
Compatible with various devices like smartphones and smart TVs
Customizable channel page
Seamless video looping
Live chat and Q&A section for viewers
Cons:
Advanced features may not be user-friendly.
Free trial: 30 days.
Price: $$
8. TikTok Live
Best for: Influencers with Gen Z audience.
Reasons to use:
Tap directly into your TikTok audience.
Free.
Good discoverability.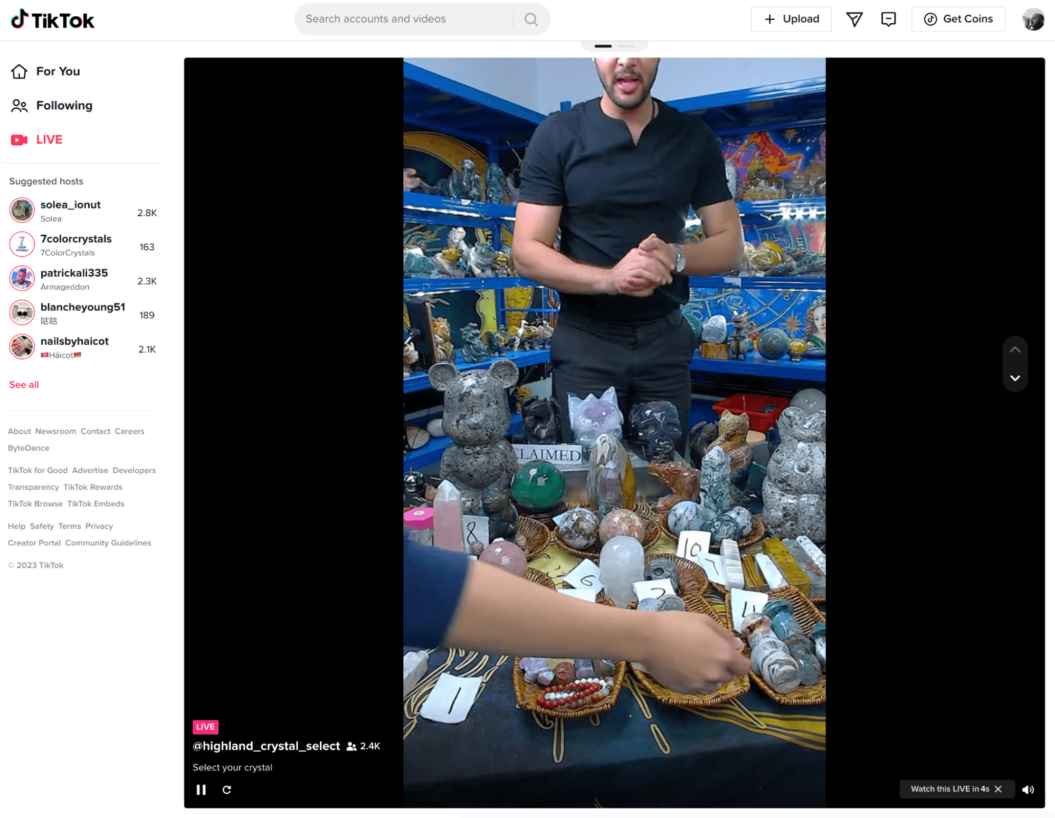 TikTok Live is a live streaming feature offered by the popular social media app, TikTok. It allows users to broadcast live videos to their followers and interact with them in real-time. Launched in 2018, TikTok Live has quickly gained popularity among content creators and fans alike.
TikTok allows streamers to earn money through virtual gifts received through live streams. However, TikTok takes 50% of your earnings.
You can access built-in filters, effects, and AR features during your live stream to further entertain your audience. The one drawback, similar to YouTube Live, is limited customization options. The streaming experience is the same across all creators, with no personalization.
Features:
Real-time comments, reactions, and virtual gifts.
Discoverability through TikTok's algorithm.
Vast library of music to enhance live stream.
Guest feature.
Replay options.
Pros:
Easier to gain exposure amongst TikTok's user base.
User-friendly interface to navigate and create live streams.
Virality potential.
Cons:
Limited monetization options.
Hard to create a unique identity.
High competition.
Demographic limitations.
Price: Free.
9. YouTube Live
Best for: Social media influencers
Reasons to use:
Wide audience reach.
Super Chat and Super Stickers.
Integration with Google Ecosystem.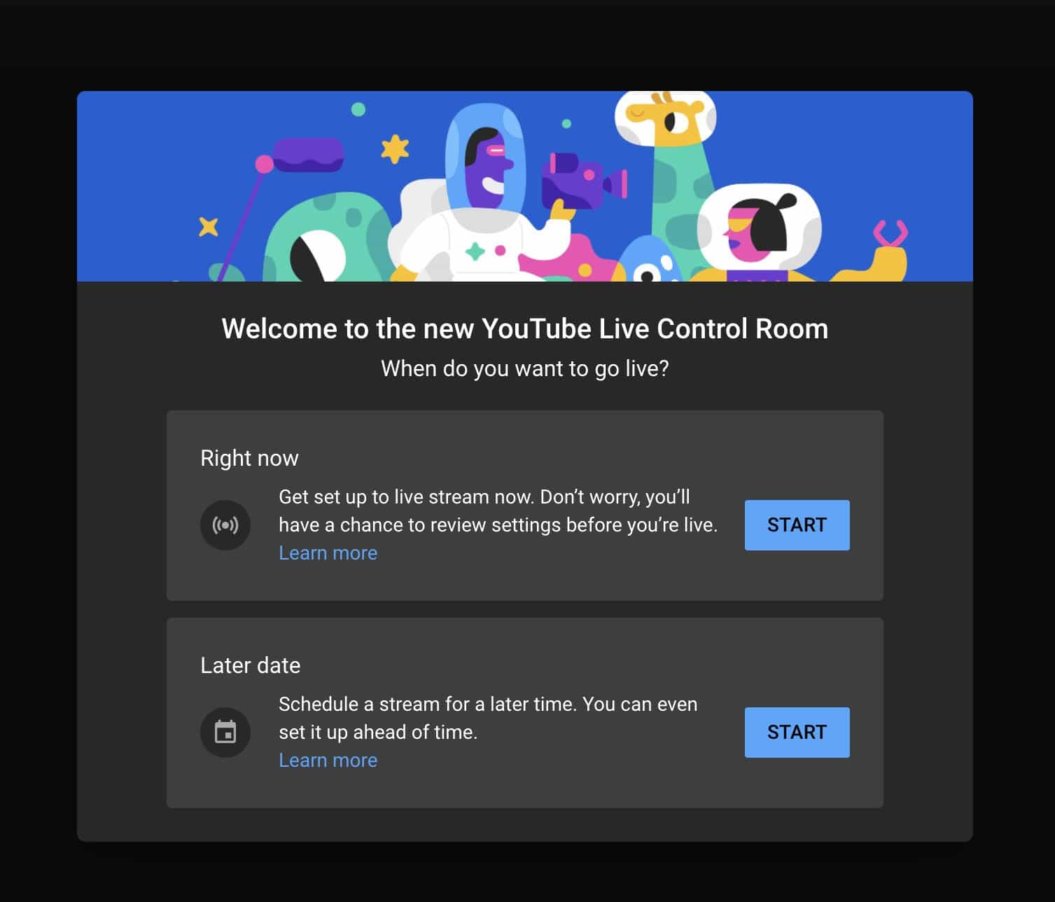 YouTube Live is YouTube's live streaming feature that enables creators to engage their audience with video and chat. People can easily watch trending live streams in their country from YouTube desktop or mobile app, making it a great platform for discovery.
YouTube Live offers many ways to monetize your streams, such as Super Chat and ad revenue, but the company takes a significant portion of revenue (45%). You also need to meet certain eligibility requirements to access those features.
YouTube Live also provides limited customization options for creators. The platform focuses on its own branding and gives you little ways to personalize a stream.
Features:
Integrates with Google services like Google AdSense and Google Analytics.
DVR functionality.
Automatic recording.
Stream scheduling.
Copyright infringement protection.
Pros:
Wide audience reach with over 2.6 billion monthly active users.
Free to use.
Easy for creators familiar with the YouTube platform.
Comprehensive live stream analytics.
Cons:
Limited monetization options.
Content restrictions.
High competition.
Limited customization and branding.
Pricing: Free.
10. Be.Live
Best for: Beginners
Reasons to use:
Simple and intuitive interface.
Affordable.
Audience engagement features.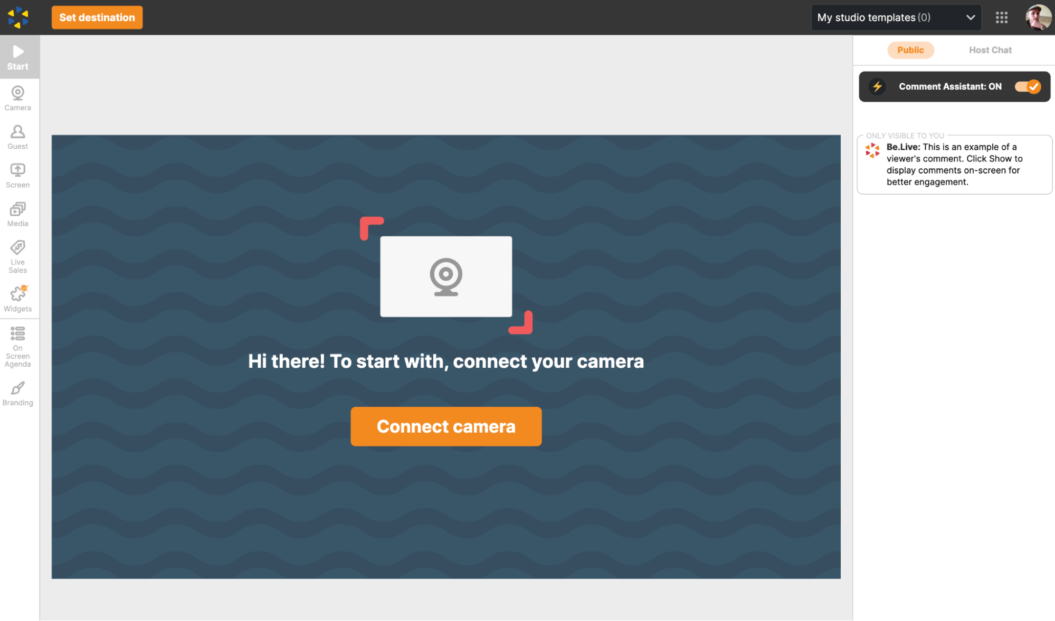 Be.Live enables beginner streamers to create professional and interactive broadcasts for various social media channels like Facebook, YouTube, and LinkedIn.
It has a strong focus on audience engagement, letting you display viewer comments and reactions directly on the live stream. You can also invite up to 10 guests into the live stream to create an interactive experience for views.
Be.Live also provides ways to promote upcoming events, such as a countdown timer and scheduler. Overall, it's a good platform for new streamers. However, it lacks built-in monetization options and doesn't offer as many customization options as the other live streaming platforms available.
Features:
Social media integration.
Screen sharing.
Audience engagement tools.
Customizable overlays.
Scheduler and countdown timer.
Pros:
Easy to use and beginner-friendly interface.
Seamless integration with social media platforms.
Affordable pricing for different levels of users.
Multi-guest live streaming for collaboration and discussions.
Cons:
Limited to social media platforms.
Lacks monetization features.
No VOD or content management system.
Starter package is limited to 720p resolution.
Free trial: 14 days.
Pricing: $
11. Zoom
Best for: Business professionals.
Reasons to use:
Integrates with various platforms.
Breakout Rooms.
Advanced security features.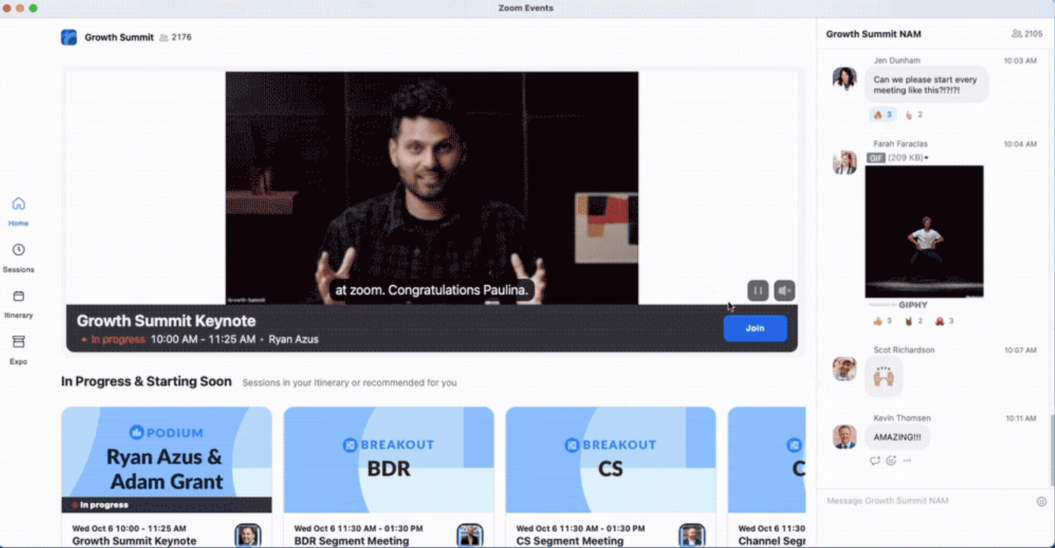 Zoom is a video conferencing platform designed for online meetings, webinars, and virtual events. Its live streaming feature is an add-on that allows you to broadcast live content to a larger audience on platforms like YouTube or Facebook.
Since it's a simple broadcasting tool, Zoom doesn't have monetization options for live streaming. You also cannot customize the branding. However, it does have some useful tools like breakout rooms and virtual backgrounds to engage your audience.
Features:
HD video and audio quality.
Polling and Q&A.
Advanced security features.
Recording and transcription.
Virtual backgrounds.
Screen sharing.
Pros:
Easy to use for streamers with little technical expertise.
Smaller learning curve.
Accommodates a large audience.
Cross-platform compatibility, including Windows, iOS, and Android.
Third-party integrations with custom streaming services.
Run live meetings with up to 1,000 viewers at one time.
Host live webinars with up to 50,000 participants.
Cons:
No monetization options.
Limited customization and branding.
Complex pricing.
Free trial: Free plan available.
12. Kaltura
Best for: Education institutions
Reasons to use:
Robust integrations with LMS and CMS platforms.
Interactive video quizzes.
Digital rights management and encryption.

Kaltura is built for educational institutions and media organizations. It offers a video platform suite that includes live streaming, VOD, and video management tailored to these sectors.
Monetization features are available, but are not as comprehensive or user-friendly as those offered by Uscreen. Kaltura is known for, however, its extensive API and integration capabilities, which allows you to customize the platform to your specific needs.
Features:
HD live streaming and archiving.
Lecture capture.
Adaptive bitrate streaming.
Video analytics.
Multi-camera streaming.
Digital Rights Management (DRM).
Interactive video quizzes.
Pros:
Highly customizable and scalable.
Offers advanced features for education and media brands.
Robust security measures.
Extensive API and integration.
Performance tracking tools.
Cons:
Steep learning curve.
Complex setup.
Limited monetization options.
Limited built-in templates.
Free trial: 30 days.
Pricing: $
Finding the right live streaming platform for you
As you know by now, there are plenty of live streaming platforms to pick from, depending on what you need.
Looking to build a wide audience for your events? You probably want YouTube Live. On the hunt for a place to show the world your gaming skills? Twitch is the place to be.
Aiming to make money live streaming and give your audience a complete branded experience? We're going to say Uscreen is the answer.
If we seem like the solution you've been looking for to give your audience a great streaming experience that they're happy to pay for, let's chat.
Book a personalized demo with us and we'll show you all the capabilities we can offer you and your business.
It's simple with Uscreen.
Build, launch and manage your membership, all in one place.
Live streaming platform FAQ
Which platform is the best for live streaming?
The best platform for live streaming depends on your preferences and goals. Popular options include Uscreen, Twitch, and YouTube Live. 

Where can I stream live for free?
You can stream live for free on platforms like YouTube, Facebook, or TikTok, which offer built-in live streaming features at no cost.
What is the cheapest way to livestream?
The cheapest way to live stream is by using a free platform, and broadcasting using your phone or existing webcam. 
Where can I stream privately?
To stream privately, you can use a platform like Uscreen and password protect your streams, letting only approved viewers into the event.