How to Build an OTT Video Streaming App
Creating your first OTT video streaming app can seem a little confusing. It feels pricey and like you'd need to be a coding pro, doesn't it?
Well, the truth is, it doesn't have to be like that. There are various OTT solutions you can use to get started.
Here are the three easiest and most cost-effective ways to build and launch video OTT apps for TV.
OTT Solution #1: Do It Yourself (No Codding Necessary)
Instant TV Channel is an independent service that allows you to create a TV channel app, well…instantly.
They specialize in helping developers and do-it-yourselfers create OTT apps. Although their website looks like it's from 2001, they have a well-run and up to date service.
The main benefit of using Instant TV Channel is that it removes the tricking coding element from the last method. Their software creates the "feed" for you, which can save you a lot of time and money on a developer.  You'll just need a subscription to Amazon Web Services for it to work, which is free for the first 12 months.
However, you'll still need to invest in some of the third-party software from the last solution.
That includes:
External

Content Delivery Network

(Between $12.50 to $1000+ per month)

Web hosting for your "feed" (Starting from $2.95 per month with Bluehost)
This is a great do-it-yourself method if you have the cash to invest in a good Content Delivery Network. But it still requires a lot of technical know-how to get the separate pieces to work together. You'll need to launch and maintain the app, which you'll need to learn how to do yourself.
Cost: high
Time it takes to launch: all comes down to you
OTT Solution #2: Hire a Developer
If the last option sounds a little complicated, don't fret. The next two may be more up your street.
If you have a healthy budget, you can hire an agency or developer to create a custom OTT app. It'll be built from scratch, by a professional (or team of professionals), to your exact specifications.
This entire process usually takes between three to six months and prices are often between $10,000 and $20,000. That's before you factor in monthly expenses of running the app, maintenance, support, and hosting.
The cheapest option would be to use a website like UpWork or Freelancer to find an affordable developer. They should be able to create a basic OTT app for you to work with without breaking the bank.
But if you want a comprehensive OTT app with all the bells and whistles, you'd be better off looking for a higher-end developer or agency. It's a big investment, but it will be worth it in the long run. You can either approach them directly or advertise the job on a site like Stack Overflow.
If you want total ownership of your app, and don't mind the large monetary investment, this might be the right option for you. But, if you don't have this much money to invest, you may want to check out the final method.
Cost: high
Time it takes to launch: three to six months
OTT Solution #3: Lease An App From an OTT Platform Service
Leasing is one of the most efficient and cost-effective ways to create an OTT video streaming app.
This method means you'll rent the services of an OTT platform company – like Uscreen – who already have white-labeled OTT apps for a variety of devices, Content Delivery Networks and hosting in place.
This solution is similar to solution #2 in that a team of professional developers will build the custom OTT app for you–but instead of buying it for thousands of dollars, you'll basically rent it for a few hundred bucks a month for as long as you have the app running. 
Uscreen would build your OTT app from scratch fully branded for you, then help you launch it, run it, and maintain it for as long as it's live.
The app comes white-labeled and can be fully customized to fit your branding. There aren't any third party logos, so nobody can ever tell it's being leased from a service provider.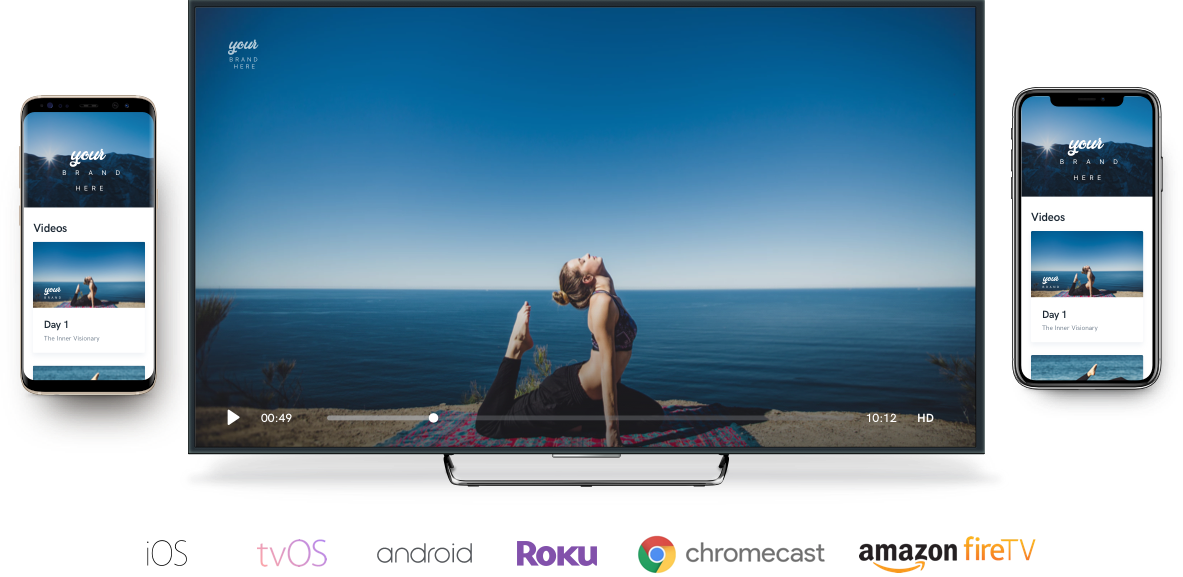 All you need to provide is the details like your logo and brand colors, and we create the rest for you. The entire process takes between 30 to 45 days and, when we're finished, your TV app is ready to go.
You don't need to pay over the odds for this kind of service, either. 
For the duration of the lease, you'll have the full support of our team, and we'll regularly update your app to make sure it's running optimally.
This OTT solution is great if you're working with a small budget and want to launch your OTT app without taking a huge financial hit.
Cost: Medium
Time it takes to launch: 30 to 45 days
Prices vary depending on the Uscreen plan you go with. Check Uscreen's pricing plans.