In just a few years, over-the-top (OTT) services have gone from being a niche streaming option to one of the most popular ways to watch TV. In fact, streaming video content had a higher audience share and bigger revenue than cable TV this year.
As the industry continues to grow, marketers and entrepreneurs need to stay up-to-date on the latest OTT statistics.
Below are some of the most interesting stats from 2023 thus far. Keep in mind that these numbers are likely to change as the market evolves, so make sure to check back often!
Top 9 Over-The-Top statistics for 2023
Revenue from the OTT industry continues to grow at an unprecedented rate, and it's expected to more than double in the next 4 years. More than half of the revenue came from advertising, while 40% came from subscriptions.
Here are the top 9 OTT statistics that prove how much the OTT industry has grown when it comes to revenue:
OTT market revenue & overview statistics
The OTT market share and revenue are becoming more massive each year, thanks to the yearly growth of subscriptions globally.
Interested in a slice of the OTT pie? Here are statistics on its growth rates and some other valuable metrics for you.
OTT platforms and apps statistics
Streaming media onto phones and TV through apps continues to expand in both expected and unexpected ways.
TV apps and mobile video is a valuable market to be in and one that Uscreen supports creators with. We can already see from our own numbers that having an OTT app makes great business sense due largely to smartphone innovations.
OTT advertising statistics
As a marketer, could you even have imagined the size of the OTT ad market just a few years ago?
Ad spend and ad revenue across OTT video have skyrocketed, and the data tells us that it's only going to get bigger.
Is it effective? Are users paying attention to all these screens at hand? Let's take a look at how OTT advertising is reaching the masses.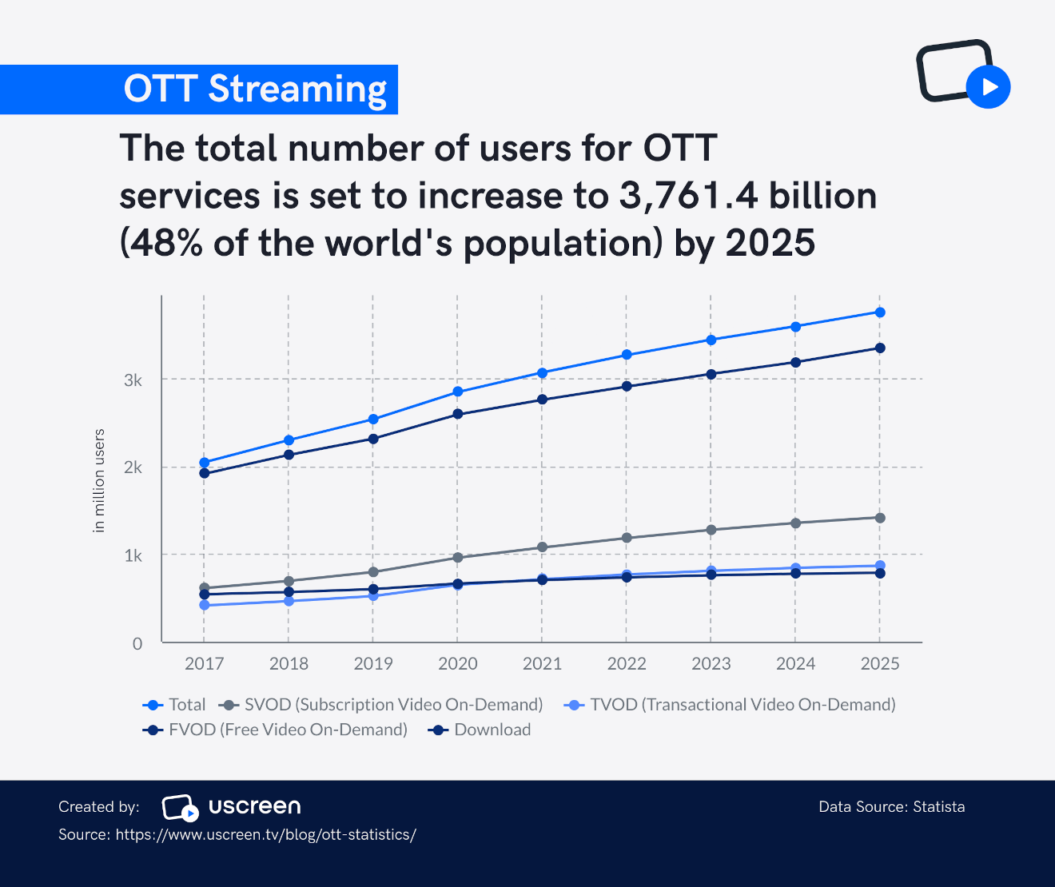 OTT streaming services statistics
The way we consume content has been changing slowly for years. More and more people are streaming content on their mobile phones as OTT continues to evolve.
Netflix was the most popular streaming service, with the most subscribers. But the competition in this industry is tough. It's hard to retain subscribers, especially when there is less exclusive and new content.
Here are some statistics about how OTT viewers use different services.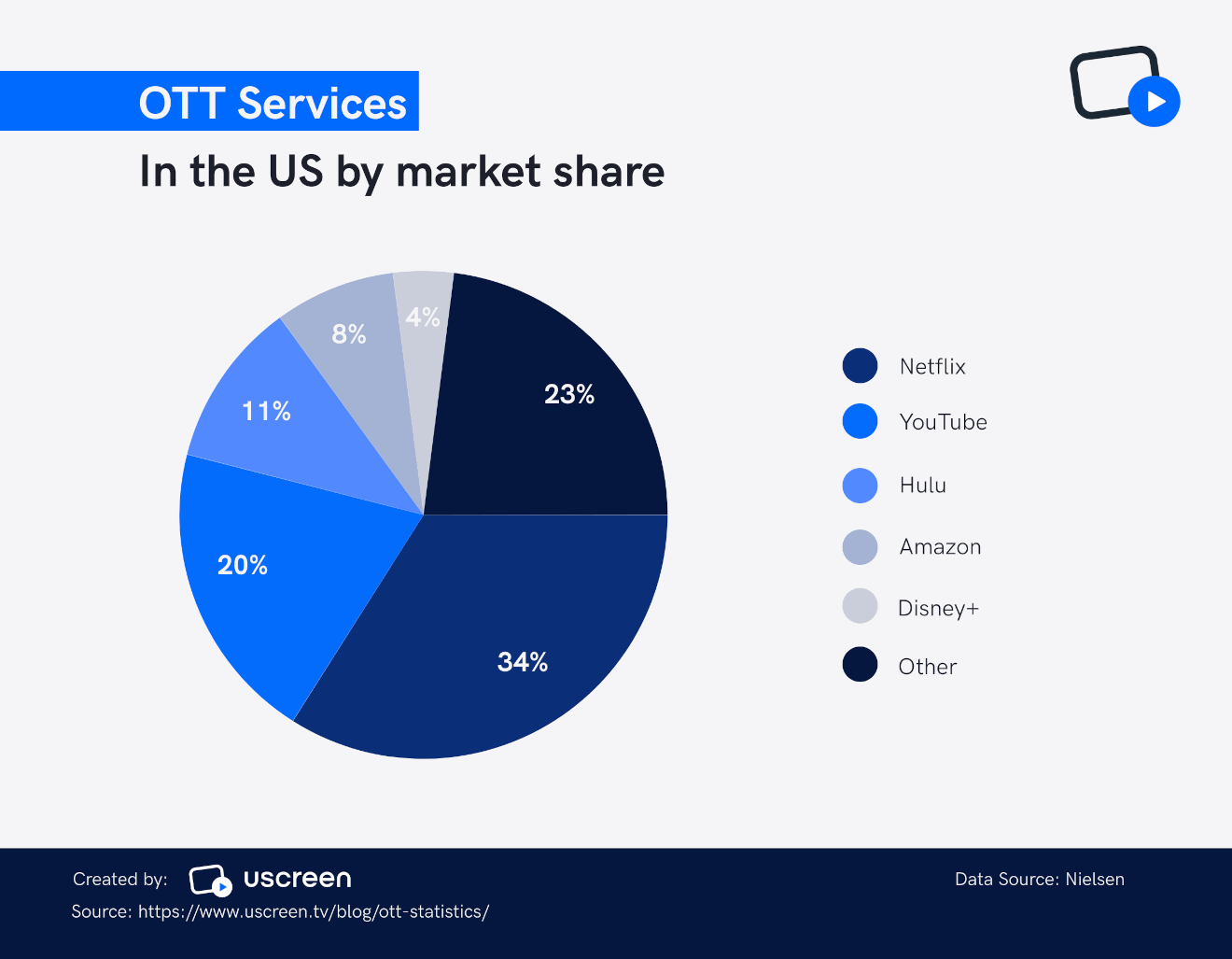 It's simple with Uscreen.
Build, launch and manage your membership, all in one place.
OTT live streaming statistics
Whether it's global sporting events, your favorite musician, or hours of computer games, OTT live streaming has become a huge business.
OTT TV statistics
While TV has been a mainstay in family homes since broadcast TV in the US began in 1947, where we get our content from has been changing in the last few years.
Watching content from the internet is changing what we watch and how we pay for it, and here's what you need to know when you're considering starting or expanding your OTT TV business.
Consumer behavior statistics
How your audience accesses your content is vital to developing your content production and, by extension, your business.
There are clear trends in the devices people use, how often they use them, and how devices, services, and platforms interact.
This is what we've found when it comes to how consumers behave watching OTT content.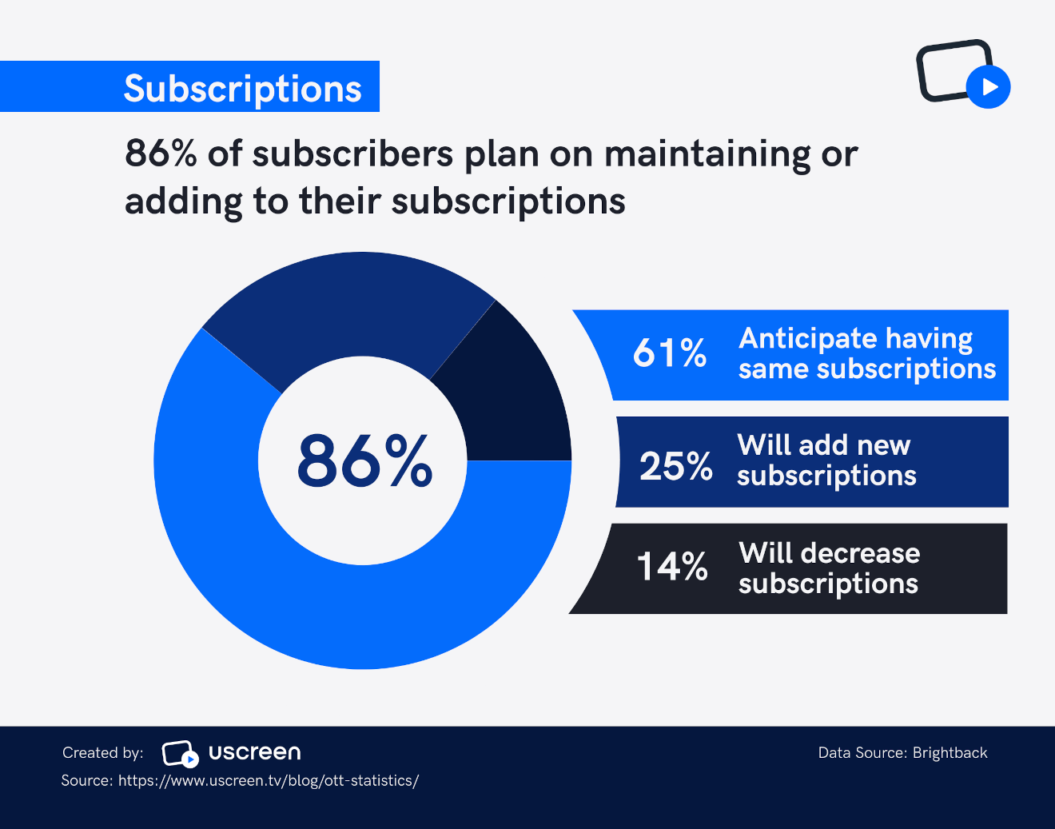 OTT device usage statistics
With so many devices available to audiences, it's clear there are some complex patterns with how they are used.
The pandemic has given us more time with devices and increased demand across all of them, but where has the uplift been the strongest?
Create your own OTT apps today
So there you have it, a comprehensive look at where the OTT industry is headed. We've seen growth across all fronts, and this is only the beginning.
If you're an entrepreneur or marketer looking to get ahead of the curve, now is the time to start planning your entry into the world of OTT.
Uscreen is one of the easiest ways to enter this fast-paced industry. We have OTT services for whatever your business needs. Create a website, host your videos, get paid, integrate all your favorite tools, and jump into the trends.
Get in touch to get a demo of everything we've got for you and get your business on the OTT train.
OTT stats FAQ
Which country uses OTT the most?
The over-the-top video (OTT video) market is expected to reach 90 percent penetration in Canada and the United Kingdom in 2022. Ranked second was New Zealand at 88.9 percent, as per Statista.
How big is the OTT market?
The global OTT video market size, which was $238 billion in 2021, is expected to top $476 billion by 2027.
What is the size of the OTT market in the United States?
The United States has the largest market in OTT advertising with a volume of $76.97 billion in 2023. Compared to other countries, most OTT revenue will be generated in the United States, at approximately $126,500 million in 2023.
What are the benefits of OTT?
With OTT (Over-the-Top) services, you can watch films and TV on-demand on any device thanks to the internet. These platforms often offer cost-effective, personalized viewing experiences with vast content libraries and global accessibility. The OTT providers also have advanced analytics, multiple monetization models, and the goal of keeping content fresh.