The OTT business model is the pinnacle of content monetization as a creator.
Why? To start, people are moving to streaming services by the masses. Some 82% of US consumers have a video streaming service subscription, with the average person paying for 4 at a time. An OTT app is an excellent selling point if you want to reach today's consumers.
Plus, more people are making money by offering OTT content. Insider Intelligence reports that OTT video subscription revenues will climb to $64.12 billion by the end of 2026.
If you're already generating revenue from your video content, and want to take your income to the next level, OTT is the way to go. You'll learn the basics of the OTT business model in this guide, with examples and tips for launching your own OTT apps.
What is an OTT business?
An OTT (Over-The-Top) business offers films, shows, and other exclusive video content to viewers online. These businesses can make money through membership fees, subscriptions, advertising, and pay-per-view models, offering customers more flexibility in how they consume media.
Netflix and Hulu are examples of early OTT services, launching streaming services in 2007 and 2008 respectively. While YouTube is largely user-generated content, it has also played an important role as an OTT platform, giving users the ability to upload, share, and view videos.
Together, these platforms disrupted the traditional media industry, forcing cable service providers to innovate and adapt. Today, anyone can launch a streaming service with an OTT platform like Uscreen.
Benefits of the OTT business model
OTT apps let your audience stream video from their preferred devices, like mobile phones, smart TVs, and tablets whenever they want. Thanks to that convenience and flexibility, OTT apps have become the go-to way people prefer to stream content. From a business perspective, you can integrate into your members' day-to-day with high-quality branded apps.
In fact, the latest OTT statistics show that 93% of American adults access streaming video platforms, while only 40% have cable or satellite service.
Variety also reports that in the first quarter of 2023, TV providers in the US reported their worst subscriber losses to date, collectively shedding 2.3 million customers during the period.
As people have more control over what to watch, when to watch, and how to watch, OTT services have become more fulfilling. Personalized content and top-notch streaming quality keep viewers engaged and intrigued by video content.
This is why, as a video business owner, you want to consider launching your own OTT app because it'll help you:
Grow video membership revenue with improved retention and in-app purchases.
Create simple, engaging mobile experiences for members.
Deliver a more accessible experience across all sizes of screens.
Create brand legitimacy and differentiation.
People want to access your content conveniently, or they'll move to another content provider that lets them do that. It's the reason media giants, like Apple and Disney, have launched their own OTT apps. They allow members to:
Access apps across devices like iOS, Android, Apple TV, Roku TV, and Apple Watch.
Make in-app purchases.
Create their own customized video playlists and calendars that sync across devices.
Download videos to watch without internet access.
Set notifications to alert them when new content is available.
Uscreen data revealed that adding your content to an OTT app can generate up to 10x more subscription MRR.
Creators that leveraged OTT apps also saw 2x more watch time and 10x more daily active users than just streaming content through their websites.
Globally, media revenue from the OTT market is expected to surpass $224 billion by 2027. This is nearly double the amount of revenue in 2021, which was $135 billion.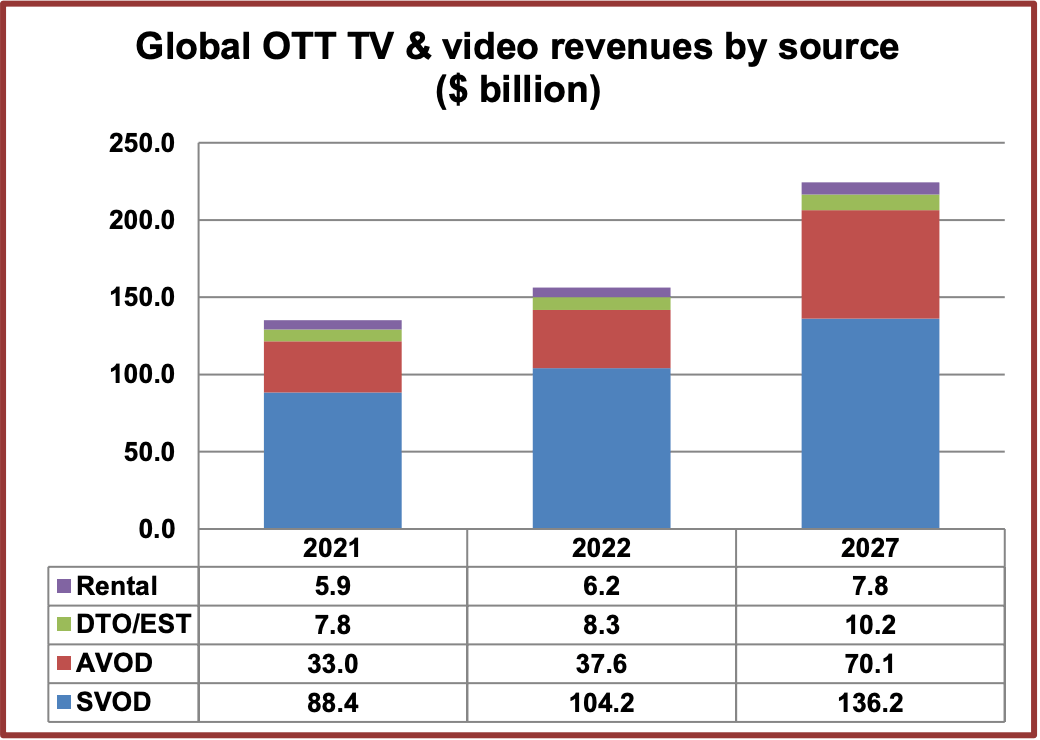 So, if you want to reach your viewers, get a piece of that $230 billion pie, and capitalize on that rising watch time, you need to launch an OTT app of your own!
Here's a full rundown of the OTT business model, so you can decide if it's right for your business.
Overview of the OTT business model
The OTT business model is all about direct connection with customers. It eliminates a third-party distributor and gives content creators more revenue from their videos.
You also get access to data that intermediaries normally gatekeep, like:
Viewer demographics.
Consumption patterns.
Content discovery methods.
Device and platform usage.
Technical performance metrics.
The direct-to-consumer relationship opens the door for feedback and insights, so you can quickly adapt to market trends and consumer preferences.
At this point, if you're on board with why you need to launch your own OTT app, you'll want to know how to make money from it, right?
Here are 5 main OTT monetization models you can pick from:
1. Membership
Memberships are different from the standard subscription model. They are more community-based. When someone signs up for a membership, they become part of the network and can interact with other members.
For example, B TRIBAL FIT, an educational fitness brand, has a community section where members can share and like content from other members.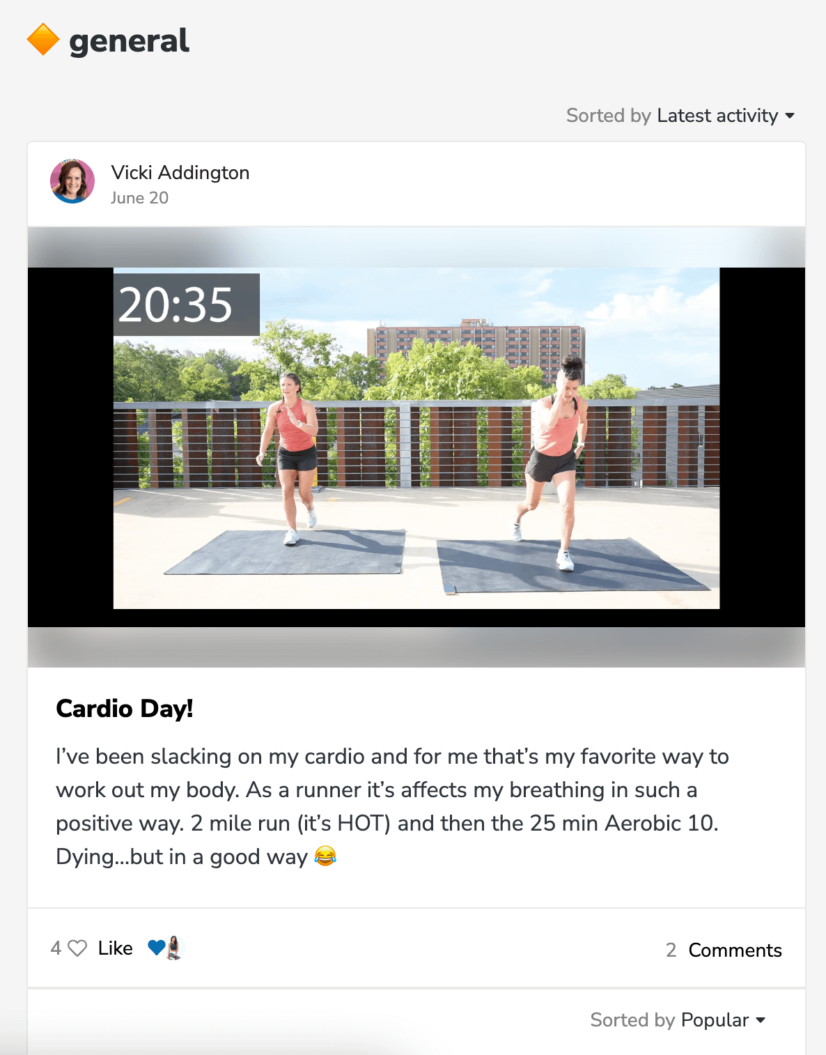 The membership model offers predictable revenue because members pay a monthly or annual fee. A 2022 industry report found that an overwhelming majority (81.5%) of creators enjoy the recurring revenue that comes from a membership site.
Some advantages of the membership model also include:
It's an ad-free service, so users tend to stay longer and consume more content. (Think: Netflix binge-watching!)
It's a great way to build a community around your exclusive content.
It generates a recurring income.
It's the best way to monetize an existing community.
Plus, you can have different OTT revenue models within memberships. For example, you could charge a flat fee for all content (AKA paid all access) or have tiered memberships, where the more people pay, the more content they get.
It's simple with Uscreen.
Build, launch and manage your membership, all in one place.
2. AVOD: Advertising Video-On-Demand
AVOD lets viewers watch content for free, or at a lower cost (think Hulu's ad-supported paid plan). With this model creators generate the majority of their revenue by selling advertising space to other businesses.
It's similar to traditional TV viewing where you tune in to watch your favorite shows and accept there'll be adverts throughout the program to cover production and distribution costs.
While being ad-supported sounds great, there are some drawbacks.
Ads could ruin the user experience and jeopardize viewer retention since they interrupt the flow of the content.
Ad revenue is a risky way to make money from videos, as you have to adhere to strict advertiser guidelines rather than creating and selling a product.
It's challenging to generate as much revenue as other business models unless you have a huge number of viewers.
It's a paradox: you need to serve enough ads to generate revenue without driving away viewers.
But by far, the most popular and successful AVOD platform for video creators is YouTube, where ads come in the form of:
Pre-roll ads that play before the main content.
Mid-roll ads that pause the video content at strategic points.
In-video ads that appear on the screen during the video.
You've probably noticed at least one of these ad types in action: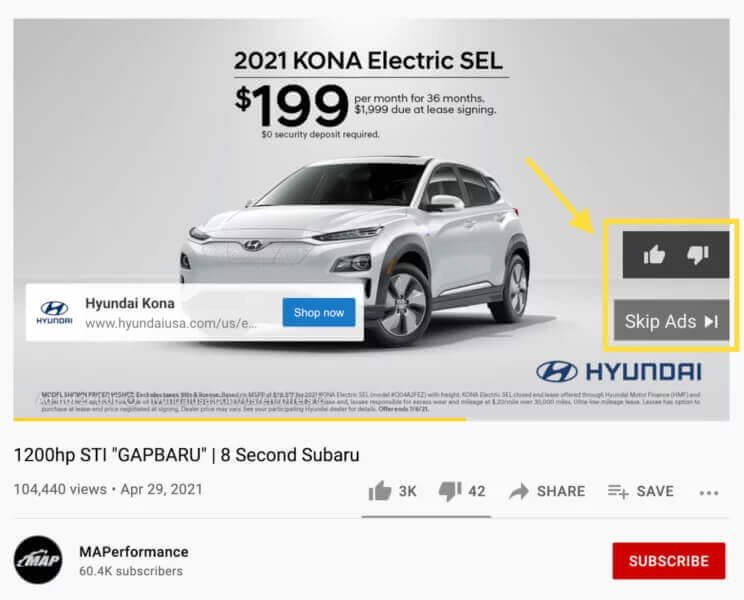 💡Bottom line: The AVOD model needs a large viewership to succeed. And although the content is often free, it comes with the cost of inconvenience as ads interrupt people's favorite videos.
3. TVOD: Transactional Video-On-Demand
TVOD is where customers make one-time purchases to access specific premium content. Sometimes it's referred to as PPV (pay-per-view) or PPD (pay-per-download) because viewers pay to watch one video rather than an entire catalog.
For example, you might pay to watch a major televised sports event like a boxing match on Sky Box Office.
TVOD is ideal if you're only looking to sell or rent one video. You can use this model for real-time content like film premieres, one-time sporting events, instructional videos, and live streaming.
💡 Bottom line: The TVOD model will help you make a more reliable income than AVOD. But, you'll have to make sure you're consistently marketing your products to help you generate a steady stream of purchases and earn a reliable income.
4. SVOD: Subscription Video-On-Demand
An SVOD business model is where you sell subscription access to your videos online for a recurring monthly or annual fee. It's like Netflix, Amazon Prime Video, or Disney+, where you pay a monthly subscription to watch your choice of videos at your convenience.
Research shows that SVOD in the US will reach 450 million subscriptions by 2026. You'll have to invest in producing high-quality, original content consistently to make sure you're improving on your product.
It's possible to lose subscribers when you change content or pricing or when inflation causes people to cut back on spending.
💡 Bottom line: The SVOD model is the ideal, proven way of building a stable and consistent income over time where you can monetize your existing community.
5. Hybrid: SVOD + TVOD
The SVOD + TVOD hybrid model offers something for everybody by combining elements from the different monetization strategies. It lets you cater to both long and short-term customers via recurring subscriptions and one-off transactions.
For example, Magic Stream, a company that creates and sells tutorials around learning magic, offer their students 2 packaging options:The TVOD model, where people can purchase or rent a specific course for a one-off fee:

And the SVOD model, where students can join their Fader Pro Producers Club and pay a recurring fee to access all of their course content, plus masterclasses and exclusive content and live events: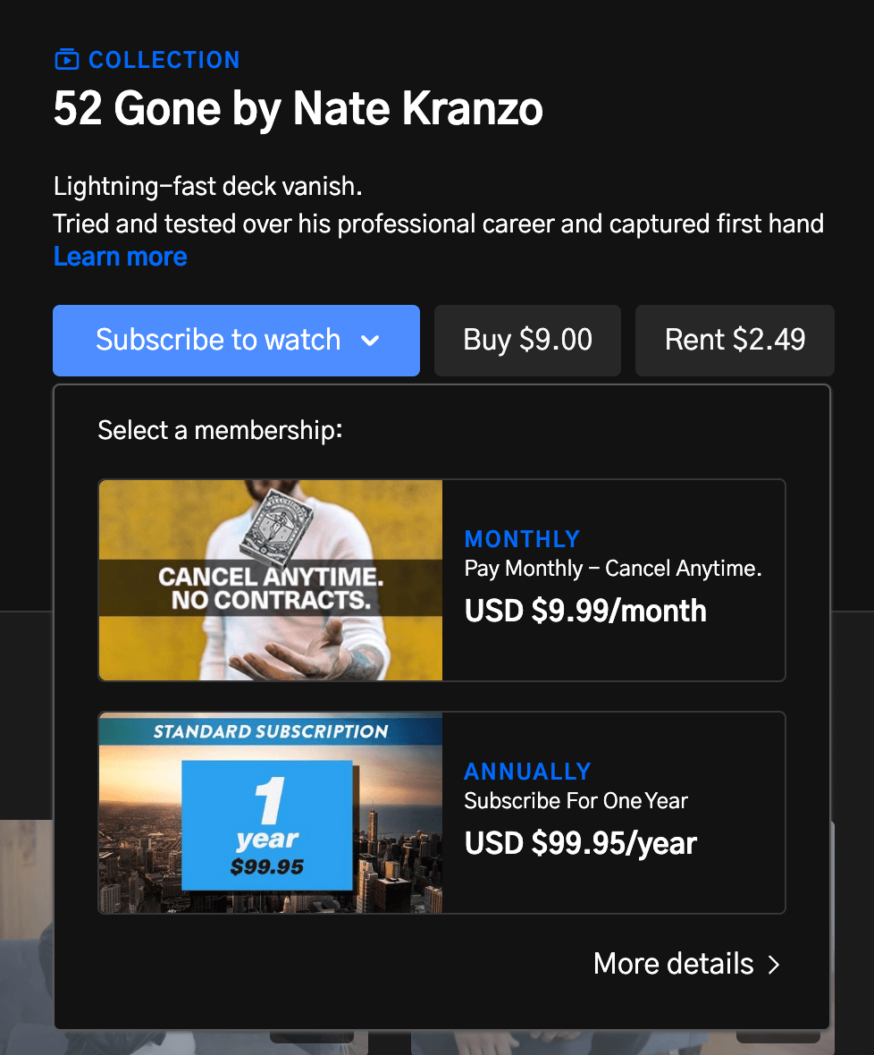 💡 Bottom line: The SVOD + TVOD hybrid model is a flexible way of building a stable and consistent income over time that lets you capture short-term and long-term clients.
OTT business examples
Studio Bloom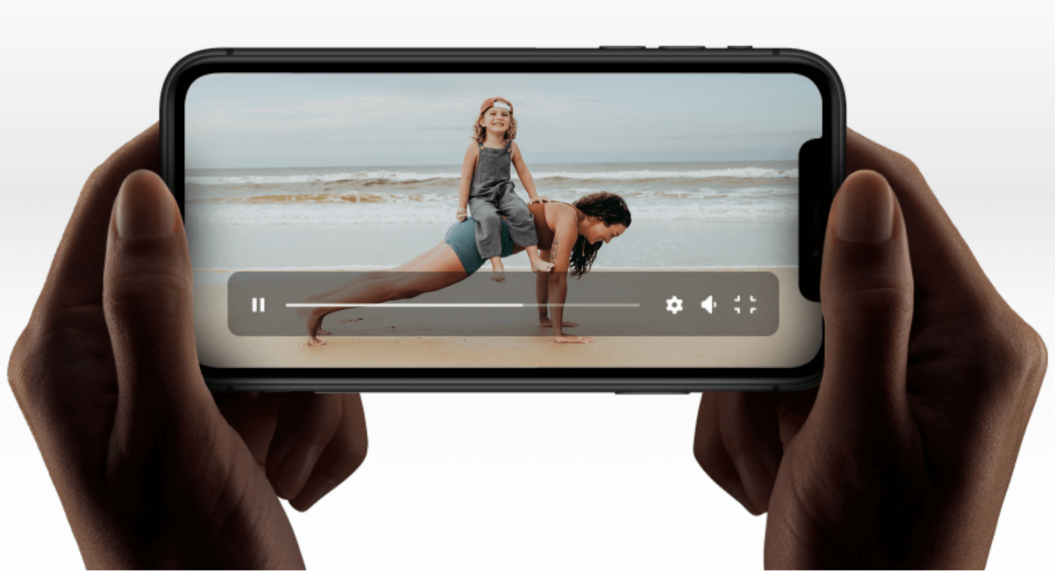 Studio Bloom is an online video streaming service and community focused on fitness for pre- and postnatal moms. Its OTT content covers workouts, recipes, meditations, mobility training, and more.
When signing up for a membership, you get unlimited access to over 700 classes, 1:1 coaching support, and a supportive community. Members can access the content from various devices like iPhone, Android, Apple TV, Roku, and Fire TV.
FanForce TV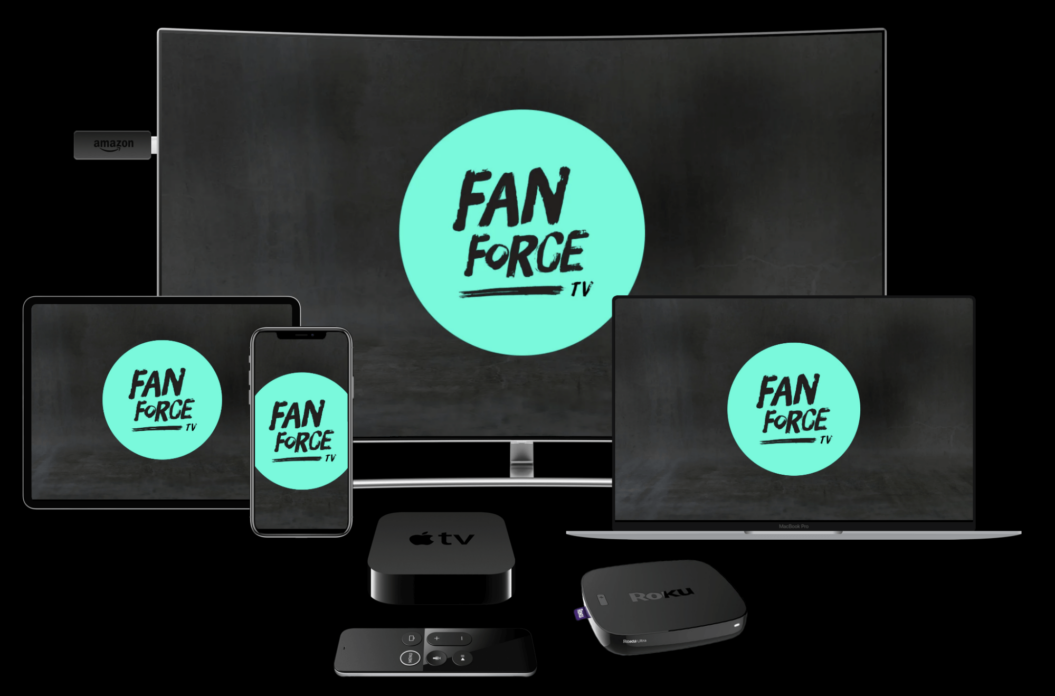 FanForce TV is another OTT streaming platform where you can watch independent films and documentaries from around the world. FanForce primarily streams types of content with a social impact, and gives people access to home entertainment, virtual screenings, and live broadcasts.
You can stream FanForce's content on iPhone, Android, Apple TV, Amazon Fire, Roku, and more.
Your Book of Memories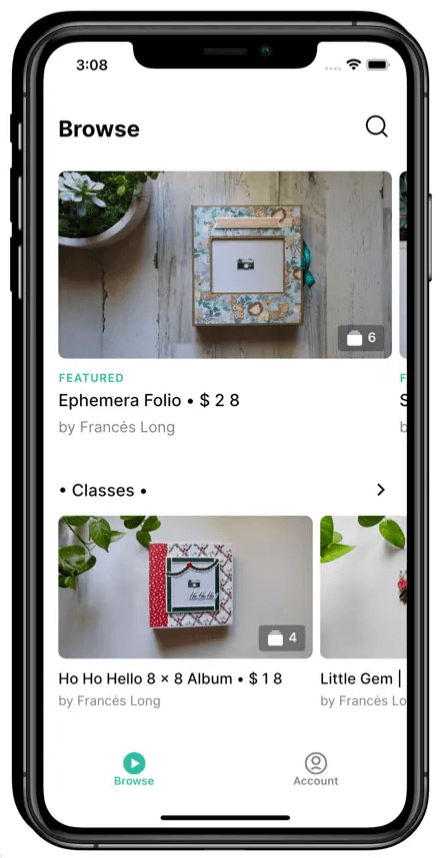 Founder Frances Long started Your Book of Memories out of her love for crafting. She started on YouTube, but despite having thousands of followers, she couldn't push past $380 per month.
She pivoted to creating her own OTT streaming service through Uscreen, offering viewers her tutorials as a one-time payment or as a subscription. In just four months after her pivot, she went from earning $380 to $4,000 per month. You can stream her in-depth crafting classes on an iPhone or Android device.
🧠LEARN: These 19 OTT Examples Will Inspire You to Launch Your Own Over-The-Top App
Launching an OTT app with Uscreen
Now you know about the OTT business model, it's time to choose a platform that'll help you meet your revenue goals. With so many options to choose from, things can feel a little overwhelming.
That's why we've put together an OTT platform shopping list to help you pick the best OTT platform for video monetization based on your particular needs.
Uscreen is an all-in-one membership platform where you can build and grow a video business that operates seamlessly and profitably.
Here are 5 main reasons why you should launch your OTT app with Uscreen:
It's the most affordable + efficient way: it costs less to launch an OTT app with Uscreen vs. hiring a developer or publishing directly.
It's technically hands-off: all you have to do is request the OTT apps, and the Uscreen team takes care of the rest.
There's a dedicated support team: you get a dedicated team to support and maintain your OTT app (for free) after launching.
It's customizable: you can customize your OTT platform to fit your branding.
It's community-focused: our community features let you interact with your community and allow members to create their own profiles and interact with one another.
Plus, our platform is jam-packed with streaming platform features, including:
Multi-screen video streaming services that let you deliver content to viewers via your membership website and your OTT apps, both on-demand and live.
A variety of built-in marketing tools that help you launch, grow, and retain your customers; including coupons, reduce churn tools, upsells, landing page builders, gift cards, and a sales funnel builder.
A video content management system that makes categorizing, removing, and managing videos easy.
An HTML5 video player that's responsive, easy-to-use, and works on all devices.
Community building tools, such as live chat, comments with likes, and an option for community members to personalize profiles with custom avatars.
Security to protect viewers 24/7, ensuring privacy is maintained, and all information shared within your channel is encrypted.
Best of all, with Uscreen, you can launch an array of branded OTT apps available on iOS, Android, Apple TV, Apple Watch, Roku, Amazon Fire TV, and Android TV devices.
It's simple with Uscreen.
Build, launch and manage your membership, all in one place.
OTT business model FAQ
What is an example of an OTT business?
An example of an OTT business is HBO Max, a streaming service that offers a variety of TV shows, movies, documentaries, and more. All its content is delivered over the internet without requiring people to pay for cable or satellite TV.
What is the monetization model of OTT?
There are two ways OTT monetizes itself: subscription-based revenue, where users pay a monthly or annual fee to watch content, or advertising-based revenue if there's free content with ads. It's possible to get ad-supported cheaper or free plans and ad-free premium plans with some OTT services.
What is the business model of Netflix?
With Netflix, you can watch movies, TV shows, documentaries, and original programming for a monthly fee. Besides investing heavily in content creation and acquisition, Netflix uses advanced algorithms for content recommendation to enhance user engagement, and it creates a diverse content library to cater to different audience tastes.