Imagine this: you walk into a new gym, slightly overwhelmed and not sure where to begin- totally normal!

Your clients may feel the same way when they log into your VOD platform for the first time.

As VOD continues to be an important part of a fitness business, guiding your clients' experience within the platform (just as you would inside your brick-and-mortar space) is absolutely key. You'll want to make sure your clients know where to begin, how to navigate your offerings, and how to find the classes or options that best align with their fitness goals.
One of the best ways to ensure a positive experience for your clients is by organizing and categorizing the content for maximum engagement. When evaluating your VOD platform, take a look at the following 8 strategies for organizing (or reorganizing) your content.
1. Consider All Levels
It's important to meet your clients where they are in terms of their fitness and comfort levels.
By categorizing your offerings by level, you give your clients an opportunity to start with classes that are most appropriate for them (which will help them feel good!).
You'll need to decide on the type of scale that aligns most closely with your fitness type, for instance: Beginner, Intermediate, Advanced or Level 1, Level 2, Level 3.
And be sure to give a brief description for what can be expected at each level, including examples of what types of movements might be included.
Descriptions can look something like this:
Beginner: This series of workouts is great for anyone who is newer to our classes, and includes foundational practices that are accessible to practitioners of all levels. These classes are also a great refresher for more seasoned practitioners who want to get back to the basics with a focus on alignment and body awareness.
Uscreen customer Tint Yoga is a great example of how to welcome new users and consider all levels.

Firstly, Tint Yoga starts their catalog off by welcoming users to the channel with a few videos on how to get the most out of their subscription.

Tint Yoga goes one step further to specify the level of each yoga series. See below, a 'Beginning Advanced', clearly great for anyone who is at the earlier stages of advancing their yoga practice.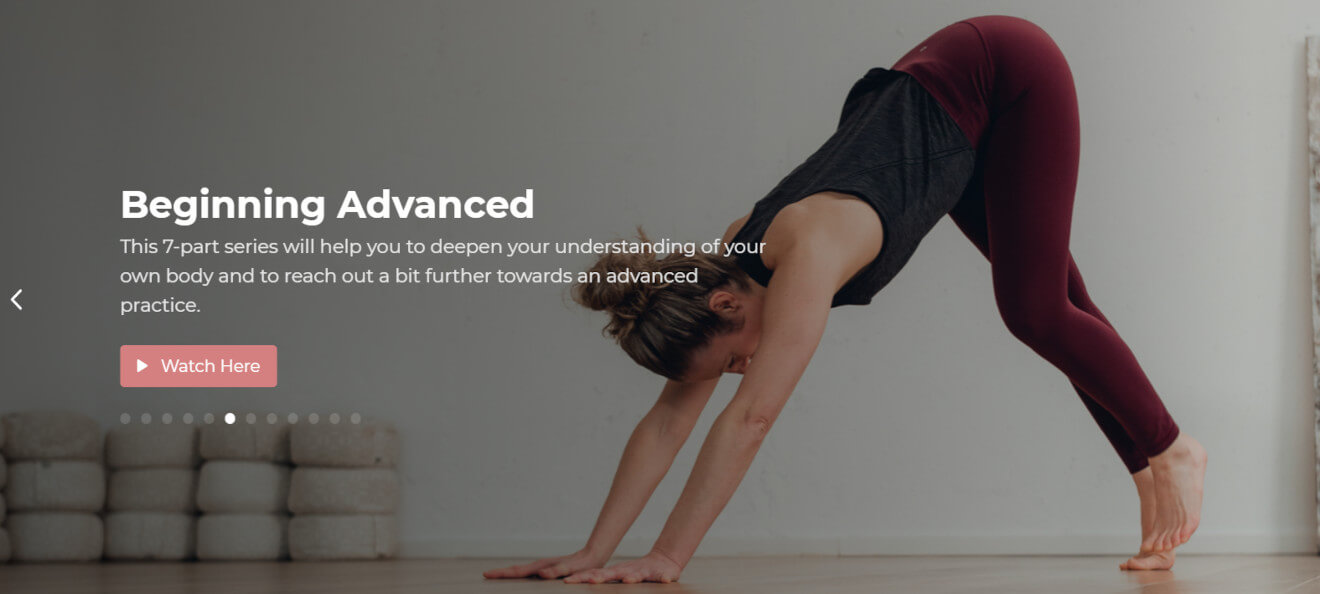 In addition, Tint Yoga uses the catalog filtering feature to make it easier for users to find whatever it is they're looking for.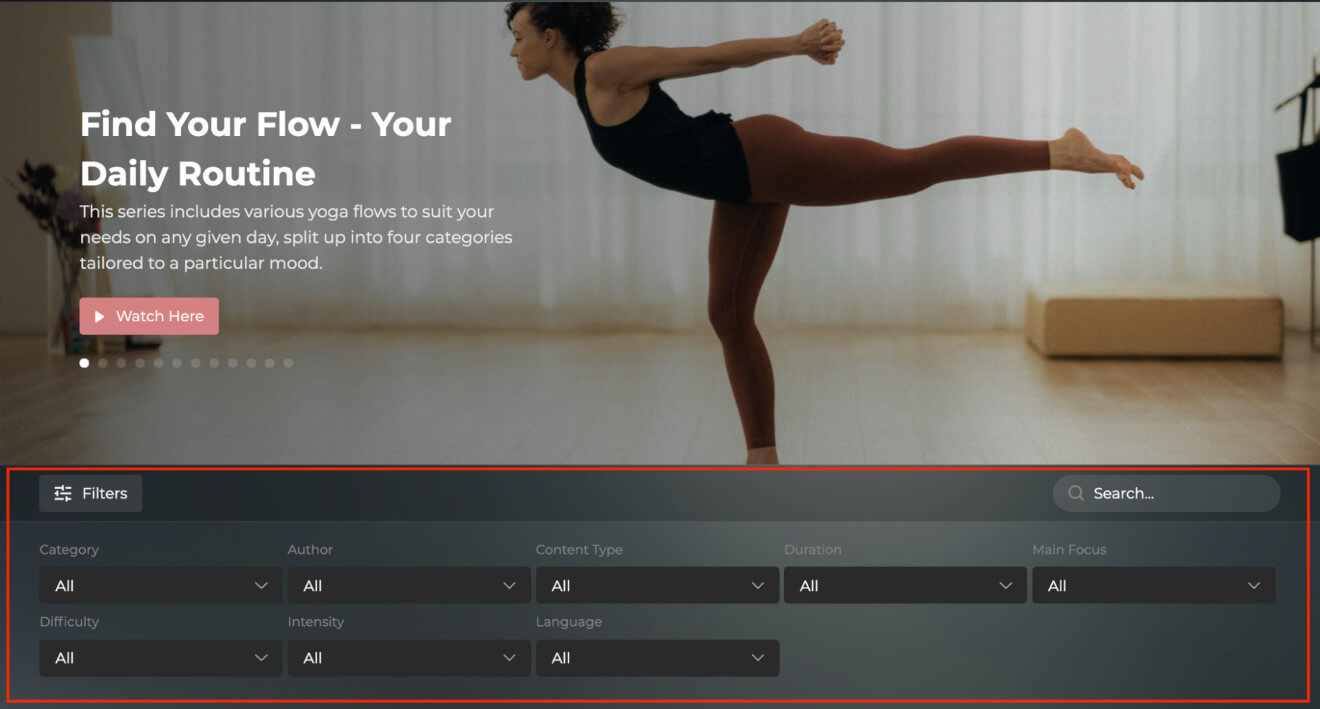 2. Organize By Class Length
One of the strengths of VOD platforms is having the ability to offer different content durations.
It's best to diversify and offer different class lengths, ranging from more bite-sized videos (15 or 20 minutes) all the way to longer ones (60 or 75 minutes), and anything in between.
Allowing clients to sift through videos based on duration will give them the opportunity to fit the class into their busy schedule…

…and it's also a great way to showcase the diversity of what you offer.
3. Group Videos By Goal
Everyone is looking for something different when it comes to personal fitness goals. So, grouping classes together based on goal categories is a great way to give clients a more personalized experience.

You can even take this a step further by adding the term lengths (ie. 14 days to a stronger core). Grouping your classes together in this way will let you offer a step-by-step guide for your clients to achieve their goals.
Suggestions for goal categories might include:
Increasing strength.
Laying the foundation (basics classes).
Balance and flexibility training.
Building stamina.
Improving energy level.
Tint Yoga uses the category 'Arm Balances & Inversions'…

…to group together tutorials and classes that specifically focus on those movements.
4. Create A Section For Foundational Videos.
Creating a category for foundational videos is a great way to break down basic exercises and give clients tips to help with starting their fitness routine.
Tutorials are a great way to add content and value to your VOD site, they're also important for beginners and veterans alike. These short tutorials are a great way for clients to get to know your instructors and identify what types of classes they should seek out on your platform.
Within the foundational video category, make it easy for students to identify which specific movements each class will focus on. Tint Yoga does it well here:

You can use title cards that include the movement category or posture which will help students find the class that is best for them.
5. Offer options for modified movement.
Your VOD platform is a great place to offer modifications for your clients. Tutorials and tips for working out at home will help to create an adaptive experience.
These classes can include movement with props, such as yoga blocks, or variations of certain movements to make it accessible for either advanced or beginner students who want to challenge themselves.
6. Provide Detailed Class Descriptions.
When it comes to organization, each video you create for you is only as good as it's description.

While some video titles that identify certain focus areas or workouts may seem straightforward, descriptions offer a way to differentiate yourself and give the viewer more of what they want to know.
A title like "soulful stretching" might seem straightforward, but you'll need to ask yourself these questions:
How does your series differ from your competitors?
What types of movements can the client expect in these classes?
How will your viewer feel during or after class?
Will your viewer learn anything new?
Check out the details provided in the class description below: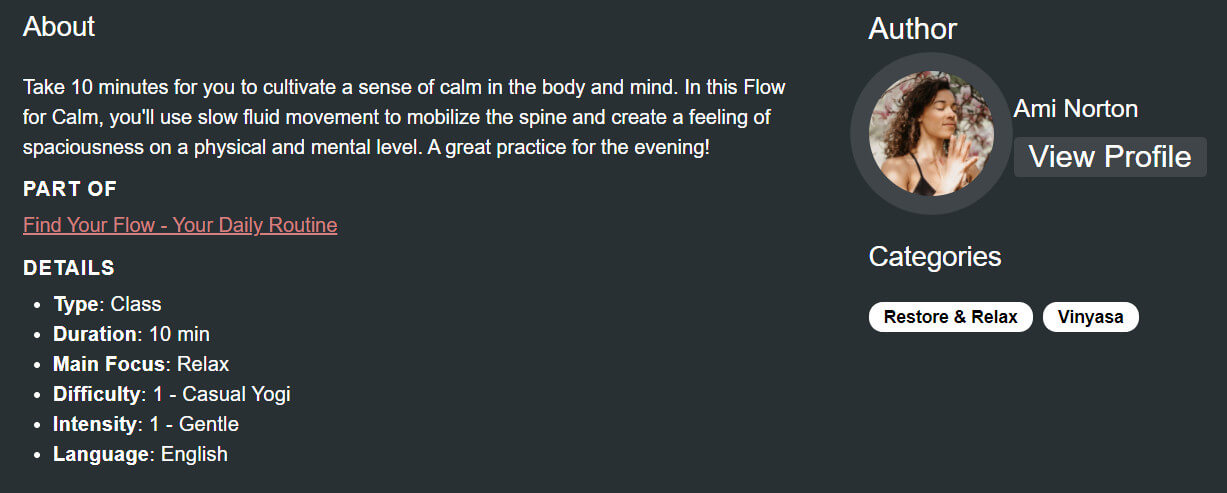 A brief synopsis of the class gives detail on what students can expect, and includes the class type, duration, main focus and difficulty levels. The more specific your description, the better you're able to meet your clients expectations for that day's workout.
7. Include playlist links alongside content.
Giving clients options for playlists with different vibes allows them to choose what mood they're into for that day's workout. Offering a variety of playlists is a great way to add value to your platform, make your service unique, and offers another way for clients to connect with your studio and instructors.
8. Get creative with your content.
Get creative with video content and include offerings that are outside your typical class structure.
Ask yourself: what are some additional offerings that would add value to my platform?
It might include:
Nutritional classes that will further help your client reach their goals.
A meditation series that compliments your VOD content.
Introductory videos that let clients know a bit more about your different class types and styles.
Your studio philosophy.
Teacher bio videos that can humanize your brand more.
Ideally, these unique blocks of content will give clients an opportunity to strengthen their connection to your business.
The 'Off the Mat' category used by Tint Yoga includes spotlights on individual instructors and bonus content on the studio's philosophy.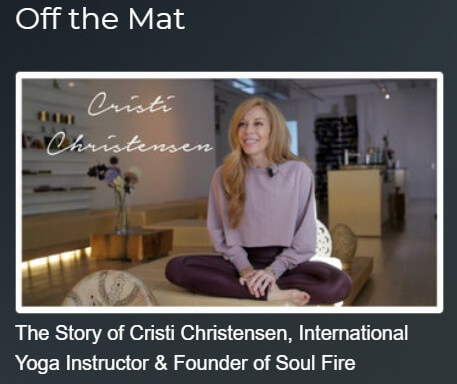 These short features can be a great way for students to get to know the culture and community of your studio.
Wrapping it Up…
And there you have it! A few things to consider when organizing your awesome VOD content.
It's also worth mentioning that you should continue to update your categories and offerings as your VOD platform develops and grows.
Creating new categories that coincide with your current studio offerings is a great way to keep the platform fresh. You can even add or change existing offerings based on the time of year (ie. Summer Ab Series, Post Holiday Detox, etc.).
When creating these new categories, add in new content as well as repackaging existing content. Continuing to refresh your platform will allow you to create a profitable VOD platform and help you learn more about your clients so that you can evolve together.
Telomere Consulting provides strategic insights and advisory services to clients in the fitness and wellness industry. Catalina and her team provide end-to-end marketing support on all things VOD and would love to hear from you. We want to help you treat your business the way you would treat your body – making the right choices now to optimize its potential for a long and healthy life. Visit us here to learn more.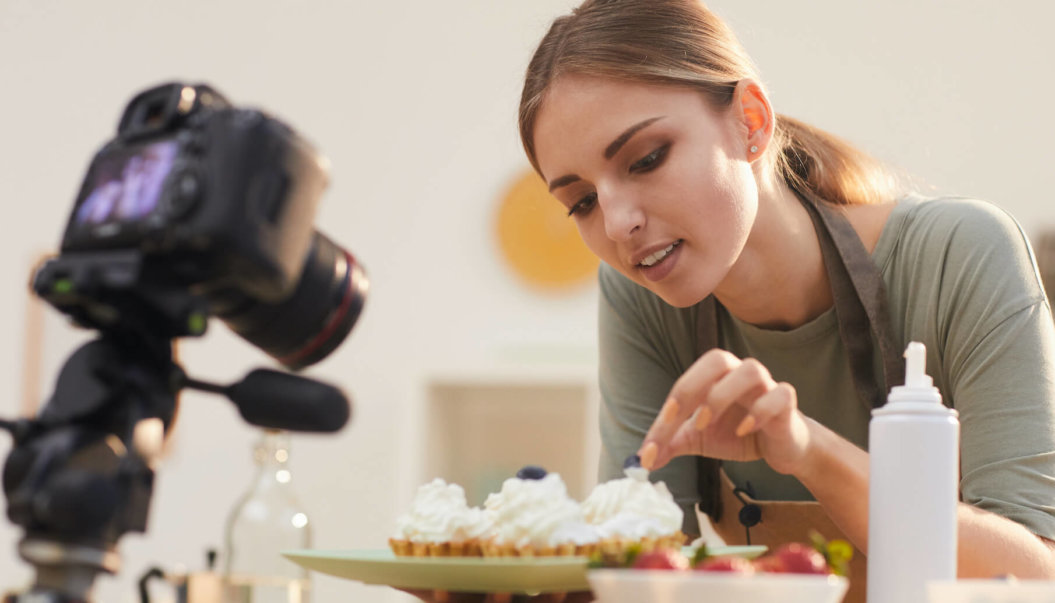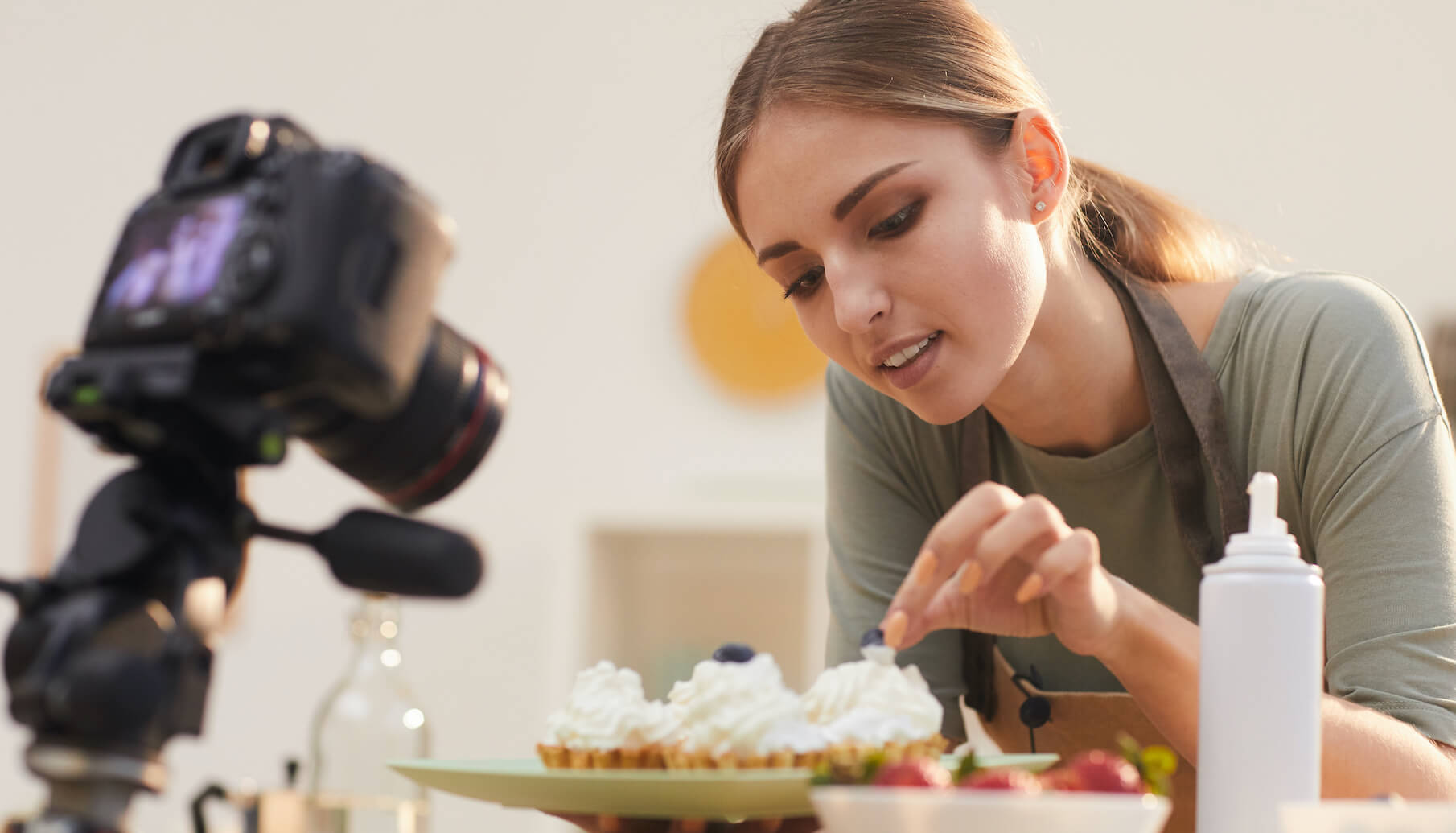 How to Repurpose Your Paid Content for Social Media