One of the most common questions we get at Uscreen is:
"Which OTT app should I launch first?"
It makes sense that people ask us that.
You want to be certain you're launching the OTT apps on devices your target audience already exist – which is why we put together this guide.
We want to give you the specific data on which streaming devices your target viewers are using the most. That way, you know which OTT app you should launch first.

No time to read this article now? Download a free PDF version of this blog post (all tips and links included).

A Quick Note On The Data
The data in this article is compiled from multiple sources.
We've used a mix of Uscreen's internal platform data and third-party sources to provide a well-rounded picture and ensure as much accuracy as possible.
You will also see our observations on the data to help you make informed decisions on which app you should launch.
Where Do People Even Stream?
Before looking into a breakdown of app-specific data, we want to make sure that apps are even all they're cut out to be. Do people actually use them?
The data below is pulled from our study of 1.1 million Uscreen subscribers.
We found that more than half the people who stream content do so using mobile and TV apps rather than web browsers.
This is driven by the fact that:
Mobile devices are compact, portable and convenient
TVs are still the most comfortable way to consume content, especially entertainment and home yoga
Internet-ready devices are optimized for apps and have a poor user experience when it comes to browsers.
Here are how the viewing stats break down on a worldwide scale: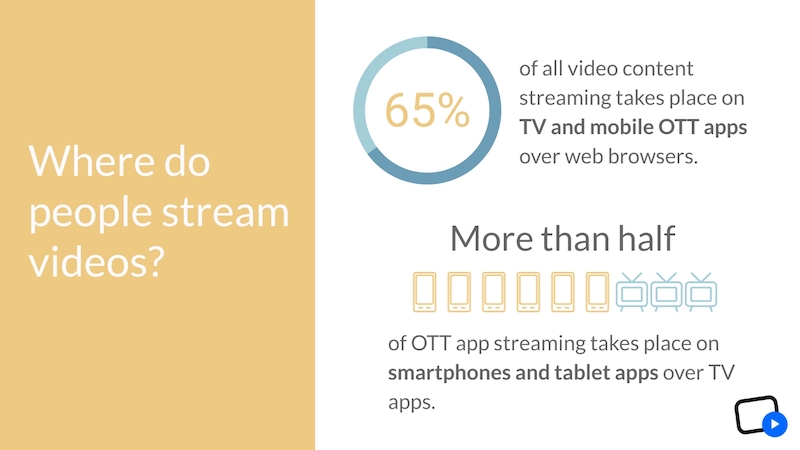 Notes:
"Web browser" here refers to any and all streaming happening through any browser, whether on mobile, tablet or desktop browsers.
Mobile apps refer to apps for both smartphones and tablets
TV refers to apps for streaming sticks and boxes
Observations
This data is a great zoomed-out, overall perspective. Be sure to consider the specific target locations of your audience, as these numbers can be slightly different from country to country. You will find location-specific data for OTT mobile apps later in this guide.
Content consumption on OTT TV apps is on the rise year on year – we expect TV app share to go up to 30% by 2020.
Which Mobile Apps Are Used Worldwide and In Each Country?
If you're planning on launching a mobile OTT app for smartphones and tablets, you'll need to pay close attention to the location you're targeting.
As of June 2019, 67% of the world's population has a mobile device, but the operating systems people use vary wildly from country to country.
According to GlobalStat's Statcounter here's how the current market share breaks down: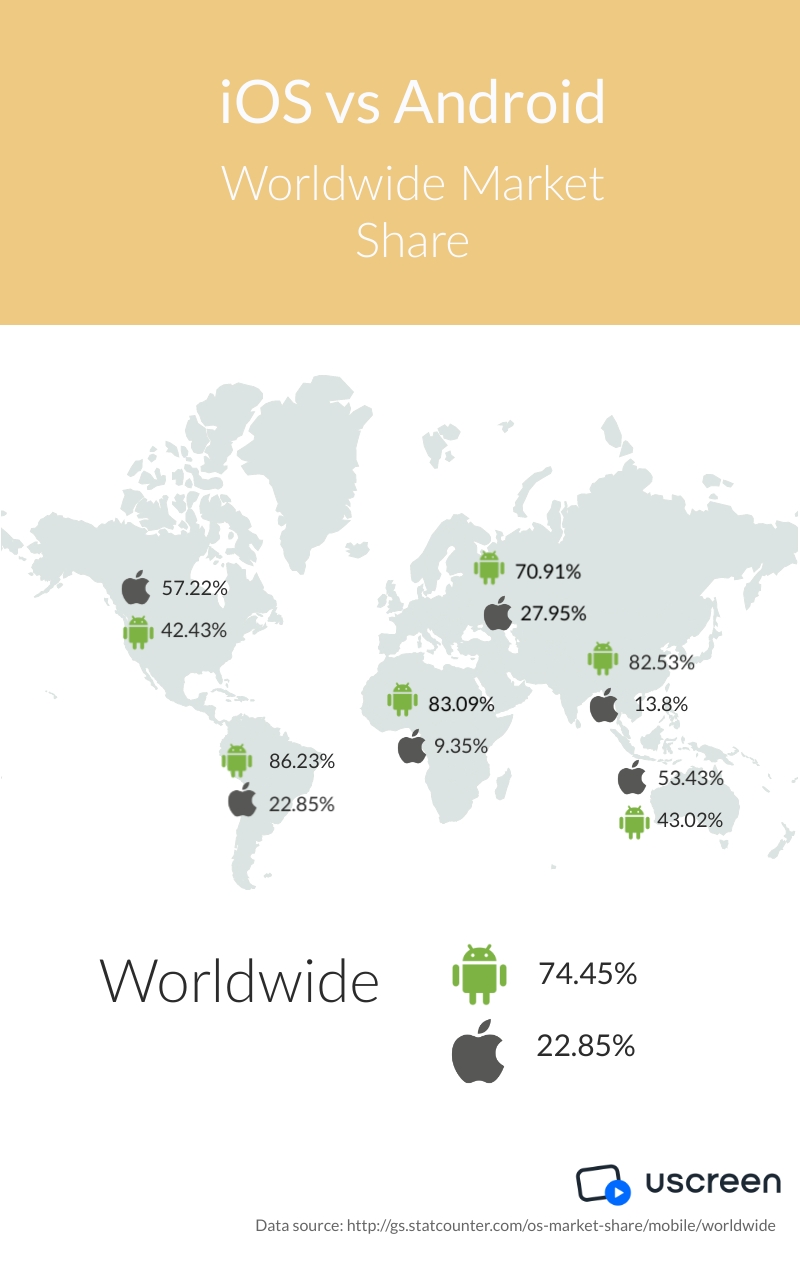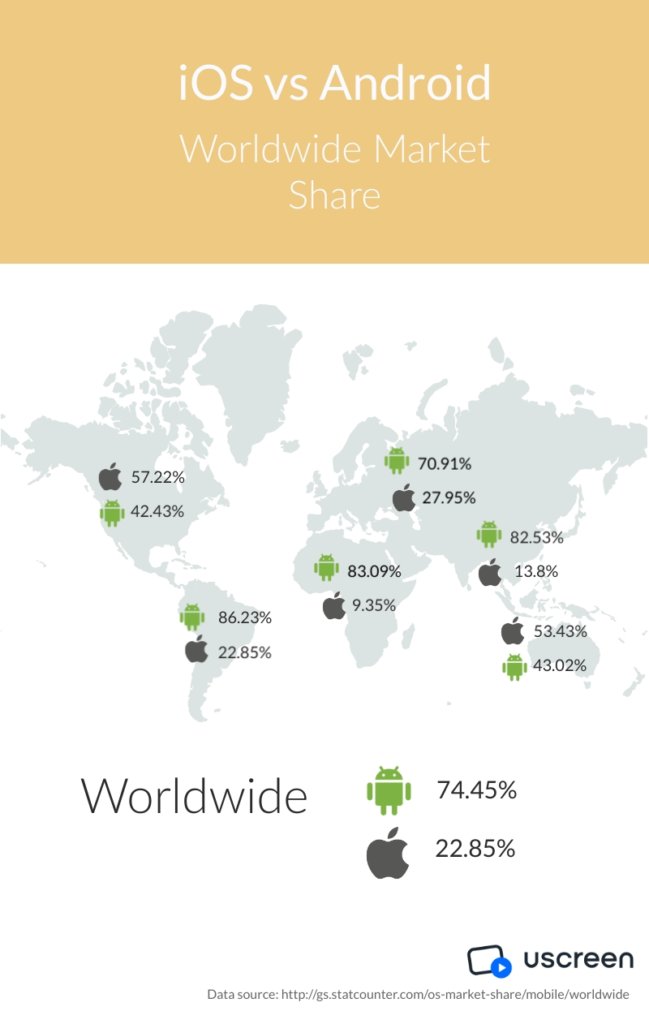 Observations:
In English-speaking markets, iOS has the largest market penetration
In Non-English markets, Android has the largest penetration
In "developing" markets, Android has an overwhelming market share
In India and Asia, it's worth paying attention to the growth of KaiOS
Which TV Streaming Sticks And Boxes Are Used Worldwide?
Streaming sticks and boxes – like Roku or Amazon's Fire Stick – present a great opportunity for TV-based content.
If your customer needs to consume your content on a big screen TV for optimum value (eg: entertainment, at-home fitness), these devices can help you to deliver your videos directly to their TV.
According to comScore here's how streaming devices and boxes breakdown worldwide: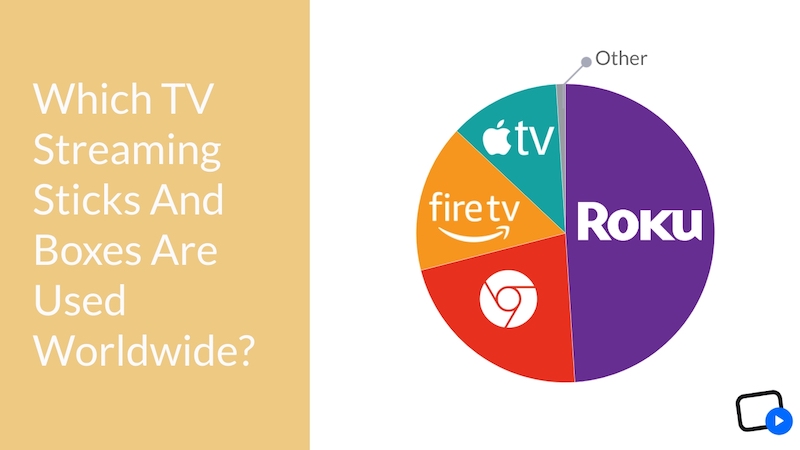 Observations:
Roku takes the lead and wins by a landslide. Roku TV apps are the only apps that we can confidently claim are a non-negotiable must in the TV-apps space. If you want to succeed in TV streaming, start with Roku.
Amazon Fire TV is a rising star and, as of 2019, has made efforts to expand its user base beyond that of Chromecast. They are also starting to integrate with televisions, like those offered by LG.
Apple TV is going through a turbulent time. Their user numbers are on the decline and there is no official word on the concrete plans they're making to turn this around, though some have speculated. They may be best to avoid until you see an uptake in numbers.
Final Thoughts…
We showed you a lot of new data today. It's ok if you didn't retain all of it, it's a lot. But here's what you should take away from this guide:
More than half the people who stream content do so using mobile and TV apps rather than web browsers.
Mobile apps allow for the most specific location targeting
Android mobile apps have the widest reach worldwide and especially in non-English speaking markets.
In English-speaking markets, iOS has the largest market penetration
Half of all TV app users stream using Roku, making it the necessary app to develop in you want to reach your audience on their TVs.
We hope this data has helped you to decide which app to launch first based on your audience's geographic.
As new data becomes available we'll add to this list to ensure you're getting the most up-to-date information about your audience.
If you have any questions about the data shown here or would like to request specific insight, let us know in the comments below!