OTT platforms can be a powerful tool for content creators looking to increase revenue and stand out in their niche.
An OTT platform lets you offer premium streaming experiences and build your online presence beyond social media. You can create your own branded apps for OTT streaming services like Roku, Smart TV, and even gaming consoles.
Plus, connecting with viewers on their chosen device makes your content even more valuable, and keeps your audience coming back for more.
Ahead, we recommend the best OTT platforms based on features, capability, and price.
Top OTT platform picks
| | | |
| --- | --- | --- |
| Name | Best for | Price |
| Uscreen | Scaling membership business | $$ |
| Muvi | Media houses | $$$ |
| Wowza | Technical entrepreneurs | $$ |
| Setplex | Tech-focused brands | Quote-based |
| Brightcove | Larger enterprises | Private |
| Pivotshare | Beginners | Revenue Share |
| Dacast | New live streamers | $ |
| Kaltura | Educational institutions | $ |
| IBM Watson Media | Enterprise | $$ |
| JW Player | Developers and content creators | $ |
| Vimeo OTT | Small Businesses | $ |
| Brid.TV | Brands Monetizing with Ads | $ |
How to choose the right OTT platform
Many OTT service providers are available for creators looking to monetize their video content. Most now offer the standard Video-On-Demand (VOD) and live streaming capabilities. But some offer more advanced features for different types of OTT business models.
As you compare the different options on your OTT providers' shopping list, keep the following considerations in mind:
Easy to set up. The first thing to consider is ease of use. Look for a platform you can quickly set up and start streaming content without technical expertise.
Video monetization tools. Check to see if your ideal platform has ways to monetize your content. For example, if you're starting a video membership site, you'll want a tool that provides subscriptions. Your platform should also let you monetize through rentals, one-time sales, and pay-per-view.
Excellent viewer experience. Viewers expect a smooth, high-quality streaming experience. Ensure your OTT platform offers low-latency streaming, top-tier video hosting, and quality optimization. Verify that users can easily find content and access a fast app that works on any device, operating system, and browser.
Marketing tools. A great OTT platform provides features that make promoting your content easy and attract viewers to your site. Look for a platform that offers giveaway funnels, smart email automations, analytics, content scheduling, community features, and retention tools.
Customer support. Support is always helpful when you're using new software. If you have a question about a feature, it's nice to have a place to get answers. See if your OTT platform has support services like 1:1 calls, email support, FAQs, and community forums where you can get help from real people.
Customization. Get an OTT platform that lets you customize the look and feel of your website and apps.
Scalability. The right OTT platform will support you as your audience grows. Ensure it uses a powerful Content Delivery Network (CDN) that lets you stream large amounts of content to a global audience.
Best OTT platforms compared
1. Uscreen
Best for: Scaling your membership business
Reasons to buy:
Branded OTT app across 7 major streaming services.
Dedicated customer support team to help launch and grow.
Immaculate viewing experience.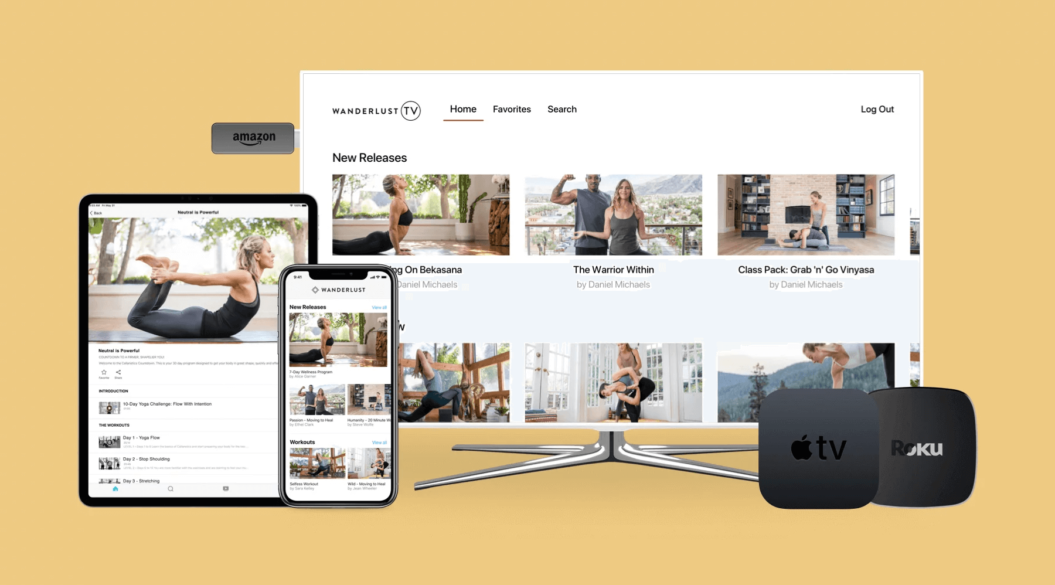 Uscreen is the best cloud-based over-the-top (OTT) platform for content creators who want to level-up their video content business via on-demand and live streaming platforms for the web, mobile devices, and smart TVs. Uscreen's primary focus is assisting creators in scaling their existing businesses.
Uscreen helps with all the technical aspects of your content platform, like managing IT infrastructure and setting up payment gateways. With a little effort, you can build a customized site that represents your brand, no coding required.
Uscreen's OTT platform has many features designed to make it easier for creators to launch apps to stream on any device, monetize videos, and convert viewers into paying customers (often through a membership model).
Create a beautiful app that's all yours
Uscreen offers native mobile and TV apps that let you reach viewers through multiple devices, including iOS, Android, Android TV, Amazon Fire TV, Roku, and Apple TV. This makes it easy to develop a multi-channel presence.
The best part? Uscreen will build your app and deploy them to various directories with your branding. You get complete ownership of your app and can create a professional, intuitive user experience for your customers.
Sara Beth Yoga, for example, streams its video content to thousands of yogis worldwide through various apps like Roku.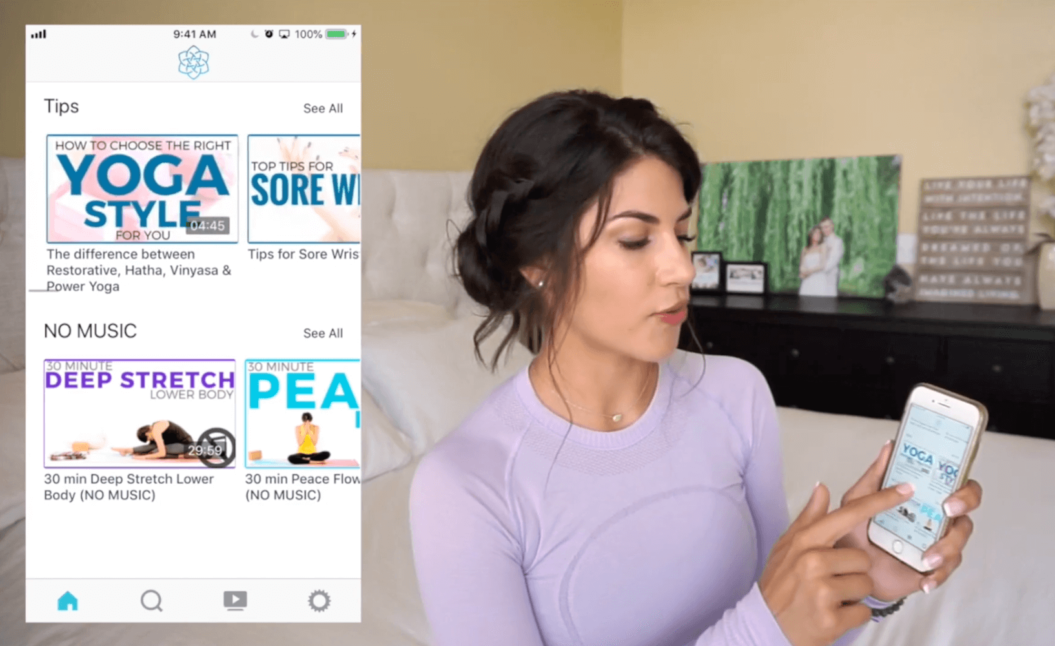 The apps are the selling point. People now want to access everything from their devices, whether it's their phone or TV. My Roku app is gorgeous. My mobile apps are gorgeous.

Sara Beth, founder of Sara Beth Yoga
Give viewers a Netflix-style viewing experience
If your catalogs aren't organized, viewers will have trouble finding the content they want. That leads to frustration and will cause people to bounce from your website, which means lost revenue.
With Uscreen, you can let viewers stream a wide range of content on demand. Whether you create movies, short documentaries, TV channels, exclusive premium content, or live TV shows doesn't matter.
Easily organize your catalog by type, genre, and other attributes to make content identifiable. Then, viewers can choose when and where to watch your content.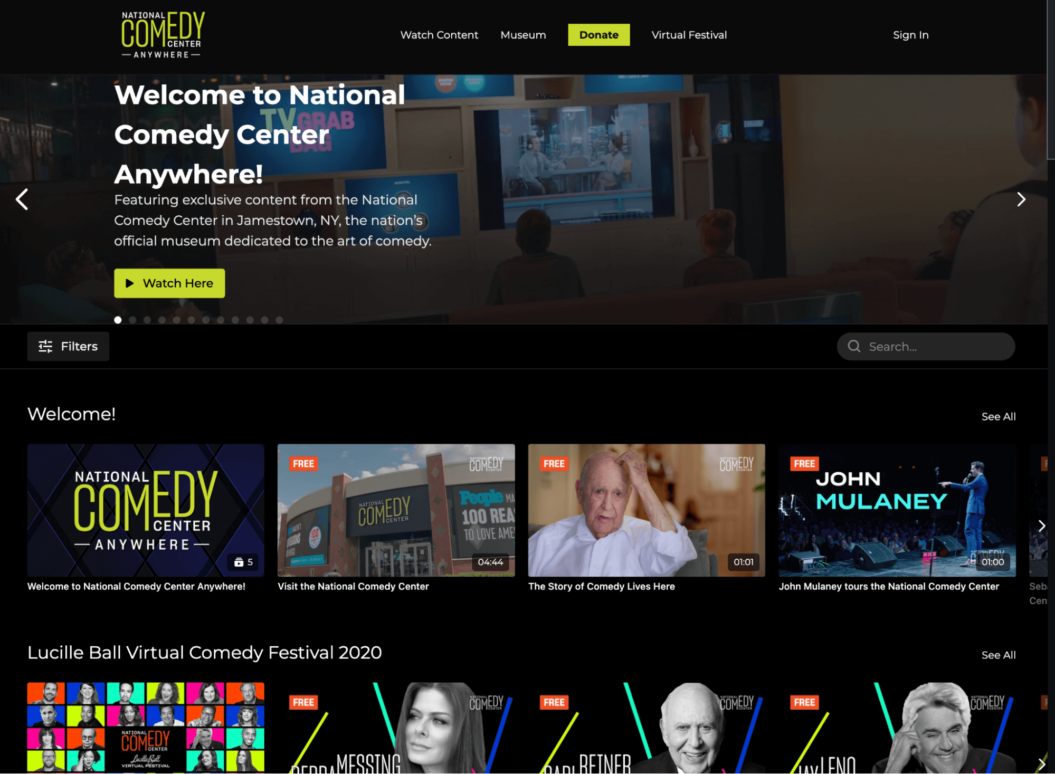 Discover and connect with your audience easily
Whether it's marketing tools, chatbots, or affiliate integrations, Uscreen's got you covered. You can find all the tools from your dashboard necessary to turn your VOD site into a 24/7 salesperson.
Uscreen provides tools to help: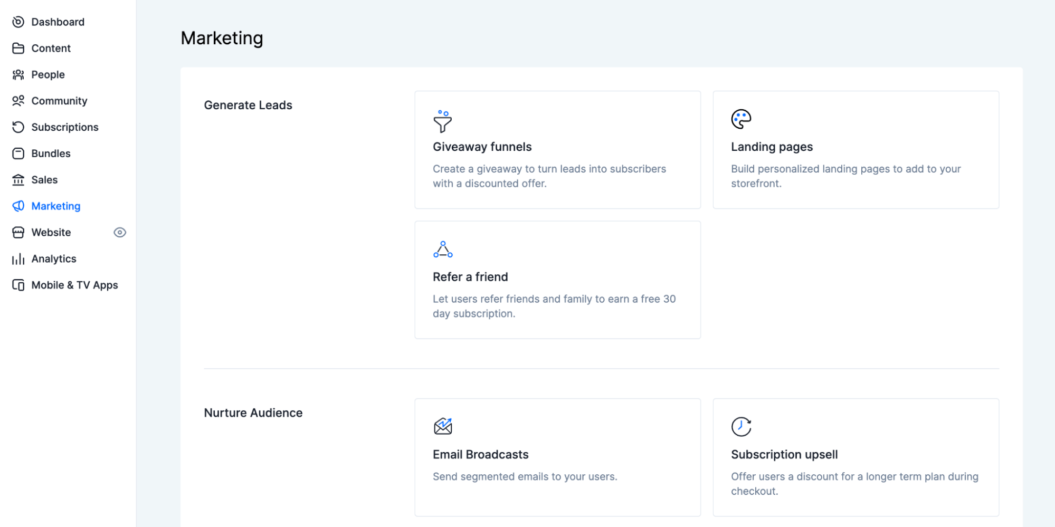 Uscreen also has several native integrations with third-party apps to learn more about your customers and market to them, including:
Mailchimp
Google Analytics
Hotjar
Facebook
Google Tag Manager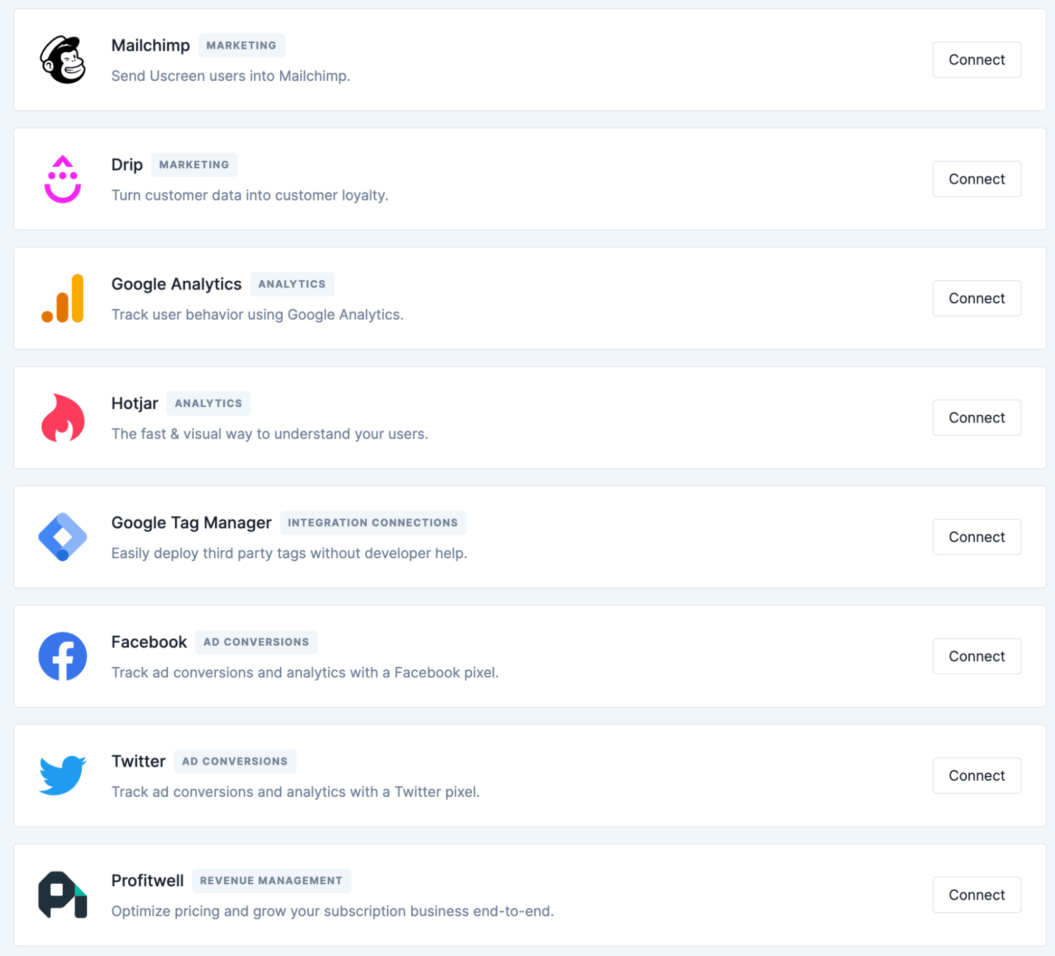 Manage everything from one place
In Uscreen, you can see everything going on in your business in one place. It's an intuitive dashboard where you can access and manage:
Video content
Website customization
Subscriber management
Revenue reports
…And more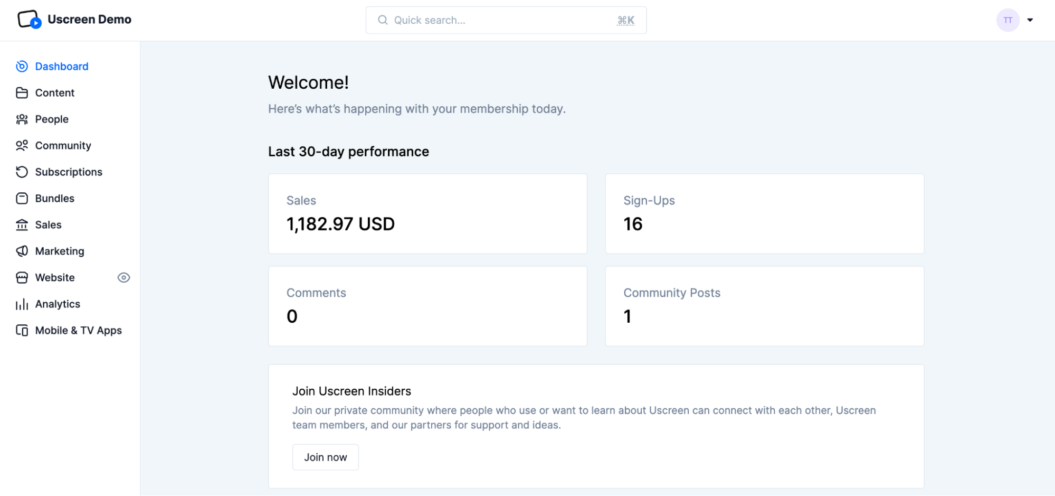 Other notable features:
HTML5 full HD online video player.
Customizable VOD templates with flexible branding options.
Multiple monetization models including subscriptions, one-time purchases, and rentals.
Robust analytics and reporting tools.
CRM capabilities.
Flexibility for organizing your video catalog.
Video hosting and live streaming.
API access.
Pros:
Community-building tools that include live chat, comments with likes, and an option for members to personalize profiles with custom avatars.
Customization and website builder templates available to help you quickly launch your own branded website.
Free giveaway funnels, lead generation tools, landing page builder, subscription upselling, and other marketing tools
Monetize by offering subscriptions, bundles, pay-per-views, rentals, free trials
Stream your content through an on-demand video catalog or schedule in advance
Easy to create a feed, live stream content, and get paid for it.
Pricing: $$
It's simple with Uscreen.
Build, launch and manage your membership, all in one place.
2. Muvi
Best for: Media and video production houses
Reasons to buy:
Robust customization features.
Audio streaming services.
Simple ads monetization.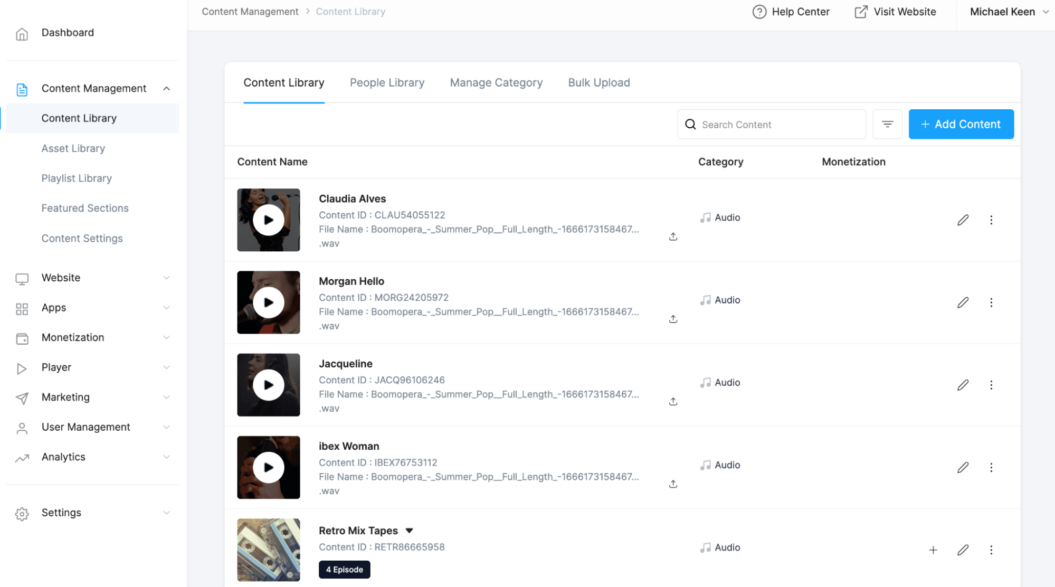 Muvi is a highly customizable OTT platform for enterprise brands. The company offers an end-to-end solution for launching white-labeled OTT video and audio streaming services.
With Muvi, you can build a branded website with more flexibility. It's easy to customize existing features, request new ones, and integrate with 3rd party tools like Google Analytics, DoubleClick, and more.
You can build an advertising-based revenue model with Muvi and keep 100% of the profits. There's also Muvi Kart, which lets you sell physical products to maximize revenue.
Features:
Video on Demand (VOD)
Pay-Per-View (PPV) / TVOD
Enterprise Video Content Management
Live Streaming
Video Advertising (AVOD)
Encoding & Transcoding
Video Streaming
Pros:
Robust cloud-hosted platform that supports on-demand content and ecommerce.
Quick and easy setup.
Multiple monetization methods.
Allows you to sell physical products alongside live streams.
Cons:
Limited website templates.
The video editor could use improvement.
Limited marketing functions.
No easy way to integrate with email providers like Mailchimp.
Free trial: 14-day free trial
Pricing: $$$
3. Wowza
Best for: Event producers and technical entrepreneurs
Reasons to buy:
Most developer friendly.
Full-featured, 30-day free trial.
Support for wide range of live events.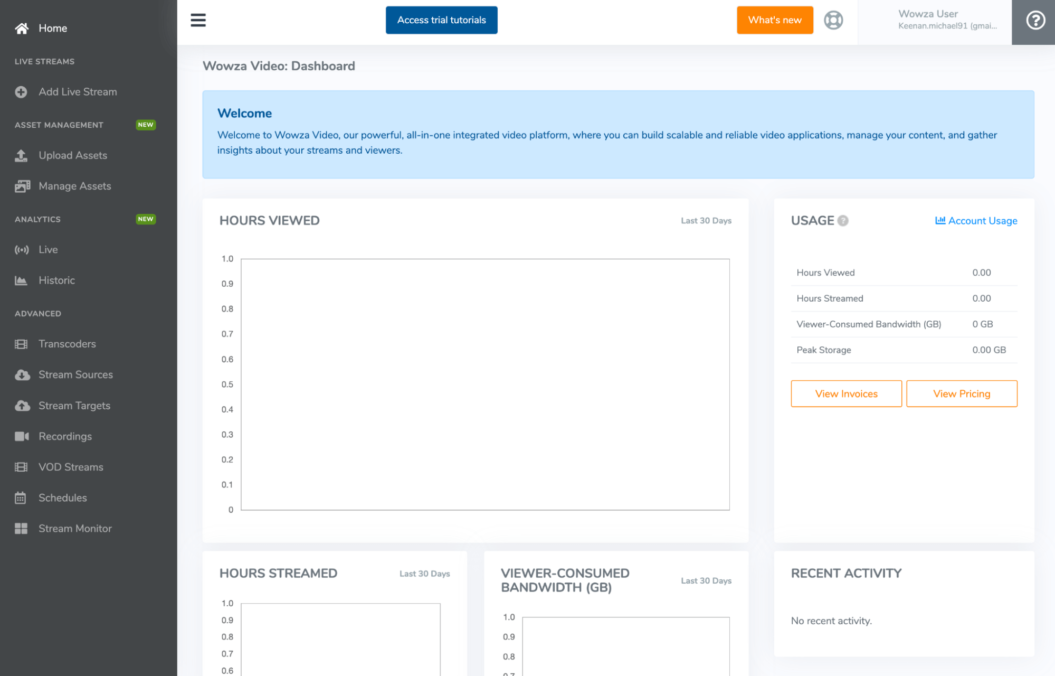 Wowza is a comprehensive live streaming solution that can stream content from the cloud and live encoders. It also recently joined the group of "hybrid" platforms, offering VOD and audio-on-demand services. The goal is to attract big brands in industries like healthcare, retail, esports, and government.
Wowza lets broadcasters develop highly customized streaming processes. Broadcasters have full access to Wowza's API and SDKs and the potential for third-party integrations. It's known for its scalable, flexible broadcasting possibilities and advanced streaming infrastructure.
Features:
Brand overlay.
Bulk uploading.
Closed captions.
Mobile screen support.
Cloud transcoding.
Reporting/analytics.
Social sharing.
Video looping.
Live video streaming.
Pros:
API for Live, VOD, CMS, CDN, and Player.
High-level security features.
Supports virtual reality, 360-degree films, and 4K streaming.
Cons:
App configuration and server management is difficult.
Limited client support.
Limited monetization tools.
Free trial: 30 days
4. Setplex
Best for: Tech-focused brands
Reasons to buy:
Numerous broadcasting channels.
Versatile monetization methods.
Complete suite of streaming features.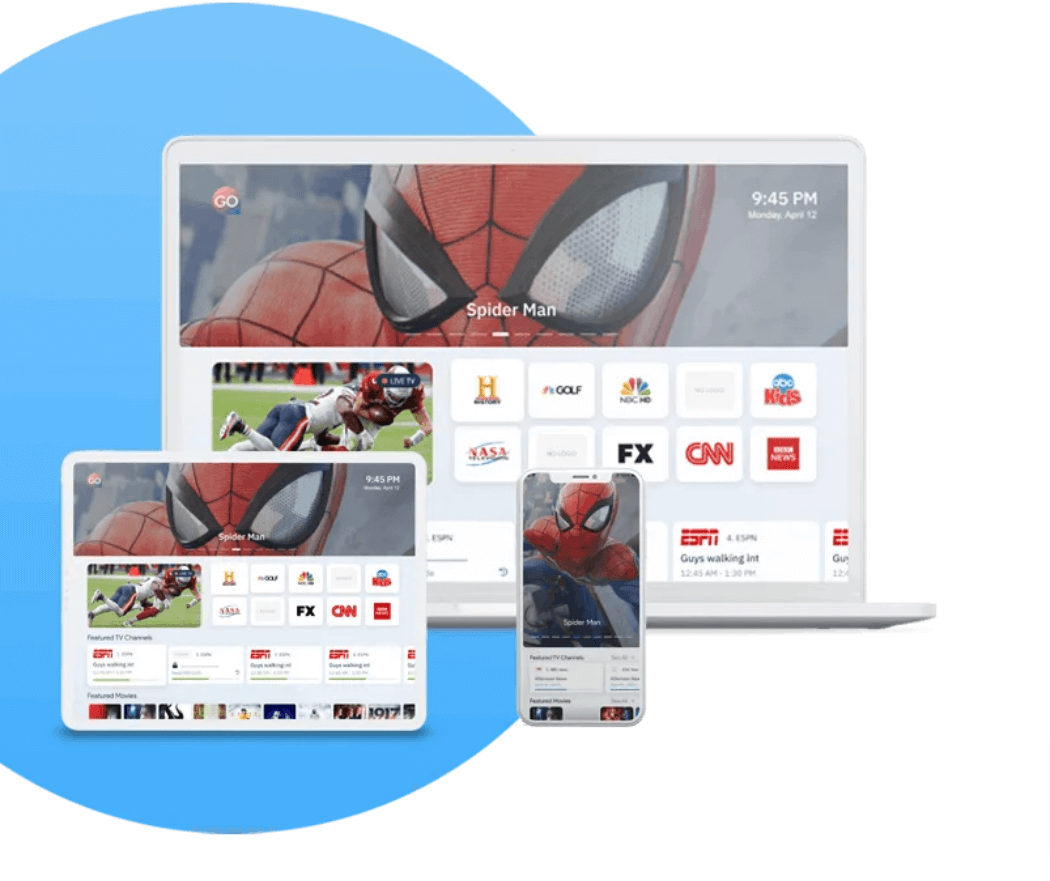 Setplex provides streaming services for IPTV, content owners, and government IPTV. It's a simple, yet powerful and affordable solution that covers all the essentials.
With Setplex, you can take advantage of on-cloud or on-premise management, making your app instantly available on the top ten app stores and directories. Setplex also has a Middleware integration that lets you edit your user interface, content, main menu, and more.
The SPA210 HD is Setplex's most powerful and fully-featured SET TOP BOX (STB), designed specifically for IPTV/OTT/VOD deployment.
Features:
OTT distribution.
Content management.
Multiple monetization methods.
Encoding/Transcoding.
CDN.
API integration.
Billing.
Pros:
Distribute content and broadcast over satellite.
Store unlimited hours and HD programming.
Live channel delivery for linear channels and events.
Launch OTT platform in 24 hours.
Custom packages to meet your needs.
Cons:
Some reports say certain channels don't work.
Complicated workflows.
Free trial: No
Price: Quote based
5. Brightcove
Best for: Larger enterprises
Reasons to buy:
Robust video analytics.
Server-side ad insertion.
High-end video platform.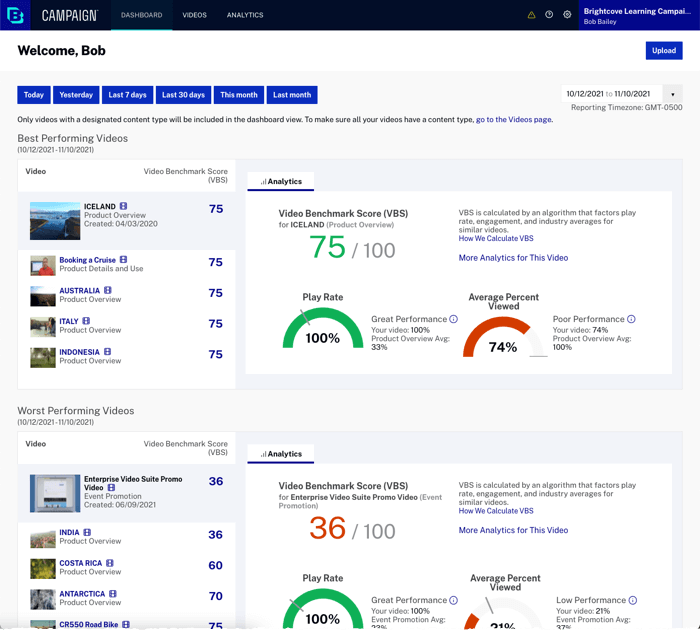 Brightcove is a full-featured, cloud-based video hosting and streaming platform launched in 2004. It focuses on helping enterprise brands deliver live or on-demand HD assets to 175 countries.
Brightcove's live streaming functionality offers real-time broadcasts, VOD hosting with integrated marketing solutions, and content streaming across desktops, smartphones, and tablets. It also supports server-side ad insertion (SSAI), so you can target ads in the expandable banner, midroll, overlay banner, and other forms to avoid ad blockers.
Features:
Live streaming.
VOD hosting.
Multi-bitrate and adaptive streaming.
Global content delivery.
Tech support.
Video API access.
Top-tier security features.
Video monetization.
Pros:
Monetize with coupons, SVOD, PPV, and AVOD.
Serve any type of ads.
Gain deep analytical and actionable insights.
24/7 customer support.
Fully customize your HTML5 video player.
Supports multiple business use cases.
Cons:
High price point.
Features are limited to high-ticket plans.
No China video delivery.
Free trial: No
Price: Quote based.
6. Pivotshare
Best for: Beginners
Reasons to buy:
Best for collaboration.
Free to start.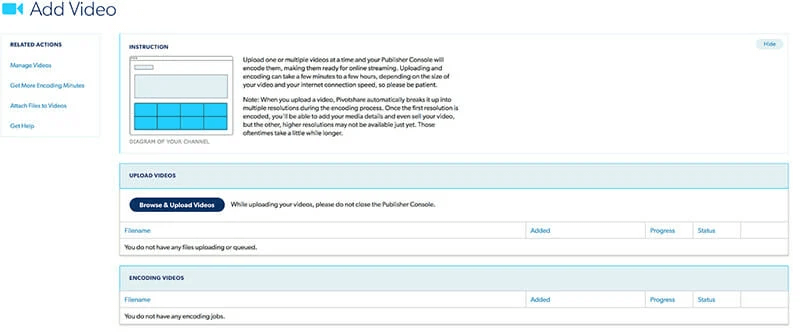 Pivotshare is an OTT platform that encourages collaboration to reach more viewers and monetize OTT content. Uscreen is a main Pivotshare alternative, but the two platforms go about supporting creators differently.
Pivotshare tends to attract people new to monetizing video content. It has a basic channel builder that'll get you off the ground. You can invite friends to contribute to your content, set transactional pricing and create video packages.
But Pivotshare takes 30% of all revenue generated as a single publisher. If you have contributed content and the channel is downloaded or rented, you'll receive 60% of the purchase price, split between all contributors.
That's a big chunk of change if you're producing a lot of video content for your audience.
Features:
Social integration.
Repeat billing.
Responsive channel design.
Video search.
Simple user navigation.
File downloads and attachments.
Analytics.
Pros:
Combine audiences and expand your brand.
Complete branded channel customization.
Subscription, coupon, and free trial monetization.
Share through in-stream video previews and action buttons.
Provide real-time, in-depth audience analysis.
Cons:
Revenue share gets expensive, fast.
Not ideal for solo creators.
Free trial: Free to start.
Price: 30% of revenue.
7. Dacast
Best for: New live streamers
Reasons to buy:
Low entry-level price.
Full API access.
Impressive live streaming.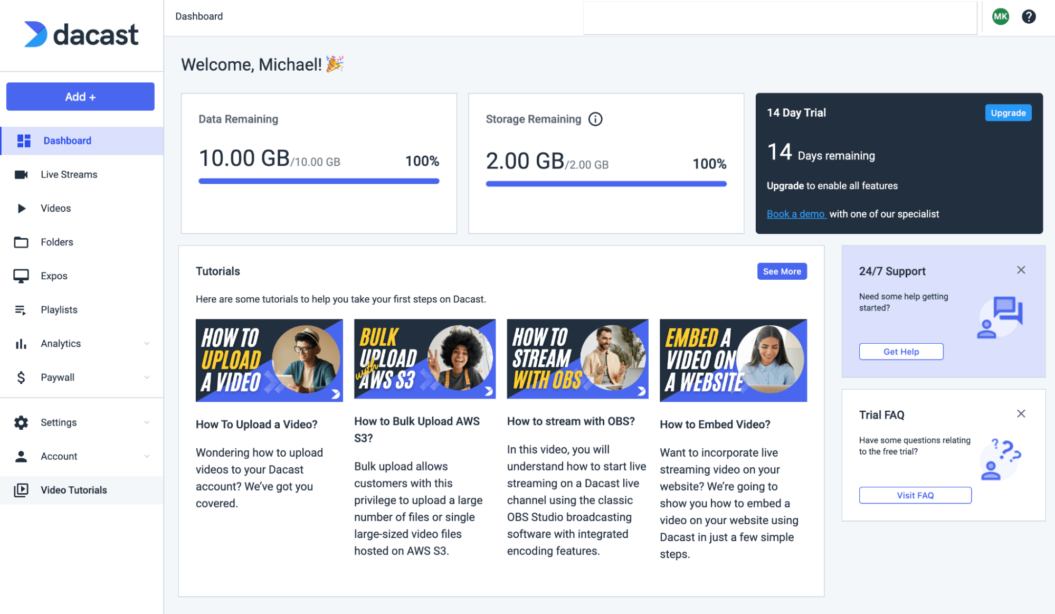 With Dacast, you can host on-demand videos and monetize content via PPV, subscriptions, or ad networks. In most cases, Dacast is used for live streaming by content owners. However, Dacast is geared toward newcomers to VOD and offers all the basics.
Dacast makes it easy to set up your channel. Whether you're a TV station or a government agency, you get a professional service out of the box.
Dacast delivers content through Akamai, the world's largest content delivery network. However, if you host a lot of videos, you'll have to pay for storage.
Features:
Live streaming video.
Embeddable links.
Video hosting.
Customizable video player.
Video API.
Monetization tools.
Analytics.
All-device HTML5 player.
Pros:
All in one platform for live streaming and video monetization.
White label features such as customizing video players and adding a watermark logo.
Full API access to integrate features and build custom workflows.
Cons:
Heavy commission structure, 9% of earnings plus commission fees.
Files larger than 2GB require FTP upload, which is complex.
Outdated interface.
Can only accept USD and EUR for credit card transactions.
Free trial: Yes, 14-days
Pricing: $
8. Kaltura
Best for: Educational institutions
Reasons to buy:
Open source video platform.
Integrated LMS.
AI-driven tools for video marketing.

Kaltura is the first open-source video streaming platform launched in 2006.
Since then, it's become the leading video cloud for global organizations, media companies, and educational institutions. The platform is supported by an API and a variety of plugins you can use to add functionality like payments, advertising, and analytics.
Kaltura also provides tools to support effective learning and development experiences. It's been integrated with Carleton's Learning Management System (LMS), so brands can train students, offer certifications, and host town halls and private events.
Features:
Third-party integrations.
Content management.
API access.
Customizable branding.
Embeddable videos.
Activity dashboard.
Robust CMS.
Smart monetization.
Automated captioning.
Pros:
Simple interface to record live sessions.
Cloud transcoding and encoder processing capabilities in different resolutions.
Gamification features for learners.
Supports HTML video ads and overlay ads.
Cons:
Poor customer service.
Difficult to implement.
No downloadable video files.
Limited revenue models.
Free trial: 30 days.
Pricing: $
9. IBM Watson Media
Best for: AI automation for enterprise
Reasons to buy:
Reliable and scalable infrastructure.
Leverages Watson AI technology.
Helps improve audience reach.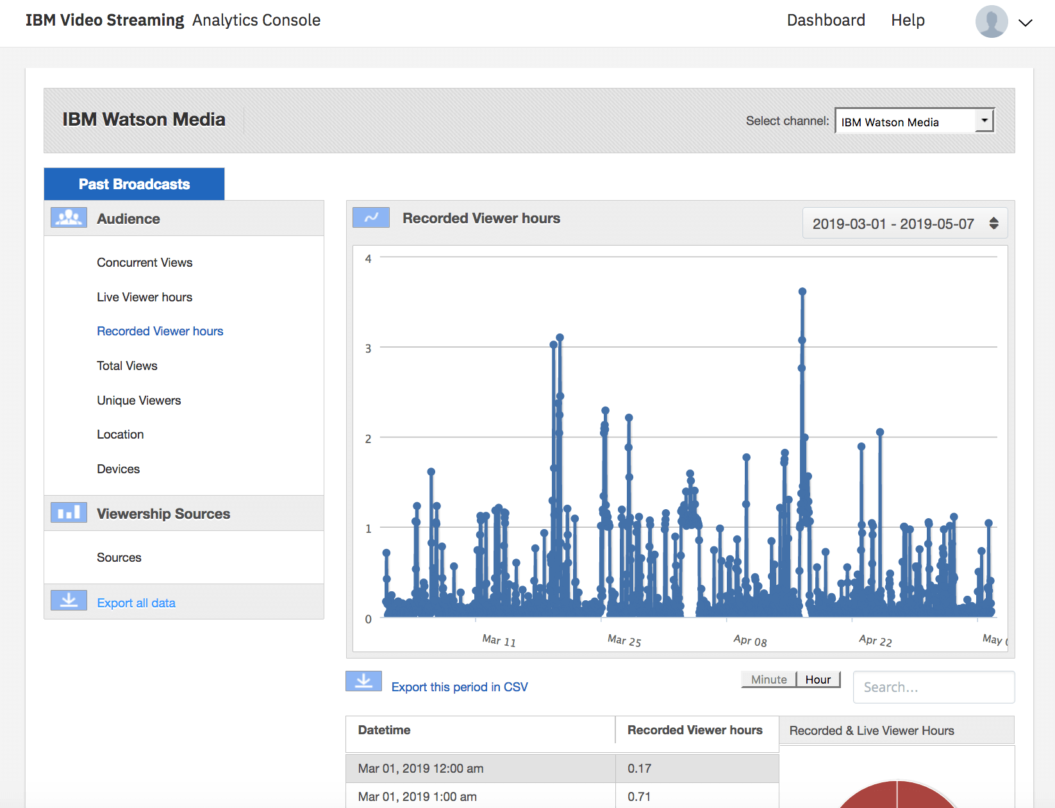 IBM Watson Media is one of the biggest streaming platforms. "Streaming Manager" is the main product, and IBM Video Cloud has many features like Uscreen, like embedded video players, custom branding, and cloud transcoding to give viewers an optimized experience.
To ensure smooth playback, IBM uses multiple CDNs. It also lets you create custom registrations to capture lead information and grow your sales.
Features:
Integrate content management.
Automated captioning and speech-to-text.
Integrated chat.
Live analytics dashboard.
Multiple admin support.
Lead capture.
Support for professional encoding and production gear.
Syndication.
AI/machine learning capabilties.
Automation.
Pros:
No resolution or bitrate limit on HD live streaming.
Plays on all devices, including mobiles, PCs, tablets, and smart TVs.
Streaming is fast across the globe with multiple CDNs.
Loop video playback at any time.
Set up your channel page according to your branding guidelines.
A live chat option with a Q&A section is available.
Cons:
White-label features are limited to IBM Video Cloud Gold plan, which is $499/month.
Free trial: 30-days
Pricing: $$
10. JW Player
Best for: Developers and content creators
Reasons to buy:
Fast HTML5 video player.
Ideal for sports organizations.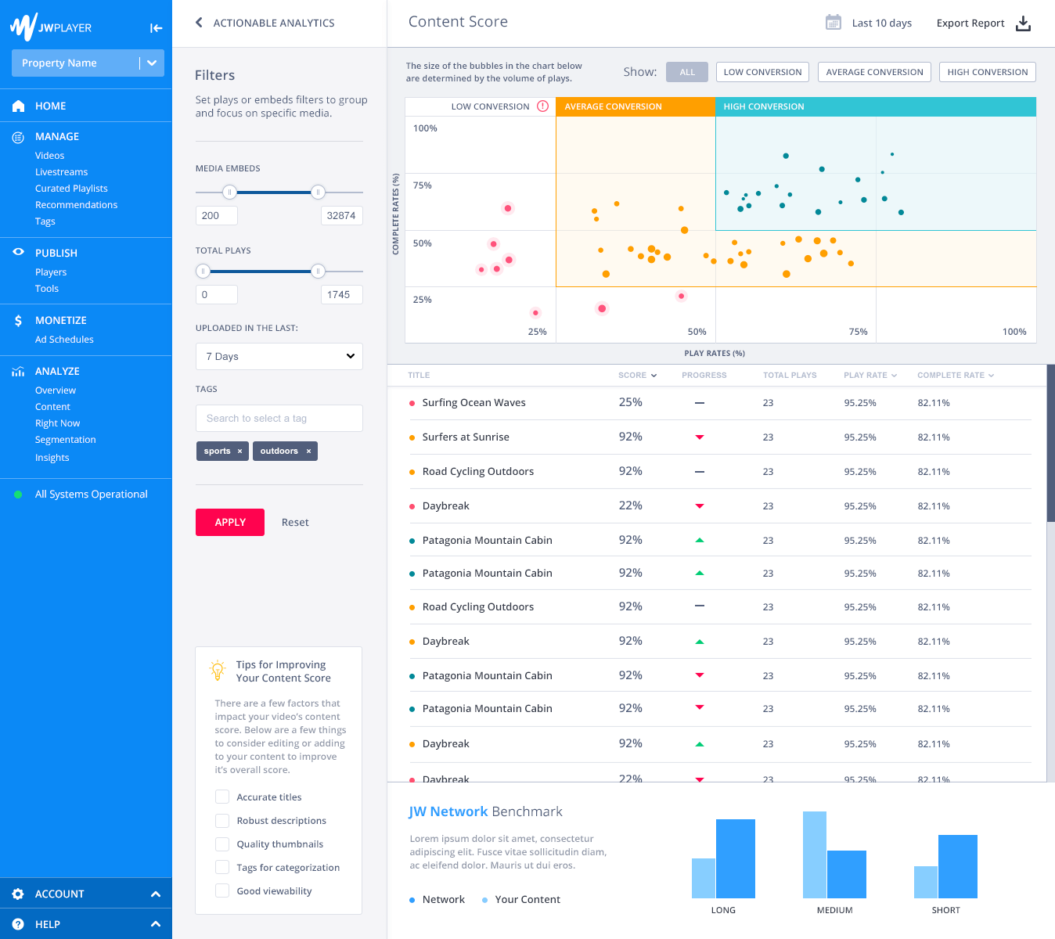 JW Player is a popular video player for content creators and developers. It touts having the fastest HTML5 player available, which means all video and ad content renders beautifully on every screen. You can publish videos, run ads, and stream content all from one place.
JW Player is an end-to-end management solution that helps you with your online video strategy. It enables video playback and ads on Chromecast-enabled devices. It also provides multi-screen VAST-compliant advertising so viewers can have a good viewing experience.
Features:
HTML5 video player.
HLS & DASH adaptive streaming.
Multi-bitrate encoding.
Password protected sharing.
Engagement analytics.
Video gallery.
Priority email support.
Video CMS dashboard.
Pros:
A responsive and customizable HTML5 video player.
Custom video gallery set up.
Video analytics with integrations like Google Analytics, Adobe, and Nielsen.
Article matching to pull relevant videos from your library and match them to written content.
Cons:
Reportedly poor playback.
Limited storage.
Free trial: 30-days
Price: $
11. Vimeo OTT
Best for: Small businesses
Reasons to buy:
Start with no monthly fees.
Built-in video editor.
Diversified monetization options.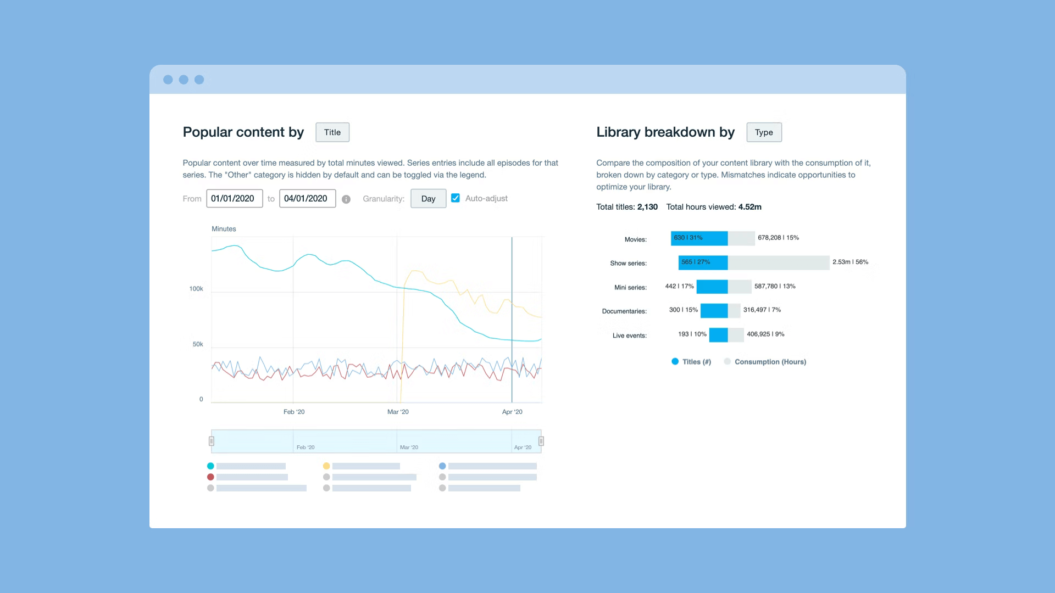 Vimeo is a video-sharing platform that began in 2004. It was originally built as a YouTube competitor with a professional twist. In 2017, they acquired Livestream and broke into the B2B market. Vimeo now offers VOD and OTT to accommodate broadcasters and influencers.
Vimeo OTT supports a wide range of apps. You can share video content through iOS, Android, and intelligent TV programs like Android TV, Apple TV, and even Xbox. It also has integrations with Google Drive, Eventbrite, and Zoom to make managing live streaming and events easier.
Vimeo OTT has two pricing models for starters:
Create a subscription product and pay $1 per subscriber, per month.
Create a one-time purchase or rental product. Pay 10% of purchase price.
Features:
Branded OTT apps.
App development and management.
Live streaming with auto-archive.
Real-time insights
World-class CDN.
Content Management.
Monetization.
Pros:
Upload videos from any device or cloud storage
Subscription-based monetization.
Simple migration with zero downtime.
Flexibility to add more apps, DRMs, and other features.
Cons:
Limited revenue models.
No 100% customization.
Doesn't support audio streaming.
Free trial: Free to start.
Pricing: $
12. Brid.TV
Best for: Ads monetization for bigger brands
Reasons to buy:
Extensive ad monetization options.
Generous free plan available.
OTT app development.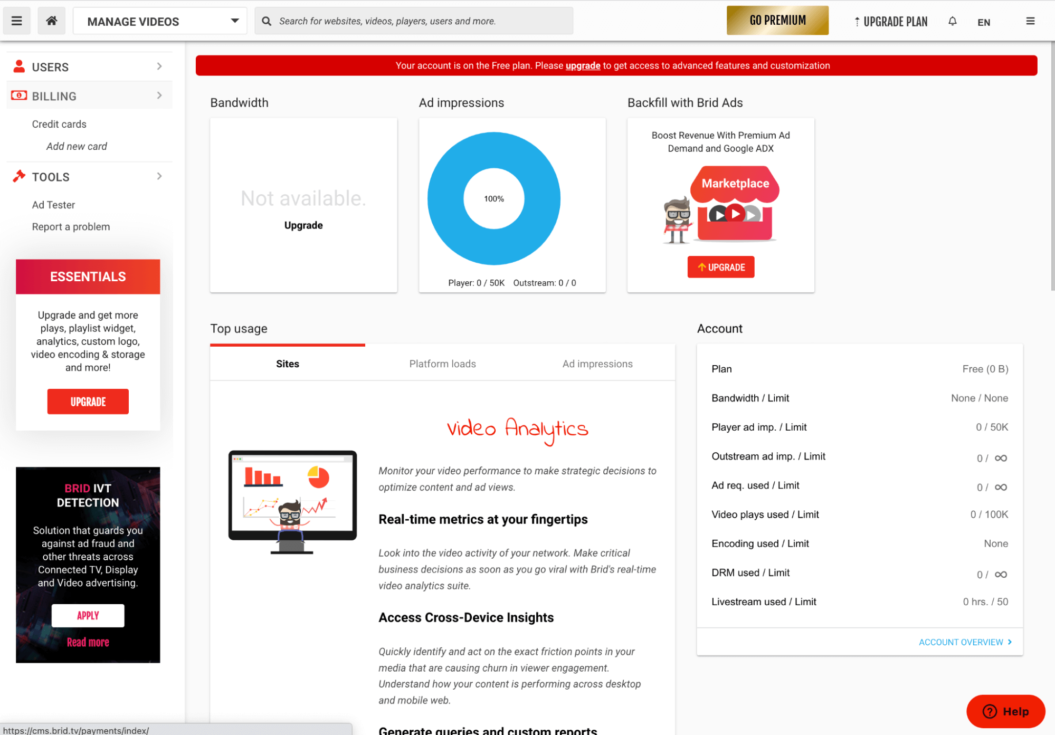 Brid.TV is a powerful ad-based OTT platform designed to make broadcasting and monetizing content at scale easier for large video producers. It offers one of the fastest HTML5 video players, and the technical cost doesn't increase as you upload more videos.
Brid.TV isn't easy to use at first glance. But it offers detailed documentation and support when you have questions.
Brid.TV offers many advertising options, including ad waterfalling, ad pods, header bidding, support for pre-,mid-, and post-roll, plus integration with Google IMA SDK. With an upgraded account, you can access the Brid.TV Marketplace to partner with advertising partners and earn more revenue.
Features:
Ad inventory management.
Ad optimization.
Audience analytics.
Content library.
File management.
Mobile ad serving.
Video creation.
Video management.
Real-time analytics and reporting.
Pros:
Publishing and billing management system.
Brandable and customizable HTML5 video player.
Live streaming and DVR.
AI content matching.
Cons:
Poorly managed live streaming.
Free trial: Free plan available
Price: $
Find the right OTT platform for you
Now that you know your options for finding the best OTT solution, you can start testing them out. While each option has its own advantages and disadvantages, you have a better idea of which is best for growing your creator business.
With so many options to choose from, the creative potential of your content is unlimited. The right partner can help you capture your audience's attention and provide an incredible viewing experience that earns you more customer loyalty and revenue.
Try Uscreen today for free to get an accurate impression of the value Uscreen can provide.
OTT platform FAQs
What is an OTT platform?
OTT (over-the-top) platforms are streaming services that allow users to watch video content without the need for a traditional cable or satellite, usually in the form of mobile and TV apps. These platforms typically operate through a subscription model, where users pay a monthly fee to access the content.
How many OTT platforms are there?
There are nearly 300 OTT services to choose from in the United States. 
What are the benefits of OTT platforms?
The best OTT platforms offer additional benefits, such as managing and delivering content in one place, customizing the viewing experience for niche audiences, and giving users greater control over their brand, content, audience, and data.
What are OTT platforms examples?
Some popular OTT streaming services include Netflix, HBO, Disney +, Hulu, and Amazon Prime Video. With the rise of streaming technology, OTT platforms have become an increasingly popular way for people to watch content from their favorite creators and producers.