You've probably heard that "a satisfied customer is the best business strategy of all." If that's true, it means that your membership business has one goal: meet customer expectations so they stick around.
People buy an experience from you. Whatever that experience is, it's your main selling point. When they don't see value in the member experience, they churn and stop paying you.
The good news: 84% of memberships have a retention rate higher than 90%, according to the latest statistics.
Feeling challenged by a low retention rate? Ahead, you'll learn actionable solutions to tackle this, with tips from experts in building membership communities.
What is a good membership retention rate?
A good membership retention rate is above 90%. In my membership community, Peak Freelance, we aim to keep our retention rate above 85%.
Justin Brooke, the founder of AdSkills, has been building membership communities for 15 years. He stresses that while understanding your retention rate is good, knowing how long the average member stays in your group is equally important.
"We know that the average member stays with us for six months," Brookes explains. "Our goal is to become part of their journey, inspire them, and celebrate success together along the way." He suggests membership site owners balance retention with acquisition efforts to create a sustainable, long-lasting membership business.
9 proven membership retention strategies
1. Invest in member onboarding
Ever felt lost when you signed up for a new service or got a new job? The first day can be pretty uncomfortable.
Creating an onboarding experience for new members can help them feel at ease . During onboarding, you can inspire them to take part in your community, make them feel welcome, and stress the membership benefits and perks.
For example, Peak Freelance has an entire Notion document that walks new members through the membership's content and offers. If new members have additional questions, they can book an onboarding session.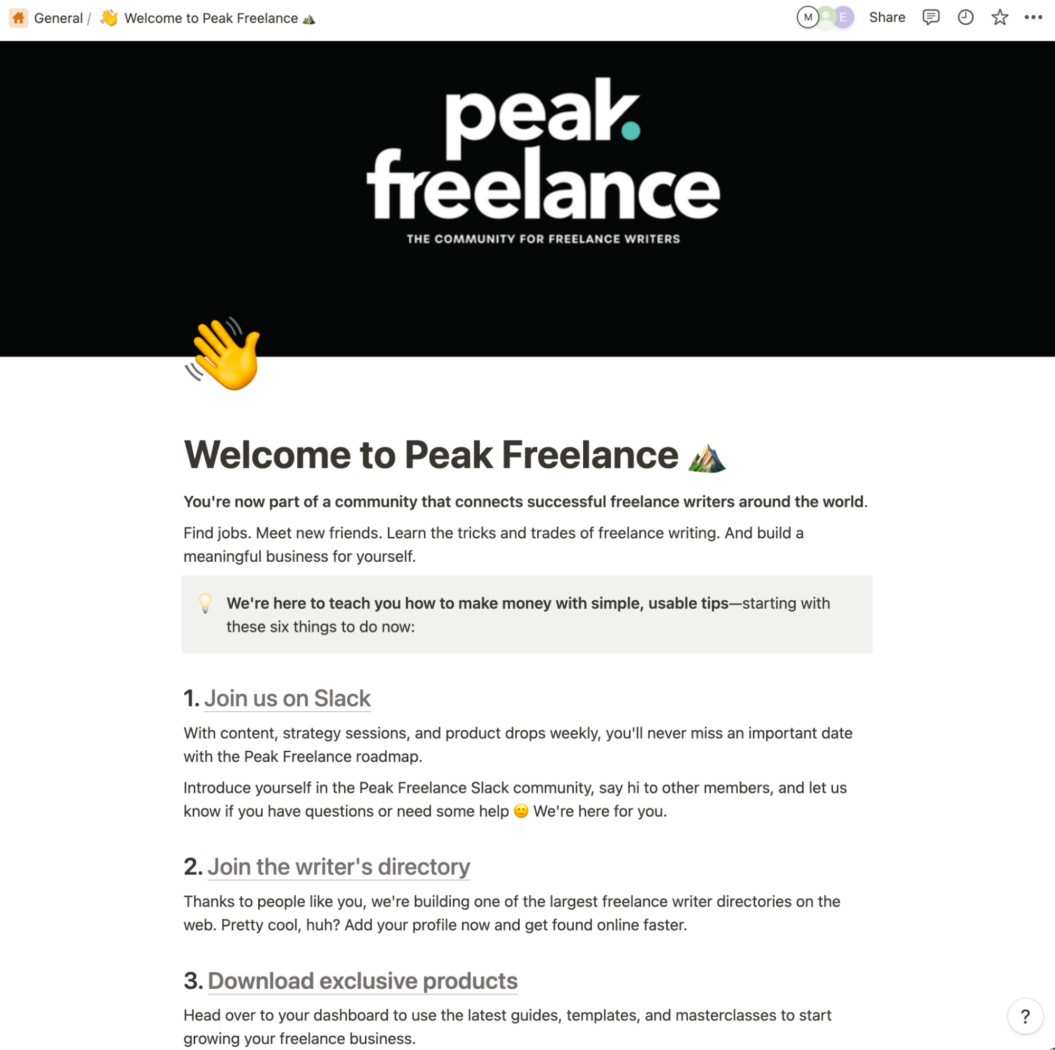 The onboarding process can also include:
Setting up a shadow session to learn about community practices.
Creating a content roadmap.
Writing a welcome message for new community members.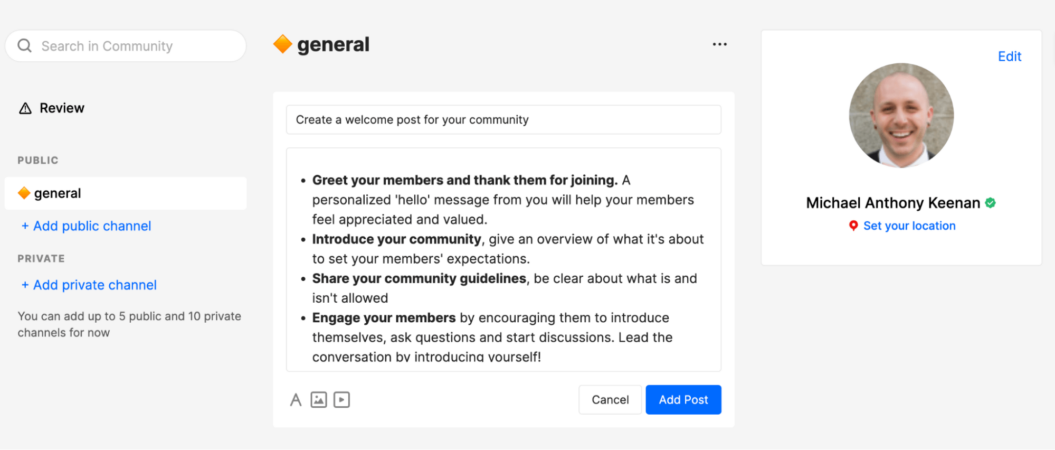 Overall, a key strategy for reducing turnover is to shorten the time for a newbie to become a veteran in your membership.
2. Host regular check-ins
When we polled Peak Freelance members about their favorite features, an overwhelming majority (73%) voted that regular check-ins, or "Town Halls," were a must-have.
Other surveys found that office hour calls and webinars were the next best tactics to keep members engaged.
These check-ins are important because they build relationships with members. You can see members progress, let them ask questions, and interact in real-time.
Live streaming is another cool way to check in with members using Uscreen. You can set a date monthly to connect with members "in-person" right from your website or membership app.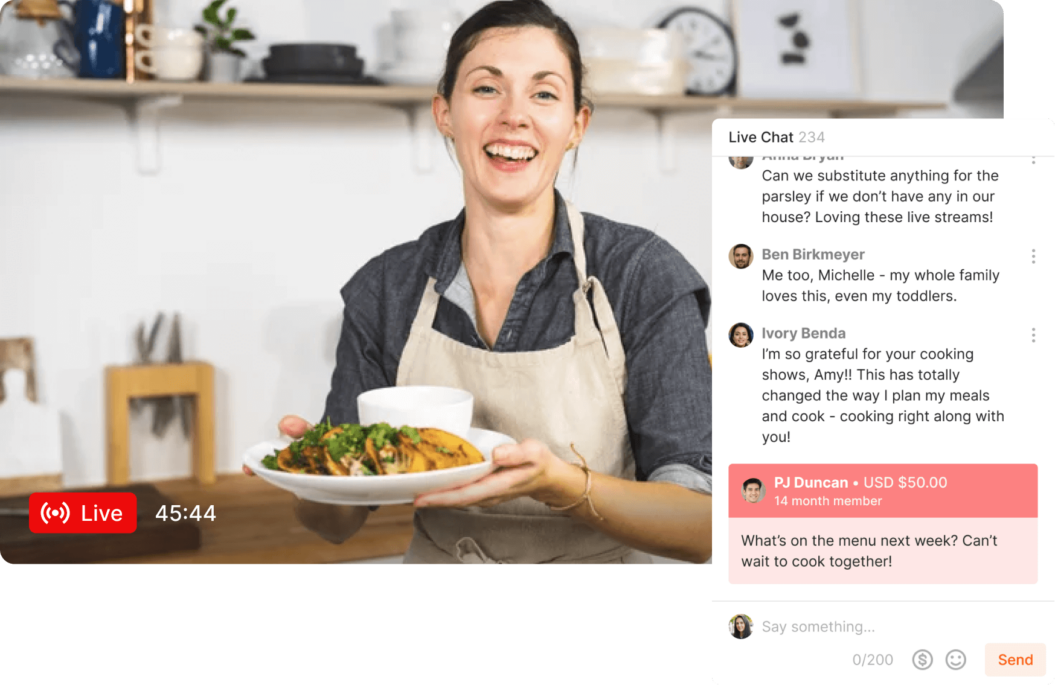 Members can ask questions or share their thoughts in a live comment feed. You can respond through text or on camera.
3. Make it easy for people to build relationships
We humans are social creatures. Studies show that our relationships set the stage for health, happiness, and well-being. Building a community around your brand helps members develop stronger bonds with each other and reduce churn.
Members are asking for community features, too. Membership Geeks 2022 report found that over 82% of memberships have a dedicated community area, with 30% of members engaging in the community regularly.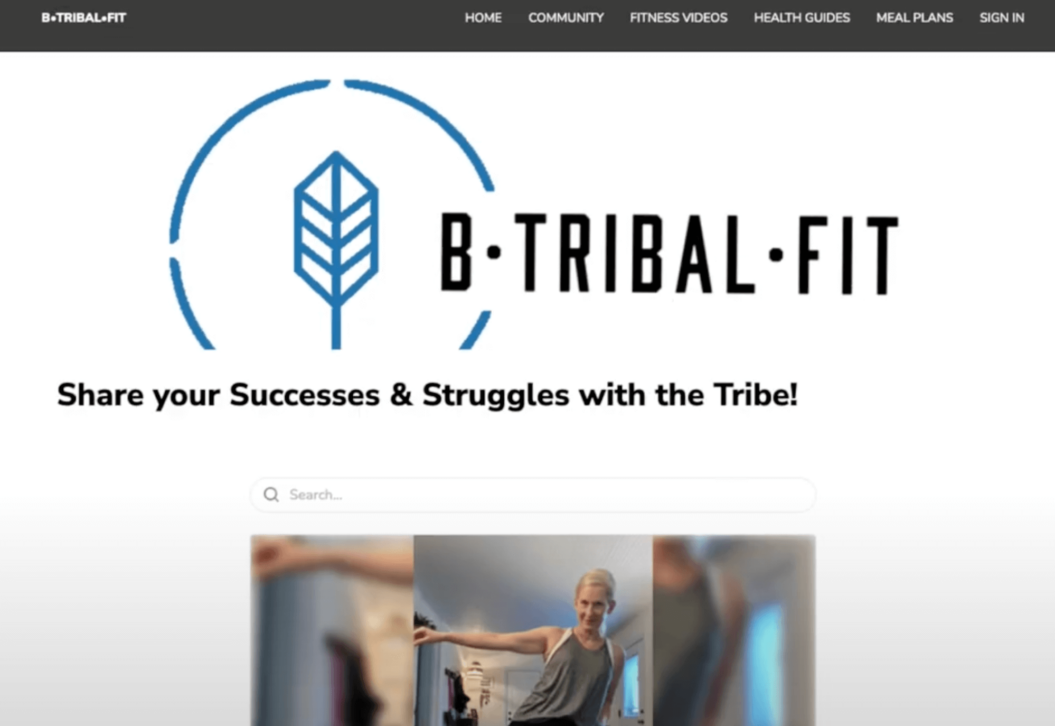 Uscreen has a Facebook group-style feature built right into the platform. You can set up a group in minutes in your dashboard under the Community tab.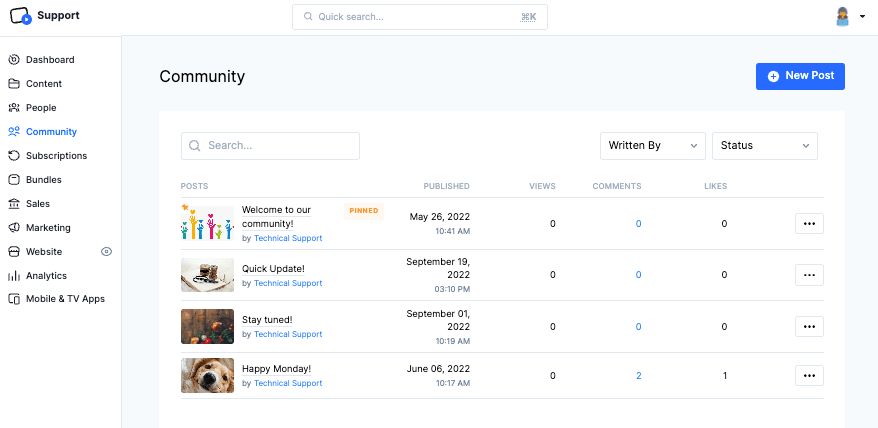 You can create posts and reach members from your Admin. Members can then engage with your posts, ask questions, share resources, or get feedback. All from the privacy of their smartphone or desktop.
Learn: The #1 Guide To Monetizing Your Online Community In 2023
4. Provide excellent customer support
Another critical member retention strategy is providing the best support possible.
"When it comes to responding to needs posted by members, timeliness is very important," says Jay Clause, founder of The Lab, a membership for creators. "The more timely you can get members' the help, feedback, and support to their needs, the more they will see your membership as their go-to resource."
That's why with Uscreen, our dedicated support team is ready and eager to help your members with any issues. We offer 24/7 email support with a same-day response on all plans.
Another excellent way to provide support is through an FAQ page. This page lives on your membership website and gives people quick answers to their common questions.
You can answer questions about:
Billing
Video playback
Login credentials
Device compatibility
Plus, with Uscreen, you can create an FAQ in minutes from your dashboard.
5. Automate the renewal process
Automating membership renewals reduces hassle for members while boosting revenue for your business. It makes renewing a subscription simple and improves retention rates.
Create membership plans with recurring billing options, such as monthly, quarterly, or yearly. Then, offer auto-renewal by default. This way, members won't need to renew their subscriptions manually.
Of course, you want to respect members' time and money. You'll want to send automated email reminders before the renewal date. This is easy with Uscreen.
Head to Settings, then Email Templates in your dashboard. You'll find the "Upcoming Subscription Renewal" template, which sends out around 30 days before a member's renewal date.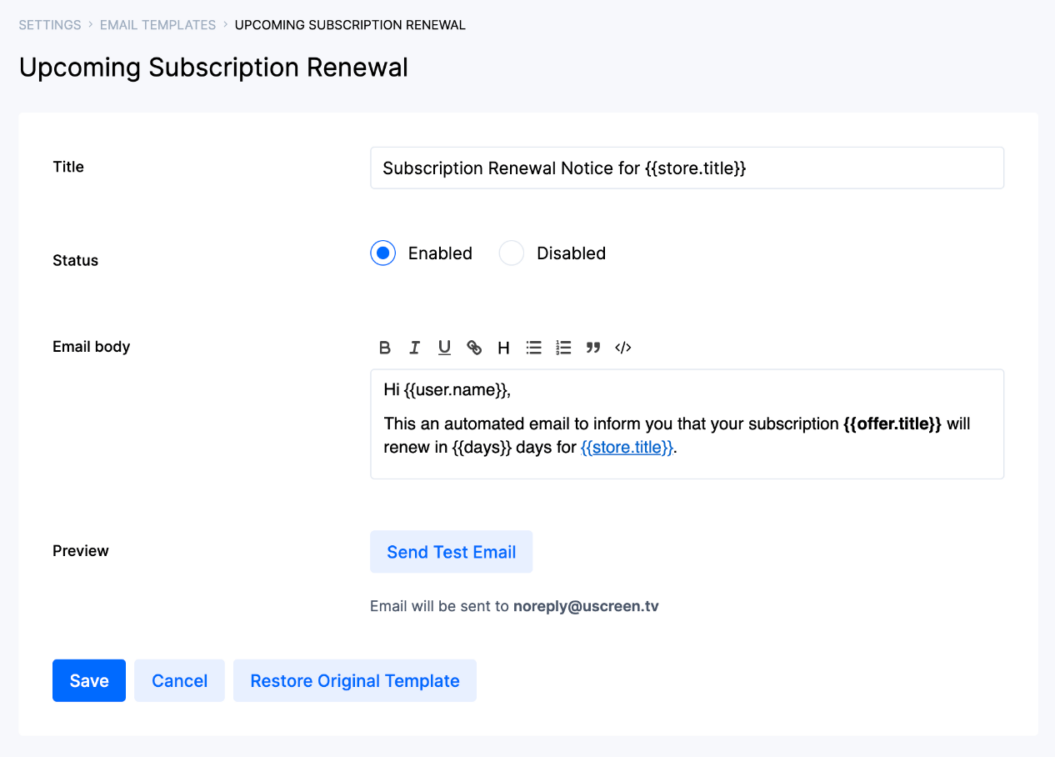 💡PRO TIP: Clause recommends offering an annual plan only, stating it's "one of the most powerful ways to reduce churn." In his experience, "when people only have one renewal decision per year, fewer people choose not to renew."
6. Identify at-risk members
At-risk members are subscribers who show signs of cancellation. Identifying and addressing their concerns can help retain them and maintain a healthy retention level.
To identify at-risk members, follow these tips:
Analyze member engagement. Look for non-engaged members, like those who hardly log in, don't consume much content, or don't interact much.
Monitor billing activity. Track members with failed payments or change their credit card information frequently. This is a sign they are experiencing financial issues and may cancel their subscription.
Identify inactive members. Members who haven't logged in for an extended period or haven't watched your content are more likely to cancel their subscriptions.
Review email open and click-through rates. Monitor email engagement rates to identify members who lack interest in your messages. Uscreen integrates with email marketing platforms like Drip and Mailchimp to track the performance of campaigns.
Collect feedback. Encourage members to share feedback through exit surveys, polls, or direct messages. Analyze their responses and identify any common issues that may cause them to leave.
Brooks says that one of his top tactics for retention is collecting feedback and incorporating it into the membership.
"After a lesson, we always have a form available for people to fill out," Brooke says. These forms help his team understand what they want to learn from the program.
By using these tips, you can identify high-risk members and take proactive steps to keep them in your memberships.
7. Constantly create amazing content
With consistent value comes consistent revenue . Focus on creating content that members value and engage with.
"Engagement comes from relevance, quality, and timeliness," says Clause.
"Your content needs to be RELEVANT to what the members are struggling with today, RIGHT NOW. If it's not relevant to their current challenges, why would they pay attention?"
There are many types of content you can create that match member's learning styles, such as:
Videos
Courses
Live calls
Workshops
Coaching calls
Weekly member news round-ups
Gamification
Challenges
Clause feels that while relevance is important, so is quality. "There is so much information and so much noise, that quality shines through." When you create high-quality content, people can share it on social media and increase referrals.
Your content should help members achieve a goal: fitness, business, spirituality, or dancing. Members should feel that the video membership pays for itself and that the experience is worth their hard-earned paycheck.
8. Provide alternatives to canceling
Every churned member has a story to be told. It's your job as a membership site owner to understand what it is, and try to prevent it from happening.
With Uscreen's Reduce Churn automation turned on, members who try to cancel their accounts will be asked to provide feedback. You can also give them a discount before canceling and encourage them to stay.
If the member claims the discount, they'll be redirected to your content library.
If they don't claim the discount, they'll enter another automation in order to prevent churn.
9. Offer customers to try again for a discounted price
Think of this approach as your second chance — and you promise to do better the second time.
Allowing churned members to try your membership again for a discount can encourage them to return. You can even take this approach to attract those who took advantage of a free trial and never converted.
This is also known as a "win-back" effort. The latest data shows that win-back efforts work. Nearly one-third of membership site owners can win-back between 20 and 50% of churned members with win-back strategies.
In Uscreen, you can set up an automation that sends two emails to recently churned members.
The first personalized email goes out immediately after cancellation. It offers the former member a one-time discount on their next payment to continue with the subscription.
You can customize the email to say whatever you want. We recommend offering a 75% discount for the next month, or a 15% discount off on yearly subscriptions.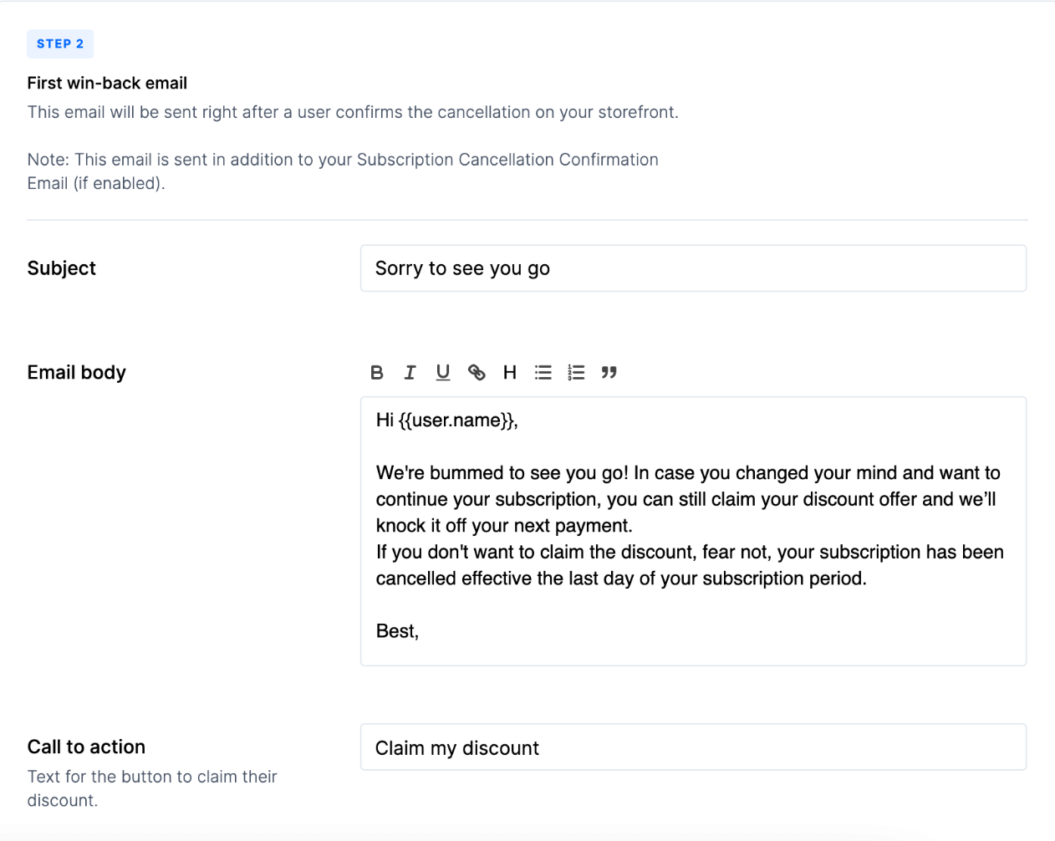 The second email goes out on the final day their subscription is active, and if they did not claim your original offer. Think of it as the "last chance" email.
You can honor the discount offered in your first email and add a personal touch.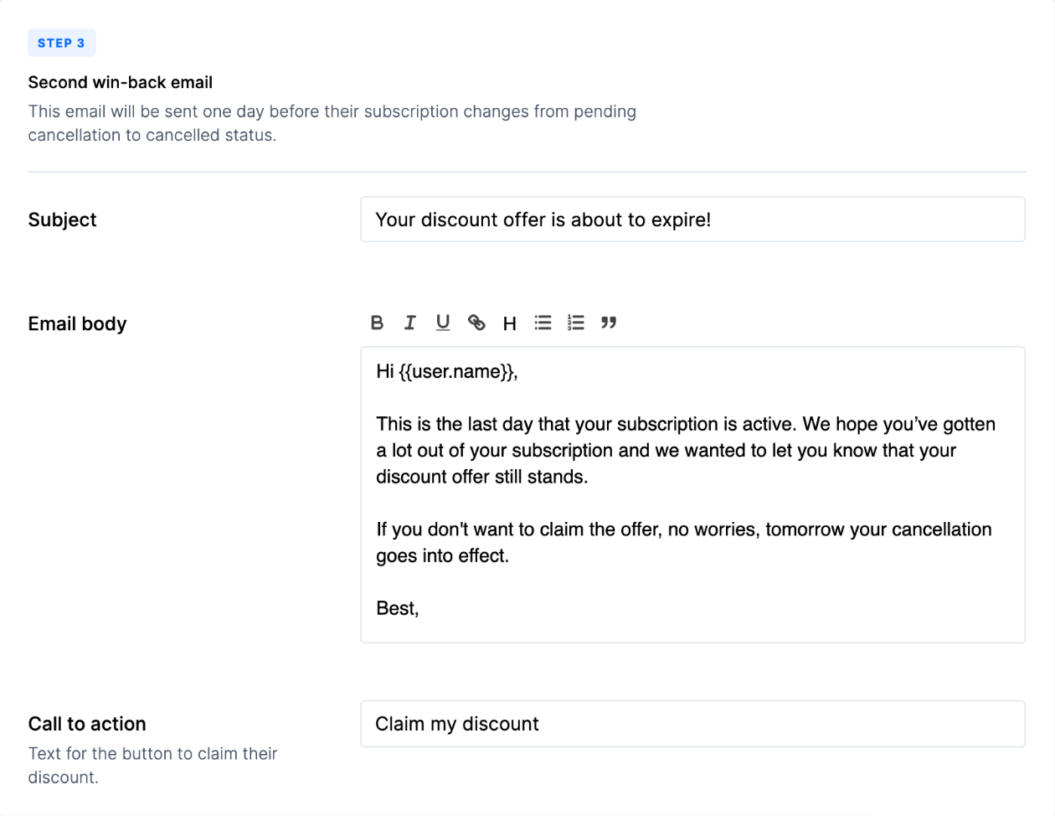 If the member chooses to accept it, you've just retained another awesome member!
Measuring your membership retention rates
An essential part of maintaining a membership retention process is making sure that the tactics you choose are working. You need to know how to calculate the retention rate metric to do that.
Here's what a common retention formula looks like:
Retention = ((MT – MA) / MS) x 100
MT = Total members at end of time period.
MA = Members acquired.
MS = Members at the start.
You can calculate retention by choosing a time period. The most common are monthly or annual. Then input your numbers in the formula above.
Example: Your membership started the year with 700 members. Over the year, you've gained 200 and lost 50.
MT = 700+200-50 = 850
MA = 200
MS = 700
(650/700) x 100
.928 x 100
= 92.8%
I'm constantly looking at active vs. inactive members. That's my north star. If we're trending towards MORE active and FEWER inactive, then I know I'm on the right track.

Jay Clouse, founder of The Lab
Improving member retention in your business
It's clear that maintaining a high retention rate is essential for membership businesses. With the strategies above, you can keep members around longer and earn recurring revenue.
By using Uscreen's Customer Churn tool, you can win back churned members and thrive in membership management, ensuring your community succeeds for years to come.