From TikToks to TV shows to online classes, people are glued to their screens and hungry for different types of video to stream.
They want to learn, be entertained, get fit, and engage by streaming videos from the content creators they love. That means one thing: this is the best time to sell videos online.
If you've got an idea for a video-driven business, or you've got one up and running already, then you've come to the right place.
We'll go over a 10 step guide to start selling videos online successfully. And you'll learn the platforms and tools you can use to supercharge your business.
Let's get started.
How to sell videos online
1. Find your video niche topic
Creating your own video-on-demand business starts with deciding what kind of videos you want to sell. You need to figure out what niche you want to operate in and who you want to reach.
When it comes to video, the possibilities are endless. Your niche can be:
health and fitness
online learning
entertainment
faith and spirituality
yoga and lifestyle
arts and crafts
kids content
There are tons of sub-niches that combine or operate in the spaces between them.
A great way to find your niche is through testing.
Test your idea with free videos on your YouTube channel and gauge the response through views and engagement. You can also check out video sites like YouTube, Udemy, and social media platforms like TikTok to see if there's demand for your niche.
For example, take a look at Art For Kids Hub.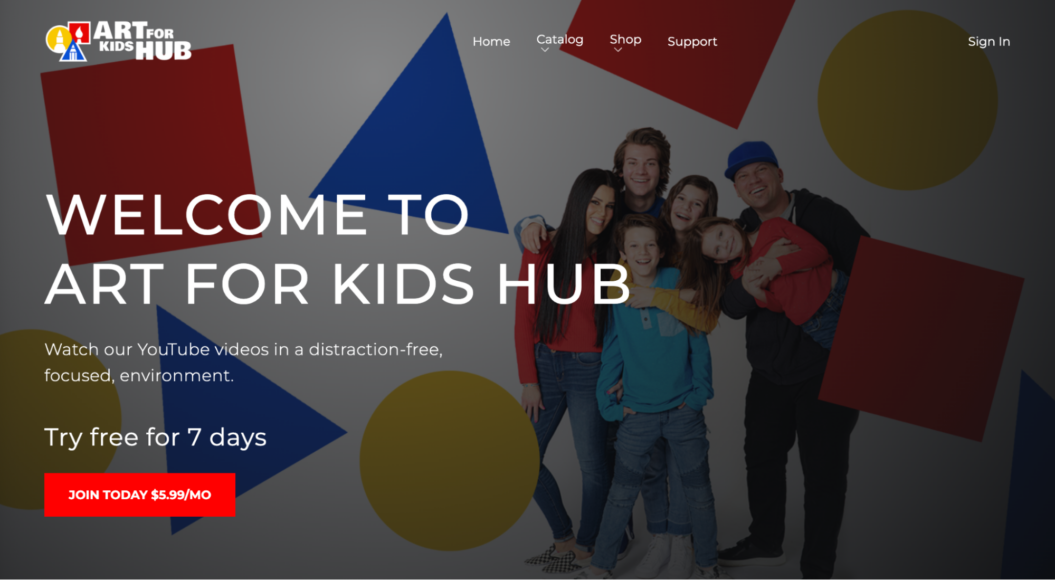 Their video streaming business combines 3 niches:
online learning
kids content
arts and crafts
Through fun and engaging video tutorials, their subscription platform teaches kids the basics of art on desktops, mobile devices, and TVs. Combining these 2 elements offers them a niche for video content where they can reach a specific audience.
This makes it much easier to sell online videos!
🧠LEARN: Is Your Video Content Niche Enough?
2. Plan your content
Once you've found your specific niche, you need to get clear about who your target audience is and what content they want to see before you start selling videos online.
Some questions to ask when deciding on a content strategy include:
What common themes do your audience share? Think about age groups, interests, lifestyles, etc.
What does this audience hope to get from watching your videos? Think about if it's entertainment, education, increased fitness, etc.
What can you bring to your niche that your audience wants that nobody else is providing? Think of this as your unique selling point.
These questions will help you identify who you should be targeting with your content, and allow you to generate some early topic ideas. Having a good understanding of your audience and their needs is key to planning your videos.
Your niche will also have specific needs, including the length of your videos, the size of your content catalog, and how they should be organized.
For example, online learning students have shorter attention spans and typically favor step-by-step video courses that have short modules. So, when creating an online course, you should keep your videos between 15 and 20 minutes.
You can see the same variations in content like fitness, where you might choose to focus on a specific body part and create sessions around short workout durations. (20 minutes of HIIT anyone?)
3. Choose a platform to sell your videos
Choosing the best platform to sell videos online is the next step.
You need a place to upload, share, and monetize your videos.
General website builders are great for hosting blogs and eCommerce shops…
But we highly recommend choosing a platform that specializes in video websites and apps.
Some top platforms include: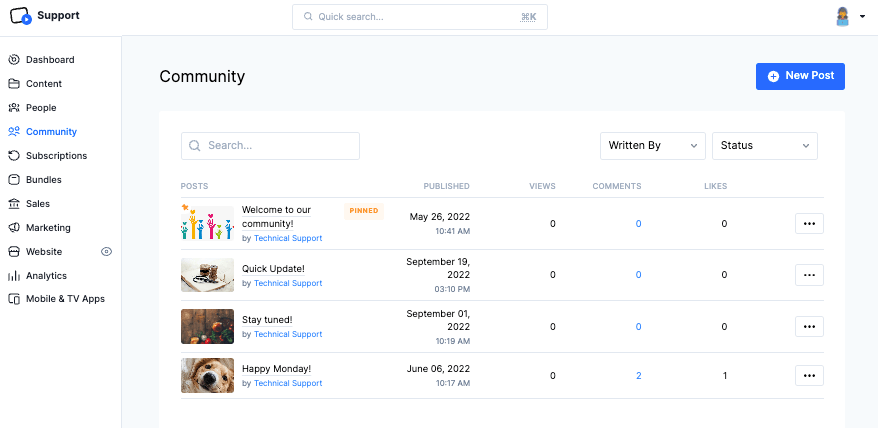 Uscreen has everything you need to start, launch, and scale your video membership business. The platform's design templates and drag-and-drop builder allow you to create and customize your own fully branded website.
Uscreen also provides marketing tools and automations to help reach and convert the right audience.
And, with Uscreen's OTT apps, your members can use any device to stream any type of video content you have, from livestreams to on-demand videos. You can monetize your videos through one-time purchases or subscriptions, like many other creators do.
For example, Magic Stream allows viewers to buy access to a single video, or sign up for a full-access membership.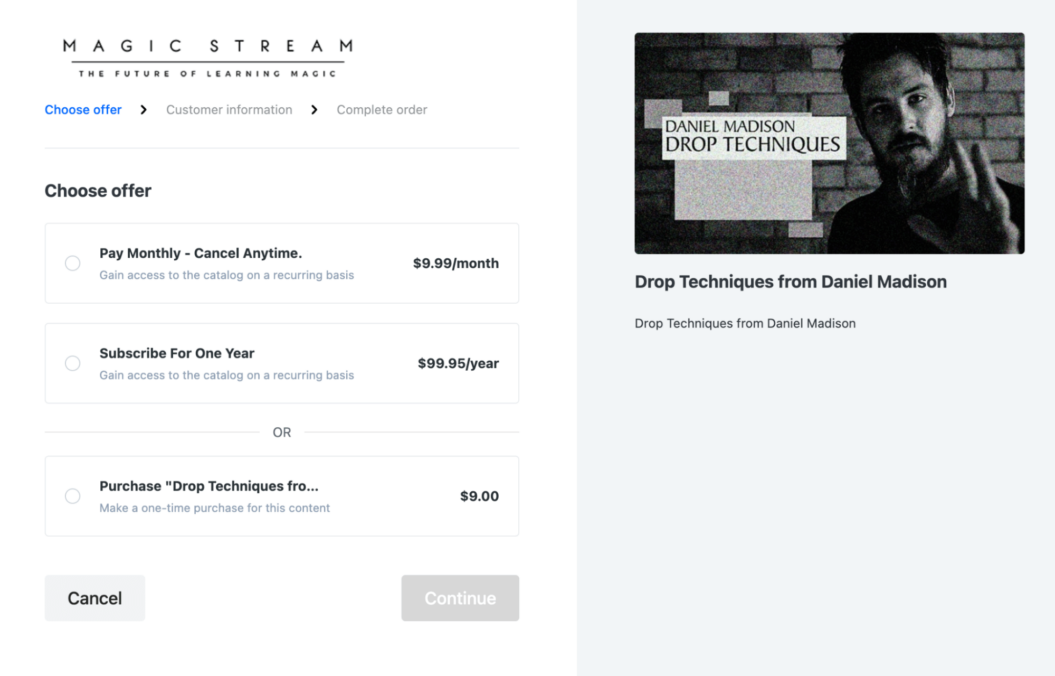 Other features include:
Customizable video player with media controls.
Tiered membership options.
Live streaming.
Extensive branding and design options.
Integrated growth-focused marketing tools.
Community features.
Secure automatic content backups.
Easy to set up recurring payments.
Popular checkout options like PayPal, Stripe, and credit card.
Integrations with Mailchimp, LinkedIn, and more.
Thinkific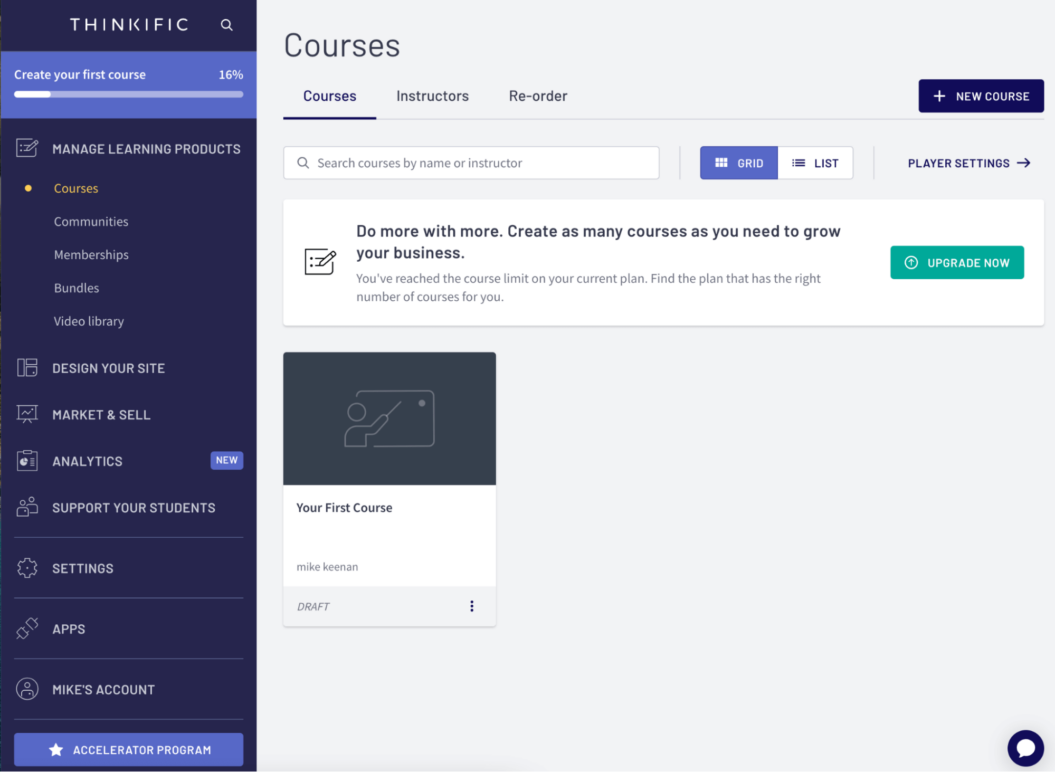 If you want to focus on online courses, Thinkfic is a platform that helps you build one from scratch, including tools like quizzes and assignments.
Vimeo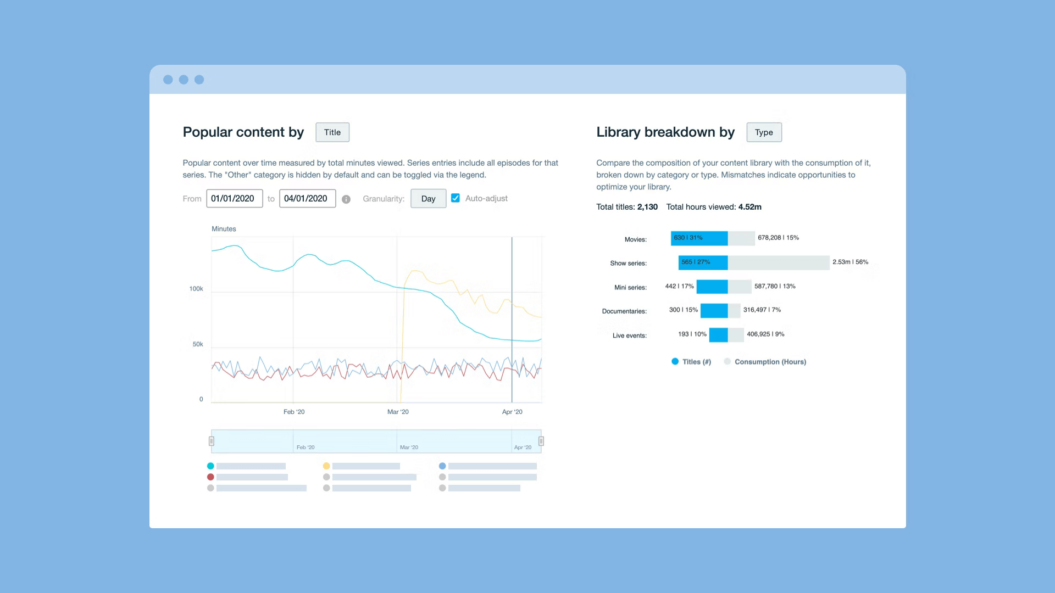 Vimeo is a video hosting platform that also has video-selling capabilities. You can start easily with their monetization models and video player templates.
Wistia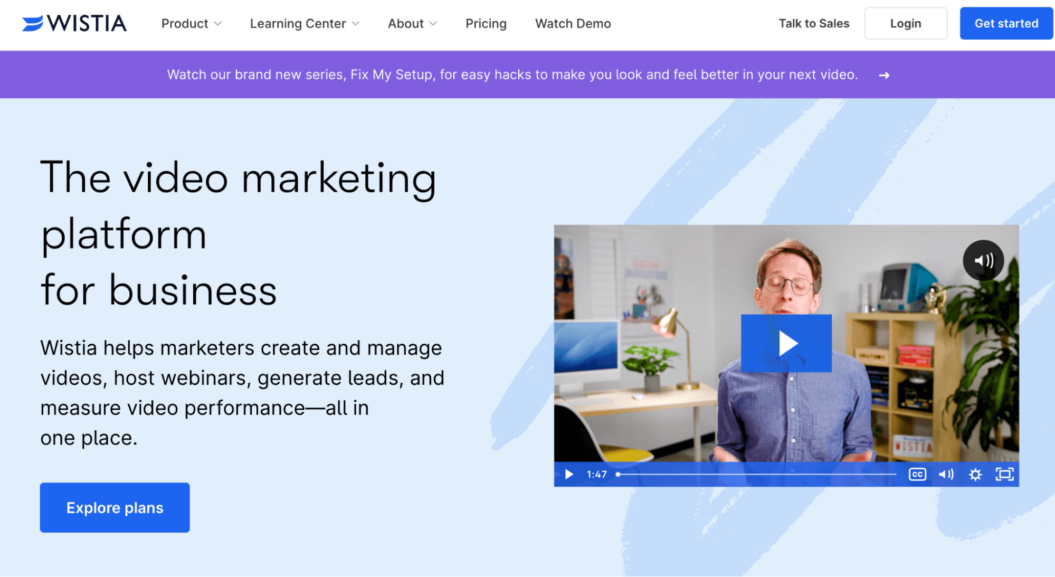 Wistia helps you build brand awareness through video, and lets you personalize your website with calls to action, create a channel to host content, and try A/B testing to optimize your videos.
👉SHOP AROUND: Best VOD Platforms for Video On Demand Services in 2023 (Ranked and Reviewed)
4. Decide how you'll monetize
With your platform in place, it's time to start thinking about how you want to monetize and sell your videos. This is perhaps the most important step in learning how to sell videos online.
There are 3 monetization strategies to choose from when selling videos online:
Memberships: This monetization model is similar to subscription video-on-demand (SVOD). It gives subscribers full access to a video library for a recurring monthly or annual fee, like Netflix, Amazon Prime, and Disney+.
When someone signs up for a membership, they get added benefits like a community, live events, and whatever else you want to include for members.
Transactional video-on-demand (TVOD): this model uses a pay-per-view format. Customers make one-time purchases to access specific content, like when buying a movie on iTunes.
Advertising video-on-demand (AVOD): this is essentially free for viewers because there's no upfront cost to watch, but you get advertisements throughout. YouTube is a great example of this.
You can choose to focus on one option, or combine multiple options to maximize your revenue potential. 
Picking the monetization model that works best for you will depend on the type of audience and type of content you have.
5. Create high quality content
Content is at the center of your new online video business.
If you have the skills to produce and edit your own video, you can ideally create your own video material.
Alternatively, if you have the budget, you can hire a video production team to help if that'll make you feel more comfortable.
Think about your viewer when creating your video, and consider elements like:
Where will the viewer be watching this video?
What equipment do they need to watch?
What supporting materials can I provide to improve their results?
For example, if your videos are focused on instructional content and online courses, you can use additional resources like PDFs and eBooks to support your tutorials and help your students get a dynamic education.
Or, if you're offering a fitness program, you can complement your training videos with a downloadable meal plan.
6. Upload and organize your videos
Once you have created enough videos to start selling, you'll need to upload them to the video streaming platform of your choice.
If you're using Uscreen, we've designed the uploading process to be as quick and easy as possible. All you have to do is drag and drop the videos into the "Content" area of your Uscreen dashboard:
You can upload your videos quickly and securely from any browser.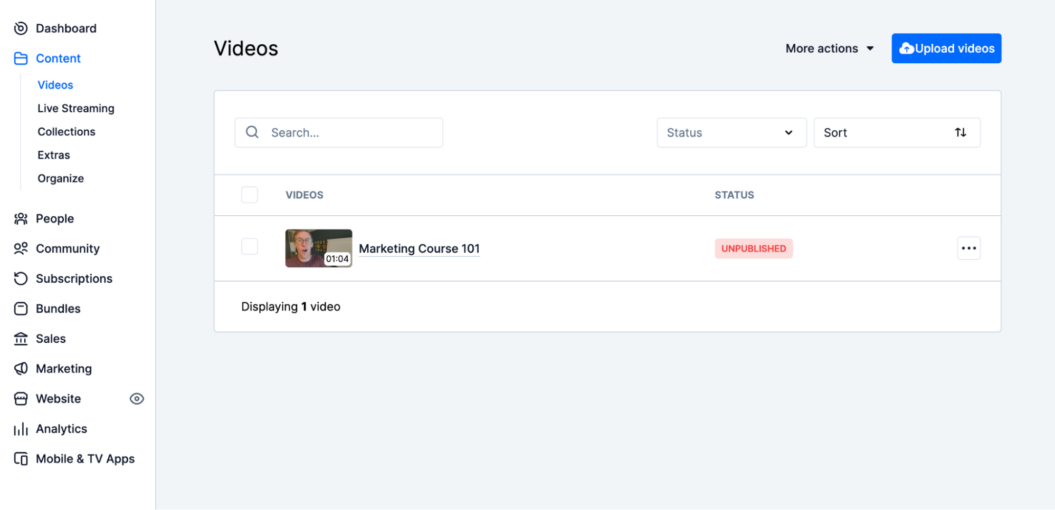 💰 MONEY TIP: Add a product overlay to your video with Uscreen's built-in ecommerce tool. This makes your video shoppable. All you need is a link from your ecommerce store (like Shopify or Wix), or an affiliate link.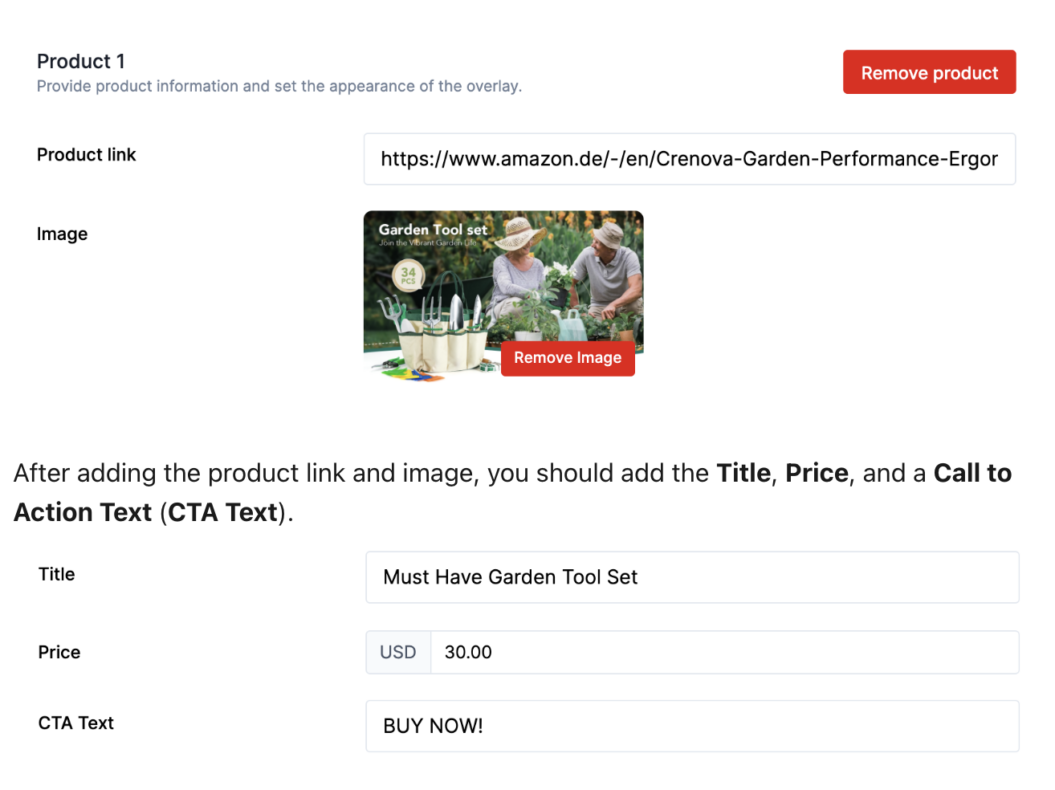 With your videos uploaded, it's time to organize your content catalog. This means categorizing and displaying your videos in an optimal way that will boost sales and improve user experience.
A well-presented catalog really showcases to potential customers what your platform is about. It's a little like the online video version of window shopping.
And when videos are easy to find and watch, it can increase customer retention. After all, your videos are only as good as the customer's ability to find them!
You can organize your content using 4 different components:
Catalog: your full library of content, displayed by categories.
Categories: the genres that contain your videos and collections.
Videos: your individual videos within a category.
Collections: a group or series of videos to be watched together within a category.
This gives you a lot of options to create a structure with your videos.
The way you structure your content will depend on your niche and what you're creating.
💡 How They Do It: If your content focuses on sports drills like Bballbreakdown does, then you may want to create categories based on the different skills: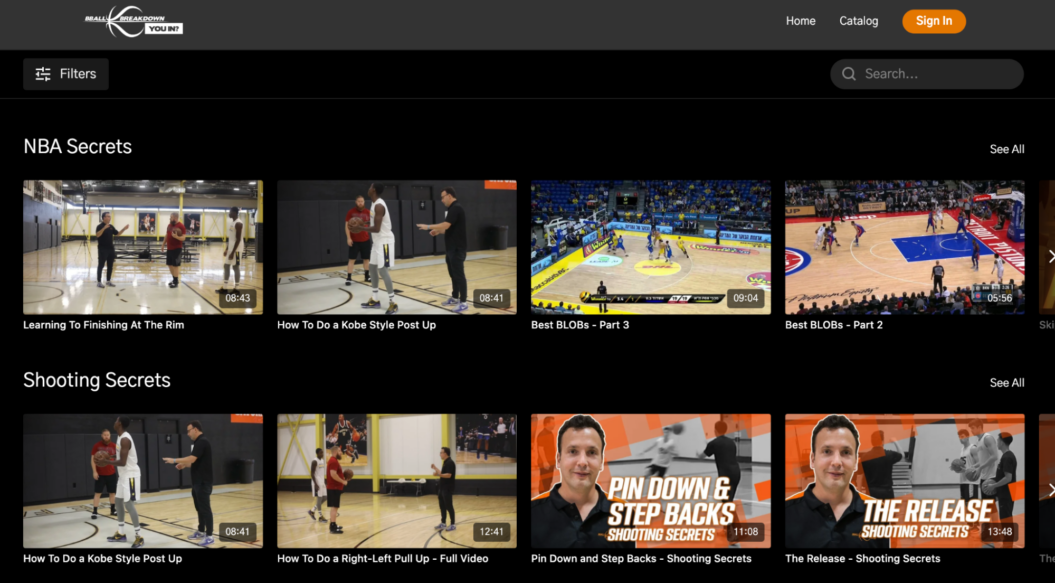 If you want to get even more specific, you can add custom filters to make relevant videos even easier to find.
For example, you can add a "workout duration" or "training type" tag to your fitness content so the user can quickly find the right video for their upcoming session, like Barre Centric does here: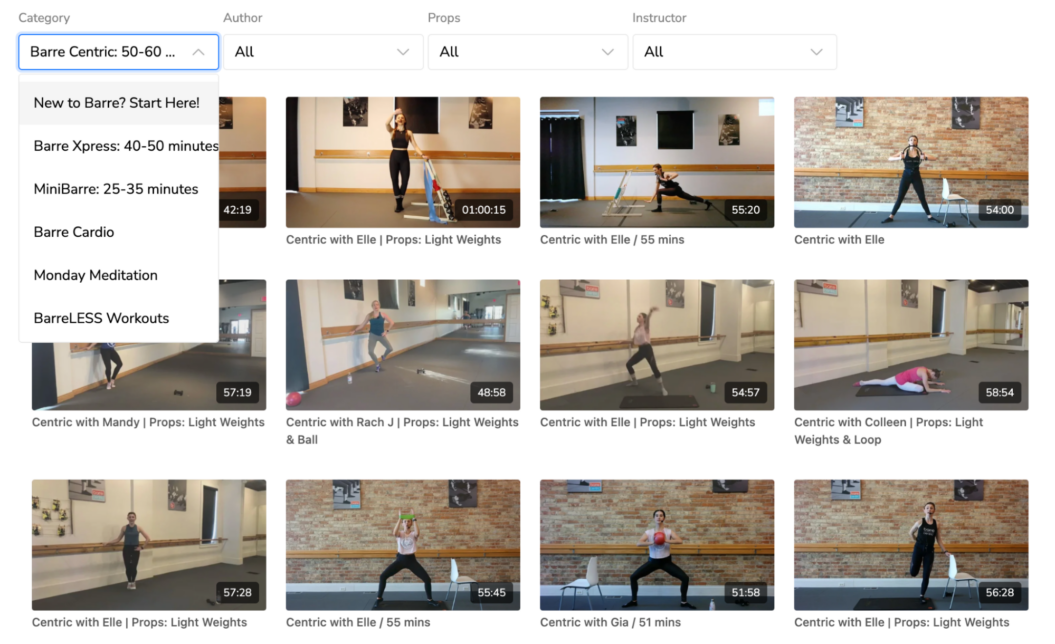 7. Customize your video website
Okay, now for the fun part: it's time to customize your video website.
The video monetization platform you've chosen should give you the option to customize your own website and add your branding. Let's make your video website shine!
If you're using Uscreen, we have a number of customization options you can choose from. Our most popular tool is our plug-and-play page builder, which lets you build stunning homepages and marketing pages.
You can choose from any of our "core" themes. Then, you can edit specific elements — like adding images, headlines, and text — to create a page that lets your brand and product shine through: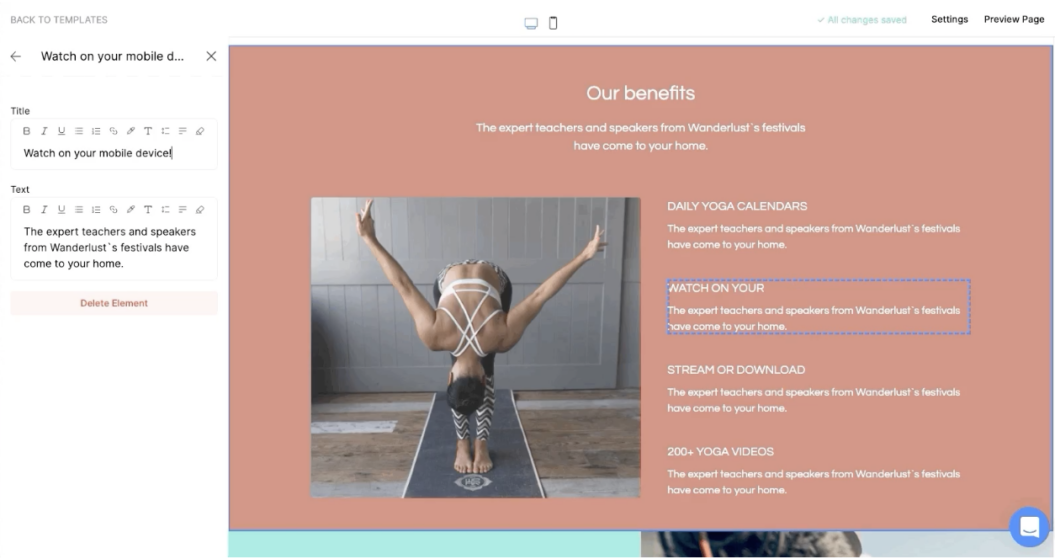 Or, if you'd prefer more of a premade solution, you can pick from any of our 19 customizable themes that will have your site up and running quickly and easily.
How you choose to customize your video streaming website is up to you, but one of the key things to remember is brand consistency across your online presence.
You can learn more about how to build your very own video website with Uscreen in our help center guides.
8. Set up your marketing tools
Once your site is up and running, it's time to start promoting it.
Start by setting up these 3 marketing tools before you launch:
Email list: a tool that allows you to collect the email addresses of your potential customers (e.g. Mailchimp).
Membership upsell: a tool that allows you to offer point-of-purchase upsells of your subscriptions to customers.
Abandoned cart tool: a tool that automatically contacts people who leave the sales process before completing their purchase.
These tools will help you build a solid foundation to support the long-term marketing strategy of your business, as well as recoup any potential "lost" income from on-the-fence customers.
If you're a Uscreen customer, you can access a full suite of marketing tools that help you do all of the things in the list above, as well as:
View in-depth analytics.
Create coupons.
Offer gift cards.
Reduce churn.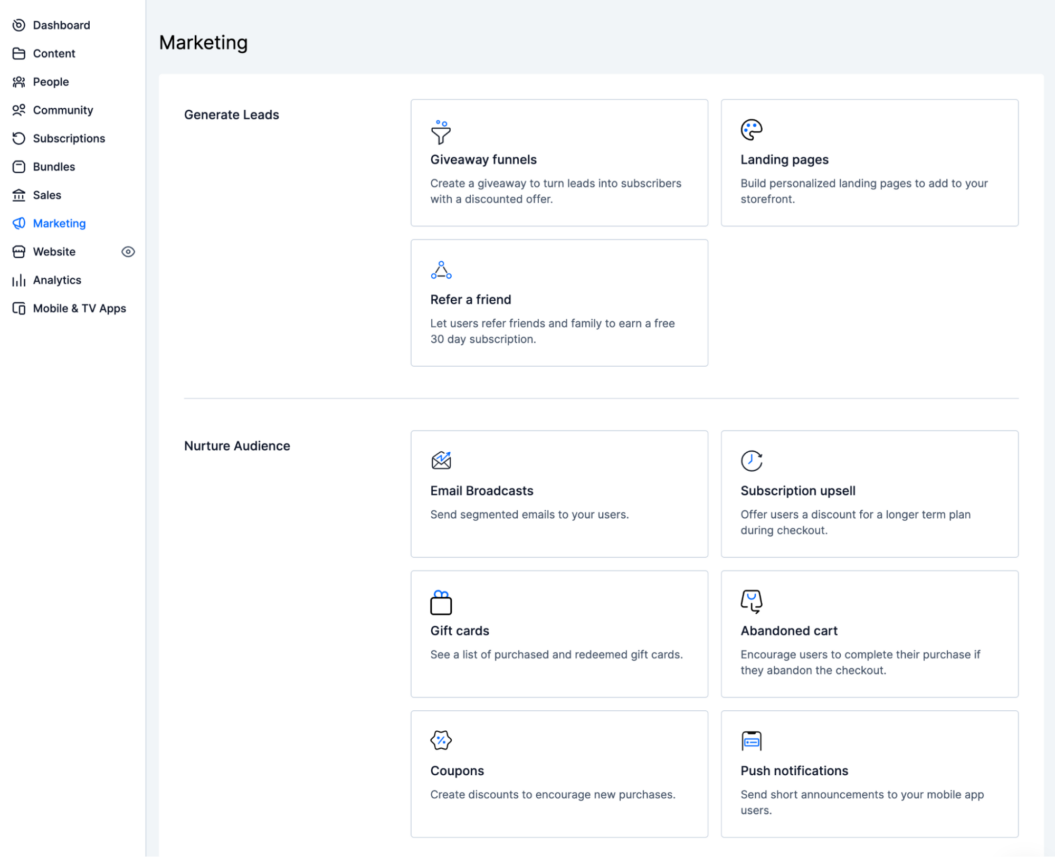 And if you have your own preferred tools, like email marketing software, you can use our integrations to mix and match to create a personalized workflow that works best for you.
With your marketing tools in place, you can start spreading the word about your new platform! The way you promote your video-on-demand website will vary based on the needs of your audience, as well as their demographics and preferences.
For example:
If you create short-form tutorials targeted at teenagers, you'll probably need to be more active on social media platforms like TikTok.
If you create long-form entertainment content for millennials, you'll probably need to be on Instagram and look for advertising opportunities in popular publications.
But there will always be some core ways you can read your audience online. And, we have guides to help you do all of them!
Take a look at the links below for specific strategies you can follow to begin marketing your video business:
9. Start live streaming
Live streaming has become a key part of running a video business. In fact, the latest live streaming statistics show that:
Live streaming accounts for 23% of global viewing time.
Globally, 41% of internet users have watched a live stream.
The total watch time for the faith & spirituality industry raised by 300% in a year.
And with the live stream market expected to have a revenue of $184.27 billion by 2027, subscribers are continuing to actively seek out live-streamed content.
With Uscreen, you can host live streams — such as webinars, Q&As, or even gaming streams — from within your platform, and even save the recording to your library as an on-demand video.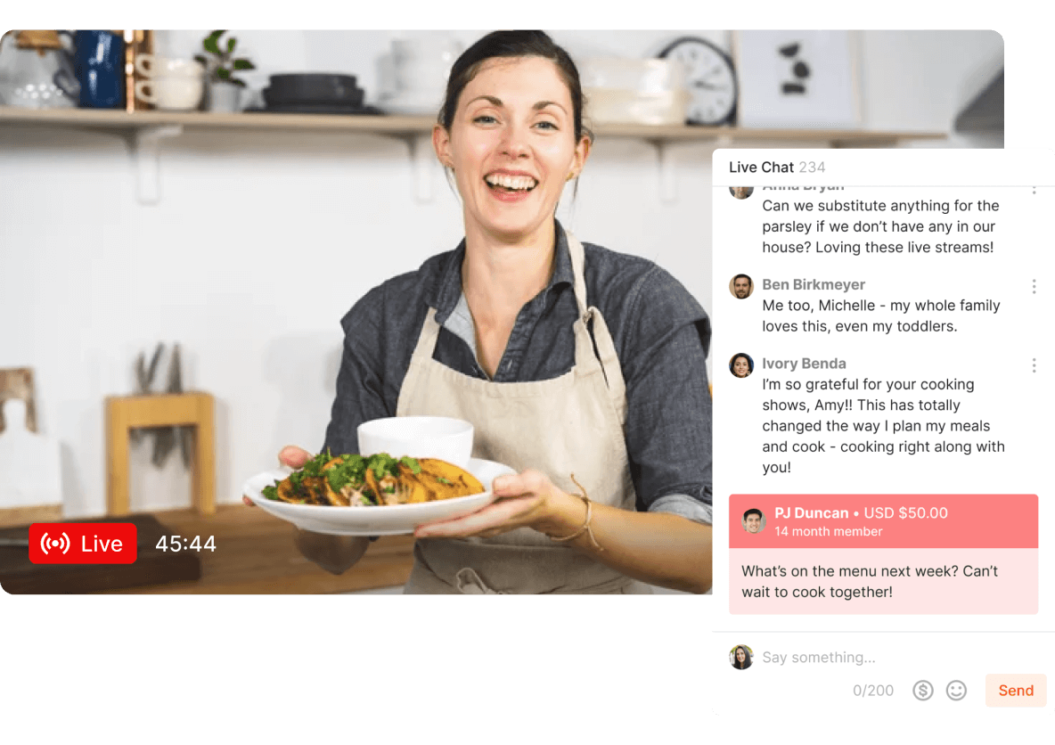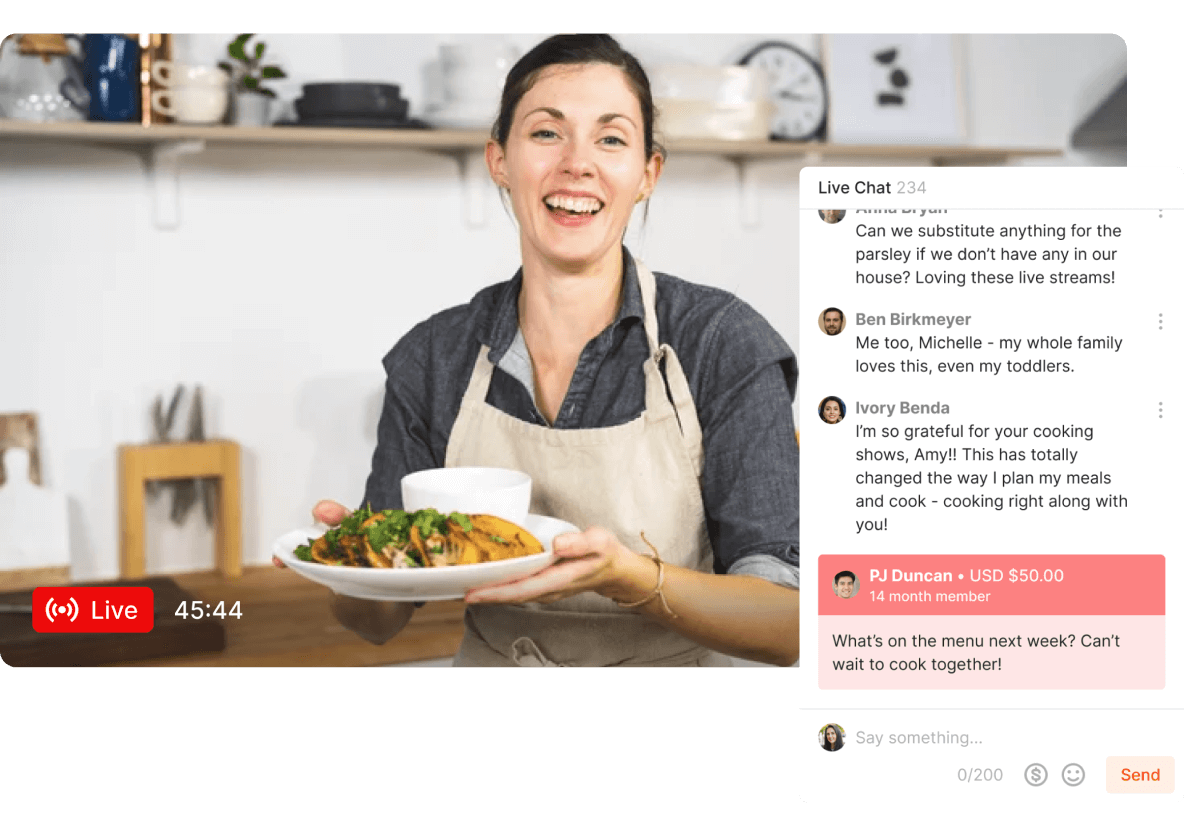 Better still, with our community features like live chat, your audience can interact with each other and bring a whole new dimension to your content.
10. Expand your offering with OTT apps
OTT apps, or over-the-top apps, allow users to view your content natively on devices like smartphones, tablets and smart TVs like Roku or Apple TV. And they are in high demand!
This has become an essential part of running an online video business because it allows your audienceto access your content seamlessly on their favorite devices.
Your members can just click the app, log in, and then access all of their video content in one easy-to-find place — just like how you'd use Facebook or YouTube on your phone.Having these OTT apps available can increase your audience and revenue by up to 30%.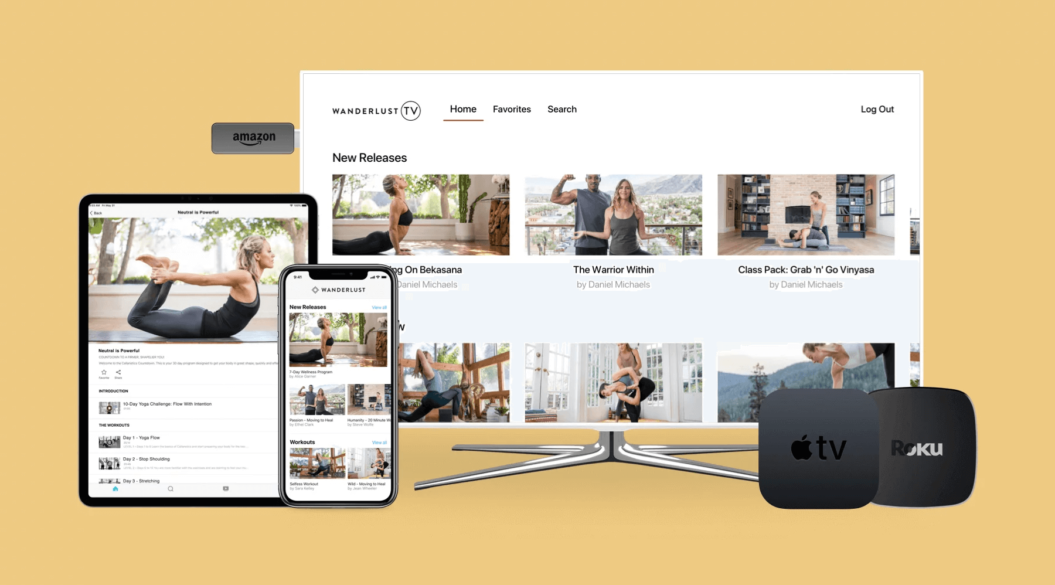 With an OTT platform like Uscreen, you're easily able to add branded apps to their business — all you have to do is request the apps and the Uscreen team takes care of the rest.
Can you make money selling videos online?
Yes, a membership business model can generate $12,000+ a month in a wide range of niches, and it's one of the best possible options to build a stable and consistent income.
TVOD-based businesses can make more money upfront by charging a slightly higher fee per purchase. This model can be effective if you're offering one-time transactions that are time-bound or live, like for big sports events.
There is also the "default" method to make money selling videos online: AVOD. But times are changing, as restrictions make it harder for creators to make a living.
Start your video membership business today
Selling videos online offers a wealth of opportunity to monetize their passion. Whether you're an educator creating instructional videos, or an influencer starting a membership community, the guide above will help you get started.
Now you'll be able to reach the people you want to reach, spread the message you want to spread, and make the money you want to make.
If you want to start selling videos online today, Uscreen is a great place to start your journey — and we'll help you monetize your content in the best way possible.
Sell videos online FAQ
Where can I sell my videos for money?
You can sell videos for money on platforms like Uscreen, which lets you create a website and sell directly to your audience. Other options include selling ad space on your videos through YouTube or even selling stock footage on websites like Shutterstock.
How much does it cost to sell a video online?
The cost of selling a video online varies depending on the platform. Some platforms charge a percentage of sales, while others charge a flat fee. Before deciding on a platform, it's important to research and understand the pricing structure.
Does YouTube require a copyright?
Yes, YouTube requires that you have the rights or permissions for any content you upload. If you upload stuff you don't own the copyright for, or don't have permission to use, YouTube can take it down and you could get suspended.