Nine minutes, 24 seconds.
That's the average time people spend scrolling through a streaming website before deciding what to watch.
It's your window of opportunity to entice a viewer to press "play."
How can you level up your VOD catalog to reel viewers in?
Simple: by optimizing your catalog for maximum engagement.
In this article, I'll discuss how to optimize your catalog for the biggest impact on audience engagement and retention.
We'll cover:
What the catalog is.

What it means to optimize your catalog.

Why it's important to optimize your catalog.

How to optimize your catalog.
If you're not sure what a content catalog is, I recommend you go back and read our guide: How to Strategically Organize Your Video Content Library for Success before reading this one.
Let's dig in.
Why You Need to Optimize Your Catalog
Catalog optimization is important for your business because it makes it easier to engage with your audience, leading to more business.
When you optimize for audience engagement, you get:
Increased sales: attract more new customers.

Better retention: build loyalty with existing users.

More interaction: more views, shares,

and comments.
The easier it is for your users to find and use your videos, the more business you'll receive.
To optimize your content, ask yourself:
How do I make it simpler for my viewers to find the content they need?
How can I make my content more accessible to viewers?
What visuals might grab my customers' attention?
What words will resonate the most with my customers?
When you continuously improve your catalog, you continuously provide your viewers with a better product.
This helps customers get the most out of your content and creates a better user experience.
How to Optimize Your VOD Catalog
To optimize your catalog we're going to look at 4 key elements:
Text.

SEO.

Visuals.

Features.
Why target these specific components? When you level up in these four areas, the results have a big impact on audience engagement.
Here's how you can enhance these to best engage your audience with your VOD catalog.
Step 1: Create Intriguing Titles and Descriptions
A title is the name of your video and a description is a short blurb that explains what your video is about.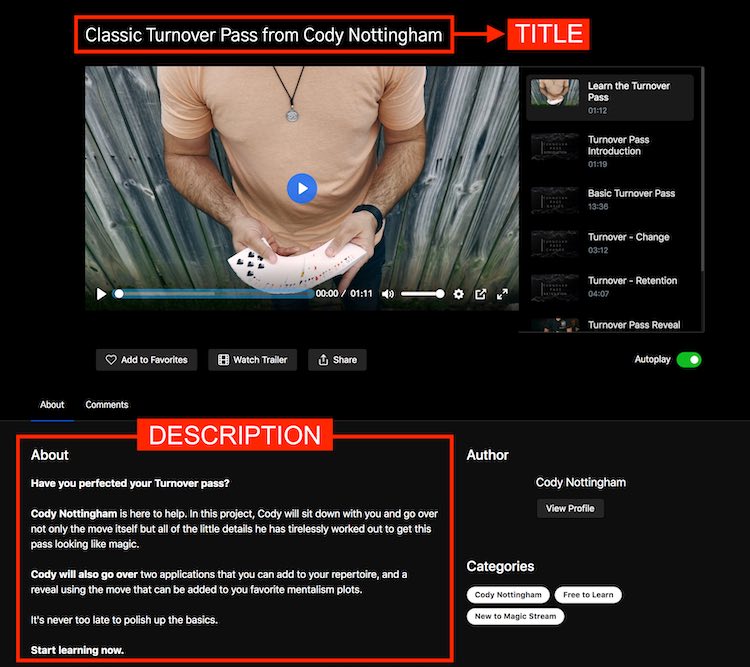 Your titles and descriptions help you to:
Grab a viewer's attention.

Inform them about your content.

Direct them to relevant videos.
They also help your users search through your content. The search function will look for keywords in these areas to return search results.
Video Titles
Titles are a major factor in why people decide to press play. The more engaging and enticing, the better.
Titles appear in your catalog above each video or collection and on the player page. Like these ones from RAQSOnline: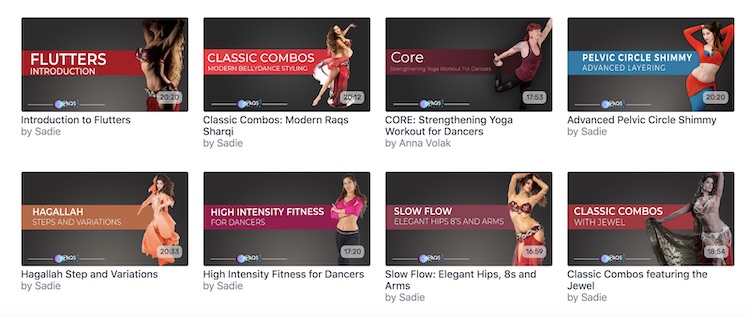 These titles work well because they're:
Descriptive.

Specific.

Engaging.
Some other examples of powerful titles might be:
How to Cook Marinara Sauce like a Michelin Star Chef.

The Foundations of Makeup: Everything You Need to Know to Be a Pro.

Astrology 101: A Complete Beginner's Course.

Upper Body: Strengthening Workout for Dancers.
If you need some extra inspiration, take a look at platforms like Skillshare or Udemy to see how people write titles for their content.
Either way, we recommend keeping your titles to 50 words or less.
Video Descriptions
Video descriptions give your viewers a short preview of what they can expect from your video, collection or category.
You'll need descriptions for each:
Category.

Video.

Collection.
The description should tell your customers what they're about to see and entice them to click "play."
There are 2 kinds of descriptions:
Full description.

Short description.
The full description appears on the video, collection or category page itself. This is the description viewers see when they click on your content.
If your video is part of a collection, you'll also create a short description to be displayed in that collection (and in the case of a feature slider, on the catalog page).
Ink Workshops have some great examples on their eLearning website: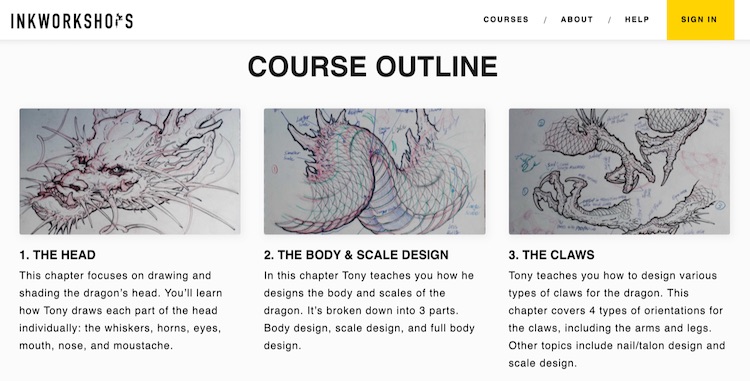 Coordinating Title and Descriptions
Each video or collection needs a title, full and short description. You'll want to make sure these match logically.
For instance, here's how the Fitness Accelerator, Uscreen's eLearning platform ties the 3 elements together: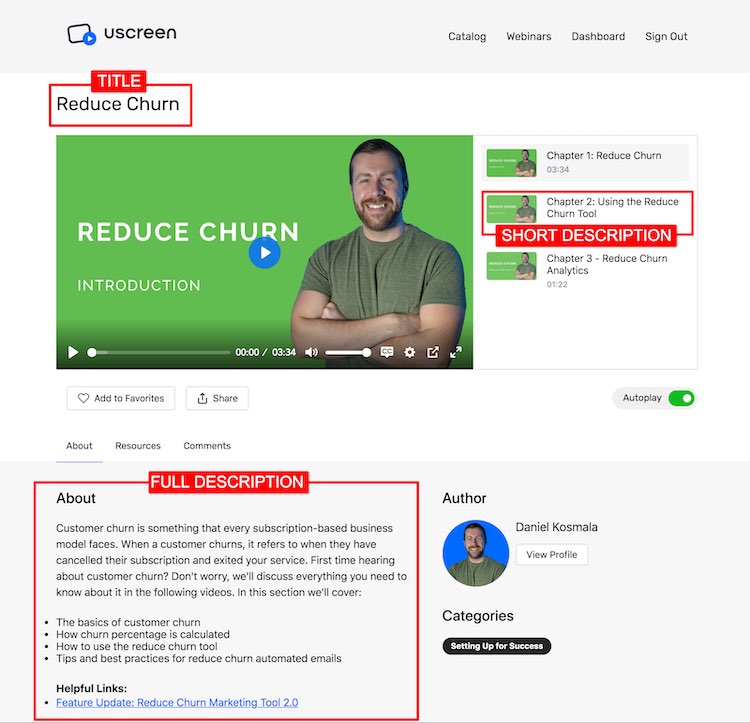 For the best user experience and to avoid viewer confusion, you won't want to use the same exact title for collections and videos. Then when a user searches for a title, it's clear which is a collection and which is a standalone video.
If you've got an OTT app, also keep in mind: your descriptions sync automatically so make sure they're well-formatted well and look good on desktop as well as apps.
Step 2: Add Appealing Visuals
Once you've set your titles and descriptions, it's time to add visual components.
Uscreen gives you 2 primary methods for adding attractive visuals to your catalog:
When used effectively, these can have a major effect on drawing in your audience.
Thumbnails
Research shows visually attractive thumbnails can increase video engagement by up to 154%.
Uscreen allows you to add 2 different images to your videos and collections:
Player image.

Catalog image.
The player image is the thumbnail that represents your video, collection or category. It displays your video, like this one on GUE.tv: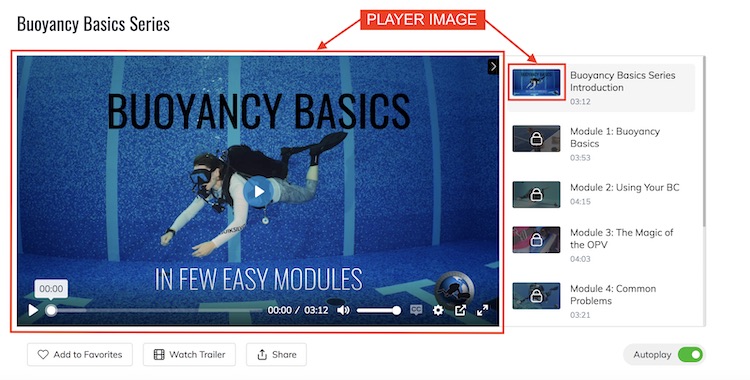 A catalog image appears as a thumbnail in the catalog and represents your video on the category page of your catalog.
Now here's the catalog image from the same collection:

With this in mind, here are a few tips to help you create appealing thumbnails:
Use a color code: make topics easy to identify by using the same colors.
Add clear title text: add this to your image to catch attention.
Use relevant images: to provide context to your video.
You can also request the option to add GIF overlays to your thumbnails, which will display a short preview of your content.
Foodable shows how beautiful thumbnails can be strategically used: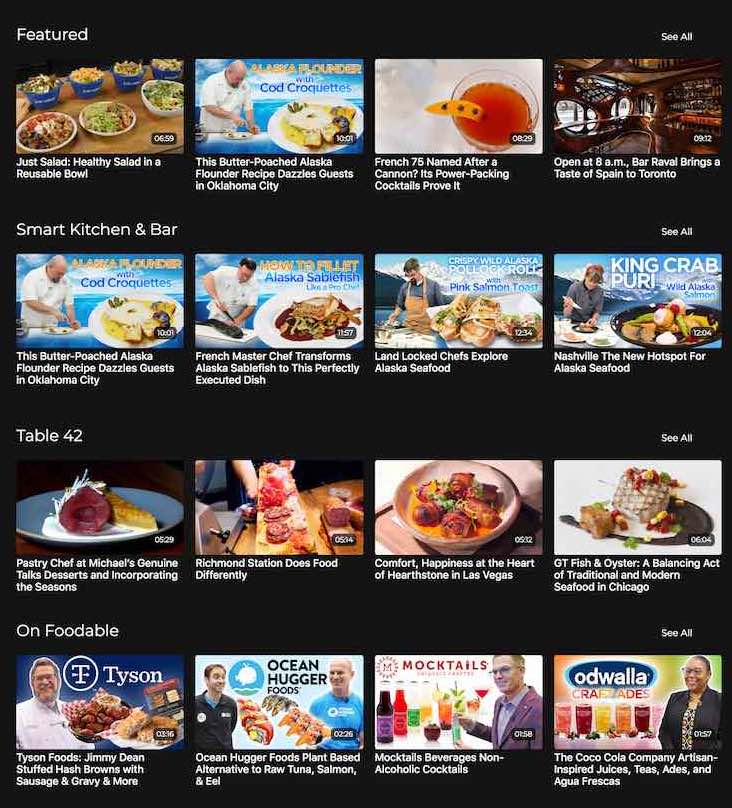 Foodable's thumbnails grab the viewer's attention because:
Each category is visually distinct.

Colors and themes are consistent and coordinated.

Titles are large, descriptive, and accessible.
Need more inspiration? Our roundup of design tips for video thumbnails has got you covered.
We've also created this in-depth video guide on how to create gorgeous thumbnails.
Trailers
Trailers can encourage potential customers to subscribe or buy.
This preview or sneak peek gives viewers an idea of what your content is about and helps them decide whether they would like to watch.
Check out this trailer for FaderPro's DJ Masterclass with Robert Sanchez.
Trailers are available on the individual page for a video or collection. The "Watch Trailer" button will appear for all potential customers as well as logged-in customers.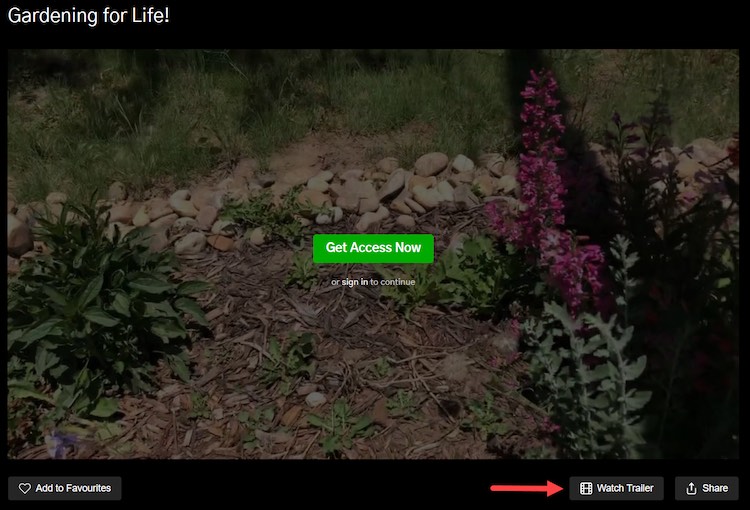 Need help creating impactful trailers? Our How To Make a Trailer: A Step-by-Step guide has got you covered.
Step 3: Enable Convenient Features
In this final step we're going to enable built-in features that will make it easy for your viewers to watch your content from anywhere.
Ask yourself: How and where will your videos be consumed?
Will your customers watch…
in a silent doctor's waiting room

from their airplane seat

on a noisy train ride
…or any other Wifi-challenging, sound-sensitive locations?
If so, then you'll want to use these next tools.
Make Videos Downloadable
You can enable downloading on individual videos at any time.
By turning on this feature, you can allow users to download individual videos files to their devices for offline viewing.
This is great for users on the go.
Keep in mind:  if you use this feature your videos are no longer protected by Uscreen.
If you use OTT apps, secure in-app downloading is available by default so that customers can download videos within the app and watch offline, without possessing the file.
Add Video Subtitles
Video subtitles make it possible for viewers to consume more of your content. Why?
Because it allows them to watch your videos without sound.
They can watch:
On a break at work.

Commuting on public transportation.

In any noisy environment.
Research has shown that 46% of Facebook Watch viewers prefer to keep sound off. So, they probably want to do it with your videos too!
Final Thoughts
When you optimize your catalog, you make it much easier for your users to find and use your content, generating more business for you.
When you target key areas like…
creating intriguing titles and descriptions

adding appealing visuals

enabling convenient features
…you'll have the most impact in engaging your audience.
You're not only improving your product, you're giving your customers an all-around better experience. That's a win-win.
Are You Adding Too Much Content
to Your SVOD Service?