If you're interested in monetizing your video content, using pay-per-view video platforms is a great way to do just that.
The right pay-per-view (PPV) video platform helps you deliver professional live streams that take your content to the next level and increase your appeal to more viewers.
If you're scratching your head trying to find the best platform for your needs, we got you covered.
Here are the best pay-per-view video hosting platforms available in 2023, based on features, capabilities, and pricing.
Let's get to it.
Best PPV video platform picks
| | |
| --- | --- |
| Platform | Best for |
| Uscreen | Creators selling video memberships |
| Zype | Large organizations |
| Muvi | Media companies |
| Kaltura | Educational institutions |
| JW Player | Sports organizations |
| Cleeng | Live broadcasters |
1. Uscreen
Best for: Creators selling video memberships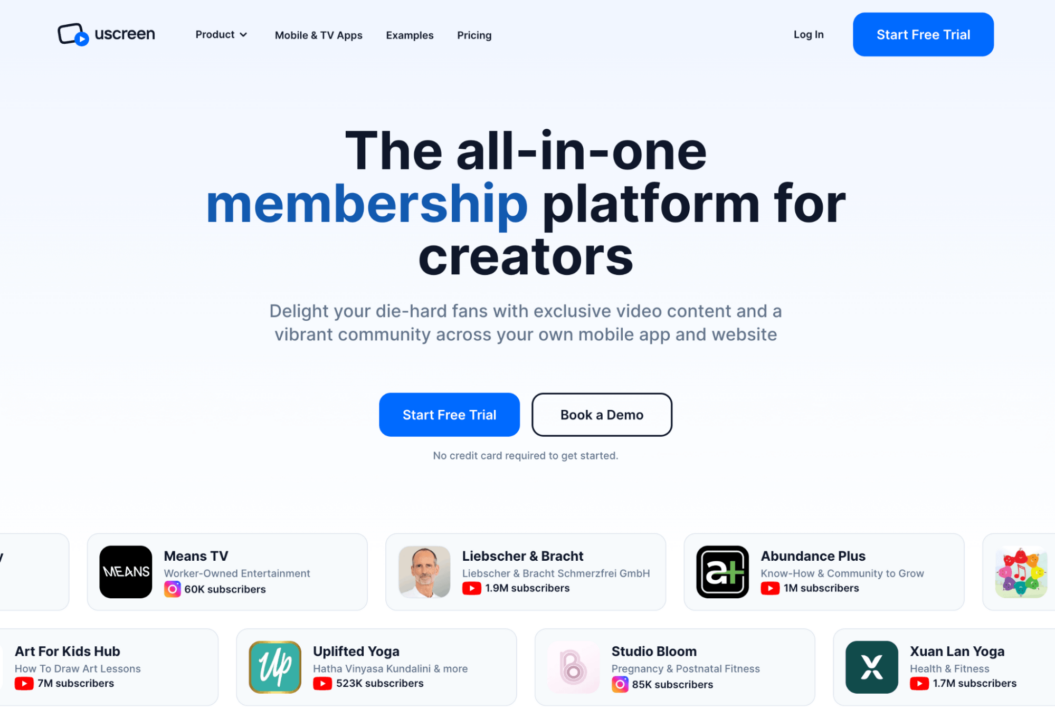 Uscreen is an unrivaled choice for video creators seeking more than a pay-per-view platform. It's a complete membership platform that lets you sell video content, build a community, and stream live.
We've helped over 25,000 creators build thriving memberships, starting with a high quality VOD website to launching custom OTT apps and supplying marketing tools. Uscreen's ready-made themes and drag-and-drop site builder makes it easy to create a high-end look and feel for your site.
Whether viewers buy your videos via membership fee or one-off purchases, they get a Netflix-style viewing experience. See how RedWall Tutorials, which teaches people how to dance online, lets members browse content by categories like Trending Classes, Hip Hop, Beginner, and Heels.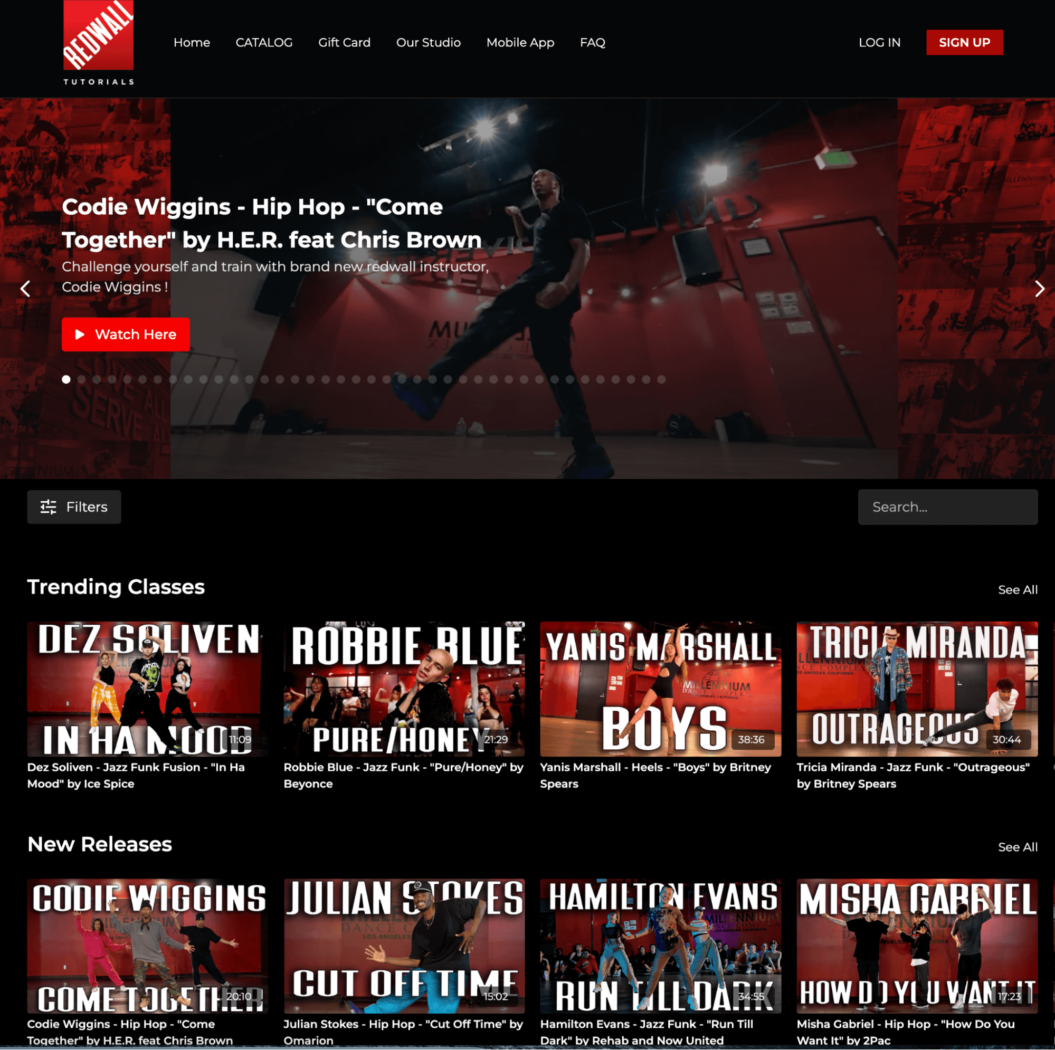 Uscreen also offers comprehensive analytics that give you insight into video performance, user behavior, and revenue tracking. That way, you are always on top of your game and making decisions that earn you sustainable income.
Let's look into a few other features Uscreen offers.
Earn through various video monetization models
We have the tools to monetize your content in every way that you need, ensuring you get paid every dollar you're worth. With Uscreen, you can earn money through selling memberships for your video content.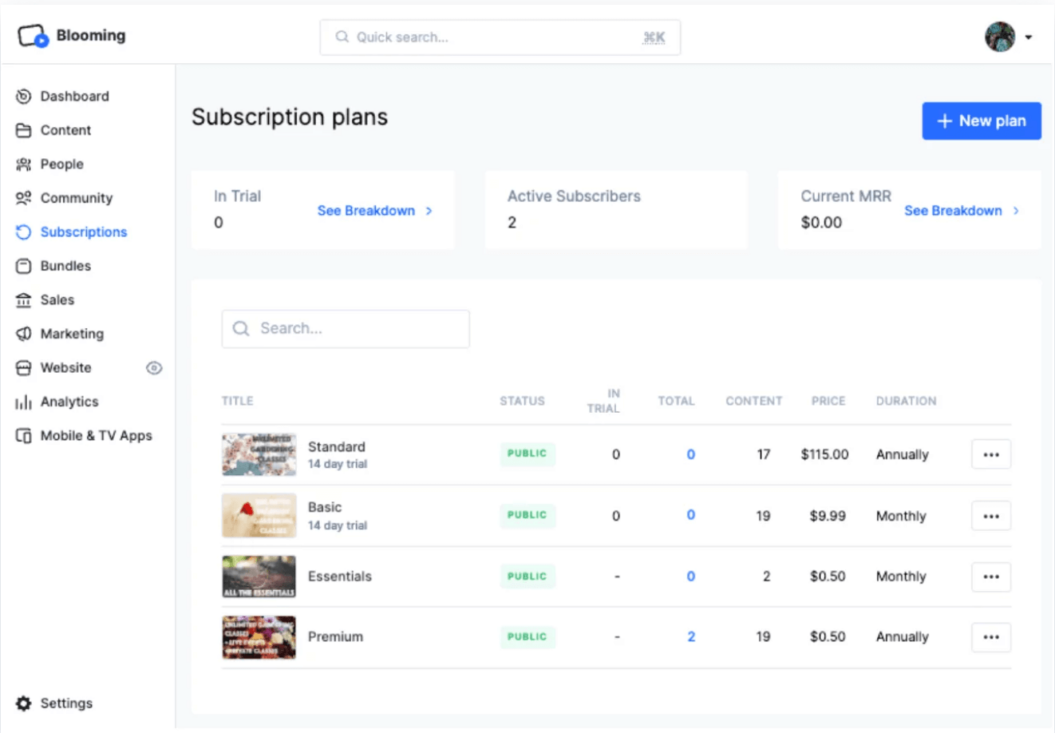 Build a membership website that reflects your brand
Uscreen allows you to completely customize the look and feel of your membership website and apps to align with your brand's identity. You can modify colors, logos, images, typography, and overall layout to ensure brand consistency across platforms.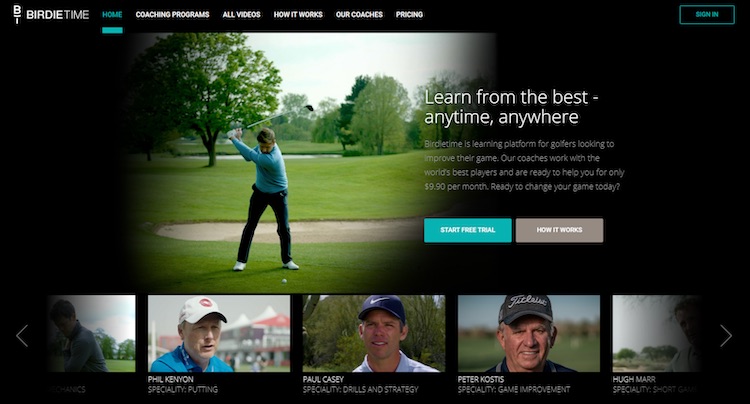 You can also customize the appearance and functionality of your video player. For example, you can enable or disable certain player controls, select a preferred playback speed, and decide whether to autoplay the next video.
Plus, you can tailor your welcome emails, billing notifications, password resets, and more to match your brand's tone and voice.
Reach more viewers with your own app
With Uscreen, you can easily build a white label OTT app for platforms like Apple TV, Roku, iOS and Android devices, and more. Similar to your website, your OTT platform can feature your logo, color scheme, and branding to create a consistent experience for members.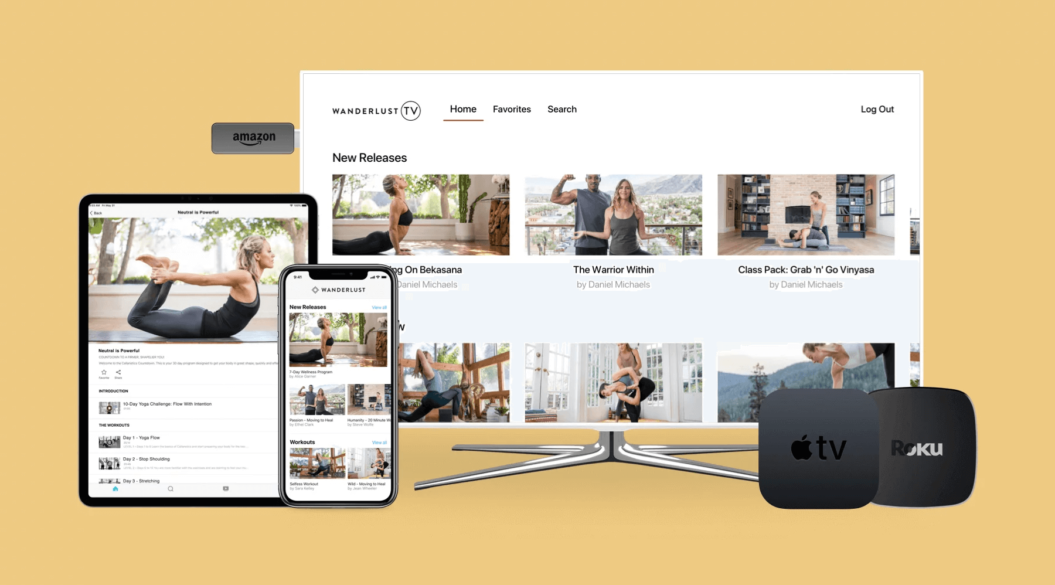 Uscreen offers a centralized content management system. So when you update a video on Uscreen, it automatically updates across your OTT apps, too. We manage all the updates and necessary maintenance your app needs to thrive.
Find the right audience for your content
Uscreen has integrated marketing and sales tools that let you promote content and reach a larger audience. These include:
A community section where people can discuss and engage with each other.
Promotional campaigns with coupons and giveaway funnels.
Cross-selling and upselling tools to increase revenue per member.
Integrations with top email marketing and social media platforms.
Analytics and reporting.
You can find all these tools right in your admin dashboard.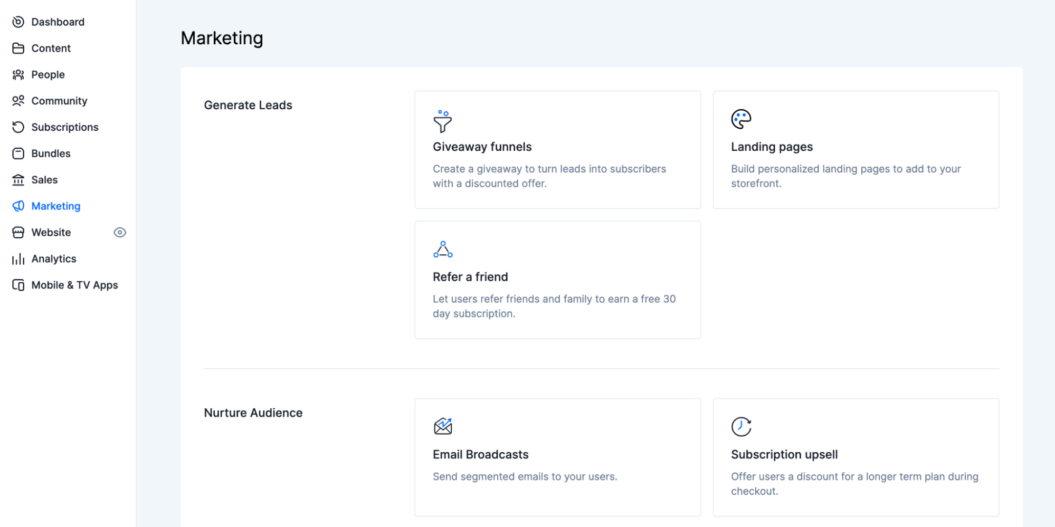 Overall, Uscreen gives you the tools to expand your audience, boost revenue, and gain insight in your audience's behavior, so you can improve your video content strategy.
Other notable features:
A pay-per-view paywall to monetize your streams.
Push notifications so everyone catches your live event.
You get to retain full ownership of your data.
Unlimited bandwidth with our global CDN.
A live chat on your streams to engage directly with your audience.
Unlimited uploads so you can meet your audience's demands.
The ability to add captions and subtitles.
A built in CMS to keep your PPV content organized to your liking.
Subscription-based monetization options to maximize your profits.
Accept payments through debit or credit card and PayPal.
Pricing
Looking to learn more about the plans and pricing that Uscreen offers?
Check out our pricing page to find a plan that works for you!
2. Zype
Best for: Large organizations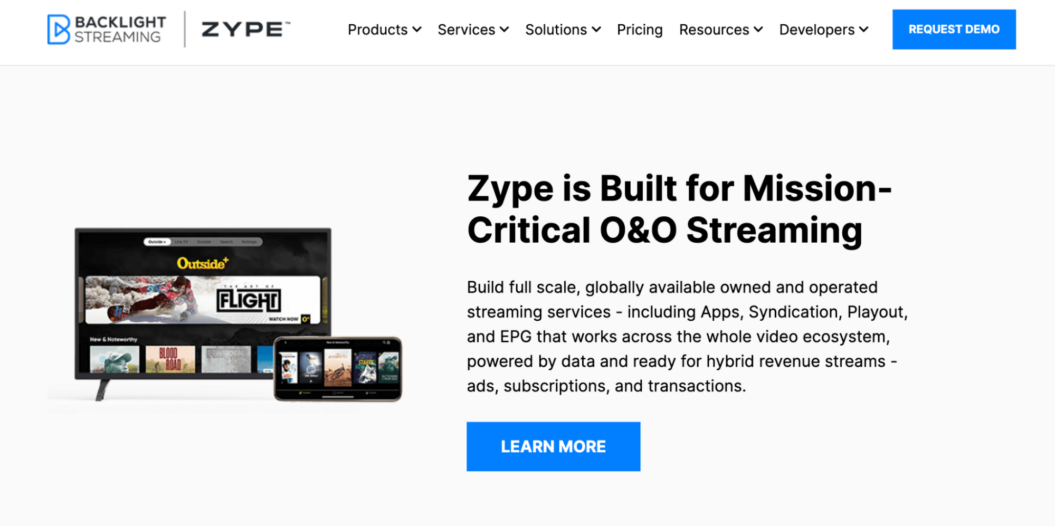 Zype is a cloud-based video content management system. It provides the base for product teams to deliver video streaming in complex scenarios.
It focuses on driving revenue growth and audience engagement through reliable distribution.
Zype prides itself on being easy to use and shortening turnaround times for bringing a site to market.
Features
The ability to upload videos in bulk.
Live streaming to multiple social platforms, like Facebook Live and Twitch, at the same time.
Multi-CDN support for fast and dependable content delivery.
Developers with full control over customization.
Easy-to-use tools to build your own streaming app.
Pricing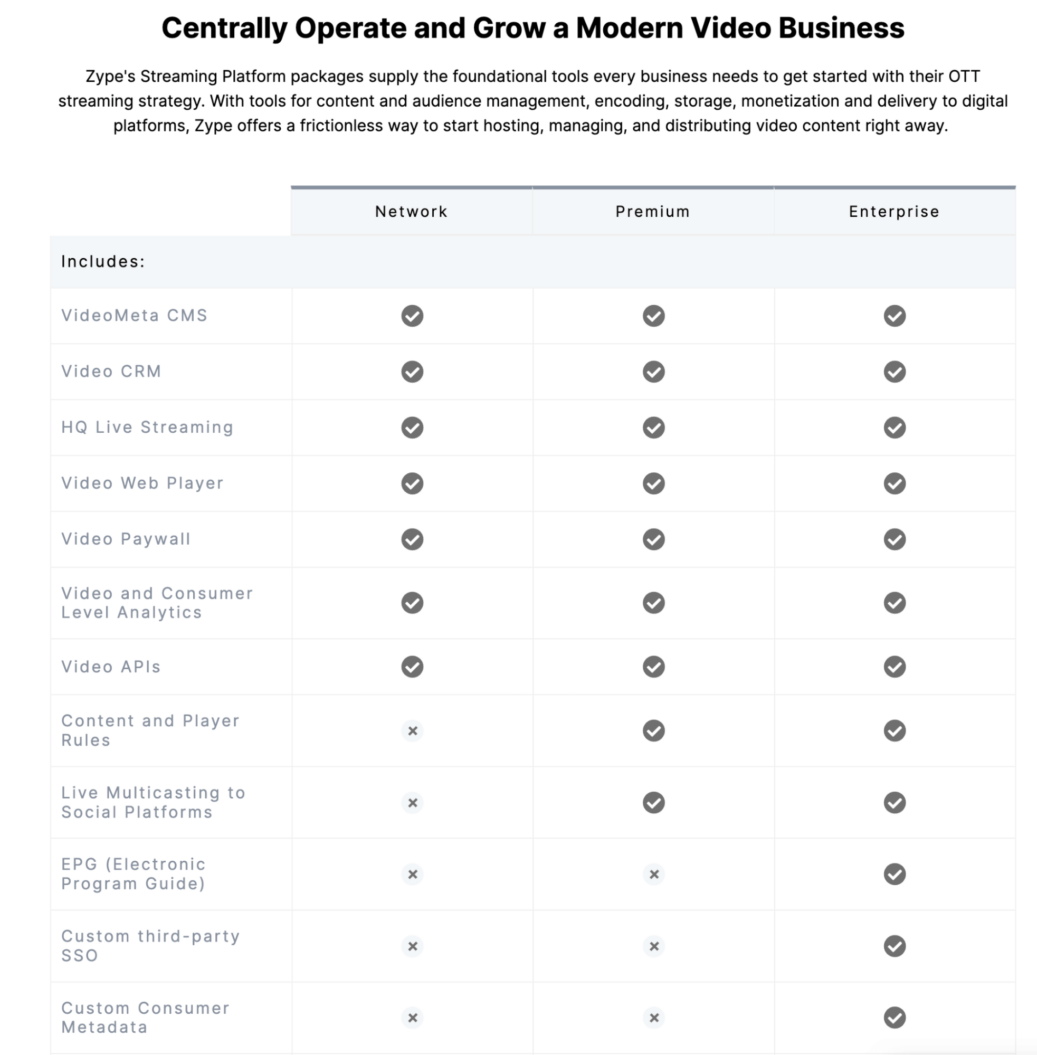 Zype offers three plans, Network, Premium, and Enterprise. But it doesn't list prices publicly. You'll need to request a demo to learn more.
3. Muvi
Best for: Media companies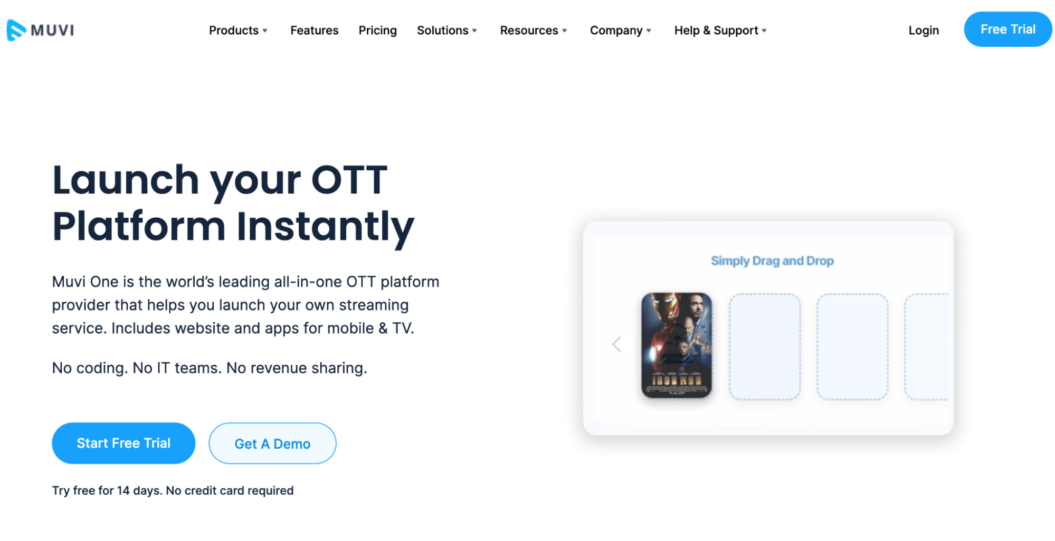 Muvi specializes in scalable over-the-top (OTT) video streaming. Its out-of-the-box tailoring makes it a solid choice for anyone from beginner content creators to experienced computer programmers.
With live streaming and video-on-demand delivery options, you can reach your audience whenever it's convenient for them.
It's ideal for big content creators who can make use of its many offerings.
Features
An HTML5 video player that's compatible across all devices.
The ability to live stream from anywhere and reach anyone.
Build your own audio and video streaming platforms, like Tidal or Netflix.
Monetization that includes video advertising, PPV videos, and subscriptions.
A post-event content library so people can still watch later.
Now let's get into how much all of this will cost you.
Pricing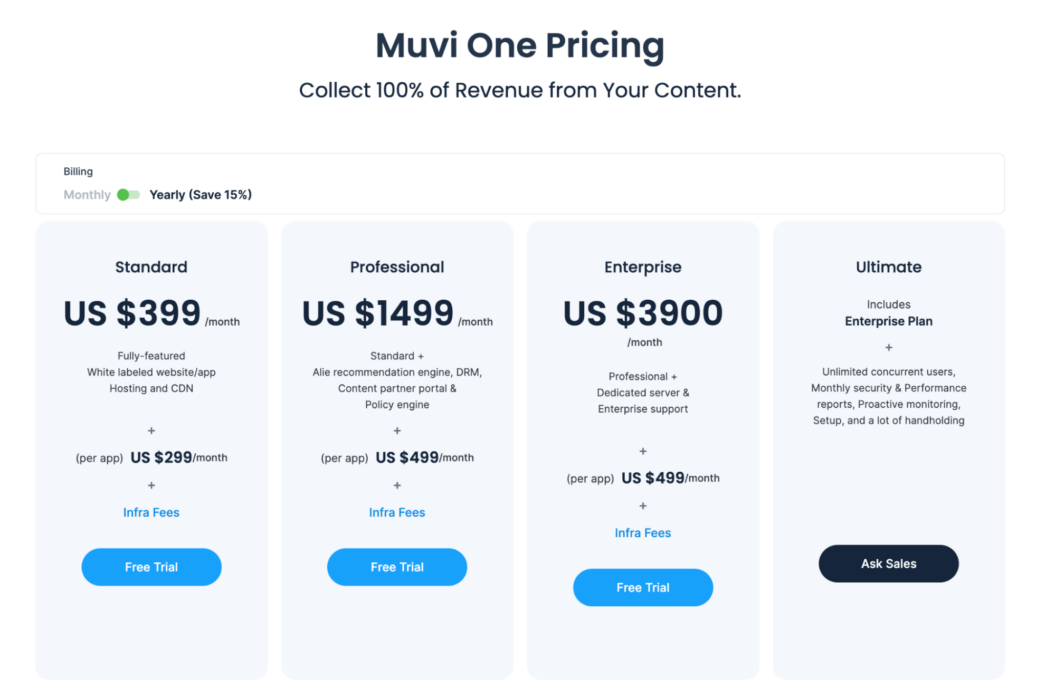 Muvi has 4 different plan options:
Standard: Their lowest tier provides 2 admin accounts, and a shared server. You get 1TB of bandwidth to work on and 1TB of storage.
Professional: This improves upon the Standard plan by adding 5 admin accounts while increasing bandwidth and storage capacity to 2TB.
Enterprise: Includes everything in the Professional plan and increases your admin accounts to 10. It gives you a dedicated server, 5TB of bandwidth, and 5TB of storage.
Ultimate: You get everything from the Enterprise plan. You'll also get unlimited admin accounts, double the bandwidth, and double the storage.
You should note that Muvi charges infrastructure fees for bandwidth and storage after you reach your free limit.
They also offer a 15% discount if you pay for an entire year.
Muving on.
4. Kaltura
Best for: Educational institutions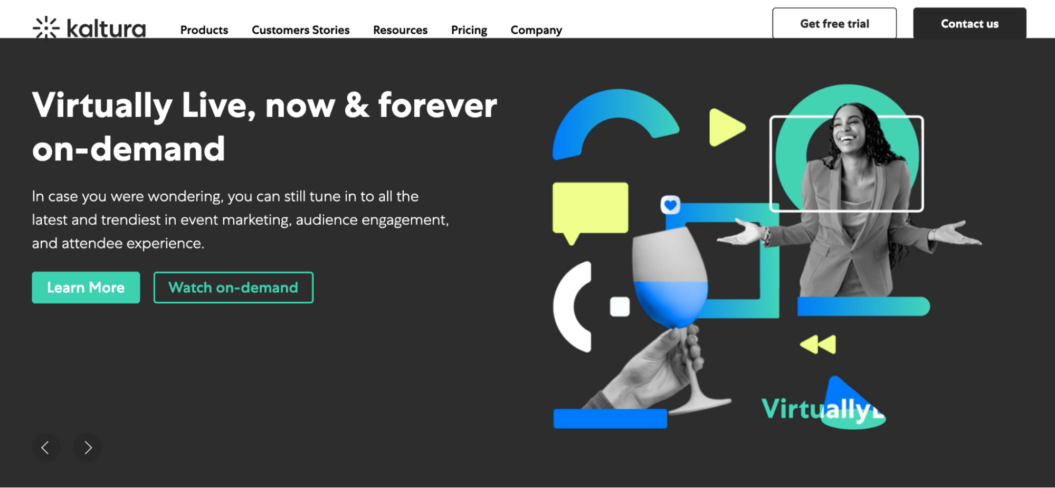 Kaltura focuses on video content management with an emphasis on customization. It's a great choice for broadcasters who desire complete creative control over their platform.
Its many CDN partnerships give it reliable coverage around the world, which is a must for live streaming content.
It's scaled to support a large body of users and is popular among educational markets.
Features
Quizzing features that reinforce course material.
A centralized online video hub to manage video-on-demand content.
Captioning and translation services to reach global audiences.
Advanced video analytics to make sense out of your data.
Large scale streaming options to reach unlimited audiences.
While Kaltura may be a better fit for a more established operation, its capabilities make it one of the best pay-per-view website platforms on the market.
Pricing
Kaltura's pricing system is credit-based. Clients purchase credits to access different features and gain more bandwidth.
Contact them directly to learn how their prices match your needs.
Next up is…
5. JW Player
Best for: Sports organizations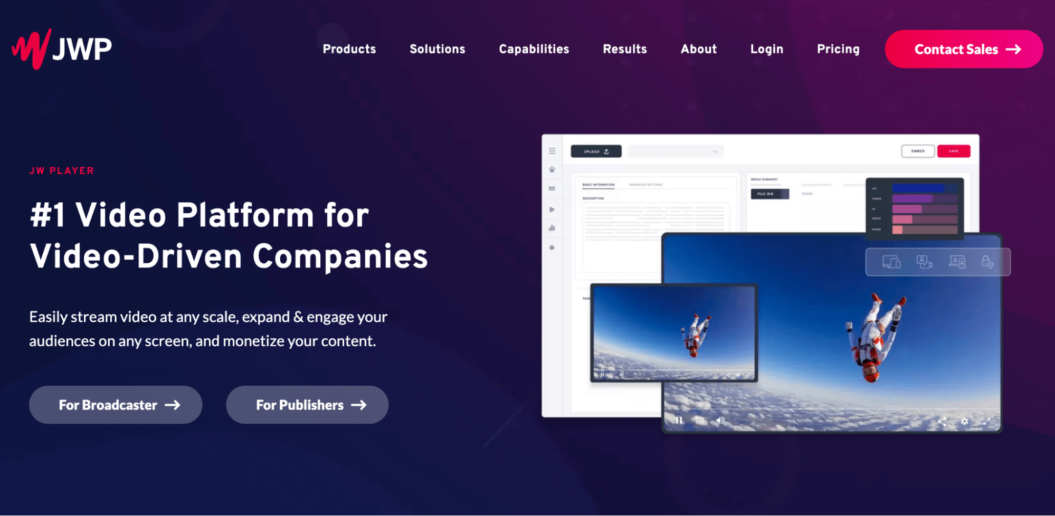 JW Player puts paywalls first with its pay-per-view solutions.
They understand that generating revenue relies strongly on protecting content. JW Player goes beyond simply locking content behind paywalls by encrypting digital rights management (DRM) right into live streams to keep them safe from pirates.
They work with broadcasters in the sporting events and entertainment industries and also handle corporate events.
Where they really shine is their ability to drive growth by managing subscribers.
Let's look at how they pull all of this off.
Features
Using algorithms to predict audience behavior.
Giving you full ownership of your subscriber data.
Merging subscriber info with email marketing platforms.
Making money easy to transfer using Stripe Connect.
Offering simple pricing that can scale up as you do.
Providing customizable paywalls to fit your brand.
Pricing
JW Player has not disclosed their prices at this time, so you'll need to contact them directly to learn more.
They do offer a free trial so that you can test their streaming service.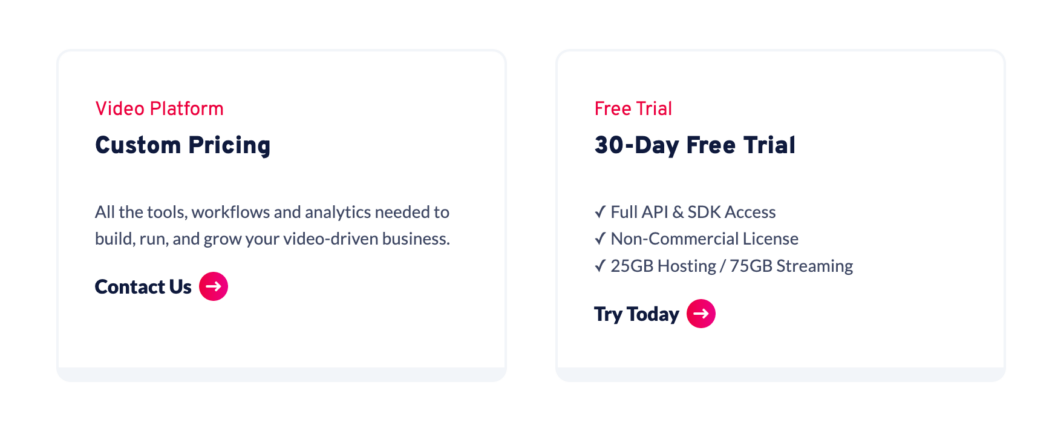 6. Cleeng
Best for: Live broadcasters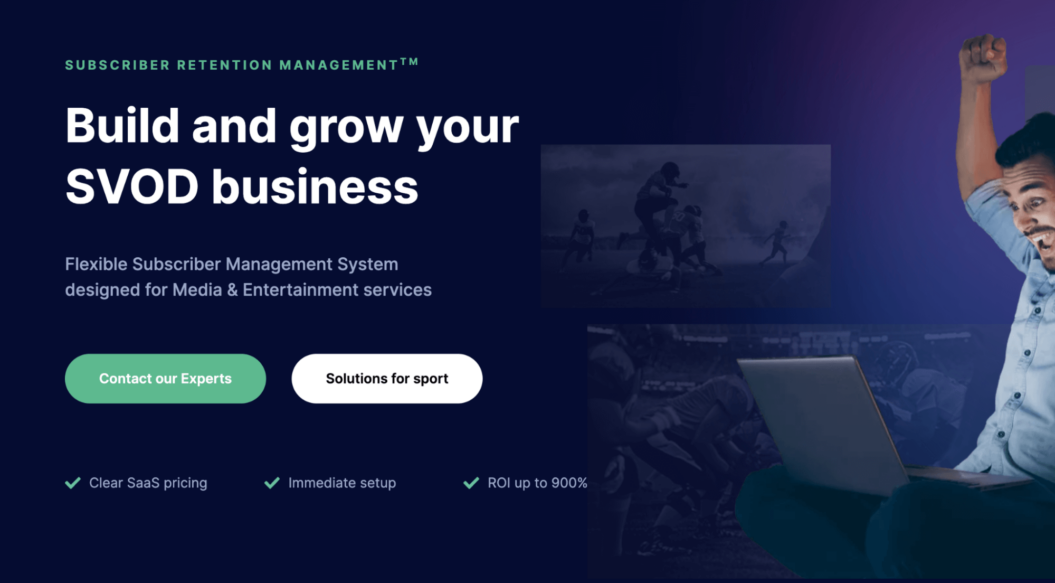 Cleeng is a subscriber-focused platform that prioritizes retention — both for its customers and your audience.
They're used by the likes of Cirque du Soleil and the National Hot Rod Association (NHRA), so you know their service can be trusted.
Their live event and video-on-demand tools reach devices around the world. It's all simple enough to use that you'll require little technical knowledge.
If you're a data-minded individual, you'll love what they have to offer.
Features
Providing a PPV streaming solution that you can set up in minutes.
Analytics that are easy to organize and understand.
AI-driven subscriber insights to improve retention.
Managing payment processes to follow local tax codes.
Pricing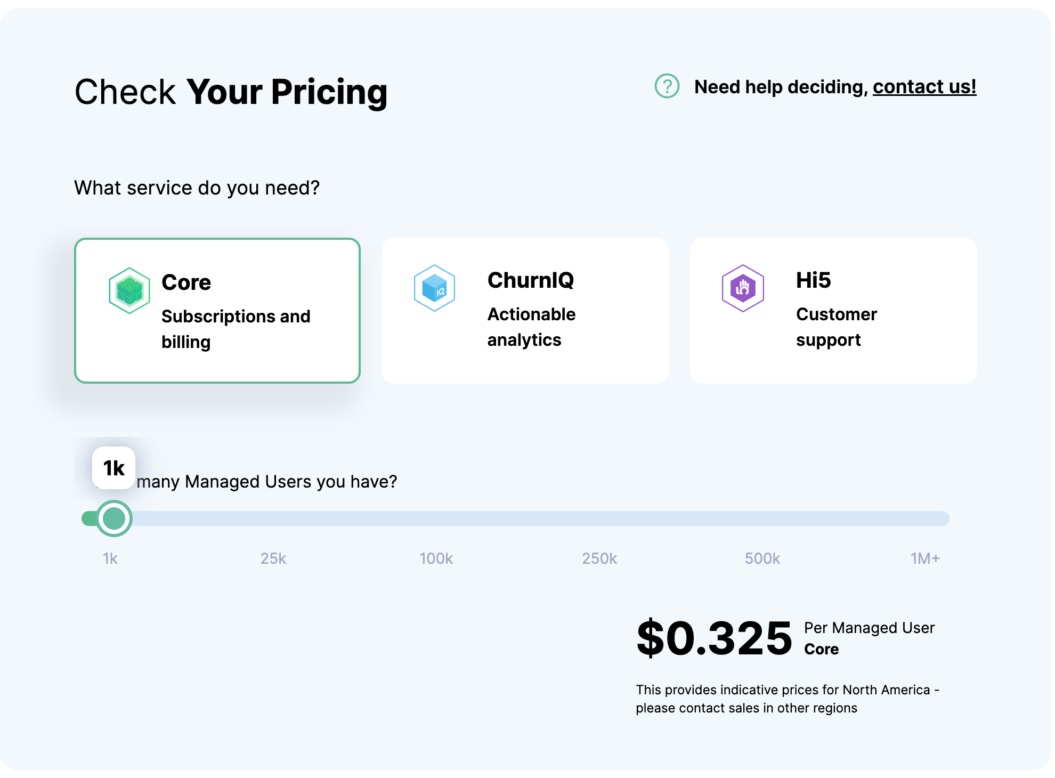 Cleeng has a relatively simple approach to pricing. For its basic plan for subscriptions, you'll pay per managed user. The more managed users (subscribers), the lower price per user you'll pay.
Choosing a PPV platform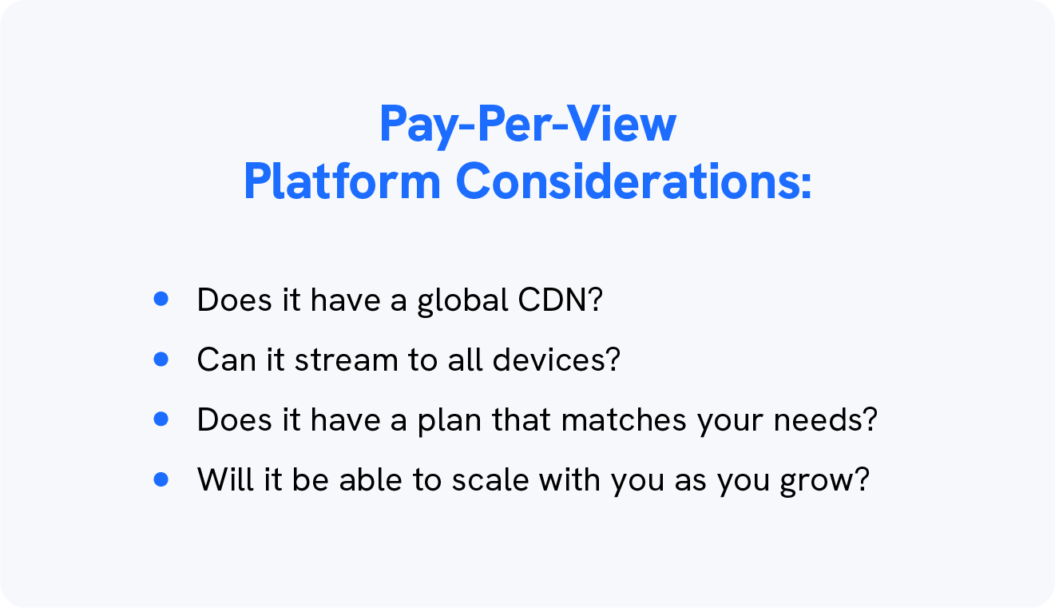 PPV video platforms have many factors to look at when determining which is most suitable for your content.
The content delivery network (CDN) a platform uses has a huge impact on the quality of your streams. The CDN is what broadcasts your content to your audience in specific regions.
If your audience is worldwide, then you'll need a platform whose CDN is worldwide.
Making it convenient for your audience to watch your content across multiple devices can increase your appeal. Find a platform that makes it easy to stream across phones and tablets as well as TVs and computers.
Your business may need minimal functions when starting out. As it grows, your needs likely will too. Pick a platform that has built-in scalability so that you can upgrade as needed.
Speaking of scalability, the cost of the service needs to meet your budget. Choose a service with tiered packages that make sense for your growth plan. Each level should provide useful features that are affordable to you at that point in time.
Identify your needs based on these considerations, then rank them based on importance. Compare your list to the options in this post to find the pay-per-view video platform that best fits your needs.
How to price your Pay-Per-View video content
After picking a platform, it's also important to take into consideration your video content's pricing.
Research what your fellow content creators within your industry charge for their content. This can give you a realistic idea of the value your content is worth to viewers.
Then evaluate how much it'll cost to launch your pay-per-view events. If an event requires you to purchase new equipment or streaming features, you should factor it into your break-even point.
If your pay-per-view video streaming platform takes a share of your revenue, you may need to charge more than you initially planned.
Find your revenue goal with this equation:
Profit Goal + Total Expenses = Total Revenue Goal
You can then determine how many sales you'll need each month to make a profit by using this equation:
Total Revenue Goal / Your Sales Price = Number of Sales Needed
If the number of sales you need to make a profit exceeds what's realistic for your event, reevaluate your sales price or profit goal.
We also have a subscription calculator you can repurpose for pay-per-view sales. Just swap "subscription" for "sales" to find your price point!
Wrapping it up
You deserve to get the most money for your content, and selecting the right pay-per-view video platform can help ensure that happens.
Putting your content behind a paywall puts money in your pocket with each view.
Uscreen can make that happen while also helping you engage with your audience regardless of their location.
Pay-Per-View video platforms FAQ
How do I sell my Pay-Per-View videos?
Selling pay-per-view videos begins with choosing the right pay-per-view video platform — and choosing one with monetization features.

It's also best to create a landing page for an upcoming live video stream or PPV service where potential viewers can purchase tickets or subscribe early. You may even consider offering them a discount code for early sign-up.
How do I make my own Pay-Per-View video?
The easiest way to sell pay-per-view videos is to partner with a specialized video hosting service like Uscreen. 

1. Upload your video.
2. Set your price. 
3. Embed the pay-per-view settings on your site.
Can you do PPV on YouTube?
YouTube does not offer PPV options to content creators, but YouTube does provide the option for viewers to donate money directly to content creators.