Lots of content creators think YouTube is the best way to sell videos online.
There's some truth to this, but there's also a bit more to think about.
It makes sense because YouTube is the second largest search engine, with 1.5 billion logged-in users watching 6 billion hours of video every month, it's the place to get seen.
But, can you really expect a decent payday from the videos you're uploading on YouTube? Not really, most YouTubers earn below the US poverty line!
If you look closely, you'll find that people make money through YouTube, not directly on it – and it's the same for selling videos.
Why shouldn't I sell my videos on YouTube?
Mainly because you will make a LOT more money hosting and selling your videos elsewhere.
Even with its extremely wide reach and billion-plus users, video monetization on Youtube is hard.
First of all, to make money on Youtube you have at least 10,000 lifetime channel views.
Second of all, because you make money from ad revenue and YouTube takes a huge cut, you get underpaid as an independent content creator. (Unless you become a YouTube star with tens of millions of subscribers.)
Now for a quick story time! Let's take a look at Magic Stream:
Magic Stream is a video on demand website created by Ellusionist, an industry-leading online training platform for people who want to learn high-impact, effective magic tricks.
Ellusionist posted their very first video on YouTube about 15 years ago, long before they launched the Magic Stream website.
From that point, they consistently posted instructional and inspirational magic videos and grew a massive following of 126K subscribers on their channel.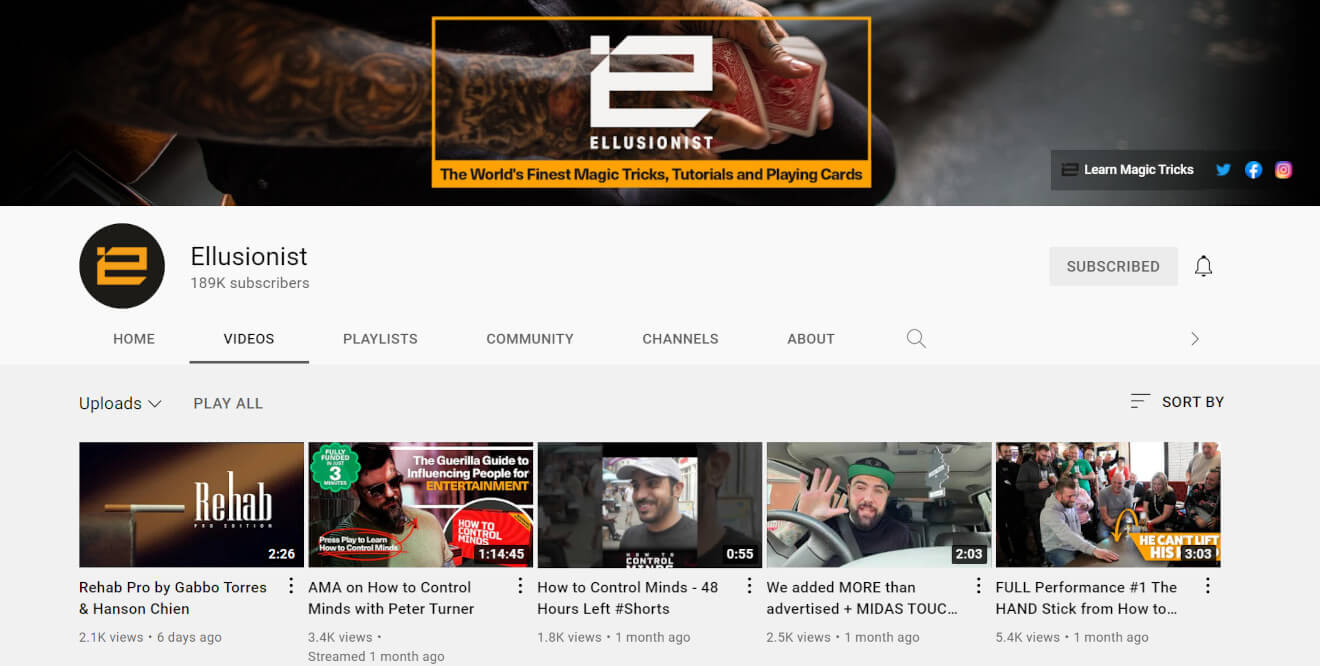 Ellusionist is estimated to have generated a total of $71,000 in advertisement revenue throughout its entire YouTube career (based on this cool YouTube money calculator).
In 2017, Ellusionist expanded beyond its YouTube channel and monetized their audience off platform. So, they launched Magic Stream, a subscription video streaming service, or as they would describe it "If Netflix did Magic," using Uscreen.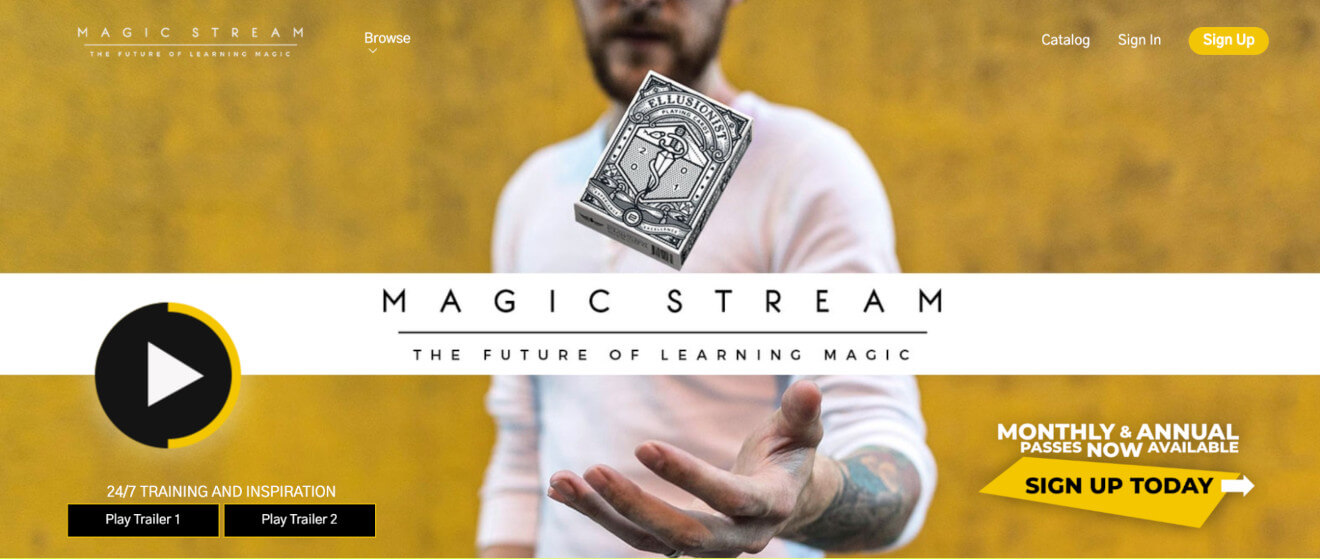 In their first year, Magic Stream was able to generate over $183,000 from 2,027 subscribers at $12.99 a month.
Take this in: it took the Ellusionist less than a year to make twice what they generated in 15 years on YouTube.
Yup. You read that right.
But YouTube's huge exposure is still very useful. They took advantage of their YouTube channel to drive traffic to their online video website. 
Here's how you can do the same and get to keep every dollar you make:
Use YouTube as a marketing platform, where your goal is to generate leads for your independently owned video streaming website.
We put this guide together to walk you through taking advantage of YouTube's exposure, driving traffic to your video website, and making more money. We broke it down into 2 parts:
Part 1: How to create effective videos to promote and generate leads to your video websites.
Part 2: How to optimize your YouTube channel so people find it and watch your videos.
This is all assuming you've already set up your online video streaming business (if you haven't, check out this blog post to learn how).
If you need help setting it up, get in touch with Uscreen today and we'd be happy to help!
It's simple with Uscreen.
Build, launch and manage your membership, all in one place.
Let's dive in.
Part 1: How to Create YouTube Videos to Promote Your Video Website
While creating videos to market your online video website, the goal should be to promote your content, catch the viewer's interest, and ultimately send them to your website.
So, you'll need to focus on creating and providing engaging and informative videos that provide value to the viewer, while also leave them hungry for more.
7 Types of Traffic-Generating Video
There are a range of video formats you can create to promote your VOD website on YouTube. For inspiration, We grabbed a few examples of Uscreen customers and the YouTube videos they upload to drive traffic to their video websites.
1. Website Trailers
The most popular (and obvious) way to advertise your video website on Youtube is to create and post video trailers.
Companies with different products and services already do that, but you're at an advantage with this because you already are a video creator and probably already have most of the footage you need to pull this together.
Trailers are usually 2-3 minutes long and have a distinct storyline or message to communicate.
Your website teaser can be longer or shorter than 2 minutes. Here Inspiration TV uses a shorter approach, with no narration, Inspiration TV uses quick transitions and powerful statements to keep their audience engaged.
You could also use a vlog-type approach to prep your audience for your digital products, which would naturally be a longer video.
Any of these styles can work for you, but you need to assess which one would best fit your brand and appeal most to your niche audience.
The important thing is that your trailer shows value to viewers while leaving the majority of the prime content on your website.
And, if you also offer relevant non-video materials (like articles, guides, ebooks, checklists, etc.) exclusively on your website, make sure you mention them in your video trailers so people know your paid service is more valuable than your free videos.
2. Video Teasers and Previews
Video teasers and previews are different from website trailers because they advertise specific videos on your website instead of your website itself.
A teaser's main purpose is…well, to tease.
Teasers are usually around a minute max and are designed to build anticipation and excitement for the specific video or video series you're promoting.
Faderpro put up this teaser on YouTube, DJ Masterclass with Roger Sanchez.
It's also important to note that videos teasers and previews are slightly different from one another. While teasers mix and match footage and dialogue from the video you're promoting, a preview is an actual scene of the episode exactly the way it is – which can also be effective.
3. Product Reviews
Creating informational videos reviewing relevant products and services is a great way to attract new audience members to your channel.
For instance, Global UnderWater Explorers (GUE) offers premium diving videos for both beginners and expert divers all over the world through their video streaming website.
Meanwhile, they offer more general content on YouTube to market their exclusive membership site and foster a community on their YouTubechannel.
GUE's free YouTube content includes product reviews like the one below: on a premium underwater/diving camera that is great for their diver community who often want to film their adventures.
This type of YouTube content gives you more ways to get discovered online, since people are more likely to search for product reviews than your brand – especially if they don't know you yet.
4. Expert advice
Similar to product reviews, providing expert advice in your area of expertise is a great way to build credibility online. This often comes in the form of "how-to" videos or tutorials.
Sarah Beth, who owns and operates the popular online yoga studio Sarah Beth Yoga, teaches people how to use yoga props (whether they have specific ones or are using household items):
If someone were to type in "yoga props" or "how to use yoga props" in YouTube's search bar, Sarah Beth's video would pop up.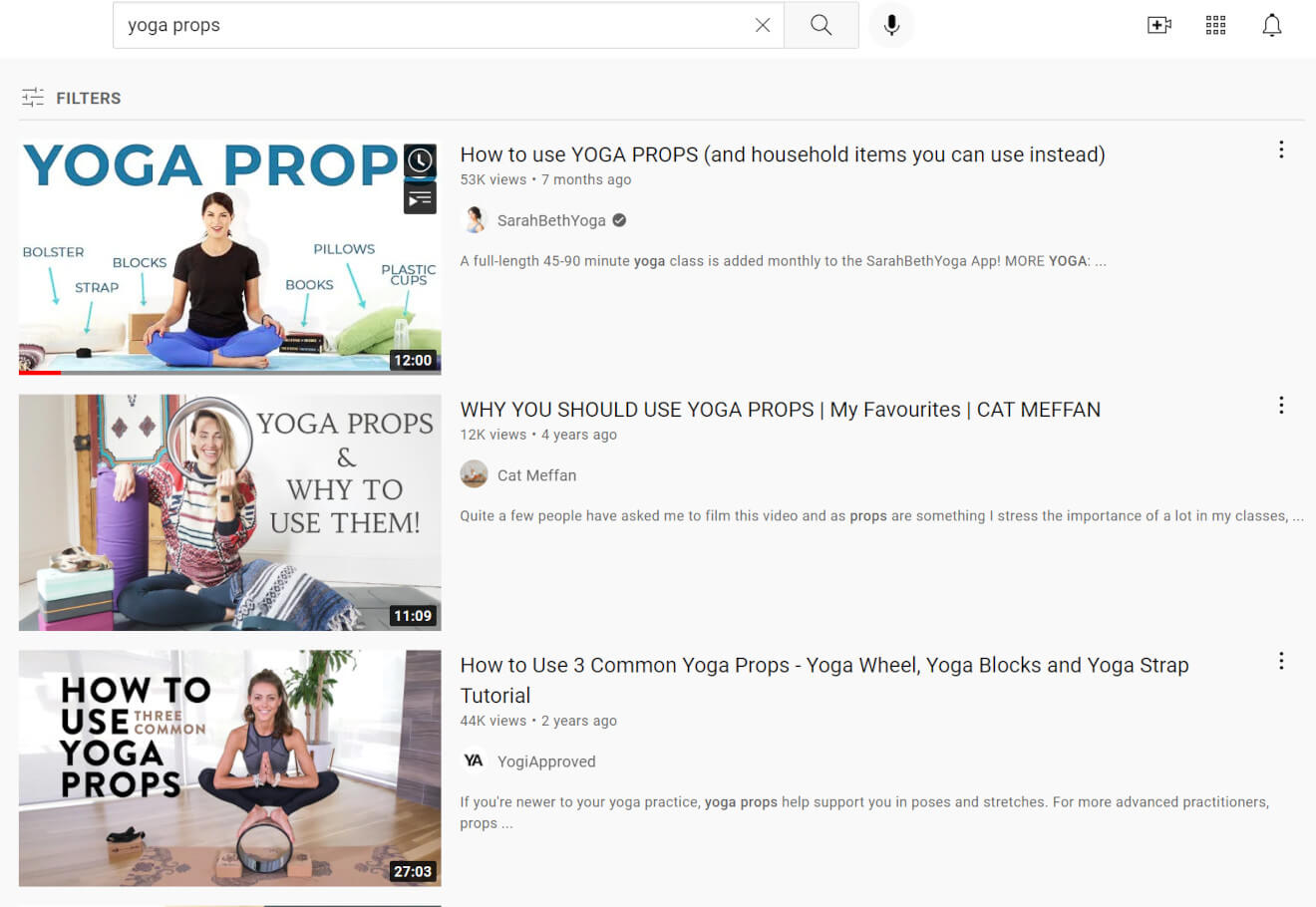 This is a great way to get discovered and add credibility to your name as an expert in a specific realm.
This strategy is extremely effective if the aim of your VOD website is to educate or offer online courses.
5. Interviews with industry leaders
Host leaders and experts in your industry on your youtube channel. Interview them and structure it so your viewers get value out of the interview – this helps amplify your brand's credibility in your field. This will help you expand your reach and attract more of your target audience.
6. Events
If your company ever participates in an event, post it. This could mean anything from a live talk to an internal team-building retreat, or even a party!
TEDxCambridge showcases ideas and artists that help contribute towards our shared future, positively influencing lives, and helping transform our global community.
It delivers premium lecture videos on its Uscreen website. To promote its brand, TEDxCambridge posts event videos on YouTube, which drives more traffic to its website.
The great thing about event videos is that they show other people being excited and engaged by your brand and what you have to offer – which is kinda difficult to show otherwise.
If live events aren't a part of your business model or don't fit in your niche, it's fine! We have another way to generate traffic to your VOD website using your YouTube channel.
7. Free content
What if the video products you're trying to promote are instructional videos themselves? Would posting some free how-to videos on YouTube be a smart thing to do?
Absolutely!
The best way to get people to purchase your videos is simple … get them hooked on your free ones!
It's important to differentiate between the paid videos you host on your website and the free ones you post on YouTube. The free videos should provide some value to your customers, but the paid content should offer more.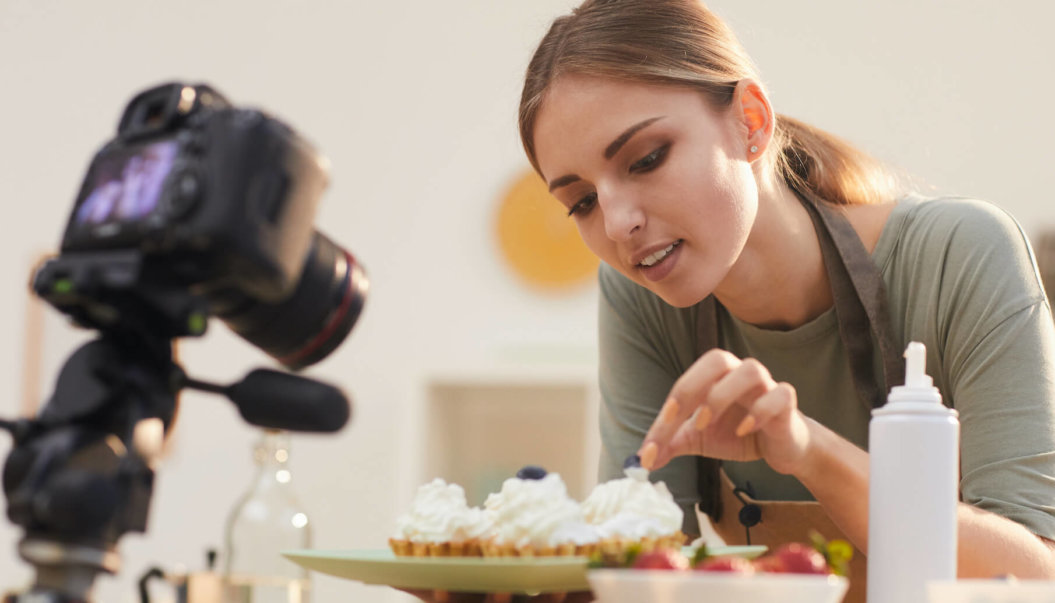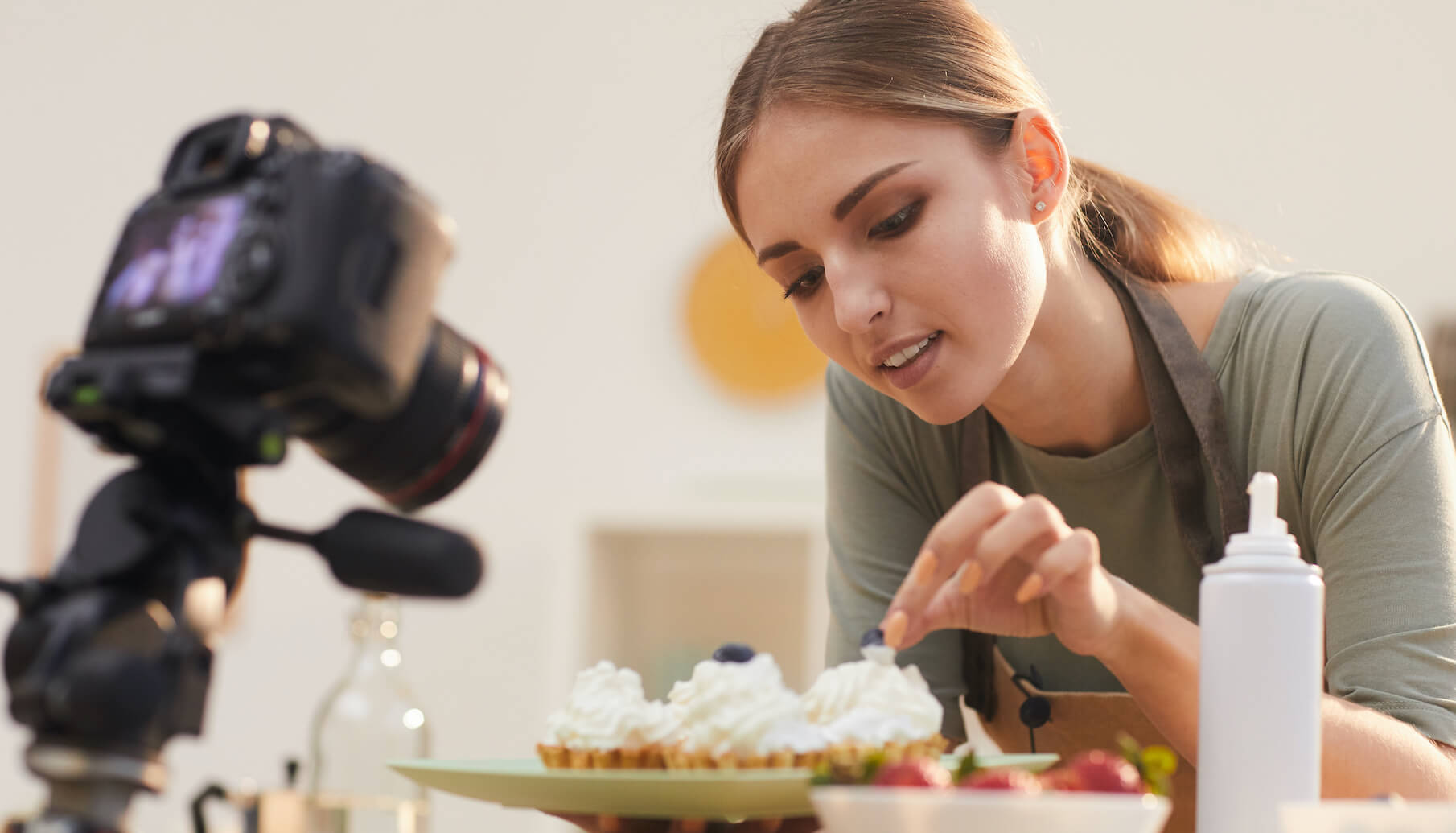 How to Repurpose Your Paid Content for Social Media
Turn Your YouTube Channel to a Funnel for Your Website
Regardless of the type of videos you choose to make, you need to link back to your website in one way or another.
It's essential that you:
Clearly include your call to action within the video and the video description to encourage viewers to visit your website for more information.
Make use of Youtube cards and end screens, which allow you to point viewers to a specific URL, calls to actions, and even new videos.
Be clear about the added value of the exclusive content they will get if they go to your website.
Integrate your brand as much as possible, visually and vocally, within your YouTube videos. Brand consistency helps your viewers know they're in the right place.
Add your website's logo and URL.
Ask people to subscribe to your channel. This has more to do with marketing your channel, which we're getting to next.
You can also check out our detailed guide on how to turn your YouTube channel into a powerful marketing engine for your VOD site:
Part 2: How to promote your YouTube channel
Knowing all the tricks and secrets to promoting your VOD website with Youtube videos is great and all, but you need to actually get people to watch those videos to convert them into leads for your streaming website.
If you already have a YouTube channel with a decent following, then you're well on your way to turning your channel into a powerful marketing engine, so keep doing what you're doing!
If you're still starting out (<500 followers) here are a few tips you can use for your YouTube marketing strategy to get more views: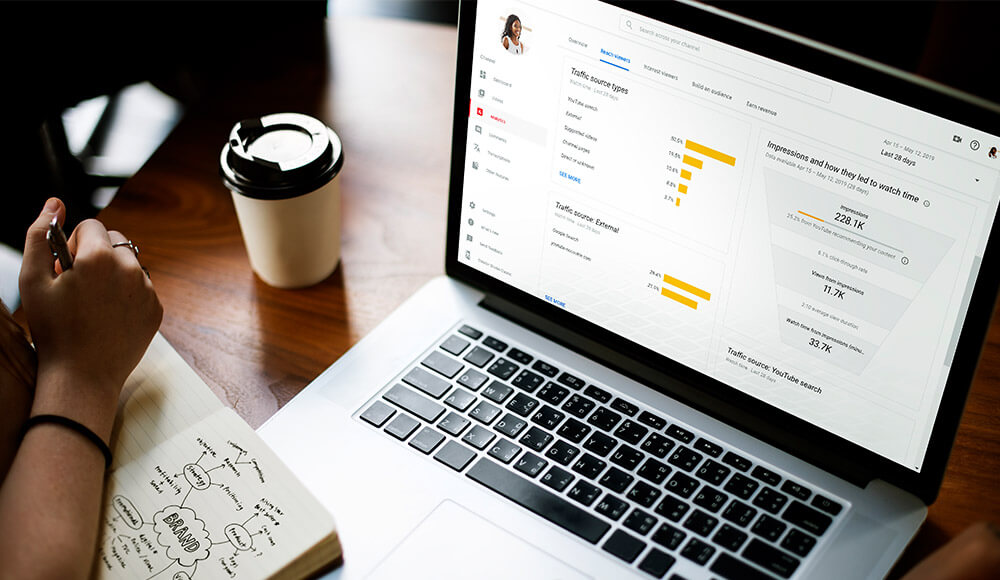 22 Ways To Get More Views On YouTube
1. Rank for Keywords
YouTube is the second largest online search engine, and the SEO for Google applies to YouTube as well. YouTube SEO actually affects your Google SEO too, since in a study of 2.1M searches and 766K videos, YouTube accounted for 94% of all video carousel results on page one of Google, leaving little room for competition.
There's a lot that goes into YouTube SEO, but for a quick overview, here are 3 basic things to get you started:
1. Keywords are…well, key: Google's Adwords is a great starting point for keyword research. Think of all the words related to your video and see how they're performing. You want words with a good number of searches per month with low to medium competition, so you can rank for that keyword without having to compete with any established creator.
2. Use your keywords in your titles: figuring out what keywords you need to use was the hard part. Now it's time to efficiently use them in YouTube video titles. The ideal title length for a YouTube video is between 6 and 8 words long. It should be a very simple and to-the-point title.
3. Use your keywords in your video descriptions: include the keywords you've chosen in your description so you can rank for them when people search those words. There's more room for your description, so the more keyword-rich content you add in there, the better. It is important, however, to keep it simple and to-the-point, and to avoid keyword stuffing. Include a call to action to your video streaming service and any other relevant links.
These 3 tactics will get you going, but there's so much more to YouTube SEO that we encourage you to learn about. The more you learn about SEO the higher and quicker you will rank in both the Google and YouTube search engines.
And, the better you rank on their search results page, the more traffic you can direct to your own website. You can find more on YouTube and Google SEO in our guide here.
Now, on to the next. Here's 2 more things to focus on when using YouTube as a marketing tool.
2. Establish channel authority
You need to build out an entire channel of high quality content in order to establish your business as an industry leader or thought expert in your niche.
You can build out your channel by:
Consistently putting out useful video content that you know an audience exists for.
Establish your channel's persona through the type of content you upload and the tone of your messaging (do you provide entertainment value, educational value, both?)
Make your YouTube channel's branding consistent with your online video website. Create a high-quality channel header image, where you can insert links to your website and social media profiles.
As you build authority, you will start to rank easily.
Activity brings about more activity, so you should be constantly looking for new ways to grow and engage your YouTube community.
As you start to be consistent in putting out your content, you're going to start getting more subscribers who will view your videos the instant you upload them.
That is what the YouTube algorithm does: the more engaged subscribers you have, the more activity you get, and the faster you're going to rank.
If you're just starting out, remember a community takes time to build. Here are a few ways you can start building your community:
Take advantage of your existing fan base: if you're new to YouTube but already have an online community elsewhere, for instance through social media or an email list, reach out and ask them to subscribe to your new YouTube channel! Be sure to outline what's in it for them in the email (more of the value they know you offer them).
Engage your community in the comment section: – the YouTube comment section is a great place to source new viewers. Reply to comments and answer any questions posted on your videos. The point here is to be so helpful with your answer, to further establish the authority you need. It's also important that you comment on videos on similar topics as well – try not to explicitly promote your own videos, but subtly let the commenter know that they could find value in visiting your channel based on their question. Again, focus on being helpful! This could take time, but would really go a long way in promoting your brand and creating authority for your channel.
Get other people talking about you: it's normal for you to talk about yourself, but it's special if others talk about you. Reach out to influencers, bloggers, and experts in your niche and ask them to share a specific video you know they would like. Consider starting an affiliate marketing program. Find blogs and online news outlets relevant to your content and see if they can publish your stuff. For this to work, as with everything else, your video content should be of the highest quality. These people need to be proud to be sharing your videos because it'll make them look good.
Show up in different places on the internet: share your videos and channel on niche community forums and websites such as Reddit, or question and answer sites like Quora. Get your name out there as someone who knows a thing or two about this topic. If you have a YouTube video that already answers a question you found on a forum, direct the user to it, but be sure to still preface it with an answer to avoid seeming spammy.
Okay, you've stuck with us this long, let's go over final takeaways:
If you focus on…
YouTube and Google SEO
establishing channel authority
building your YouTube activity
nurturing a community
…you can get a decent head start on growing your online business and making more (and consistent) money selling videos on your own VOD platform.
Monetizing YouTube videos is a long-term process. It's one of those things that takes patience and hard work to get worthwhile results.
So, for the first few months, focus on growing an online group of die hard fans, and create content that helps them.
And when you're ready to level up your video monetization efforts, chat to Uscreen to see how we can grow your business.
It's simple with Uscreen.
Build, launch and manage your membership, all in one place.
FAQ