Let's start off by stating the following: it's possible (and easy) to start your own OTT service. 
It isn't just a business model for large companies with billion-dollar budgets and A-list actors. You, too, could affordably build a business with OTT video at its core.
You're probably thinking you're being set up to buy a $50 eBook or $5000 course. But, you aren't. Instead, we're just sharing some of the insider knowledge we have here at Uscreen to help you reach your goal.
Every day we see content creators turn to OTT videos production to help them grow their revenue and audience by up to 30%. Better still, they go on to make a recurring monthly income which was never available to them before.
In this article, I want to show you how to take your first steps towards doing the same.
If you've been thinking of starting your own OTT service, let me share with you why it's a great idea, and what you can do to get started today.
Ready? Let's go!
What You'll Learn
If you'd like, you can use the table of contents below to navigate through this post or continue reading:
Why Start An OTT Service?
Whenever a content creator asks me why they should start an OTT service, I give the same answer:
Ownership
. 
Because OTT services are services that allow users to stream videos from any device using the internet.
This model offers the best opportunity video-focused businesses have to build a profitable online OTT service they control.
You have the opportunity to tap into a growing market filled with people looking for content like yours. In fact, OTT services are predicted to hit 650 million subscribers by 2021:
Big companies like Netflix and Hulu may be driving much of this growth, but a customer's OTT journey doesn't stop with them. Viewers continue to explore other app options once they're converted.
After all, once you realize you can watch videos on demand, without adverts, it's hard to go back, isn't it?
This is great news. Because it means the audience you could connect with is already used to paying for OTT services and doesn't need convincing of their benefits. It's like a cyclist slipstreaming behind a car!
Which brings me right back to that word, "Ownership." 
The world of no advertisers applies to you. You don't have to change or risk losing income because some bozo in a three-piece suit decides it's too risque for their brand.
Building your own OTT service also allows you to customize your website and apps, so you can create the user experience you want. Your videos, your way and at your price.
These are results that platforms like YouTube – who only provide minimal ownership – can't offer. As such, 96.5% of "successful" YouTubers won't make enough to break the poverty line this year.
That's a stark contrast to OTT subscription service owners who make an average of $5,700 per month, a solid $33,000 above the poverty line, and the 30% growth many online businesses see when they swap OTT.
If there's a voice in the back of your head telling you to start an OTT service, you should listen to it, because it's pulling you in the right direction. Especially if you're in one of the following four industries…
The 4 Industries That Can Benefit From Launching OTT Services
There are four industries where content creators see huge growth from their OTT services. And, if you fit into one of these brackets, you could see major returns too.
Here they are:
1. Fitness
Do you create follow-along fitness videos which people could download onto a device, or perform in front of the TV? There is a huge market for this, which companies like Callanetics have discovered:


Customers are willing to trade their gym memberships, or personal training costs, for these courses and products made by their favorite, trusted, online trainers.
2. Education
Do you help people learn skills through you online video courses? OTT services can help you create comprehensive courses, with downloadable videos and learning materials.

Magic Stream has built an entire Netflix style business around teaching people how to perform magic tricks:


But this has also worked for dog training, yoga teaching, and medical education. Why go to night school, when you can take the classroom with you?
3. Yoga:
Do you create videos or courses to help people learn Yoga? If so, OTT services can help students find their flow whenever and wherever they are. Tint Yoga has done this impeccably with their database of classes: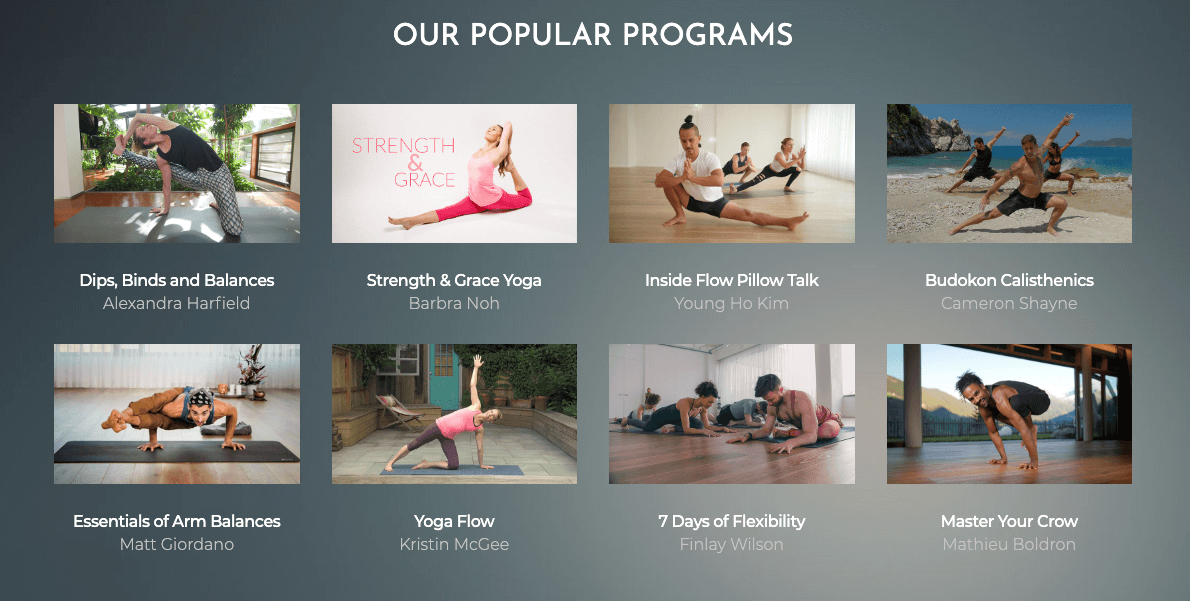 Although this is similar to fitness, this is a separate industry and should be treated that way. People who do Yoga are chasing a different high than your weight loss or Crossfit trainers!
4. Entertainment
Do you create shows or movies to entertain people? Well, OTT isn't just for the big players like Netflix. It's possible to be successful with your creations, too.

Cozyflix has built an entire OTT service around their own romantic, comedic and adventurous movies:


There's no arguing this is a proven business model. And, if you have stories to tell, it could work for you.
OTT services can work for almost any business and industry if done right. But this is where we see the biggest growth in revenue and audience. If your business intersects – even loosely – with any of these, you're in the right place.
Over the next four steps, I'm going to show you how to start your own OTT service, and give you the tools you need to turn your online business (or good idea) into a rip-roaring OTT success.
Let's start by choosing the right business model…
Step #1: Choose Your Business Model
OTT services work on two different types of business model, transactional and subscription.
Your product will dictate which business model you use, and each of them comes with their advantages and disadvantages. Let's take a closer look at each.
The Transactional Business Model
Here you create a product and sell it for a one-off price as normal retail or information products would sell.
A great example of this is the tattoo education provider, InkWorkshops.
They created a "Dragon Masterclass" where artists can learn how to create dragon tattoos in a traditional Japanese style. The course sells for a $298 and gives access to over 18 hours worth of video.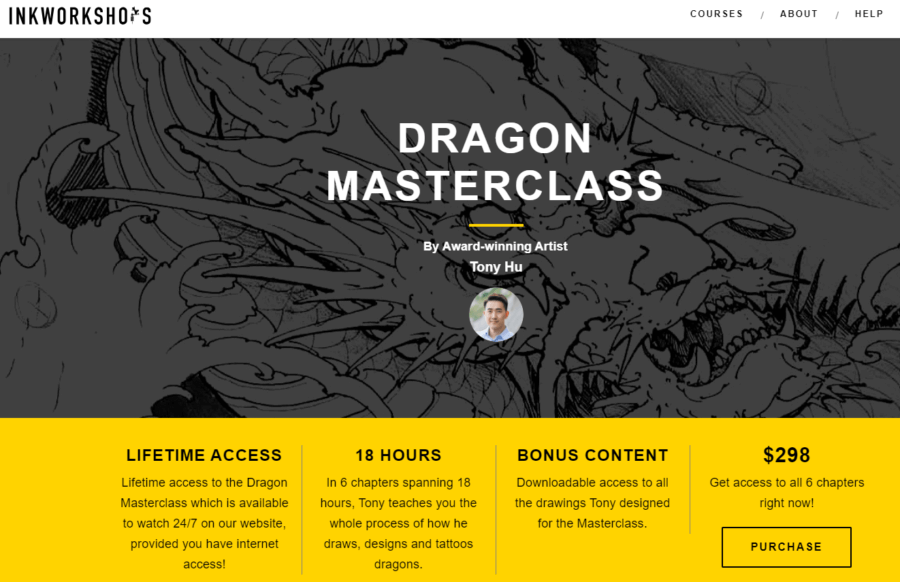 This business model works well for a standalone course which teaches one (or just a handful of) skills. Why?
Because you can sell one product which contains all of the information needed. It won't need much (if any) updating in the future and can be sold at the end of an email sequence or targeted to a sub-section of your audience.
Due to its one-off-payment nature, you can sell this at a high-ticket price, commanding high profits for each sale. It's not unusual for course launches to see four or five figures in sales, either.
But, it's not without its downsides.
You will need to continuously search for customers to make your next sale. The marketing never stops and, once converted, you'll need to create new products to make second-time sales.
Your income is also less predictable. Initial sales may be high – let's say, $10,000 for your first launch – that can drastically drop in the following weeks and months. Which is why the process of finding and converting new customers never stops, eh?
This model is perfect if you have a one-off product, like a course or long-form film, you want to sell for high value, in addition to a more consistent income stream. Alternatively, it works well to test product ideas and see if you have an audience for them.
If you're looking to build more of a "platform" with a stable and recurring income, however, you should check out the next model.
The Subscription Video Business Model
If you have a Netflix (or similar) subscription, you'll already be familiar with this model.
Customers pay an affordable monthly fee for access to your OTT service, which is usually a larger and non-specific library of content. Let's look at an example.
Magic Stream is an OTT video service created by Ellusionist, the best online training environment for people who want to learn high-impact, effective magic tricks.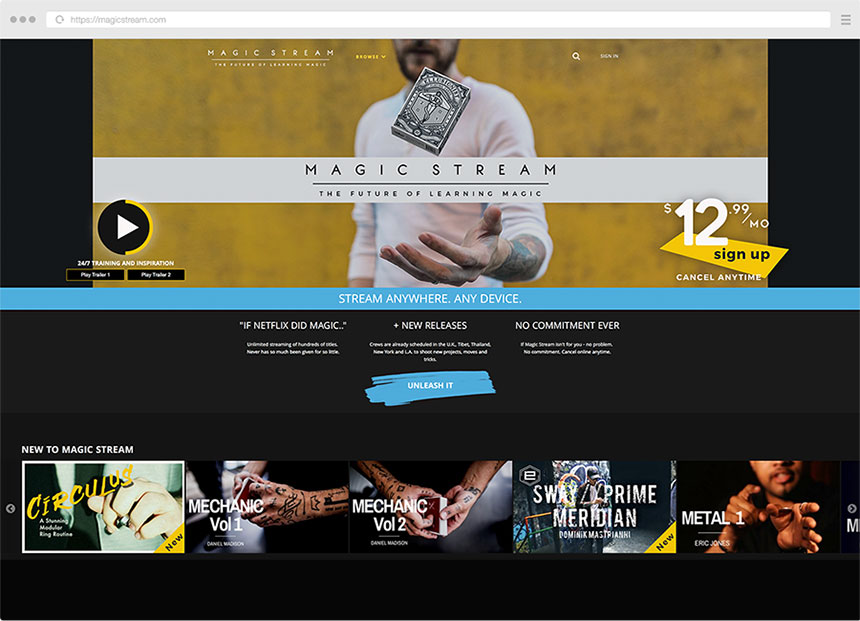 Magic Stream subscribers can access their entire database of magic and illusion tutorials, delivered by world-leading magicians for just $12.99 a month. Not a bad offer, right?
This model is great for them because they talk about multiple different topics and can cater to a student's needs on that day. 
If you talk about multiple topics of themes in your online business, you could benefit from this too. Whether it's progressive courses, episodes of shows or anything else, subscription tends to be a good fit.
Firstly, let's talk financials. I know $12.99 doesn't look quite as enticing as the $298 you saw in the last section, but this changes if you look at the long-term of your business.
A customer's "lifetime" as a subscriber averages at around 30 months, which is $599-ish. Once you convert a customer, they're probably going to be part of your eco-system for a while. These sales then accumulate into high-level recurring income. You only need around 750 customers to turn $12.99 into $10,000 a month.
This creates a higher level of stability in comparison to the transactional model. Which means a safer future for your online business.
Finding new customers is also less urgent. You aren't fighting for your next sale to keep your business alive because you have a recurring monthly sum you can work with.
But, at the risk of overselling this business model, let's talk about the downsides.
If you choose this model, you're going to have to focus heavily on creation. It's a must to share new content at the latest once a month. If you don't, your audience might lose interest.
You'll also need to keep an eye on how many people cancel each month, why that is, and strategize about how you're going to fill the financial holes they're going to leave behind.
If you want to build an entire business around the content you create, with their standalone OTT service, then this business model is the choice for you. (To learn more about subscription business models, you can read our articles here and here.)
Whichever model you choose, it's time to look at the next most important step.
Step #2: Create Your Video Website
Once you know which business model you're going to follow, it's time to create the first part of your OTT service: your video website.
Browsers are still the cornerstone of streaming and having a standalone "hub" will serve you well. It allows you to:
Increase trust with potential customers

Refer your marketing materials to one website

Rank in search engines

Collect emails and grow a mailing list

Take payments

Handle support tickets and queries
Plus it gives customers a website to work with if they can't access an OTT app on a different device. If I'm playing my PlayStation on our Smart TV, my girlfriend will often use her laptop for fitness courses.
Your website should be designed and branded, so I highly recommend you get a high-quality logo (or brand package) created on a website like 99Designs. This will translate well to your OTT apps and help you keep a brand standard on all platforms.
To learn more about how to create a video website, you can read our in-depth guide here.
Step #3: Pick The Right OTT App For Your Audience
Not all OTT apps are created equal. At least, not in your audience's eyes.
Here are the apps you have to choose from:
Smart TV

Tablet

Mobile Phone

Desktop
You'll need to make your decisions based on your product and how your viewers are going to need to access it. I'll throw a few examples out there to show you what I mean.
Let's say you create a choreography product where you teach people hip-hop dance moves. These people are going to need lots of space to follow along, and a large enough screen to help them see what you're doing from a distance.
This means Smart TV and tablet are perfect for you. As TMilly, who runs this exact business, has found to be true.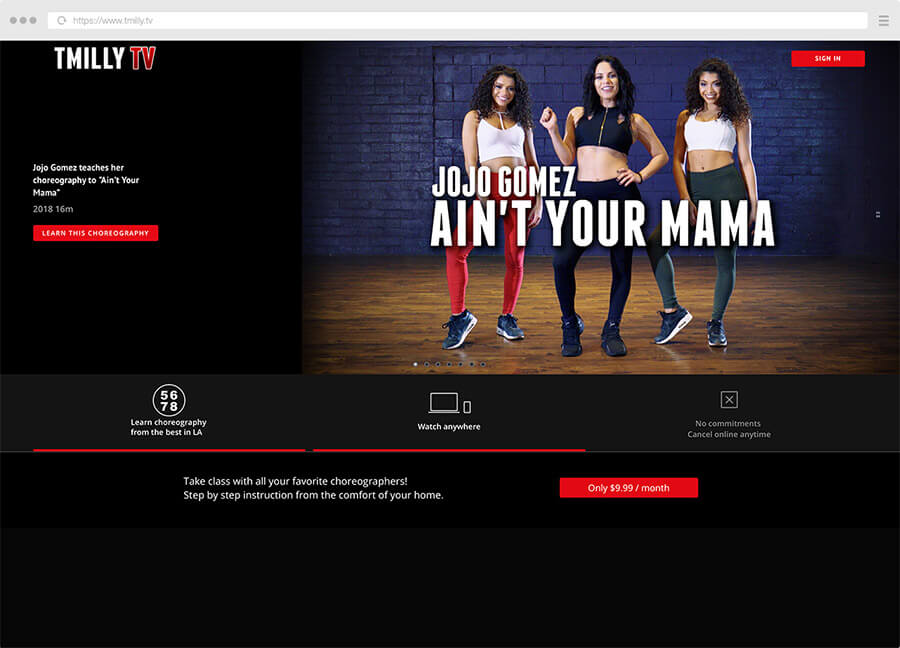 On the flip side, if you run a children's education website, where you teach through films and TV episodes, you're going to need to use all of these apps. It's not unusual for parents to stream on their phone, the family tablet or through the Smart TV in their bedroom.
Step #4: Find Your Audience
With your niche, content, website and, OTT apps in place, there's only one step left to take – video marketing.
How you market your OTT service will come down to your audience. You'll need to choose strategies that focus on where their attention is, and adding lots of value up front.
Here are some tips to help you get started:
Wrapping This Up…
I hope by now you've got a clearer idea of how (and why) you should start your own OTT service.
You have to potential to reach a large audience who is actively searching for a product like yours. And, with the right business model, you could make a hefty recurring income from it.
You'll find there is a reason someone could watch on any of these apps. But, it's important to stay focused on the apps you need and not the nice to have. You can add the rest when you're growing and expanding!
But the question you're probably thinking now is, "how the heck do I create an app?". Don't worry; I haven't forgotten.
Uscreen can help you to create a branded OTT service for your business. From online streaming, through to the apps you need, we've got you covered.
You can find out more right here.
If you found this guide on how to launch your own OTT service helpful and are hungry for more guidance, here's our free Video Business School designed to help you build, launch and run a profitable video business. There are lots of lessons to help you start or grow an OTT service, from idea generation right through growing your audience.