In the immortal words of Wu-Tang Clan, "cash rules everything around me."
And if you're a fitness content creator, now is the best time to make some cash on your videos.
And, in this post, we've got a plan to help you make money (or more money) from your fitness videos.
In this article, we'll cover:
The top 3 monetization models for your video content.
Why subscription services are the best way to monetize.
How to make money on your fitness videos in 4 steps.
Let's go!
3 Ways to Monetize Your Online Fitness Videos
To start turning your fitness programs into a solid stream of income, you'll need to pick a monetization model.
Simply put, your monetization model is how you sell access to your videos.
There are a few different ways to do it, and it's important to understand all your options.
We'll show you 3 ways content creators in the fitness industry are generating revenue with video on demand, and explain the pros and cons of each one.
That way, you can decide which one best suits your financial goals – and maybe even discover a new way to make money while you're at it.
Let's go!
1. Subscription Video On Demand: Recurring Income From Your Community
SVOD (Subscription Video on Demand) means that customers pay a recurring monthly or annual fee to access an online library of fitness classes.
In this model, you create a website and upload all your pre-recorded videos. Then, your paying subscribers can sign in to watch any video they want, any time.
Customers love subscription services because a well-organized content library makes it easy to view all their favorite workouts in one place.
When you group your videos into categories and add custom search filters, like The WKOUT does here, they can easily find what they're looking for.
This convenience and accessibility makes your SVOD service that much more appealing.
SVOD is a great fitness business model for content creators and audiences. Here's why:
Subscription payments create a reliable income stream that's easy to scale into a much larger business. And, you can always earn from your existing content!
All you have to do is create a video once. Then, it continues to generate profit as long as it's in your library. With every new subscriber that signs up, you make more money on your evergreen content.
Plus, customers are more than willing to pay for convenient access to their favorite exclusive workouts.
And a loyal customer base means reliable, long-term revenue for you.
Transactional Video On Demand: Sell Your Videos At A High-Ticket Price
TVOD (Transactional Video on Demand) means customers make a single payment to access or own your content.
For example, if you've ever used Amazon Prime's pay-per-view system to rent and watch a movie, you've used TVOD.
This model allows you to make a bit more money on your workout videos up front. But relying on one-time transactions makes it harder to grow a consistent profit in the long run.
This is because when you sell access to content using a TVOD model, you only get to make money on it once.
When the transaction is finished, you'll only profit from that piece of content again when someone else purchases it (unlike SVOD, where your video revenue adds up over time as you gain subscribers.)
However, depending on what stage you're at, TVOD could be a great option for you!
For example, if you're…
working on recording more fitness videos
growing your viewer count
still deciding on your financial goals
…selling individual videos can be a great way to make money while you explore your options.
AVOD
AVOD, or ad-based video on demand, is a video monetization model that generates revenue through adverts.

You take part in it when you tune into your favorite YouTube channel to watch those cute kitty compilations! (You, not me, I say.)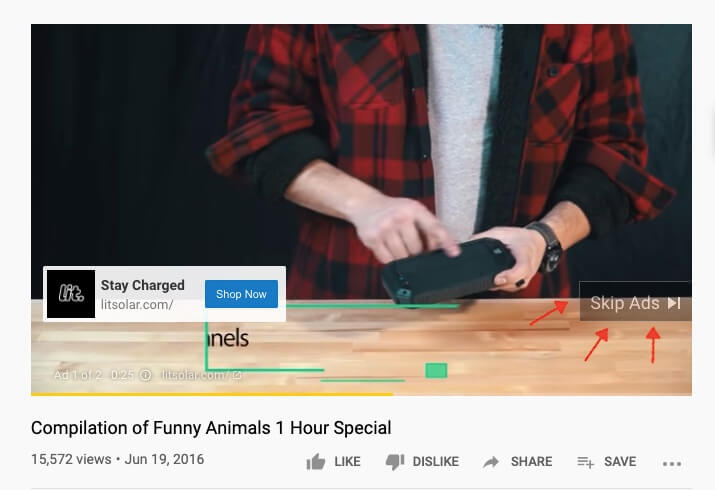 These video ads are the main way YouTube creators monetize their videos!
But beyond YouTube, AVOD is now the backbone of many free streaming platforms, like Vudu and Tubi, that host a variety of free on-demand content – and they're all fully powered by ads.
However…
AVOD is hard to sustain over the long term. Most YouTuber's who use this model earn an income that's below the poverty line and your income will always be at the mercy of the platform!
You can learn more about AVOD here…
Uscreen's Recommendation: SVOD/TVOD Hybrid
Here's the best part about membership services: you can combine OTT video monetization methods to bring in even more revenue.
This is called a hybrid model, and it's the best of both worlds.
In this scenario, you sell bonus content for a one-time fee on top of your subscription membership plans.
These add-on purchases can be:
For example, here's how Lottie does it:
She offers weekly live pilates classes, and customers can book a spot for a small fee.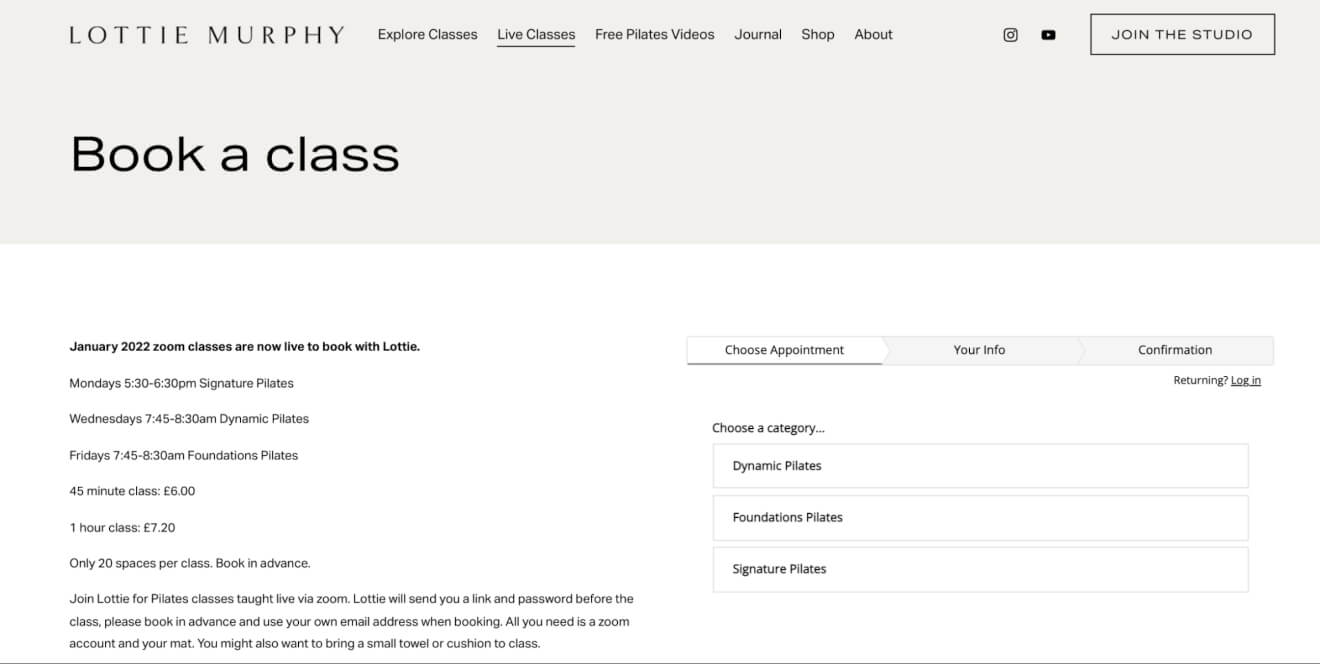 The classes are available to subscribers and visitors who haven't signed up yet, which means Lottie is pulling in money from all angles.
And by launching a membership service with a hybrid monetization model, you can too!
By now, you've probably figured out that we're really enthusiastic about subscription services …and for good reason.
Over 25000+ Uscreen clients have used this model to build successful, profitable streams of income – to the tune of $100 million dollars and counting!
So now, we'll explain how the right SVOD platform can increase your chances of success. 
Choosing the Right Streaming Platform to Monetize Your Videos
Subscription sites are the best way to monetize fitness videos in 2022.
But in order to get all the benefits of an SVOD model, like…
a steady, recurring revenue stream
passive income from the videos you've already created
stronger customer relationships and increased brand loyalty
…you'll need a platform made specifically for video monetization.
Well-known platforms like YouTube and Patreon are easy to set up, but they take a large chunk of your earnings without allowing you much control over your content.
So if you want a better way to make money…create your own video streaming service with Uscreen.
It's simple with Uscreen.
Build, launch and manage your membership, all in one place.
We've helped tons of fitness pros monetize their videos with Uscreen.
If you're inspired by their success stories, we can work with you to start selling your videos too.
You just want to make sure you have a few things in place first:
A good number of recorded videos for your content library.
A social media presence.
An established YouTube audience.
High engagement rates.
A willingness to promote yourself!
If you've got these covered, you're ready to start making money.
We've created a guide to show you exactly how to do it – so keep reading!
How to Make Money on Your Fitness Videos in 4 Easy Steps
You're well on your way to generating money on your fitness videos.
To help you, we've broken down the process into 4 easy steps:
Plan Your Content
Build Your Website
Set Your Prices
Launch Your Program
Let's take an in-depth look at each of these and find the right solution for you.
1. Plan Your Content
Your fitness content is your main offering, whether you're selling access to your entire library or individual videos.
So make sure you have a large selection of high-quality videos that reflect:
Your brand.
Your niche.
Your core message.
Simply put: your content should have a unique style and serve a specific fitness purpose.
This means targeting a specialized niche, like Outlaw Yoga Club.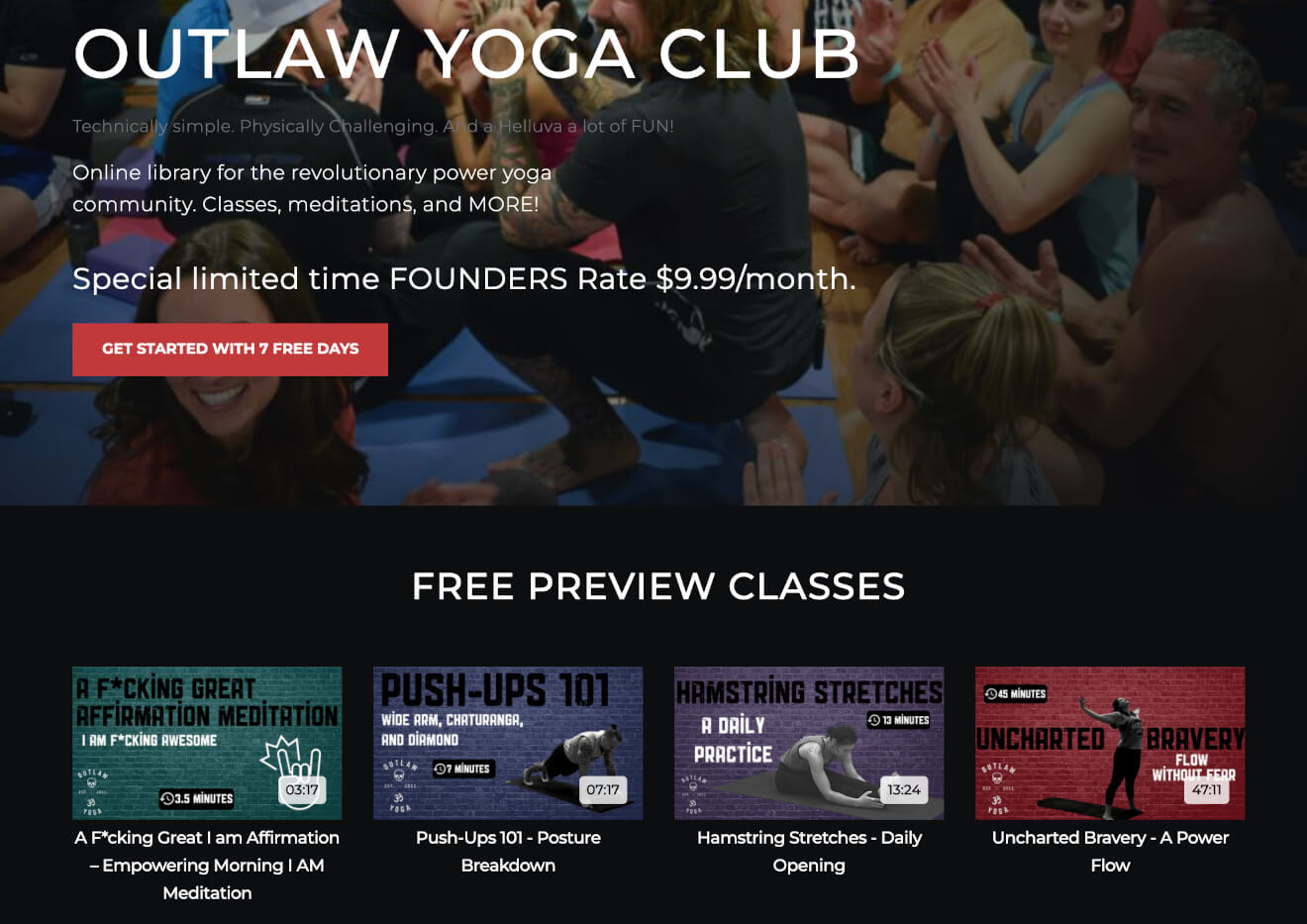 They advertise their workouts as "a helluva lot of fun!"
It's a unique, more casual approach to yoga that caters to a nontraditional customer base.
Whatever your niche happens to be, you want to plan content that resonates strongly with your particular demographic.
This is because viewers are more likely to pay for fitness content that reflects their needs.
So evaluate…
who your target audience is
the best way to connect with them
how your workouts will give them the results they're looking for
…and use those answers to plan content they'll want to pay for.
Then, once you've created your videos, you'll need a place to put them.
2. Build Your Website
Your website is the central location where subscribers and customers can access your fitness content.
A well-crafted website helps you sell more videos by:
Establishing you as a trustworthy fitness professional.
Showing the type of quality customers can expect from you.
Creating a standout brand image.
So Uscreen offers all the tools to help you quickly and easily create a standout page.
It's simple with Uscreen.
Build, launch and manage your membership, all in one place.
First, choose one of our beautifully designed themes.
Then, you can customize the design elements of your site, like…
color schemes
custom logos
typography
photos
…to reflect your fitness brand.
It helps to use the same branding on your other social media platforms. This includes YouTube banners, Instagram stories, and anywhere else you have a following!
On The Beat is a great example:
Consistent branding builds familiarity and trust with visitors, which means they'll feel more comfortable spending money with you.
Finally, upload and organize your videos into categories and collections with our drag-and-drop page builder.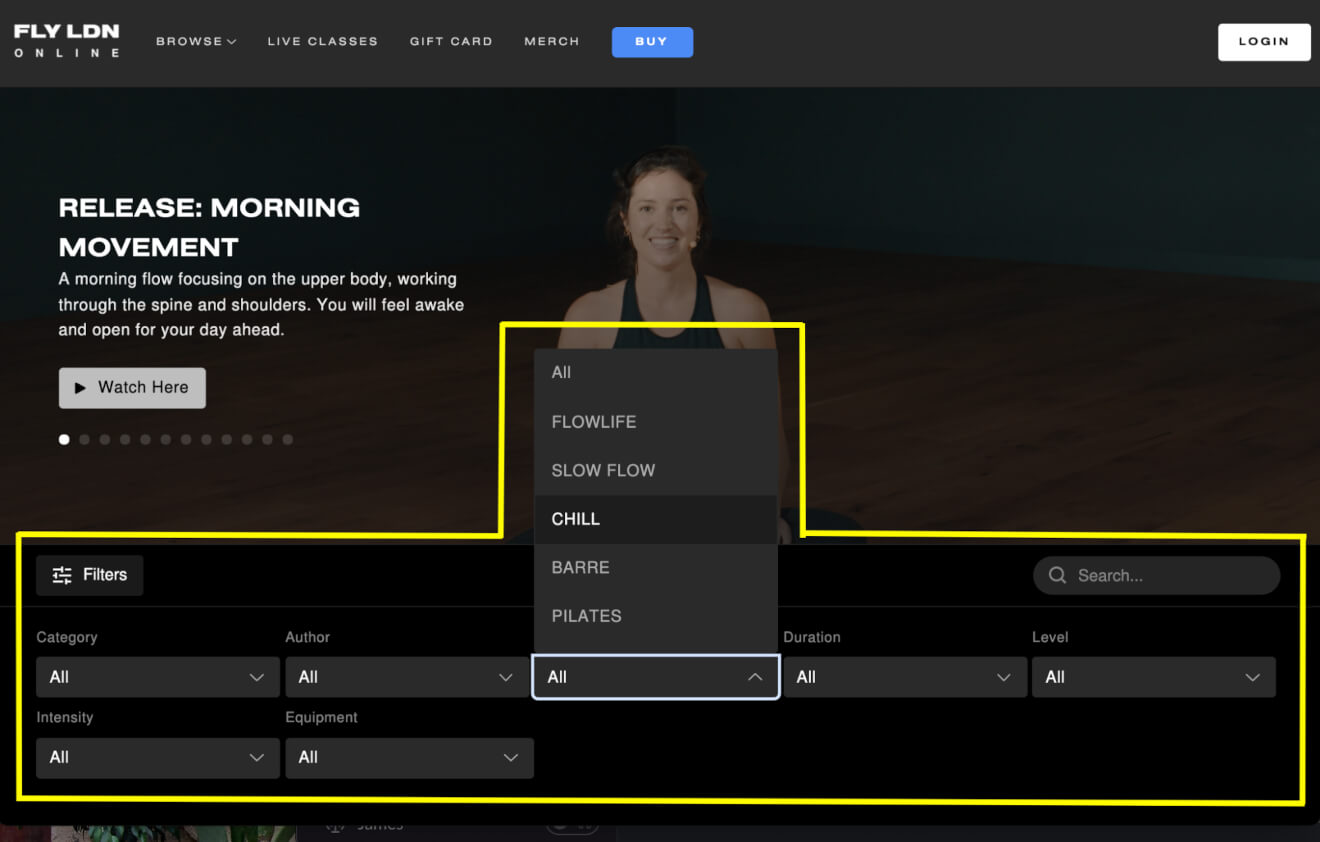 You can also set custom search filters and tags to help people easily find the workouts they're looking for, like FlyLDN does here.
Next, you'll set your prices.
3. Set Your Prices
If you're moving to a paid platform for the first time, you'll have to establish a pricing structure, including:
Your price points will depend on your niche and your audience, so for a more detailed guide on how to set them, check out our full guide on pricing your subscription service..
In the meantime, you can:
Find out what other creators in your niche are charging for similar content.
Get feedback from your audience on what they'd be willing to pay.
And remember – you can always experiment with different price points until you find the sweet spot.
4. Launch and Grow Your Streaming Service
Once your VOD platform is live, you can start selling memberships and growing your customer base.
Uscreen offers tons of built-in tools to help you, like:
Email marketing: Connect with customers.
Landing pages: Get people signed up for your service and your email list.
New community features: Keep members engaged with an exclusive space where they can connect with like-minded people and stay in the loop.
We can also help you create custom OTT apps for your paid service.
Fitness apps give people a quick and easy way to watch your videos on their smartphones, tablets, and TVs.
This gives them yet another reason to sign up! The more accessible your online videos are, the more your members will immerse themselves into your service and feel like they're getting their money's worth.
Apps are a big selling point, so remember to showcase them right on your homepage, like Tony Horton's Power Fitness Nation.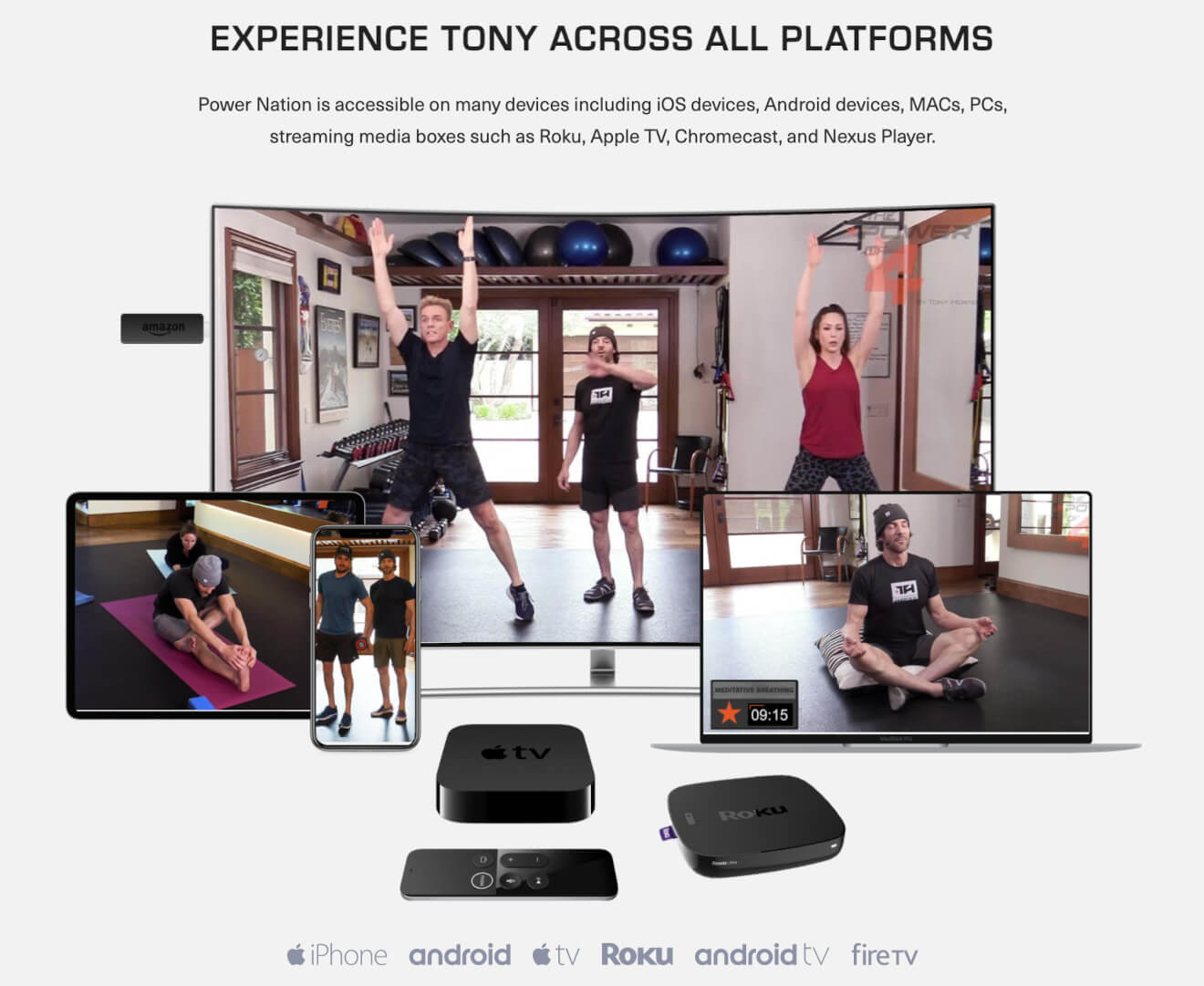 Finally, you can take advantage of a great marketing tool you're probably already using – YouTube.
Even though there are better ways to monetize, YouTube is still the top-ranked video search engine on the planet! And all that traffic means a lot of potential new viewers.
So use your YouTube channel to build connections and promote your paid service. Help new audience members get to know your fitness brand, and then guide them back to your website with links in your YouTube videos.
It's simple with Uscreen.
Build, launch and manage your membership, all in one place.
So Now You Know!
Now that you've read our guide, you're ready to start monetizing your fitness videos.
We love to see fitness content creators like you making the money you deserve.
And by using these tools, we know you'll be living a "cash rules everything around me" lifestyle in no time!