Looking to use shoppable videos to sell your products online?
Trying to decide which platform to use?
We know there are loads of options out there, from free to paid and live-streamed to pre-recorded video.
Whatever you're looking for, we're here to help. Here's what we think are the 7 best shoppable video platforms available:
But first, let's take a look at what shoppable video platforms are and how they can help you make more money.
What are Shoppable Video Platforms?
I already know this. Show me the shoppable video platforms!
Let's start by defining shoppable video:
A shoppable video is an interactive video featuring products that people can buy directly from the video.
When people watch the video, they can use clickable elements that pop up on screen to buy the featured products.
Here's an example from a shoppable video on IKEA: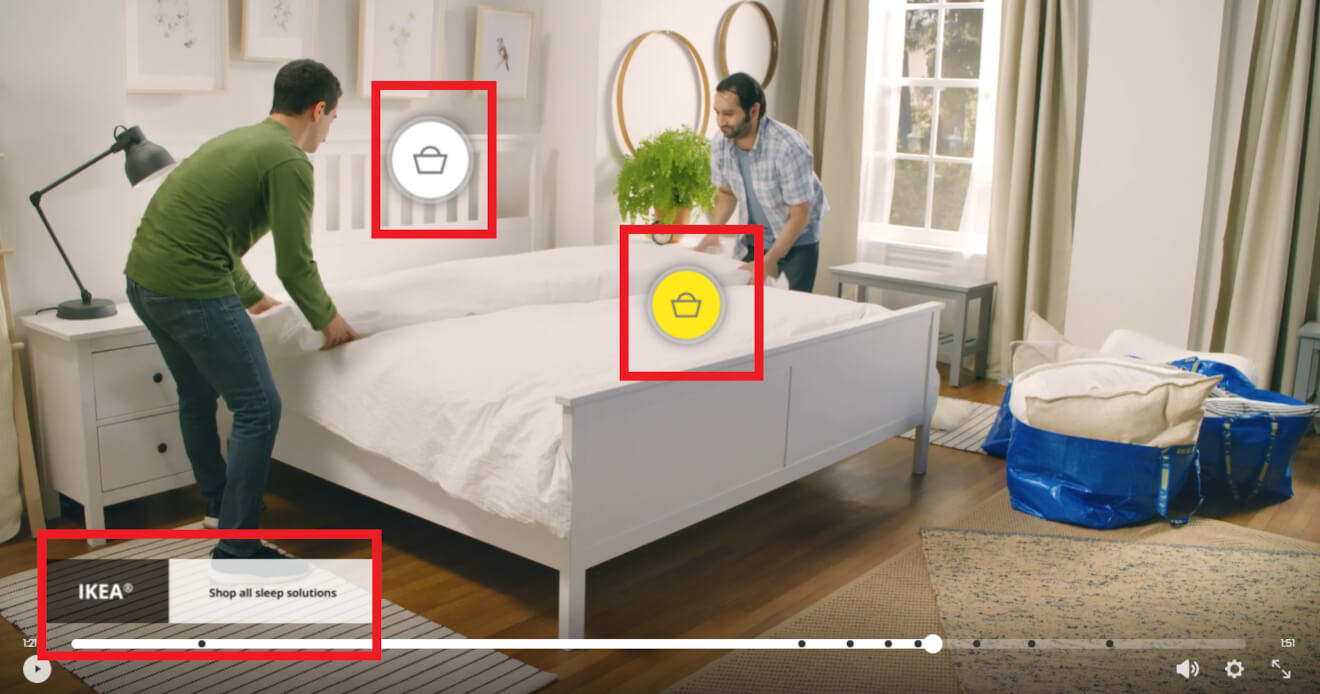 So, what's a shoppable video platform?
Shoppable video platforms, also known as video shopping platforms, are any platforms that host shoppable videos.
They can broadcast live videos or publish videos that users can shop from while viewing.
Retailers also use them for shoppers to view in-store products and ask questions to a sales rep, just like they would in real life.
In short, shoppable video platforms enable businesses to generate instant direct sales.
How Shoppable Video Platforms Can Help You Make More Money
If you already have a product you want to sell, a shoppable video platform is an ideal way to sell it.
Whether you're selling physical or digital products, shoppable videos can provide interactive experiences to satisfy customer desires and help you make more money.
Here are 6 benefits of using shoppable videos to sell your products:
1. Create a seamless shopping process
Shoppable videos create a great user experience because of the seamless shopping process. When a potential customer clicks on a product, they're taken to the product page, where they can add it to their shopping cart.
2. Increase consumer engagement
Marketers already know the power of video, as 67% of consumers say they've purchased goods after watching a video.
But shoppable videos take these figures to another level. Research shows that the click-through rates are 10x higher in interactive videos than passive videos.
Plus, shoppable video platforms also allow customers to interact with you using a real-time chat option.
3. Boost conversion rates
Customers can buy your products in one click without searching Google, browsing your site, or looking for a link in your bio or the video description.
Studies found that brands that use shoppable videos can boost conversion rates by 30%.
And as videos are more engaging, customers stay on your website longer and enjoy the whole user-friendly buying process more.
4. Generate more revenue
As shoppable videos help convert your viewers into paying customers, you generate more revenue.
You can also showcase multiple products within the same video, making it more cost-effective.
And, you also get fewer refunds because people buy the right product the first time, thanks to the immersive shopping experience.
5. Analyze performance
You can check real-time performance data to see which parts of your videos work best. Plus, you can use the insights to engage shoppers with personalized offers.
6. Embrace shoppertainment
Retail brands like IKEA and Disney have traditionally used entertaining in-store shopping experiences to entice customers through their doors.
But now, brands are using "Shoppertainment" by integrating ecommerce and online video entertainment through tutorials, how-tos, product demos, interactive Q&As, and even fashion shows.
When someone spots a product they want to buy, they can do so without interrupting their viewing experience.
7 Top Shoppable Video Platforms
Okay, now it's time to check out the top 7 shoppable video platforms.
There's something here for all budgets, from free to premium packages and live-streamed to pre-recorded video, so that you can choose the best option for your business.
1. Uscreen
Let's start with Uscreen, our all-in-one video monetization platform that includes tiered memberships, rentals, bundled sales, and freemium content options.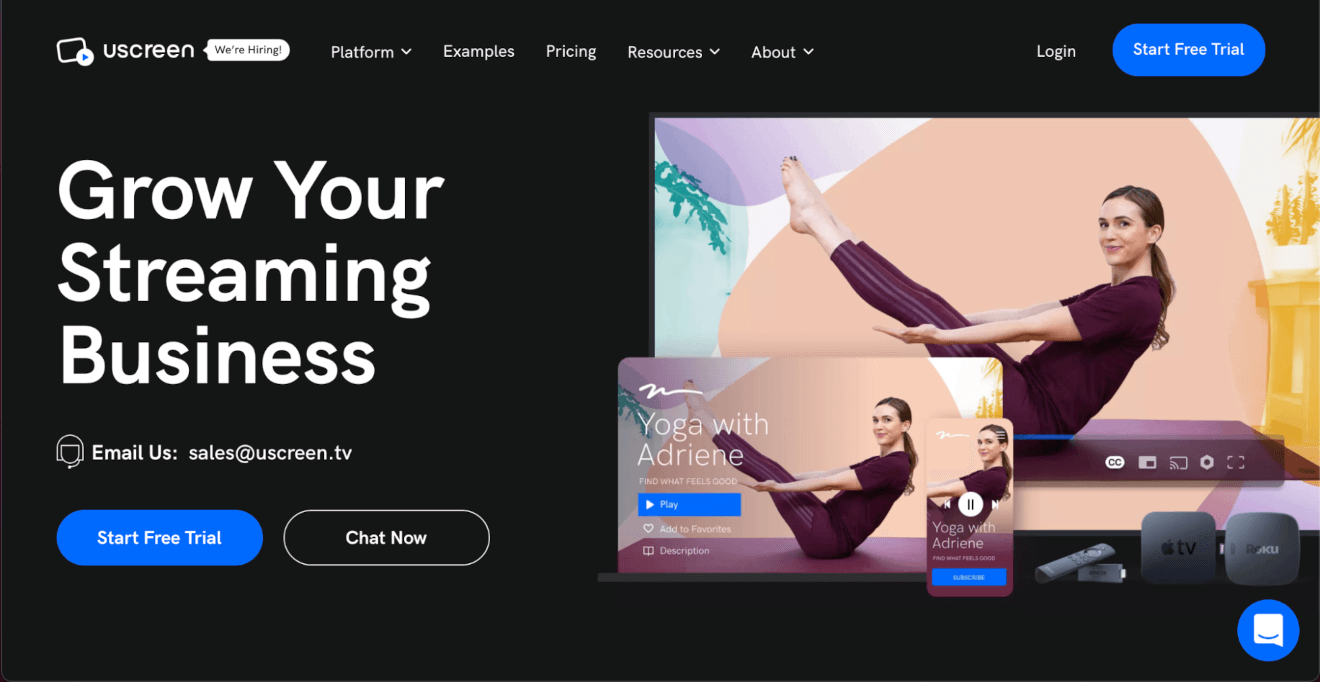 On top of our video-on-demand and membership features, we also have all the tools you need to sell products to your viewers.
For example, take Bulldog Online, a yoga for fitness video membership platform. While most of their income comes from their membership platform and apps, they also sell merch to their viewers.
They can link their online store to their video content directly by creating a shoppable video: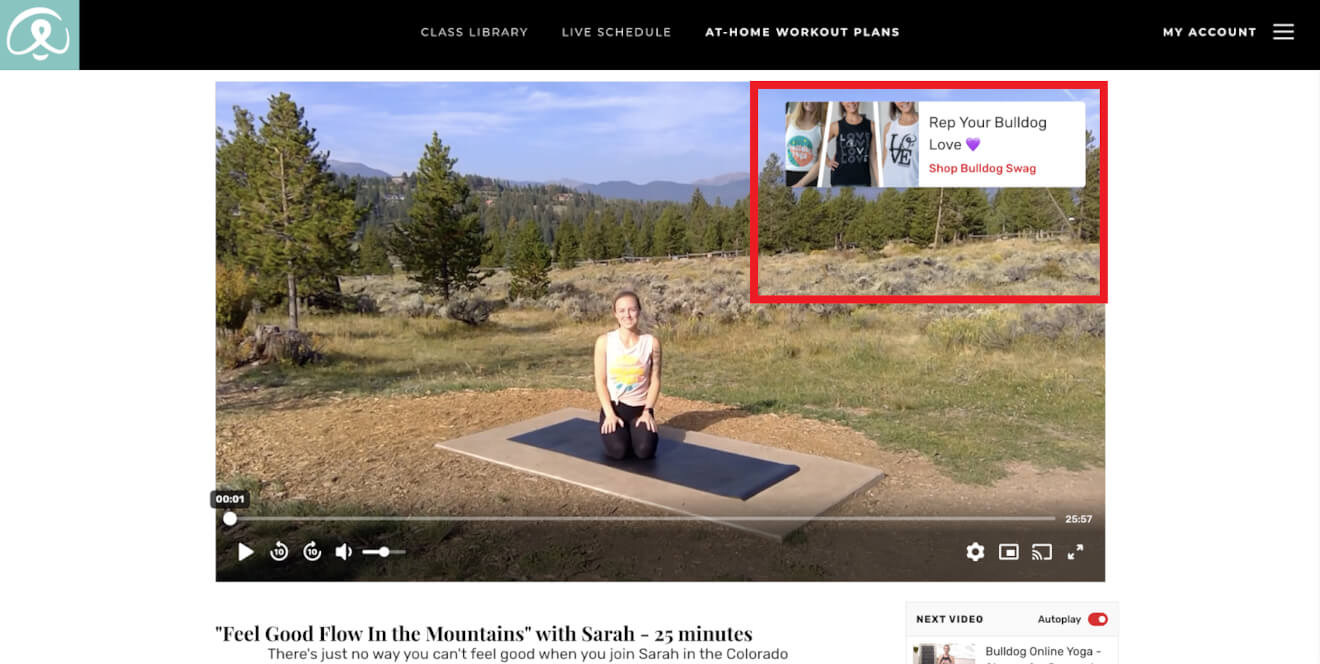 Now, let's dive into the details of what you can do with Uscreen.
Uscreen features
When you choose Uscreen as your shoppable video platform, you can:
Add an in-video product link so your viewers can click directly from your video to your ecommerce store or an affiliate link and make a purchase.
Engage your audience with live chat, countdowns, and mobile notifications to your users.
Create your own branded website and white-label OTT apps that work on iOS, Android, Roku, Fire TV, and more.
Stream videos in full HD quality using the fully-customizable HTML5 player.
Discover what engages your audience and how to improve their video experience through built-in video analytics.
Integrate the rest of your marketing and sales technology stack, including Google Analytics, Mailchimp, and Zapier.
That's a whole lot of functionality, let's see what our pricing plans look like.
Uscreen pricing
Uscreen offers a 14-day free trial and 3 pricing plans depending on the features you need.
Our shoppable video feature is available in the Growth plan, while the Live Streaming functionality is available with Uscreen Plus.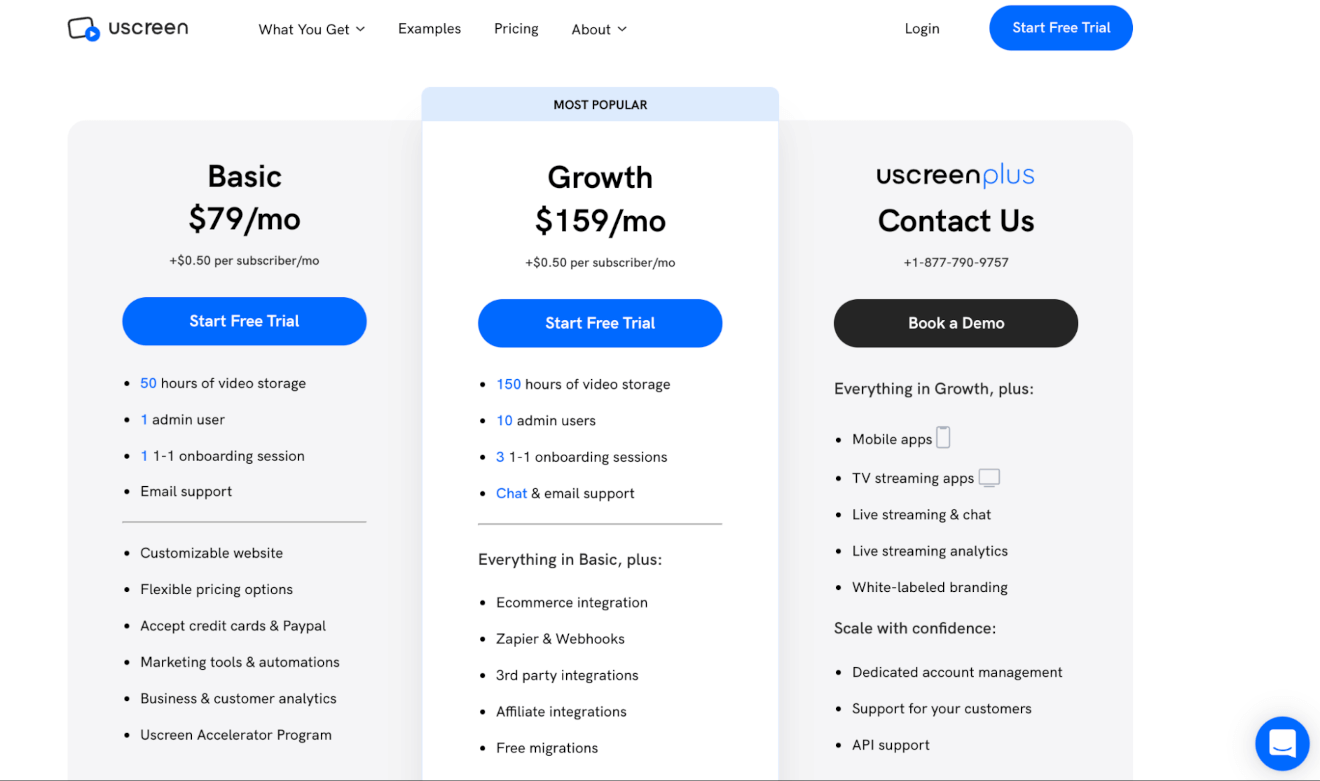 Plus, you get access to our robust help tutorials and 24/7 email support, while Uscreen Plus customers also get a dedicated account manager.
Time to check out the other platforms on our list…
2. YouTube
YouTube introduced shoppable videos to its platform in 2020.
YouTubers can activate the Merchandise Shelf so their viewers can see a carousel of up to 12 products underneath the video they're watching: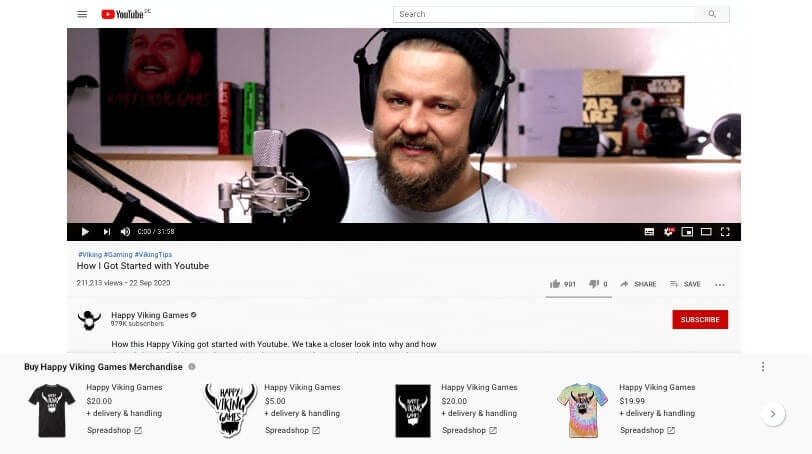 It also has shoppable ads, with product images directly under the video to push viewers straight to product pages.
YouTube is also building an 'organic live shopping experience' to make it easier for its users to buy and sell products. But it's still in the experimental stage and not available to everyone right now.
YouTube offers online support and documentation, plus its Creator Academy and Community Forum.
YouTube features
YouTube has limited shoppable video features, and its branding will always be on your video content, but you can:
Use TrueView cards to add shopping links within videos.
Add CTA's to promote specific products.
Sync your Google Merchant Center inventory with your campaigns to make the process quick and simple.
Add browsable images of products below an ad to direct traffic to your product pages.
Premiere a hosted video in real-time with live chat.
Integrate with third-party video editing tools for more efficient video uploads.
Track the number of views, viewer demographic data, and other audience-related metrics.
Pricing is next…
YouTube pricing
YouTube is free to use and works on all desktop browsers, plus iPhone, iPad, and Android devices.
Even so, the platform does take a cut of your revenue, and the money you make on your merch shelf will depend on your deal with the retailer you partner with.
You only get a share of the revenue from in-video ads, and you always face the threat of demonetization (losing your eligibility to earn off your videos).
Let's check out the next shoppable video platform…
3. Amazon Live
Amazon Live is the retail giant's QVC-style live-stream shopping platform, featuring video shows from Amazon talent, brands, and influencers.
According to Amazon, "It takes the fun and interactive nature of live video and joins it with online shopping."
Live videos appear on the brand's listings, brand store, and at the top of the Amazon Live page. Featured products appear underneath the live video in a product carousel.
You can use the Amazon Live Creator app (only available on iPhone) to create, capture, and manage your live streams.
Use the app to add featured products, and then use the built-in camera to shoot and produce the live stream. As you live stream more and sell more, you can "level up" to unlock additional placements.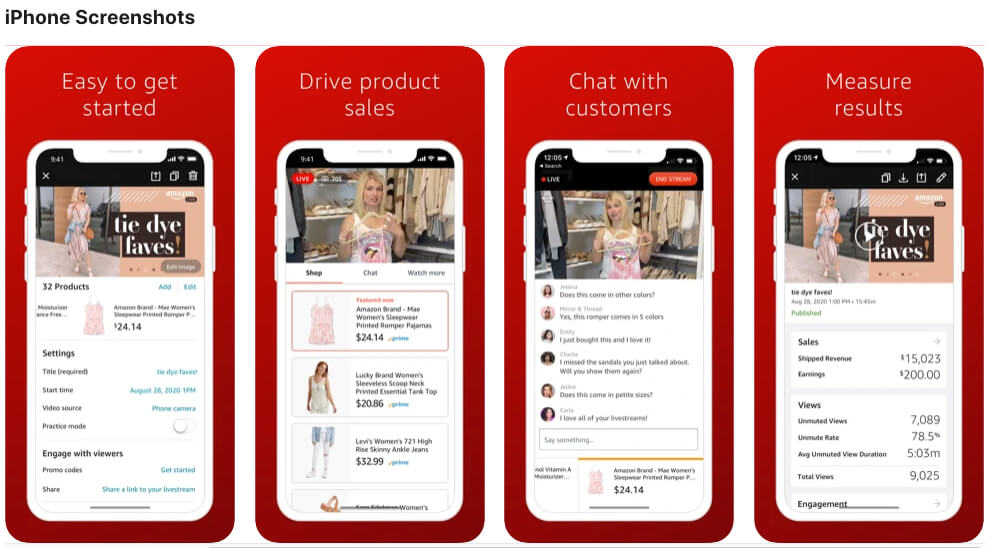 Amazon Live features
With Amazon Live, you can:
Stream directly from your iPhone or use broadcasting software and a professional camera.
Display featured products next to or underneath the live video in a product carousel.
Chat with other shoppers during the live stream.
Analyze your performance and improve your next live stream with built-in analytics.
Track your progress towards leveling up your creator level.
Note: to stream on Amazon Live, you'll need to be:
– A US Professional Seller registered in Amazon Brand Registry.
– A US Vendor with an approved Amazon Store.
– An Amazon Influencer with an Active Influencer Storefront.
– Third-party sellers and Amazon Agencies can live stream on behalf of the brands they represent.
Here's what it costs…
Amazon Live pricing
Streaming with the Amazon Live Creator app is free. But running an Amazon-produced live stream will usually require spending a minimum of $35k on advertising.
You can contact Amazon's support center for feedback and assistance.
Let's keep going…
4. Bambuser
Bambuser is a SaaS company that specializes in interactive live video streaming.
Well-known brands like Samsung and Tommy Hilfiger use their flagship product – Live Video Shopping – to boost engagement and increase ecommerce sales by up to 36%.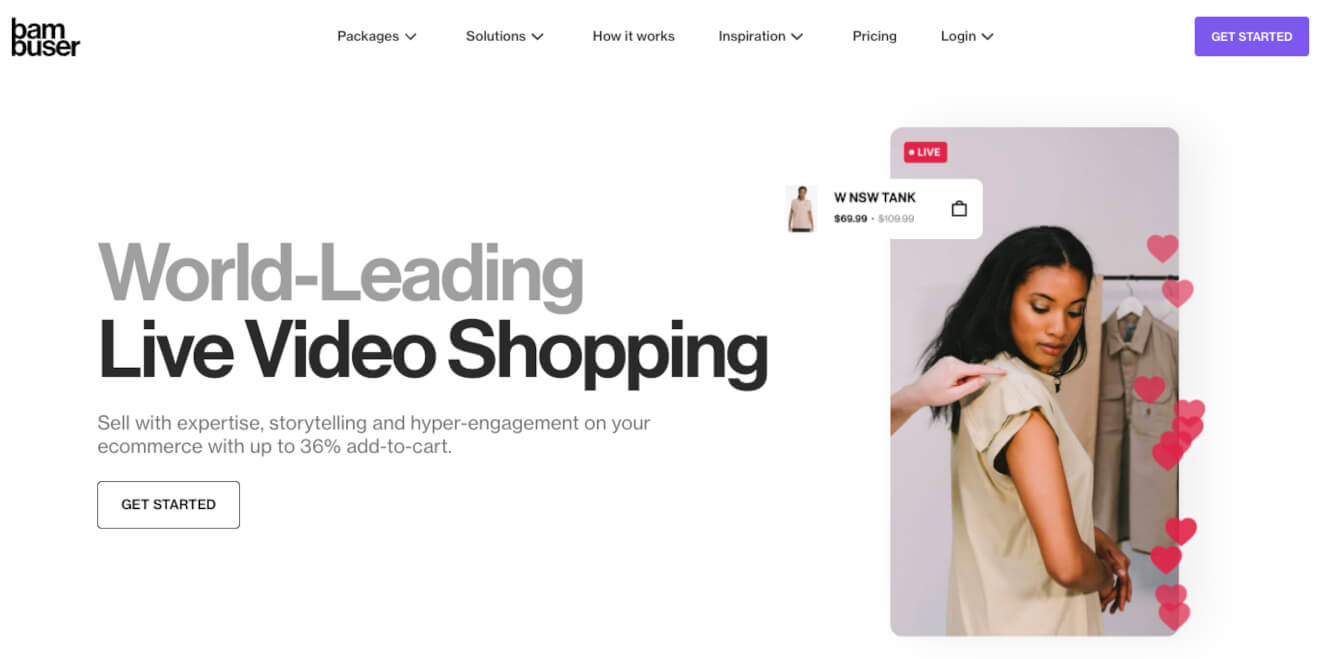 Customers can click on the highlighted product images to add-to-cart without leaving the stream, and viewers can watch the videos and make purchases even after your live event has ended.
While Bambuser allows you to cast directly to Facebook and YouTube, it does require some tech knowledge to get started on the platform.
Here's what functionality you get…
Bambuser features
Using Bambuser means you can:
Copy and paste the embed code onto your ecommerce website, and you're ready to go live.
Match the branding to your design, logos, color schemes, fonts, and language.
Live stream seamlessly from your mobile phone.
Interact with your audience in real-time and answer questions about products.
Get reports on sales, engagement, and more from the dashboard to optimize your streams for success.
Integrate with any ecommerce platform, including Shopify, Salesforce, Magento, and WooCommerce.
But what's the cost?
Bambuser pricing
Bambuser has 3 subscription plans – Lite, Standard, and Enterprise. Pricing is available only upon request as each package is tailored to individual requirements.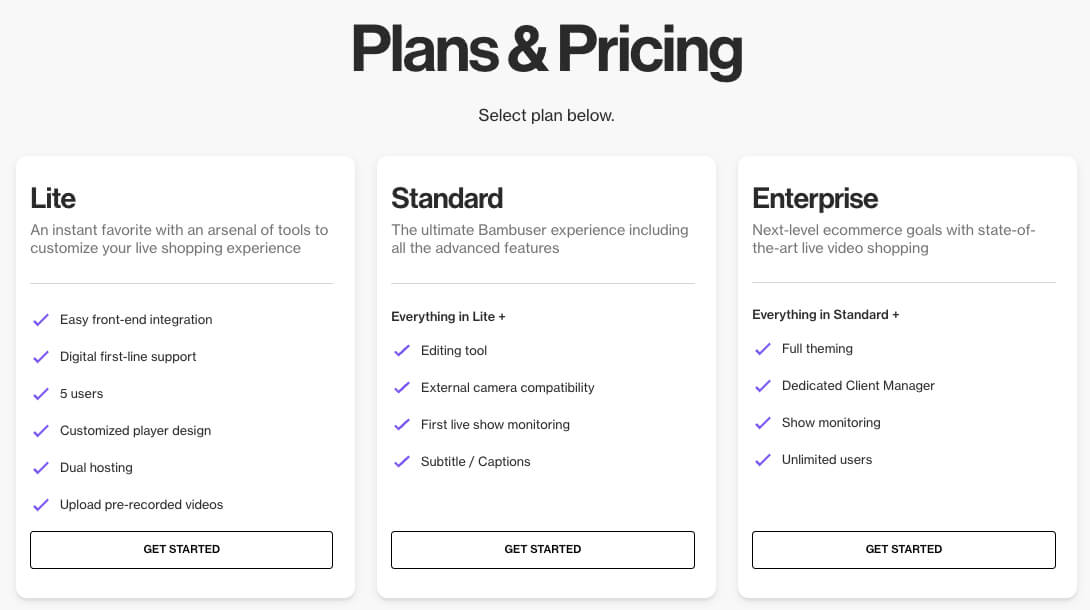 Bambuser also includes a knowledgebase, FAQs, how-to guides, step-by-step tutorials, and email support to help you navigate the platform.
Let's head to the next platform…
5. Instagram
Instagram is currently one of the biggest social media platforms, giving you a massive audience to reach.
It introduced shoppable videos to its platform in 2018, and it remains popular for brands of all sizes. According to a 2020 survey, almost 50% of active users use Instagram to shop weekly.

You can use a combination of live and recorded shoppable content to create an interactive shopping experience.
Details are coming up…
Instagram features
Using Instagram, you can:
Build a shop where people can browse products and explore collections.
Add up to 5 product tags in each video to highlight items from your catalog, so viewers can conveniently tap, learn more, and make a purchase.
Increase the reach of your shopping posts by using ads with product tags.
Let shoppers make purchases directly in the app with Instagram Checkout (currently available only to eligible US business and creator accounts).
Announce an upcoming exclusive drop, so people can preview details and set reminders to buy as soon as it's available.
So, what's it cost?
Instagram pricing
Instagram is free to use and works on all desktop browsers plus Apple and Android devices. But there's a selling fee of 5% per shipment, or a flat fee of $0.40 for shipments of $8.00 or less.
Instagram offers online support and documentation via its Instagram Business Help Center.
Time to check out the sixth platform on our list…
6. Livescale
Livescale is a live video shopping solution with instant checkout and product feed sync that's especially popular among fashion brands like Vans and Roberto Cavalli.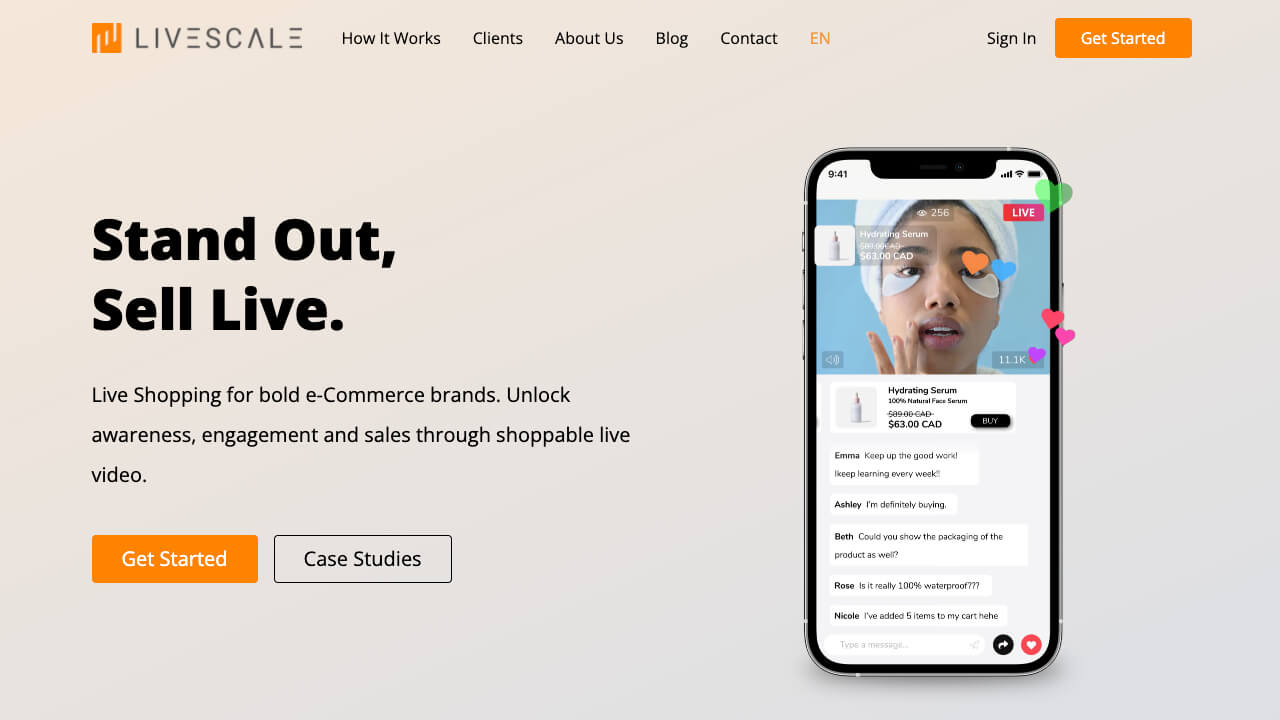 It's designed for mobile, but compatible with all devices, and has 3 Live Shopping options:
Ecommerce: an integration for ecommerce platforms with a 3-step, high-speed checkout.
Retail: a branded experience with seamless user checkout and detailed first-party analytics for retail brands.
Shopify: a seamless integration with Shopify to instantly convert viewers into customers with video.
Note: we'll focus on the Shopify integration as it relates more to our audience.
Here's the low-down…
Livescale features
Using Livescale, you can:
Sync products, categories, orders, and payments seamlessly with your Shopify or ecommerce store.
Use branding tools to bring your in-store experience online.
Engage with customers in real-time with Live Shopping events.
Use gamification to trigger impulse purchases and foster customer loyalty.
Collect customer leads during each Live Shopping event for precise retargeting and remarketing opportunities.
Analyze real-time and post-event data to support your marketing strategy.
Pricing is up next…
Livescale pricing
Livescale offers a 30-day free trial for new users, after which the software is available for $490/month.
It includes a knowledgebase, FAQs, how-to guides, step-by-step tutorials, and online chat support to help you master the platform.
Onto the final shoppable video platform in our list…
7. Clicktivated
Clicktivated seamlessly connects viewers with individual products, items, and information via live or recorded video.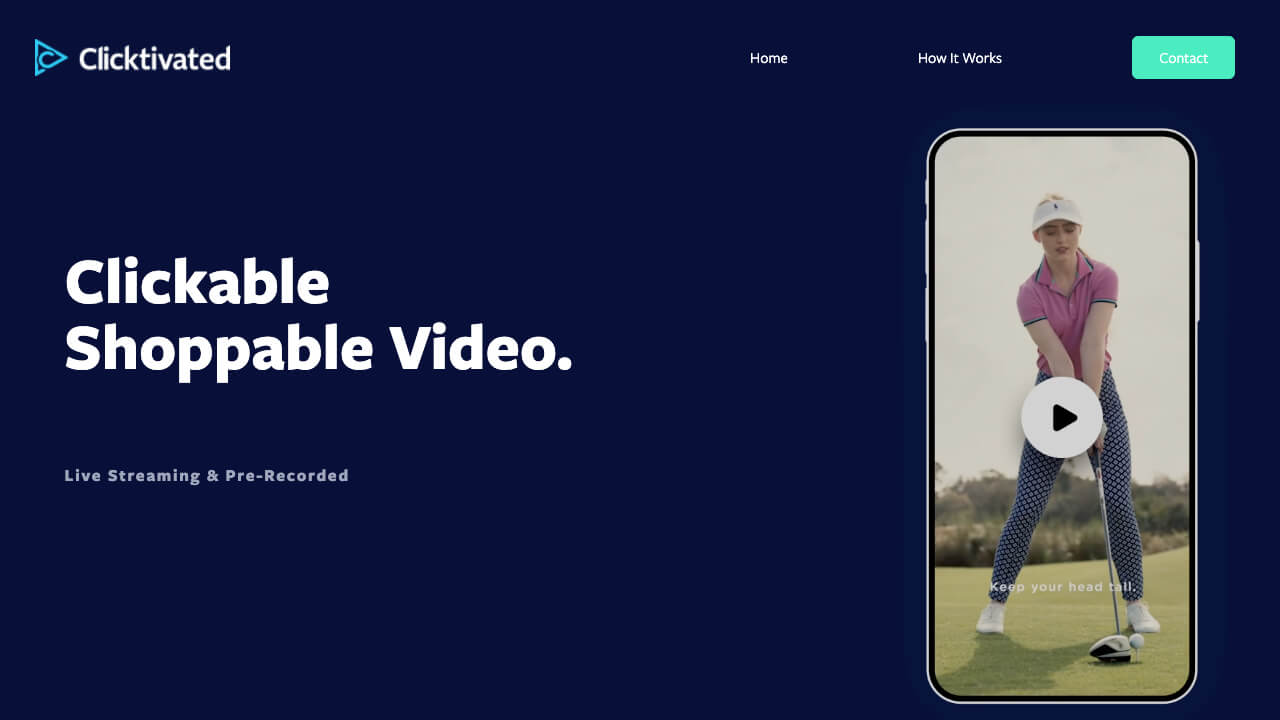 Its game-changing technology allows shoppers to watch a video or live stream and click the exact item they want without any product tags displaying on screen.
It's a win-win, as it creates a non-intrusive shopping experience for customers and maintains the brand's integrity and content.
Let's check the platform features…
Clicktivated features
With Clicktivated, you can:
Make an unlimited number of products in a video shoppable, in less than 24 hours.
Let viewers click and shop for individual products directly from your product pages. Personalize the shopping experience based on each shopper's individual needs, wants, or likes.
Access online support for any queries.
Let's look at the pricing one last time…
Clicktivated pricing
You'll have to reach out to a Clicktivated rep for pricing details, as each package is tailored to individual requirements.
Now you've got all the details, it's time to choose the best shoppable video platform for your business.
Which Shoppable Video Platform is the Best for Your Business?
There are many shoppable video platforms to choose from, and we've covered what we think are the best ones out.
But ultimately, you have to choose the platform that is the best fit for your business.
If you're looking for a dedicated live streaming platform, Amazon Live, Bambuser, and Livescale are all excellent options.
YouTube has the functionality but focuses more on shoppable video ads.
Instagram has a massive user base, but you'll have to get creative to make your videos stand out and break through the noise.
If you've already established a following and you want to grow your business on a platform built for scalability, then Uscreen is the best option to add shoppable videos throughout your content library.
Let us show you around the place and you'll see how seamless the process can be to get your shoppable videos selling for you.
It's simple with Uscreen.
Build, launch and manage your membership, all in one place.