There are a handful of ways to make money as a content creator, and one of them is by selling digital products.
You can sell and distribute digital products many times over and you've probably bought some digital products yourself!
This may look like an online course, a fitness app, or even art! (NFTs anyone?).
With so many different options of digital products to sell, you might be wondering which ones are the best to invest your time and money in.
This is why we're covering 84 digital product ideas for every niche, so you can find the most profitable digital products to start creating today, including:
Let's get into this huge list.
Why Should You Sell Digital Products?
There are many benefits to selling digital products. Aside from being able to sell them online repeatedly, digital products are…
low in cost to produce
more environmentally sustainable
highly profitable
flexible to create
easily scalable
able to bring passive income
… best of all, they're easy to manage because they count as digital inventory (as opposed to physical inventory).
The great thing about digital products is that you can create different types to support your content all while promoting them on your platforms.
So whether you want to create a downloadable guide, a membership site, or an online course, we have the right digital product idea for you. 
Most digital product ideas will fall into one of these categories…
documents
online Courses
video
audio
music
graphics
photography
eBooks
software
applications
…so you can choose which category works best for you.
We recommend picking a product that you have experience creating, or one that will go along with your content the best.
Digital Product Ideas for Content Creators
As a content creator, you can take advantage of almost all types of digital products and promote them on your videos, live streams, and social media.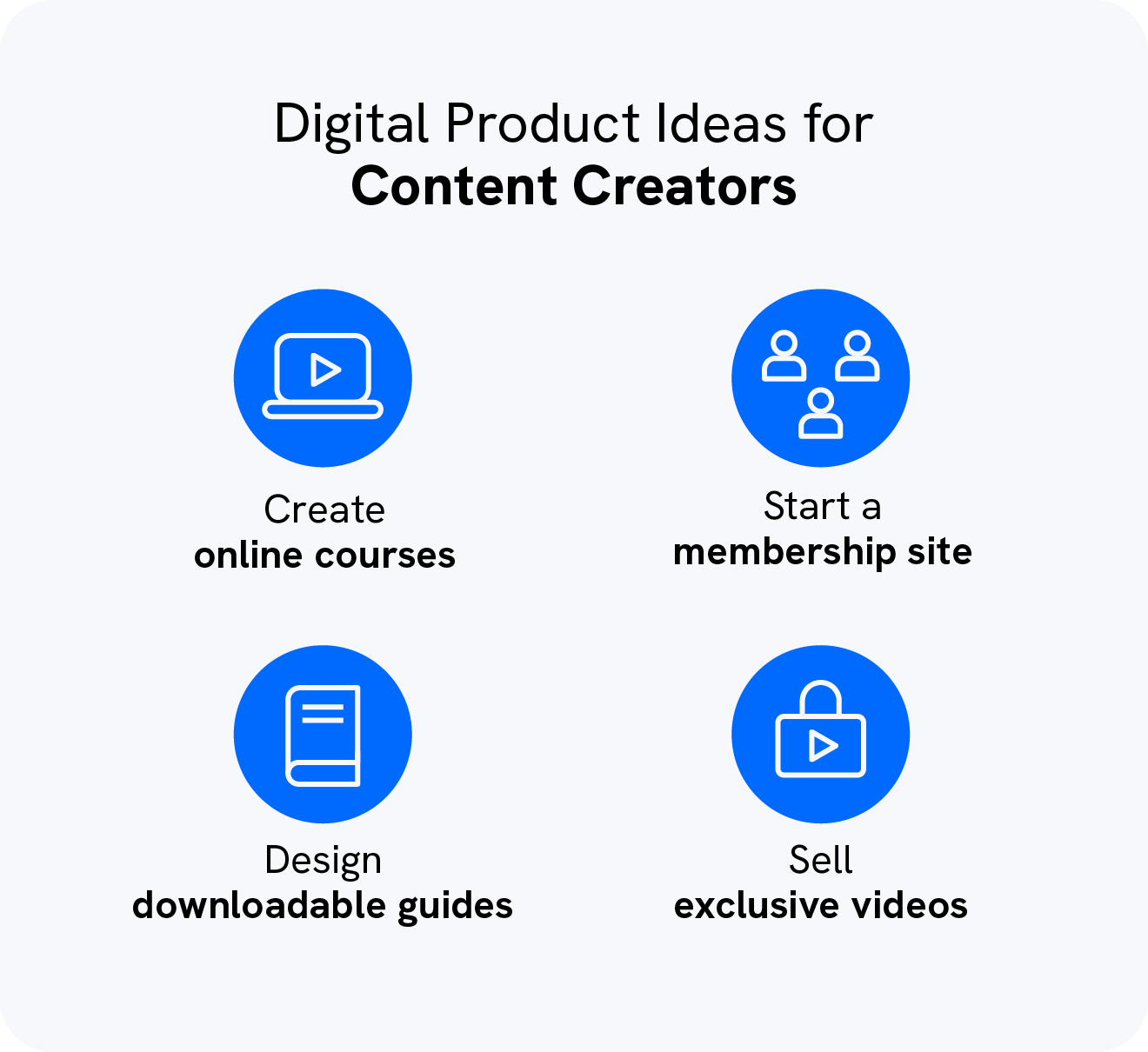 Here are some profitable digital products to sell online as a content creator:
Ebooks: Create e-books according to your niche, for example how to create a YouTube content strategy.
Online courses: Build an online course around your expertise.
Membership site: Start a membership site with exclusive content so you're community can interact with each other.
Podcasts: Launch a new podcast with entertaining content or teaching people about a topic.
Downloadable guides: Create downloadable guides that will go along with your content (i.e. nutrition plans).
Exclusive videos: Sell videos with exclusive content, such as behind the scenes footage, bloopers, vlogs, or even livestreams.
Let's get into these ideas more…
Digital Product Ideas for Fitness Coaches
If you're a fitness instructor or wellness enthusiast, you can also make money selling digital products.
Consider monetizing your content even further with these digital products:
Fitness Online courses: Create a fitness course to sell online with a subscription or one-time fee.
Fitness online community: Build a community where members can share tips and connect with others alike.
Paid newsletter: Make a paid newsletter so you can share fitness tips and industry news.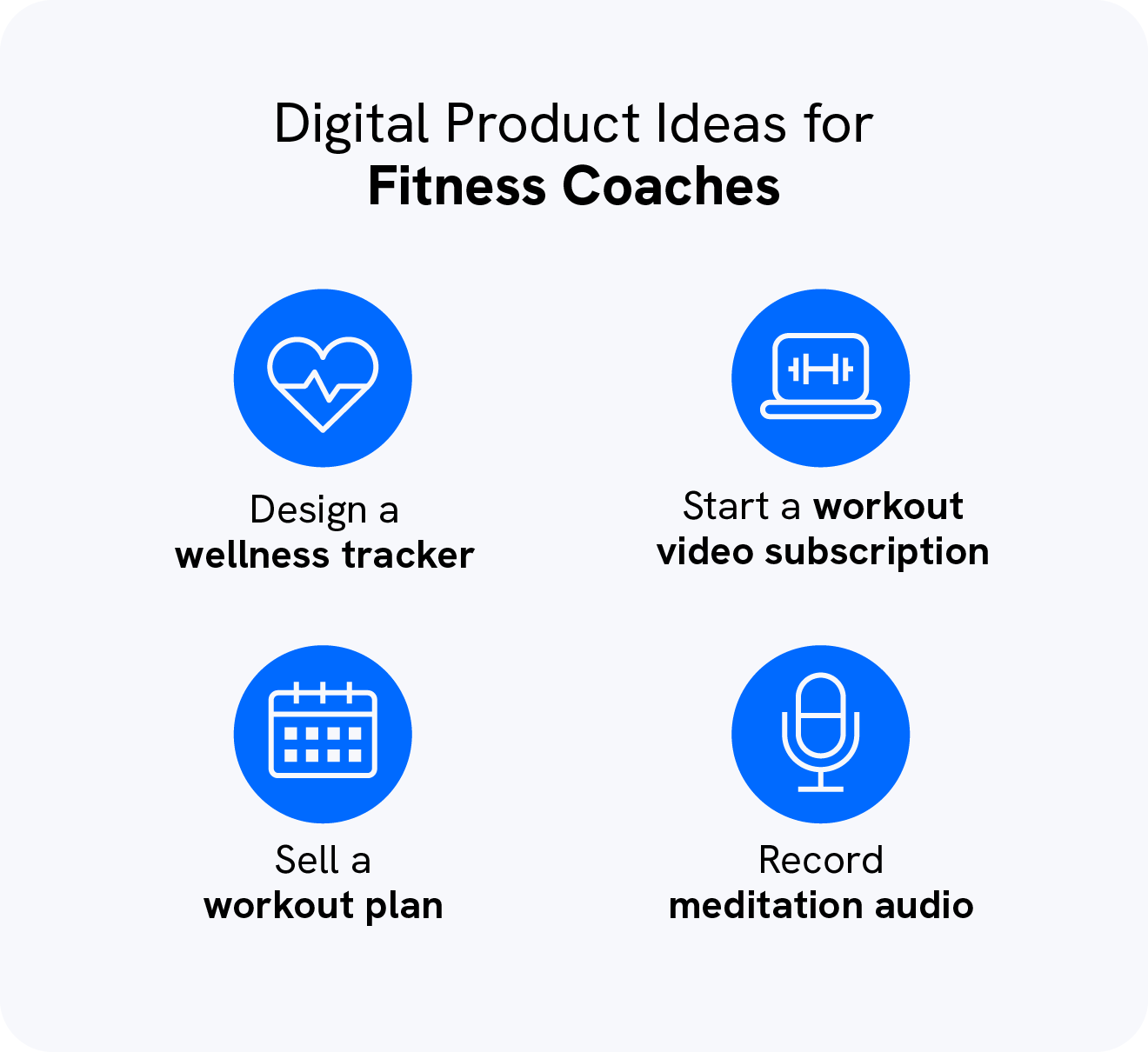 Meditation audio: Create guided meditation audios for all levels and sell them in units or bundles.
Wellness trackers: Design a wellness tracker so people can track everything from weight, muscle mass, and how they are feeling.
Workout video subscription: Start a subscription platform where you release videos weekly for people to start the habit of working out.
Downloadable Workout plans: Create workout plans for different types of bodies and ages that people can print out and follow to stay motivated.
Feeling inspired yet?
If you're an educator outside of the health and fitness field, then the next section is for you…
Digital Product Ideas for Online Learning
Love teaching people things? You can make online learning easier by providing your students with extra content.
Here's how you can make online learning more fun and engaging:
Course-specific eBooks: Write small eBooks that complement your course with tips and additional materials for your students to buy.
Tutorials: Record exclusive tutorials on your expertise like how to use a tool or create something.
Online courses: Sell a follow-along online course about one topic for your students to dive into.
Membership site: Build a membership site for your online learning business where members can connect with you and others alike.
Workshops: Create exclusive workshops for people to learn hands-on more about a certain subject.
Checklists: Design checklists in the form of PDF printables to keep your students on track and use it as a goal-setting planner.
Now if you love teaching people your beauty skills, dive into these digital product ideas to make them feel even more empowered:
Certified courses: Build a certified beauty course to sell on your subscription platform or for a one-time fee.
Home recipes: Create digital downloads for exclusive home recipes for face masks or DIY exfoliators and sell them in bulk.
Hair and makeup tutorials: Record hair and makeup tutorials and sell them as part of a workshop or as bundles.
Ready to take a look at digital products for businesses?
Digital Product Ideas for Small Businesses
Whether you're a small business sharing content online or love to help other small businesses, you can sell digital products to use them as another revenue stream and means to promote your business.
Leverage your own business expertise to help other small businesses with these digital product ideas:
Business podcast: Start a business podcast about the behind-the-scenes process of your business or industry insights.
Resume template: Create editable resume templates for people to buy and use for job interviews.
Cover letter template: Create editable cover letter templates with tips on what to say in them.
Media kit template: Sell media kit templates so small businesses can send them to reporters and brands.
Legal templates: Create legal templates for contracts and legal disclaimers small businesses can customize according to their needs.
Pinterest templates: Create Pinterest pin templates that will attract people to a business' blog.
PowerPoint templates: Build PowerPoint templates for other small businesses to use when creating deliverables or internal presentations.
Brochure templates: Sell brochure templates that businesses can easily edit and customize according to their brand.
Email sequence template: Create email sequence templates that carry customers through the whole sales funnel.
Career eBook: Write a career advice eBook about your niche with tips for recent graduates.
Goal-setting printable: Build an inspiriting goal-setting printable so people can create goals they can check off.
And if you're a tech small business or solo developer, you can also start creating digital products:
Apps: Build apps where you can charge per download, on a subscription basis or make it free and add in-app purchases.
Video games: Create video games for people to buy, or make it free with paid features.
Website themes: Build customizable website themes that are intuitive and trendy.
Browser plugins: Create browser plugins to help people with extra tools they can add to their browser.
Codes: Create code snippets users can add to their websites and blogs.
Painting our way through to the next section.
Digital Product Ideas for Artists
Being an artist can go beyond putting together brushstrokes to create a masterpiece. If you share your art online, you can make money as an artist by selling digital products.
Take advantage of your creativity and skills with these digital product ideas:
Art video tutorials: Sell art video tutorials, such as painting or ceramic pot making and sell them for a one-time fee, as bundles, or as a art learning subscription.
Digital artwork: Sell your artwork so people can frame it gift it to someone.
Patterns: Create patterns people can purchase access to and add to their website or physical products.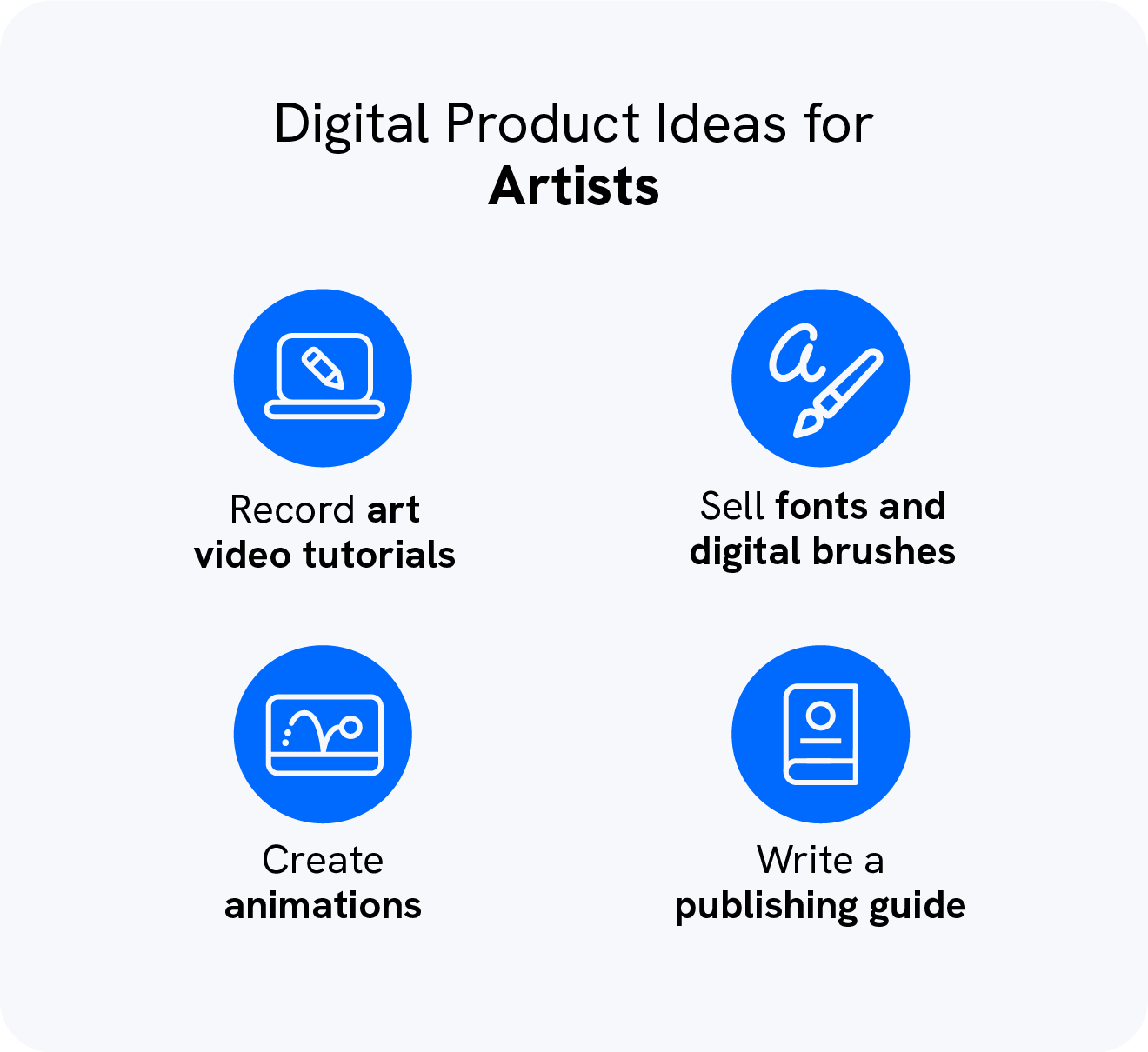 If you are a designer and eager to make money from your graphic design skills, here are some ideas of digital products you can sell:
Wallpapers: Design wallpapers for computers, phones, and tablets.
Fonts: Create fonts for people to buy and use them on documents, websites, and their own designs.
Photoshop templates: Build Photoshop templates to make designers' lives easier.
Brushes: Sell personalized brushes for Procreate and Illustrator.
Icons: Design icons for people and sell them in themed bundles.
Background for video chats: Create backgrounds for video chats so people can make their Zoom meetings more fun.
3D printer design files: Sell 3D printer design files to help people bring objects to life.
Animations: Sell animations for people to include on their videos and website.
Instagram story templates: Design Instagram Story templates with icons and frames.
Now if words are your type of art, you can make money as a writer with these digital products:
Fiction eBooks: Sell story eBooks, whether that is fictional or non-fictional.
Publishing guides: Create guides on selling your books online and self-publishing.
Writer's community: Start a paid community for writers to interact with each other and share tips.
Getting the munchies? Take a look at these next digital products.
Digital Product Ideas for Foodies
We know that food is the way to a lot of people's hearts, but what if you add an extra bit of seasoning to your recipes with digital products?
Take a look at some mouth-watering digital product ideas:
Meal prep plans: Sell healthy meal prep plans for different types of diets so people can plan their meals ahead of time and meet their nutritional goals.
Recipe eBooks: Create eBooks with your recipes and sell them by food type.
Digital cookbooks: Create a digital cookbook that includes recipes and stories.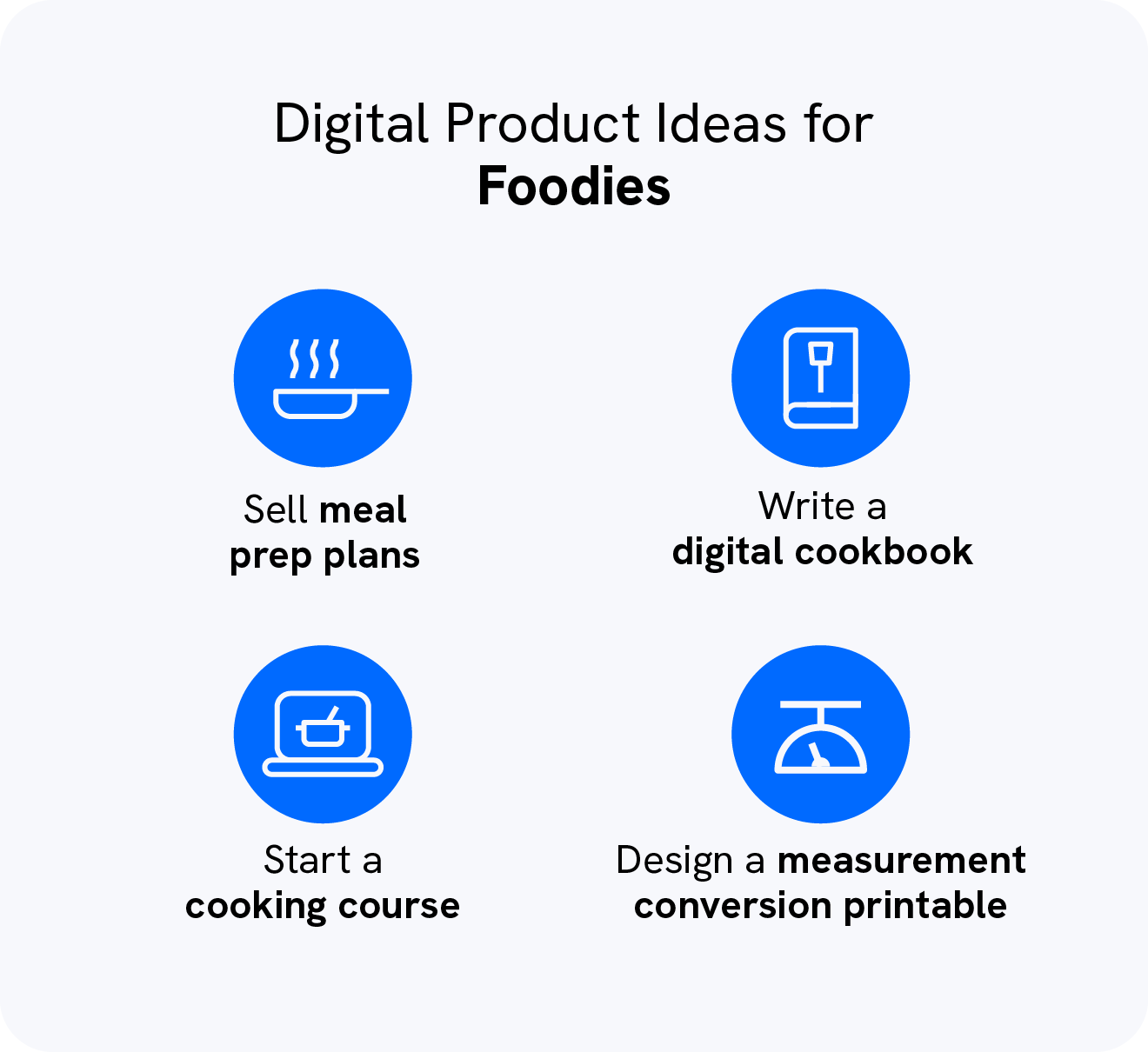 Online cooking course: Start your own online cooking course and teach people kitchen tips and exclusive recipes.
Food tracker printables: Design a food tracker printable so your audience can write down what ingredients they have at home.
Kitchen conversion printable: Create a kitchen conversion printable with measurements and pan size conversions.
Recipe binder covers: Create unique recipe binder covers and dividers for people to add to their recipe books.
Do you hear that? Time to go to the next section.
Digital Product Ideas for Musicians
If you're a musician who enjoys sharing your music online, there are a couple of ways to make money with your music.
You can use these digital product ideas to help people that need some tunes in their lives: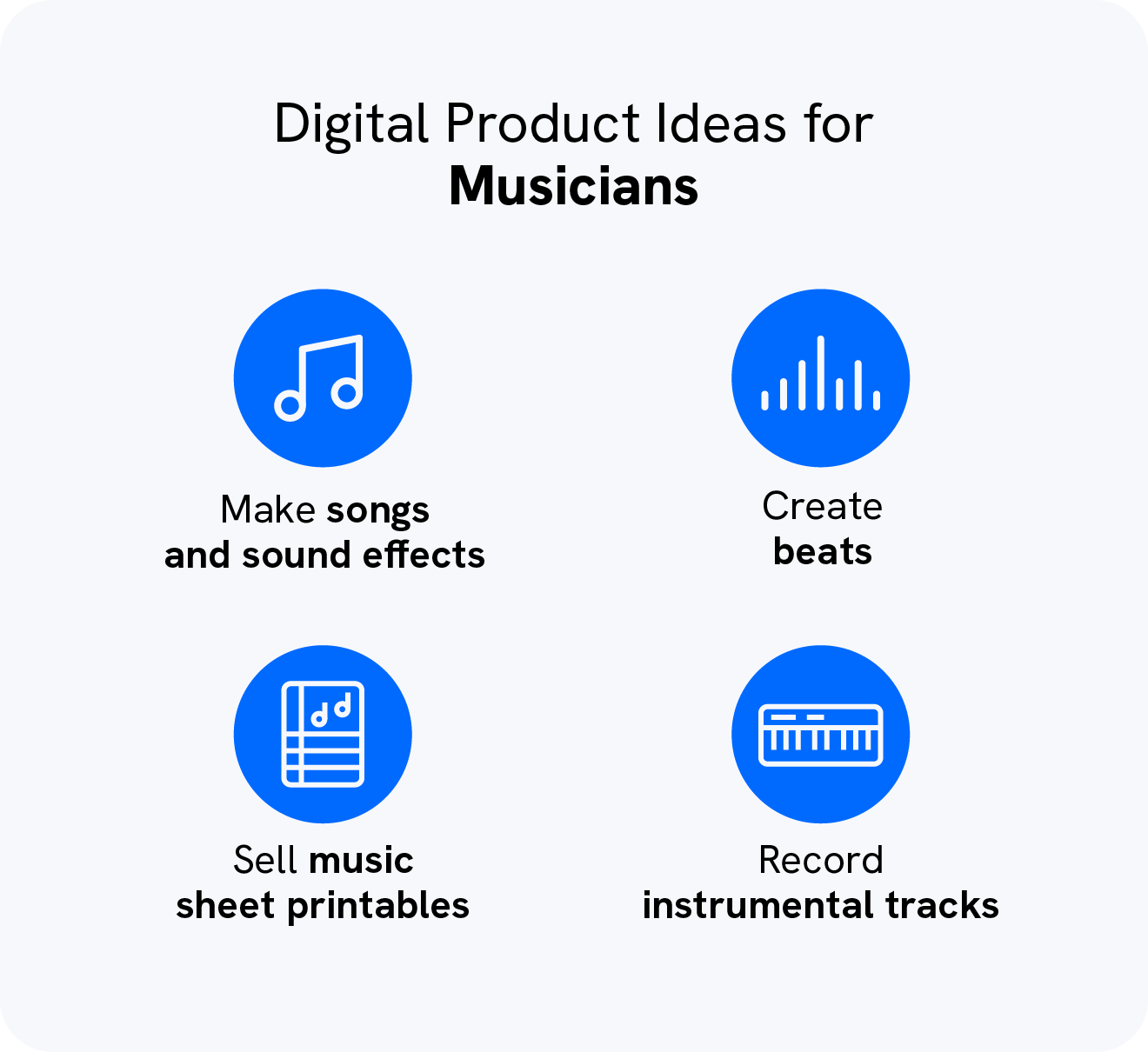 Custom songs: Make songs for people to purchase and use in their videos and other projects.
Sound effects: Sell sound effects and bundle them up by type of sound.
Instrumental tracks: Record instrumental tracks for people to use on videos and films.
Beats: Create beats people can use on their video projects or freestyle.
Music sheet printables: Teach people how to play your original music with music sheet printables.
Online music courses: Teach aspiring musicians how to play an instrument or mix music. You can sell these courses on a one-off basis or through a subscription.
Ready for the next digital product ideas?
Digital Product Ideas for Faith-Based Creators
If you're a faith-based creator, you can spread faith beyond preaching online.
Take a look at some ideas for digital products you can sell: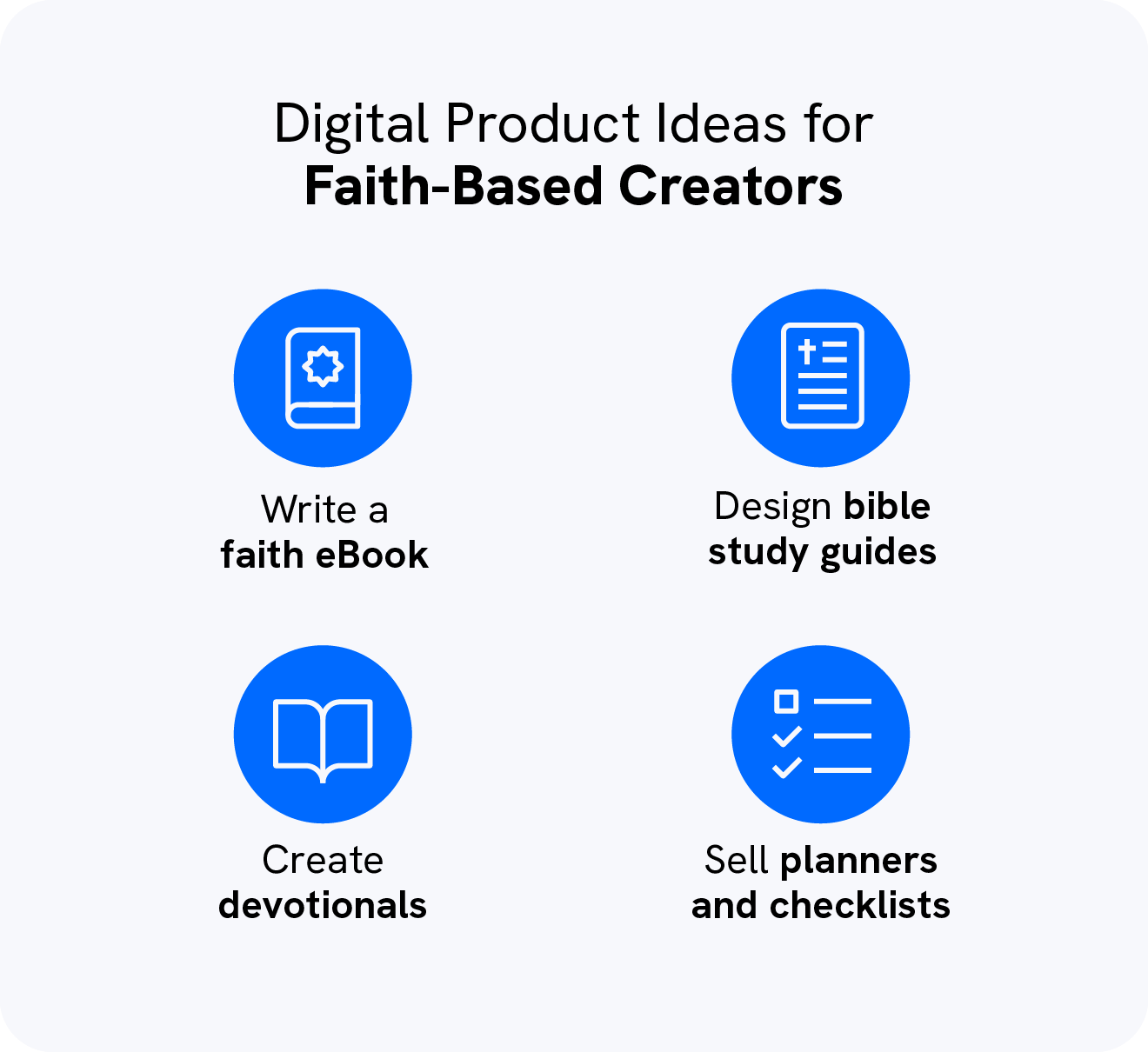 Faith eBooks: Write an eBook about your experience with faith, or teaching people about a specific topic.
Devotionals: Create short devotional ebooks or PDF files with daily devotions.
Bible study guide: Design bible study guides with tips on studying the text and specific notes.
Planners: Create online planners with checklists for prayers, self-care, and deep thoughts sections.
The next digital products will not make you want to grow up.
Digital Product Ideas for Kids
Whether you're a kid YouTuber or you like creating content for kids, you can also make your content more engaging with digital products.
These digital product ideas will make it look like you have superpowers: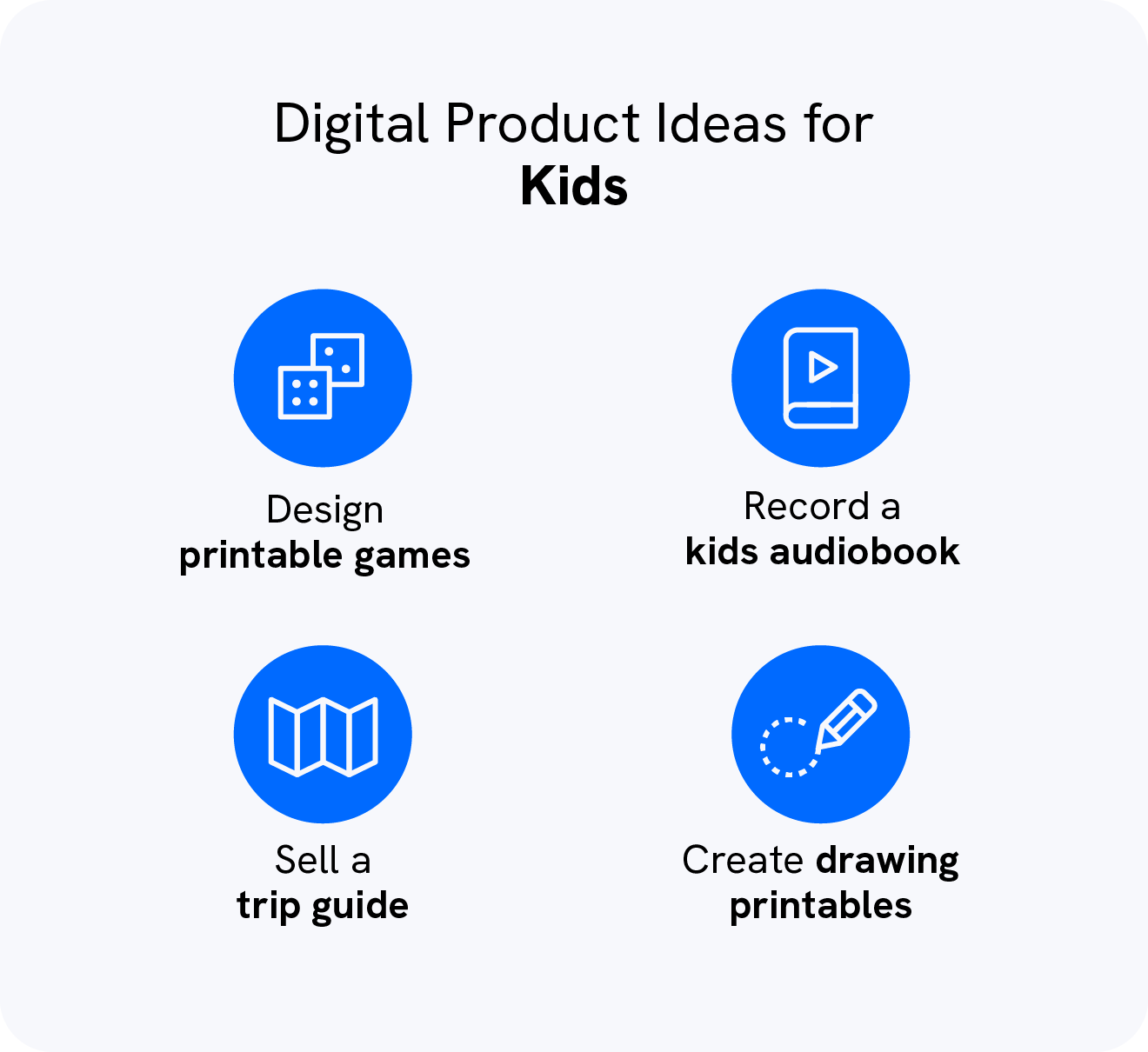 Printable games: Design printable games for kids to have fun or learn a new thing.
Kids audiobooks: Record kids audiobooks of your own fictional and bedtime stories.
Activity printable: Create activity printables on school subjects for kids to learn something new.
Trip guide: Build an online trip guide for families to travel with kids, including places to go and what to pack.
Drawing printables: Create drawing printables for kids to connect the dots and color them in.
Online art school: launch and online video art school where you teach kids how to paint. You can sell it on a one-off basis as a bundle or through a subscription.
Ready to capture the next ideas?
Digital Product Ideas for Photographers
If capturing life through lenses is more of your thing, there are a couple of ways to sell your content.
Help others see the world through your eyes with these products:
Presets and filters: Create presets and filters for photo editing software you can sell in bundles.
Stock photos: Sell stock photos on a stock photo website or in themed bundles.
Video intros: Create video intros people can purchase and use in their own content.
Stock video: Sell stock videos so people can add to their projects.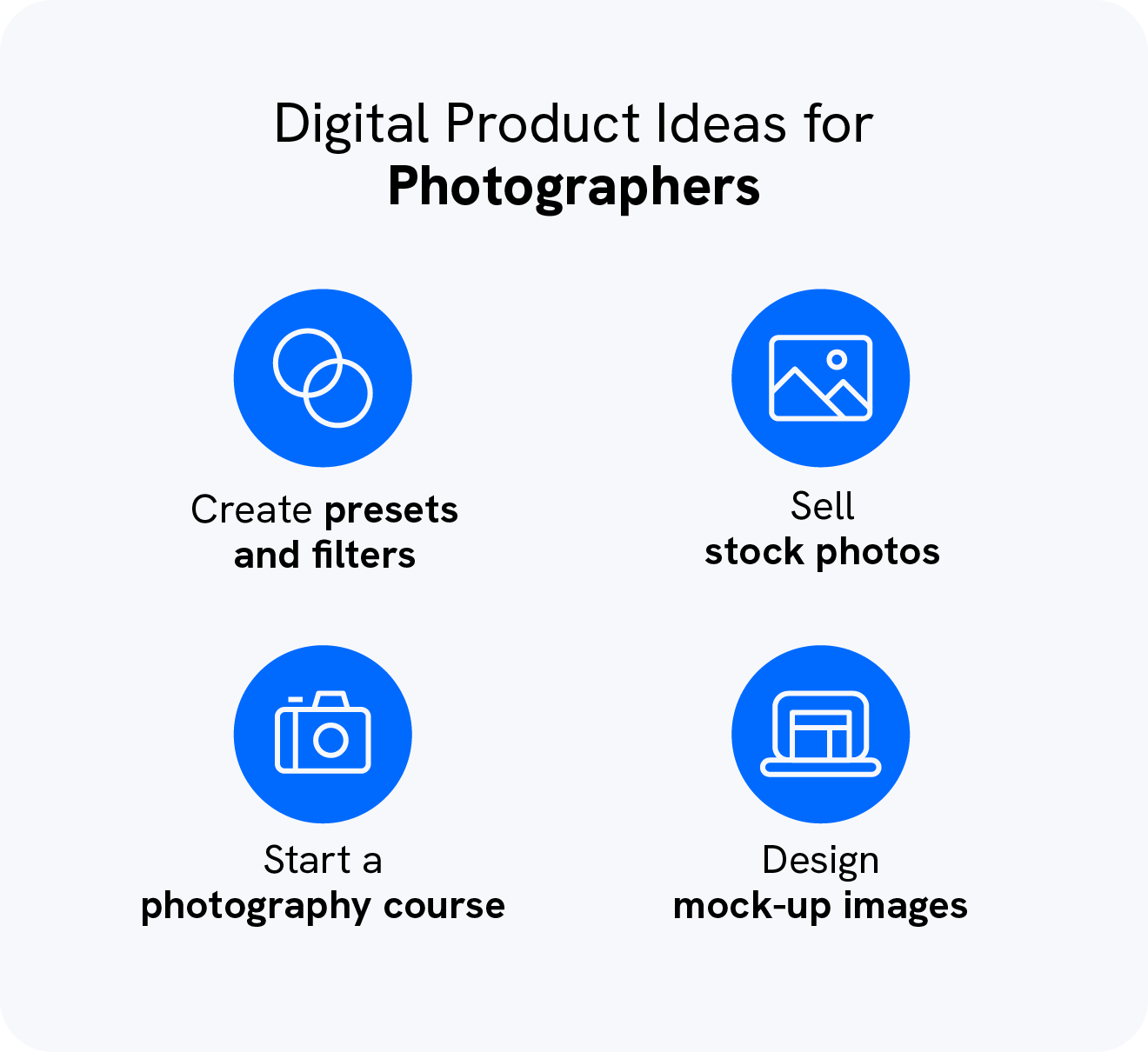 Photo and video courses: Sell photo and video courses and charge them as a one-time fee or as a subscription.
After Effect templates: Create templates for After Effects people can purchase as a bundle.
Mock-up images and videos: Sell mock-up images and videos for people to add their brand or product.
Calendar with photography: Create electronic calendars with your own photography.
So many digital products to choose from…which one are you going to pick?
Wrapping This Up
There you have it—84 digital product ideas for every niche.
If you choose to pursue any of these digital product ideas, we also encourage you to consider Uscreen to help monetize your content from online courses to membership sites.
As a video-on-demand platform, we offer many tools to help you make money with your video content, online community, and live streams.