When a crisis strikes, people get creative.
You've probably seen it:
Business owners have taken to using Zoom as a new way to broadcast live streams. And, it makes sense why.
It's cheap. It's easy. And it feels like a logical first step to take your business online.
But, is it the right step?
No.
Zoom's offer may be enticing, but it's far from what you need to share and monetize your videos online. And, what you save on fees, may cost you more in privacy and long-term growth!
That's why we want to show you a Zoom alternative that's perfect for you. One that's purpose-built and currently helps 1000+ businesses sell videos online.
Let's take a closer look…
Zoom vs. Uscreen: 2 Tools With Very Different Functions
If you're trying to make money hosting live sessions, you're entering the video monetization industry. That's the business of selling videos online.
Because of that, you'll need a better understanding of the tools you're working with, and what they're designed to do.
Here's the key difference between Zoom and Uscreen:
Zoom's function is to bring people together through video chat.
Uscreen's function is to help you monetize your videos online.
Let's take a closer look at each of these, and what they mean for your business.
It's simple with Uscreen.
Build, launch and manage your membership, all in one place.
Zoom: A Video Conferencing Tool
Zoom's focus is video conferencing.
The platform grew from the CEO's desire for a better platform for online face-to-face interactions, and all of the tools they create have been in line with that vision. It's perfect for:
Internal communication at remote companies.

Hosting medium-sized webinars.

Creating online conference rooms.
Zoom reached peak popularity for personal calls amid COVID-19, but this put a strain on the business, and it's highly likely they'll revert back to a business-only focus soon.
This means prices will inevitably go up!
Their goal, then, is not to help you build a profitable online video streaming business. Which, is why live streaming your content is not listed as one of their features on their homepage:

That brings us neatly to a platform that is focused on what you're looking for.
Uscreen: A Video Monetization Platform
Uscreen is a video monetization platform.
We've built a specialized platform to help you broadcast your videos, earn more money, and build an engaged online community.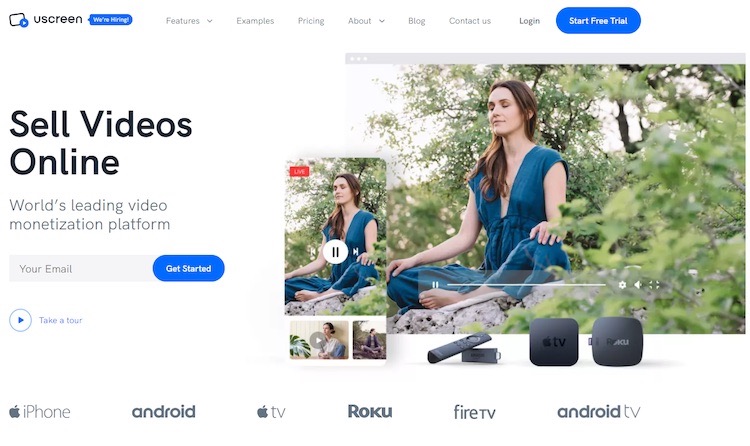 Our platform has helped people in all niches take their business online. We have customers who've built…
online fitness studios

worldwide yoga communities

martial arts dojos

arts and crafts schools

professional education platforms
…and much, much more. (You can take a look at some of the examples right here.)
Now:
Both Zoom and Uscreen technically allow you to stream live video to an audience. But, that's like saying a red bicycle is the same as a red Ferrari. Both are modes of transport, but they're meant for different things!
Uscreen lets you:
Build a long-term professional online asset.

Monetize your videos directly.

Consistently publish high-quality streams.

Reduce your workload.

Work with a suite of tailored live-streaming tools.
In the rest of this article, we'll show how Uscreen allows you to build a digital version of your brick and mortar business!
Looking for a more visual,
side-by-side comparison?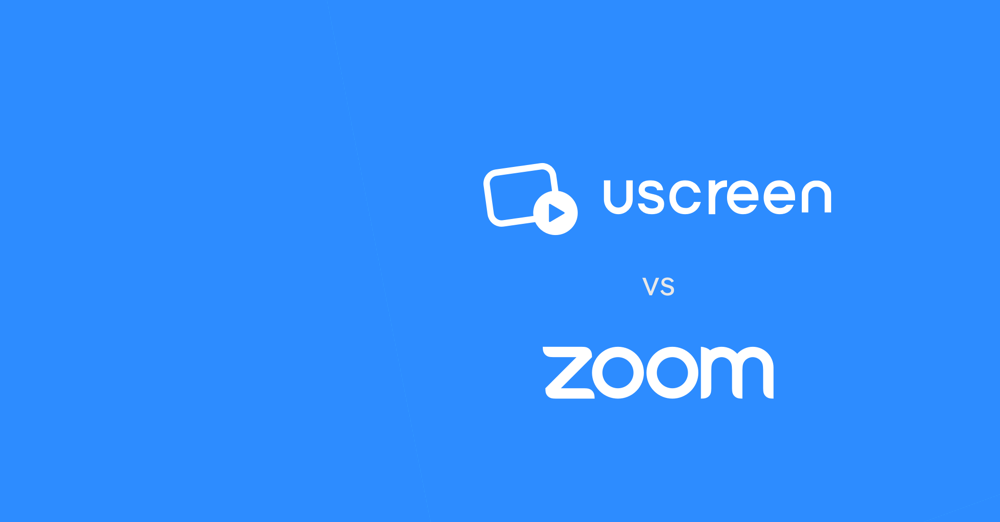 Before We Continue, We Don't Want To Hate On Zoom…
Before we get into the comparison, we want to make one thing clear:
We love Zoom.
It's an integral part of how we run our remote-first business. Their platform helps us keep our 100+ worldwide employees in contact, and share vital information.
Here's our entire company on a call earlier this year: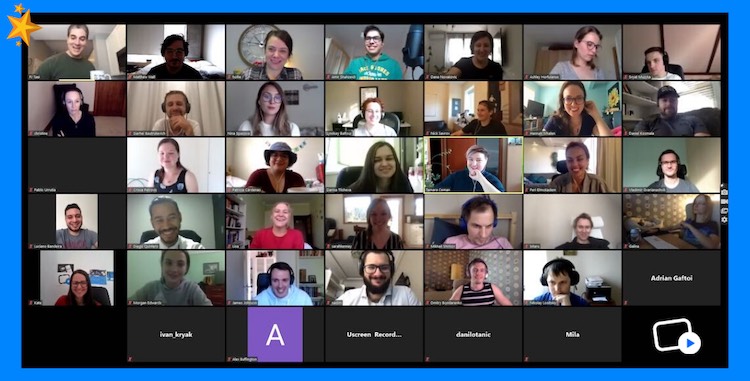 But, as video experts, we also know that it's not the right option for anybody looking to bring their business online.
That's why we want to show you that Uscreen is a much more appropriate zoom alternative for your live streaming and video monetization needs.
6 Reasons Uscreen Is A Better Zoom Alternative To Take Your Business Online
Zoom has become a go-to tool for 2 reasons:
Price: it's currently the cheapest option
Familiarity: it's easy to replicate in-person interactions online
But this is a band-aid solution, one that's only going to hold for a couple of weeks. If you want to take your business online, you need to put your survival and sustainability first.
Though it might be comfortable to have a two-way chat feature with your customers, you simply can't scale this model. And, it's not something customers are looking for in the online world!
COVID-19 has audiences in a completely new and unfamiliar social dynamic right now. Many people are turning up to Zoom-hosted streams because, well…they don't have much choice.
But once the "new normal" settles, or lockdown rules get loosened, things are going to change again. And, it's highly likely Zoom won't accommodate your entire audience's needs.
For instance, Kate, a loyal customer of yours, might still be showing up to your Zoom classes as an attempt to cling to a sense of normality during this pandemic.
But as her new normal settles in and her schedule starts to change and adjust to current times, she will stop attending your Zoom classes and opt for on-demand options that work for her.
That's why you need to focus on the future of your business and the real needs of an online audience. Which is exactly what we'll talk about here.
Here are 6 reasons Uscreen is the Zoom alternative you need to take your business online…
It's simple with Uscreen.
Build, launch and manage your membership, all in one place.
1: Uscreen Let's You Build A Business Long-Term
Uscreen enables you to build a long-term asset. It's an evergreen way to earn money from both your online and offline audiences. With Uscreen, you can:
Build your own customized website.

Create a seamless experience for your customers.

Grow your own video catalog (complete with tags, filters, etc.).

Earn a monthly recurring income.

Build an accessible online community space.

Promote your site using in-built marketing tools.
These features let you turn your live streams into a real online business. It's something you can use forever to earn a safe, reliable, even passive income.
In fact:
The average income for a business using Uscreen is $12000+ a month. And, it goes well into the 6 figures for well established businesses and studios. Why?
Because it's a professional solution that focuses on long-term, sustainable growth, and providing customers with the experience they need.
Zoom, on the other hand, is a "one-and-you're-done" solution.
They provide you with a link, chatbox, and a video stream of (almost) passable quality. You'll need to duct-tape the rest of your business and marketing together.
Online customers will only pay money to a makeshift business for so long. After a while, they'll start looking for someone better-equipped who provides more value!
2: Uscreen Puts Your Privacy And Security First
Uscreen cares about your security.
We ensure all of your streams are private, secure, and safe for your customers. Your data is yours to keep, and we keep a 24/7 watch of our systems all 365 days of the year!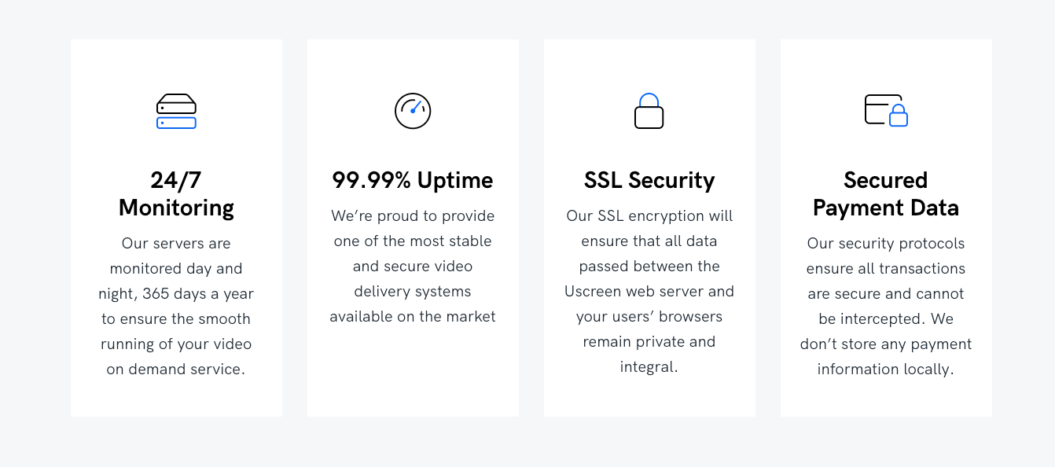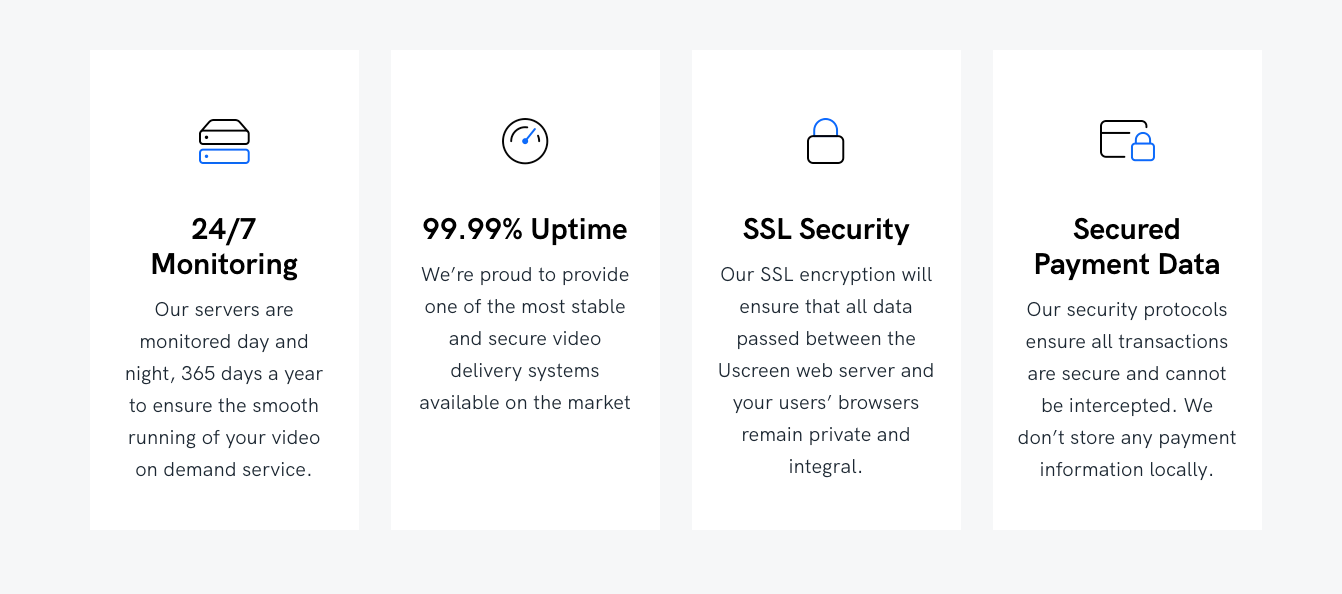 As you might have heard, Zoom has been having major issues with security.
They made headlines for data-sharing, poor encryption, and malicious use of webcam imagery. This has even resulted in the state of California filing a class-action lawsuit against them.


This is a big risk to take with a platform that isn't even tailor-made to your exact needs. So, don't take risks with your customers' data and your content. Choose a platform that's safe for everyone!
3: Uscreen Guarantees Higher Quality Live Streams
Uscreen allows you to broadcast your videos at a higher quality than Zoom. We do everything in our power to ensure your stream maintains up to 1080p quality throughout.
Zoom has good enough quality for a video chat. As long as everyone's internet connection is stable, you can clearly see who people are, what they're doing, and their facial expressions.
However…
It's not good enough if you're trying to do anything more complex or intricate. If you're trying to show a yoga flow or a tricky sewing pattern, things are going to get lost at lower qualities.
And, we're all too familiar with the "Your Connection Is Unstable" pop-up and the delay that follows it…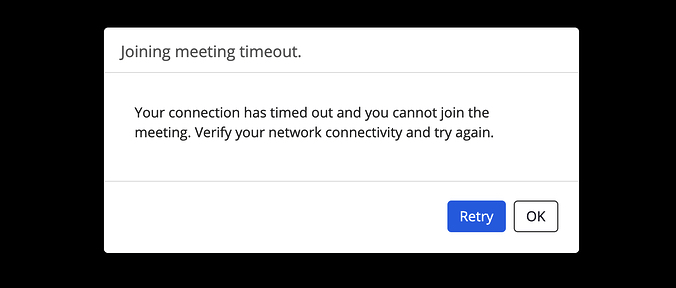 Research suggests having better video quality keeps more people on your streams and ensures they watch for longer. So, you can't cut corners on this!
4: Uscreen Lets You Monetize All Your Videos
Uscreen lets you choose whether you want to put all of your videos behind a paywall, or share them for free.
If you do want to generate revenue, you can either sell access to singular videos, like High Vibe TV does:

Or you can build an entire, Netflix-style subscription video catalog that you charge a monthly fee for access to, like TINT Yoga: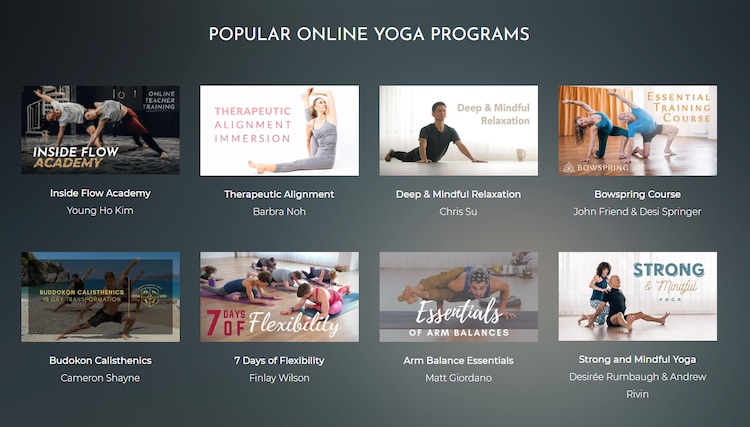 Uscreen automatically turns your live streams into replayable on-demand videos. These can be rebroadcast to your customers at any time, or watched at their own leisure:

This means each video has the potential to earn more money and provide continuous value to your audience. Once you've completed a stream, there's no need for you to re-do it again, and again!
Zoom's system is much more in-the-moment.
You can charge for a single live stream, but once it's over, that video's shelf life has already expired. If you do use their "record" feature, the quality will be even lower.
You'll also need to find somewhere to re-host the video and share it. Or, you'll just have to recreate the same content each time you stream.
That's a lot of wasted time and effort. And, with the lack of security, there's no stopping someone else from getting their hands on your stream and monetizing it elsewhere!
5: Uscreen Offers Live Stream-Specific Tools
Uscreen's platform comes with a purpose-built suite of live streaming tools.
You can:
Broadcast to any device

Have your audience participate in live chats

Easily turn live streams into on-demand videos

Create unique payment options for different streams
One of our customers' favorite features is the ability to pre-register people for streams, and display stunning countdowns on your landing pages, like here: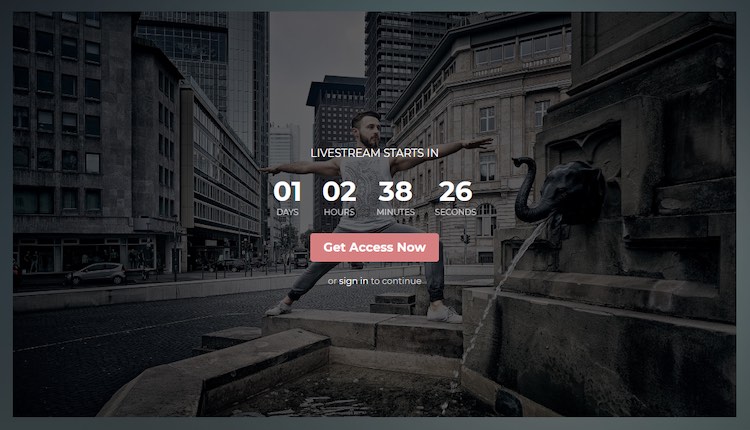 This looks a lot more professional and provides more value than the Zoom alternative, which is sending an email like this: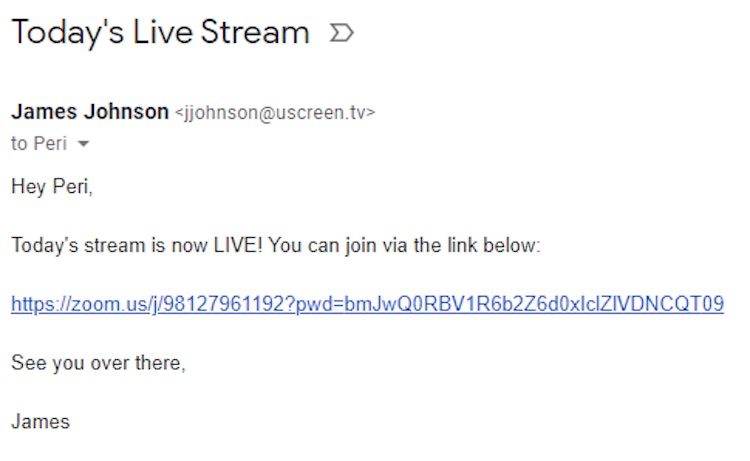 You'll also find that Uscreen offers an entire set of marketing and analytics tools. These help you to get your streams in front of more people, and understand the content they want to watch.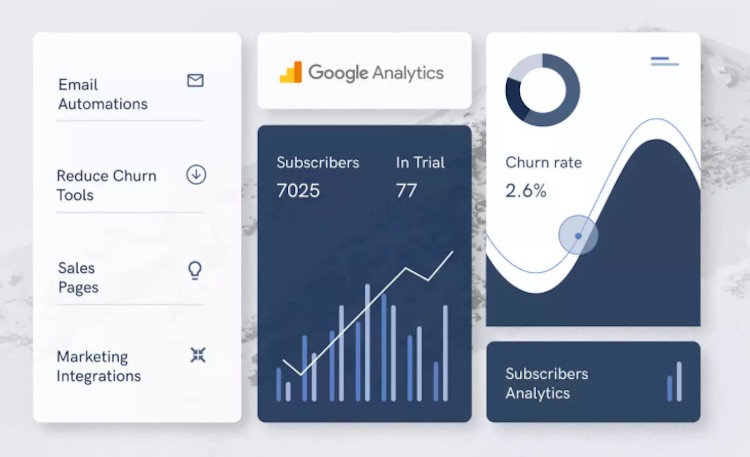 You can:
Grow an email list and create abandoned cart campaigns.

Recapture lost income with our reduce turn tools.

Take payments on customized sales pages.

Use Zapier to integrate with 1000+ marketing tools.
This gives you everything you need to take your business online and grow a reliable income around your live streams.
Zoom, well…
Zoom doesn't offer any of this. *shrugs*
It's simple with Uscreen.
Build, launch and manage your membership, all in one place.
6: Uscreen Offers You A Future With Apps
You might not be thinking about creating your own app right now. But, it should definitely be on your radar. Apps are the future of how we'll all watch video content!
We've already seen some of our customers, like Sarah Beth, use apps to 10x their audience and revenue. Just take a look for yourself:
Uscreen ensures you're only ever a few clicks away from turning your business into an app-driven platform whenever you're ready; one that lets your audience stream on their Smart TV, tablet, or phone!
It's Decision Time…
We hope by now you can see why Uscreen is a much more appropriate Zoom alternative for your current video monetization needs.
If you want to take your business online, you'll need tools that are purpose-built to help you do that, and ensure your business is both profitable and sustainable.
Zoom may be a quick and cheap solution. But, it's a band-aid strategy that will fall apart in just a few weeks. Your business deserves better than that.
Uscreen offers a platform that will let you:
Build a long-term online asset.

Monetize your videos directly.

Consistently publish high-quality streams.

Reduce your workload.

Work with a suite of tailored live-streaming tools.
You can learn more about how Uscreen can help you, right here:
How To Create and Launch a Live Streaming Website in 2020