We're just going to say what everyone's been thinking: YouTube just may not be where you want to monetize your videos anymore.
This may sound like a bold statement, but there's a lot about YouTube's monetization algorithm that makes it a hard place to earn a stable, scalable income.
When you think about the hard work you put into creating video content, there has to be video monetization alternatives you can count on. And you're right, there are!
Here are the top YouTube Monetization alternative platforms for 2023:
Before we get into them, let's take a closer look at why YouTube may not be the best solution for video monetization and why considering alternatives could be better for your brand and bank balance in the long term.
Disclaimer: The information below, including pricing, is accurate as of today 05/28/2021.
It's simple with Uscreen.
Build, launch and manage your membership, all in one place.
Why YouTube May Not Be The Best Video Monetization Platform
You think video, you think YouTube, right?
It's the biggest video platform on the internet, with more than 1 billion hours of content watched by audiences every single day.
There's money to be made on the site, but is it as much as you think?
Undoubtedly, there are people who have found fame and fortune on YouTube, like Marques Brownlee and Lilly Singh for example, but it may not be the monetization model that works for your business.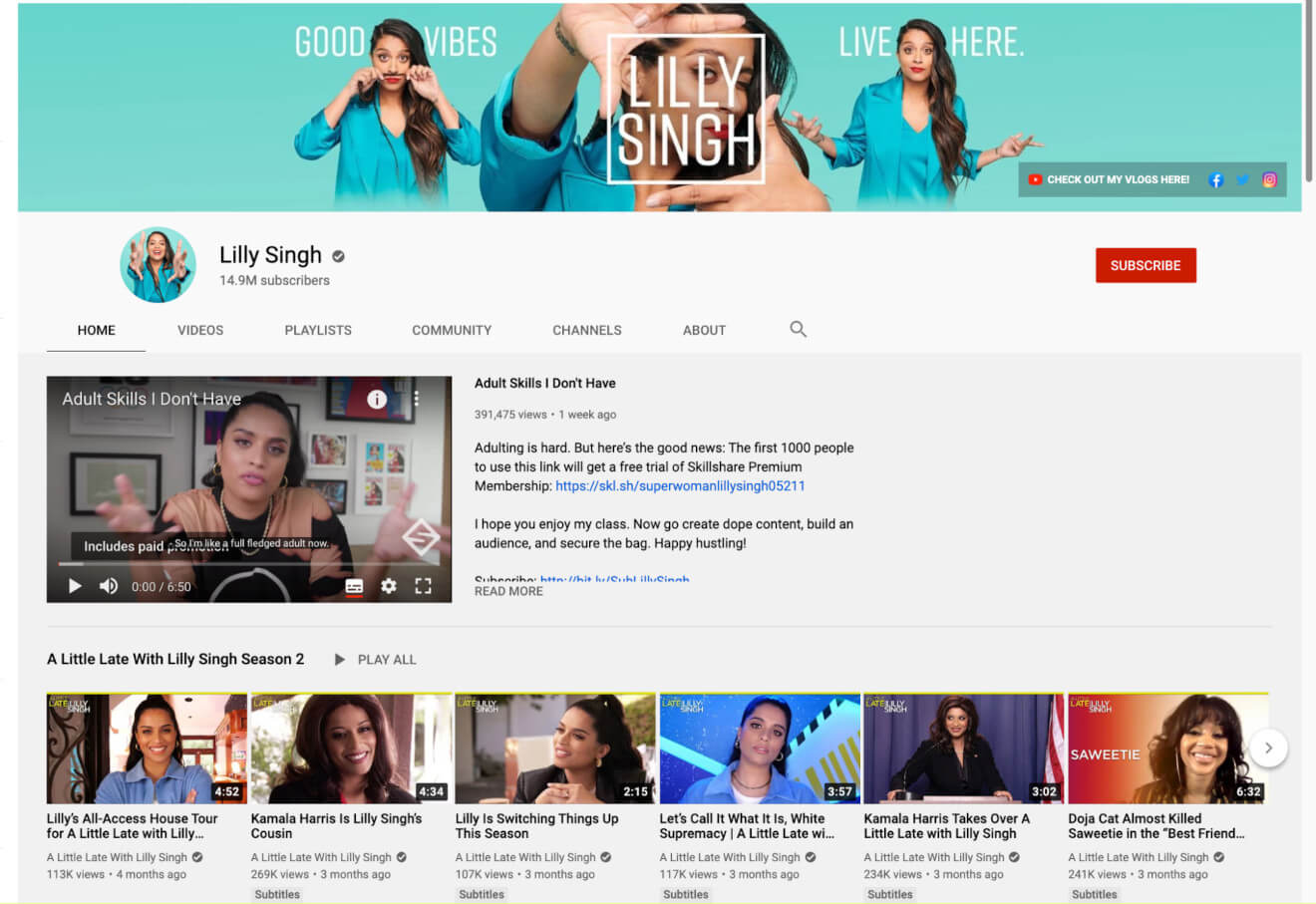 As much as we love YouTube – and we do, we have loads of content over there – here's why you should consider looking elsewhere to be making big money.
Reason #1: Things change fast
YouTube policies, particularly those around eligibility for monetization, can change frequently.
Change itself isn't bad, but these can come with little or no warning from the platform, which can get frustrating when you're so close to being eligible to make money on YouTube.
Reason #2: Your competitors are there
Competition isn't a bad thing, but being pitted directly against your business rivals is tough.
YouTube will put your content right next to your competitors, like in the screenshot below, and even put them in the Up Next to send your potential customers straight to there.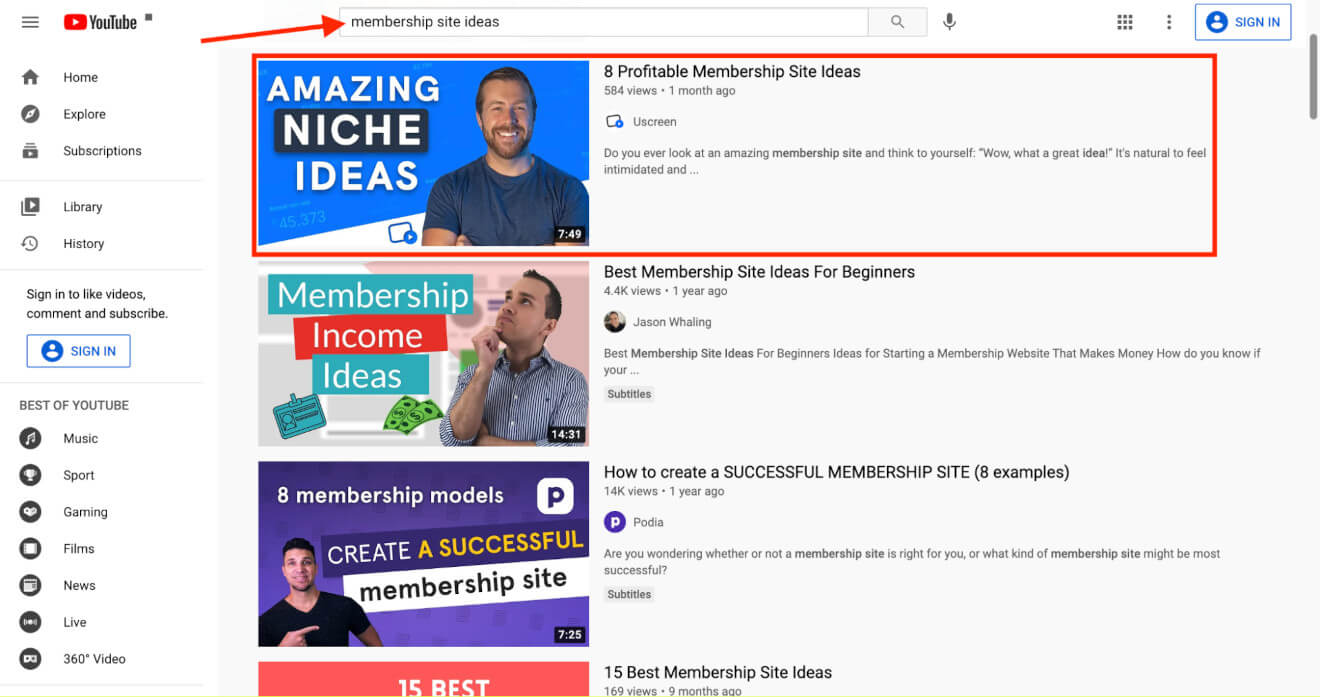 It's not the end of the world, but it does make things a little more challenging.
Reason #3: You'll never fully understand the algorithm
Ever feel like Hackerman, trying different techniques when you upload videos to get to the coveted top spot on YouTube?
YouTube never gives away too much about what will help you rank higher for searches.
Your YouTube search engine optimization (SEO) is likely based on…
years of experience
industry best practices
intuition
sorcery
… which can all change with a little bit of code.
It can get tiring always relying on rules you don't have full access to when you want to make money.
Reason #4: Knowing your audience
YouTube owns all the data on your subscribers and guards it like Alcatraz.
Yes, you get a range of analytics on your videos, but you can't reach out to them directly – only make videos that you hope they watch and interact with.
To build a community, you need to:
Have a two-way conversation with your audience.
Connect with them how they want.
Know what your audience wants to see from you.
Tell them how they can support the work that you do.
Yet, YouTube keeps contact information all for itself.
Put simply, you'll never know your YouTube audience enough to get an email into their inbox.
They can also take away your audience as fast as Thanos ended half the universe, which is what we're looking at next.
Reason #5: Diversification is key
Any business guru you subscribe to will tell you to diversify your income streams.
Relying solely on YouTube as your revenue stream isn't the best business decision, since things can change very quickly.
There's always the possibility that your YouTube account could get demonetized because of pesky algorithm changes or potentially falling fouls of rules – check out our demonetization survival guide for more details.
Laws can change, advertisers could call a boycott like they did with Facebook in 2020, and your account could fall foul of those changing rules and you lose your account.
Take StartUpBros, for example; their channel got taken down for going against YouTube standards, when they believed it didn't. They lost a channel with 30,000 subscribers, before appealing the decision and getting the ban overturned.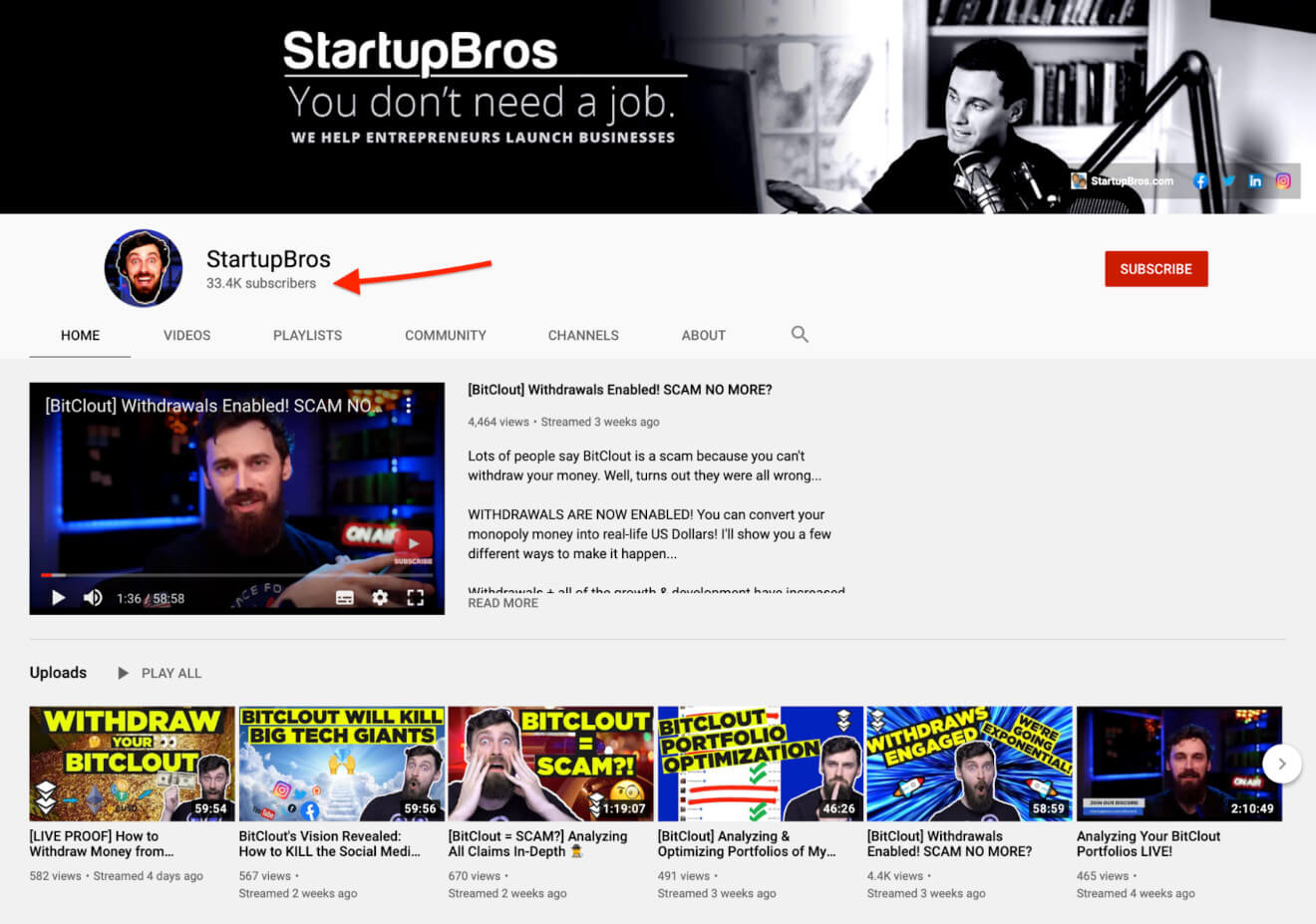 YouTube might not be the be-all-end-all platform it once felt like for video content creators, so what are the other options?
Let's look at some of the best YouTube alternatives you can use to monetize your video content.
1. Uscreen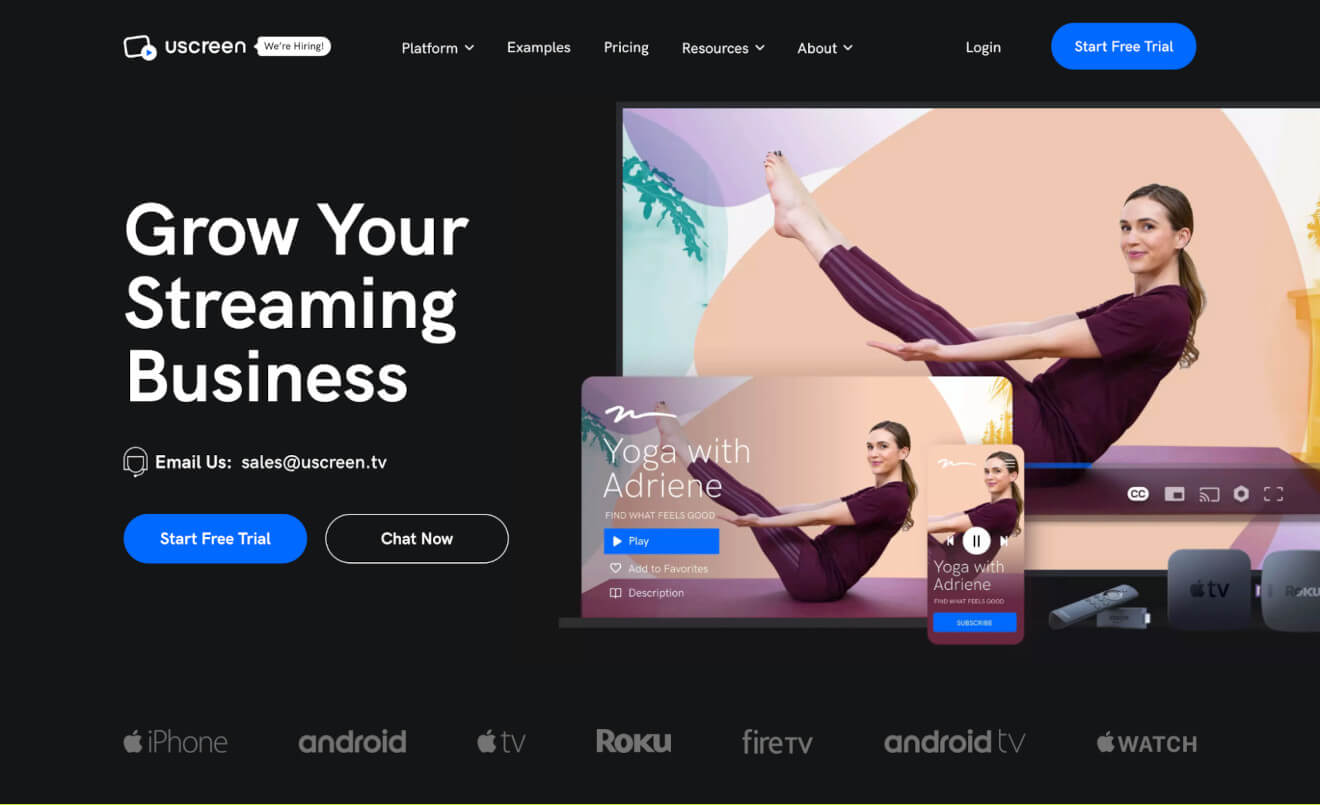 For video creators with an entrepreneurial spirit, we recommend Uscreen.
Yes, it's our own platform; we've designed it to be the best place to monetize and sell your video content online.
From teachers to filmmakers, fitness instructors to documentary directors – we help you build an understanding of your audience and realize the value in the content you produce.
With the tools we offer such as building your own website and landing pages, plus the option to launch branded mobile and TV apps, you can scale your video business, retain your users, and build a loyal community of supporters and subscribers, all in one place.
We do this in a few different ways, so let's look at how monetizing your high-quality videos works.
Uscreen Monetization Features
You deserve to get paid for the great video content that you pump out, and here's how we at Uscreen help you do that:
Monetize video-on-demand (VOD), and live streaming.
Launch branded video OTT apps on mobile and TV devices.
Create personalized apps for iOS and Android on mobile, and Apple TV, Roku, Fire TV, and Android TV.
Customize your website to host your video and other content and create landing pages to direct your customers through your sales funnel.
Get a range of payment models and control of your pricing, with multi-tiered subscriptions, rentals, pay-per-view, bundled content, free trials, and lifetime memberships.
Offer your users coupons and promotions, with cross- and upselling options, too.
Access a range of payment integrations like PayPal, Authorize.net, and Stripe, or you can use the Uscreen payment gateway.
Reach a truly global audience with payments accepted in 130 international currencies.
Accept in-app purchases so your users don't miss a beat when watching your content.
Get access to lots of data about your videos, such as the number and length of plays, is available so you can easily calculate revenue share with your partners.
Also get full access to your user data, with information like a customer's email address, their lifetime value, and your subscriber churn rate.
Enjoy support for your affiliate marketing program so you can increase the different revenue streams you generate on one platform.
Check-out pages are fully optimized for a smooth user experience and a strong conversion rate.
Build consumer confidence with SSL security on payment pages.
Easy payouts of your revenue when you need it, through your bank or into your Stripe or PayPal accounts.
What's the price for all of these goodies?
Uscreen Pricing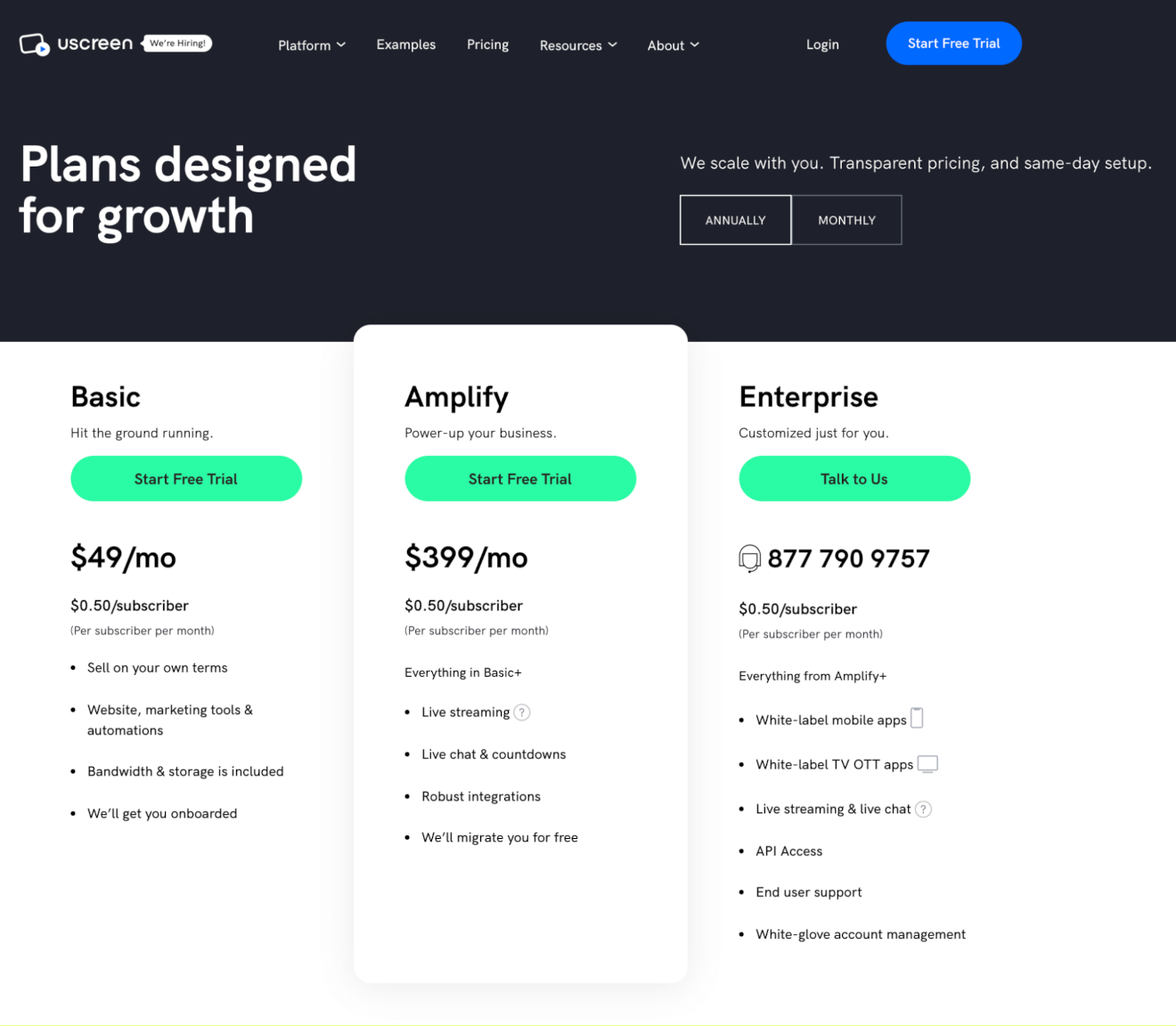 We've got two fixed pricing plans at Uscreen – Basic and Amplify.
With both, you get…
subscriptions, one-off payments, rentals, and lifetime memberships
a website builder with analytics and automations
a full onboarding
… plus live streaming and chatting with countdowns and integrations galore in the second tier.
For access to white-label websites and apps, our API, and support for your customers, get in touch with us to discuss our Enterprise package.
Enough about us, what about the other platforms for vloggers and video makers?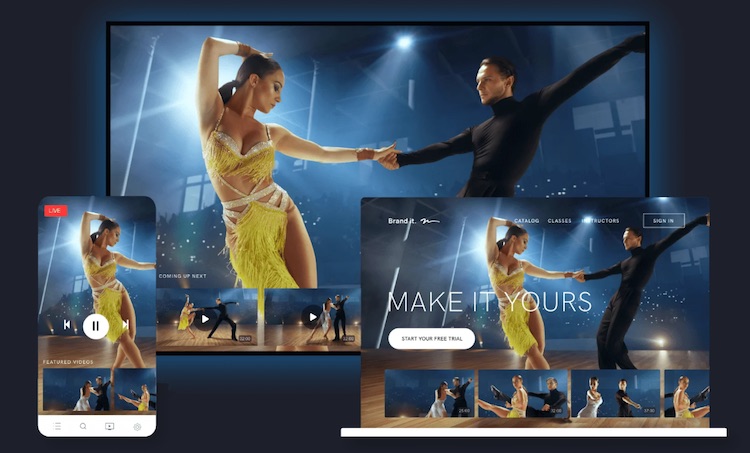 Start Your 14-Day Free Trial
2. Facebook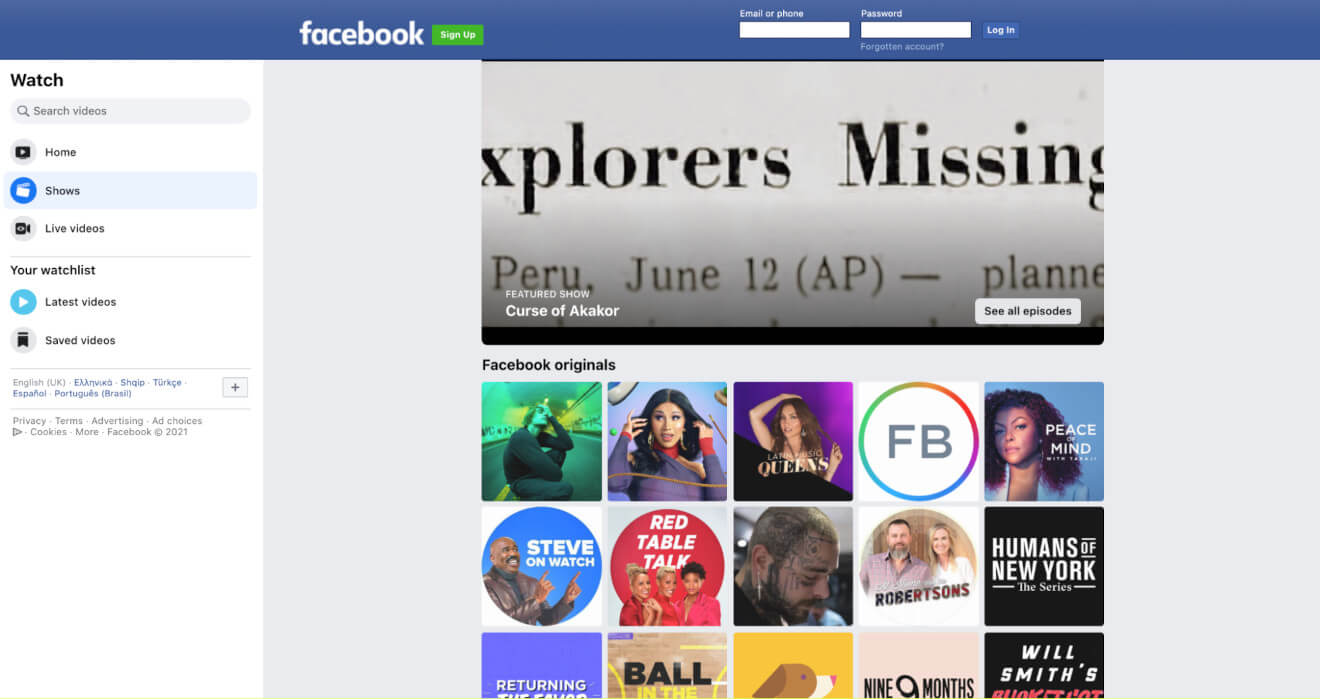 It's hard to remember a time before Facebook, isn't it?
The biggest social media platform of them all has built its business model on ad revenue rather than charging users.
That income started to get shared with video creators back in 2015, and currently, you need to…
live in an eligible country
get at least 600,000 minutes of organic watch time in the last 60 days
have at least 60,000 of these viewing minutes be watched live
have at least five active videos
meet community and creator standards and other terms
… to get a cut of the ads that play on your videos.
Facebook targets creators like gamers, writers, and video hosts, and between 2019 and 2020 the number of creators that earned at least $1,000 increased by 94%.
How exactly does this monetization work?
Facebook Monetization Features
When you hit the eligibility criteria to get your share of ad revenue on Facebook, you can:
Choose whether you want to place ads in all or just some of your video content.
Have different types of adverts on your videos, such as images or pre-, mid-, or post-roll ads, with the option to suggest where they get placed, if you want.
Go back to your old content and put adverts in it once you've qualified, and you still can suggest where to place them.
Control the categories and pages that can advertise on your content so your competitors can't be placed on your video.
Get paid out on the 21st of the month after you earned the revenue through a bank transfer in US$.
View analysis and insights to understand your most profitable and viewed videos.
Let's look at how Facebook calculates the creator payouts.
Facebook Watch Pricing
Facebook doesn't disclose exactly how they calculate a creator's share of their ad revenue.
The money a creator earns is based on how many times a video is watched for a minute or more, but the value of each view isn't made public.
That's how the most-established social media platform does it, let's move on to the young contender.
3. TikTok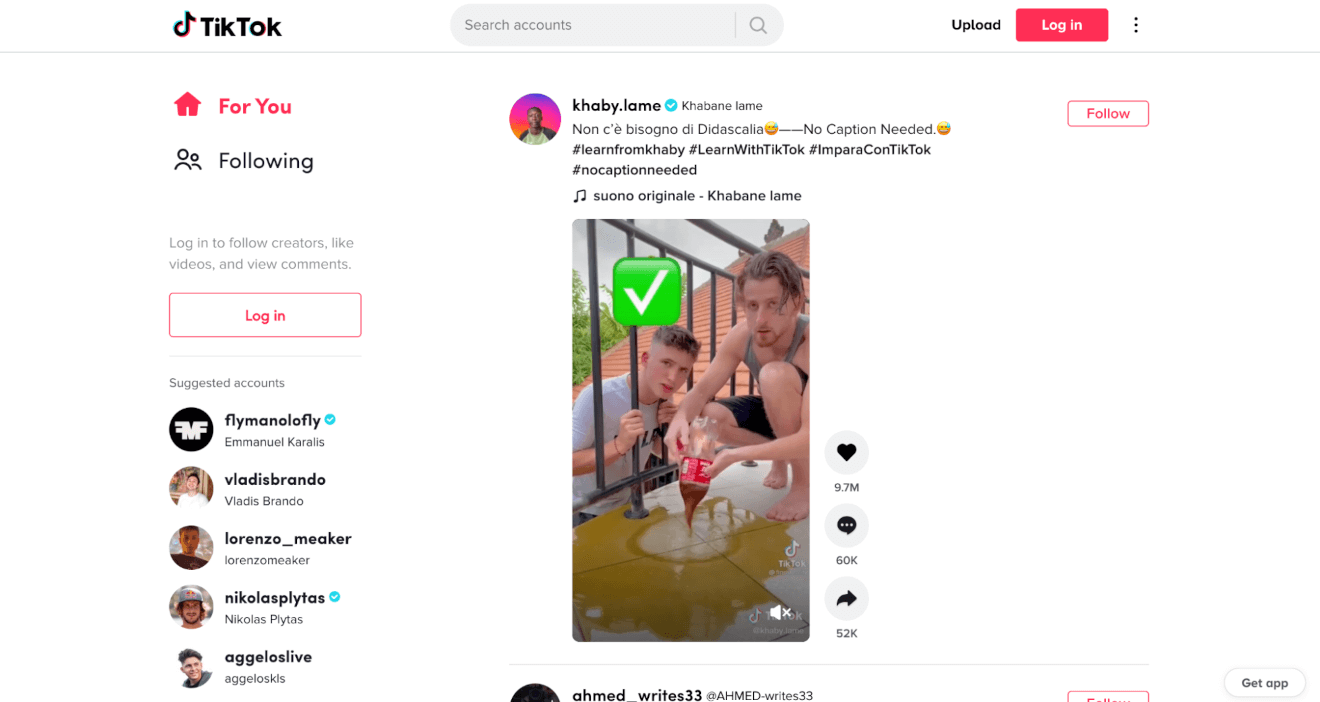 Since January 2018, TikTok has grown its active user base by a staggering 1,270%, to 689 million as of July 2020.
Successful creators on the 60-second video platform are dancers, make-up artists, crafters, and influencers.
To support these creators who are driving so much traffic to the app, TikTok launched their Creator Fund in July 2020.
Anyone in eligible countries with 100k authentic views in the last 30 days and 10k followers can get a cut of ad revenue, which is said to stand at around 2-4c per video view.
Let's look at how this monetization program works in detail.
TikTok Monetization Features
TikTik's monetization program looks like this:
You get paid out based on the number of video views and engagement with your videos.
Payouts are through either PayPal or Zelle, once you have over $10 ready to pay.
You'll get paid a minimum of one month after your videos were viewed.
The platform helps to pair creators with brands looking for influencers so you can get an extra revenue stream.
Fans can send financial support during live streams through gifts that can be exchanged for cash payouts.
Time to see how the revenue is calculated.
TikTok Pricing
TikTok says there are a number of factors that go into calculating creator payouts and isn't directly linked to advertising revenue.
However, creators have calculated that their earnings equate to the 2-4c/video view that we noted a little earlier.
Time to take a peek at the next video monetization platform that YouTubers can consider moving to.
4. Twitch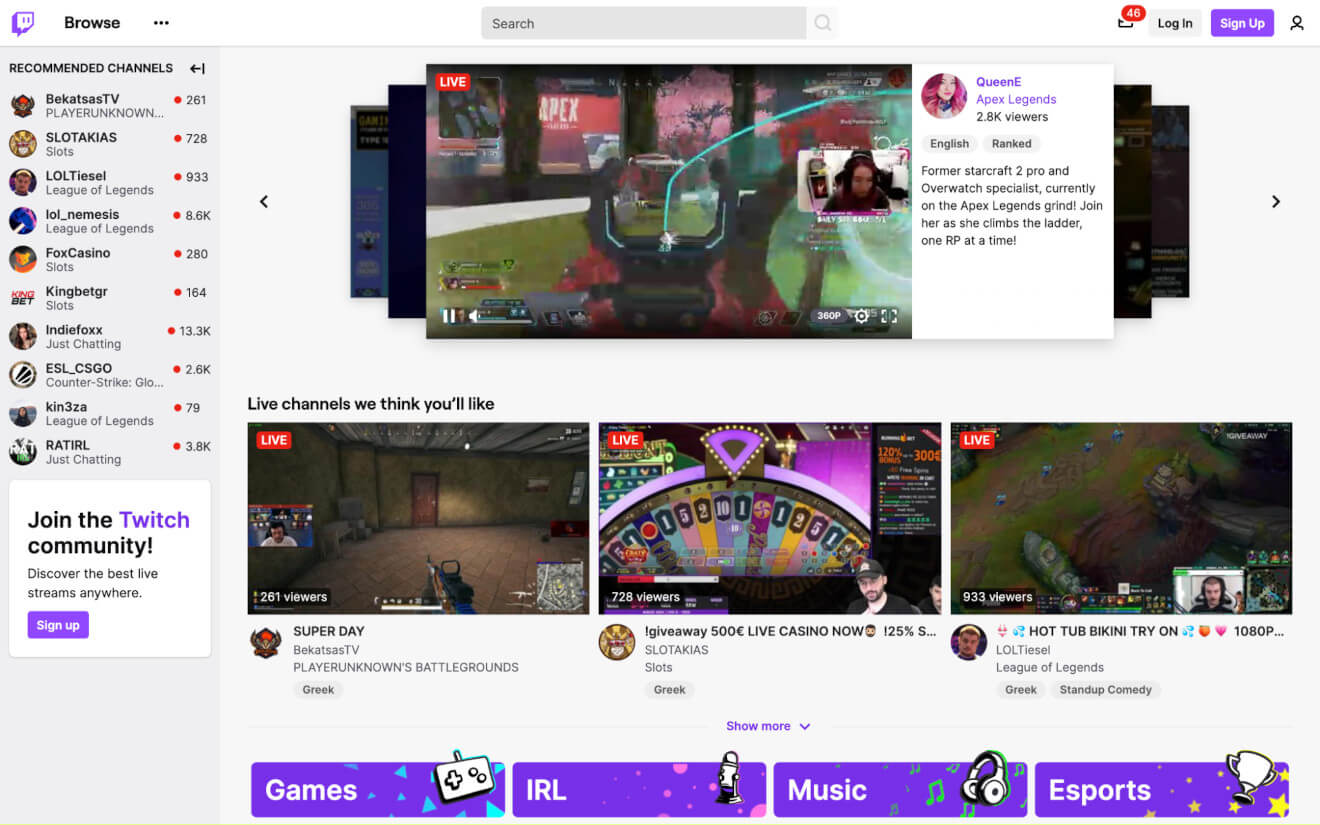 Known primarily as a platform for gamers to stream progress on their video games, Twitch has morphed into a platform for all kinds of content.
Now, you'll find music performances, talk shows, cooking, and sporting events streamed, with creators able to make bank in a few different ways.
They don't promise anyone a story of rags-to-riches, rather Twitch says that their monetization policies let you "get a little bit back for doing something you love".
That "little bit" averages around $3-5,000 per month for 40 hours of streaming per week, before ad revenue – so how exactly is that money earned?
Twitch Monetization Features
Twitch has two programs, the Affiliate and Partner program, and whilst there are extra perks to being a Partner, they don't affect any of the features that we're looking at here.
For loads more information about how monetization works on Twitch, check out our video…
You can also read about the details here:
Your fans can subscribe to your Twitch account, with three set tiers available at $4.99, $9.99, or $24.99 per month, with recurring and one-off options.
Subscribers can get perks such as free access to your VOD content and to watch your streams ad-free.
You can earn bits when fans offer a "Cheers" in a chat, which are valued at 1c each.
An 80% share of a bit when it's used in one of your extensions.
A cut of the advertising revenue that your channel generates.
You can control when and how often an ad break will appear in your feed, with your revenue based on how many viewers watch your ads.
Twitch supports external sponsorship of its streamers, so you can get more cash.
Payouts are around the 15th of the following month after you earned, with a minimum balance of $100 before the money is sent.
You can receive money through ACH, PayPal, a check, or a local bank or wire transfer which both will likely have fees to receive them.
Now we'll look at how Twitch shares this revenue with its creators.
Twitch Pricing
Twitch don't publish the percentage they charge their creators for the subscriptions and other revenue they create, although it is said to be 50% for affiliates and negotiable for partners.
The revenue share with advertisers is also not disclosed.
Now for a platform that allows you to collect money for your video content.
5. Patreon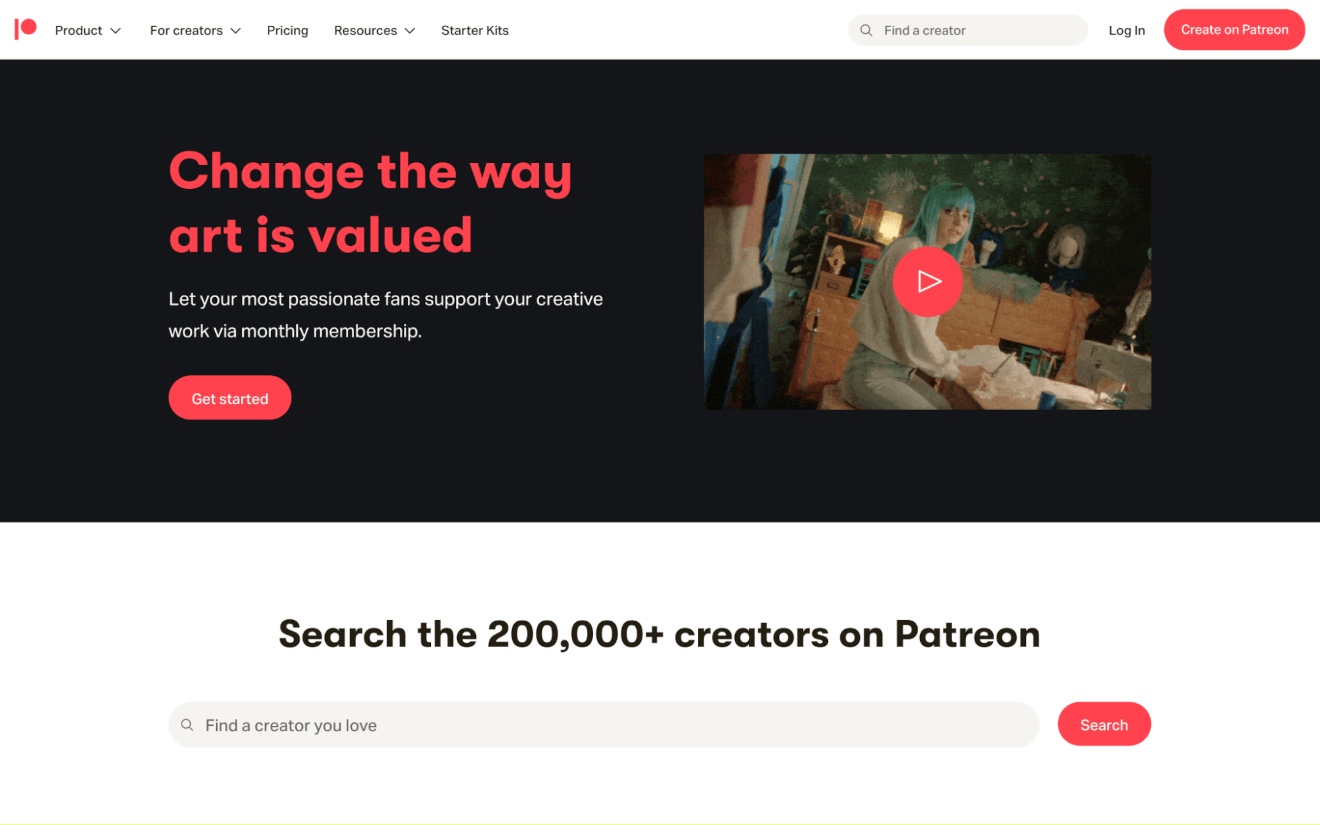 As a place for artists and creators, Patreon allows you to build a monthly income from your fans or community for your own videos, art, or other creative pursuits.
The platform offers the option to build a monthly income from a range of people, giving them exclusive perks as a thank you for their support.
The type of people who use Patreon include:
Video creators.
Podcasters.
Bloggers.
Artists.
Gamers.
Although they still need to host their content elsewhere; you can only embed your videos into your feed rather than upload them directly on the site.
Patreon Monetization Features
How do you actually earn money on Patreon? Here's what they've got:
Your patrons can pay either a monthly fee, pay per creation you make with a limit, pay an up-front membership fee, or purchase an annual subscription to your content.
When you pay higher fees, you also have the option to offer your fans promotions and deeper analytics of your audience.
All your payments are handled by the site and they'll automatically follow up on missed payments for you.
Patrons can use a range of payment options on the site – Visa, Mastercard, Discover, Amex, and PayPal – so it's accessible to most people.
You receive payout by either direct deposit, PayPal, or Payoneer, and can choose automatic payments or cash out when you want.
How much do creators have to pay for all of this?
Patreon Pricing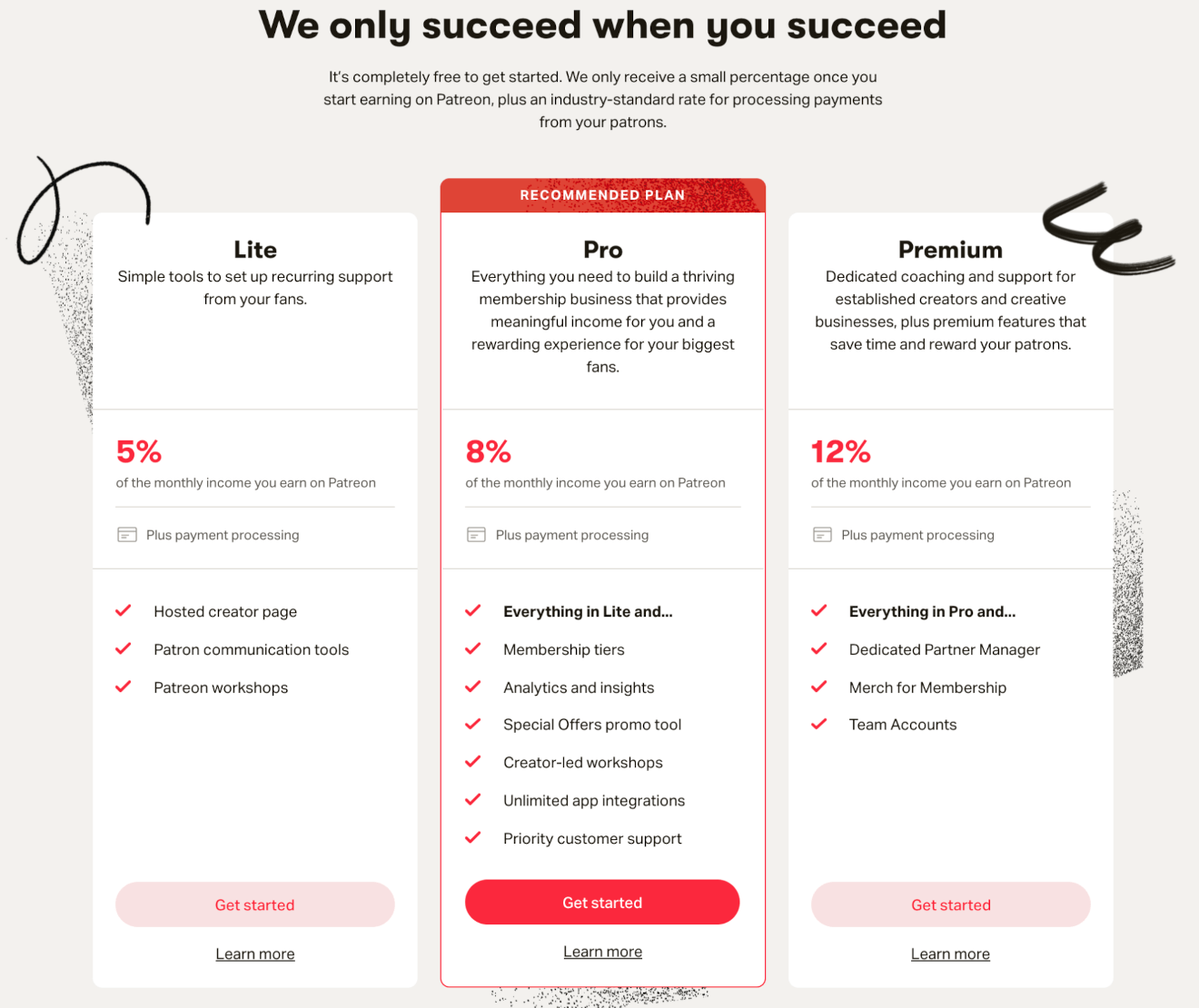 When you pay Patreon 5% of your earnings, with the Lite plan, you can have a creator page, use the platform's communication tools, and have access to workshops hosted by the site.
Bump their cut to 8% on the Pro plan, and you'll be able to add membership tiers and offer promotions, get access to analytics, and integrate your external tools with your account.
The Premium plan costs you 12% and you get everything already covered, plus the option to sell merchandise, access to an account manager, and team accounts.
That's everything from Patreon, what's up next?
6. Ko-fi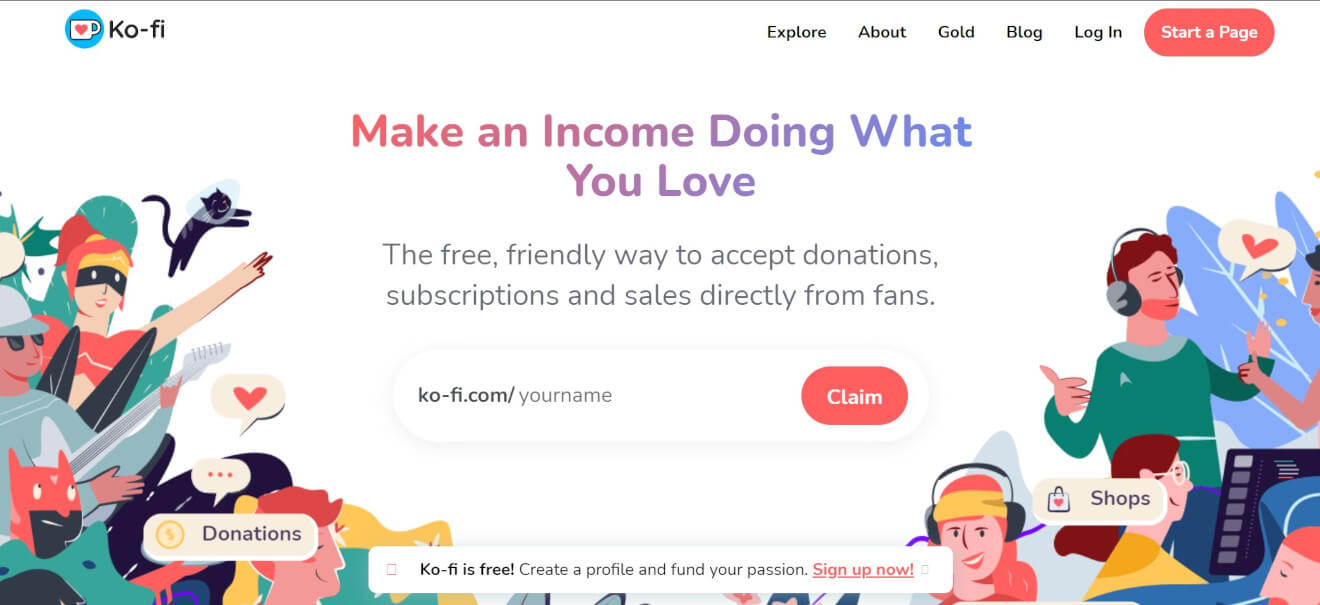 You don't literally get a cup of coffee from your fans when you use Ko-fi, you get cash to support your creative endeavors.
Think of it like a social media stream where your fans pay to access your feed and get other benefits like exclusive content you create for them.
Want to know more? Here are the features you need to know about.
Ko-fi Monetization Features
When you use Ko-fi, you can:
Collect one-off donations, set a target to crowdsource an item, or have fans pay a monthly subscription.
Host a gallery, share posts, and directly message your fans similar to a social feed.
Give rewards for donations and accept commissions for work.
Add a plug-in to your WordPress site to drive donations.
Sell your products and merchandise from your Ko-fi page.
Paywall some or all of your content.
Connect your page to Google Analytics to track your user activity.
Cash-out at any time through Stripe or PayPal
Want to know the pricing?
Ko-fi Pricing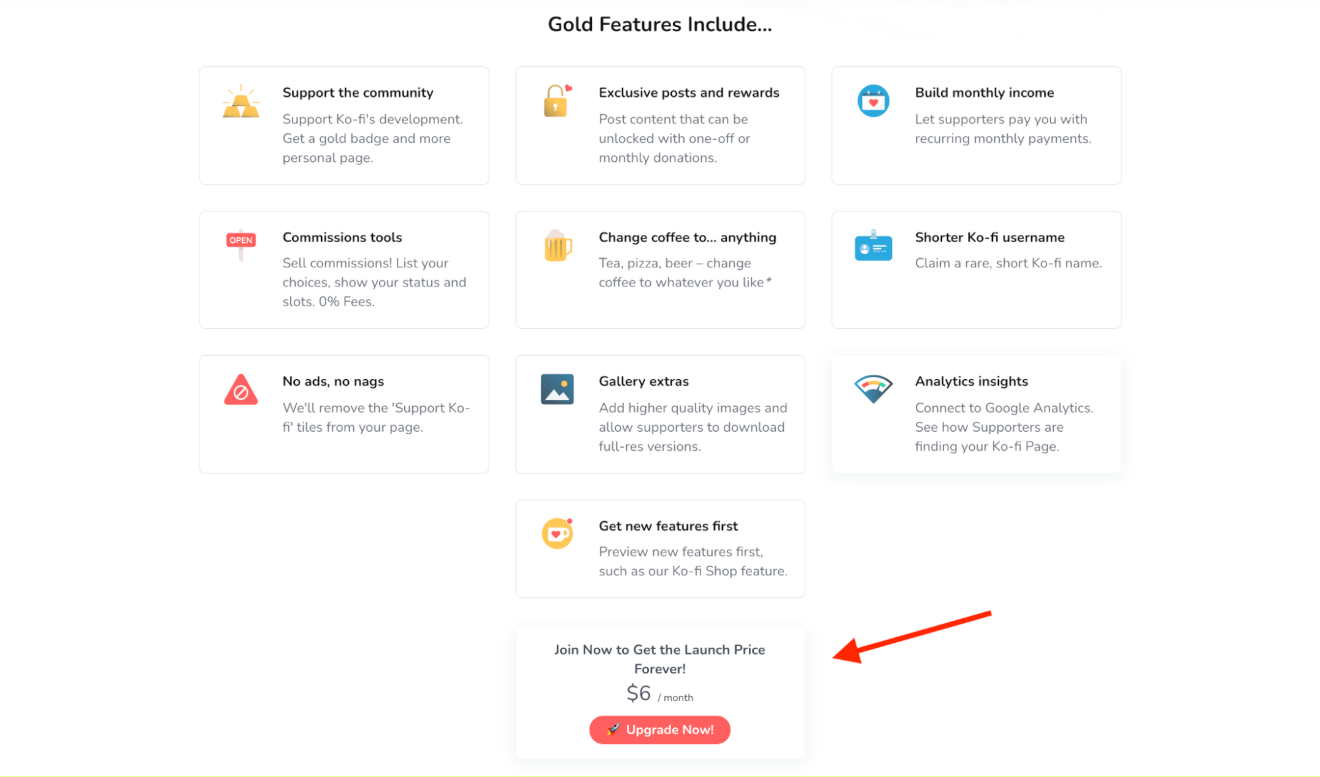 Ko-fi doesn't take a percentage of your income, rather you can choose to donate to their very own donations page if you appreciate the service they offer.
You can opt for the Gold package which offers some extended features, such as changing coffee to beer or pizza, for example, access to commissioning tools, create monthly subscriptions, and other extras that you can see in the screenshot above.
Let's keep this rolling to the next one.
7. Brightcove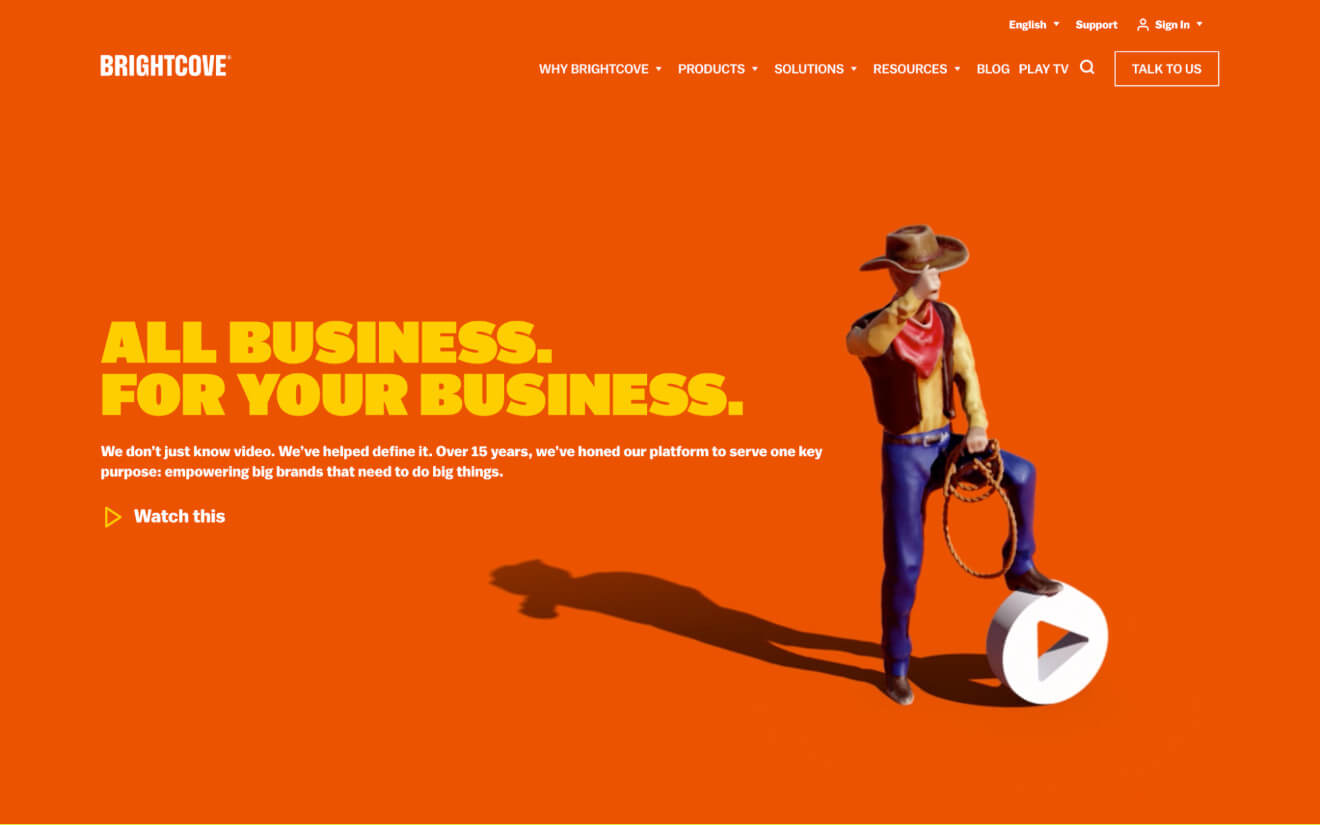 Brightcove has been in business for a long time and works with big brands, broadcasters, and marketers.
The platform works with a lot of high-volume enterprise brands, content creators, and streamers and facilitates live stream events – all of which can have adverts inserted over them to monetize your content.
Time to check out exactly how Brightcove supports monetization.
Brightcove Monetization Features
Rather than charging your users to access your videos or sharing ad revenues with you, the platform works to let you bring in your own revenue streams, like this:
You use an advertising integration to add adverts to your content, such as Google Ad Manager and FreeWheel.
You have access to your audience data to drive ads and increase your revenue, plus video-level analytics.
The platform supports VAST, VMAP, and VPAID platforms, allowing you to include adverts pre-, mid-, and post-roll, as well as having overlaid and companion ads.
Define your own cue points for where your adverts get served, so your content still flows well.
With Brightcove Beacon, you can create a video OTT app that lets you earn money from a number of monetization models, including SVOD, AVOD, and freemium.
What's the pricing like?
Brightcove Pricing
To add monetization features to your Brightcove account, you need to contact the company directly.
There's currently no publicly available information about the pricing of these features.
Time for the penultimate platform we're going to explore to monetize your high-quality content.
8. Kaltura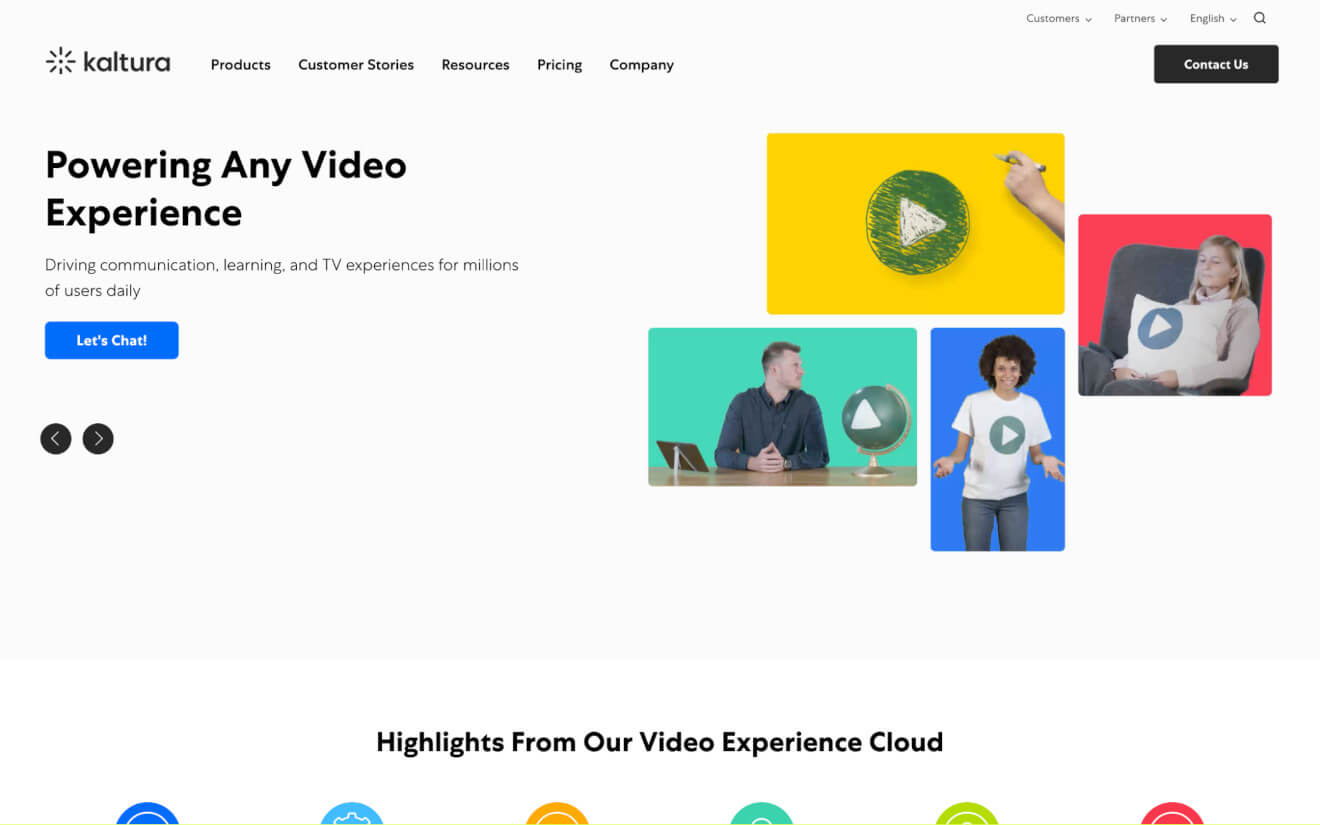 As a video hosting platform, Kaltura works with media companies, content aggregators, and operators to host content.
It has a range of features that can be used internally by HR teams and externally by marketing teams, as well as educators.
Within these use cases, there is the chance to make money from the video content you upload to the platform.
How does that monetization work exactly?
Let's find out.
Kaltura Monetization Features
To monetize your content on Kaltura, you need to work with their MediaSpace tool, which lets you:
Monetize content through either pay-per-view, ad revenue, downloaded content, electronic sell-through, or subscription revenue models, combining any mix of these.
Choose which videos in your catalog get monetized, so you can keep your internal comms ad-free for example.
Target and segment your audience using data and analytics so you can engage your viewers and boost earnings.
Integrate with DoubleClick and FreeWheel plugins and all VAST compliant ad servers, such as Google Adsense.
Let's look at the price for this feature set.
Kaltura Pricing
Kaltura only has annual membership plans available, and the costs aren't made public on their website.
And the last one on our list of online video monetization platforms is…
9. JW Player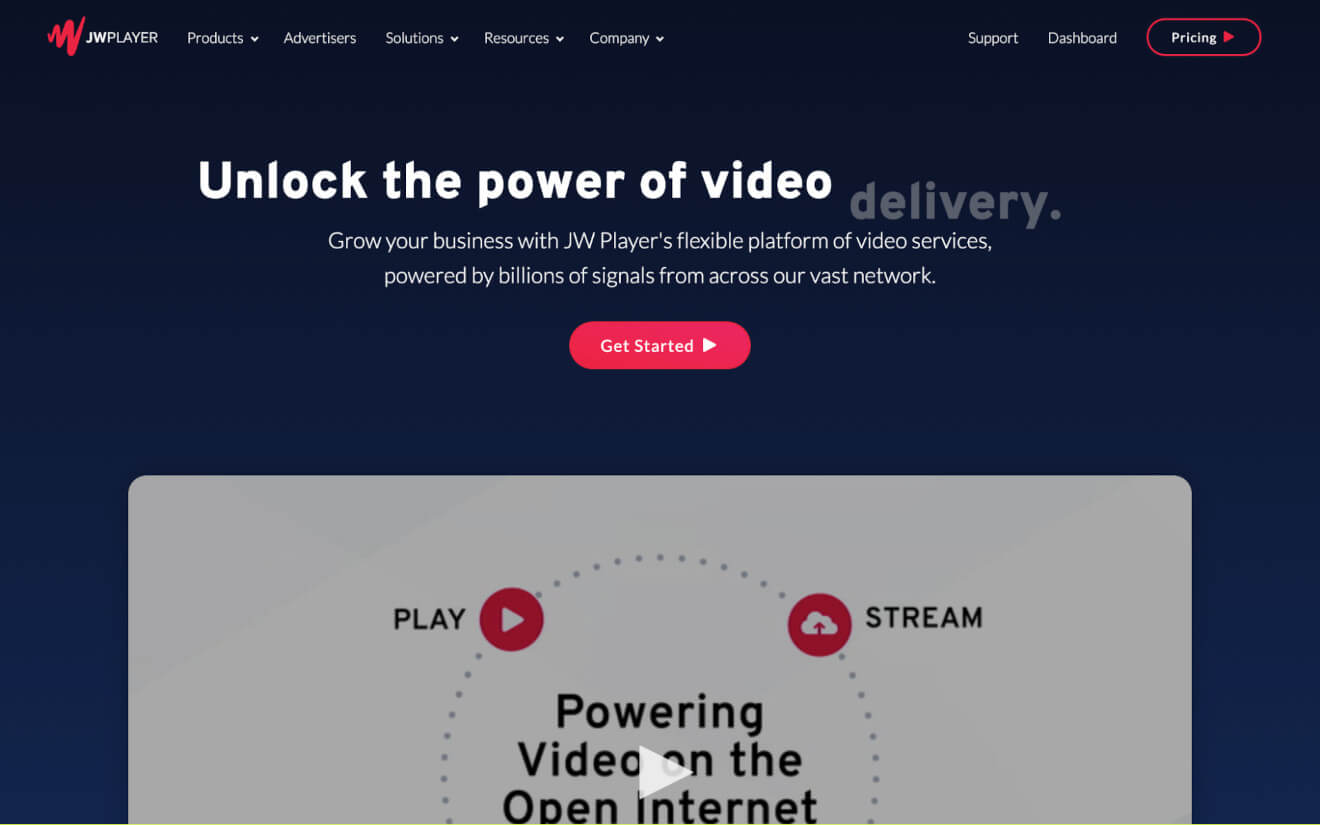 JW Player is targeted at big businesses such as news channels and video hosting companies.
The platform hosts content for big players in the TV industry and offers OTT, VOD, and live streaming solutions for traffic-heavy content.
For the last time, let's look at how you can monetize your videos with this tool.
JW Player Monetization Features
Here's how you can earn income from your content on JW Player:
Monetization on the platform is through creating advertising revenue.
Increase your viewing time with article matching and recommendations that will improve your engagement and your revenue.
Integrate your video player with your advertising and marketing tools such as SpotX, Google DFP, FreeWheel, AdX, and IMA.
Place ads on iOS and Android apps, browsers, and connected TV content.
Easily set up ad header bidding so you can run ads from different publishers and increase your monetization options.
Technology to support your outstream advertising is also available.
Moving on to the pricing structure.
JW Player Pricing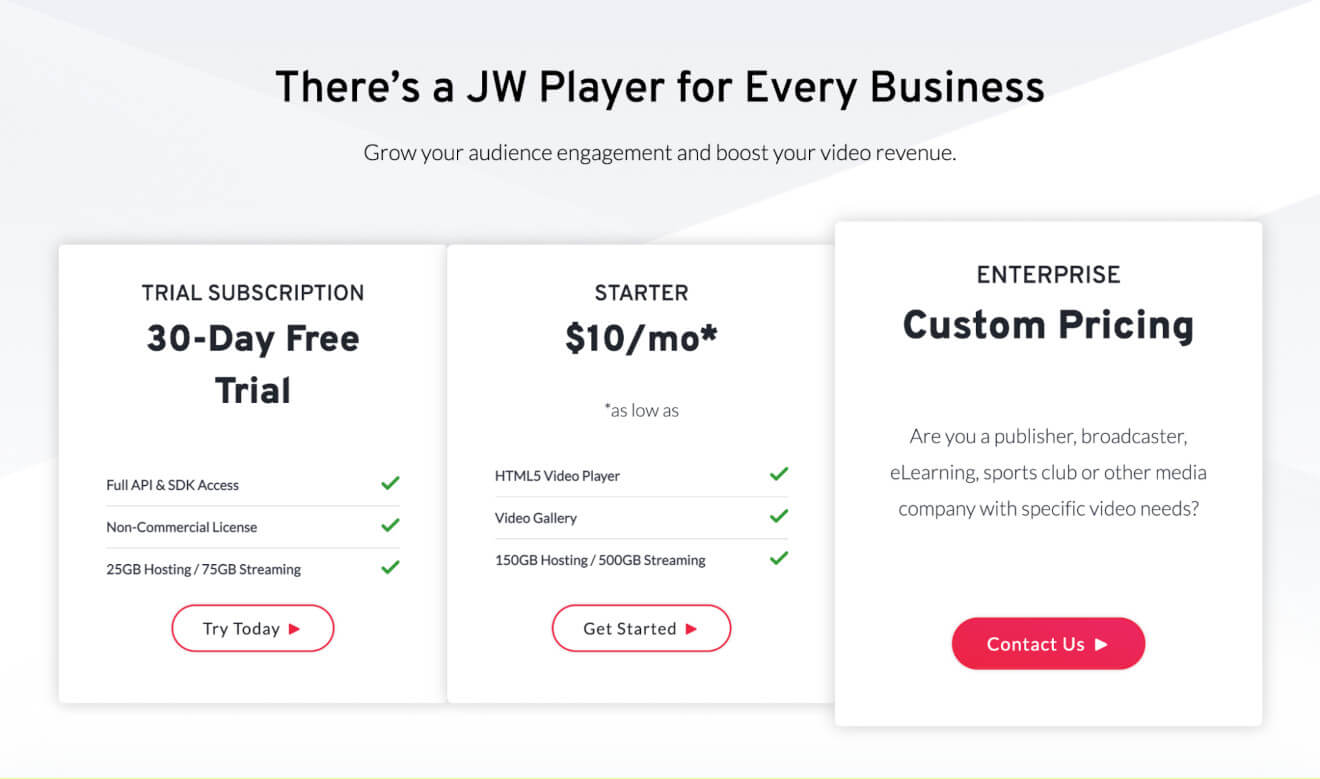 To start, you get a 30-day free trial of JW Player and from there can subscribe for as little as $10 per month – charged annually – and get their HTML5 video player, a content gallery 50,000 plays, and 150GB of hosting, and/or 500GB of streaming.
For more features in an enterprise package, you'll need to get in touch with their sales team.
That's your lot for our look at the platforms, now let's see how you go about choosing the right one for your needs.
It's simple with Uscreen.
Build, launch and manage your membership, all in one place.
How to Choose the Best YouTube Monetization Alternative Platform
You know that YouTube isn't the cash cow it once was, and now you've read all about 9 alternative platforms for video monetization.
How do you actually go about picking the one that's right for you?
Every business is different, for sure, but there are key elements to consider, no matter if you're a home maker or the next big hit on TikTok.
Let's check out the steps you need to take when figuring out your future.
Step #1: Assess your business and monetization model
It's important to understand the role that video is going to play in your business.
If video is your product, for example, online yoga classes or music video production, you need to choose a platform with multiple revenue streams and payment options.
Understand how much you need to earn and look at each platform you think might be suitable – you should be able to calculate how many video minutes or community members it will take to hit your target with each one.
Finally, look at how often you will need to access your money to keep your business solvent; you may need to cash out weekly or more often to pay freelancers or affiliates.
Step #2: Know your audience
Once you know what you want, you need to look at the viewership who'll be consuming the content you pump out.
A tight-knit community who really appreciates the value you add to their lives may be more likely to pay a monthly fee than a broad base who likes to laugh at your vlogging and who doesn't mind adverts.
You as the business owner are best placed to know the people you create for.
Choosing a monetization model with payment options that work for them will keep them onboard as you evolve your business model.
Step #3: Deep-dive into your options
After getting a good overview of your monetization options here, you'll probably have an idea of which one – or two or even three – appeal to you.
From here, you really need to deep dive into everything that you can and can't do on the platform.
Start with a list of the things you need, which might be…
integrations with your current payment provider
access to Google Analytics
being able to use your marketing tools stack
monthly subscriptions
live streaming and VOD
… or whatever you're particularly looking for.
You shouldn't need to compromise on what you need with so many options available.
Step #4: Look to the future
Maybe streaming videos of your music gigs is a side hustle for you at the moment, but will your videos shift into sharper focus as you build a fanbase?
Consider where you see your career and your business moving and how your video monetization needs may change with it.
A platform that only offers a cut of ad revenue probably isn't going to be great at supporting your long-term ambitions to create your own branded membership site or streaming service, for example.
Investigate how your platform choice can scale with you so you future proof your business, no matter the next dystopian nightmare that awaits us.
You've figured out your needs and hopefully now have an action plan that'll get your video monetization plan up and running.
Time to finish things up, then.
Now Over to You
Lots to take in, right?
As much as we appreciate the value that YouTube offers to you – and us – as creators, it's not clad with bars of gold.
To really make it financially, you need to explore different content and video marketing options so you can shore up your revenue streams into the future.
After you've gone through the options we've presented to you, take time to know your business, audience, and platforms so you can make the right choice, first time.
Is Uscreen pushing your buttons?
If it looks like we're on your list of maybes, get in touch for a demo and see all the monetization options we've got for your content.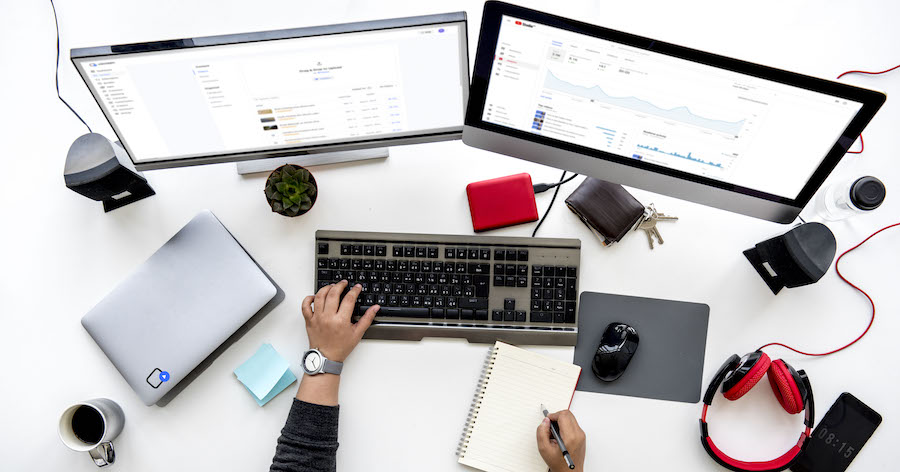 From YouTube to Uscreen – How To Plan For A Smooth Transition

Frequently Asked Questions (FAQs)
Still scratching your head over some of this? We know that feeling.
Here are the answers to questions we get asked a lot to get a little clarity.
Q1. What is video monetization?
Video monetization is how you make money off the video content that you produce. There are lots of different options to earn from your content, such as getting a share of advertising revenue or having your fans pay you directly for the videos you produce.
Q2. How do you make money on YouTube without monetization?
When you don't qualify for YouTube monetization, there are other options to pursue to make money. Some of your choices include:
– Joining an affiliate program for products that appeal to your subscribers.
– Selling branded merchandise such as tees and hats.
– Uploading your content to a VOD membership platform.
– Working as an influencer, charging companies for you to feature or review their product.
Q3. Do you need 1,000 subscribers on YouTube to get paid?
To be eligible for channel membership and ad revenue monetization, you need 1,000 subscribers to your account. You also need to have 4,000 hours of video viewing time in the last 12 months and have a Google AdSense account. 
To activate features like the merch shelf and Super Stickers and Super Chat, you need to have over 10,000 subscribers.
Q4. How do you promote your YouTube channel?
You can promote your YouTube channel in lots of different ways, such as through pages on other social networks like Facebook and Instagram, practice good SEO tactics to drive organic search results, and you can pay for your videos to be promoted on YouTube and through Google.
Q5. What is the best way to monetize YouTube videos?
The best way to do YouTube video monetization will depend on your business model. Some creators find that they make good money through the YouTube partner program, whilst others move into influencer or affiliate marketing. You can even repurpose your YouTube videos and put them behind a paywall on a video membership site.
Q6. What is the best alternative to YouTube?
YouTube has a lot of alternatives on the market, but we still reckon that out of all of them, Uscreen stands head and shoulders above the rest. We offer monetization through a subscription model plus one-off sales of your content, with your own branded website and mobile app, plus free and paid-for live streaming.