You've got engaging YouTube videos and a good amount of traffic. Your channel is finally getting the views you worked so hard for. (No thanks to the algorithm, amiright!)
Now what?
Well, all this time invested should (literally) pay off. You're ready to take your YouTube channel to the next level this new year by monetizing your following.
In this article, I'll break down the 8 things you can do to monetize your YouTube channel in 2023.
Let's jump right in.
Before You Start: Join The YouTube Partner Program
The first thing you have to do is join the YouTube Partner Program (YPP).
That's because you need it to unlock many of the options on this list. It'll also make it easier for you to earn the highest possible on-platform income.
But, to be a part of the YouTube Partner Program there are some criteria you'll need to meet. At the time of writing, these are the requirements:
Follow all of YouTube's monetization policies.
Live in a country or region where YPP is available.
Have 4,000+ public watch hours in the last 12 months.
Have 1,000+ subscribers.
Have a linked Adsense account.
I do recommend taking a look at the official page here to see if there have been any major changes to eligibility. (Murphy's law states that the minute we hit "publish" YouTube will change something.)
If you do meet the criteria, then head over to the next section to find out the first monetization option.
If you don't meet the criteria, then check out our guide on the 22 ways you can get more views on YouTube and spend some time growing your channel.
It's simple with Uscreen.
Build, launch and manage your membership, all in one place.
Now, for your YouTube monetization options…
1. Turn On Google Adsense
Google Adsense is the most common method of YouTube monetization.
Adsense revenue is generated from having adverts displayed on or around your video. So, if a user watches or interacts with an advert on your video, you'll receive a small payment.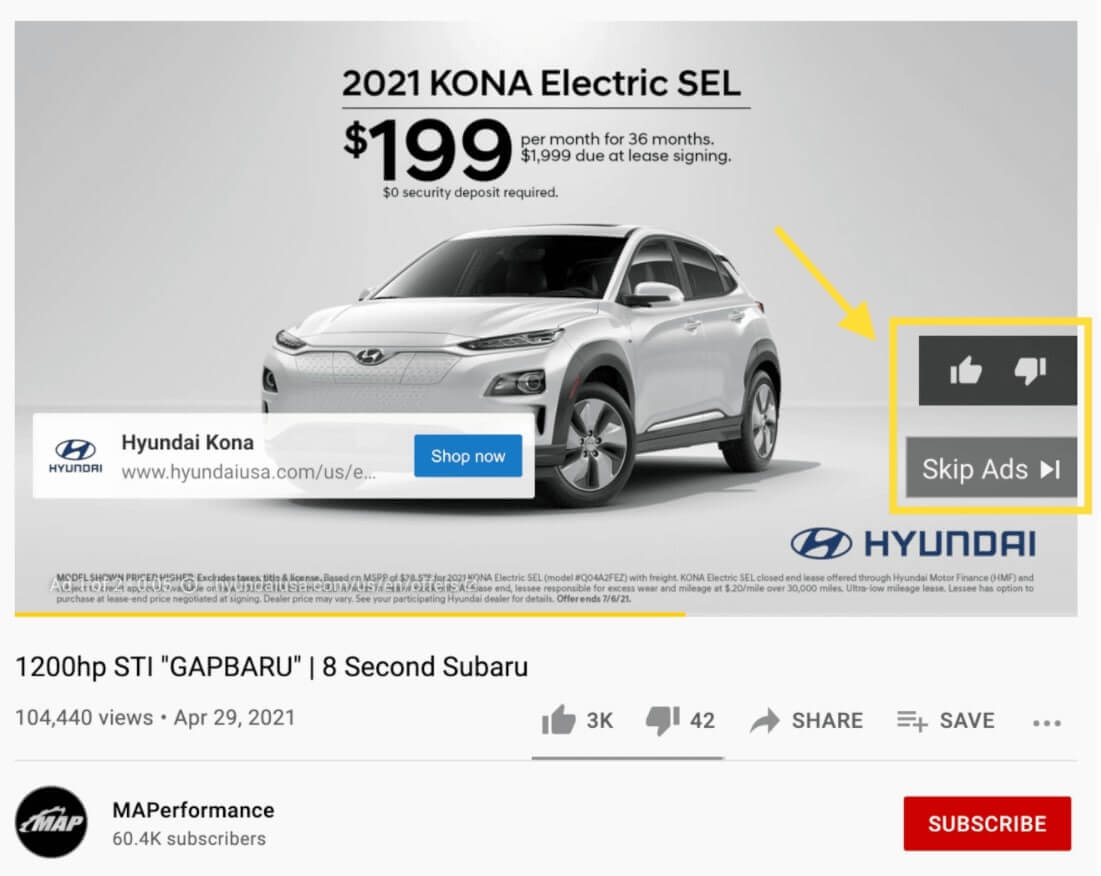 You've probably seen Adsense in action when watching other YouTube channels. For every ad you watch before a YouTube video, the channel owner gets paid a small amount!
These ads will come in 1 of 3 forms:
Display: an advertising image that displays next to your video.
Overlay: a small banner that displays at the base of your video.
Video: as a snippet that appears before, during, or after your video.
To get Adsense you'll have to turn on the option to show ads by setting up an Adsense account and switching on the function in your YouTube studio dashboard.
You can do that by clicking the Monetization tab and following the steps under the Set up Google Adsense option: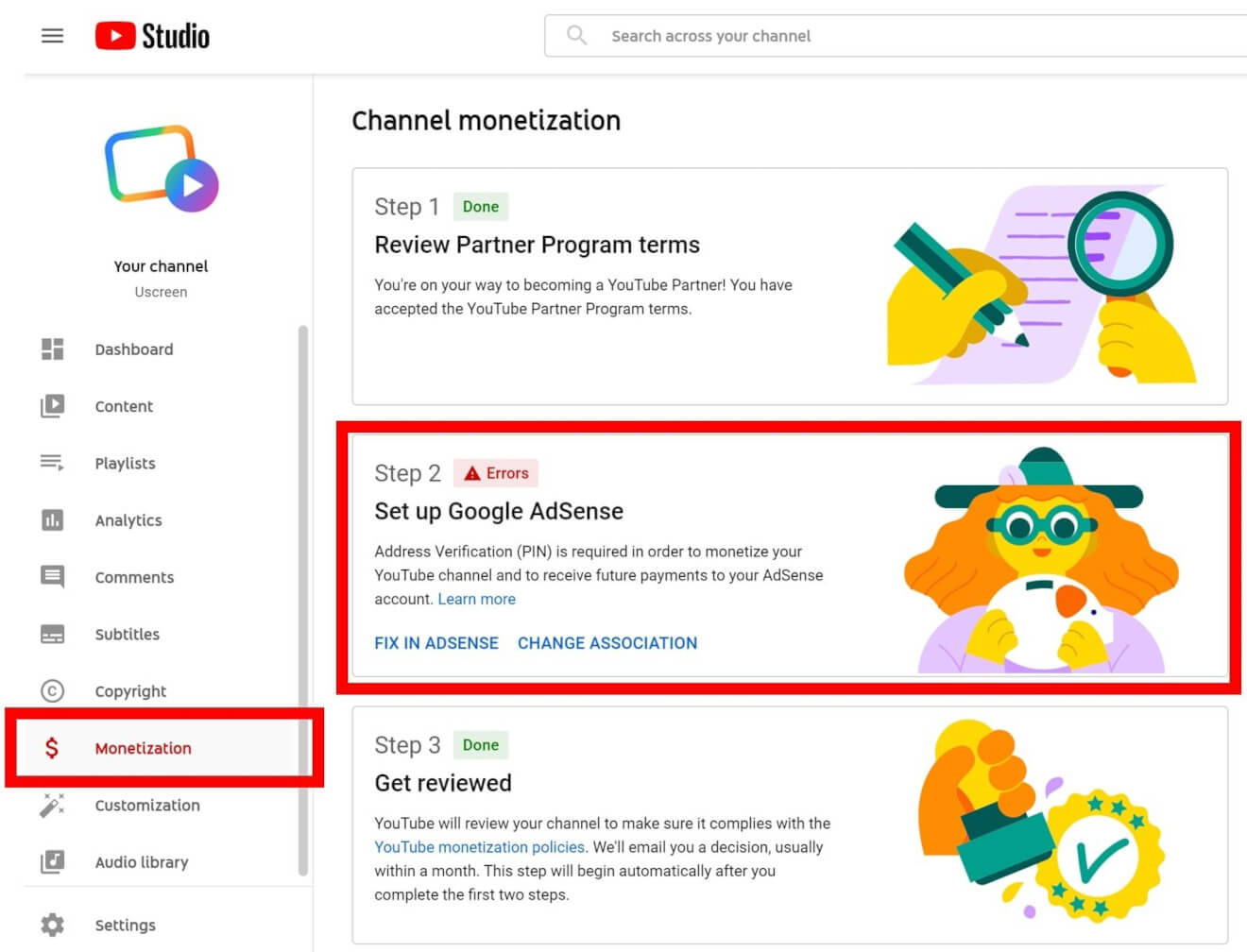 Adsense pays you for the impressions that your adverts get. Basically, how many people see the advert(s) on your channel when they're using YouTube.
So, the more your YouTube video is viewed and the better it performs, the more money you can get from Adsense.
This does mean that bigger channels with higher view counts stand to make more money out the gate. But, as smaller channels grow, so does their Adsense income!
The metric you'll want to keep track of if you use this method is RPM or revenue per impression. This is the one that will influence the amount of money you earn!
The average revenue – after YouTube takes their 45% cut – is $4.18 per 1K impressions. That means with 1 million views, you could make about $4,180 from Adsense, before tax.
But…
There are no guarantees with advertising revenue.
Your videos must comply with advertiser and community guidelines, and YouTube can (and will) demonetize videos that don't meet those ever-changing guidelines.
In our conversation with Derral Eves, on the Formula For YouTube Success, he said:
I always take the approach that the ad revenue that's generated on YouTube is just icing on the cake, you know really reat it as that, instead of your only source of income […] think of other ways to generate money

Derral Eves
This means it's a good idea to pair Adsense income with a few of the other monetization options on this list, to make sure your income is stable if that does happen. 
Let's get into another popular Youtube monetization option…
2. Reel-In Sponsorships
Sponsorships are one of the most lucrative ways to monetize your YouTube videos.
Having a third-party brand come in and sponsor the content in your video is another way YouTubers have been able to generate income with advertising, outside of using Adsense.
Better still, the results have been profitable for both YouTubers and sponsors.
In fact:
Industry reports show that YouTubers can charge anywhere between $10 to $50 per 1000 views. And, even though that costs more than Adsense, businesses are willing to pay the price!
96% of advertisers intend to invest in video ads of some kind, and 60% feel that in-stream adverts – like sponsorships – are the most valuable way to promote their products.
That's because sponsors tend to offer products that are relevant to your audience.
So, if you're someone whose audience is interested in journalism and books, you might want to partner with a brand like Audible, just like Johnny Harris does here: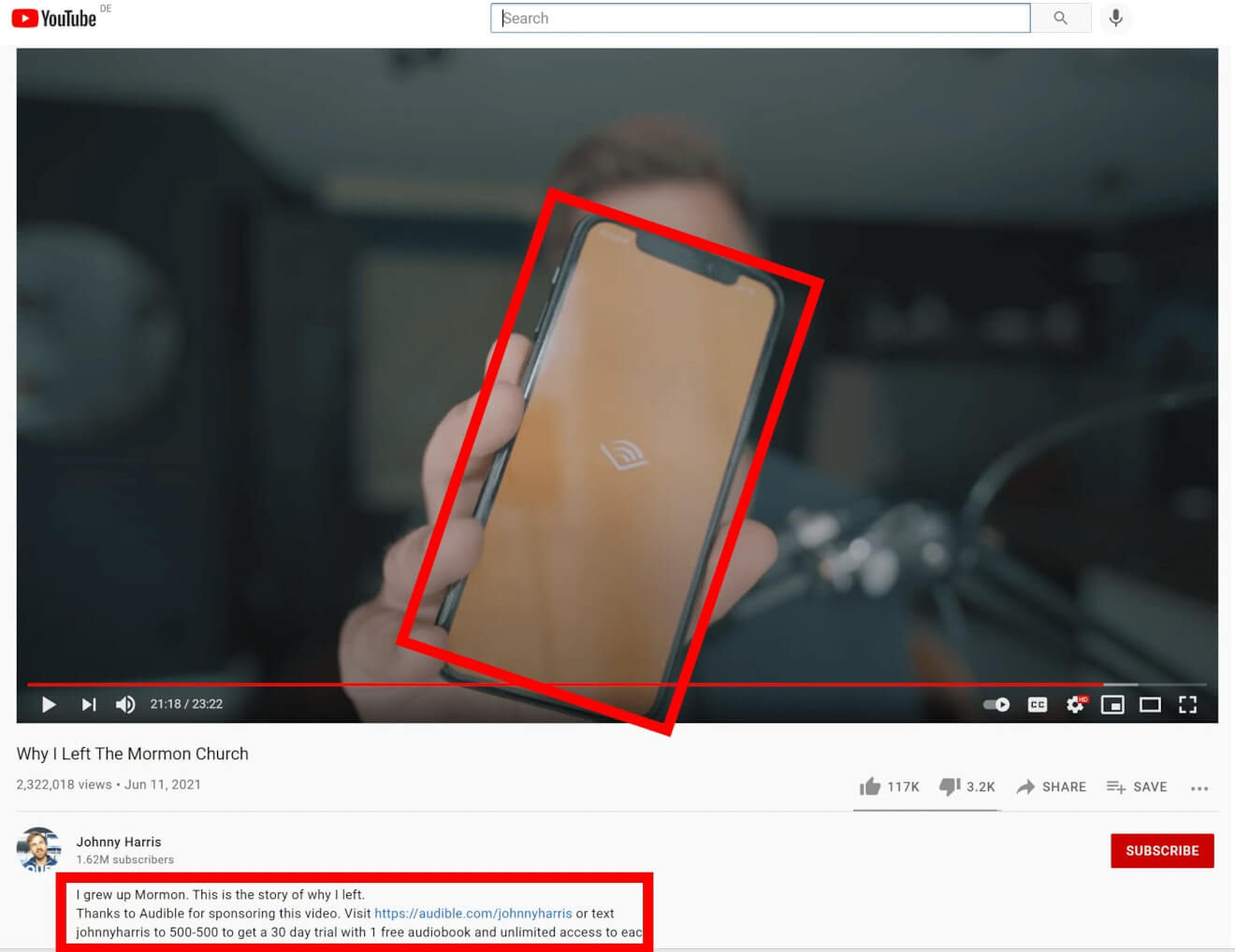 But, growing your channel to a place where it attracts sponsorships can be hard. According to Be.Live, sponsors require you to have at least 1000 subscribers before they consider sponsorship.
That's a lot of work!
Which is why sponsors are willing to spend more for less views (when compared to Adsense). Advertisers want to spend the big bucks on relevant audiences. The larger the number of targeted people that channel can reach, the better!
It's also worth mentioning that this is a form of ad-driven income, so you'll still need to create advertiser-friendly content if you want to keep the deals with your sponsors!
You'll have to do some networking and outreach to find your first few sponsors. So, pay attention to who your audience is and what they need, then find companies that fit!
Looking to monetize your channel directly from your viewers? Then stick around, the next YouTube monetization strategies are more audience-centric.
3. Livestream For Super Chat, Super Stickers, And Super Thanks
If you use live streaming as part of your YouTube channel, we have a triple-threat to help you boost your income!
YouTube has rolled out features over the last few years to make live streams more interactive for viewers and help creators, like yourself, earn more money in real-time.
Sounds exciting, right?
They've done this by creating what they call Paid Digital Goods. These are "online-only" items that exist on YouTube to be purchased by your fans.
And it boomed!
Over 10 million users bought their first paid digital goods on YouTube in 2020!
This has led to some YouTube creators generating $100,000 in total sales from them, and others earning $400 a minute.
There are 3 individual digital goods for live streaming:
Super Chats: paid comments that get pinned to the top of your live stream chatbox for a predetermined period of time.
Super Stickers: animated images that let viewers express support for the content of your live stream.
Super Thanks: like a "tip jar" where viewers can send you an amount between $2 and $50 as a thank you for your content.
Because these options are built into your channel – as in, they're visible on the same screen as the video being broadcasted – they're easily accessible which can lead to a lot more payments.
That's because it creates a more seamless experience for your viewers to pay you instead of having them go off-platform, like with 'Buy Me a Coffee.'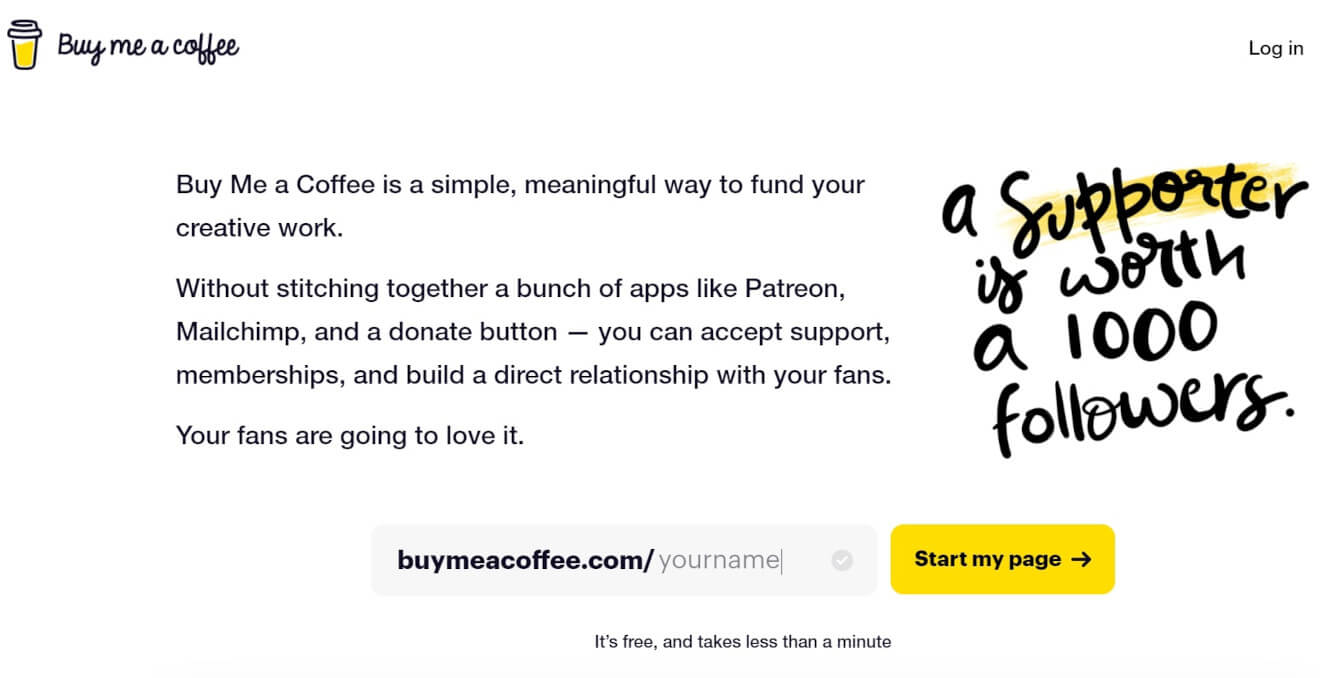 Better still, digital goods let you keep 70% of the profits made on your channel, and YouTube takes the other 30%. That's a much better cut for creators than ad revenue.
4. Create A YouTube Channel Membership
YouTube Channel Memberships are paid subscriptions to your channel. They're also considered to be a part of the Paid Digital Goods that I mentioned in the last section.
With a YouTube Channel Membership your most die-hard subscribers can pay a monthly fee, to access extra benefits and exclusive content in return for supporting you as a creator.
For example, by clicking on the Join button, fans of The Pat McAfee Show can sign up and pay a recurring fee for special perks on the channel.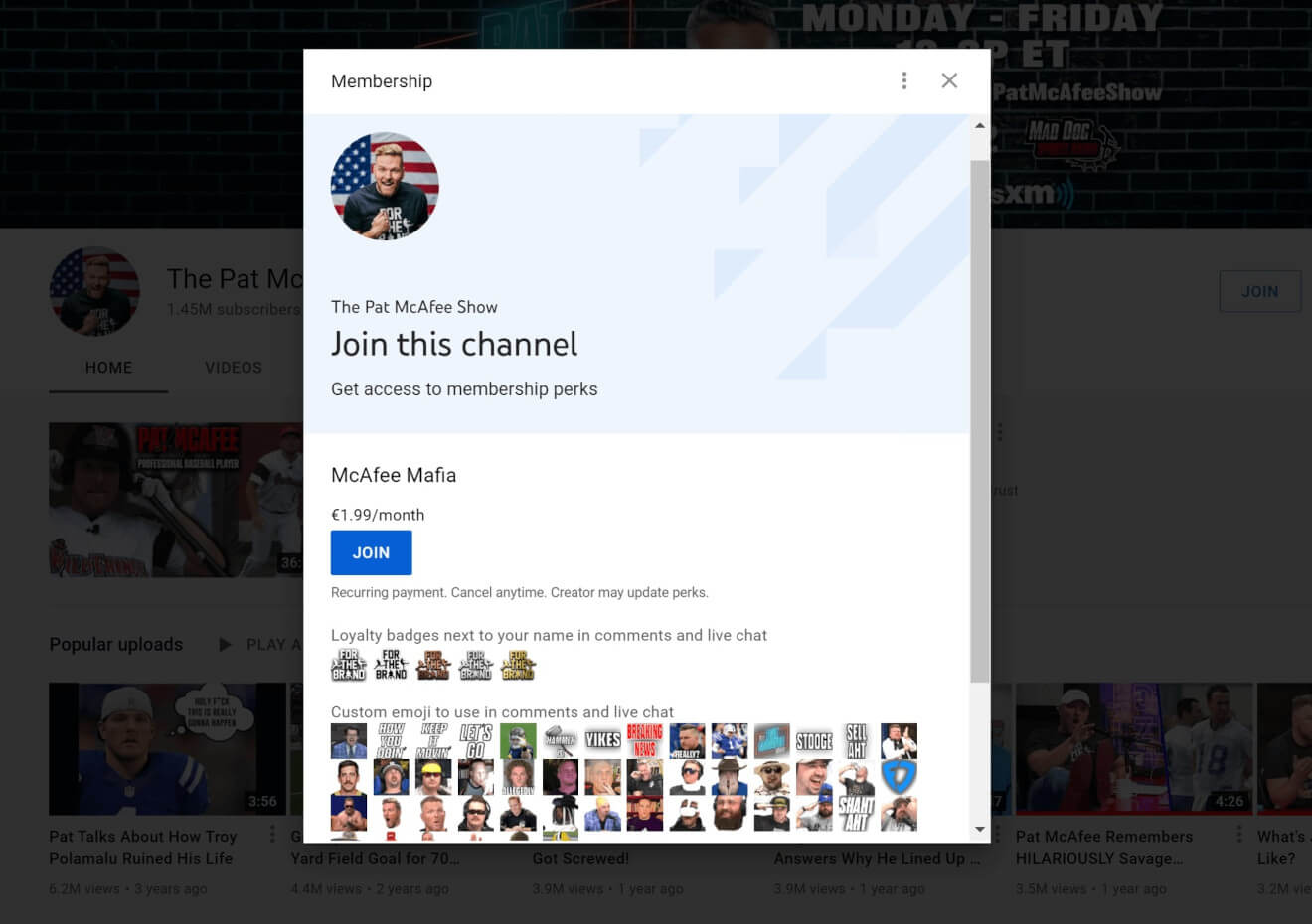 The channel membership option is open as soon as you qualify for the YouTube Partner Program, and will allow you to offer perks like:
Custom emojis.
Badges.
Members-only community posts.
Exclusive live streams.
Live chat access, which is perfect for community building.
Bonus content, where the feel of exclusivity really kicks in.
You can also set different membership tier options where each tier comes with its own perks. But, the prices are pre-determined by YouTube and you must choose an option between $1 and $49.99 a month.
YouTube will also take a 30% slice of whatever income you generate. That means for every $100 you make, YouTube will take $30!
If you want to learn more about channel memberships, check out our full video breakdown below.
Many of the monetization options we've looked at have been digital so far. Let's take a look at a physical product instead, shall we?
5. Leverage The Merchandise Shelf
The Merchandise Shelf allows you to showcase your own branded merch natively on your YouTube channel.
This can be a really lucrative option and create a more stable income stream, especially if you're focused on growing and nurturing your community.
In fact, according to Sellfy a creator getting 5,000 views per month might earn between $1 and $20 a month from Adsense, but that same creator could earn between $170 and $870 per month selling merchandise.
That's a big jump!
It's also a relatively more consistent income stream than Adsense. Instead of relying on hours of watch time and view counts you're counting on a growing group of your fans to keep buying your merch.
When you activate the Merchandise Shelf, your viewers will see a carousel of up to 12 products below the video they're watching:
YouTube will automatically choose these products based on a number of factors like recency, availability, and sales performance.
It's worth noting that there are some additional criteria your channel will need to meet – beyond those of the YouTube Partner Program – if you want to be eligible for the Merchandise Shelf:
You'll need to be located in a country where the Merchandise Shelf is available.
You'll need more than 10,000 subscribers (unless you run a music channel).
Your channel must not be marked as made for kids.
If you are eligible, then you can go ahead and start looking at options to create and sell your merch.
You will need to either work with a third-party provider (like a dropshipping company) or have your own product creation and distribution system in place.
If you choose to work with a dropshipping company, many YouTubers go with Teespring. They're approved by YouTube and provide lots of merch options like:
Hats.
Mugs.
T-shirts.
Hoodies.
Stickers.
Teespring also lets you keep 100% of the profits from your sale, only taking enough to cover the cost of making and distributing the merch.
So, if you create a t-shirt that costs you $10 and you sell it for $24, Teespring will take the $10 cost of creation and you'll keep the $14 profit.
6. Earn Extra Revenue From YouTube Premium
This is a little bonus revenue stream for you…
If viewers that use YouTube Premium come and watch your content, you'll receive a small percentage of the income they generate based on how much of your content they watch.
This creates a secondary revenue stream, in addition to Adsense, that can help you generate income with little effort.
But, these payments are small and unpredictable, so it's better to treat this as a "nice to have" rather than a consistent source of income to build your business around.
Here's another monetization strategy you can use to generate income on the side…
7. Become An Affiliate Marketer
Affiliate marketing is a tried-and-tested way to make money on YouTube.
If you're not sure what affiliate marketing is or you just need a refresher here's a quick recap:
Affiliate programs are offered by companies looking to grow their customer base. These programs work by giving you, the affiliate marketer, an 'affiliate link' that you can promote to your audience, like:
https://cooltechgadgets.com/youryoutubechannelname
If someone clicks your link and buys the product, you receive a percentage of the payment. (Affiliate rates are usually between 5% and 30% of the product's value.)
It's like leasing a house through a real estate agent. Even though the rent gets paid to the landlord, the broker also gets a cut because they found the tenant!
Affiliate links are often included in the description of your YouTube video, with the name of the product presented clearly next to it, like this example from Good Mythical Morning: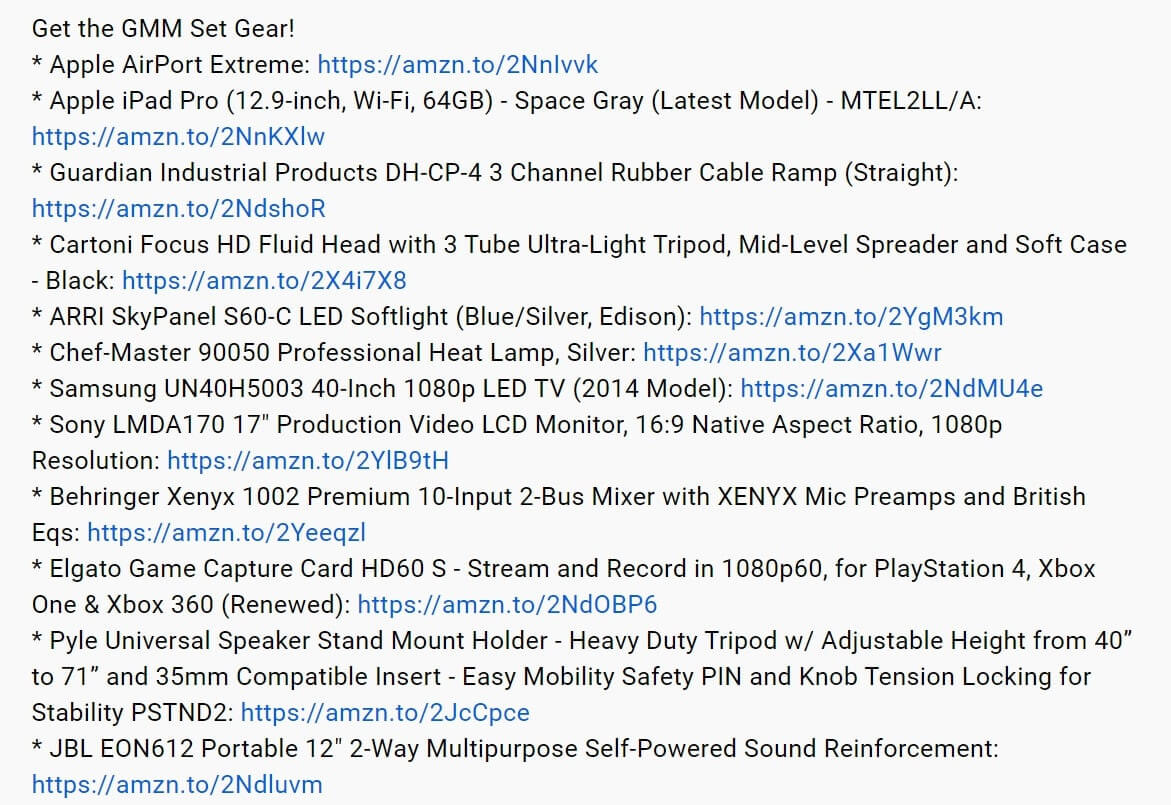 Sounds simple right?
Here's how you can find affiliate products you can promote:
Firstly, you can look for general affiliate programs in your niche through a Google search. There are often websites that have already curated lists of profitable options for you: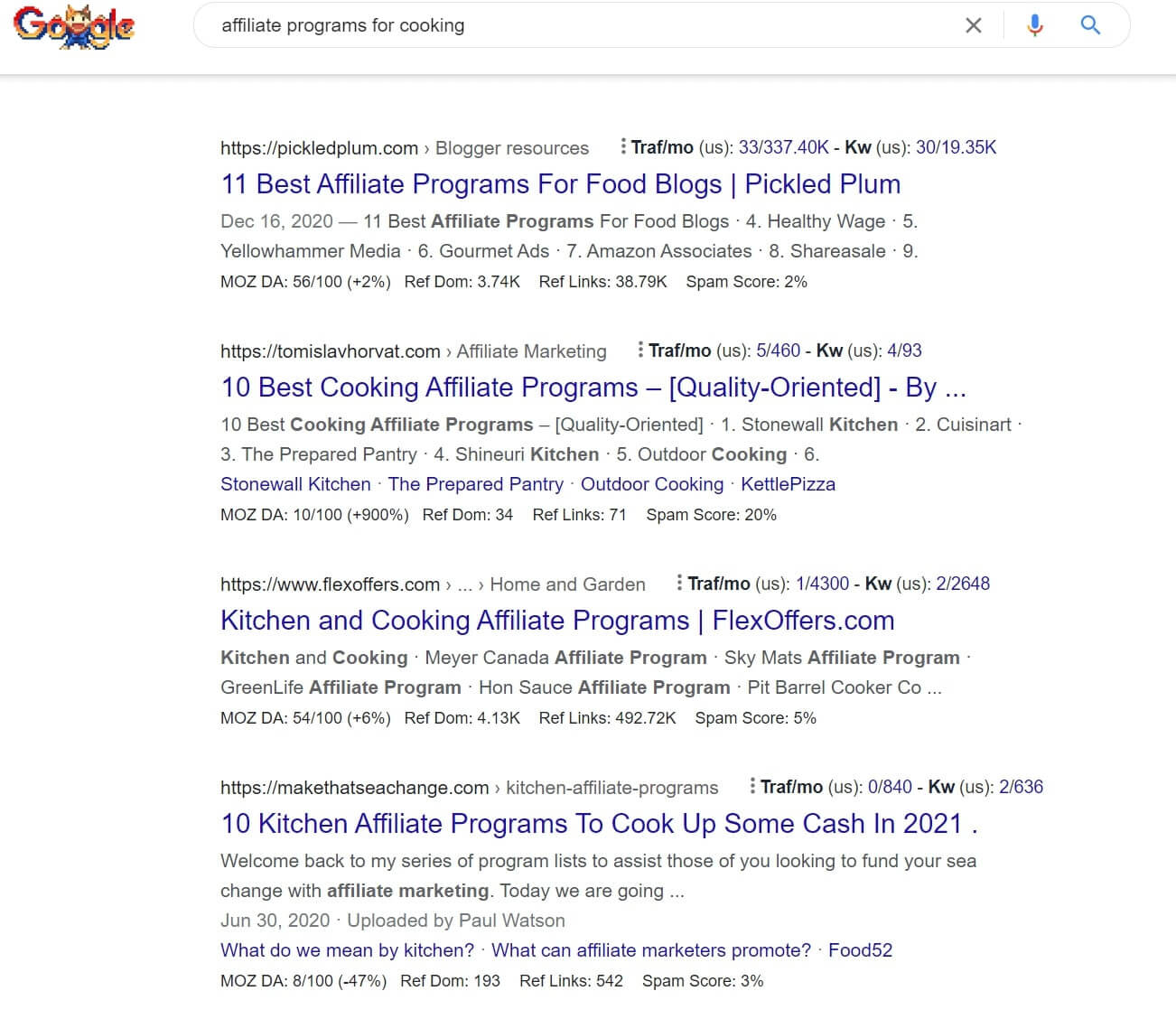 Secondly, you can head to the websites of products you use to see if they offer an in-house affiliate scheme. You'll usually find this in the website's footer, like here: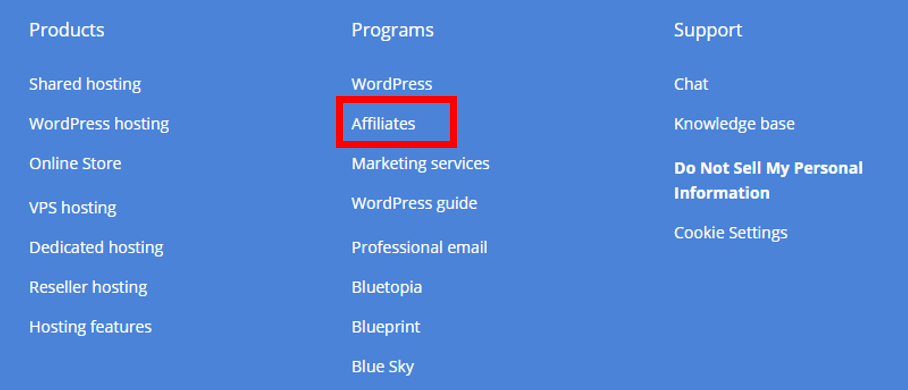 Finally, you can sign up for the Amazon Associates program. This lets you find products in Amazon's directory so you can link to them straight away!
Just head to the product you want to promote and take the affiliate link from the taskbar that appears at the top of your browser: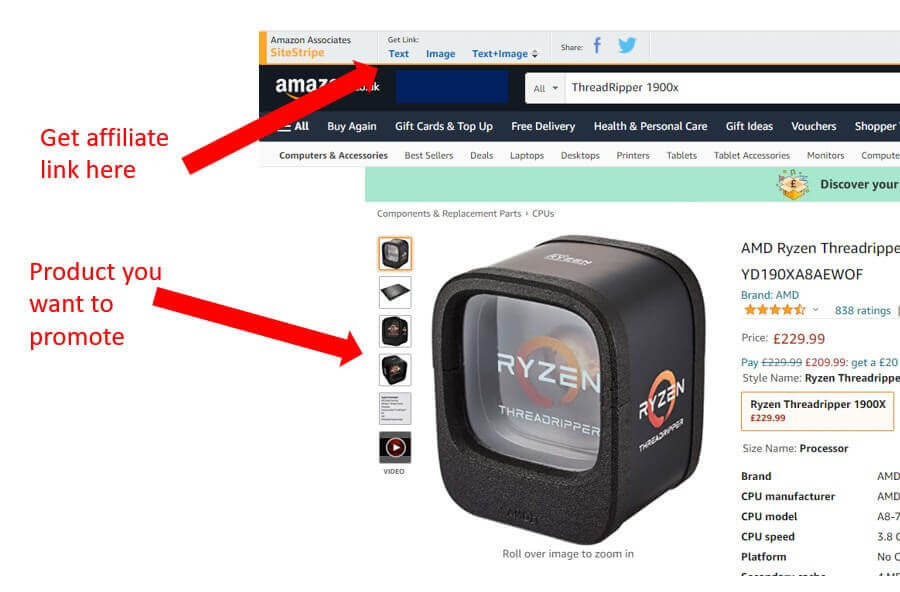 Affiliate marketing is a solid way to approach YouTube monetization. Though remember, it can be unreliable and is subject to changes at any time.
Now for a monetization strategy that guarantees a stable income stream….
8. Build Your Own Video Streaming Platform
The most effective way to monetize your YouTube channel is to build a business outside of YouTube.
Yup, you read that right. Let me explain...
You can build a standalone video streaming platform away from YouTube (and all their tricky monetization policies) where you can sell access to your video content.
We've seen content creators who have experience making YouTube videos go on to…
earn more money
grow and own their audience
enjoy more freedom
create recurring revenue
…by building and growing their own video streaming platforms.
In fact, the average income for a content creator like you, who chose to build a streaming platform using Uscreen, is around $5,700 a month!
Don't just take our word for it: more than 11,000 entrepreneurs, brands, and creators have leveraged Uscreen's all-in-one platform to build successful video businesses and monetize their content online.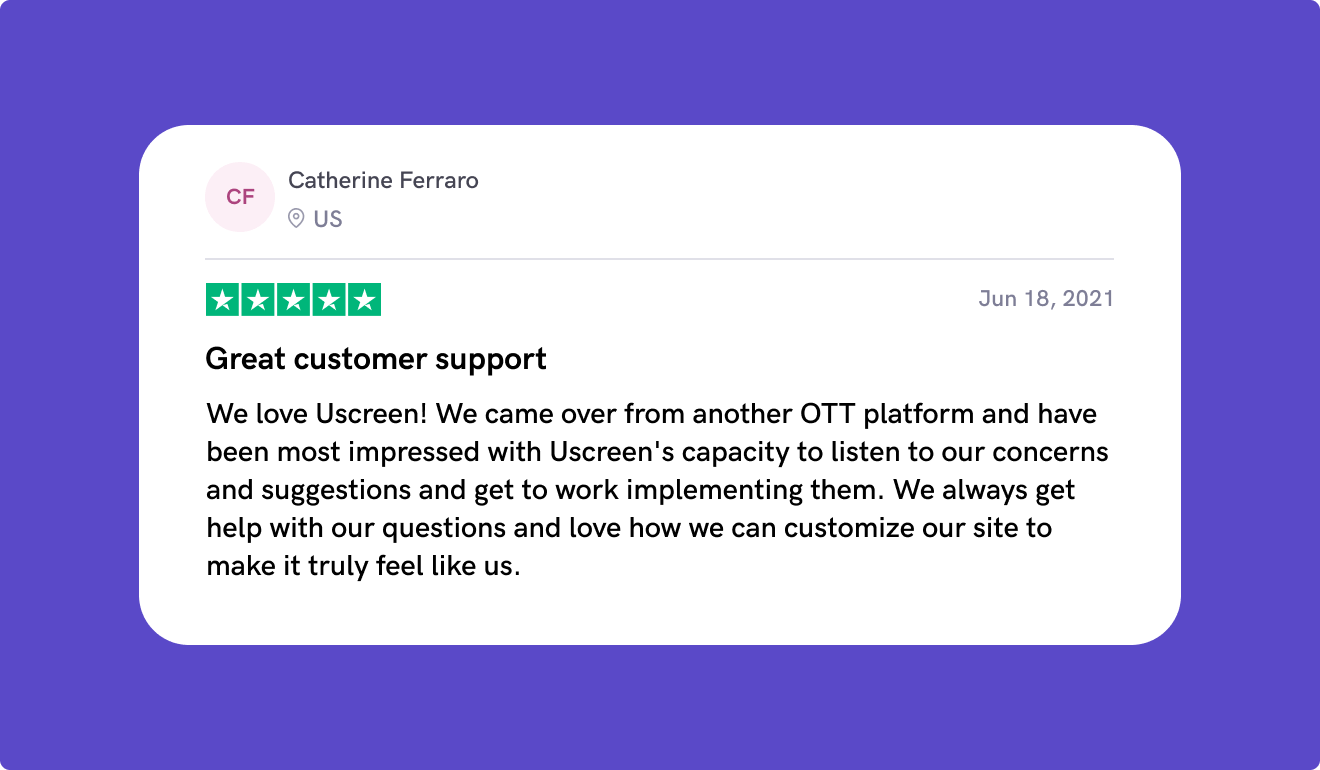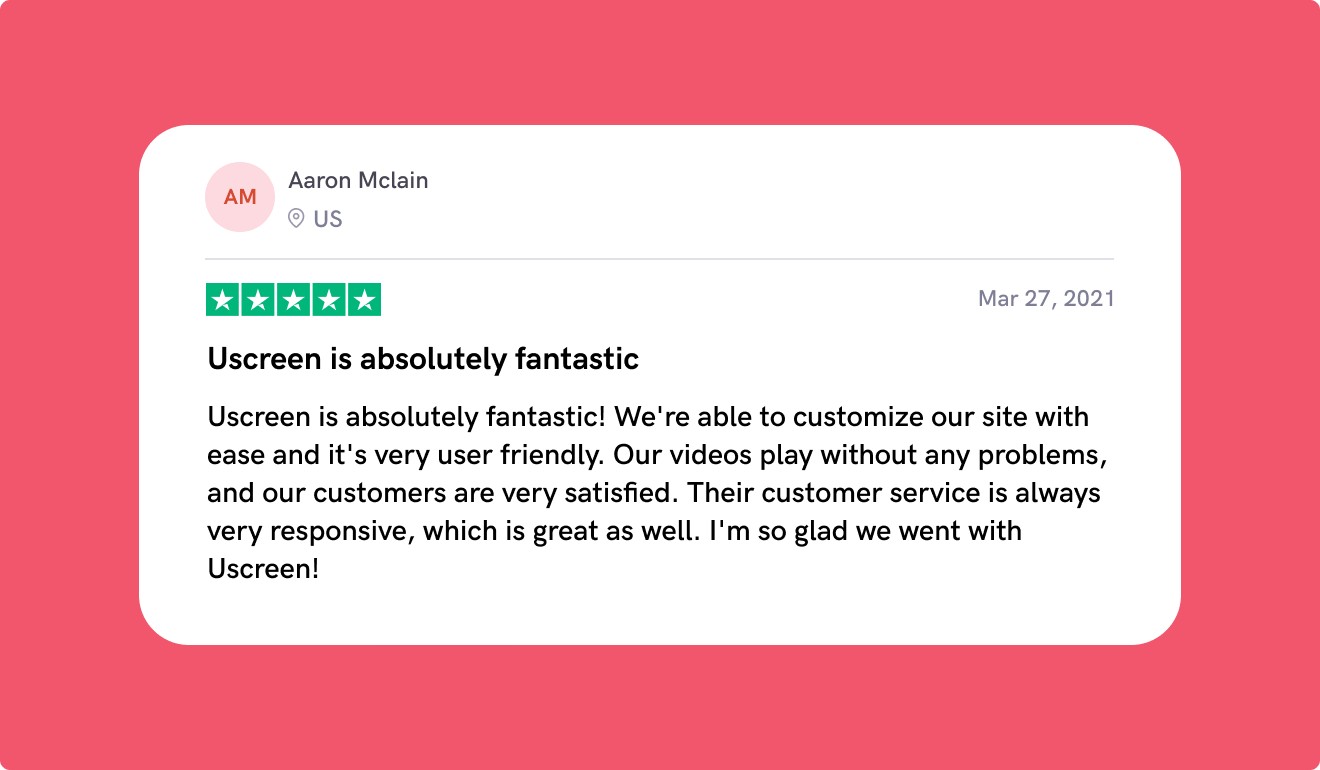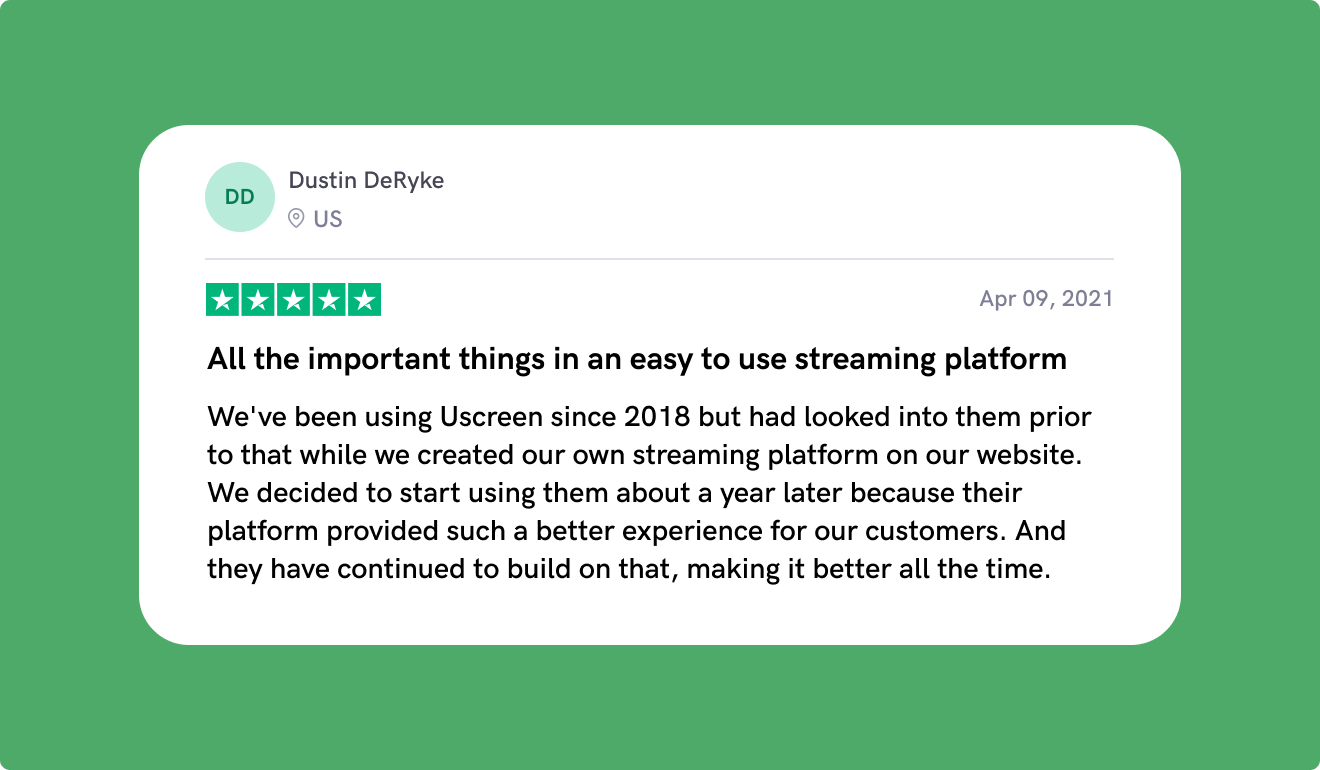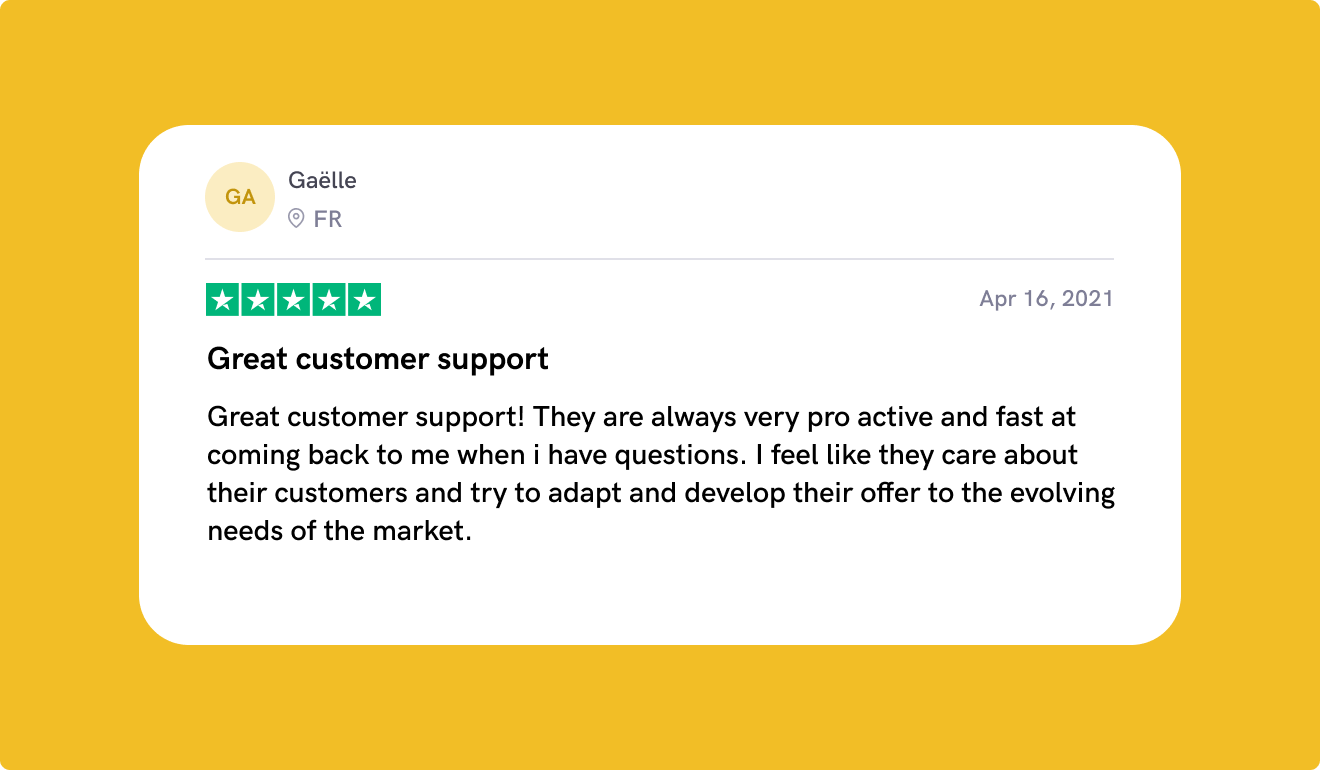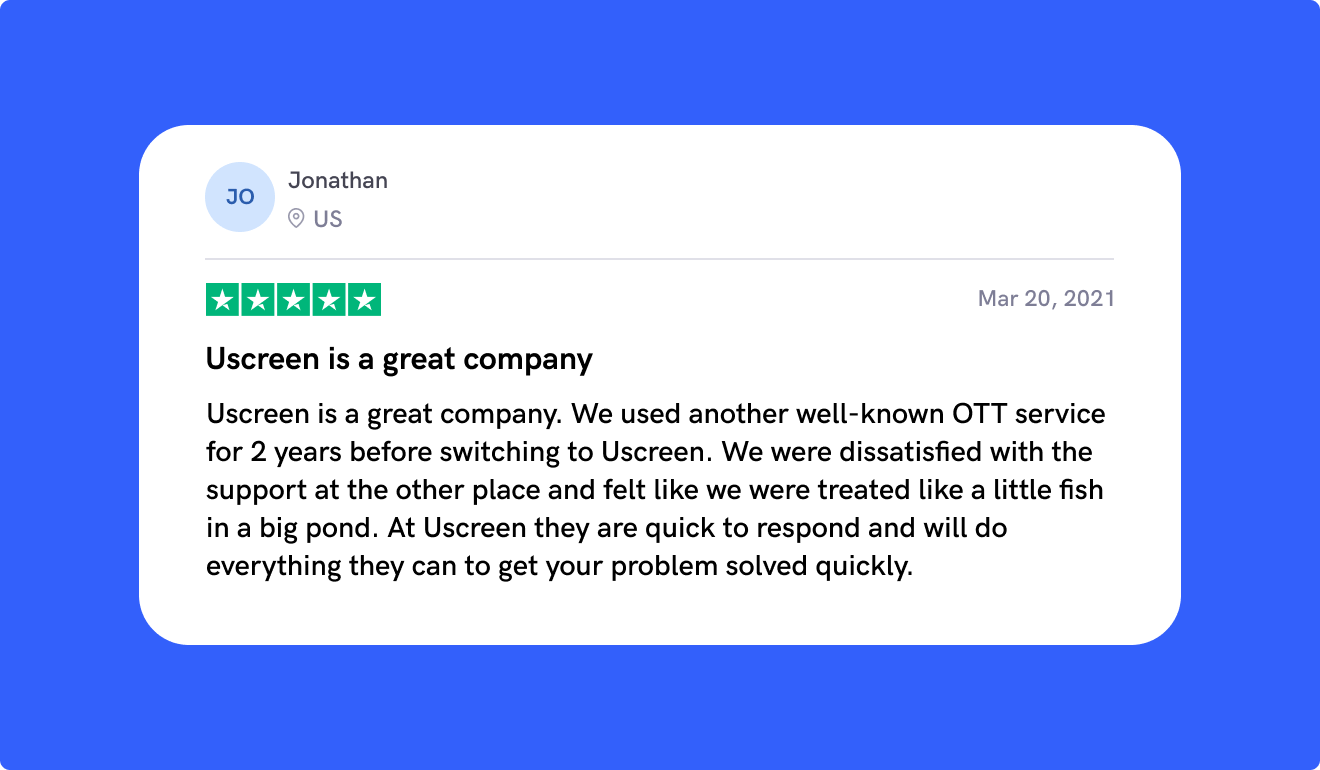 Source: TrustPilot
Get started with Uscreen now, the first two weeks are on us!
Let's take a deeper dive into Frances Long's YouTube journey:
She's the owner of Your Book of Memories (YBM), a channel where she teaches people how to build their own DIY memory albums.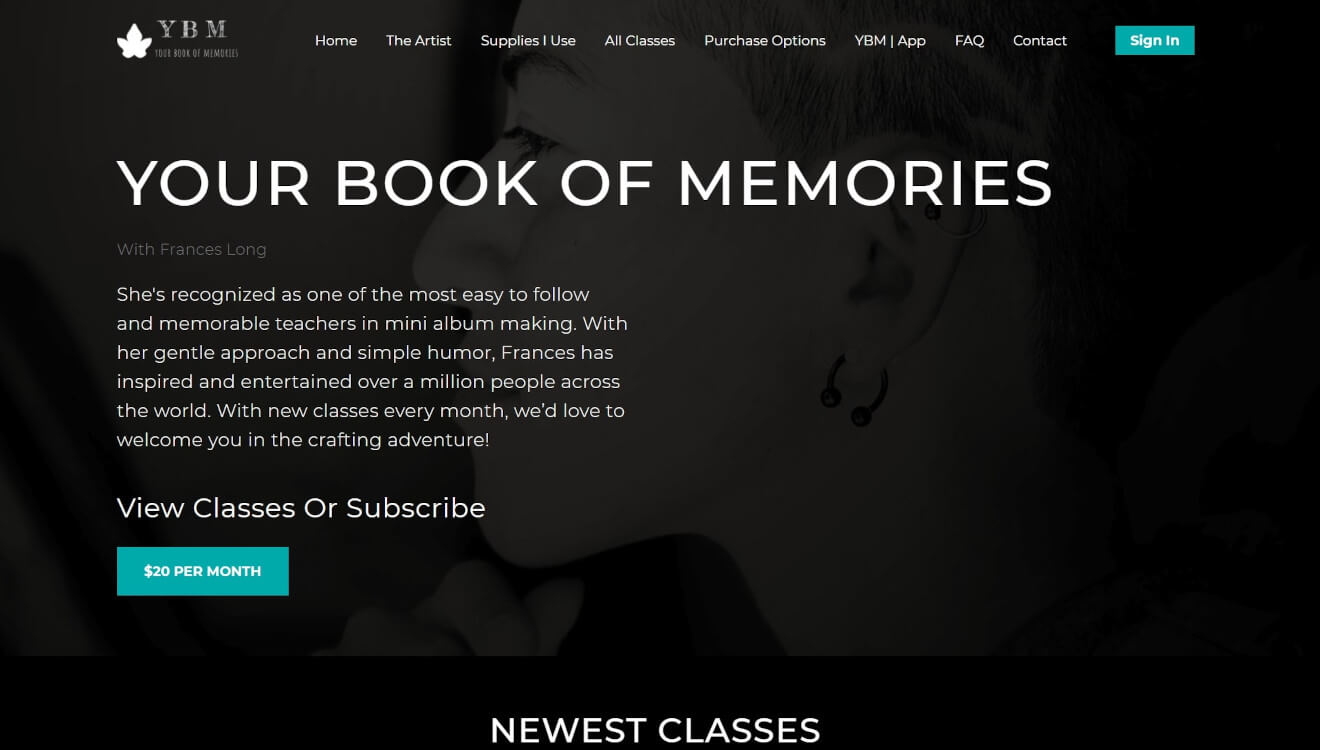 She originally started on YouTube in 2017 and quickly experienced the limited potential of YouTube monetization.
Despite her YouTube channel growing quickly to over 17,000 engaged subscribers, and accumulating over 600K views on her channel, YBM generated a meager $380 a month in YouTube ad revenue!
Frances realized she had to monetize her videos somewhere other than YouTube if she wanted to keep doing what she loves, all while making a fair return on her investment in time and money.
So, in January 2019, Frances joined Uscreen to transform her brand into a highly profitable, private, video streaming service.
And it worked!
From her fairly large following on YouTube, 3.7% of Your Book of Memories subscribers converted to the paid streaming service.
Your Book of Memories saw an 855% increase in monthly revenue in just 4 months, without the need to produce any new videos!
So, instead of relying on YouTube as a video monetization platform, Frances now uses her YouTube channel as a lead generator to her paid content.
You can learn more about how to replicate France's strategy, and how you can use YouTube to earn even more money in our pot below: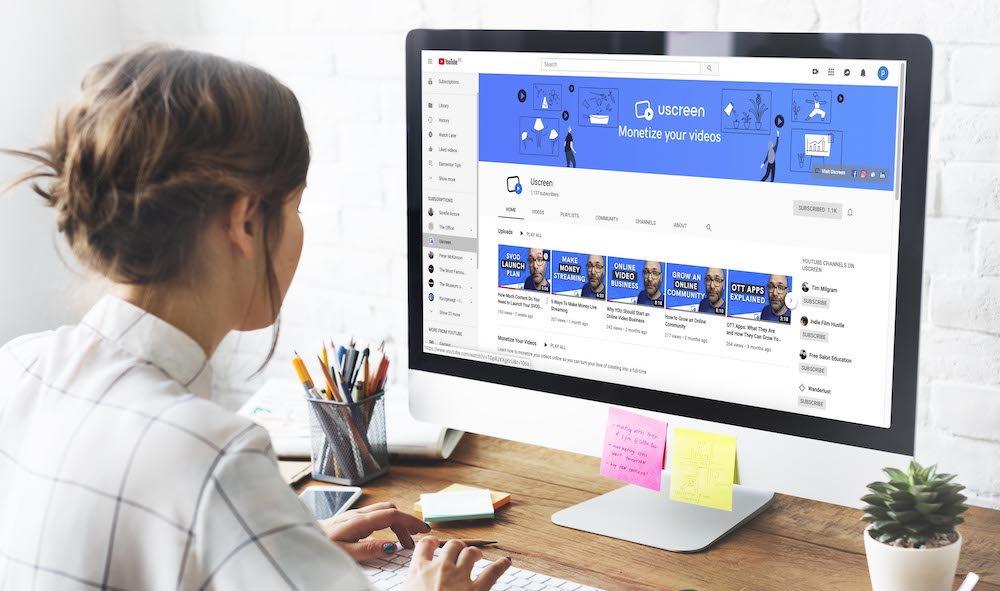 How To Turn Your YouTube Channel Into A VOD Marketing Engine

Wrapping it up…
Making a stable income stream off of your YouTube channel can be hard. We get it.
That's why we've created this comprehensive list of 8 ways you can create a stable income stream, here they are again:
Turn on Google Adsense.
Reel-in sponsorships.
Use YouTube's built-in livestream monetization features.
Create a YouTube Channel Membership.
Leverage the Merchandise Shelf.
Earn some side revenue from YouTube Premium viewers.
Become an affiliate marketer to brand's that are relevant to your channel.
Build your own video streaming service.
A big viewership helps, but it's not all about that.
Treating your YouTube channel as a business and diversifying your income can go a long way in creating a sustainable and profitable video business.
It's simple with Uscreen.
Build, launch and manage your membership, all in one place.