The right video streaming solution for your business will help it scale and reach new audiences.
You have lots of factors to consider, like how much content you can store, the video streaming quality, and how you can generate revenue from your videos.
With so many choices out there, narrowing your focus to just a couple of video-on-demand and over-the-top (OTT) streaming platforms can help you reach your final decision.
If having both Dacast and Vimeo on your shortlist has led you here, and we're going to help you go through the points you need to consider with both.
In this Dacast vs. Vimeo comparison guide, we're going to explore how well they do in terms of…
…and more, so you can see if you're looking at the right platforms or if there's a better alternative.
Let's start by looking at the basics of Dacast and Vimeo.
So, What Is Dacast?
Dacast is a video hosting platform for businesses, offering live streaming and video-on-demand (VOD) content that can be displayed on a website or shared on social media.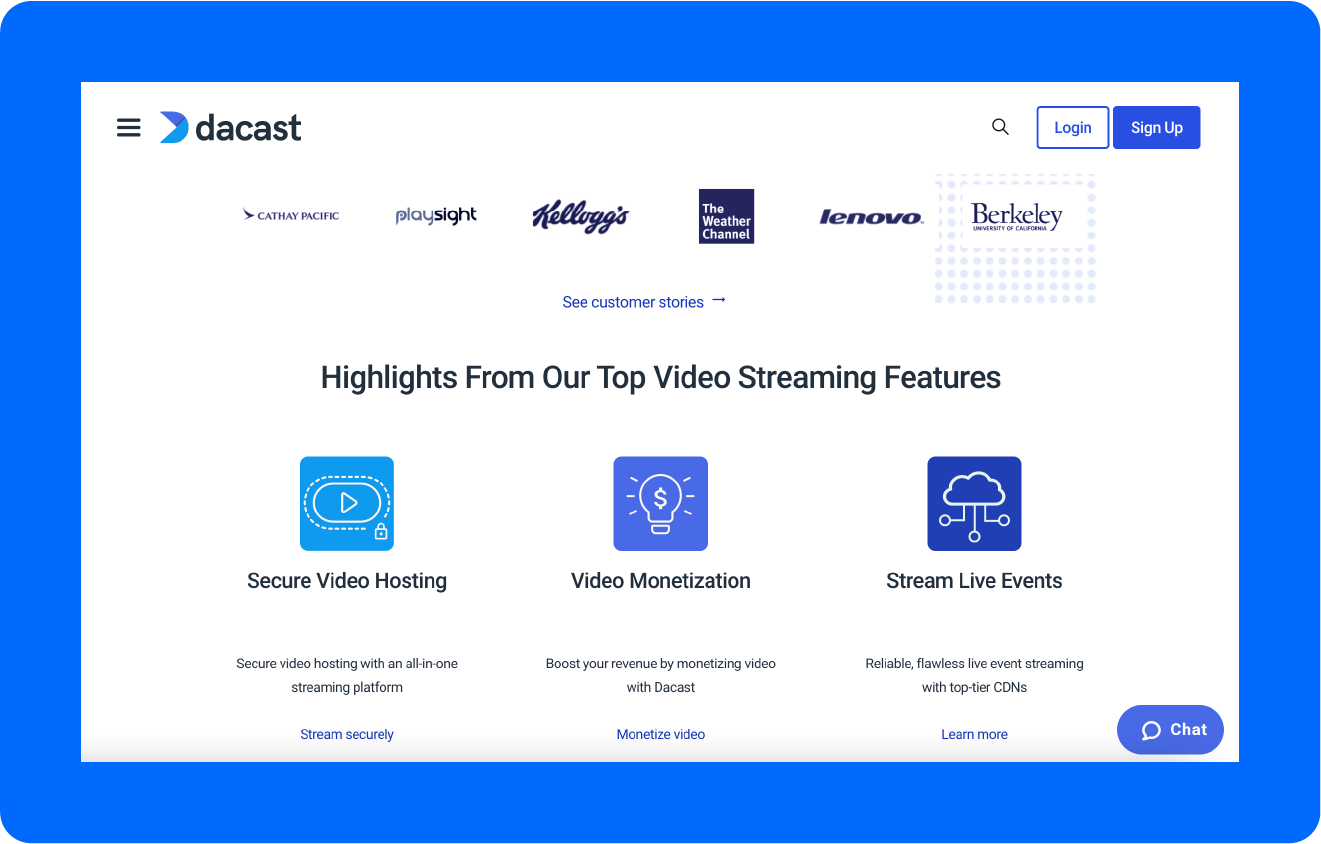 Launched in 2010, Dacast hosts content for over 300,000 broadcasters and offers OTT and VOD services.
It works as a video content management system (CMS) so you can store your videos and embed them across your owned media, such as a website you've created.
You can also monetize your content through Dacast, using SVOD, AVOD, and TVOD.
Let's get an overview of the other platform we're looking at today.
Then, What Is Vimeo Livestream?
Vimeo Livestream is a platform that allows users to stream live content to their audience by embedding a stream onto a website or sharing it on social media with no advertisements.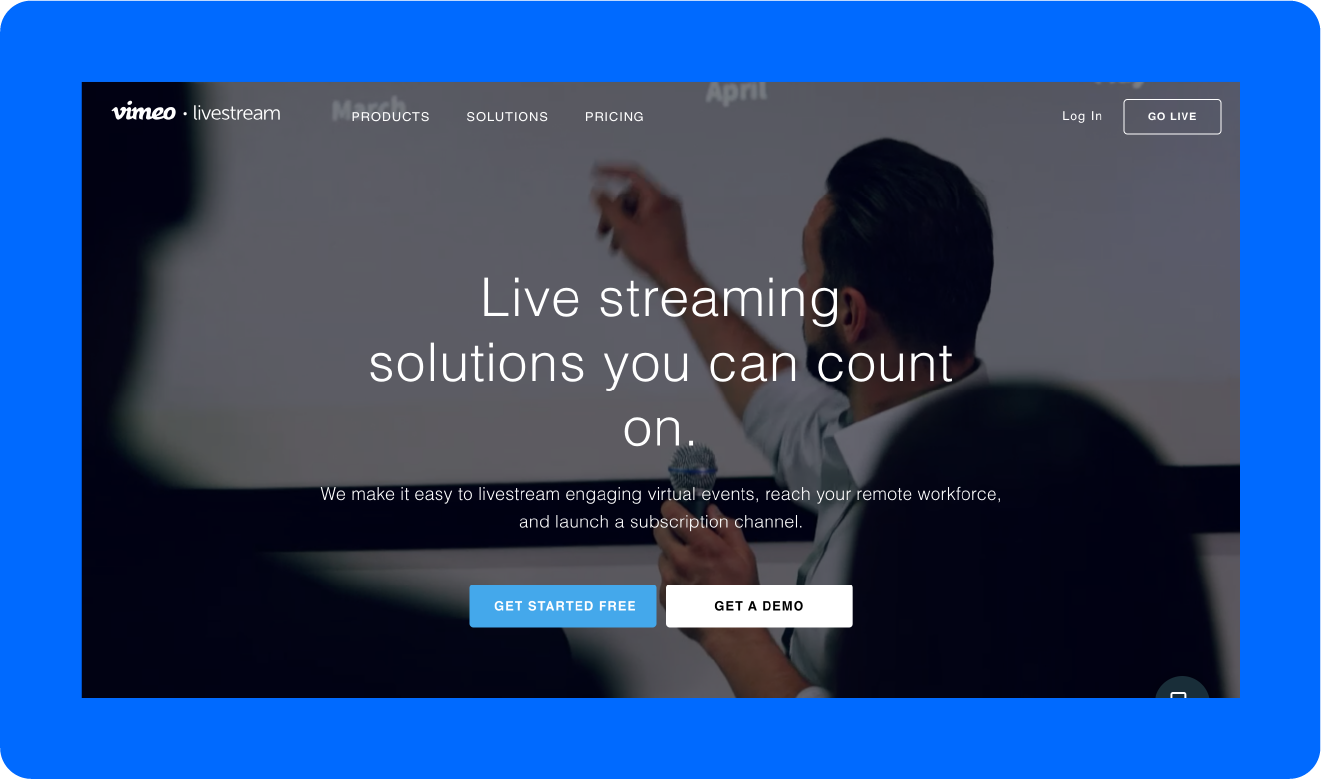 The platform was launched in 2004 and was originally a competitor to YouTube, hosting content for creators who didn't want to work with more commercial, Google-owned options.
Vimeo now has 200 million active users and 1.5 million subscribers after moving its focus away from indie filmmakers to work as a SaaS, targeting businesses who want a place to host their video online.
Through the Vimeo OTT product, you can monetize video content with Vimeo — here, we're going to focus on the VOD and live stream product.
Now that we've covered the fundamentals of both platforms, let's explore the comparison points between Dacast vs. Vimeo.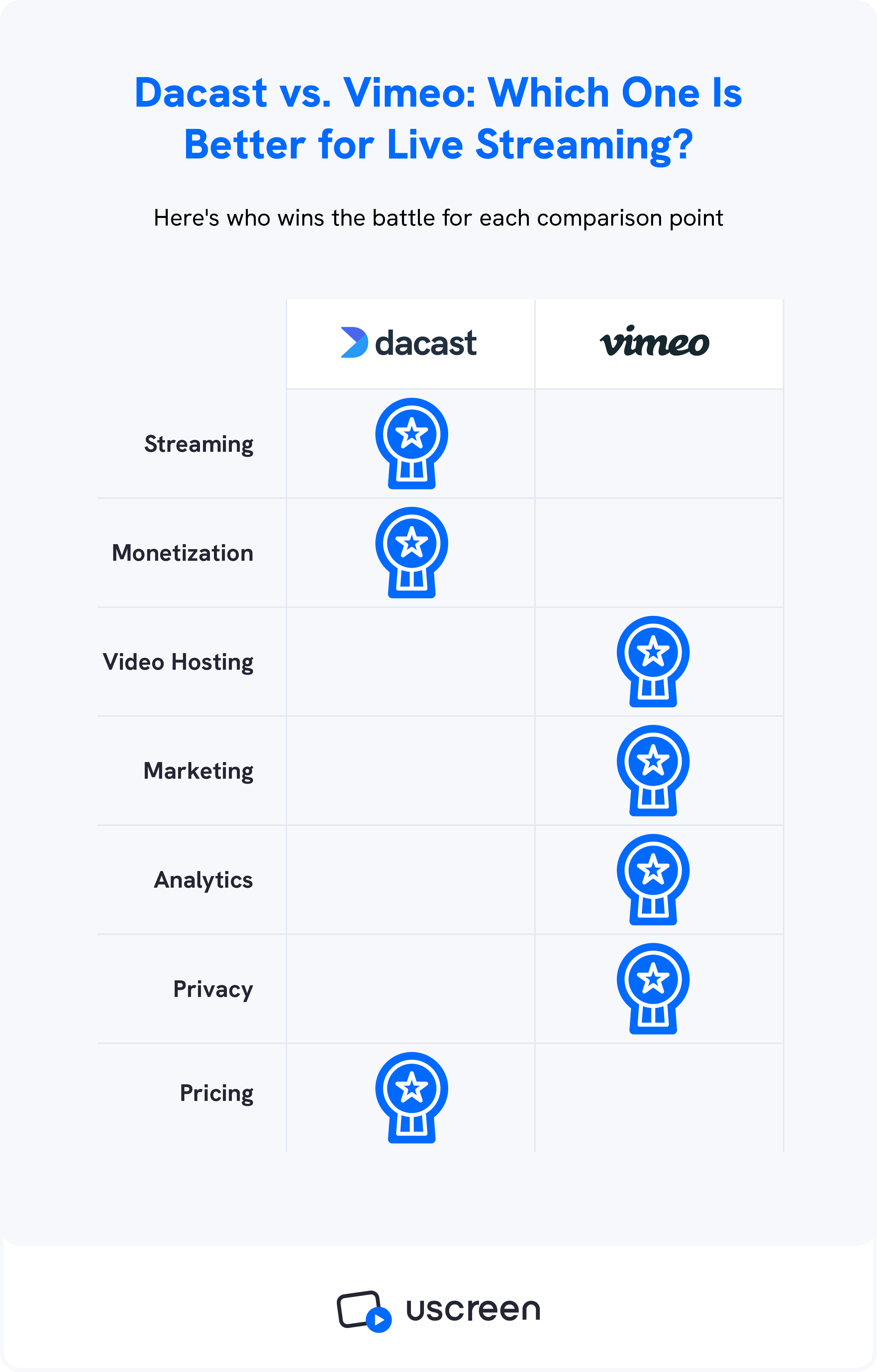 1. Streaming Capabilities
🏅Winner: Dacast
The ability to live stream can be anything from a nice add-on to an integral element of your business, depending on the business.
If live streaming is part of your video content strategy, you need to know what's available from the platforms you're considering.
Here's what you need to know about video streaming with Dacast and Vimeo.
Dacast
Live streaming capabilities are one of the main components of the Dacast offering. Here's the functionality you get:
You can embed your live video content to your website or social feed, or create an "Expo," which is a branded landing page to host the content.
Dacast has created a version of OBS that's suited to the needs of the platform, making setting up and running a live stream easier.
Live streams can be monetized through advertising or put behind a paywall.
Analytics data for your live events are available in real time, including viewer numbers and where they're streaming from.
Here's what Vimeo has to offer.
Vimeo
Live streaming is only one of the features of Vimeo — it only gets added to the Premium and Enterprise packages, but here are the capabilities you get:
Your live stream can be embedded in your website or a range of social media feeds like Facebook, Twitch, YouTube, and LinkedIn.
Access to software encoding tool Livestream Studio is included, which is owned by Vimeo, so it works well with the platform.
You get unlimited bandwidth for streaming, and you can host unlimited live events with unlimited viewers.
You'll have access to tools to register attendees for your events, the option to add live graphics, captions, polls, and chat features.
How to make money using both platforms is next.
2. Monetization Capabilities
🏅Winner: Dacast

A video business needs to generate revenue and profit to be sustainable.
The right online video platform for you will have monetization options that suit your needs, and payment options that can be accessed by as much of your audience as possible.
What's important here is being able to scale your monetization — look for options that will let your business grow in fresh directions with predictable transaction costs.
This is what both platforms offer in terms of monetization.
Dacast
Dacast revamped their paywall feature in 2019 in partnership with InPlayer, offering a wider set of features than before.
You can add pre-roll, mid-roll, and post roll advertising to your VOD and live stream videos.
SVOD is limited to a single pricing tier that can be collected weekly, monthly, or quarterly, and you can sell pay-per-view content.
You're limited to using either PayPal or Dacast's own payment processing.
Payouts of the money you've earned on Dacast can take time — 10-15 days minimum depending on the method you choose, and choosing to cash out with PayPal requires a $1,000 minimum.
Money matters with Vimeo are next.
Vimeo
Using the Premium and Enterprise tiers of the Vimeo offering doesn't give you any monetization options.
As we've touched on a couple of times, monetization with Vimeo is through another product, Vimeo OTT, which lets you sell content through the SVOD and TVOD models.
Time to check out how both platforms deal with video hosting.
💡How It Looks at Uscreen
Uscreen's primary purpose is to support your business in monetizing video content. We support SVOD, including multi-tiered memberships — think Silver, Gold, and Platinum membership subscriptions — and TVOD, so you can sell one video or a package, which works great for educational courses, for example.
You also get all the tools you need to take payments, with processing through:
• PayPal
• Stripe
• Authorize.net
• Uscreen Payment Gateway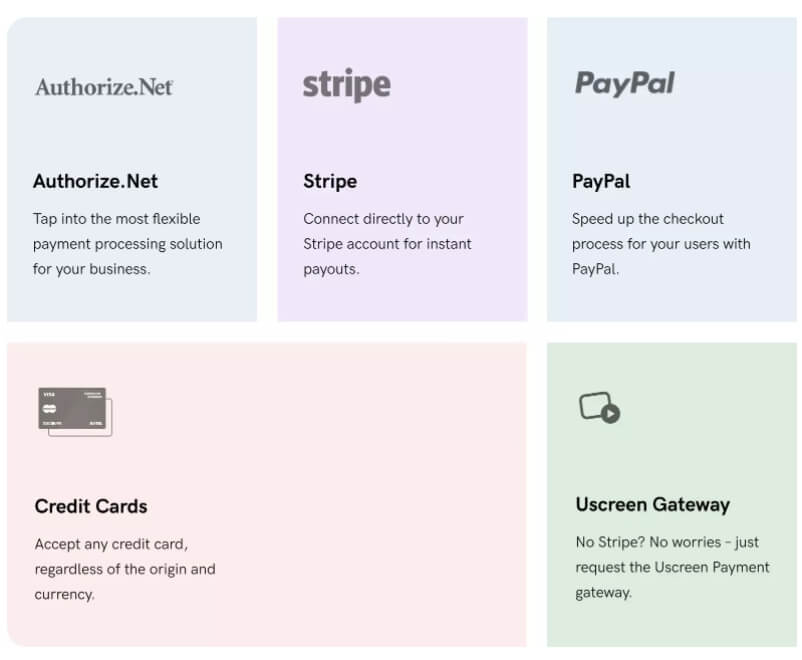 This gives you as many options as possible to take debit and credit card payments.
3. Video Hosting Capabilities
🏅Winner: Vimeo

Video hosting is the meat and potatoes of what these 2 platforms do.
It's where everything starts — somewhere to upload your videos and let other people access them.
How people access your live stream and on-demand video is what makes the difference here, so let's compare them.
Dacast
Dacast is a video management tool rather than a place where you can give your audience access to your content. Here's how:
You can store up to 1TB of content as part of the highest tier plan and you can pay for extra storage above that, plus you get 24TB of streaming per year with that plan.
The white-label player is fully brandable so you can add your own logo, colors, and fonts, giving your viewers a seamless experience.
Every video gets an embed code that you can add to your website or social media.
Content is streamed in 1080p quality and you can add chapters and subtitles to make your video accessible.
Moving on to what Vimeo can do.
Vimeo
Since Vimeo started out as a video hosting platform, it has some pretty robust capabilities, such as:
Video storage for up to 7TB on the plans that include live streaming.
A brandable HTML5 player that lets you customize your colors and add your logo and watermark.
Embed codes for all your content that lets your video be embedded anywhere you want, including in emails.
High-quality video streaming delivered in up to 4K with no advertisements on content and the option to add chapters, captions, and control the playback speed.
Moving on to the marketing tools you can take advantage of for each.
4. Marketing Capabilities
🏅Winner: Vimeo

You want to get your video business in front of as wide an audience as possible; that's where marketing comes in.
Your business may already be set up with tools for email marketing, relationship management, affiliate marketing, etc., so you want to make sure the streaming platform you choose integrates with them.
That said, here are the marketing capabilities of both platforms.
Dacast
Here's what you need to know about marketing your content when you use Dacast:
You're able to offer discounts and promo codes as well as group content into bundles to sell for one price when you use the Dacast paywall.
You can add calls to action (CTAs) to your videos and capture leads with email forms.
Since there aren't any third-party integrations on Dacast, you can't directly hook up your other marketing tools — although using the API and a good developer, you may be able to pull things together.
What does Vimeo have to offer?
Vimeo
As a content creator, you may not be able to directly make money using Vimeo, but there are some marketing tools available to help with lead generation, such as:
You can capture contact information from leads generated in the video player.
You can add custom cards and CTAs to your videos and add custom end screens to reinforce your message.
There are integrations with marketing tools such as Keap, HubSpot, and Mailchimp.
Scroll on to get to the analytics comparison.
💡How It Looks at Uscreen
At Uscreen, we have lots of video marketing tools that help you get your message out to your existing audience and all the people waiting to discover what you have to offer.
Our suite of marketing tools include:
• Discounts, coupons, and gift cards.
• Upsells and downsells.
• Abandoned cart sequences.
• A "Try It Again for Free" tool.
• Affiliate marketing management tools.
• Integrations with your existing tools like Mailchimp, Drip, ConvertKit, and more.
• Landing page and sale page creation.
That's pretty much everything you'll need to generate interest, demand, and sales for your video content business.
5. Analytics
🏅Winner: Vimeo

Following your marketing efforts, you want to know who's been watching your content and what's been going well.
This is where analytics comes in.
There's a whole lot of data that you might want to get your hands on, but not all platforms track or give access to the same information or with the same level of detail.
How does Dacast vs. Vimeo measure up in terms of analytics?
Dacast
When you use Dacast, the important analytics features include:
An analytics dashboard that displays data in real time, which is handy when you're running a live stream.
Access to audience data including your view numbers, how much of each video they watched, which devices are accessing your content, where your content is popular, and which of your videos are performing best.
Access to data and insights about the transactions your audience is doing, such as sales by time, revenue by time, and the countries you're bringing in revenue from.
Let's square this against Vimeo's offering.
Vimeo
With Vimeo, you get higher levels of analytics with higher tiers and payments.
Since we're focusing on the live stream element of the Vimeo offering, we're going to look at the analytics you get with the tiers live streams are available on, which are:
An analytics dashboard that pulls in data from the social platforms you share your streams and other content to, including the plays, likes, and shares.
Custom reports can be created, including graphs that show your viewers and engagement rates.
Granular viewer-level details, including where people are accessing your content and which device they use, plus you can export the data for further analysis.
An integration with Google Analytics so you can see the same information for your Vimeo content as your existing website.
Looking for a live streaming platform that provides you with all the analytics you'll ever need? Book a demo with Uscreen and let's talk!
It's simple with Uscreen.
Build, launch and manage your membership, all in one place.
So how do these tools handle your privacy?
6. Privacy
🏅Winner: Vimeo

Monetizing your video through streaming services means you want to have complete control over who does — and more importantly, who doesn't — have access to your content.
A live streaming platform should keep your video private so that only the people who you want can view them and protect your content from illicit downloads.
On top of that, you want to know that when someone signs up to your video streaming business, their data is secure and isn't going to be used by anyone but you.
How do Dacast and Vimeo do in this regard? Let's see.
Dacast
Dacast has a reasonable set of privacy measures:
All video is delivered through HTTPS rather than HTTP, the internet standard for security.
The platform uses the Advanced Encryption Standard (AES) to protect content and other sensitive information, which is a high level of data security.
Because you're using an integrated paywall rather than an external paywall solution, you should have a more secure setup, keeping your video content private.
The contact information you gather about your users isn't used by Dacast to contact them — the data can only be used by you, in line with local rules and laws, of course.
What about Vimeo's security features?
Vimeo
Vimeo also gives you a few different ways to secure your content so only the people you want can access it. You're able to:
Send video content to people through private links and protect one or more videos with passwords to control access.
Define the domains that are able to embed your videos onto their sites.
Protect your video content with Fastly encryption, which uses a range of protocols to keep content secure.
Use an enterprise content delivery network (eCDN) which only uses trusted servers rather than a peer-to-peer CDN to keep your corporate video content more secure.
Time to finish up our comparison by looking at pricing.
7. Pricing
🏅Winner: Dacast

The price of all the OTT platforms you look at is going to be a huge determining factor of where your content gets hosted.
It's not all about which platform is cheaper, but which one offers the best value for your business and can help it grow in the future.
Let's compare how the pricing structure works for both.
Dacast
Dacast publishes 3 tiers of pricing and can also put together a custom package for a custom video hosting solution.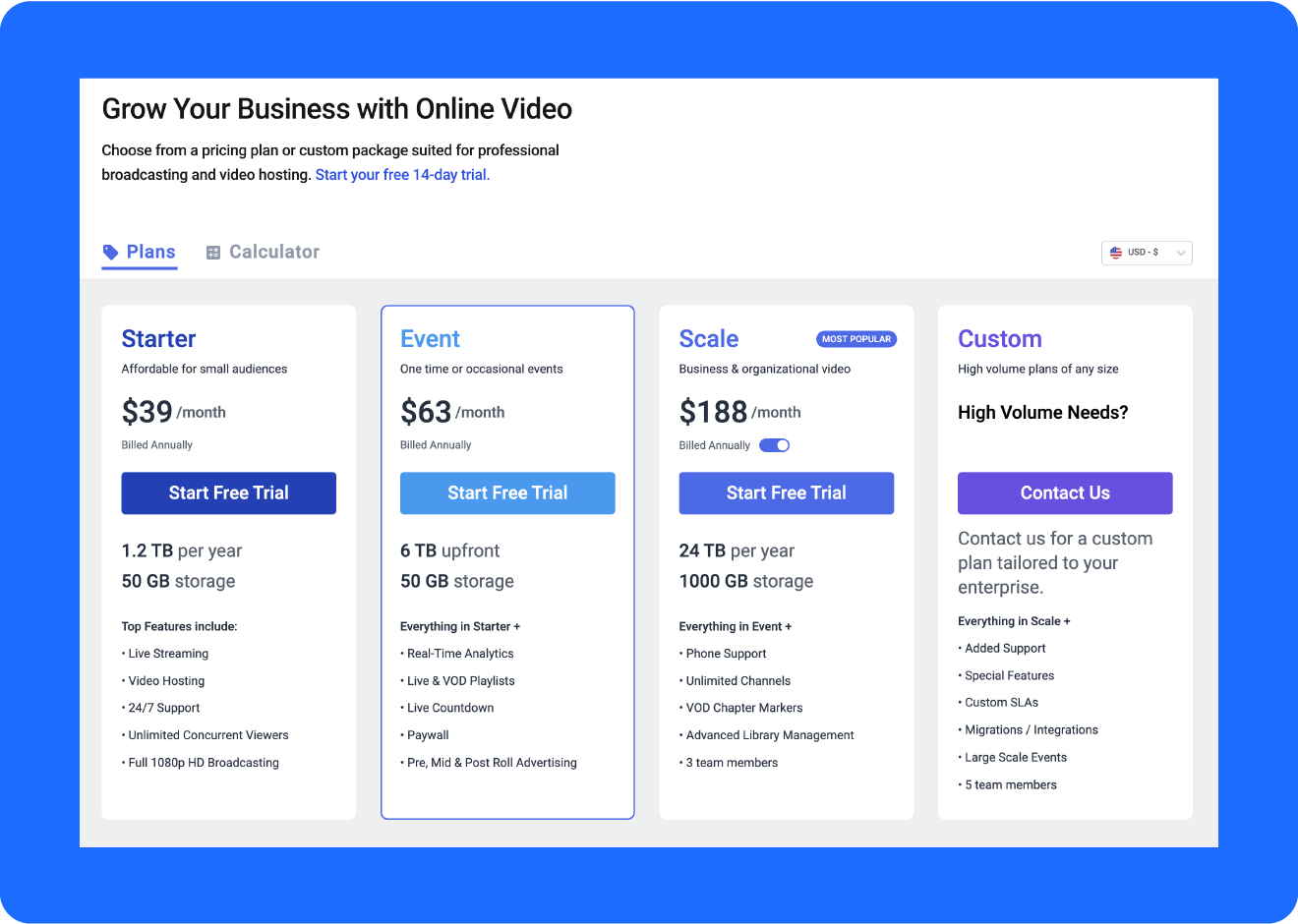 Things to look for when checking out Dacast's pricing are:
The more you pay, the more bandwidth and storage you get — for Event, Scale, and Custom plans, you need to buy any extra storage in advance.
You can only start to monetize your content, advertise, and access analytics from the Event package and up.
You'll have to opt for the Scale or Custom plan if you'd like more than one person managing your account with admin access.
How does Vimeo compare?
Vimeo Livestream
Vimeo only offers live streaming at the higher end of their pricing tiers, which are the Premium and Enterprise options.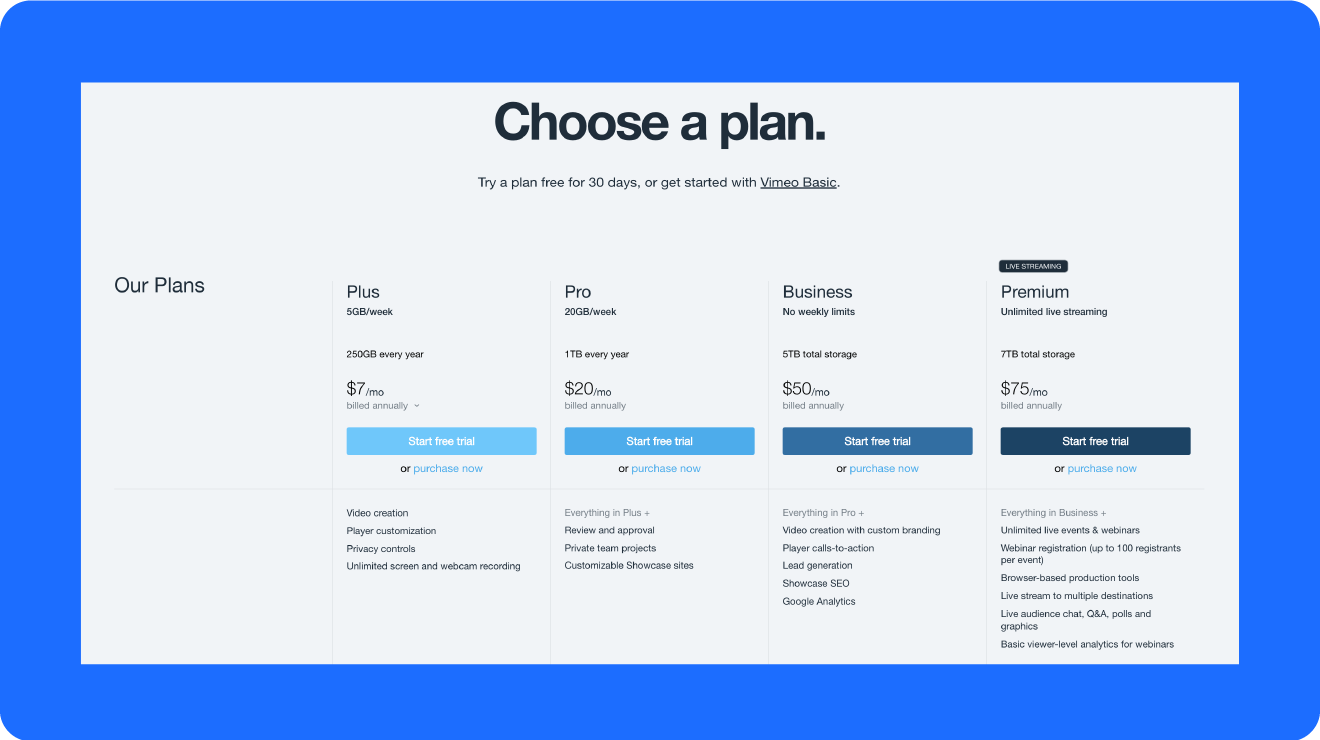 With these plans, you get:
Unlimited live streaming and bandwidth, with 7TB of storage with the Premium package and a custom storage deal with the Enterprise package.
Powerful analytics, but you can only see the viewer-level data when you take out the Enterprise package.
Although the Premium pricing is quoted as a monthly cost, you only have the option to pay for a year upfront, and there is a 30-day free trial available before you sign up.
Now we've looked at the main points that differentiate these 2 platforms — and dropped in how Uscreen measures up — so let's take a look at Vimeo vs. Dacast advantages and disadvantages.
Dacast: Advantages & Disadvantages
Dacast is a popular tool with lots of corporate and enterprise-level users, as well as smaller businesses.
It clearly works well for lots of people who use it, but like all things in life, there are some disadvantages.
We're going to explore what former and current users loved about Dacast and which features they didn't quite jam with.
| Dacast Pros | Dacast Cons |
| --- | --- |
| Fully brandable player | Not an all-in-one solution |
| Live streaming integrations | Need to know coding |
| Website and social media embeddable | Limited sales and marketing tools |
Advantage #1: Fully Brandable Player
To make your video content your own, you want to make sure your branding is consistent across your website, and the Dacast player allows you to do just that.
You can choose your own fonts and color palette as well as add your logo to your video.
Better yet, you can even add a watermark to your content if you're concerned about protecting your intellectual property.
This branding and watermarking can also be set across all of your video assets or just selected ones.
Advantage #2: Integrates Easily With Live Streaming Tools
The team at Dacast have created their own version of the open source streaming software OBS.
This means it's simple to get your live stream fed into the software from your computer and delivered to your viewers across the internet
While there are other live stream software encoders available, having one that's designed to look and feel intuitive to the platform you're using for streaming is helpful, especially for beginners.
Advantage #3: Embeds Across Social Media and Your Own Website
You'd expect a VOD platform to let you embed your video content on your website, but not all of them have social posting included.
Using the same embed code that Dacast generates to add your video to your website, you can include your pre-recorded video on your Facebook or Twitter feed as well.
This not only keeps your branding aligned but also saves you from having to upload your content to different places all the time.
That's some of the good stuff; now let's talk about where Dacast misses the mark.
Disadvantage #1: Not a Complete Package
Choosing Dacast to host your video content isn't an all-in-one solution.
To actually give your audience access to your content, you need to maintain your own website, which is an additional cost to your business.
With website builders like WordPress, Squarespace, and Wix available, it's easy to create a place to put your video, but they do cost money.
If you already have a website then this may not affect you too much, but if you're an entrepreneur just starting your video monetization journey, you really want a complete solution in one place.
Disadvantage #2: Need Coding Skills to Go Beyond The Basics
While it's pretty easy to get the basics of video hosting and broadcasting set up with Dacast, anything more requires coding experience.
They do offer 2 APIs, namely:
A content management API.
A player API.
You — or someone you hire — will need to know how to work with these to do things like create an app for your video business.
Coding is even needed to integrate your basic tools like Mailchimp, ConvertKit, or Zapier — and if you want automations, these will need to be coded, too.
Plus, to add videos to your existing mobile app, you'll need to have someone able to work with the Dacast software development kit (SDK).
This can be a big barrier to being able to scale your video business.
Disadvantage #3: Limited Sales and Marketing Tools
You can offer coupons and discounts to your customers using the Dacast paywall, but that's about as far as the marketing tools go.
Options to retain customers who are thinking of leaving, upselling to satisfied customers, and running abandoned cart sequences are all missing from the Dacast offering.
Even when you do get a sale, your buyers have limited payment options.
You can accept payment through the Dacast paywall system or through PayPal — it currently lacks the option to work with Stripe or any other payment provider you may want to use.
It's unlikely your users will notice an issue, but you'll have fees of 9.9% plus $0.40 per transaction, which is pretty high compared to other payment processors.
Looking for an alternative live streaming platform? Check us out and book a demo today!
It's simple with Uscreen.
Build, launch and manage your membership, all in one place.
Now, let's look at where Vimeo Livestream could improve.
Vimeo: Advantages & Disadvantages
Vimeo has been around for a long time and has brand recognition in the video hosting space.
They must be doing something right to have so many paying customers, but there are lots of others who aren't fans of the service.
The pros and cons of being a customer of Vimeo are coming up.
| Vimeo Pros | Vimeo Cons |
| --- | --- |
| Easy to use | Limited analytics on lower tiers |
| Lots of customization options | Monetization not included |
Advantage #1: Easy to Use
Much of the feedback users give about Vimeo is how easy it is to get started uploading videos.
There's a free option, called Vimeo Basic, for simple video hosting that you can get started with quickly (this doesn't include live streaming).
Once your video is uploaded or your live stream is set up and ready to go, it's easy to generate an embed code to add videos wherever you need them.
Advantage #2: Range of Customizations
There are lots of options to add your own branding to your Vimeo live streams and VOD content.
The branding options you get with Vimeo are:
Watermarking your content.
Adding custom colors to your player.
Adding a logo to your content.
Customizing your end screen.
Adding custom overlays such as lower thirds.
You can also remove the play bar from the player, meaning the viewer can't skip through your video.
Password protection and other privacy settings also allow you to customize the audience that gets to access your content.
Disadvantage #1: Limited Analytics on Lower Tiers
Vimeo does offer an analytics dashboard, but customers have stated that they'd like to see more information available.
The advanced-level analytics comes with the Premium package and higher, meaning that information about how long people watched your video and how they engaged with your content isn't available to Vimeo Pro or Plus customers.
On top of that, you can only use the Google Analytics integration with the Premium and Enterprise packages.
As frustrating as this could be, it's worth noting that you only get live streaming options at the Premium level, too.
Disadvantage #2: Monetization Isn't Included
Choosing one of the Vimeo packages that include live streaming and comprehensive analytics still doesn't give you any options to monetize your content.
The option to sell subscriptions and pay-per-view content come with a different product, Vimeo OTT, which has a different pricing structure and different features altogether.
If you choose a normal Vimeo package to host your videos and branded content, you can't easily scale your business to selling content.
We've looked at each platform individually, but how do they measure up against each other and the competition?
Dacast vs. Vimeo: Is There a Better Alternative?
Finding the right video hosting platform for your business can be a challenge — there are lots to choose from!
Dacast has some good options when it comes to enterprise-level video hosting and it's one of the few platforms that offer the AVOD model for those larger businesses.
On the flip side, Vimeo works well for smaller businesses with a freemium package that has simple video hosting, but if you want live streaming capabilities, you'll still need to pay.
Then, we come to us: Uscreen. Our focus is on helping you monetize your video business with all the tools you need.
Everyone can monetize their content with us and we have more payment processing options and marketing tools than both Dacast and Vimeo.
Even better, you don't need to have an established website when you choose Uscreen — our drag-and-drop website builder will help you create a fully branded standalone site or you can link it to the website you've already created for a seamless user experience.
Plus, you can even run your live streams to an Android or iOS app that we create for you, making your content super accessible.
Ready to see everything we offer now? Book a demo and we'll show around.
It's simple with Uscreen.
Build, launch and manage your membership, all in one place.
Wrapping It Up
That's the important details about Vimeo vs. Dacast, with some juicy details about Uscreen thrown in, too.
There's a use case for every video streaming platform, whether you've got…
an established website and programmers to deal with the details of Dacast
a company wanting a place to simply host videos and streams with Vimeo
an organization that wants to scale their video business with Uscreen
…there'll be a tool to match your needs.
For monetization, marketing, and creating a simple and intuitive user experience, we reckon Uscreen is the place for your content.
Book a demo with us and we'll show you how we can support your business's growth.
It's simple with Uscreen.
Build, launch and manage your membership, all in one place.