The video platform that hosts your content can play a deciding role in its success.
Brightcove is one of the most recognizable names, thanks to its secure and scalable video platform.
If you're still exploring your options, or you're looking to switch from Brightcove, we got you covered.
That's because the Brightcove competitors that we've listed will appeal to a wide range of content creators.
We selected each platform based on the quality of their service and their popularity in the industry. Learning about your options for monetizing content can ensure you select the platform that best fits your needs.
Here are the Brightcove alternatives we'll be going over:
Now, let's move it along.
What Is Brightcove?
Already know what Brightcove is? Click here to skip to the first competitor!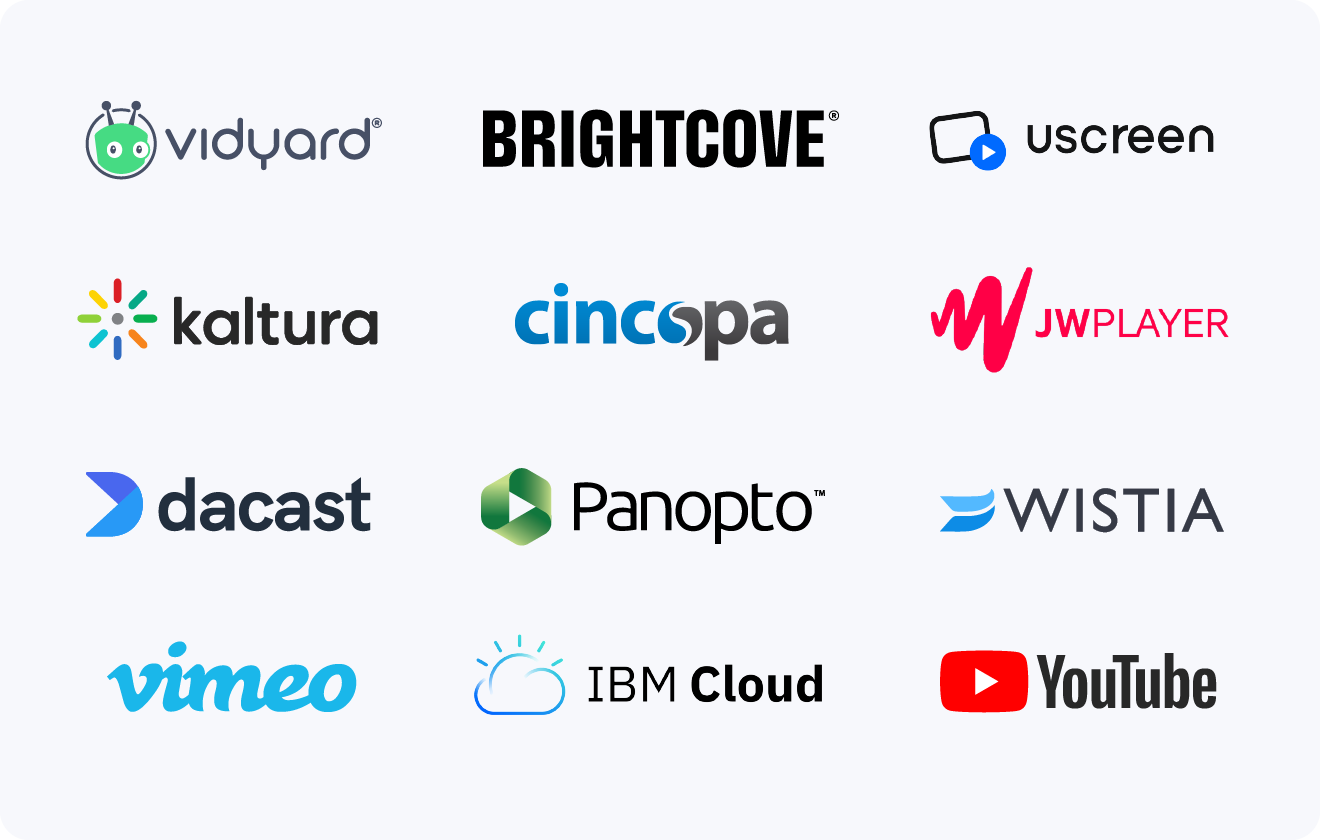 Brightcove is an online video platform for content creators and businesses to host and stream their content.
The platform is often used by content creators who want better engagement with their audience while monetizing their work.
Brightcove differs from YouTube by focusing more on established business-to-business content. YouTube tends to be a place for video creators who are growing their presence.
Once a content creator has a strong following, they usually look to change platforms for something that provides more options.
Let's look at some of the options Brightcove offers its users.
Features
Pricing
Brightcove's pricing varies based on the features you need. Contact them directly to learn what their service will cost you.
Since Brightcove is tailored to the needs of established businesses, its service is often pretty pricey for beginner content creators.
Some users also report shortcomings with Brightcove's analytics and user experience.
Learning about some of Brightcove's competitors may reveal alternatives that are a better fit for your needs.
Let's dive in!
1. Uscreen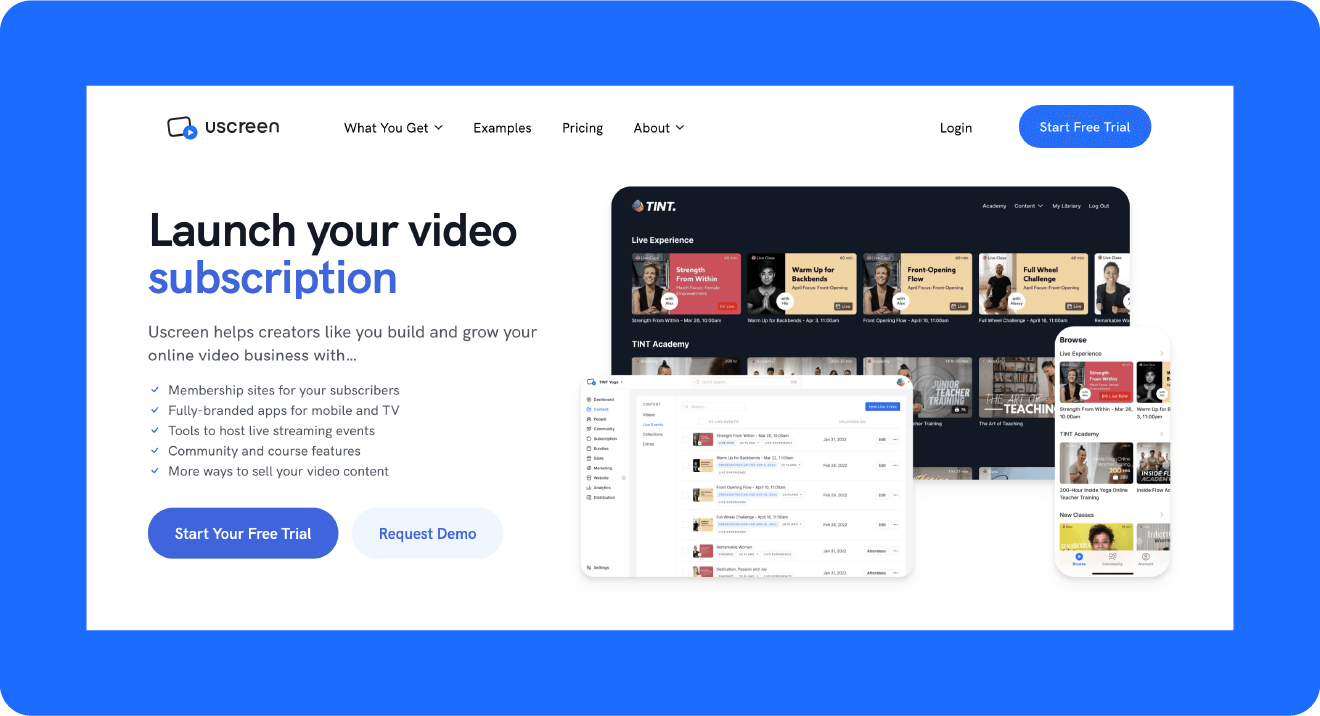 Uscreen is an all-in-one video platform that helps video creators sell, market, and manage their online businesses.
Our wide range of features can help you expand your offerings to keep your business growing, quickly bypassing potential bottlenecks.
You get complete control over your content, building your own website and apps to give your users the exact experience you want for them.
Take a look at how our features make that possible.
Features
To help you make your community everything that you want it to be, we give you:
Privacy controls to limit subscriber access.
Pay-per-view video sales.
Push notifications to keep users engaged.
Live streaming with chat functions.
Video API access.
Full ownership of your data.
Pricing
Looking to learn more about the plans and pricing that Uscreen offers? Check out our pricing page to find a plan that works for you!
It's simple with Uscreen.
Build, launch and manage your membership, all in one place.
2. Vidyard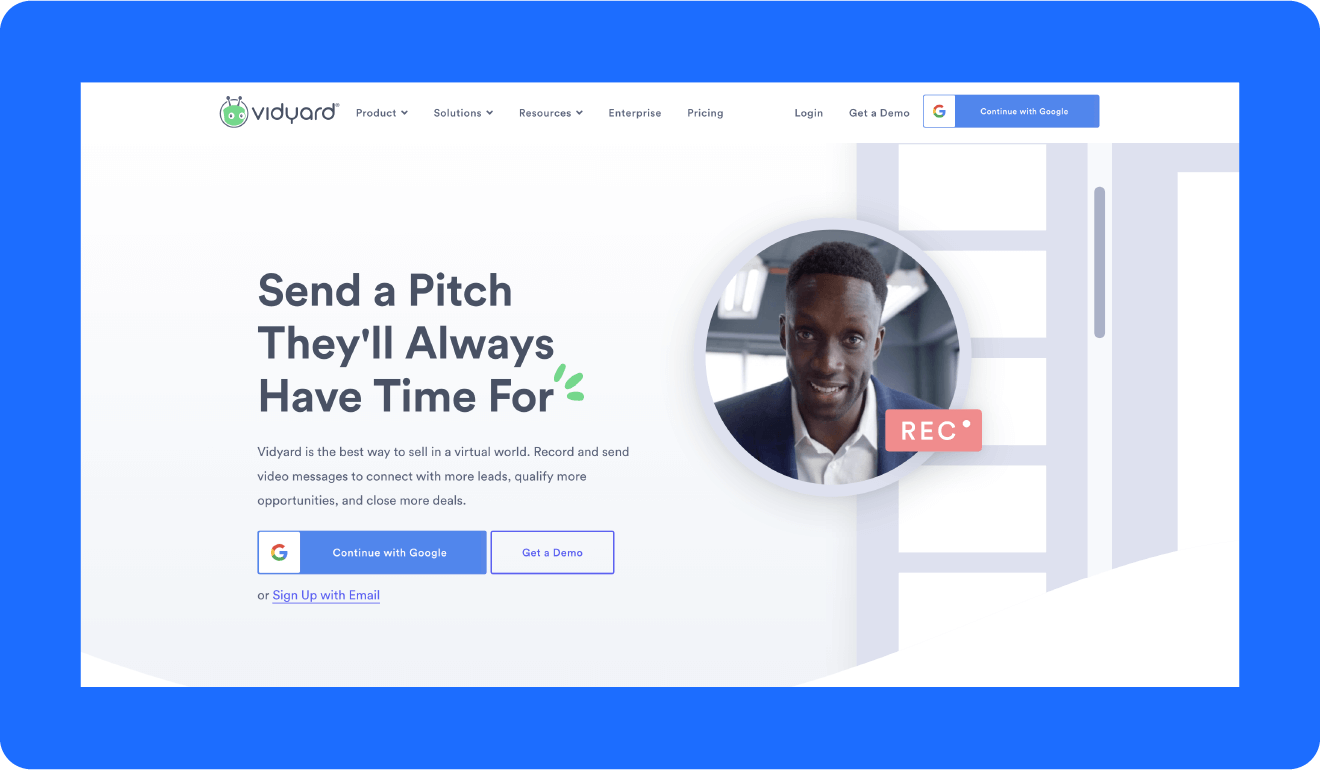 Vidyard is a video hosting platform focused on helping businesses personalize the user experience by improving your video content with their tools.
Their software can analyze video performance and provide actionable insights to your video programs.
Let's look at the tools that make this platform special.
Features
Vidyard helps video creators by giving them:
Bulk uploading capability.
Lead capturing tools.
A customizable video player to match their brand.
Social media and marketing tool integrations.
Pricing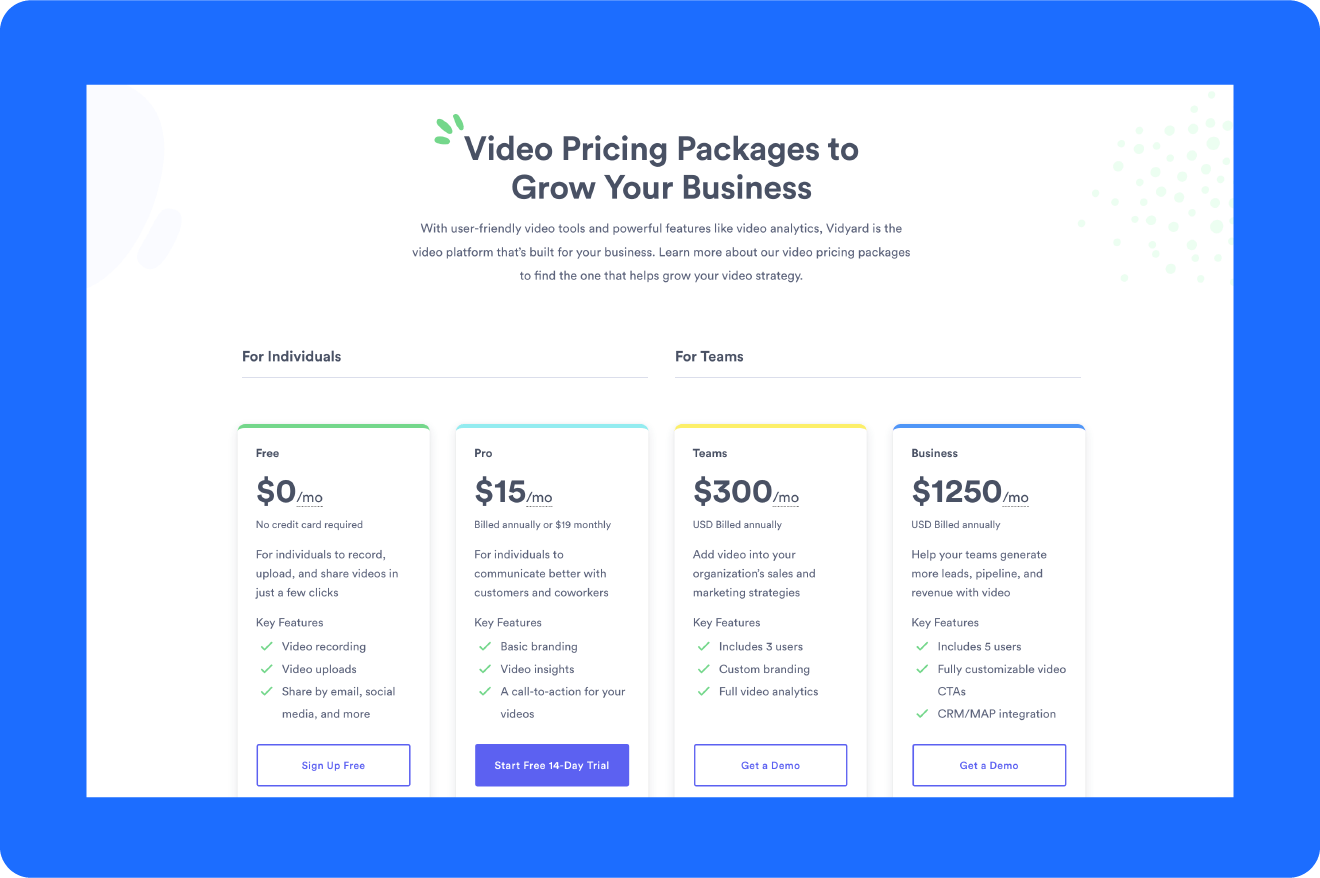 Vidyard offers 4 plans to its users:
Free: Their free option allows users to upload up to 25 videos that are 30 minutes in length. It provides video editing tools, search engine optimization, and up to 5 embeddable links. Price: Free
Pro: Their next tier allows for unlimited uploads of videos that are one hour in length. Users get 20 embeddable links, video performance insights and customization options. Price: $15 per month.
Teams: Their third tier enables videos of unlimited length. Users get more organization and integration options. You can have 50 embeddable links and access to their analytics tools. Price: $300 per month.
Business: Their final tier can automatically add captions and allows external users to upload content. It increases the number of embeddable links to 100 and gives users more control over video access. Price: $1,250 per month.
Let's look at another Brightcove competitor.
3. Wistia
Wistia is a marketing-focused video streaming platform.
It helps content creators get the attention of potential customers and lock down new sales with marketing tools.
Live streaming is missing from this Brightcove competitor's arsenal, but if you use video-on-demand exclusively, then it is still a viable option.
Let's get a better look at their tools.
Features
Wisita helps its users improve their production by:
Providing a fully customizable HTML5 video player.
Creating specific audience targets for advertisements.
Integrating with marketing platforms to share data.
Offering actionable analytics for better insights.
Embedding different channels to create a streamlined experience.
Pricing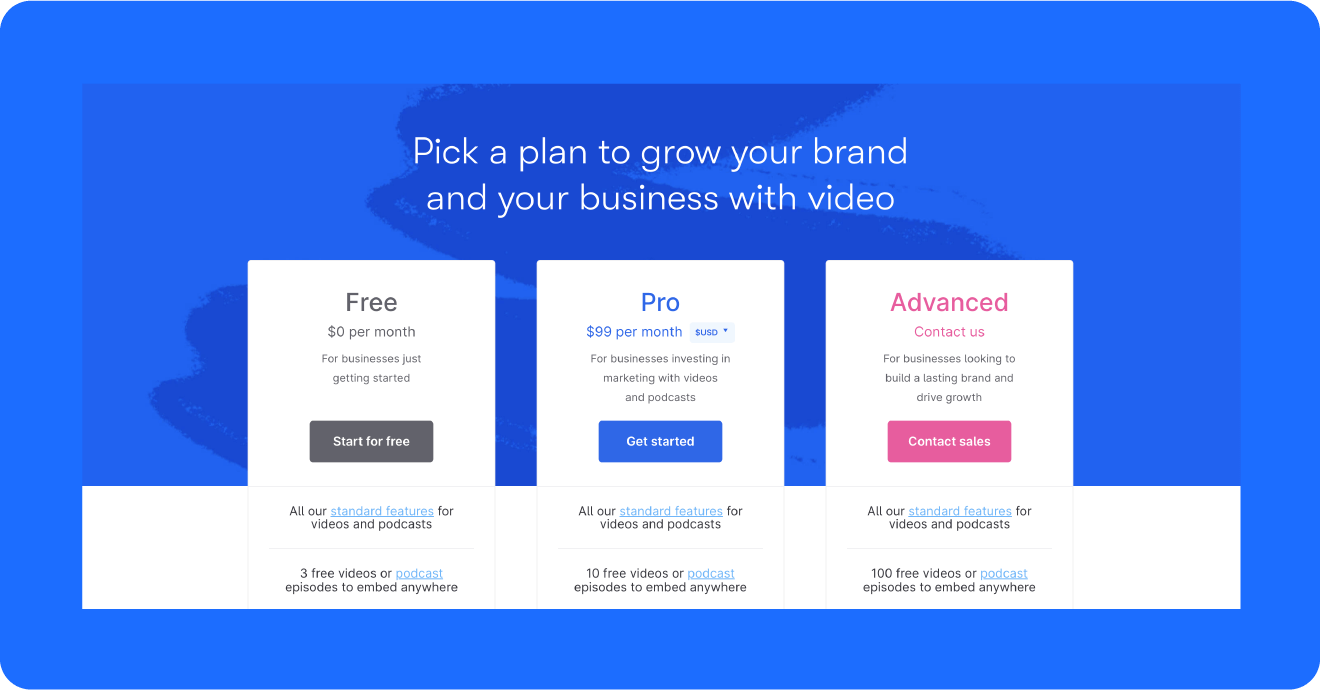 Wisita has 3 plan options for its users:
Free: Their free plan is ideal for new businesses and provides access to their standard tools like video analytics, platform integrations, and channel customization. You can have up to 250 subscribers and embed 3 videos anywhere. Price: Free.
Pro: Their first paid plan increases your number of embeddable videos to 10 and adds the ability to send email notifications. It also removes the Wistia branding from your videos. Price: $99 per month.
Advanced: This top plan increases the number of embeddable videos to 100 and allows for multiple channels to be embedded to your site. Contact Wistia's sales team for pricing options.
Now let's go to a platform that targets a different market.
4. Panopto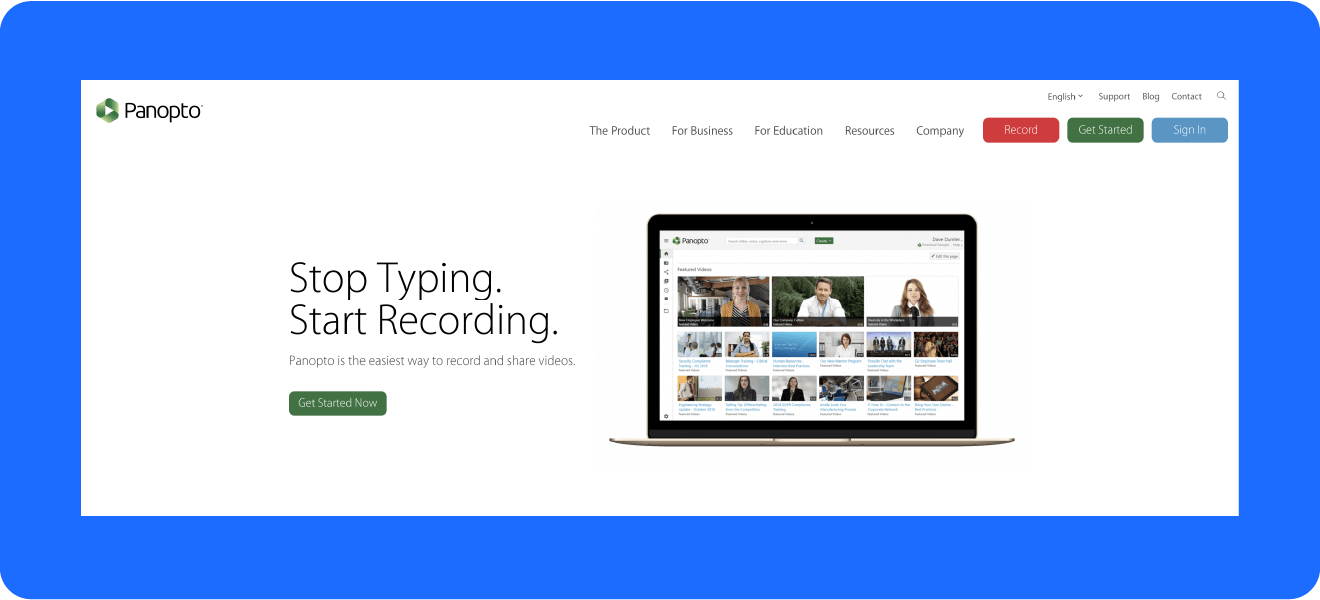 Panopto is a video streaming platform for large institutions. Its primary clients are colleges and corporations that need to share content internally, like Stanford and GE.
It easily integrates with learning management systems to provide an organized online video gallery.
Take a look at what they have to offer.
Features
Teachers love Panopto because it lets them:
White-label their video streams.
Control access and security features.
Customize video categories for improved organization.
Auto-archive their live streams.
Have API access.
Pricing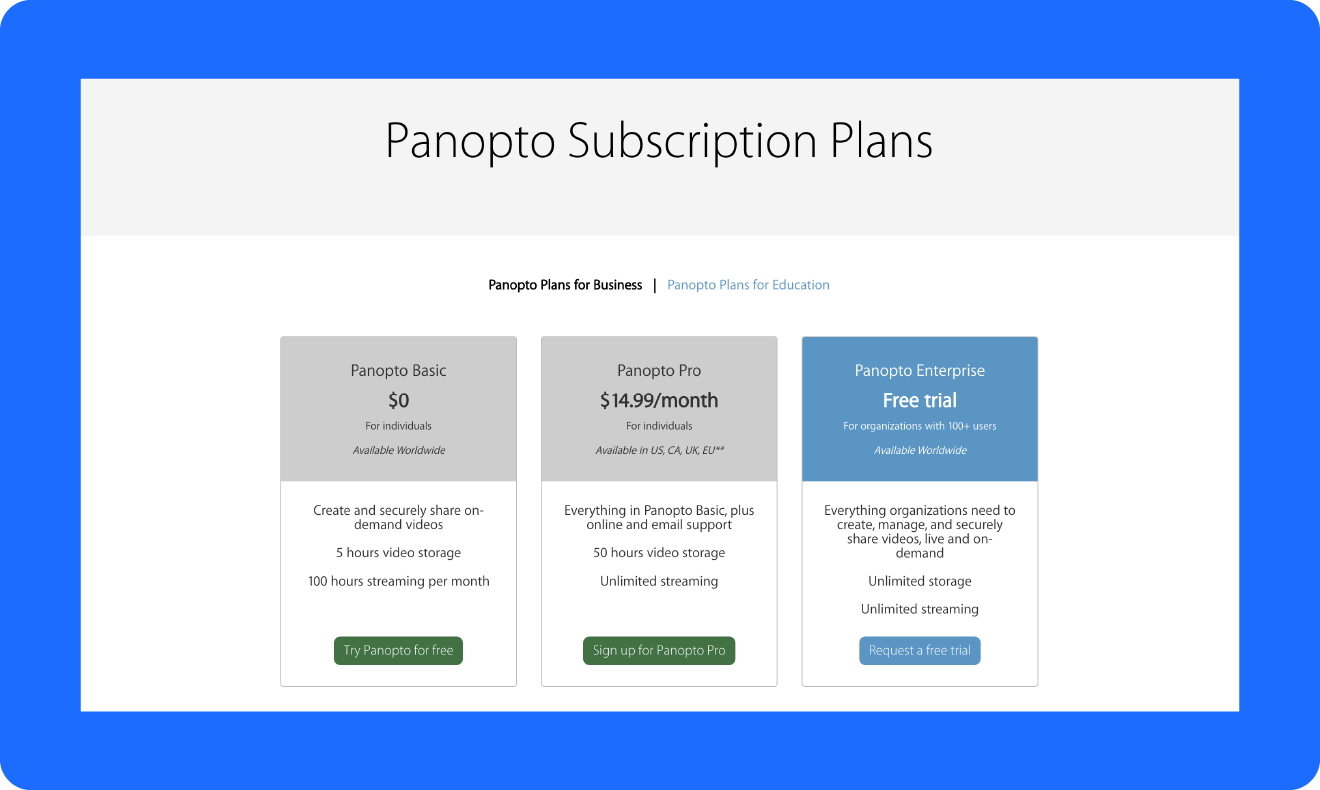 Panopto has 3 tiers to choose from:
Basic: Their free plan provides 5 hours of video storage with 100 hours of streaming a month. You can record videos from any device, create content quizzes and track statistics on viewer engagement. Price: Free
Pro: Their second tier has some added improvements. Video storage is bumped up to 50 hours and you get unlimited hours of streaming per month. Price: $14.99 per month.
Enterprise: Their custom plan adds integrations with your content management and customer relationship management systems. Contact Panopto directly to learn about all of their features and pricing information.
The next batter at the plate is JW Player.
5. JW Player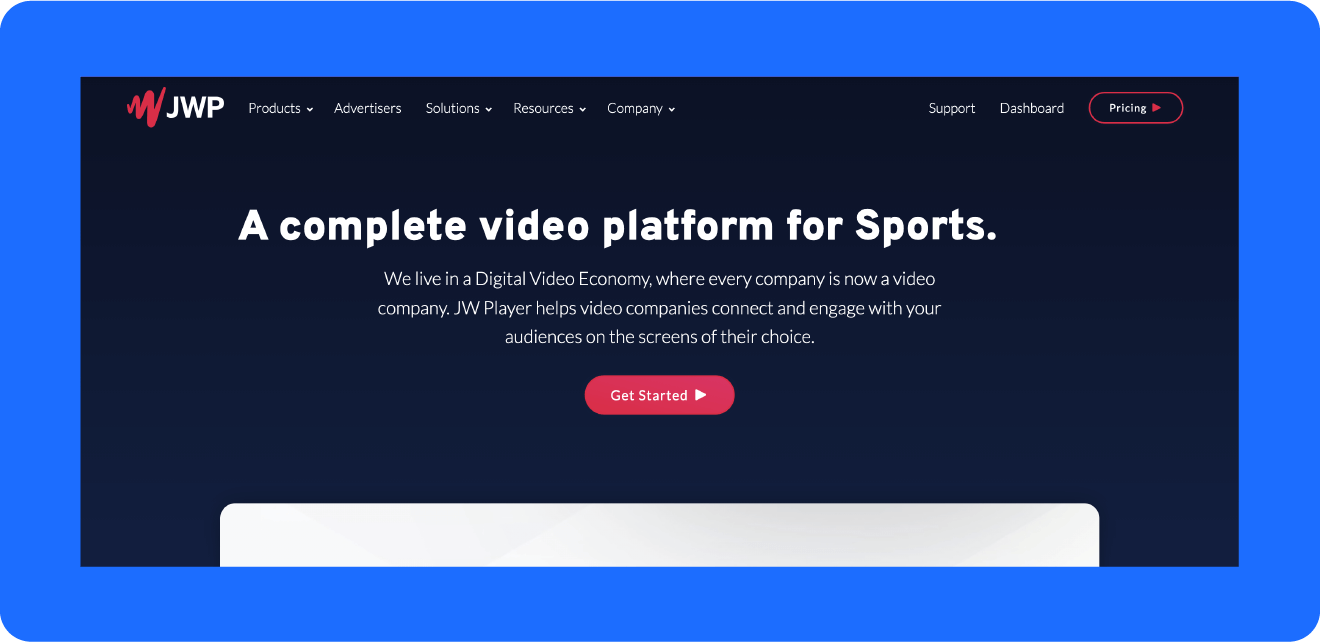 JW Player was founded over 15 years ago exclusively as a video player. Fun fact: YouTube used their software to stream videos before being purchased by Google.
Since then, it has expanded into a video hosting and live streaming platform.
The service helps deliver content wherever you need it, while making sure you get paid what you're worth.
Ready to see what you get on their platform?
Features
On top of their video-on-demand content, this Brightcove competitor also offers:
"Watch next" recommendations to viewers.
Multi-bitrate and adaptive streaming.
Advertising monetization options.
A global content delivery network.
Video API access.
Pricing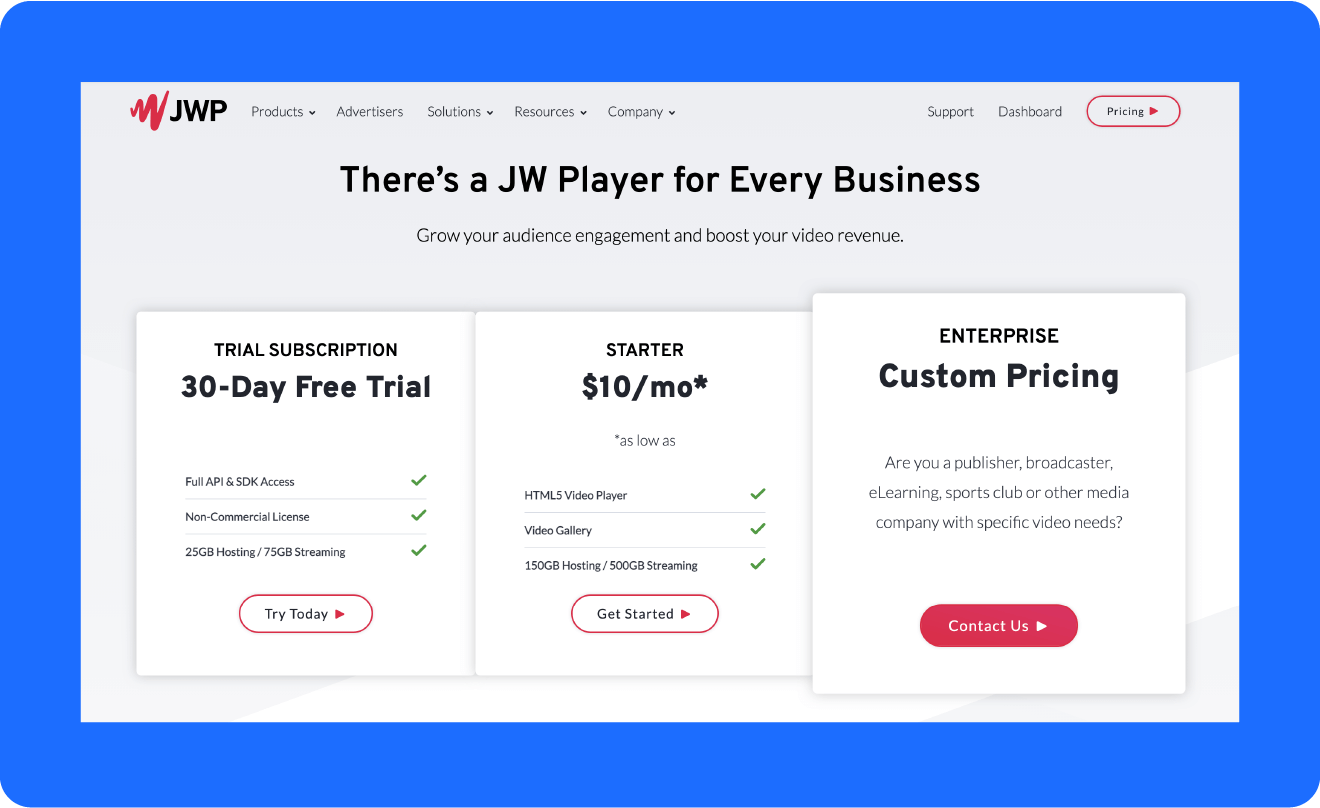 Aside from its free trial, JW Player has 2 plan options:
Starter: This plan includes the use of their HTML5 video player and gallery. You'll have 500GB of streaming per month and 150GB of bandwidth. It also provides access to analytics tools. Price: $10 per month.
Enterprise: This custom plan has access to their advanced features, like live streaming and self-hosted player libraries. The price varies based on your needs and is ideal for large scale operations.
On to the next Brightcove alternative.
6. Kaltura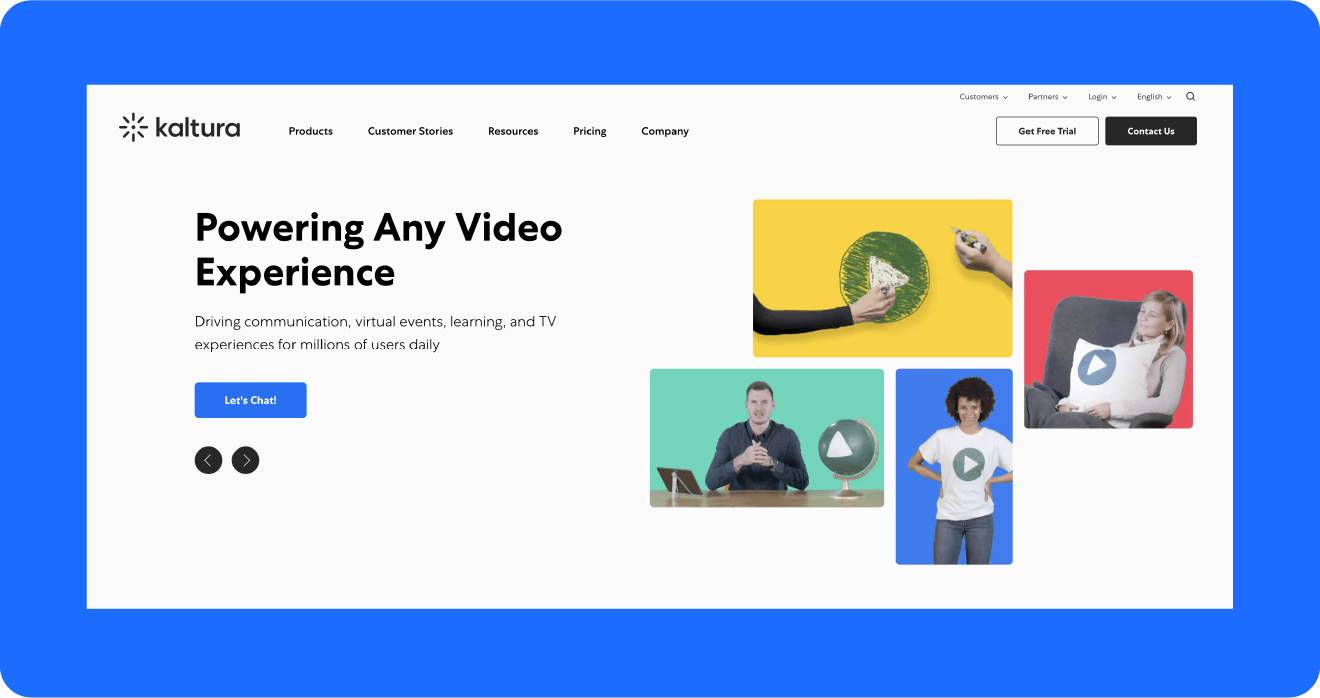 Kaltura is best suited for large enterprises that have a strong need for customization.
Think schools that have online learning or corporations that have internal training programs. It is still an option for straight media providers, though.
Its cloud-based video hosting is great for video-on-demand and live streaming, making it perfect for remote students.
But, what is it that makes Kaltura a unique Brightcove alternative?
Features
Kaltura provides a quality platform to its users by:
Enabling multiple monetization options.
Using a global CDN. 
Allowing customizable plans and user experiences. 
Using cutting-edge live streaming technology. 
Pricing
Kaltura is another platform that does not make their pricing public. This is mostly due to their mix-and-match style allowing their users to make custom plans to fit their needs.
Reach out to them directly to learn more.
7. IBM Cloud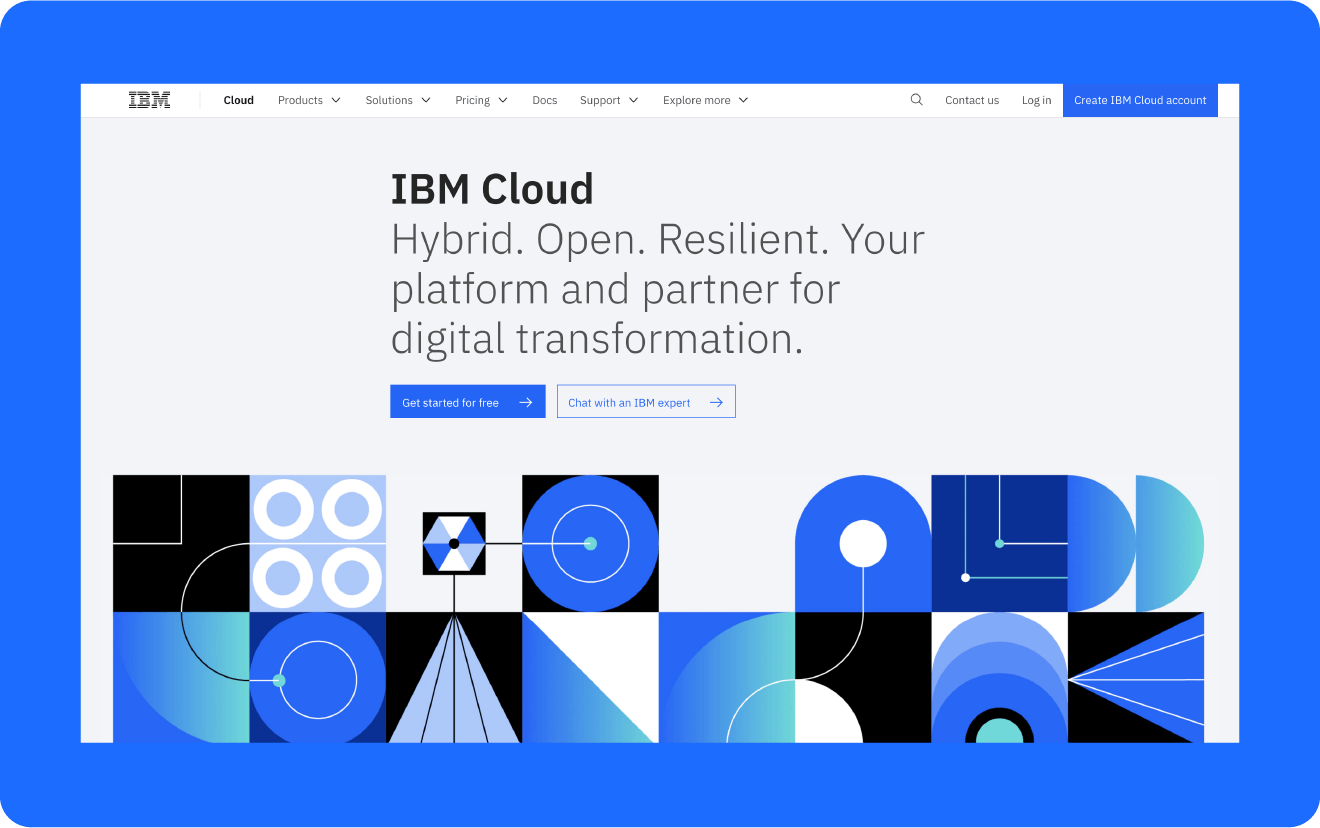 IBM is a staple in the tech industry and their video platform, IBM Cloud, lives up to their reputation.
This Brightcove alternative was originally known as Ustream and it was designed to connect military service members to their families.
Now it's become a little more well-rounded, offering video services to all sorts of companies, and is a major Brightcove competitor.
This video-on-demand platform still stays true to its roots by providing a quality live streaming service.
Let's see how its features stack up to the other platforms.
Features
IBM's streaming platform gives its users:
Access to developer APIs and SDKs.
Live playlists with automatic looping.
Multiple CDNs for a global reach.
Customizable channel pages to match your brand.
Compatibility with virtually all devices and screen sizes.
Pricing

IBM Cloud has 3 standard pricing options:
Silver: This plan allows for up to 5 channels with 1TB of data storage. You'll have 100 viewer hours and HD transcoding up to 720P. Price: $99 per month.
Gold: The next tier doubles the number of channels to 10 and video storage to 2TB. You'll get 2000 viewer hours and all other features remain the same. Price: $499 per month.
Platinum: Their highest plan allows for up to 20 channels and 5TB of storage. You'll have 5,000 viewer hours and all other features remain the same. Price: $999 per month.
IBM Cloud also offers a custom plan option for users with specific needs and is their only plan that has HD transcoding in 4K.
8. Dacast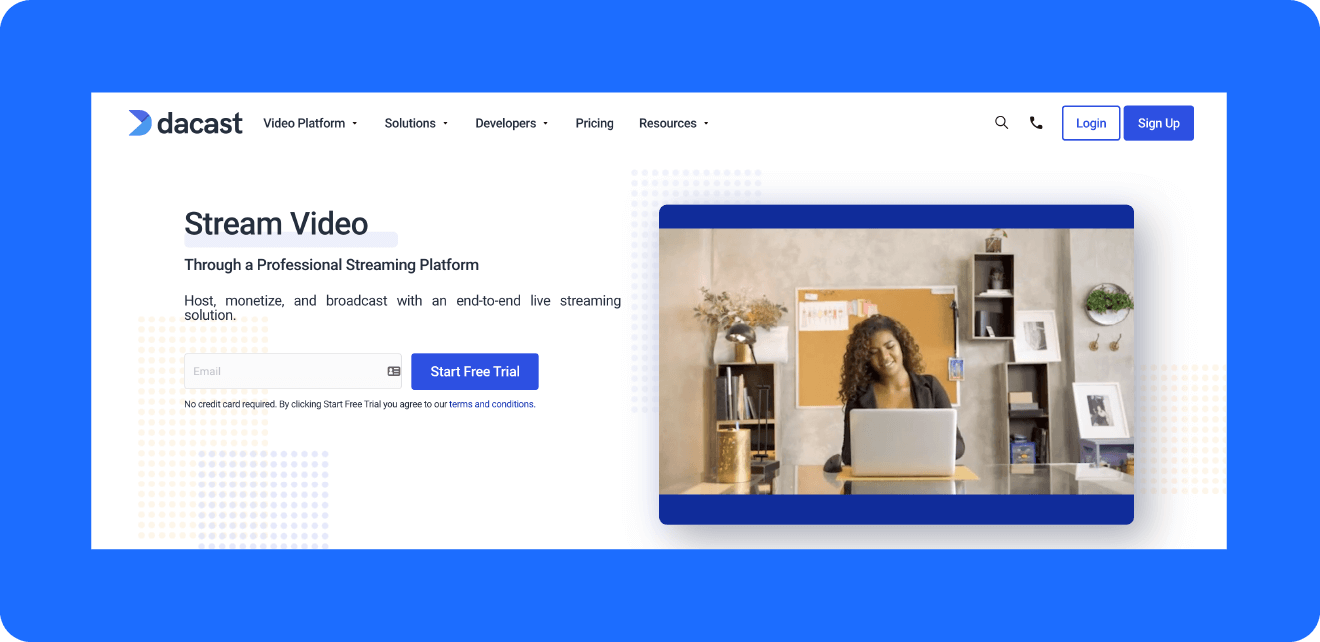 Dacast is one of the strongest Brightcove competitors on this list.
They are upfront about their pricing, making it easy to compare to other platforms. And their different plans make it affordable for smaller creators.
They pride themselves on providing all of the necessary features a content creator needs, and they provide them for all of their plans.
Let's check out what those features include.
Features
Dacast provides its users with:
A top-tier CDN for reliable video streaming.
A global content delivery network.
Video and player API access.
Password protection and encryption.
HMTL5 video player.
Pricing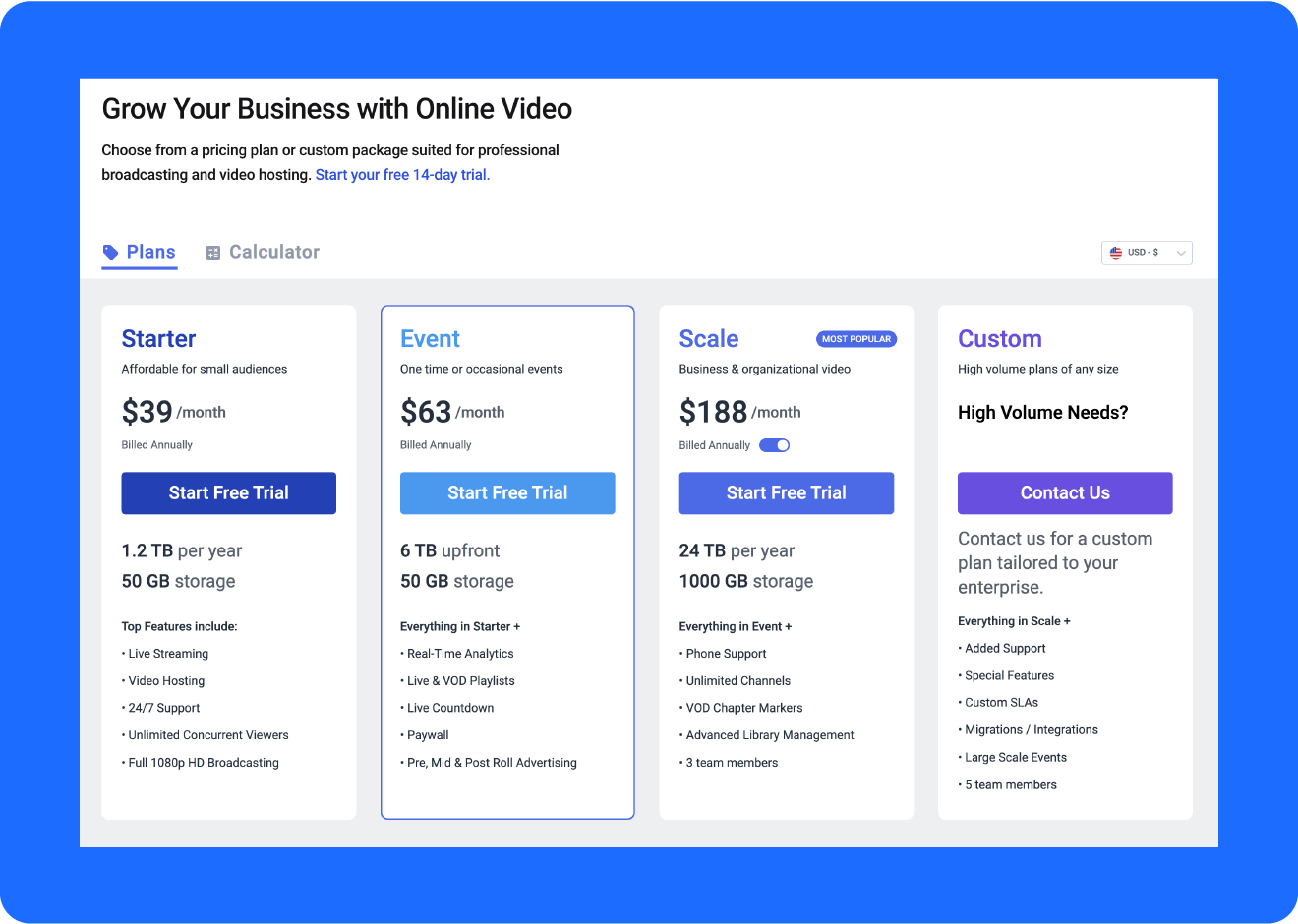 Dacast has 3 standard plans to choose from:
Starter: Their lowest plan provides 1.2TB of bandwidth with 50GB of storage per month. This includes live streaming with an unlimited number of viewers. It has 24/7 customer support. Price: $39 per month.
Event: This plan is for content creators who only hold occasional events. They get 6TB of bandwidth and 50GB of storage. There is a live countdown to the event and paywall capabilities. Price: $63 per month.
Scale: Their top plan provides 24TB of bandwidth per year with 1000GB of storage. You'll have unlimited channels with advanced content management. Price: $188 per month.
They also offer the option to create a custom plan for high volume needs.
But what do our other Brightcove alternatives have to offer?
9. YouTube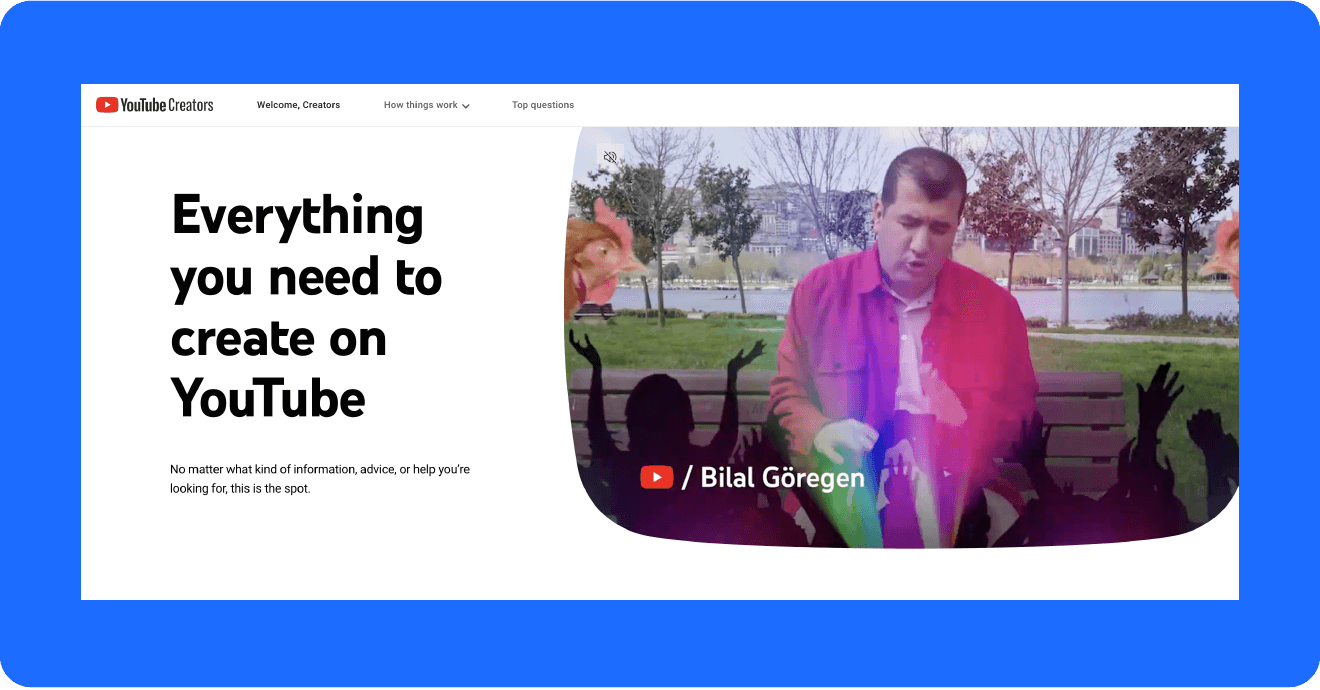 YouTube is considered the OG of online video streaming. Its easy-to-use interface makes it so that people of all ages can manage their content.
This fact, combined with their huge user base, means most content creators use YouTube's platform in some way.
Of course, YouTube does have some limitations. With strict content guidelines, narrow monetization options, and forcing creators to give up partial ownership of their videos — many people use the platform for a limited time before looking to migrate somewhere else.
But what can it offer creators during their startup phase?
Features
YouTube turned into the juggernaut that it currently is by giving users:
Ad-based monetization.
Easy video embedding to other sites.
Simple live streaming capabilities.
Huge viewership.
Pricing
YouTube is free to use, which is the main reason nearly all content creators start out there, even if it has limited functionality and requires ad-based streaming.
If you want control over your monetization, you'll need to pursue one of the other Brightcove alternatives.
Now let's look at an option that's a bit more versatile.
10. Vimeo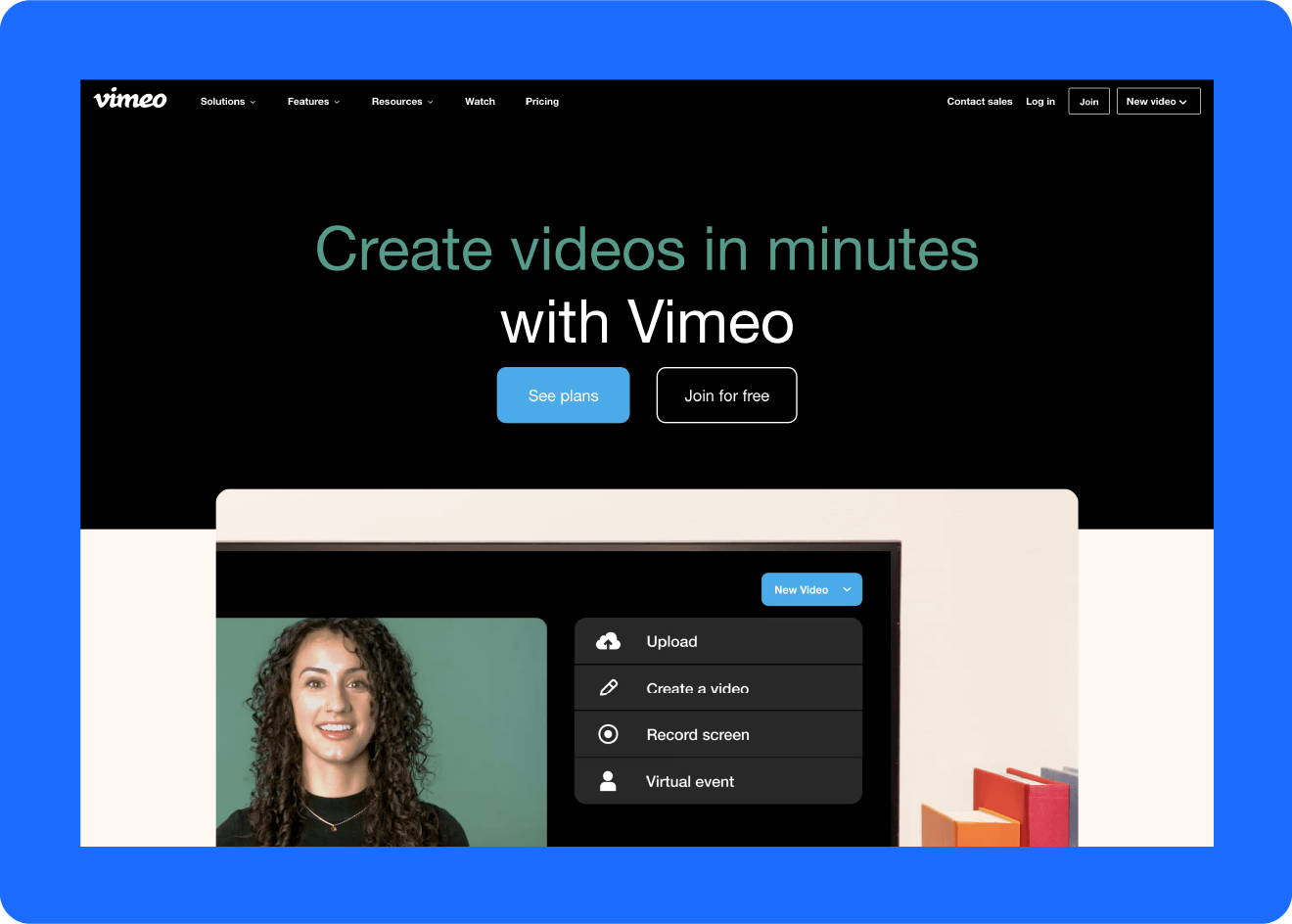 Vimeo is the natural next step for content creators who gather a following on YouTube.
While YouTube caters to advertisers, Vimeo focuses more on the creator's needs.
It provides more versatility in its functions and provides them at an affordable price. These low barriers to entry are pretty appealing to creators who are still getting their feet under them.
Let's look at how this Brightcove competitor puts their own spin on video streaming.
Features
To help their creators deliver the best product to their audience, Vimeo provides:
Multiple plans that scale with your business.
Customizable channel templates.
Adaptive CDN streaming around the world.
SEO and analytic tools.
Pricing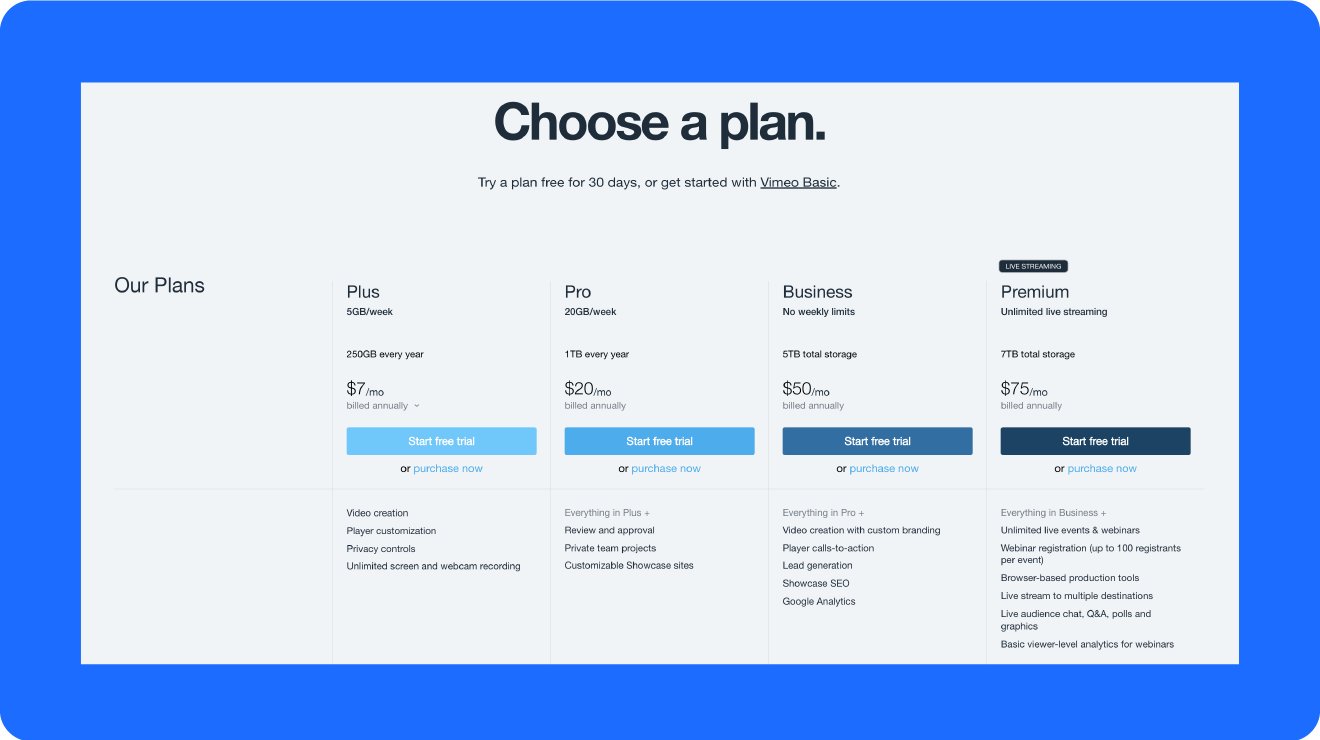 Vimeo has 5 plans to meet your needs:
Basic: Their lowest plan is entirely free to use but only has 500MB of uploads per week and 5 GB of storage. It also lacks many of the features that creators look for when leaving YouTube, like privacy controls and customization. Price: Free.
Plus: Their second tier provides 5GB of bandwidth per week, 250GB of storage per year, and has no advertisements. You can embed videos to social media platforms and control privacy settings. Price: $7 per month.
Pro: Their next plan provides 20GB of bandwidth per week and 1TB of storage per year. You can collaborate with 3 team members and get access to new tools to create an unlimited number of videos. Price: $20 per month.
Business: Their next tier removes weekly limits on uploads and bandwidth. You'll get 5TB of yearly storage and can collaborate with 10 team members. Price: $50 per year.
Premium: Vimeo's top tier increases storage to 7TB and provides unlimited live streaming. Price: $75 per month.
On to our final platform.
11. Cincopa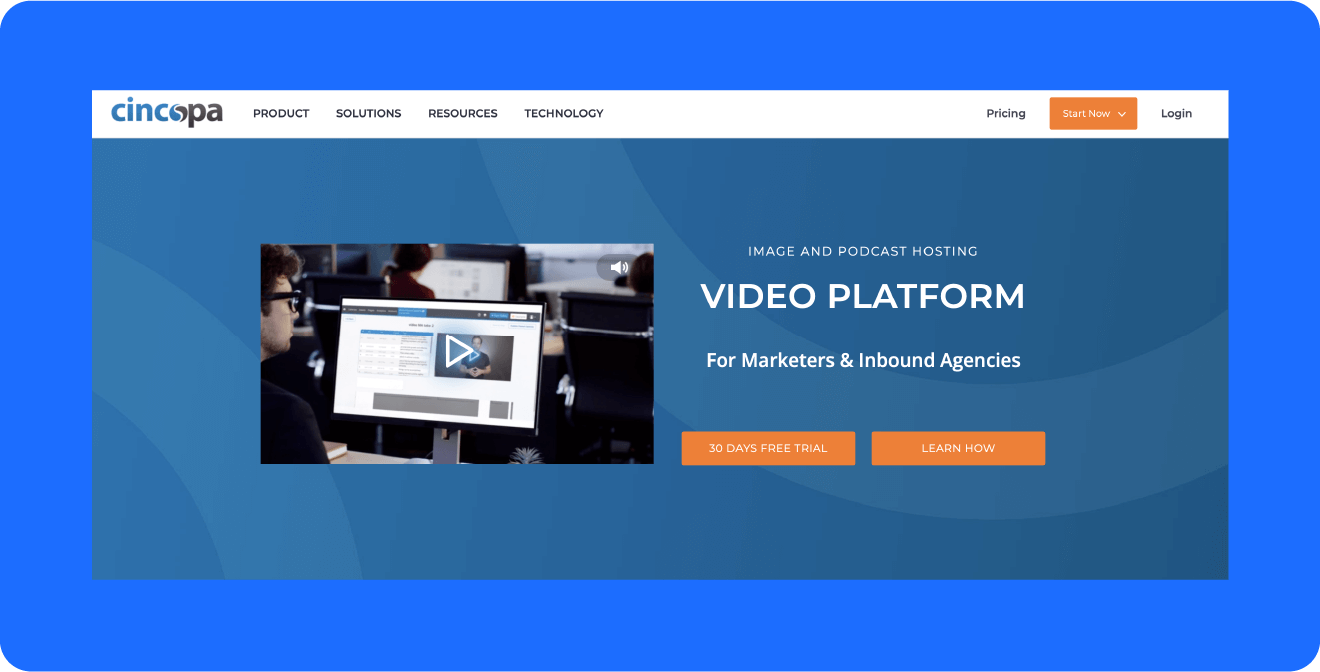 Cincopa is a video platform that also helps content creators manage photo and audio content.
Most of the platforms in this list focus on video exclusively. There are benefits to using a service with this kind of dedication, but it can limit functionality.
If you dabble in any of those other formats or have plans to do so in the future, this may be the platform for you.
Features
Apart from hosting multiple content formats, Cincopa offers:
API access.
Multiple integrations with services like WordPress and Zapier.
Monetization tools.
Insightful analytics tools.
Unlimited access to their templates and themes.
Pricing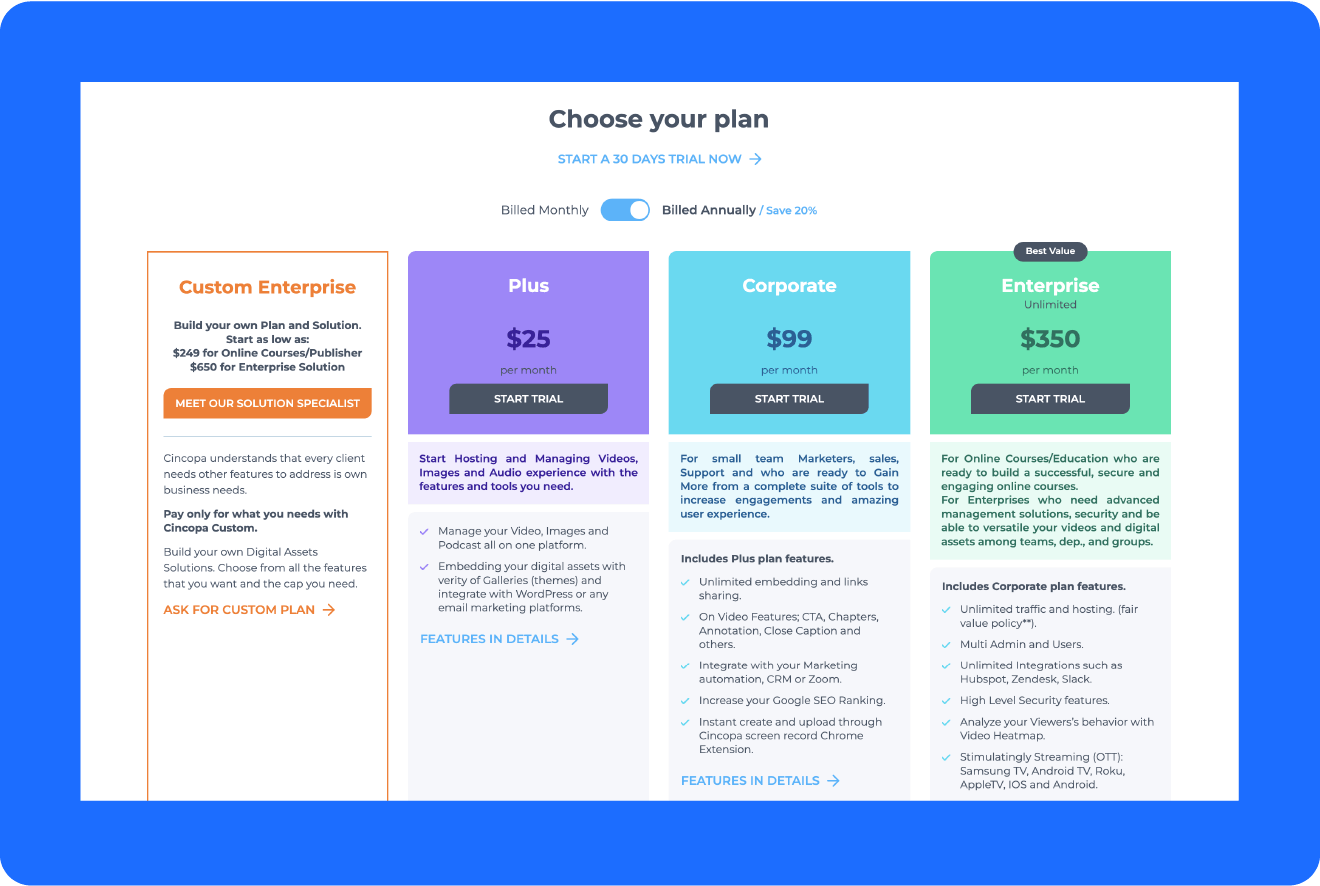 Cincopa has 3 plans to choose from:
Plus: Their cheapest plan offers basic video, photo and podcast hosting. It maxes out at 1500 images, 40 videos, and 50 audio files. You can stream up to 100GB of data a month and upload files up to 2GB in size. It includes one live stream feed with up to 30 minutes of broadcasting. Price: $25 per month.
Corporate: Their second plan can host 3000 images, 200 videos and 200 audio files. You can stream 500GB of data a month, with a max file size of 10GB. The Corporate plan increases live streaming to 120 minutes. Price: $99 per month.
Enterprise: Their top plan provides unlimited data storage for all file types. There is a max file size of 30GB. You can have up to 3 live stream feeds with up to 180 minutes of broadcasting. Price: $350 per month.
Cincopa also has custom options that you can design to meet your specific needs.
Wrapping It Up
There you have it — the best Brightcove alternatives in 2023.
Whether you need a home for your new online course or tools to market your business, these platforms have something for every type of content creator.
If you think Uscreen is the solution you've been looking for, reach out for a demo. That'll likely answer any remaining questions you have.
It's simple with Uscreen.
Build, launch and manage your membership, all in one place.