Imagine this: You're a DJ streaming your new set for the first time. What should your viewers see?
Your facial expressions while focusing on the next beat? Your hands getting ready for the perfect drop? The light strips slowly changing colors according to the music?
All of the above… well, if you were streaming with multiple cameras.
Multi-camera live streaming makes streams even more interesting and engaging, and it makes you look like a pro, which we know you are.
But if you still need to become a master at streaming from multiple angles, we have what you need to get started.
In this article we'll go over everything you need to know about multi-camera streaming, from the video equipment list to its common uses.
Let's get you ready for all of the perfect angles.
What Is Multi-camera Live Streaming Anyway?
Multi-camera live streaming is when you use more than one camera to capture a single live stream.
That means you can switch between your cameras during a live stream so you can enhance the viewers' experience by letting them see you from every angle.
This way, you can provide a seamless experience with close-ups, wide shots, and interesting transitions.
You might think you need expensive equipment or a whole crew to help you manage all the cameras, but you can still do it on a budget as a one-man crew.
Keep reading to find out exactly how.
Why Should I Live Stream With Multiple Cameras?
Streaming with multiple cameras can be great for showing your audience different perspectives and keeping them interested in your live stream.
When you're watching a movie, there are different shots and angles that help you see everything in the scene and understand story details better.
This is the same for live streaming. You want to be able to show everything people need to see to make it more exciting and clear.
And you can achieve this with multi-camera live streaming.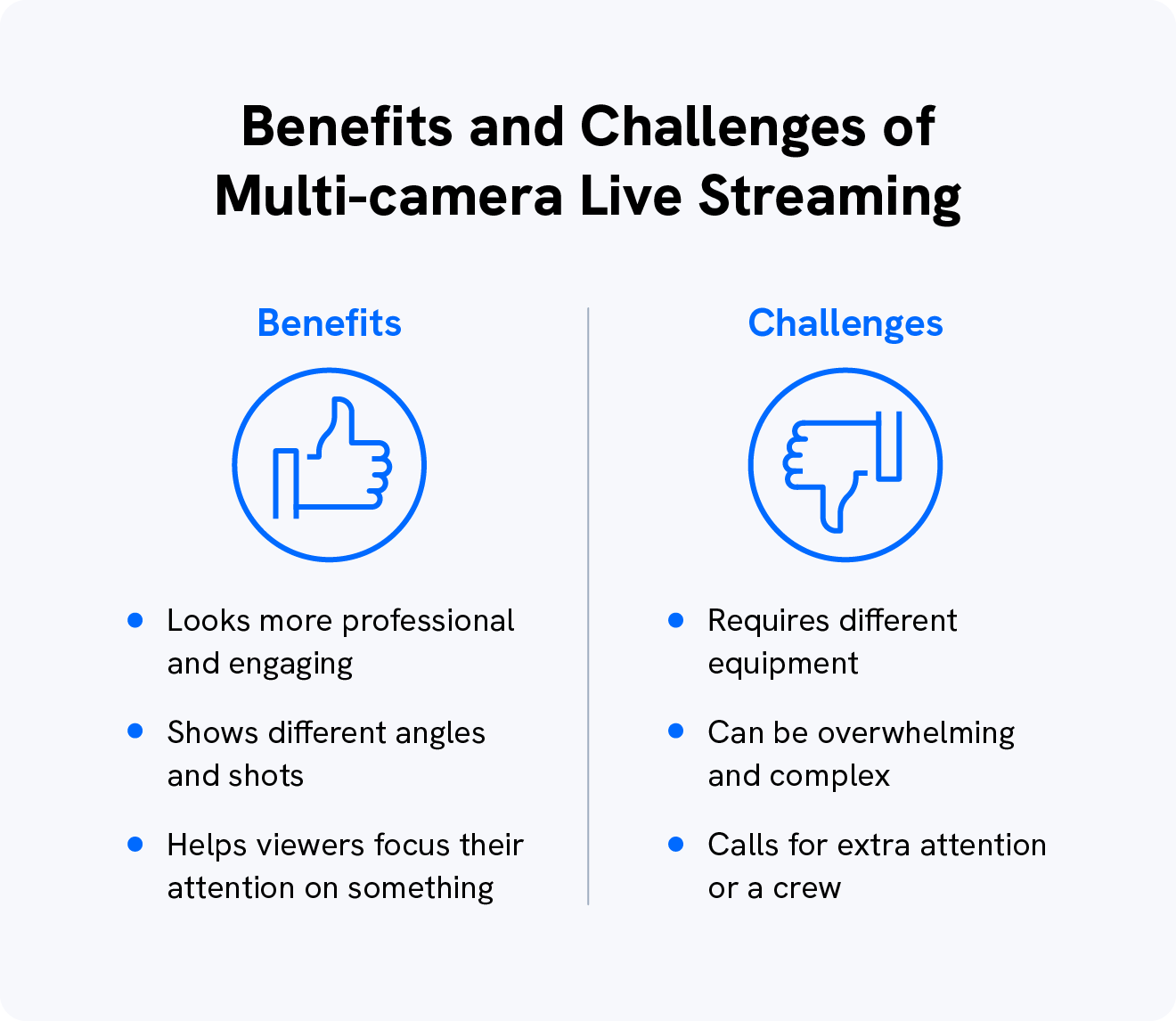 A multi-camera setup makes your video interesting and engaging because it allows your audience to view your video from different angles and perspectives, like:
Understanding the whole scene with a wide shot.
Seeing any interactions with a medium shot.
Focusing their attention on the speaker with a close-up.
If you only had one camera focused on one spot, viewers would only be able to see what's going on in one section of your whole studio and miss other important parts.
But, like almost all good things in life, multi-camera live streaming does come with some challenges.
The main challenge is dealing with many different pieces of equipment, which can be overwhelming and complex.
This means you need to have the right equipment and learn how to use it properly to deliver a seamless live streaming experience.
Having multiple cameras also requires you to pay attention to how the shot looks in each of them, and know which one to switch to at any given time.
And while it might be easier to have a crew or another team member oversee the process, it can still be done on your own.
So, When Should I Use Multi-camera Streaming?
Although you can use multi-camera live streaming to make any live stream more engaging, these are the streams this method is most commonly used for: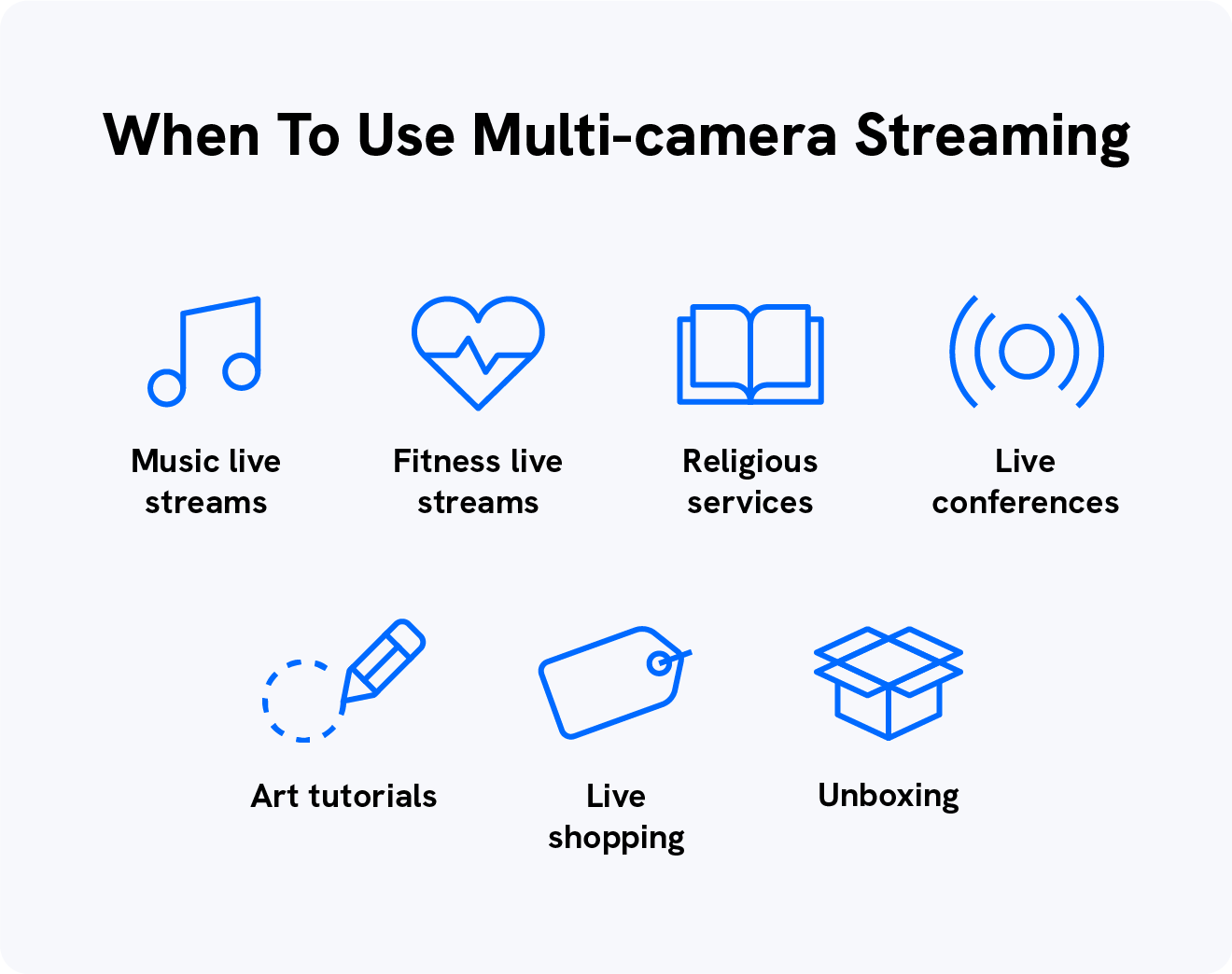 Music live streams: streaming music, especially when there's a band, lets you highlight each instrument and player. It's also useful when teaching how to play instruments so you can zoom in to show different techniques.
Fitness live streams: show how to master each movement through every angle, so viewers can see what exactly they need to be doing in real time.
Religious services: many churches have adopted live streams in the past 2 years. Using multiple cameras can help make the religious service experience more immersive.
Conferences: live stream the speaker, presentations and the audience with multiple angles to make it seem like the viewer is attending the live event in person.
Art tutorials: show every movement and stroke with multiple angles so the viewer can master the techniques and hand movements.
Live shopping: you can make live shopping more professional with multi-camera live streaming by showing each product as if the viewer is seeing it in their own hands.
Unboxing: show viewers exactly what they will get when buying a product, and convince them to get it by showing it from all angles and close-ups.
But you can go beyond the types of streams listed above. Multi-camera live streaming can make any video look more professional, as long as you have the right equipment.
I'm Sold. How Do I Start Multi-Camera Live Streaming?
Streaming with multiple cameras is simple if you follow these steps.
Let's get into them.
1. Choose the Right Multi-camera Live Streaming Equipment
To prepare for your multi-cam live stream, you'll need a couple of things.
First, you need to have your regular live streaming setup, which includes:
A computer.
A camera.
A connector.
A microphone.
A headphone.
Lights.
Software.
Internet.
For more information on what equipment you'll need, follow this guide for the ultimate live stream equipment setup.
For a solid multi-camera setup, you'll need to add a couple more items to your list, including:
More cameras: aim for at least 2 or 3, so you can get every angle. You can even use your own phone camera, a webcam on your computer, or a camera that shoots at 1080i.
Tripods or stabilizers: you'll want to keep your cameras stable, so invest in a couple of tripods with different heights. That way you'll avoid stacking up books and boxes to hold your cameras.
Microphones: depending on what you're streaming, you'll need a couple of different types of microphones. We recommend having podcast mics, lavalier microphones, and a sound mixer.
A switcher: this allows you to switch between cameras seamlessly from the comfort of your desk. You can use either a hardware or software switcher.
Once you have everything, you'll be ready for the next step.
2. Pick Your Multi-camera Live Streaming Software
There are a couple of options when it comes to picking a software for your live streams.
When multi-camera live streaming, you will need software or hardware to connect everything together and control it all in one place, which is also known as an encoder.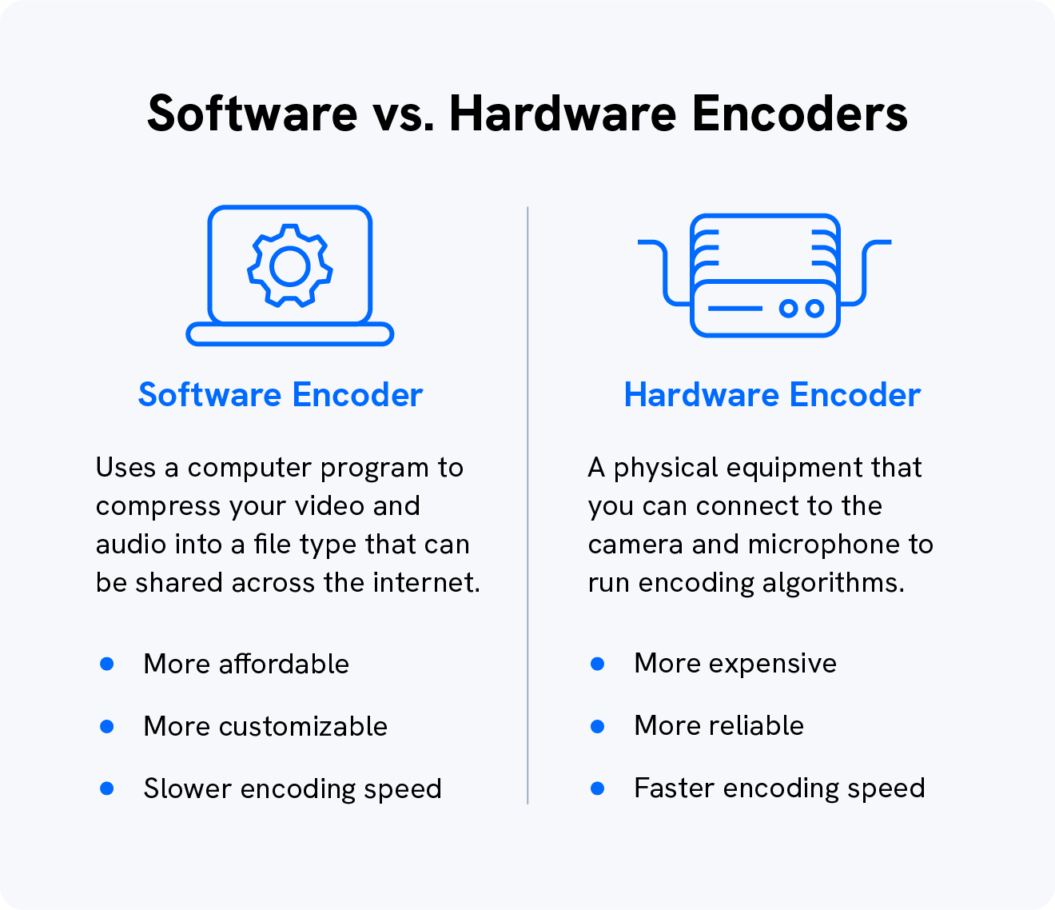 These encoders will put everything together and stream it to your audience in real time. 
There are a lot of different live streaming softwares available. The ones we recommend for multi-camera live streaming include:
OBS Studio.
VidBlaster.
Wirecast.
StreamYard.
Ecamm.
XSplit.
Now it's just a matter of picking the platform that has everything you need and that fits your budget.
3. Set up Multiple Cameras for Live Streaming
Now we'll walk you through setting up your cameras for your live stream so you'll get the perfect shot, or should we say shots?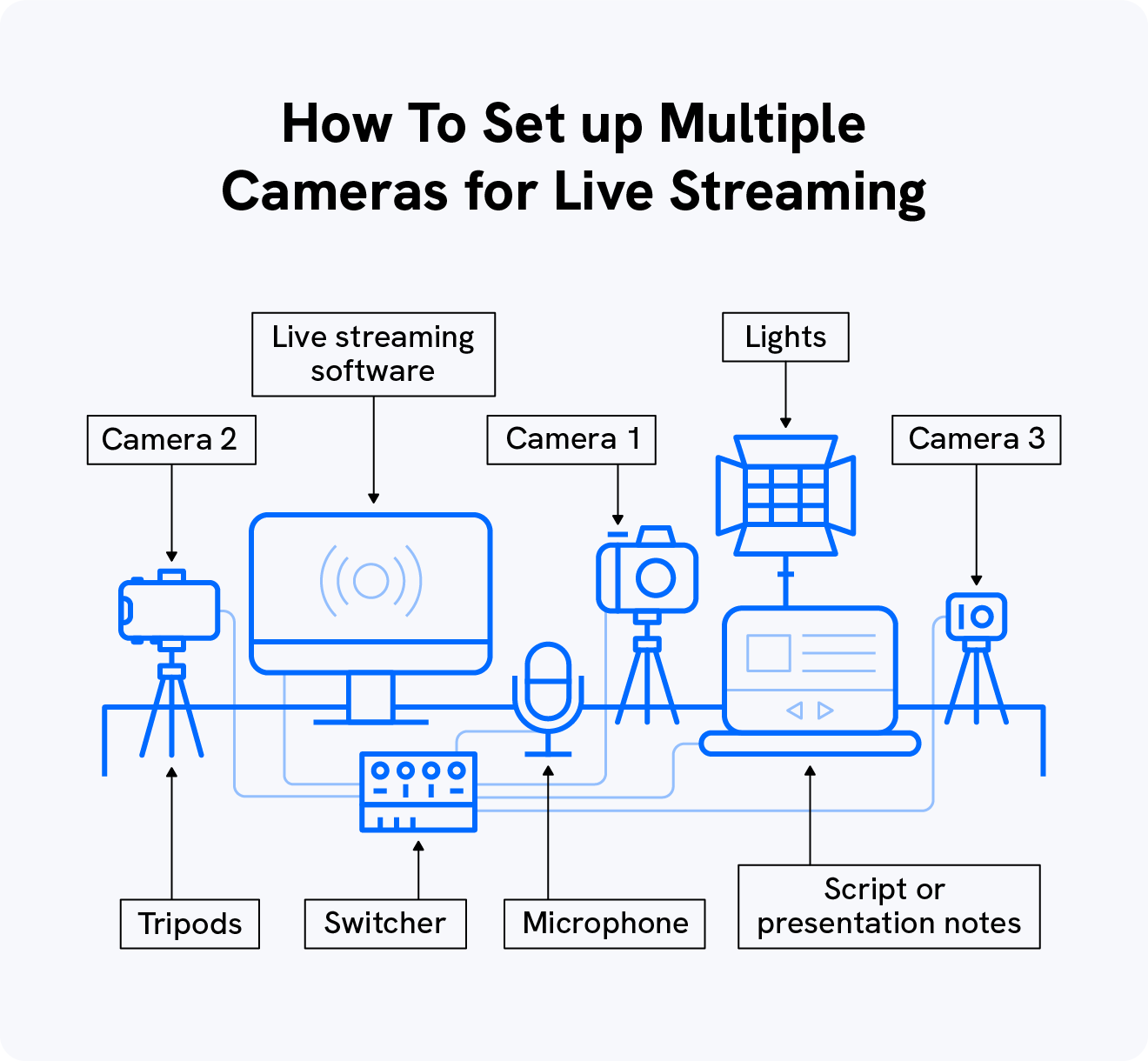 Here's how to set up multiple cameras for live streaming:
Set up your cameras on tripods or a stabilizer.
Connect your cameras to a switcher, like the Blackmagic ATEM switcher, and plug it into your computer.
Plug in your microphone to the switcher or to an audio mixer connected to the computer.
Add an external monitor to view everything or show a slideshow deck, and connect it to the switcher as well.
Set up your lighting and any background props.
Run a multi-camera live streaming software that allows you to connect to all of the cameras, such as OBS Studio.
You can also connect your cameras straight into the computer with a live streaming software without a switcher, and control your cameras from the software.
4. Consider These Things Before Multi-camera Live Streaming
If you're a solo streamer and running your streams by yourself, you need to consider a couple of the roles you'll have to take on.
First, assign each camera to a particular purpose or shot. For example, you can have one camera for the wide shot, one for a close-up, and one for the main shot.
This means that if you're a one-man crew, you'll be in charge of different things.
In any case, here's what to consider when multi-camera live streaming:
Maneuvering 2 or more cameras.
Making sure the audio is working properly and at the right volume.
Directing which shot should be happening next.
Interacting with your live stream viewers.
With the help of a switcher, you should be able to handle all of these tasks at once.
When multi-camera live streaming, make a plan or a script for what you have to be doing during the live stream so you can quickly reference it and get ready for your next shot.
Wrapping It Up
There you go! Multi-camera live streaming made simple.
Are you ready to be seen from every angle and make your streams look professional?
If you want to make money while live streaming, Uscreen helps you create a video-on-demand platform and host live streams all in one place.
It's simple with Uscreen.
Build, launch and manage your membership, all in one place.