Teaching is an art. And teaching through video? Well, that's an art that requires some added artistry, as you'll need to invest in the right video equipment, create the perfect script, and edit it in an engaging way.
Thankfully, we've put together a blueprint for creating instructional videos.
And with 65% of people being visual learners and 82% of people using YouTube to learn new things, learning how to make instructional videos is surely an important way to reach a new audience and nurture your current one.
If you know you want to start creating instructional videos, we'll show you how you can make one from start to finish.
Let's step right in.
So, What Are Instructional Videos?
Instructional videos are videos that show how to do something or explain a process or concept.
They are considered educational videos, from tutorials to lectures. And there are plenty of ways to be creative with instructional videos.
In addition to helping people learn something new, instructional videos can also be simple and fun to make.
There are many upsides to instructional videos. They can:
Help you simplify a concept through visuals.
Entertain others and are fun to create.
Make the process more personal.
Be used in any industry.
Plus, you can put your own spin on the videos and explain a concept in a more creative way.
But what are the types of instructional videos?
Instructional videos can be divided into different categories depending on the type of video you'll be creating.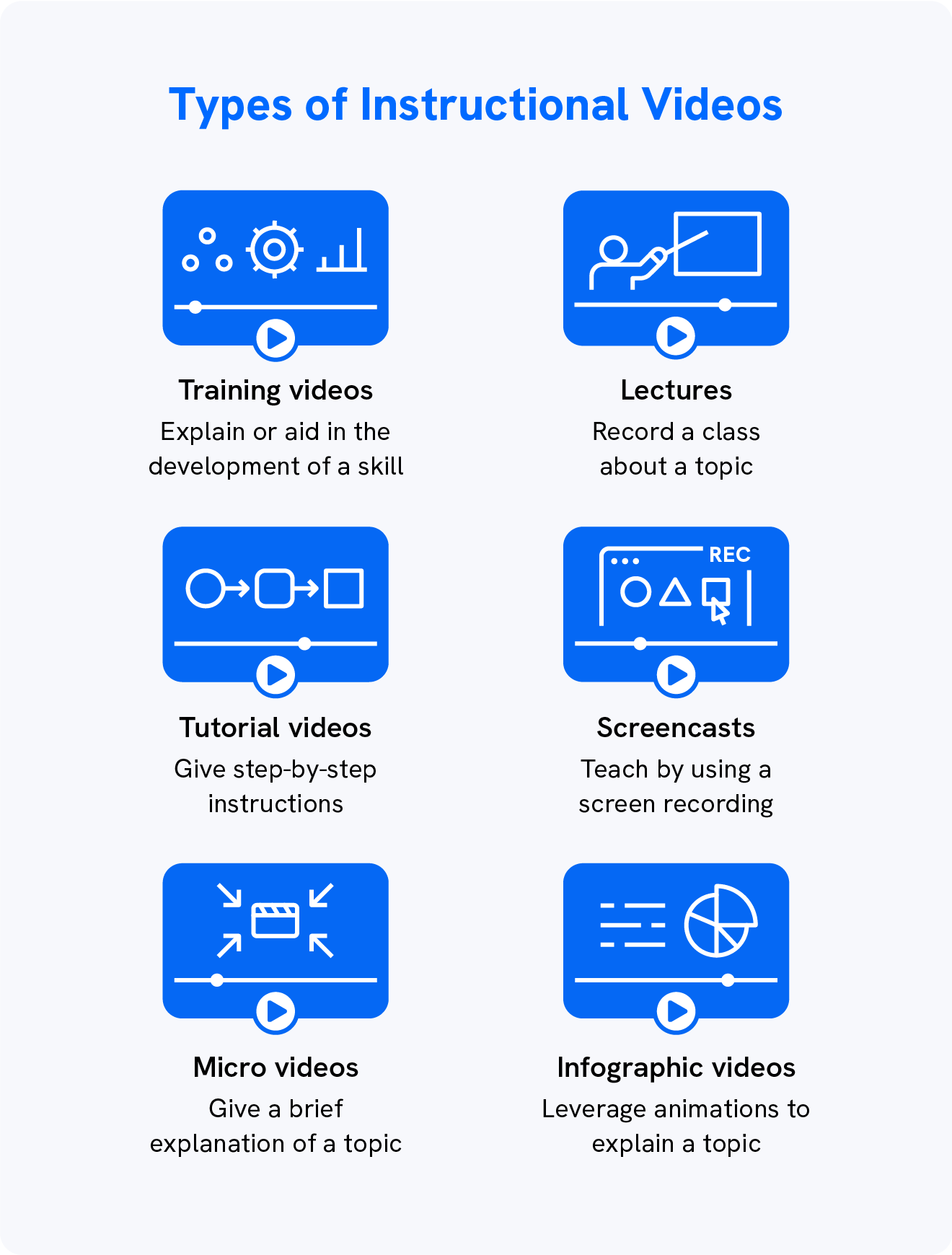 Some of the most common types of instructional videos are:
Training videos: these videos help explain a topic, aid in the development of a skill, and usually include a talking head. For example, a video teaching kids how to improve their writing in cursive.
Lectures: a lecture is usually a class that is recorded and more lengthy, and might have follow-up videos for each subtopic. For example, a video showing how to start baking for beginners.
Tutorial videos: tutorials give step-by-step instructions on how to create or do something. For example, a how-to video showing how to create your own scrapbook at home.
Screencasts: a screencast is a screen recording to help someone navigate through a tool or understand a concept. For example, a screen recording showing how to post on a community forum.
Micro videos: as the name suggests, micro videos are very brief and usually focus on teaching a simple or single concept. For example, a 2-minute video on how to do a yoga headstand.
Infographic videos: these are videos that explain a topic through animation or moving images. For example, a video explaining a business concept.
Whatever format you choose, remember to make your videos entertaining and informative.
Want to know how? Keep reading to find out.
💡How They Do It
Want to know what instructional videos look like?

Art For Kids Hub is a video-on-demand platform that creates instructional videos with art lessons for kids. They have content varying from drawing and painting to origami and cutouts.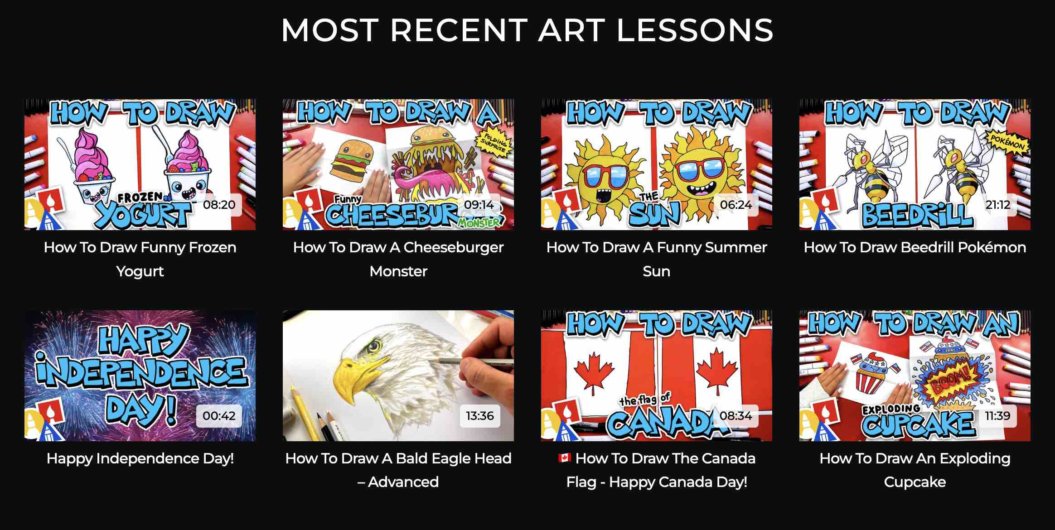 And What Are the Steps for How To Make Instructional Videos?
Now let's go over everything you need to know about making instructional videos.
These steps will vary slightly depending on the type of instructional video you create, but use them to help you unleash your creativity and create more professional videos.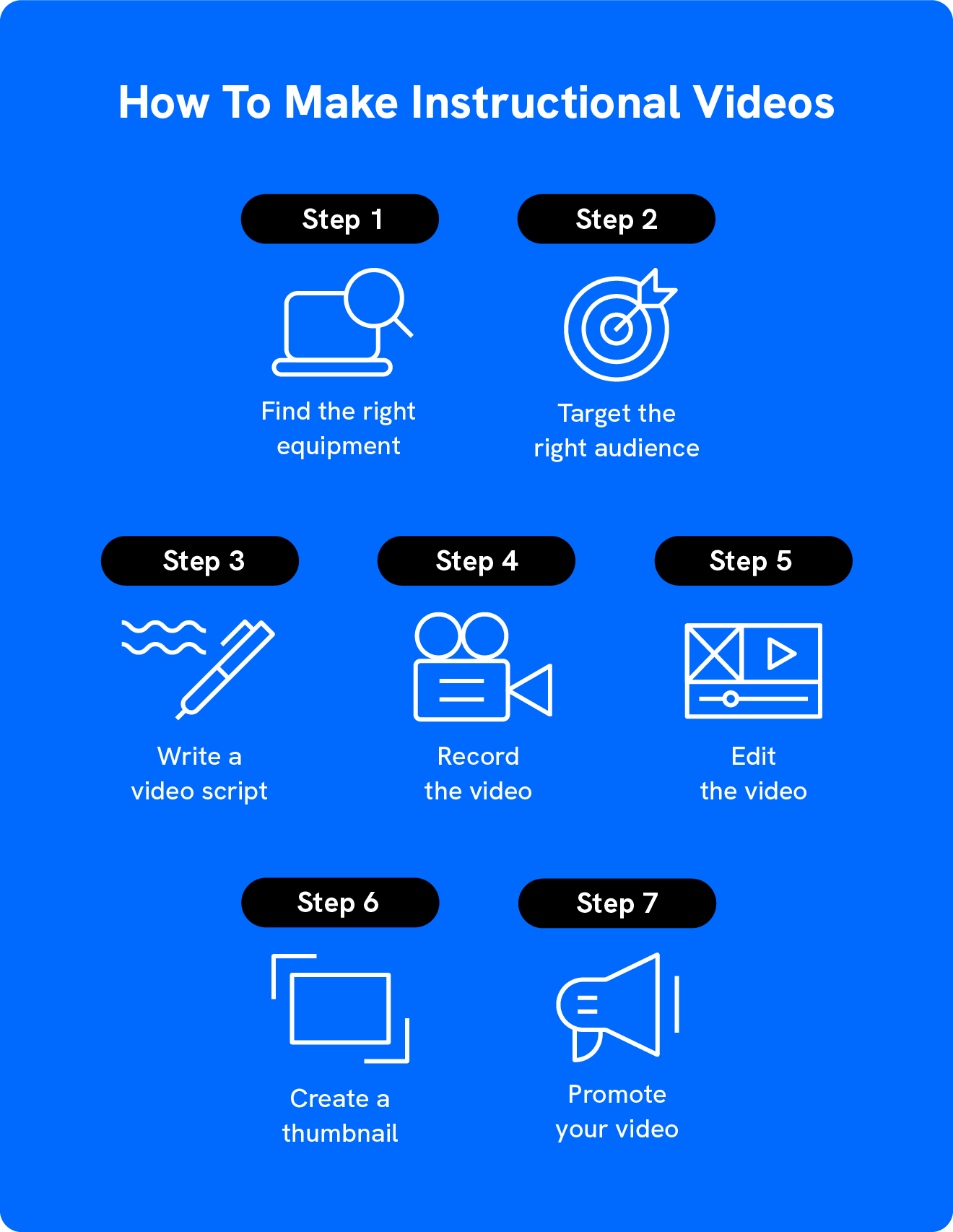 1. Find the Right Software and Equipment
If you want to make a video tutorial that looks professional, you need to use the right video production equipment and tools.
When you decide on the type of instructional video you'll be creating, think about everything you'll need, such as animation, good sound, or stock images.
Then you can go about searching for the best tools to use. No matter the type of instructional video you choose, aside from your computer, you'll likely need:
A good camera: a budget one that records in HD is fine.
A good microphone: it could be a clip-on one or podcast type.
An editing software: use something you already have or an animation one.
Optional gear that can help: this includes tripods, lights, softboxes, and audio recording software.
There are a couple of editing software options out there, so decide what tools you will need ahead of time and see if the software offers it.
💡Content Creator Tip
If you're looking to stay on a budget when creating your instructional video, it is totally fine to use whatever tools you already have.

You can use your phone as the camera, record during the day for better lighting, and use free editing software, such as iMovie.
2. Target the Right Audience
Now, if you're creating an instructional video, you also want to target the right audience to ensure your videos are the most beneficial to them.
Knowing your audience and who you're targeting will also help you come up with more ideas of instructional videos to make by knowing what they need help with.
To help you understand your audience better, answer these questions:
Who is your audience? How old are they? Where do they live? What kinds of interests and goals do they have?
What kind of content do they usually prefer? Is there a particular topic they interact with the most?
What questions do you usually get asked? What are they commenting on the most?
You can also start asking your audience these questions directly to understand a little bit more about the things they need help with.
Once you've painted the picture of who your audience is, you need to figure out if the topic you want to create a video on will be helpful to them.
Do that by writing down a list of benefits it will bring them, and how you can make the topic more interesting.
💡Content Creator Tip
If you're struggling to come up with a topic for your video, consider looking at the comments on your other videos and identifying your audience's biggest concerns.

You can also look at the current YouTube search trends to see if there's an area you have the expertise in and could teach your audience about.
3. Write a Video Script
After you choose the topic you will be covering, it's time to plan your instructional video.
To help you plan the video, you can create a video script that goes into detail about everything you need to address during the recording.
Decide on the type of video script that will work best for you and for the type of video you're creating.
You might opt for an audio-visual script that goes over each scene of the video and any camera movements and sound that goes along with it.
Or if you're more of the visual type, you can go for a storyboard. For this type of script, you'll be drawing each shot of the video and writing down any details about it.
Once you're ready to write your script, follow these steps:
Start with the brief: this is a short paragraph explaining what the video is about and its goal.
Create an outline: write down all of the steps and points you want to touch on during your video.
Write your script: write the script with each line you plan on saying, so write as you usually speak and use simple language.
Add the audio and visual elements: for each shot, write down exactly what should be happening in the scene, including camera movements and sounds.
Revise and trim: read your script out loud a couple of times and cut down on any unnecessary parts.
It's also a good idea to include a call to action at the end of your script that asks the audience to do something, like subscribing to your channel or visiting your website.
💡Content Creator Tip
Writing a video script is important to creating a professional instructional video. But if you're short on time, you can use a video script template.
4. Record the Video
Now that you have your script ready and have rehearsed it a couple of times, it's time to get your hands dirty — maybe even literally if you're recording a fun DIY.
Make sure you have all of your equipment ready and that you've tested it to make sure everything is working properly. Then hit the record button on your camera and microphone.
Whether you're recording the audio during your video or adding a voice-over after, make sure you have a quiet place to record, such as a small room or a studio.
When recording the video, make sure to:
Speak clearly and slowly.
Record a couple of takes for each shot.
Pause the video if you make any mistakes.
Be flexible and change any shots that need work.
If you'll be recording the audio afterward as a voice-over, you can also say what you're supposed to be saying during the shot to help guide you through it.
You might also need to record a couple of B-roll shots depending on the type of instructional video you're making. These shots will fill in the gaps and provide more details to the scene.
If you're going to do a screen recording, start by cleaning up your computer screen and closing anything that you won't need for the video. Then turn off your notifications or put it on "Do not disturb."
Practice what you'll be walking through during your screen recording, which can lead to less edits and fewer takes.
After that, start recording the whole process and save it once you finish it.
💡Content Creator Tip
If you end up missing some shots or want to add extra ones later, you can also include a couple of stock videos throughout your instructional video.
5. Edit the Video
Okay, so you recorded everything and you're ready to edit it. Where do you start?
Begin by opening up your handy video editor, or the one you picked in our first step. Then, add all of your footage and sound files to the editor.
Once you start editing, check which shots look better and trim unnecessary bits of footage. Then synchronize the audio and videos, and make sure everything matches correctly.
Here are some tips you can use when editing the video:
Add pauses by splitting the clip and freezing the frame.
Include text with parts that need more explanation or a list of ingredients.
Speed up parts that you want to keep in the video but are less important.
Add callouts with arrows, sketches, or shapes to highlight something noteworthy.
Choose songs or background music that matches the video.
Add sound effects to make your video more interesting.
Include closed captions to make your video accessible.
If you want even more tips on how to edit your videos, you can check out our video:
💡Content Creator Tip
If you want to add music to your videos, make sure to have a copyright license to the music you'll be adding.
You can also find free music to add to your videos online.
6. Create a Thumbnail
You're almost at the finish line!
Once your video is complete, it's time to create that eye-catching thumbnail to make people click on it.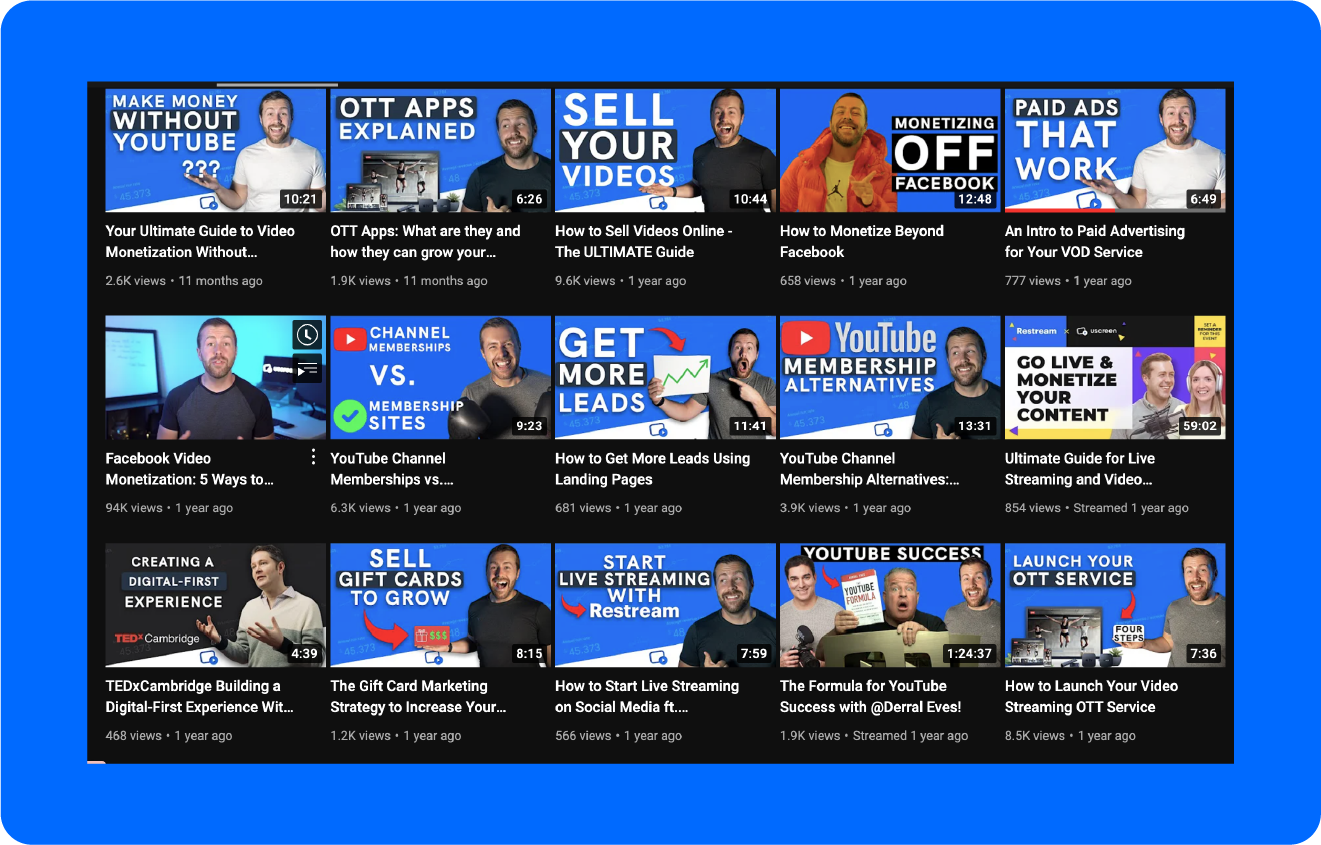 You want to have a thumbnail that will let viewers automatically know what the video is about before even reading the title.
You can make your thumbnails eye-catching by:
Using strong colors.
Including descriptive text.
Adding faces, arrows, and circles.
Using your logo and branding.
Remember to use only a couple of words that will describe what you'll be teaching people and the benefits your video offers.
💡Content Creator Tip
If you'll be creating more instructional videos in the future, it's a good idea to keep your thumbnails consistent, including the colors and style.

You can do that by creating a template on Canva or another photo editing tool.
7. Promote Your Instructional Video
Now, the last step: promoting your video.
You put a lot of hard work into creating your video, and it deserves to be seen. You can do that by promoting it.
There are many ways you can promote your videos. Here are some of our favorites:
Cross-promote it on other social media channels by adding a link or snippet to your video.
Embed it on your website or blog and write a post that summarizes it or expands on the topic.
Send it to your email list and give some behind-the-scenes insight on the video creation.
Write an engaging title that's optimized and make sure the video description includes keywords.
Add it to forum discussions about your video topic, but make sure to give it value by explaining more about the topic in the comment.
Link to your video on your past videos, both in the description and links in the video itself.
Leverage word of mouth, even if it means sending it to your family group chat. (Grandma will love it!)
Get creative with how you promote it, and make sure to keep engaging with your audience in real time.
💡Content Creator Tip
Ask your friends and family for feedback before promoting your videos to the world.

Send it to a small group and ask them for constructive criticism. Sometimes they'll catch a mistake or something you have to update.
Tell Me: Any Instructional Video Mistakes To Avoid?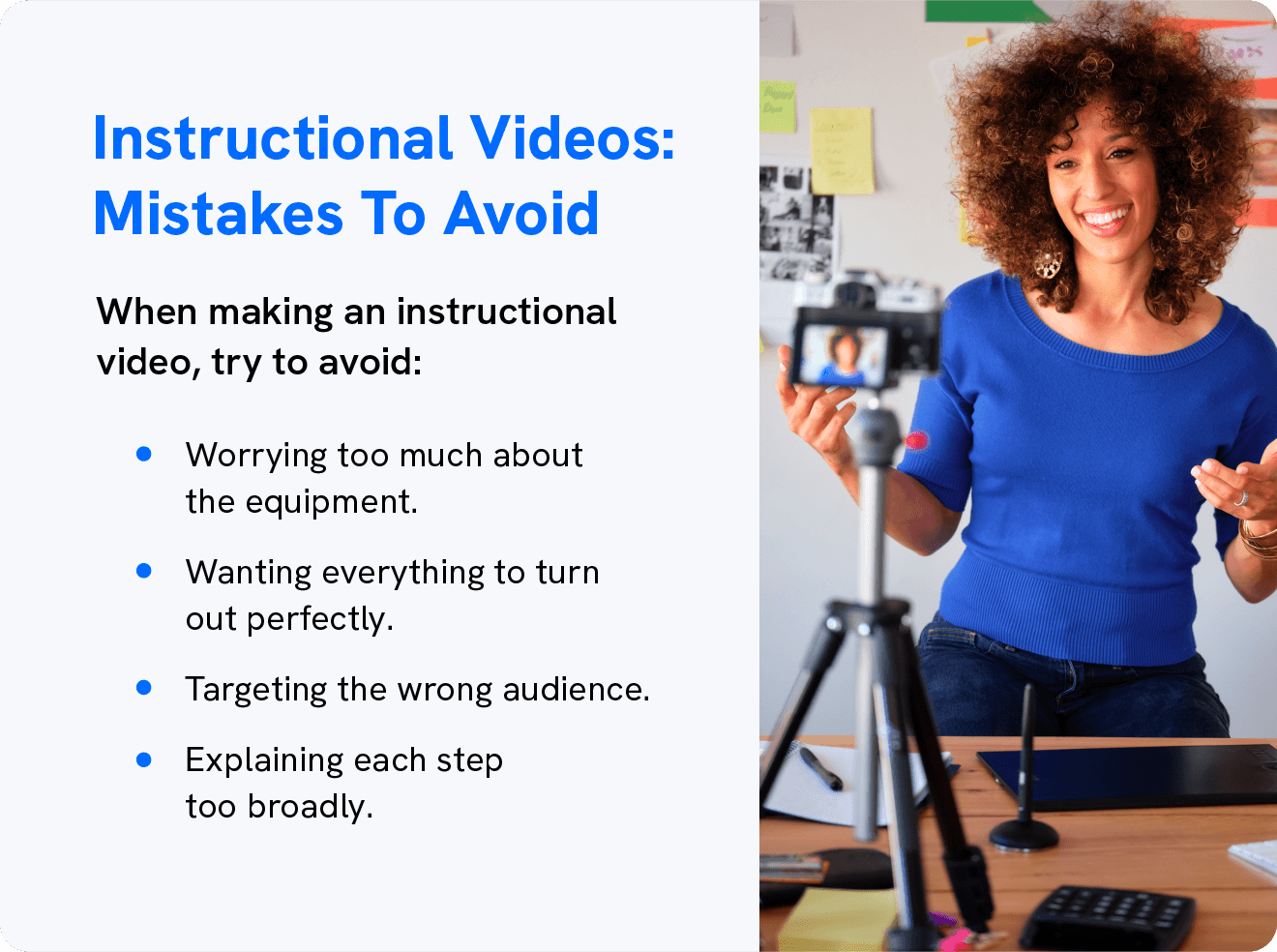 Perfect! Now you're ready to create your instructional videos. But there are a few things to keep in mind so you can produce the best quality content.
When making an instructional video, you should avoid:
Worrying too much about equipment: it can be overwhelming to have a lot of high-end equipment when you're just getting used to it. Start with the basic equipment and master your video creation skills first.
Wanting to make it perfect: even though you might want to create the perfect video, sometimes it's better to leave a couple of imperfections and release a video that's engaging and creative.
Targeting the wrong audience: make sure you have the right audience in mind. Research who your audience is and who would likely be watching your instructional video so you can tailor it to them.
Explaining the steps too broadly: instructional videos are all about instructions, so make sure to explain each step thoroughly and include visuals and different angles.
With these mistakes to avoid in mind, you'll be able to create even better instructional videos for your audience.
Wrapping It Up
You've got all the details on how to create an instructional video.
Hopefully you'll put your newly learned skills to use by creating video tutorials or training videos.
If you're looking to share your wisdom and instructional videos skills with your own community while monetizing your content, consider joining Uscreen.
It's simple with Uscreen.
Build, launch and manage your membership, all in one place.
Instructional Videos FAQs
Still have questions about instructional videos? We've got the answers.
What Are the Costs of Creating Instructional Videos?
The cost of creating instructional videos will depend on what kind of video you'll be creating and what equipment you already have or will need. 

Making your own video will be cheaper than hiring a professional, which could cost several hundred dollars. You might also consider using your phone as the camera and improvising with equipment you already have at home.
What Is the Best Software for Making Tutorial Videos?
The best software for making tutorial videos will depend on what features you need. 

If you're looking for a free option, you can try iMovie, but if you want something more versatile, Adobe Premiere Elements 15 is a good option.  
How Long Should Instructional Videos Be?
Most people tend to prefer shorter instructional videos from 3 to 6 minutes long, but they can also be longer if you need to expand on the topic. Just remember to keep quality over quantity in mind.
What Should Be Included in Instructional Videos?
An instructional video should include an introduction, each step in detail, a conclusion, and a call to action as a bonus. 

It's also a good idea to highlight any important details with text and symbols throughout the video, and add any extra information in the description. 
How Do I Sell Instructional Videos Online?
There are various ways to sell instructional videos online. Aside from posting them on YouTube to make money from brand deals and ads, you can also create your own video-on-demand platform. 

With a video-on-platform such as Uscreen, you can sell your instructional videos for a subscription fee or one-time fees.