Online learning has become more important than ever.
Instead of spending thousands on textbooks or spending evenings at night school, people want to learn new skills right at home – through their computer, phone, and even their TV as online learning revolutionizes the skills sector.
In fact, between March and August 2020 we saw a 980% increase in streaming of online learning content on Uscreen!
And, if you're looking to launch an online course to capitalize on that demand, you need a comprehensive platform that will help you do it. Which means you've looked at Thinkific.
But, if you're reading this:
You're struggling to decide if Thinkific is the right platform for you.
Well, in this post, we're going to show you some of the best alternatives so you can make an informed decision.
You'll learn about…
the capabilities and limitations of Thinkific
how Uscreen can give your users a different experience
9 other online course platforms that could work for you
…so you can have all the details you need to make the perfect decision for your new online business.
There are many great Thinkific alternatives, here are the top picks for 2023.
Disclaimer: The information below is accurate as of today (10/01/2021).
What is Thinkific?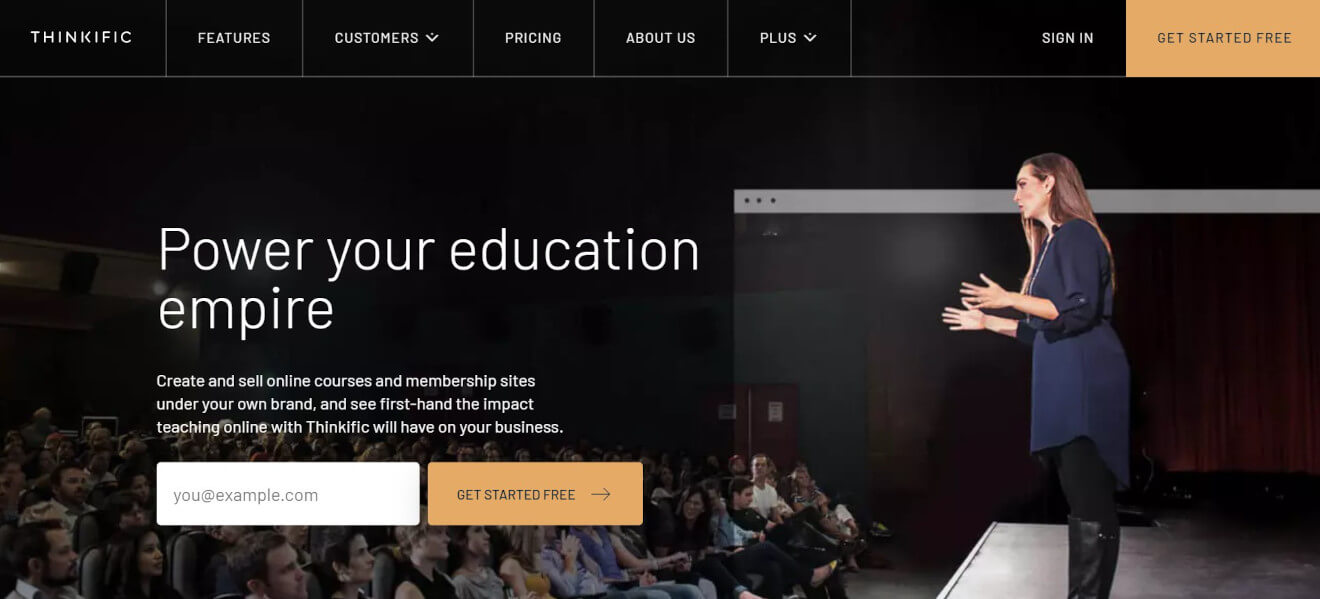 Thinkific is a place for course creators to design, upload, market, and sell their classes and training.
The company was founded in 2012 and since then more than 100 million courses have been taken, made, and marketed by over 50,000 creators.
On the platform, you can:
Build a simple website for your online course.
Upload videos of up to 2GB plus other resources like PDFs.
Tier your pricing and offer coupons and discounts.
Take payment through Stripe or PayPal.
Making it pretty simple to get going.
Loads of creators have seen the value in using Thinkific, and they say they love it because:
It's really easy to get a basic site and course set up, and it's easy to navigate the platform.
They get a lot of support to learn how to use the site and create workarounds for problems.
Thinkific has a community feature so they don't have to send students and users to social media platforms.
There aren't any transaction fees when students pay and payouts can be really quick using Stripe or PayPal.
You can run an affiliate marketing program; generating personalized links and tracking sales and commissions in the backend.
Thinkific clearly works for a lot of people setting up their elearning business.
But, does it work for everyone?
Let's find out…
Already know the ins and outs of Thinkific?
Jump straight to the alternatives.
Why Thinkific May Not Be The Best Platform for Video Creators
All businesses are different, and Thinkific isn't going to work for every single one.
No doubt, there are lots of solopreneurs and entrepreneurs who find their groove on Thinkific, but they do find limitations and details that leave something to be desired.
At Uscreen, we work with customers who used to host their content on Thinkific and moved over to us – and we asked them why they did it.
Some of the common issues that pop up when we're onboarding people who used Thinkific include:
There's a lack of customization options – you get some standard layouts with their website builder but they're limited in what they can do.
Thinkific doesn't have a white-labeling option, meaning no matter which pricing tier you're on, there will always be a Thinkific logo on your page.
You can only take payments with Stripe and PayPal; while these are generally great, it is limited as businesses in some countries can't access them at all.
The format is only set up as courses; you can't create an open catalog that students can filter for individual videos.
Live streaming webinars or Q&A sessions mean you have to use YouTube or have a Zoom account – neither is a perfectly brandable, seamless solution.
You can only ever sell courses through Thinkific – you can't integrate eCommerce tools to sell things like ebooks, merch, and other spin-off products.
Native analytics don't have a lot of depth so people tend to rely on Google Analytics – which doesn't have video-specific data.
If you're a Thinkific customer, you probably recognize some of these pain points yourself.
So how much is Thinkific charging course creators?
Thinkific pricing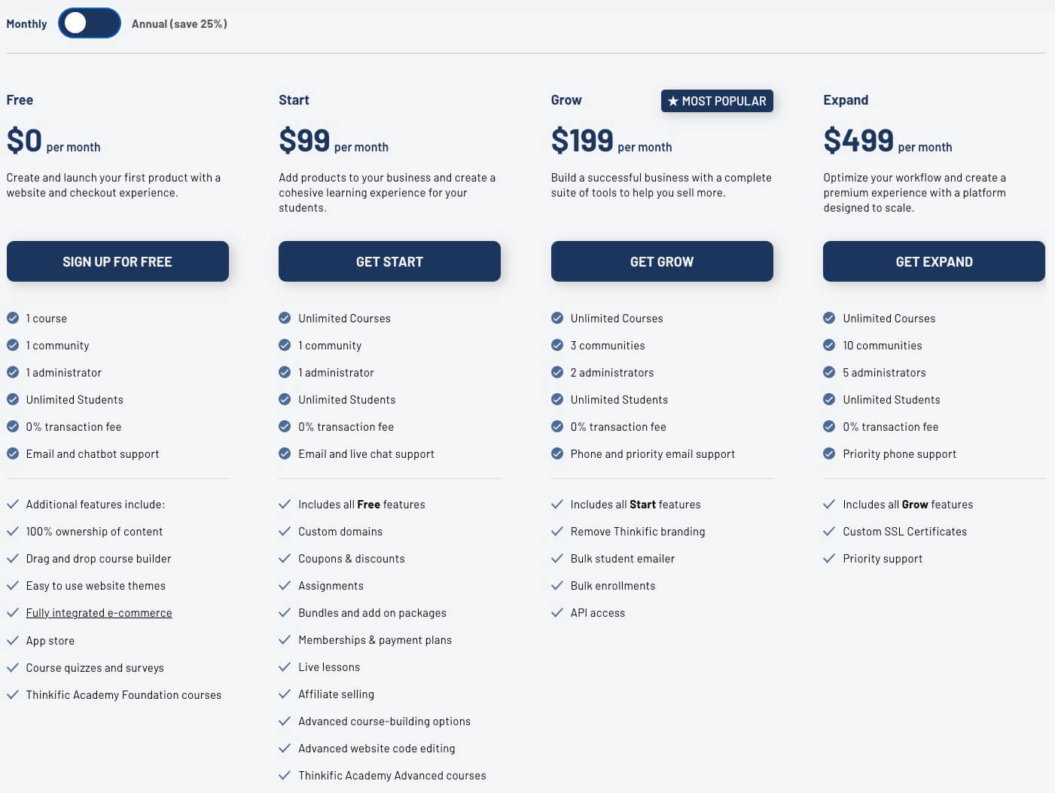 There are 4 pricing tiers with Thinkific, including a Free plan that lets you create a limited number of courses and have unlimited students and videos.
The Basic plan removes the course limit, lets you access integrations for live streaming and email, run an affiliate program, and some other extras.
Upgrading to the Pro level, you add site administrators, can issue certificates, have more pricing options, and can use the community features, among other tools.
The Premier tier gives you even more course administrators and adds on analyst and course administrator roles, with some other perks included.
Whether you're looking for a new home as you outgrow Thinkific or you're looking to get started elsewhere, we've got all the alternatives you need to know about.
1. Uscreen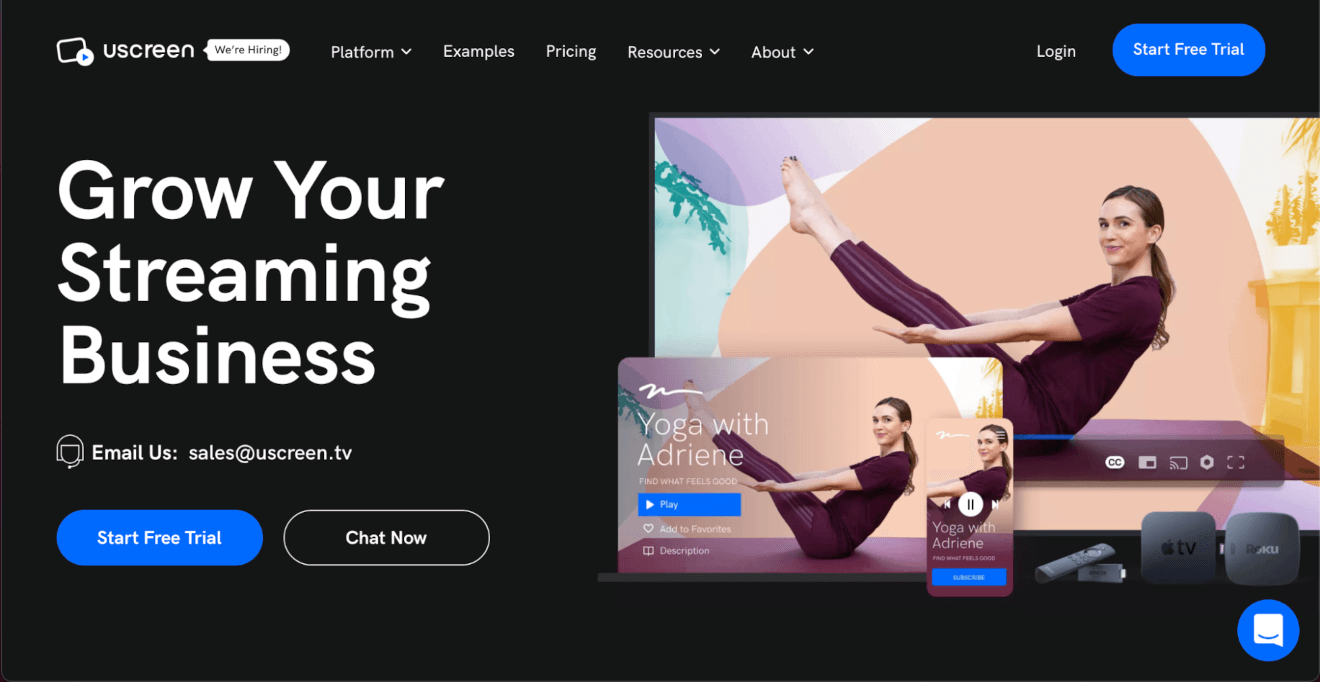 Uscreen – that's us – is an all-in-one platform that lets you create your own membership website that's perfect for scaling your business.
Our drag-and-drop website builder has all the blocks and tools you'll need to create a modern website that converts browsers into loyal learners and members.
You can organize your course material into themes and let your members have unlimited access, or create a bundle of videos and other resources available for a one-off fee.
It's not all about a single-screen experience, either.
We'll help you create your own, fully-branded mobile app for Android and iOS, as well as a TV app for…
AppleTV
Roku
Android TV
FireTV
… so your learners can get your video courses whenever and wherever is best for them.
Once you've got your website ready to go, you get access to a whole load of marketing tools to help get your message out there and put your knowledge out into the world.
With Uscreen, you can offer:
Gift cards.
Coupons.
Upsells.
Free trials.
Plus an abandoned cart sequence to keep your new learners in your sales funnel.
We're all about giving our customers the tools they need to find success, with our users now making a combined revenue of over $100 million per year – a feat that we and our users are super proud of.
Want to see exactly what your online course website could look like?
Here are some examples of what you can create with our video learning platform.
Example #1: Practice with Clara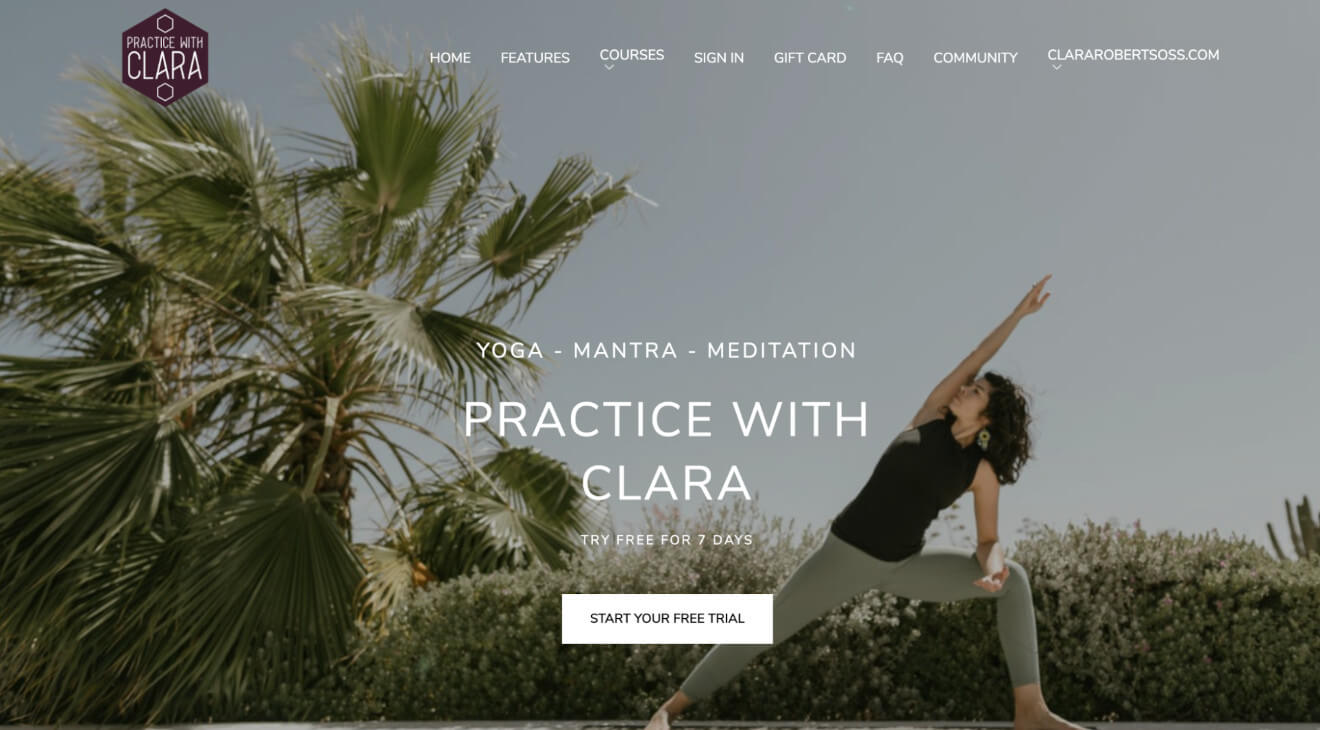 Practice with Clara is an online yoga studio run by Clara Roberts Oss, based in Vancouver.
Clara had run her classes on Thinkific before Uscreen, but ultimately moved over so she could scale and develop her business.
Now, she has a vast catalog of yoga sessions; her students can choose a class based on the type of practice or what their aim is.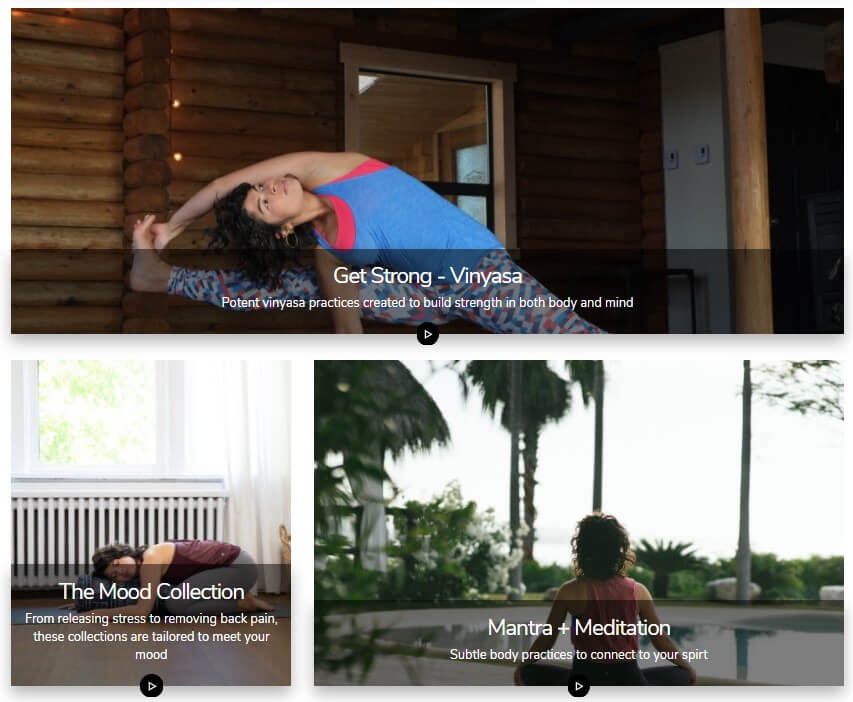 Plus, she's taking advantage of our payment integrations along with the different pricing model options offered, with a monthly, quarterly, or annual membership option, and she offers gift cards.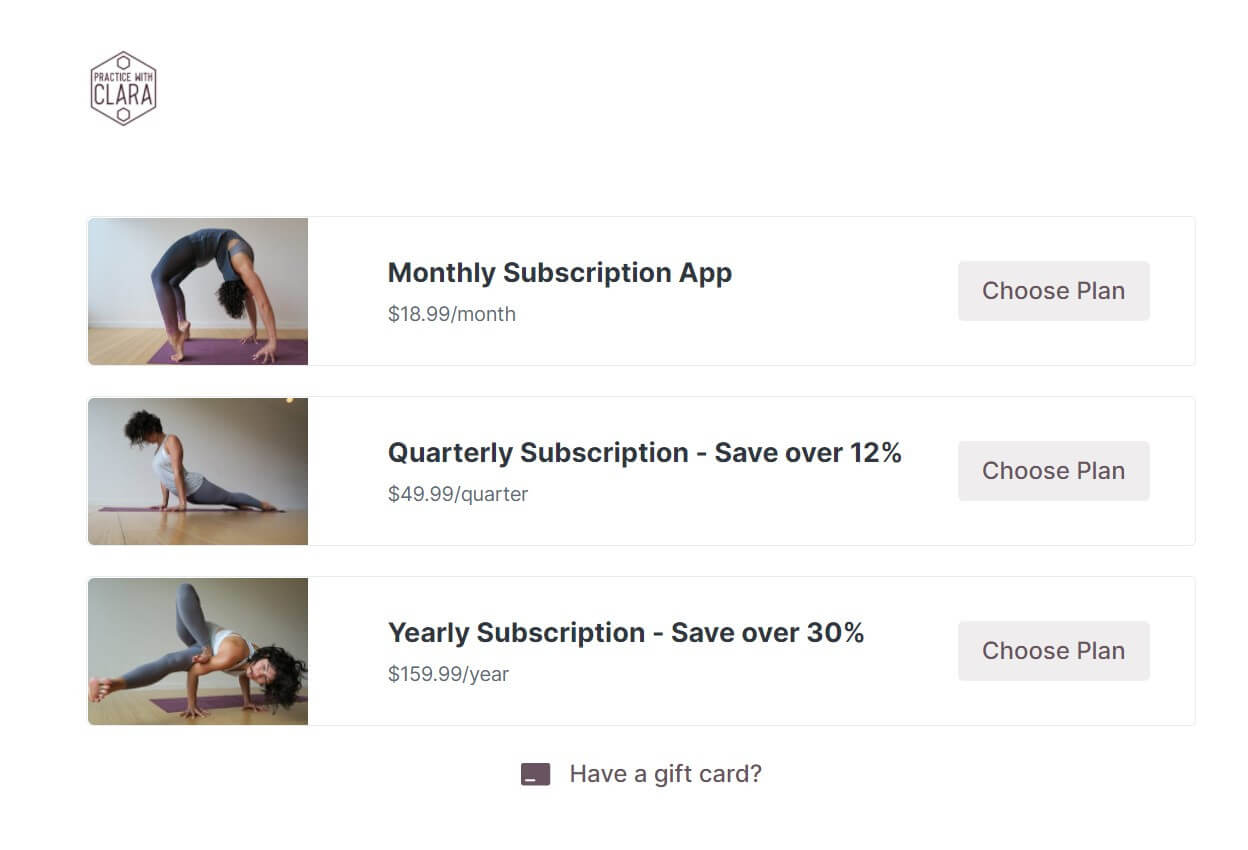 Did I mention she's been able to successfully launch her TV and mobile apps?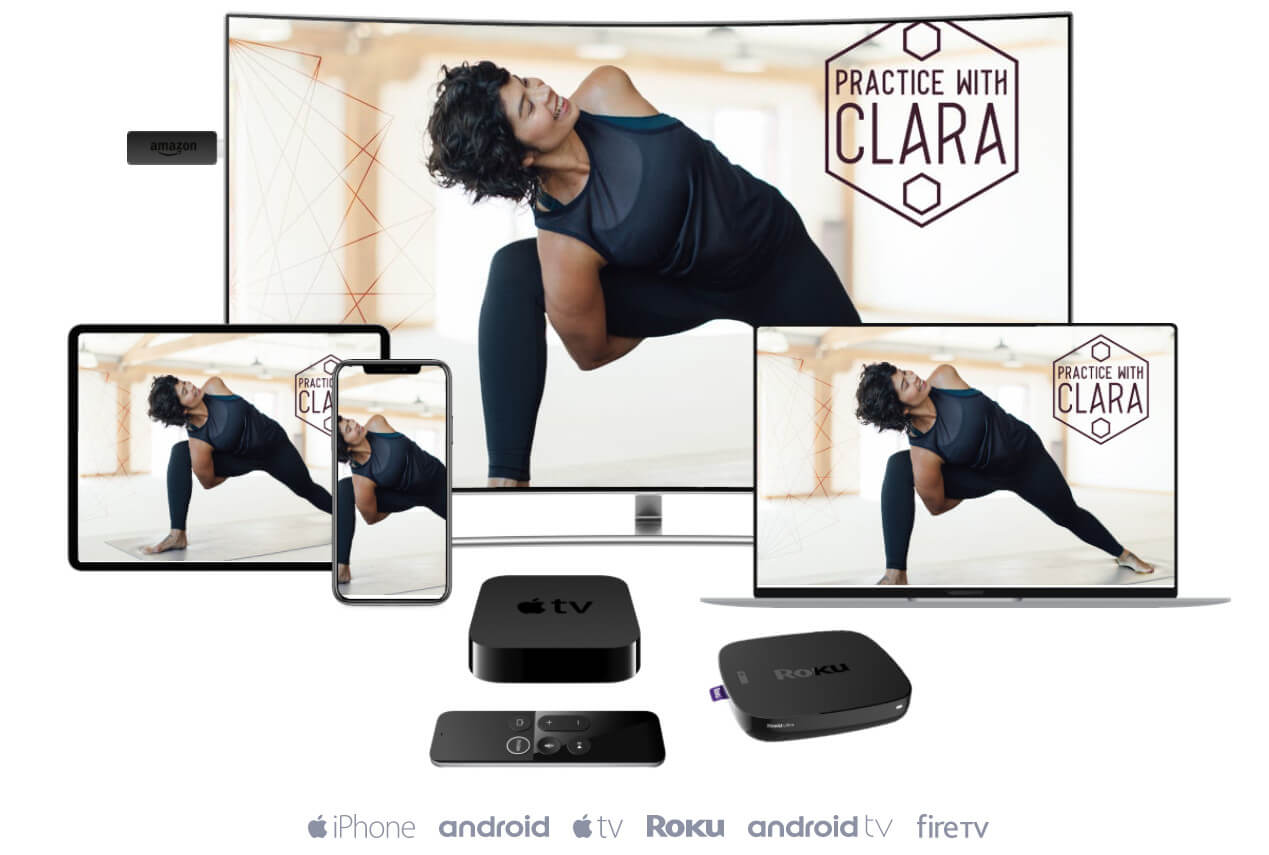 Her already successful business has been able to expand into different products and offer a much deeper range of value to her members.
Let's look at another example.
Example #2: Magic Stream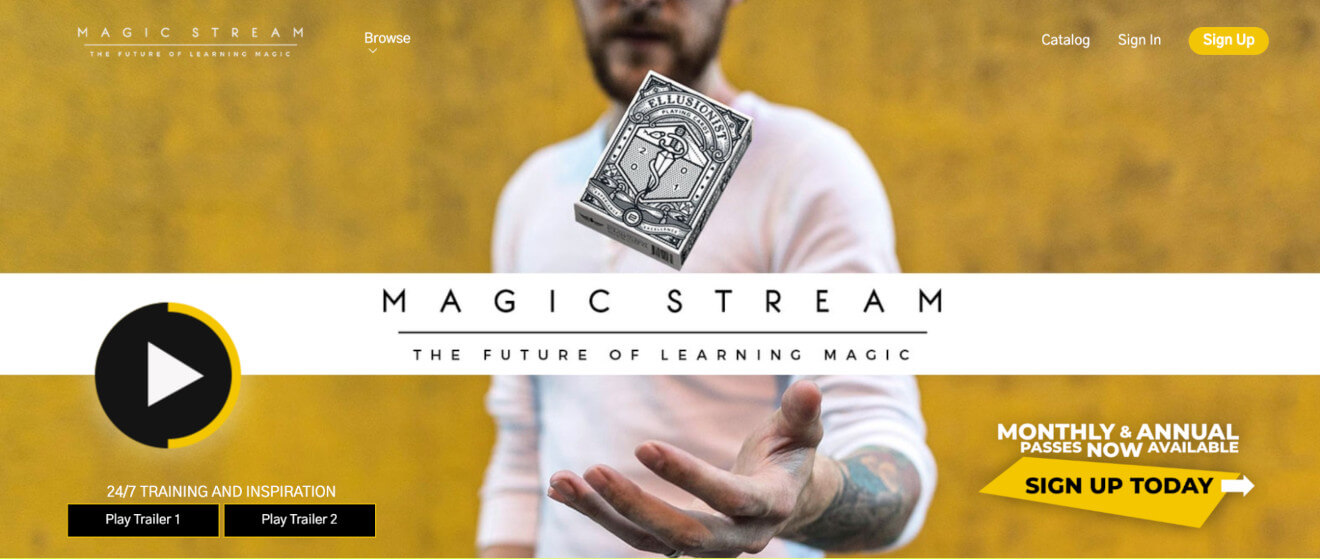 Magic Stream offers classes to budding magicians, with content featuring some famous faces offering handy insider tips.
As you can see from their homepage, Magic Stream has taken the opportunity to create an app so their tricksters can access videos exactly how they want to.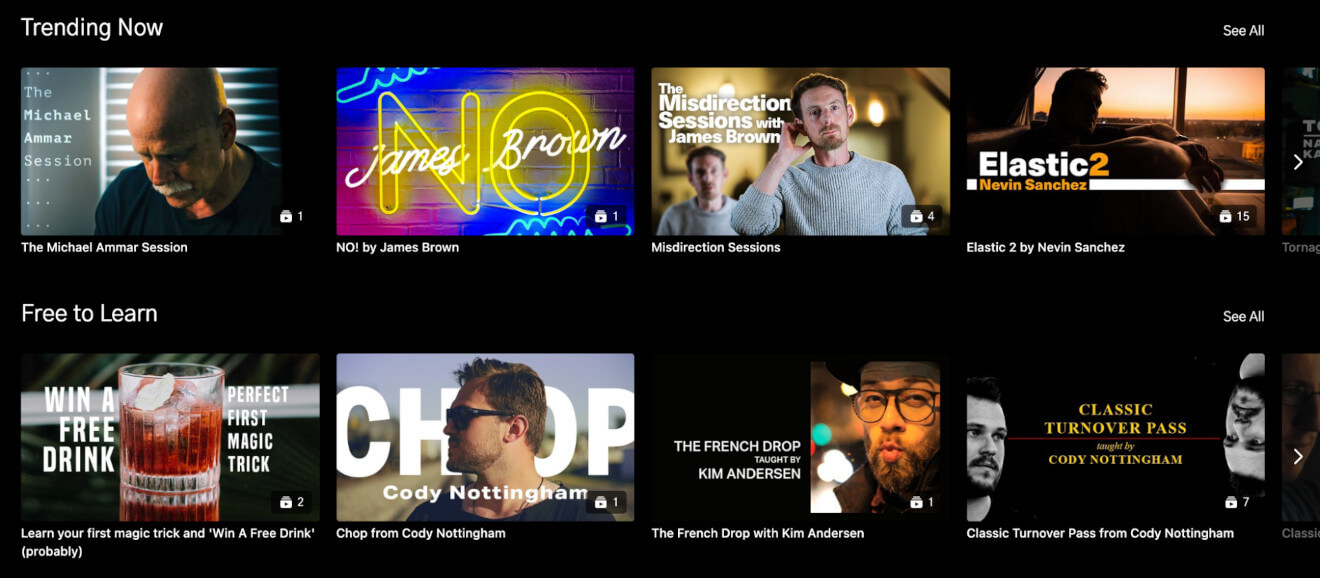 There's also a comprehensive catalog of all their content that users can access, which even non-members can browse.
The user interface is clean and classic – it looks almost like Netflix, don't you think?
Magic Stream also has some free videos available for those curious about what they can learn, as you can see in the screenshot above.
Conjuring up another example, now…
Example #3: Redwall Tutorials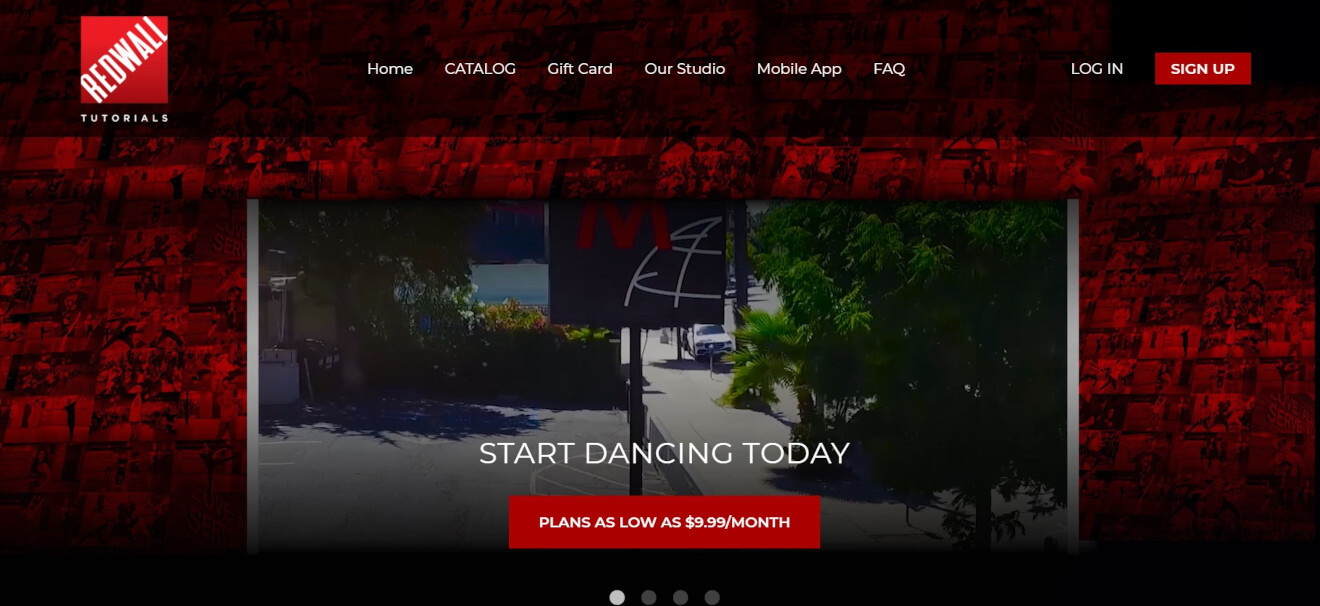 Some of the world's top choreographers teach routines with Redwall Tutorials.
Their catalog can be filtered by dance style or the class teacher, with all site members having full access to every lesson.
On top of that, Redwall have also launched a mobile app that lets users stream classes and download them to play later.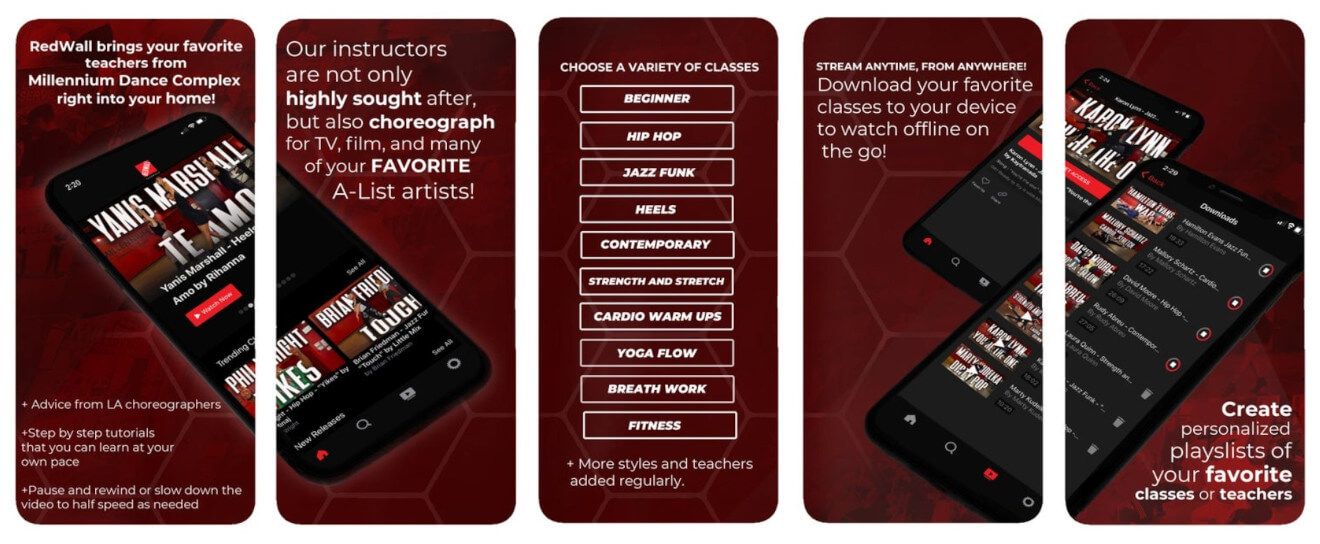 This means everyone can get access to routines, without having to log into a computer when they get to the dance studio.
That's how some of our existing customers make Uscreen work for them; here's everything we offer to get your own course creation business started and scaling.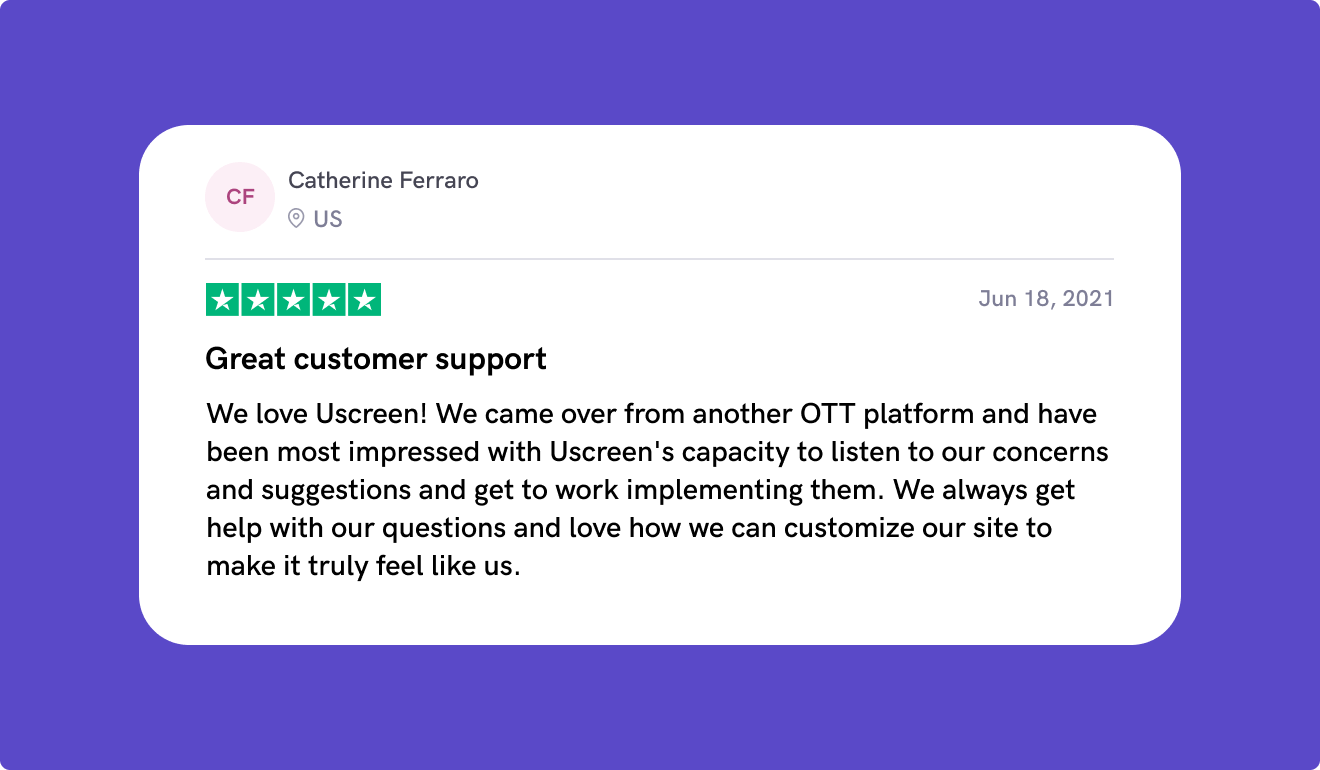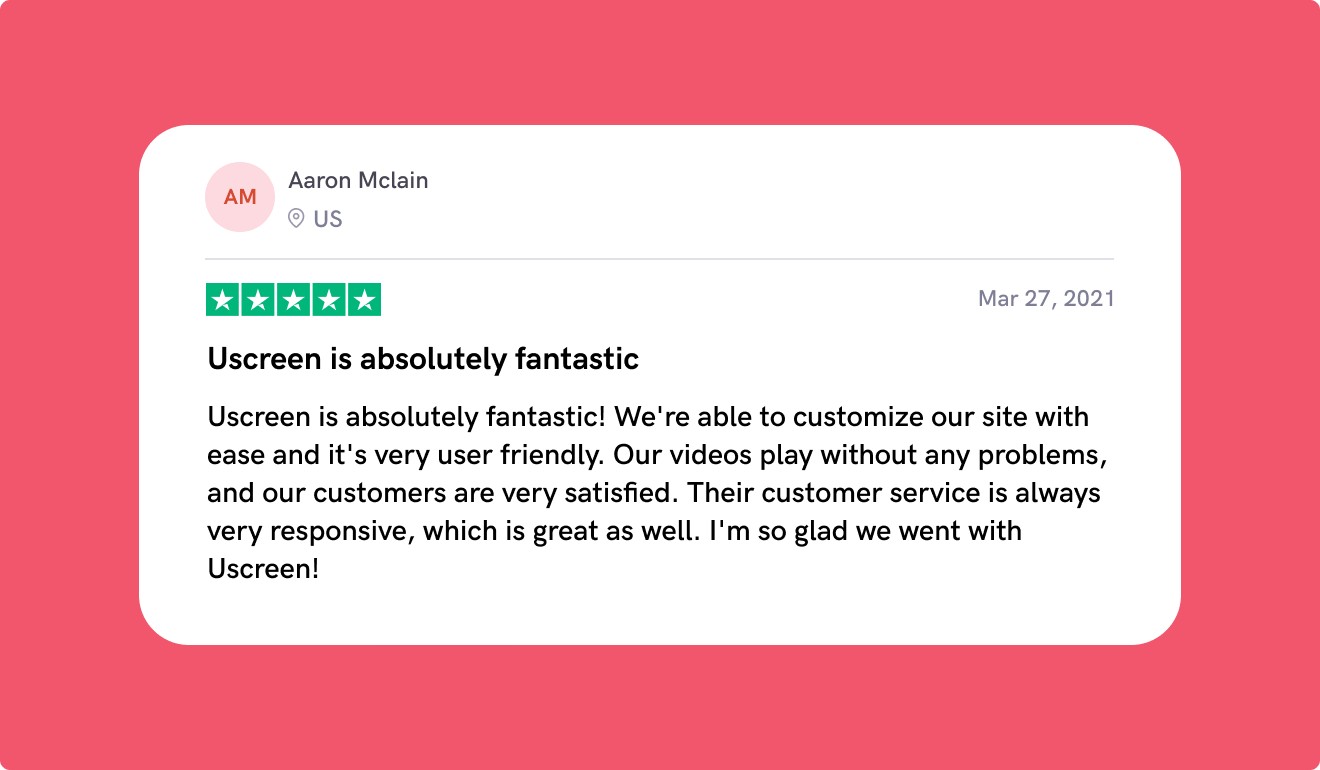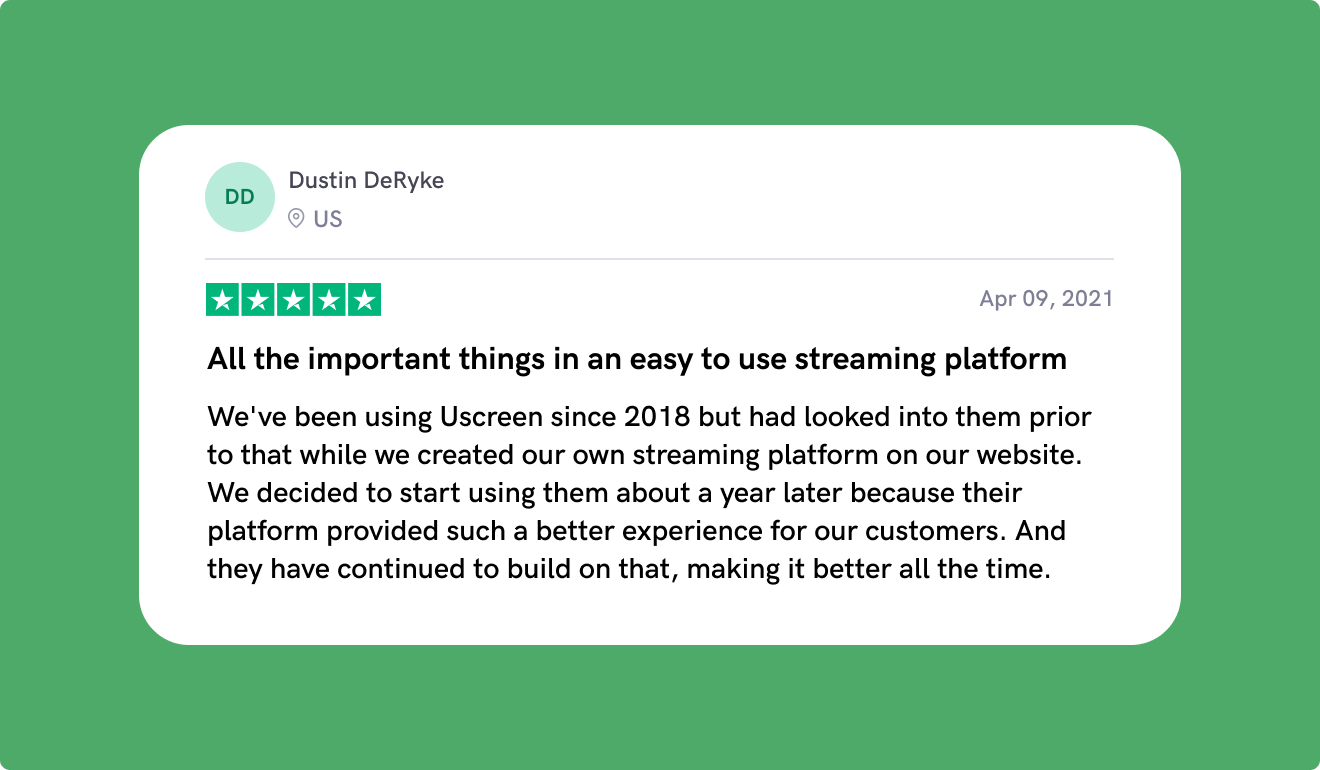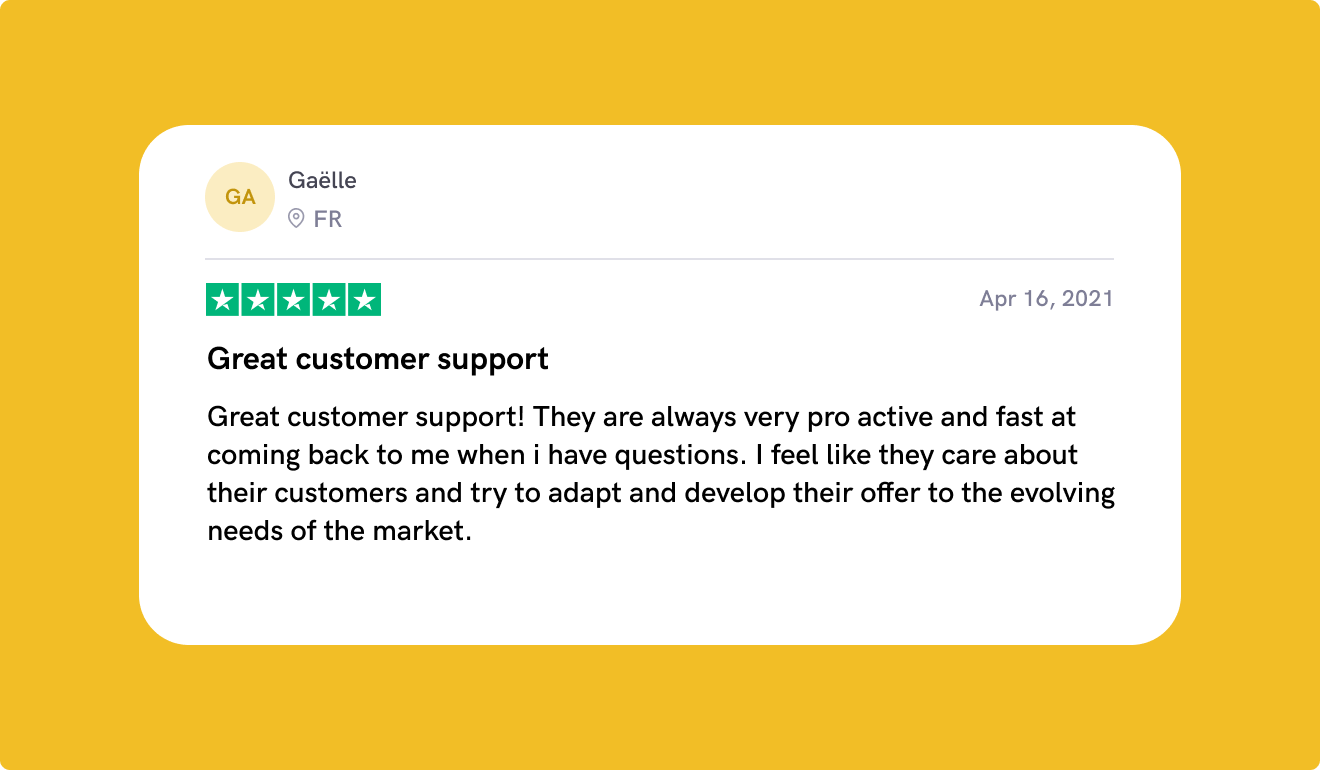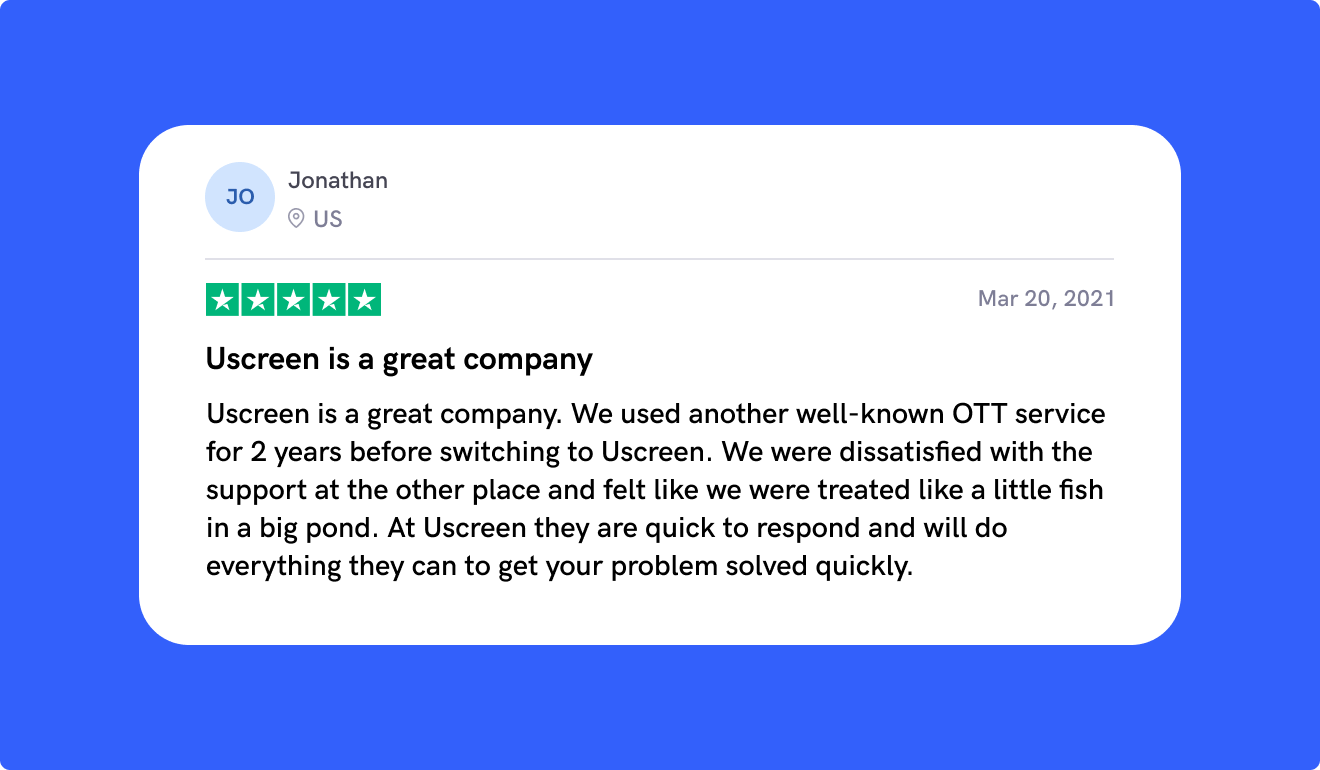 Source: TrustPilot
That's how some of our existing customers make Uscreen work for them; here's everything we offer to get your own course creation business started and scaling.
Uscreen features
When you sign up with Uscreen, you get access to a lot of functionality, including:
Video hosting in up to 1080p Full HD quality for all your course content, plus live streams straight to your website – no YouTube or Zoom in sight. 
A brandable video player with picture-in-picture to keep your students watching and the option to add subtitles to make classes super accessible. 
Your own, custom domain for a website that uses a simple drag-and-drop builder with API access to fully customize your users' experience. 
The option to create your own white-labeled mobile and TV app, depending on what suits your learners and content. 
SEO tools to help your site get noticed by search engines, including adding tags and metadata to your pages.
Content dripping and scheduling, so you can slow-release content to your learners to keep them engaged and help stop them from feeling overwhelmed. 
A ton of marketing tools to get your message out there and members signing up, such as upsells, abandoned cart sequences, gift cards, coupons, "try again for free", and other tools to reduce churn. 
Tools to create sales and landing pages, and integrations with your favorite email marketing tools like Mailchimp. 
Pricing options that will suit your learners, including monthly, quarterly, semi-annual, and annual subscriptions, one-off sales, rentals, and tiered pricing, think – Starter, Learner, Master. 
Lots of other integrations with tools like Drip, Google Analytics, Rewardful, and over 1,000 more, plus a Zapier integration that lets you create automations with all your tools. 
Ecommerce options to sell digital downloads and ebooks by seamlessly creating a store with a tool like Shopify, and add products and a call-to-action (CTA) on top of your videos. 
No limits on how many people can sign up for your membership or buy your courses, with generous storage and live stream limits. 
Payment processing through Stripe, PayPal, and Authorize.net integrations, or you can use Uscreen's own payment gateway so you can accept cards from all over the world. 
Analytics that cover video-level details regarding watch time and view counts and user information like device and location access, plus financial analytics for royalties and affiliate payouts. 
For all these features, how much do you pay?
Uscreen pricing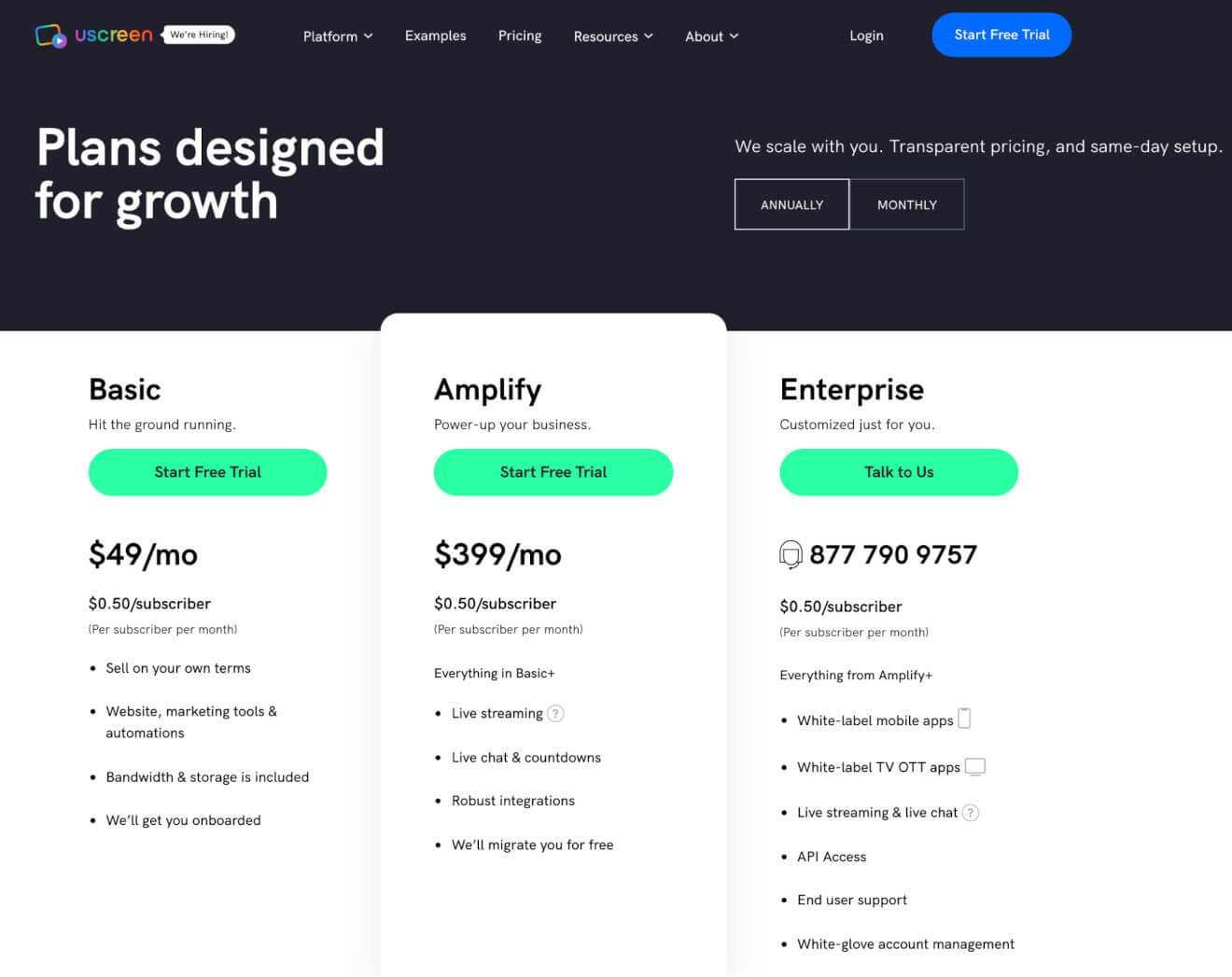 After your initial free trial, we offer our customers a choice of 3 pricing tiers.
The Basic plan lets you create your website, access marketing tools, and take payments for your content with unlimited bandwidth included.
Our next tier – Amplify – builds on those, by adding live streaming and chatting capabilities, and all the integrations you'll need.
Enterprise-level users can use our app white-labeling service, access the Uscreen API, and get white-glove account management.
That's some of what makes us so great, but what about all the other online business platforms that support learning?
We're looking at them next.
2. Teachable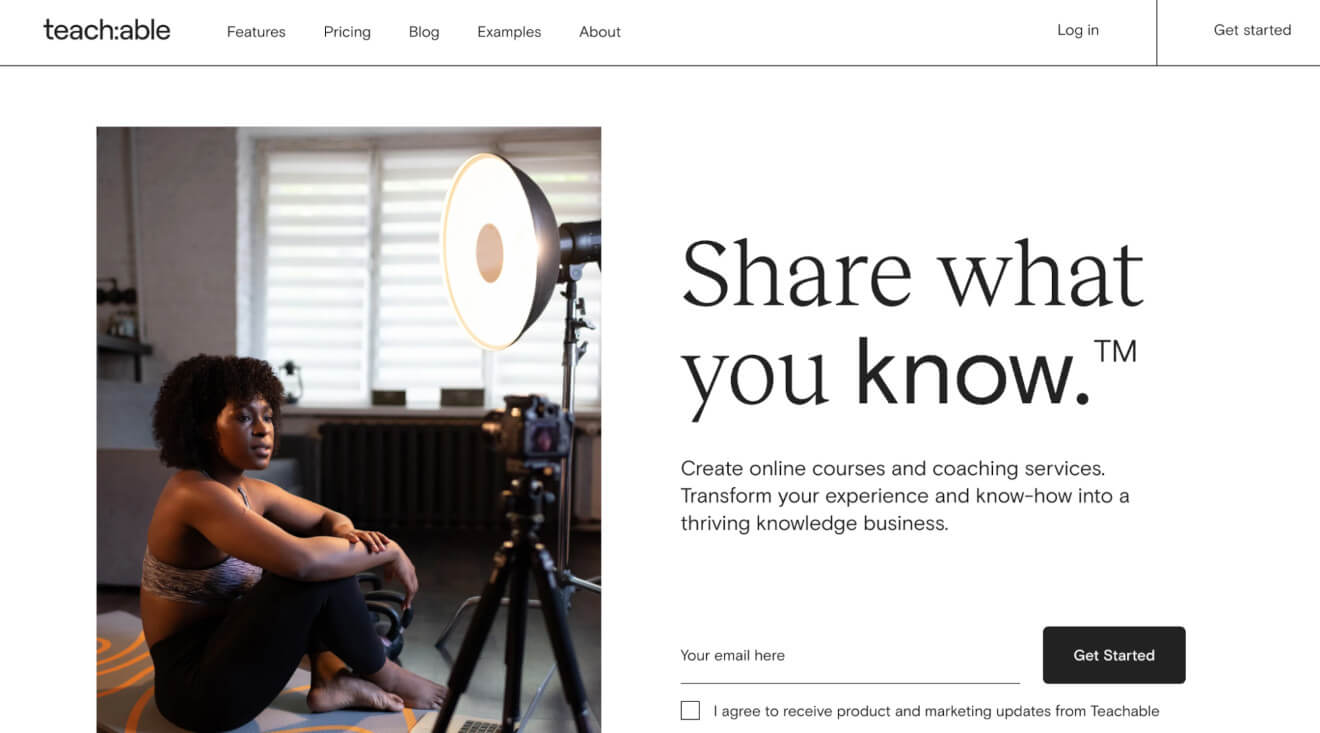 Teachable works with over 100,000 course creators to help them create an online learning business.
It works in a similar way to Uscreen, allowing business owners to build courses and sell memberships.
Here are the details about all the features of the platform.
Teachable features
If you choose to use Teachable as your course builder, you can:
Upload videos in up to 4K resolution and run live webinars using Twitch, YouTube, or Vimeo.
Present videos on an unbranded player with autoplay when the student opens the class.
Build an unbranded, customizable website to host your content with your own domain name.
Add SEO details to your site such as meta descriptions and set your own URL for your pages.
Drip content to your learners.
Use basic marketing tools like affiliate marketing, coupons, and upsells.
Take one-off payments, sell subscriptions, and accept payment plans.
Integrate tools like Facebook, Google Analytics, Convert Kit, and more.
Send course completion certificates to course attendees and host simple quizzes.
Embed other content like audio files, Word docs, and PDFs as well as sell digital products like ebooks.
Have unlimited courses and students with unlimited bandwidth and hosting – and an individual video limit of 2GB.
Take payments through the Teachable payments gateway or PayPal.
Access analytics through a Google Analytics integration.
Scroll down to see how much this all costs.
Teachable pricing

Teachable offer 4 pricing options, starting with a Free plan – although it does have transaction fees – which lets you host unlimited courses and use integrations on your site.
Pay for the Basic plan and you can add community features, use your own URL, drip content, and use email marketing tools.
On the Pro plan, you'll add quizzes and certificates while also being able to remove any website and player branding.
Choose the Business plan and you get all the other features plus priority reports, advanced customization tools, and the option to manually import your students.
Let's look at the next place you can host your learning content.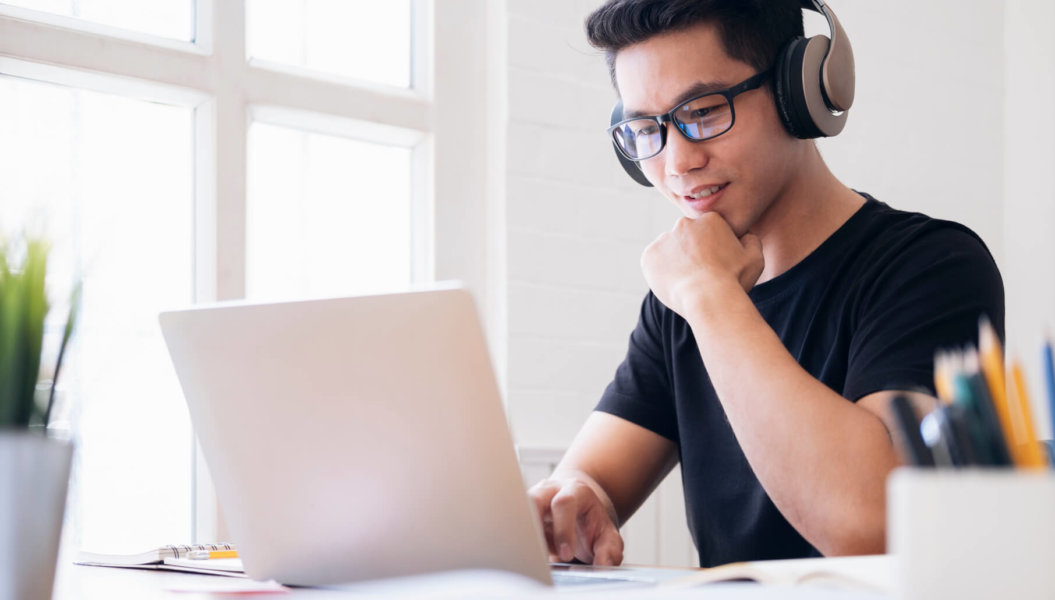 9 Best Teachable Alternatives for 2023 (Comparison Guide)
3. Podia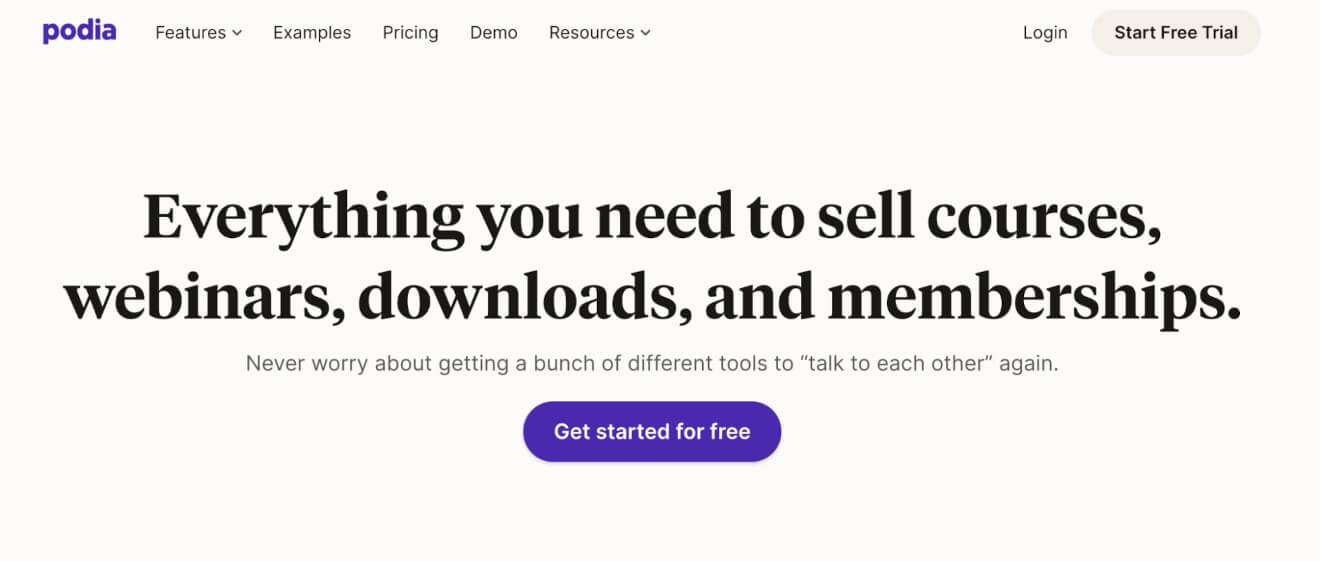 Podia is another tool that lets you create a website to build courses and sell memberships.
50,000 online course creators use Podia to host their coaching and classes.
Here's what they get.
Podia features
If you choose Podia for your online course creation business, you get:
Videos hosted in up to Full HD quality with live webinars available through YouTube or Zoom.
A video player that lets you add your brand colors.
A website builder with a Podia domain, or your own custom domain with no Podia branding on your site.
Content dripping to pace your courses.
Options to sell product bundles as well as monthly or annual memberships.
Marketing features like coupons, tools to manage an affiliate program, and a built-in email marketing system.
Integrations like Convert Kit, Mailchimp, Google Analytics, Facebook, and more plus Zapier to create automations.
Course completion certificates available to send to learners.
The option to sell digital downloads like ebooks, music, and audio files.
Unlimited students, courses, and video hosting with a 1GB recommended video upload limit.
Payment integrations with PayPal and Stripe.
Analytics through Google Analytics, Facebook Pixel, and Hotjar.
Now for the pricing plans.
Podia pricing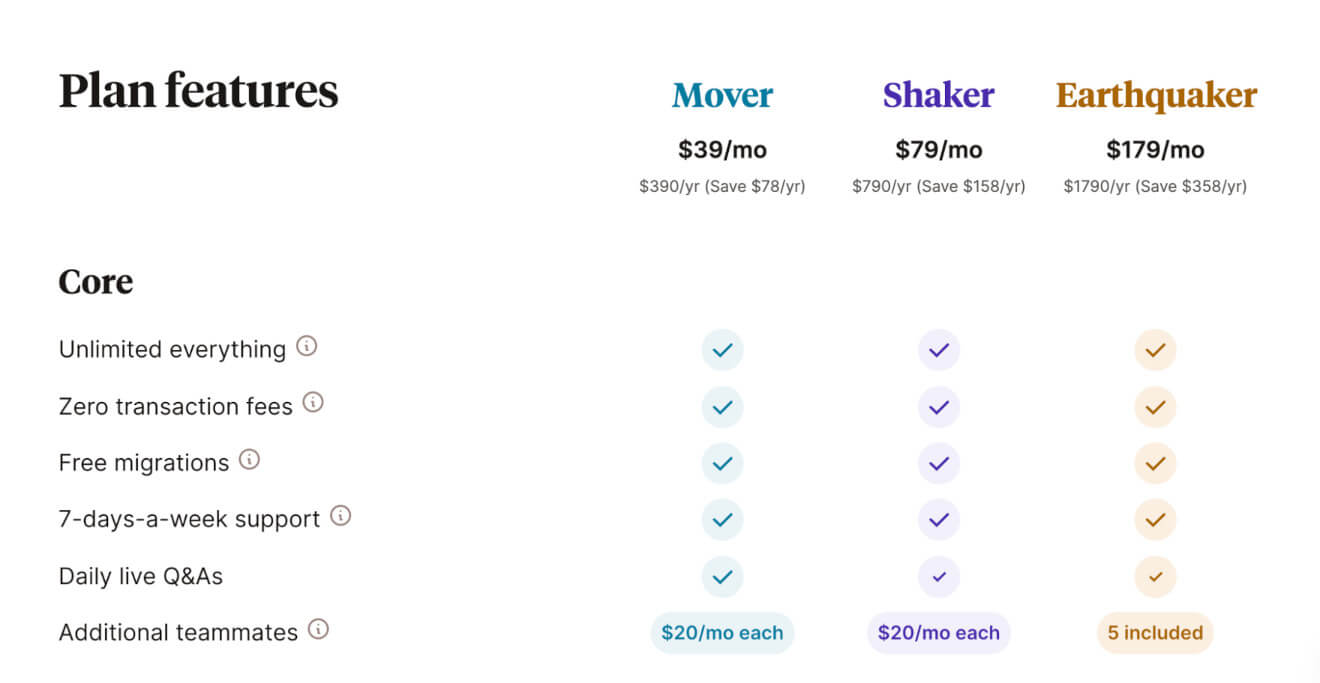 After an initial 14-day free trial, Podia offers 3 pricing options.
The Mover tier gives you all the core features, plus the option to sell webinars, courses, and downloads, as well as have up to 5,000 email subscribers.
The Shaker tier adds on the option to sell memberships and schedule coaching sessions, send certificates, run affiliate marketing, and have 15,000 email subscribers.
The top tier, Earthquaker, bumps your email subscribers up to 50,000 and offers enhanced customer support features including a dedicated account manager.
Fourth on the list is…
4. Kartra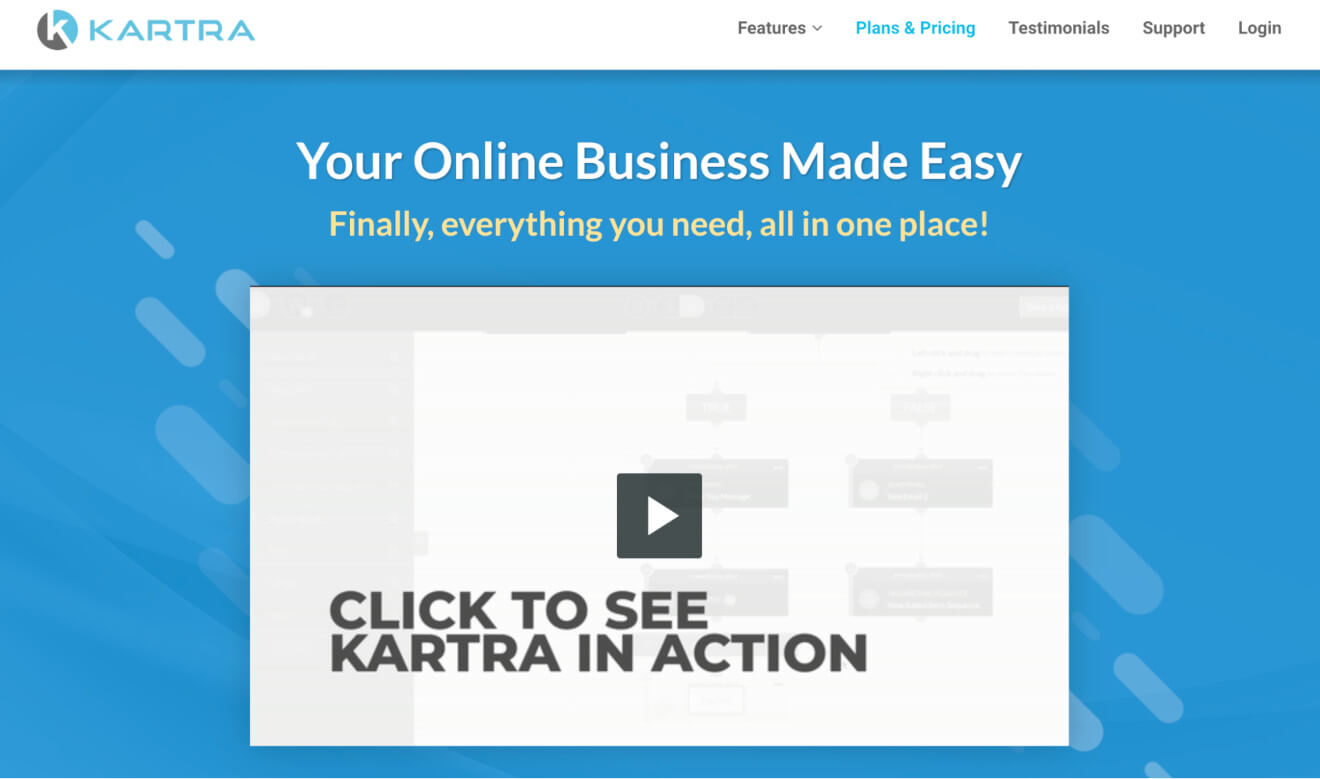 Kartra is a general platform for creating and marketing digital products, but it can be adapted and used to host your online courses.
It's used by lots of people in the online learning space and has lots of digital marketing tools available.
Check out what features it comes with.
Kartra features
When you use Kartra as your course building site, you can:
Natively host video in up to 720p quality and host live webinars with a Webinarjam integration.
Add watermarks, branding, CTAs, share prompts, and skins to your video player which can be embedded or work as a pop-up on your page.
Create your own website with the Kartra page builder with lots of templates to choose from.
Set timers on your content so it can drip to your users.
Use marketing tools like plug-and-play marketing campaigns, automated emailing, and coupons.
Sell your course content as a one-off, accept payment plans, or run a membership site and tier your pricing.
Integrate with lots of different tools like SendGrid, Google Calendar, and Twillo, plus create automations with Zapier.
Run surveys and quizzes that trigger email sequences and give you analytics.
Monetize a variety of different content, including digital and offline products.
Host unlimited courses and videos, have unlimited members and pages, and send unlimited emails.
Take debit and credit card payments with PayPal, Stripe, or Authorize.net.
Get detailed analytics about your emails, pages, and campaigns.
How about the price?
Kartra pricing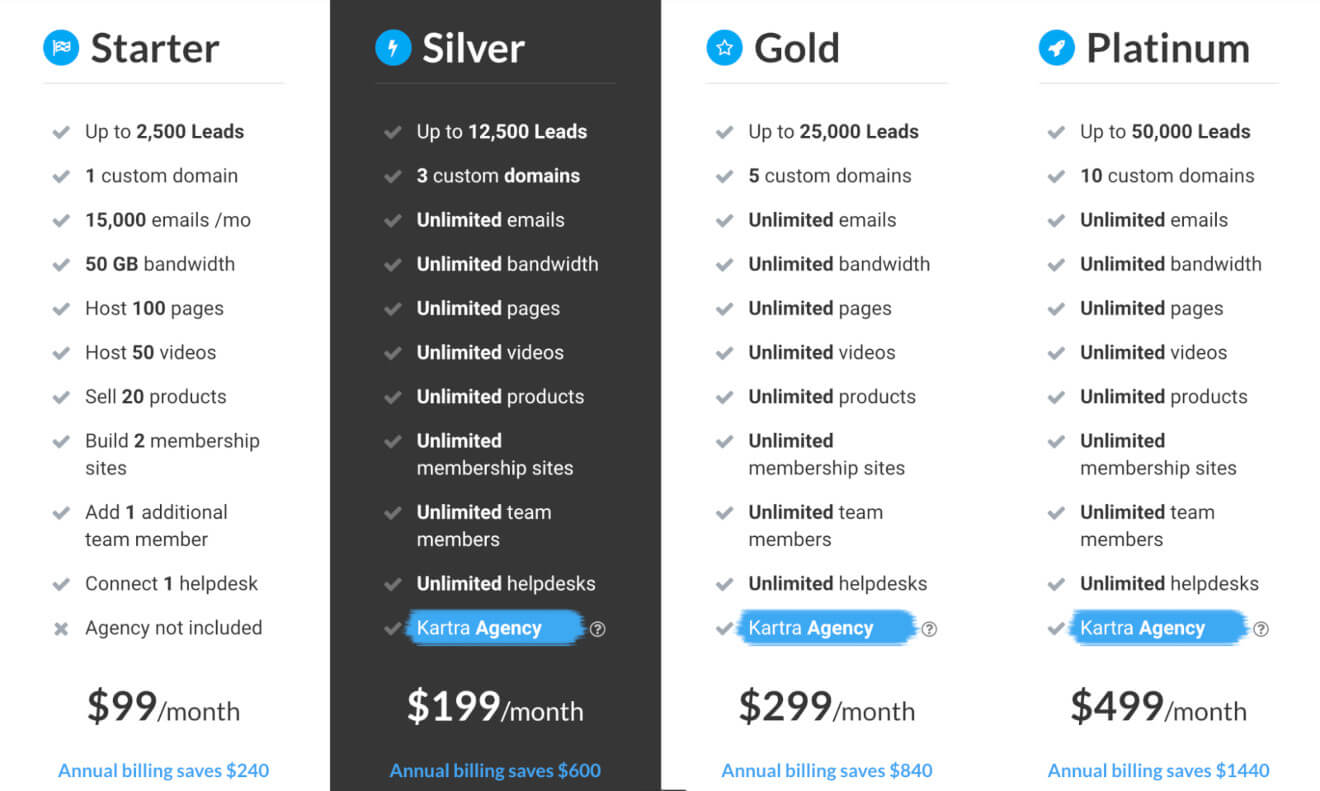 There are 4 price plans on Kartra, though the Starter plan has limits to the number of emails, your bandwidth, pages, videos, and other tools.
The Silver plan makes nearly everything unlimited, allows up to 12,500 leads, and hosting for 3 domains.
Gold increases the number of leads to 25,000 and lets you have 5 domains, whilst those numbers go up to 50,00 leads and 10 domains at the Platinum level.
A different type of course platform is next.
5. Udemy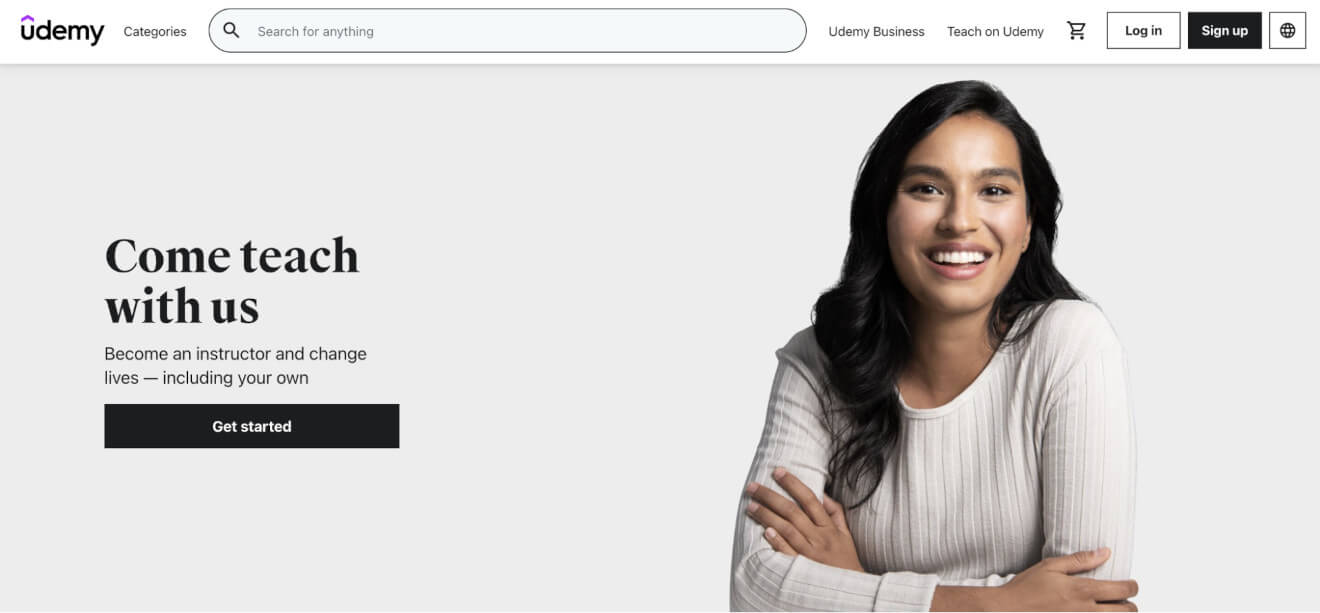 Sites like Thinkific let you make your own website and sales pages, but Udemy works as a course marketplace instead.
It hosts more than 155,000 courses for all kinds of people, such as software developers, marketers, and creatives.
Let's look at how it can work for you.
Udemy features
If you want to host your online course or coaching on Udemy, you'll get:
Videos hosted at 720p minimum, with a minimum of 30 minutes of content per course.
Course content hosted on Udemy's platform through their own video player.
Classes made available on iOS and Android via the Udemy app.
The chance to participate in Udemy Deals, where the platform uses data to dynamically discount your courses.
Course completion certificates sent to all the people who took your course directly from Udemy.
The option to upload course notes and other documents including slides, PDFs, audio, and images.
Unlimited course hosting with a single video limit of 1.5GB per upload.
All of your payments handled through Udemy.
Analytics about your students, course engagement, and traffic sources.
The setup and pricing are a bit different, here's how.
Udemy pricing
Because Udemy is a marketplace hosting all types of different courses, your business doesn't take payments through PayPal or Stripe like most other platforms.
Instead, your learners will pay Udemy directly and you get:
97% of the course fee if you sold the course through your own referral link or coupons
37% of the course fee if the course was sold from another source
Your courses can also be selected to be part of the Udemy for Business offering.
If that happens, you'll get a cut of the revenue Udemy makes from the program based on how many minutes of your classes are watched.
We're moving on to another one of Thinkific's competitors.
6. Kaltura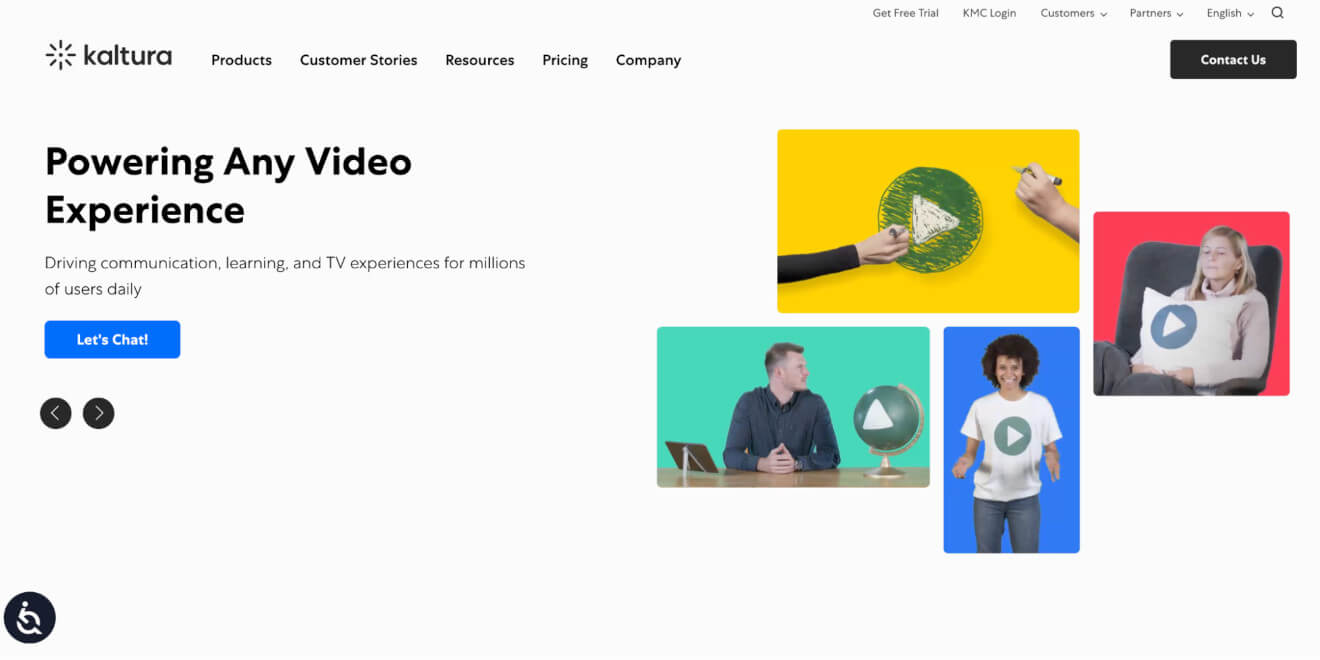 Kaltura is a video hosting platform that also includes a learning management system (LMS).
Rather than creating your own website or selling courses on a marketplace, you host your learning content in your own space on the Kaltura system.
Here's more information about how that works for you.
Kaltura features
Using Kaltura to host your online classes and courses, you can:
Show videos in up to 1080p quality and host live stream events.
Add branding or skins to your player, which has chapter breaks, dual-stream view, and closed caption options included.
Share and embed Kaltura videos to your own WordPress site or other website builders.
Let your students access your course through the Kaltura-branded MediaSpace Go app.
Monetize your content with advertisements or sell downloads of your videos.
Integrate learning tools like whiteboards, video quizzes, chaptering, and translations to your videos.
Upload extra content to your lessons, such as PDFs, PPTs, audio, images, and more.
Have unlimited video sizes and up to 60TB of hosting and 120TB of video streaming.
Analyze your user and video data with native analytics.
To the pricing.
Kaltura pricing
Well, not exactly.
Kaltura doesn't advertise their prices on their website, but they do offer a 14-day free trial before you sign up.
The next one is on the way.
7. LearnDash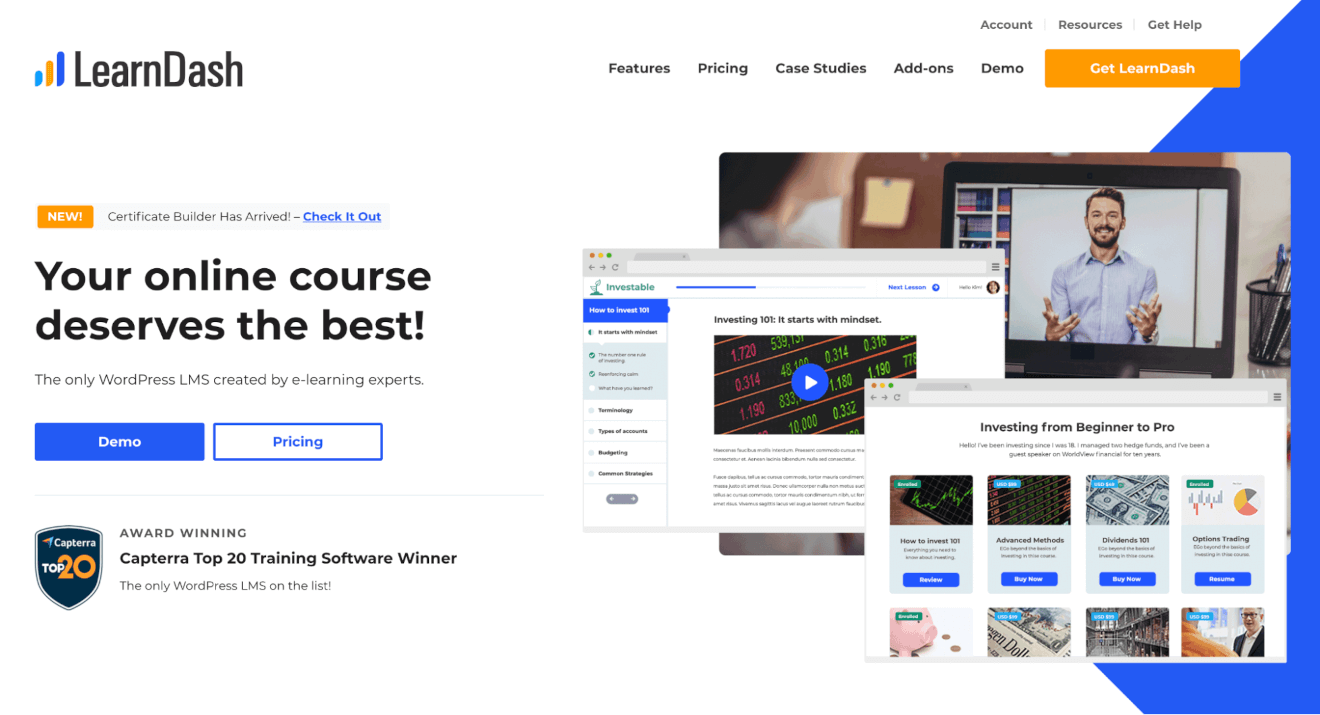 LearnDash is a WordPress plugin, meaning you'll need to create your own WordPress website, then use LearnDash to make it into an educational platform.
You do get full control over how your website will look, with the plugin adding the features to help you sell courses.
What are those features?
LearnDash features
Using LearnDash on your WordPress website means you can:
Host videos on other platforms, like YouTube or Twitch, and embed them into your website.
Have a custom website created with WordPress themes, with LearnDash added as a plugin.
Use SEO techniques to optimize your course or coaching website.
Drip content to your learners over time.
Sell memberships, subscriptions, bulk access, bundles, and one-off purchases to your learners through a WooCommerce integration.
Access a whole variety of WordPress plugins to work with your online learning site including email, marketing, analytics, and more.
Sell other products like audio, ebooks, or merchandise using eCommerce tools on your site.
Add advanced quizzes and polls that issue certificates and include gamification elements like points and leaderboards.
Host unlimited courses and enroll unlimited students, with video limits set by your hosting partner.
Take payments through any integration you want, including PayPal, Stripe, and 2checkout.
Track user interactions with your site with Google Analytics, Inspectlet, and ProPanel.
What you'll pay for this LMS plugin is next.
LearnDash pricing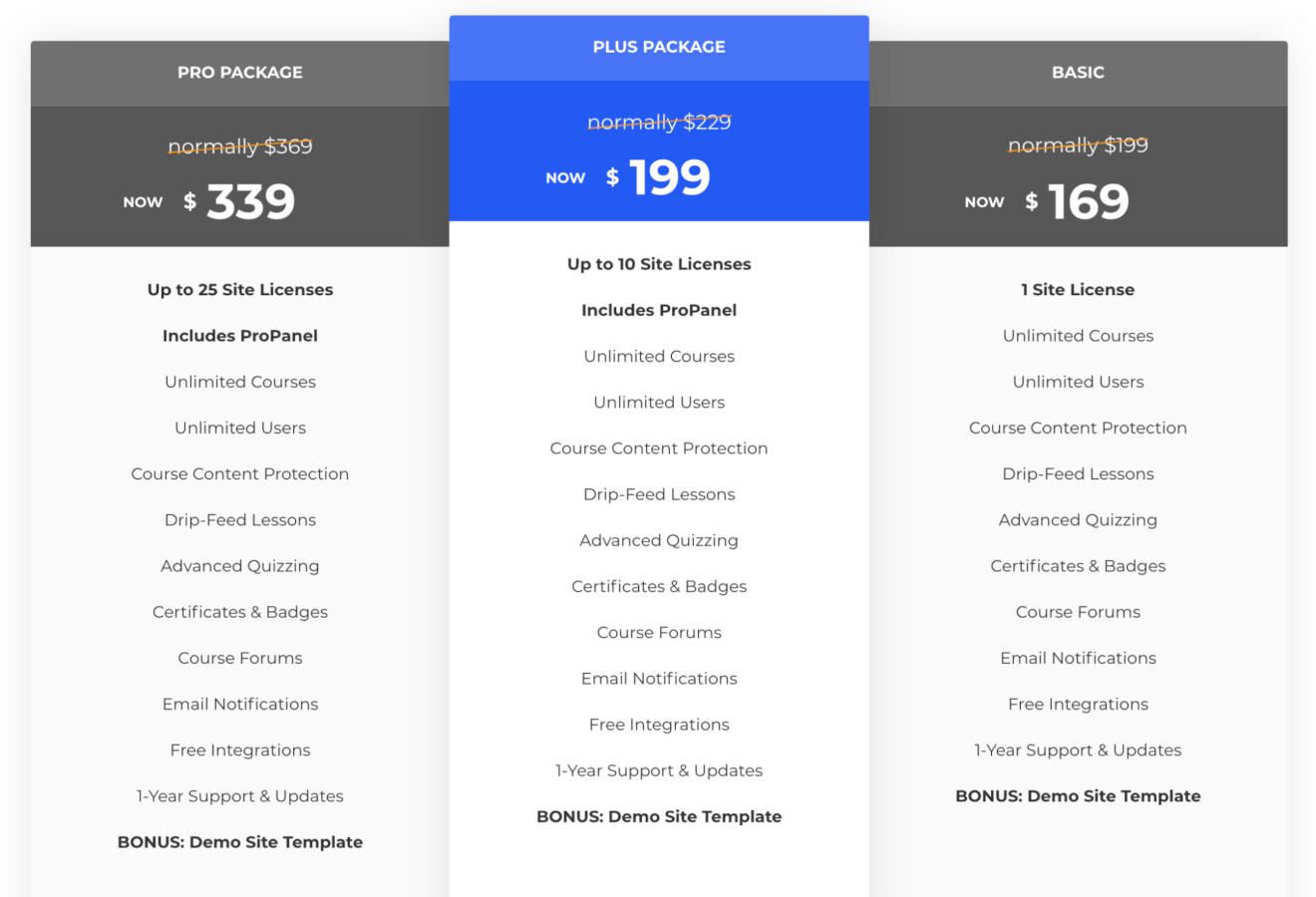 With LearnDash, you get the same set of features no matter which plan you take.
The difference comes with how many site licenses you get and whether ProPanel access is included.
The Basic package works for 1 site license, Plus gives you 10 site licenses, and Pro lifts that up to 25 licenses.
The 2 higher packages will also give you access to ProPanel analytics.
Next on our list of Thinkific competitors is…
8. Memberful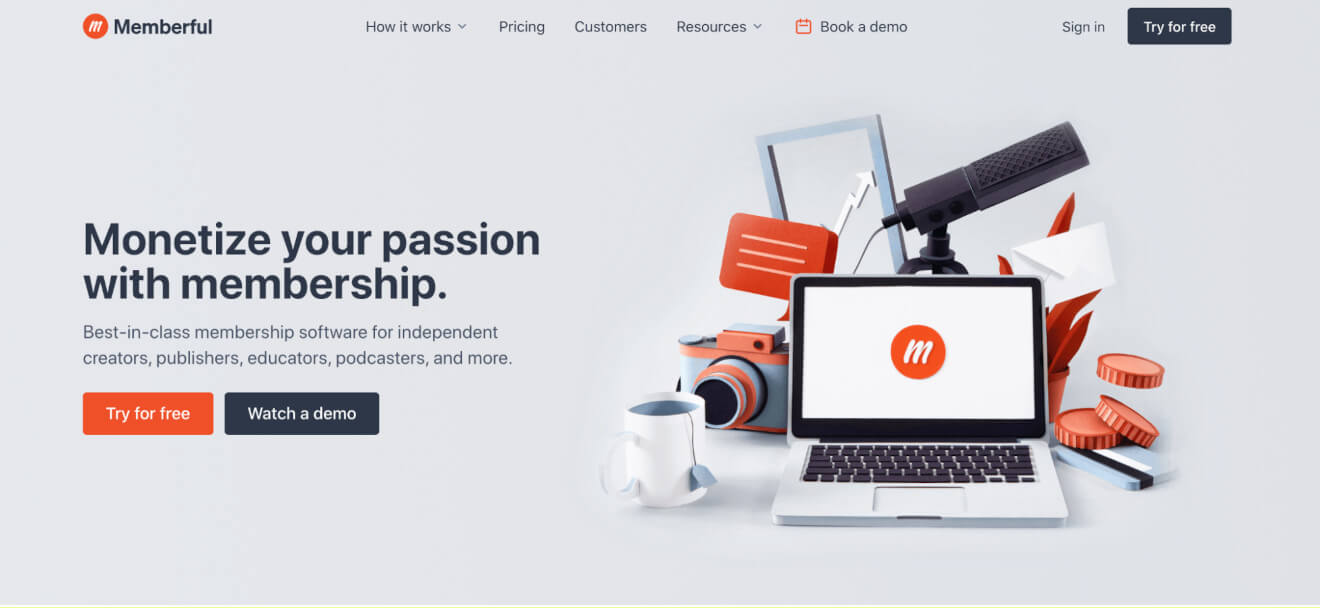 Memberful is a software package that lets you turn pretty much any website into a membership site, including your online earning website.
You get the most functionality with WordPress sites because you can gate content on your pages; if you use it for Wix or Squarespace (for example), you'll still be able to process membership payments but will need to provide content on a different platform.
The full features rundown is coming up.
Memberful features
Using Memberful with your website lets you:
Host your course videos and live streams on your WordPress site using an external hosting partner like YouTube or Wistia.
Create your own white-label website through a variety of site-building platforms and add membership features to it.
Give free trials and coupons as well as sell gift cards.
Tier memberships that can be sold as monthly or annual subscriptions, plus you can run an affiliate program.
Use integrations for your marketing like Campaign Monitor, to create communities through Discourse, create automations with Zapier, and more.
Gate and sell other content like podcasts, physical products, and digital goods on your site.
Have unlimited members and have unlimited product plans, with your video limits set by your video hosting provider.
Process your credit and debit card payments through a Stripe integration.
Use Google Analytics to track your site activity.
Memberful price plans to follow.

Memberful pricing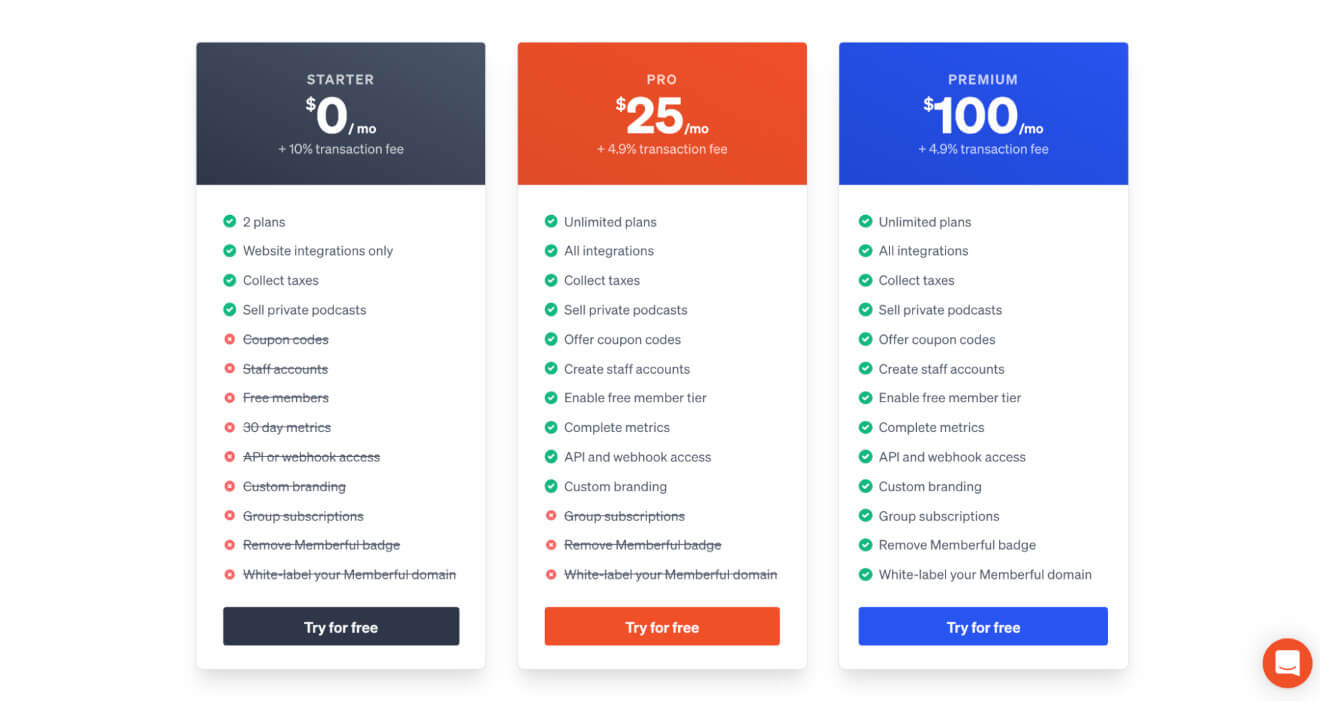 Memberful's free plan lets you create 2 plans for your course subscribers, sell podcasts, and use minimal integrations.
Pay for the Pro plan and you get unlimited membership plans and integration access, the ability to use coupon codes, access to the Memberful API, and other features.
On the Premium package, you can add more of your own branding, remove the Memberful branding from your site, and sell memberships to groups as well as individuals.
The final platform on our list of top alternatives to Thinkific is next.
9. Mighty Networks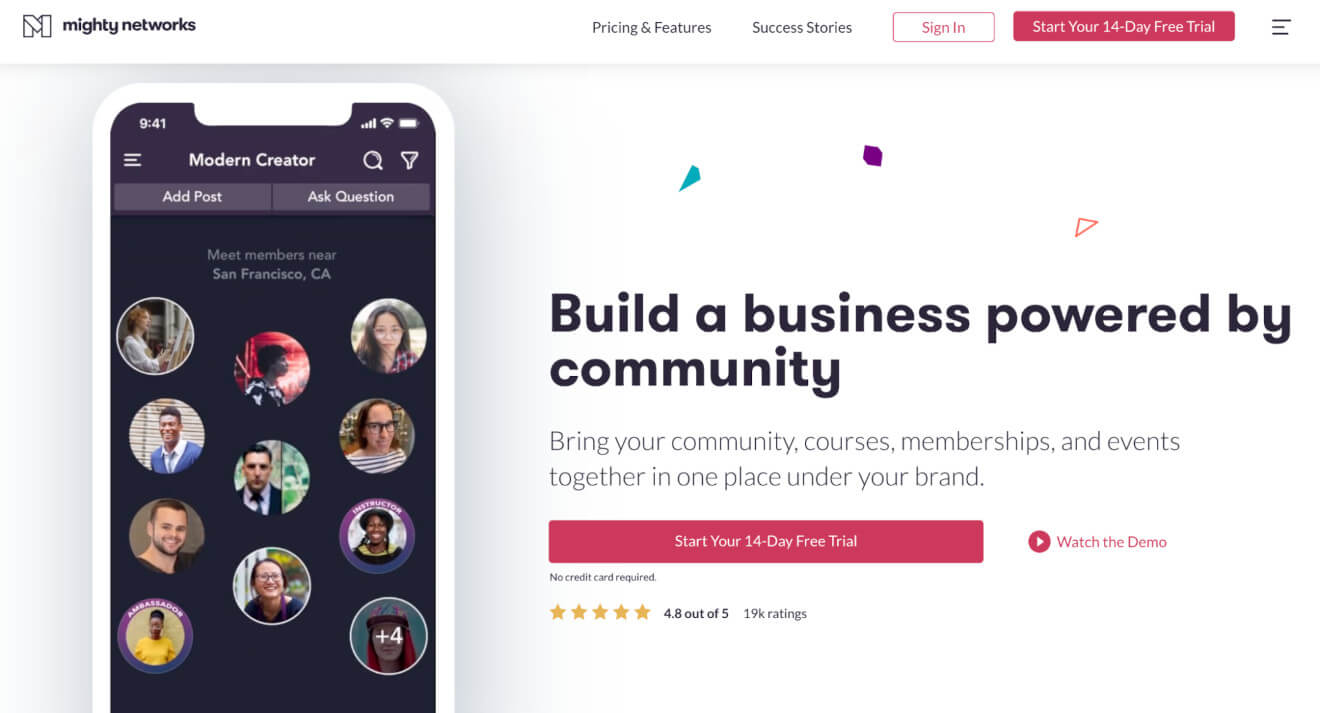 Our final Thinkific alternative is Mighty Networks, and similar to Podia and Uscreen, this is a website building platform.
The platform has community tools and app access, but what else can you do with it?

Mighty Networks features
Using Mighty Networks gets you:
Native video hosting on some plans, and video embedding from external providers on every plan.
A customizable website made through the website builder, including your own branding and personalized domain.
An app for your online courses for iOS and Android phones.
Content dripping set by date or by your learner completing a section.
Discount codes and free trials to help with marketing, and you can sell your online courses as bundles, subscriptions, or one-offs.
Integrations for your email, CRM, and other tools using Zapier.
The option to send course certificates through a Zapier and Accredible automation.
The ability to upload other content types like PDFs and PPTs and also create polls and ask questions to your members.
Unlimited members, admins, and moderators plus unlimited video storage with a maximum file size of 2GB each.
Payment processing only through Stripe.
Lots of data for analytics, like details about your members, courses, financials, and messaging, plus you can integrate Facebook Pixel for more tracking data.
Last time for the pricing.
Mighty Networks pricing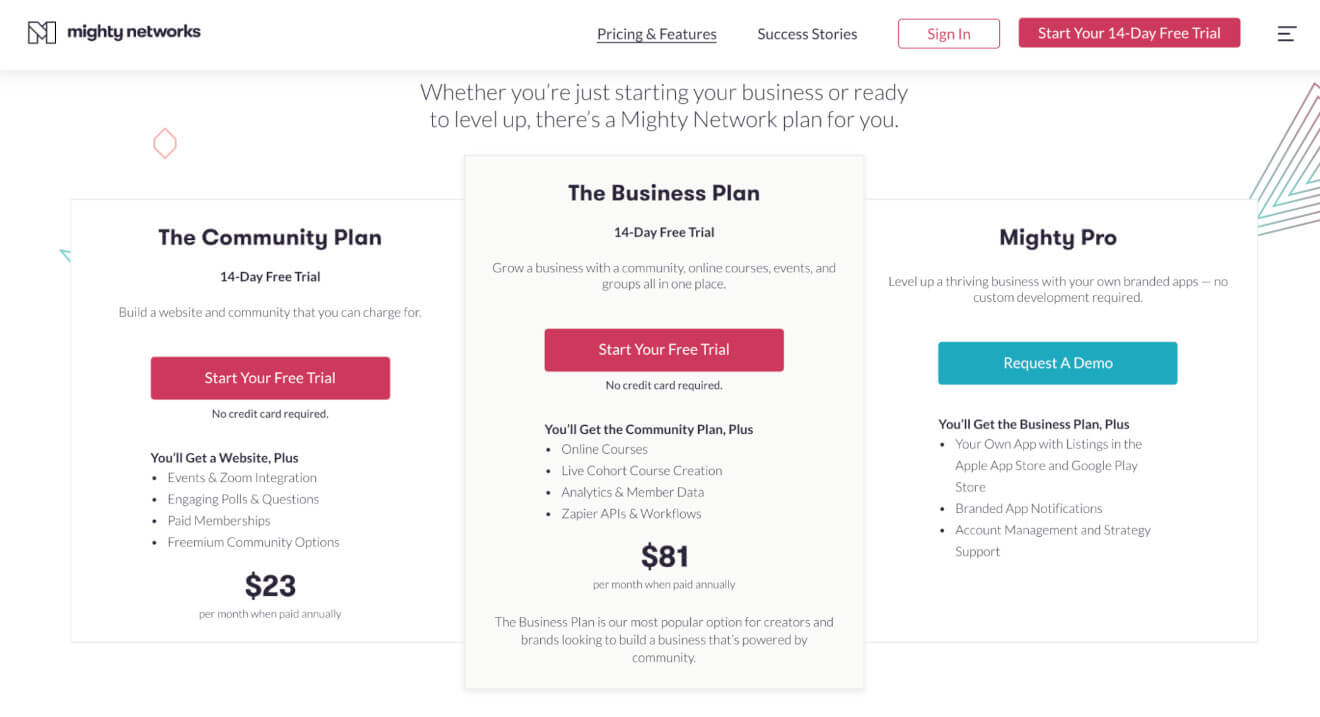 The Community Plan at Mighty Networks lets you charge for membership, use some community features, create your own website, but you can't host courses.
The Business Plan adds on the option to sell courses, gives you access to analytics, and lets you create automations.
With the Mighty Pro plan, you can create an app for Android and iOS then send notifications, plus you get enhanced customer service.
That's all 9 Thinkific alternatives, so let's wrap this one up.
Looking for a Thinkific Alternative?
Thinkific does a decent job at letting you get your online courses created, marketed, and sold.
It starts to lack when you really want to grow and develop your business past courses and get your content onto fresh platforms with TV and mobile apps.
With so many Thinkific alternatives out there, there'll be something to suit most businesses.
Is that something…
Building an app so your students can get your classes anywhere?
Creating a truly custom, white-label website experience that feels intuitive?
Genuinely connecting with your audience through live streams and live chat?
Having all the integrations and automations you need to get your online learning business growing?
If any of those is a "yes" then Uscreen's got the something you're looking for.
Start your free trial with us today to see exactly how we can help you expand your classes, courses, or coaching business.
Frequently Asked Questions (FAQs)
There's always more to know when you're making a business decision.
In case we haven't covered everything you need up top, we're going to answer some of the common questions that pop up about alternatives to Thinkific.
Is there a free version of Thinkific?
Yes, Thinkific offers a basic package of features for free, including hosting a limited number of courses for free, using quizzes and surveys in your courses, and email support. 
How does Thinkific compare to other platforms?
Thinkific is a good platform when you want to host linear courses – lots of people find success with it. There are better platforms if you're looking to scale your business, step up your marketing capabilities, and reach your audience in different ways, like apps and live streams. For these features, Uscreen is much better when compared to Thinkific. 
What is the difference between Teachable and Thinkific?
Both are useful platforms to build and sell online courses. The main differences lie in course building. Teachable has better tools to market and sell courses, while Thinkific is better in terms of creating courses and a website. 
If you're looking for a site that has both of these pros, and many more, Uscreen is the place to look. 
What is the difference between Thinkific and Kajabi?
The big difference between Thinkific and Kajabi is the tools available. Thinkific is focused on providing the tools you need to create multimedia courses, on the other hand, Kajabi is a broader marketing platform that has more features that aren't all about online education. 

Uscreen offers a positive balance between both of them. You can move your Thinkific course over to us and grow your business to become even more successful with our advanced marketing tools.