Starting an eLearning business can be confusing.
You know you have the skill to teach, and some people want to learn it, but connecting the two and building a business around it? Man, where do you even start?
Well, it turns out, right here. ?
At Uscreen we have lots of experience helping budding business owners, like you, start and grow their elearning business. (Even if they have no experience at all!)
And I'd like to share some of the major insights we've picked up along the way. Meaning you can get to work, safe in the knowledge you're following the right steps.
So, if you want to start an elearning business which is both profitable and enjoyable read on to find out more.
What You'll Learn
Use the table of contents below to navigate through this post:
What Is An Elearning Business (And Should You Start One)?
An elearning business is an online hub run by a person who is passionate about, or skilled in, a specific topic or industry.
They can generate money in numerous ways, but the main income streams are:
One-off sales of products, like eBooks and courses

Subscriptions where students get access to a wide range of learning materials
These hubs – also called online schools – have become a staple of modern day education.
Whether students are interested in learning how to crochet, dance, tattoo, develop apps, tell jokes or finally lose those last five pounds, there is a course out there to help them.
For you, as a budding business owner, this creates a brilliant opportunity, especially if you're proficient at a certain skill.
You can grow a community around a topic you love, create products to help them, and sell them in a way which best suits your life. Then, after a few years, retire to the beach and enjoy the spoils of your hard work: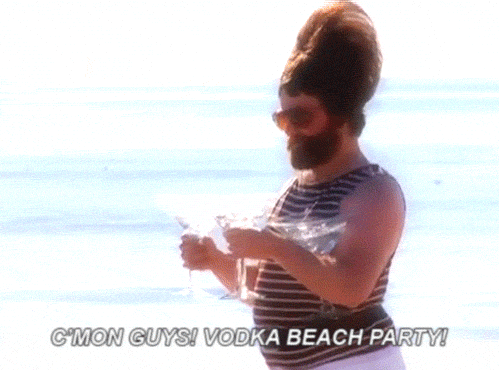 Okay, maybe not the beach bit.
But running an elearning business does come with a lot of benefits. If you want a business which is scalable, built around passive income and gives you complete creative control, it's better than most other options out there.
It turns out it's also a pretty damn profitable venture.
How Profitable Is An eLearning Business?
Elearning businesses – at least the ones who create and sell information products – are the most profitable online business you can start. Why?
Because of some foundational reasons:
Overheads are low:

You only need to pay for hosting and a platform

Products are cheap to make:

You can create an entire course for less than $100

Returns are high:

You can charge from $9.99 right through to $1,000+ for access

Manageable:

You can do most of the work on your own using free (or cheaper) tools
Much in the vein of books like The 4-Hour Work Week, The Lean Startup and The $100 Startup, you can create a highly profitable business without going into your bank account's overdraft.
On the larger scale of this is a business like Pat Flynn's Smart Passive Income, who generated $2,171,652.55 in 2017 through his various elearning platforms:

A large part of this income comes from sales of his online courses, which in November 2017 accounted for over $120,360 of income:

This is the top-end of the elearning spectrum to show you just how profitable it can be. But, you're probably wondering what's possible on a more short-term or realistic target, right?
Well, Uscreen users generate an average of $5,700 per month through their elearning businesses.
They run targeted schools and academies who expertly serve a dedicated audience. And, they do it consistently through their video courses.
Whether your goal is to run a learning empire and become a millionaire or to earn a good living for the skills you teach, the money is there.
The 2 Types of Elearning Business Model
There are two types of elearning business model you need to know about before launching your business:
The "Night School" Model

The "Academy" Model
Each is profitable in its own way, and the one you choose will mostly be dictated by the kind of business you want to run. So, let's break them down and find the right one for you, shall we?
The "Night School" Model
This is the classic elearning business model, and it's been used in real-world institutions and schools around the world for years.
We've called it the "night school" model for two reasons. One, because it sounds cool. Two, because if you've ever taken a class around your day job, you'll be familiar with it.
In this model:
Students pay a one-off up-front fee for access

Follow a set curriculum from start to finish

Progression is tracked by quizzes and tests

There is little deviation from the main topic or "extras" to go with (unless they're bought in addition)
Many online businesses who sell information products use this model to become wildly successful. They create a course which is targeted at learning one skill and sell entry for a high-ticket price.
Marie Forleo's course, The Copy Cure, is a great example of this: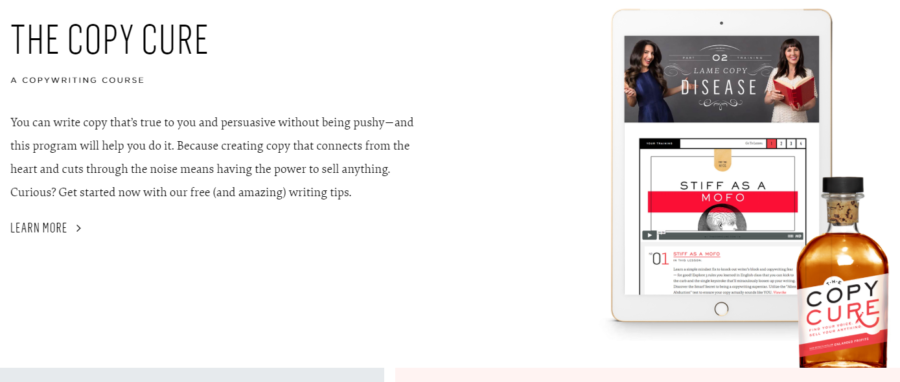 There's no limit to the number of courses you can sell, and it's recommended you create one to solve each major problem in your audience's lives. These types of courses have been known to sell from $7 all the way through to $5000 or more!
However, this method does come with some downsides:
You have to periodically launch (and relaunch) your products

You have to create multiple systems and sales funnels for each product

You make money in big chunks around launch-time, which tapers off when the hype dies down
If you're, say, an aspiring digital-nomad who wants to make money between bouts of travel, and prefer to work in hyper-focused sprints, this might be the right model for you.
It can also be a really good way to learn what products your audience respond too if you're testing the waters and you're not quite just what you should be creating.
But, the second elearning business models, is by far the most consistent, relaxed and scalable of the two.
The "Academy" Model
Think of the "Academy" elearning business plan as the Netflix of online education.
For a recurring monthly fee, you provide students with access to your "academy," where they can find all of the information they need to become successful. Better still, your content is constantly updating and growing.
Like Netflix, they can pick and choose whatever lessons they want to take from your library, whenever they want. As long as they pay their monthly fee, they can learn whenever they want, from wherever they want.
This elearning business model allows you to be both broad and deep.
Let say you wanted to teach people how to run marathons. Inside your academy, students could access training videos on:
How to choose the right running shoes

How to stay cool on a hot run

How to manage your breathing

How to come to terms with your new life as a psychopath
Simply, you create a business around a core topic you care about, and then develop a training-library around it.
This comes with a lot of benefits to you as a business owner.
First and foremost your income is passive. You don't need to be there at the point of sale, or constantly relaunch a product, to create income. Once it's live, it can continue to make money.
This makes creating a sales funnel much, much easier. Why?
Because you only have one offering. This means you only need to lead people to one product, which an immense value at an affordable cost. So, you can focus on growing your community and refining the sales funnel you do have, instead of worrying about the next one you need to create.
This model also works with something known as the "compound effect."
As you begin to add people into your academy, your income grows, but not just as the point of sale. Over time the lifetime value of your customer is always increasing, and the more people you retain, the more potential you have to earn.
Now, this isn't all sunshine and rainbows and comes with its fair share of downsides.
You'll need to:
Consistently update and create new content

Be active in maintaining your community

Spend longer growing your initial income
But you have the opportunity to create an easily-scalable passive income business, should you choose this method.
And you know the $3,400 a month figure I quoted you earlier?
The majority of those business owners use this academy business model. So, it's tried, tested and proven to be profitable.
Regardless of the method you choose, it's time to start looking at how you can launch your elearning business, starting with these first steps…
How To Start Your Elearning Business in 4 Steps
In this section, I want to show you how to get your elearning business ready for your customers, by setting the right foundations.
If you follow these steps to starting you elearning business, you'll be ready for your first students in no time…
Decide The Niche You Want To Teach

Your elearning business foundations will be built on clarity about:

The industry, skill or hobby you want to work with

The skills you feel you're able to teach

These two pieces of information will guide the decisions you make as you set up your business, from your branding, to where you look for your first customers.

Ideally, this will be a broader niche where you're able to teach multiple skills to help people achieve success.

For example, you probably shouldn't create a business focused on, "How to write the perfect resume" and instead focus on helping people find their first job after college.

Research Your Customer's Needs

With your niche in place, it's time to look at the major problems your customers will face.

You can do this by looking at:

Blog comments

Instagram comments

Influencer Q&A's

Forums

Facebook Groups

Industry magazines

And monitoring what people are saying. Any questions, complaints or rants can be used to generate ideas for your first products.

Whenever you find a topic which matches your skill set, or you could comfortably help someone to improve with, you can add it to a spreadsheet and earmark it as a potential new lesson or course.

Create A Product To Solve A Major Need

Once you've researched your customer's needs it's time to outline your first product.

Ideally, this will be a video-course based around the most common theme you found in your research. Why?

For a few reasons:

Video courses can be created quicker than written courses

You can record high-quality videos using your smartphone

Many of the editing processes can be outsourced using platforms like Fiverr

If you want to create an "academy" style subscription service video is doubly important. People will want to access your content whenever, and from wherever, they want. This is done best with video content, which can be streamed online or through OTT apps.

If you want to learn how to create your first video, you can check out our guide right here.

Create Your Platform

The final step in this process is to create a platform for your elearning business.

There are two routes you can take here:

The DIY route:

You bootstrap your own "Frankenstein" platform

The Hosted route:

You invest in a teaching platform

With the DIY route, you'll need to put together everything you need to host an elearning business. This means:

Your own domain name

Hosting to handle video streaming

Paywalls to ensure your content isn't accessible for free

eCommerce capabilities to take payments

And while this may not sound like a big deal, it can run you thousands of dollars each month. In fact, to create a service like Uscreen offers for yourself could run you a bill of up to $1251 per month!

So, I recommend you invest in a teaching platform. Although it may seem expensive at times, it will save you thousands of dollars in the long run. (Not to mention hours of headaches.)

Uscreen allows you to create an independent and inclusive elearning business with

Categories

Student progress tracking

Easy to edit website themes

High-speed hosting

For an affordable monthly price.

Check out our current customers for examples, and learn more about what we can offer by clicking here.
Wrapping This Up…
Elearning businesses present a great opportunity for the budding online entrepreneur with a passion for teaching and growing communities.
If you're an expert (or just really good) at a skill other people want, you can create an entire business around sharing your insights with knowledge-hungry students. Which, as it turns out, can be really profitable.
The optimal elearning business plan is what we call the "academy" model. Here you create a large Netflix-style library people can learn lots of relevant skills with, and charge a recurring monthly fee for access.
But now we want to hear from you. What brought you to start an elearning business, and how can we better help you to get it off the ground?
Let us know in the comments…