Starting an eLearning business can be confusing.
You know you have the skill to teach, and some people want to learn it, but connecting the two and building a business around it? Man, where do you even start?
Well, it turns out, right here.
At Uscreen we have lots of experience helping budding business owners, like you, start and grow their eLearning business. (Even if they have no entrepreneurial experience!)
And I'd like to share some of the major insights we've picked up along the way. Meaning you can get to work, safe in the knowledge you're following the right steps.
So, if you want to start an eLearning business that is both profitable and enjoyable read on to find out more. We're going to cover:
Let's go…
What Is An eLearning Business?
An eLearning business is an online platform that educates people, either by imparting niche-specific knowledge or teaching new skills.
eLearning businesses generate income in a number of ways, but the most common are:
One-off sales of products like eBooks and courses
Subscription access to independent online schools
Self-paced online learning has become popular over the last few years – it's worth around $103.8 billion – and the COVID-19 pandemic has accelerated the industry's growth. (More on that next!)
So, what makes eLearning businesses so popular? Well, for students, it's because they offer a lot of flexibility. They can choose their own…
instructors
topics
learning schedules
payment options
…to create a customized experience that fits their needs. These are all important elements that aren't typically offered by traditional offline learning environments.
Instructors can also take advantage of higher levels of flexibility and creative freedom. You're not bound by traditional syllabuses or teaching structures.
Instead, you can cover the topics that interest you, in the niche you care about, to provide the most value to your audience. Better still, you can work on your own schedule.
At Uscreen, we've seen people build profitable eLearning businesses around:
Basketball.
Cooking.
Dance.
Nutrition.
Magic.
Musical instruments.
Language learning.
Many, many more.
And, thanks to the COVID-19 pandemic, there has never been a better time to start an eLearning business. Here's why…
Why You Should Start An eLearning Business In 2023 (And Beyond)
COVID-19 has shaken up how we approach work, learning, and recreation. And, people from all over the world are turning to eLearning platforms in the "new normal".
Specifically, we've seen a rise in 3 types of learners:
Those looking to grow and adapt to different ways of working.
Those looking to escape the pandemic through learning new skills and knowledge.
Those looking to learn in COVID-19 safe environments.
In fact, Google's data shows a clear rise in people looking for terms like "online course" since the first lockdown measures were introduced: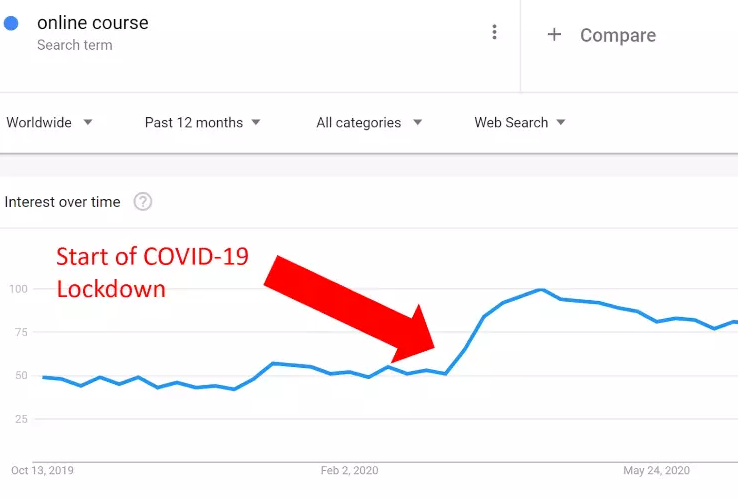 There's now a clear opportunity for anyone who wants to start an eLearning business. The supply of online learning resources is nowhere near the current demand for it!
In fact:
The Associated Press reports that demand will grow 10% each year until 2024 when it will reach a worth of $21.64 billion. (Tapping into just 1% of that industry would be $216.4 million!)
Better still, when you build your eLearning business using online video, it can be affordable to start and manage, with potentially high returns. Let's look at an example to show you what I mean!
How Frances Long Built A 5-Figure eLearning Business
Frances Long runs Your Book Of Memories, where she teaches people how to make their own mini albums.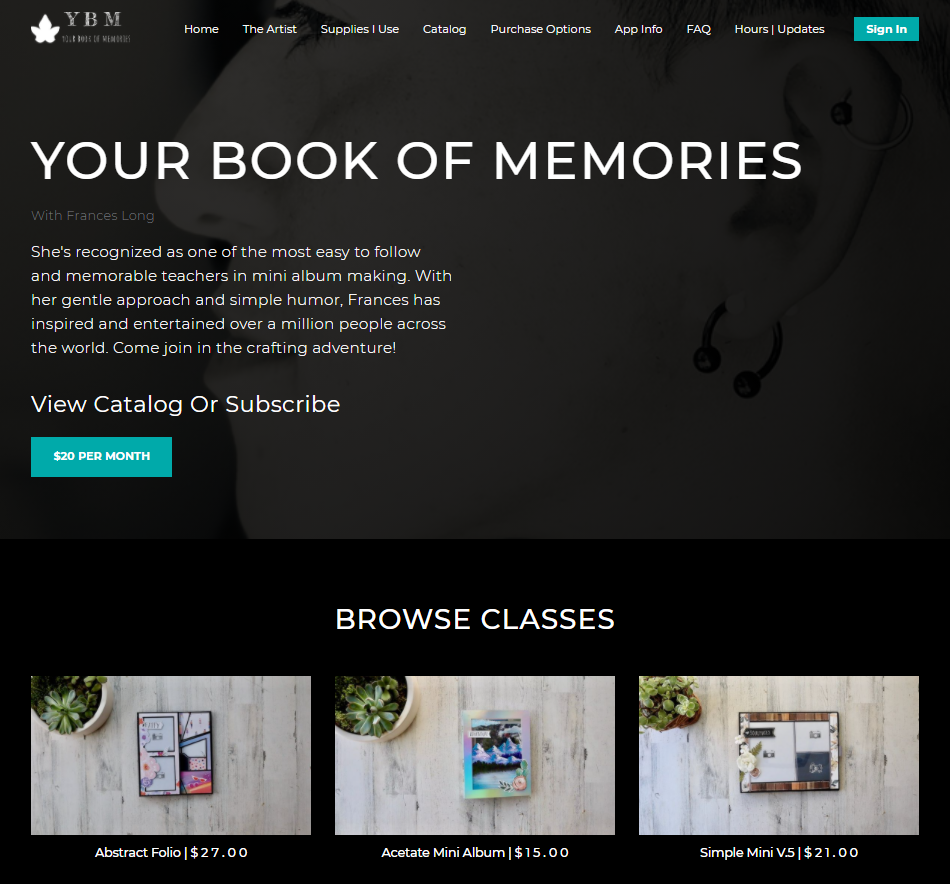 Frances began by creating videos for her YouTube channel using a simple, inexpensive setup. Though the content of each video is complex, the creation of it is not.
Here's one of her early videos so you can see what I mean:
Once she built a community on her channel, she pivoted to running her own eLearning business using Uscreen.
Students can access her content in 2 ways:
They can pay a monthly fee for access to her school, and access all of the tutorials in her library
They can pay a one-off fee to access an individual tutorial
This gives Frances's audience flexible access to her premium educational content. And, it gives Frances multiple income streams for her eLearning business.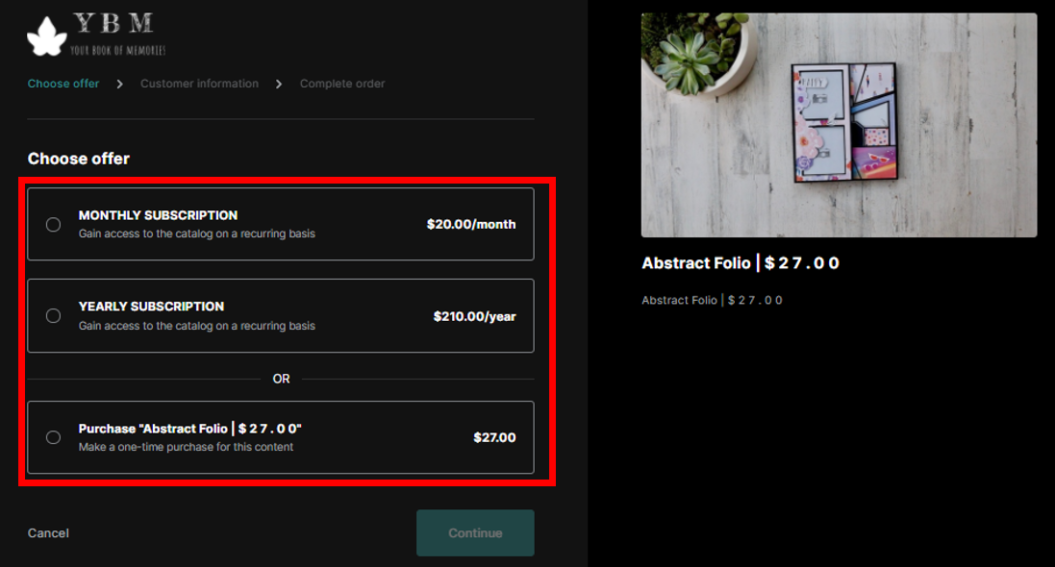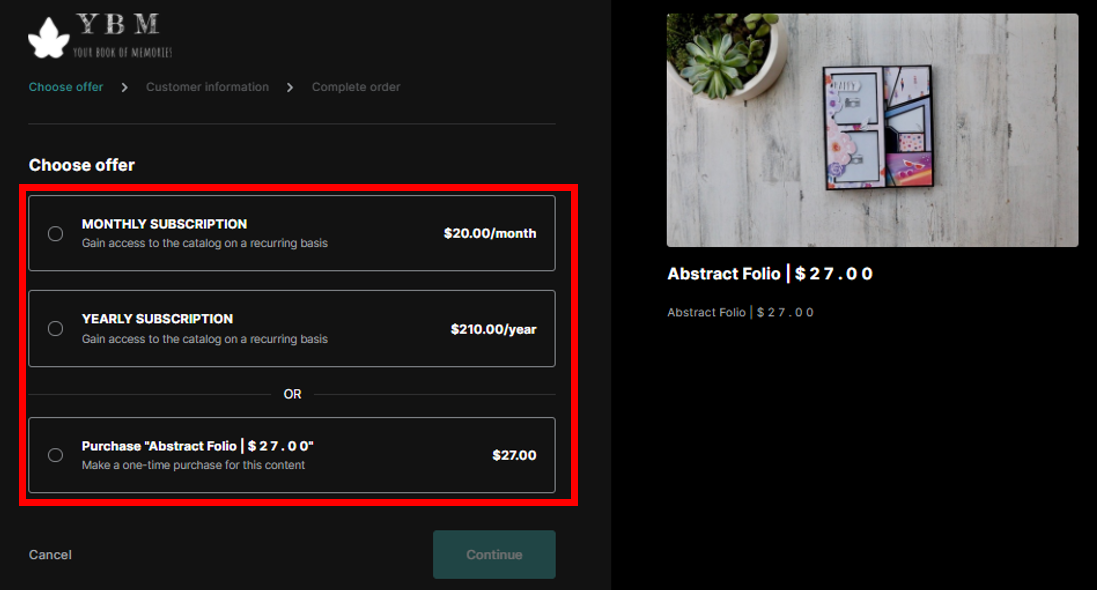 The combination of these simple elements helped Frances bootstrap her way to $13,000 in her first 4 months after launching, and her income continues to grow.
In the next section, we're going to look at how you can start your own eLearning business, starting with choosing the right business plan.
The 3 Types Of eLearning Business Plans
There are 3 different types of eLearning business plan you can use:
The "night school" model
The "academy" model
The "combined" model
Let's take a look at them and see which one is right for you…
Option 1: The "Night School" Business Model
The "night school" model is a classic if you just want to sell one-off access to a course. It'll be familiar to you if you've ever taken an adult learning course.
Students…
pay an up-front fee for the course
follow a set structure from start to finish (with little deviation from the main topic)
finish the course with a test or quiz to show proficiency
…making them best suited for students who are focused on learning one topic or skill.
InkWorkshops use this eLearning business model well. They sell individual access to laser-focused tattoo workshops: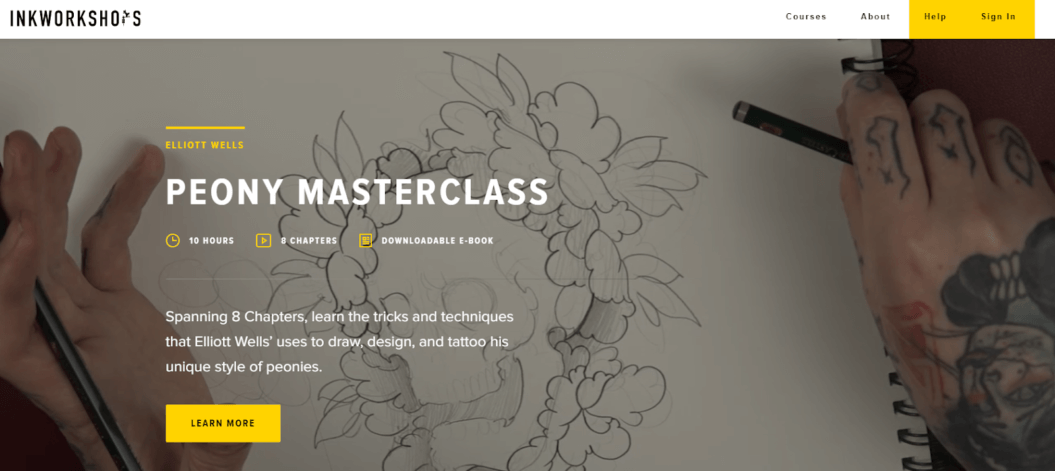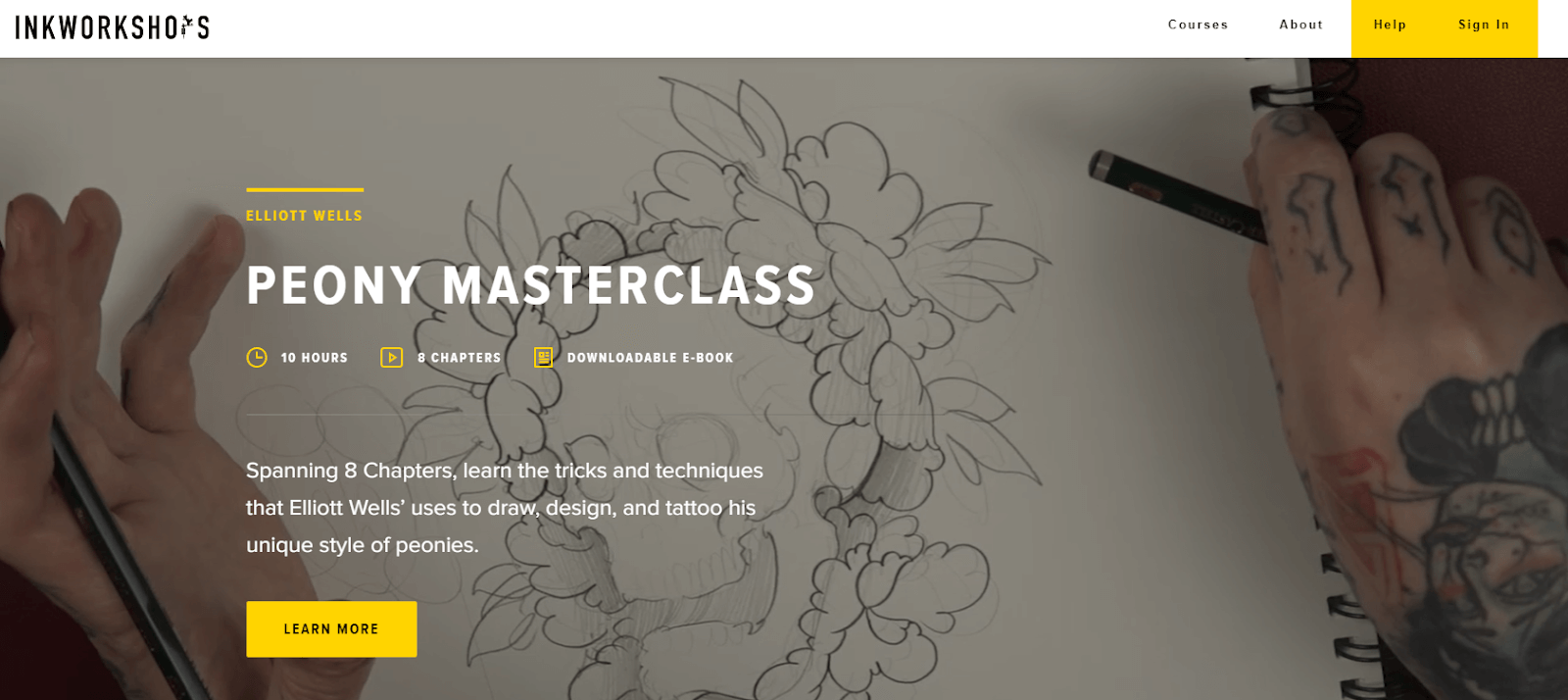 The benefit of this business model is that you receive a lot of up-front money. You can generate hype and sell access for a short time, which can translate into high earnings.
But…
The downside is you only earn once from each customer. Once they have access, there's no need for them to reinvest in this course.
You're also limited to one topic per course, so you'll need to create multiple standalone courses if you want to cover a variety of topics, which can be pretty time-consuming.
Option 2: The "Academy" Business Model
The "academy" model is a much longer-term option. It's where you create an online school that allows…
your students receive recurring value
you receive a recurring income
…in exchange for a recurring monthly subscription fee.
The academy style model allows you to focus on a breadth of skills your students will need. You can build an extensive library of tutorials to cover multiple necessary skills.
Let's say you want to start an eLearning platform for guitarists. Instead of teaching one skill – like how to play a specific song – you could open it up to teach:
How to practice chord progressions.
How to restring your guitar.
The basics of finger-picking.
How to read sheet music.
These topics are far too complex and important to make part of one single course, so they all need to be taught as skills in their own right.
Magic Stream does this extremely well. They've built an extensive catalog of videos that budding magicians can access for a minimal monthly fee:


From the business side of this, there are lots of benefits.
You can earn a recurring income every month from both past and new students. And, you can continue to earn from content you uploaded months or even years before!
Option 3: The "Combined" Model
Okay, this is my favorite eLearning business model…
The "combined" model is where you take the night school and academy models and put them together to create a supercharged income opportunity.
Here you use:
the academy model as your core offering.
the night school model to provide flexible options or add-ons.
It could be that your customers want access to just one tutorial from your database, or you're offering a special live stream session that's worth paying a few extra dollars for.
Students are ready and willing to pay for these if they feel it will help them improve at what it is they've come to learn from you.
This is the same model that Your Book Of Memories used earlier in the post, so you know it's tried and tested!
How To Start An eLearning Business In 6 Steps
In this section, we're going to explore how to start an eLearning business and share the specific steps you need to take. You're going to:
Define your audience
Identify your core content
Pick and create 1-3 actionable lessons
Select your eLearning platform
Set your prices
Market your new eLearning business
Before we start, it's going to be useful if you already have authority within an online community, or audience you've created, before you begin to build an eLearning business.
This will give you better access to content ideas, potential customers, and initial feedback. While not essential, I do recommend you have this before you follow any of the steps below!
Let's get into it…
1. Define Your Audience
The first step is to define your target audience.
It's useful to think of this as a subsection of your current audience. The 20% of people who will be interested in signing up for your premium service.
Ideally, you'll build an "avatar" that is an amalgamation of the 6-8 key characteristics, wants, and needs that your customers share.
You should ask questions like:
How old are they?
What gender (if relevant) are they?
Where are they located?
What are they struggling with?
What do they want to achieve with the skills you'll teach them?
The answers to these questions will differ depending on your niche and what you teach. The best way to answer them is to reach out to members of your current audience and ask them!
Here is a great video from entrepreneur, Eben Pagan, on how to create a customer avatar, with specific examples from an eLearning business:
2. Identify Your Core Content
The next step is to identify the specific lessons your audience needs the most.
These are the core skills that will have the biggest impact on your audience's success. If they come away armed with these 1-3 things, they'll have got their money's worth.
This will help you ensure your existing customers are satisfied and help you to attract new customers with your core materials.
Let's say you're building an eLearning business for creative freelancers. You might create your core lessons around:
Acquisition: how to find and pitch to new clients
Productivity: how to manage your time and workload
Negotiation: how to effectively raise your rates
This is something we do in our own eLearning products. For example, in Fitness Accelerator, we focus on 3 core categories for our video tutorials:
Setting up: how to set up your online fitness platform
Pro tips: how to create engaging, professional content
Marketing: how to grow your online fitness business
Here's how that looks on the website:
These core elements should hit the key needs and take your customers towards their desired end result.
3. Pick & Create 1-3 Actionable Lessons
In this step, you're going to drill down and create some actionable lessons.
I recommend you create a completable "module" for each of your core content categories before you launch your eLearning business.
Sticking with the creative freelancer example from above, this might look like:
Acquisition: how to write a high-converting outreach email
Productivity: how to structure your working day
Negotiation: 10 key things your proposal needs to have
The point here is to choose high-value lessons that set the tone for your future content, and can generate early results or progress for your customers!
If you're starting off on a low budget, here is a great video from Think Media on how to create your first videos using only your smartphone:
4. Pick Your eLearning Platform
It's time to look at where you're going to build your eLearning business.
You may already have considered some "education" platforms that allow you to host single courses, but I'm going to recommend you consider a more comprehensive solution.
Specifically, I'm going to recommend you use a video monetization platform. Here's why…
Video is the most effective way of teaching people remotely. It allows you to convey complex information easily. Just ask the 86% of people who use YouTube videos to learn new skills!
You also need a platform that allows you to:
Create your own controlled learning environment
Connect directly with your audience within a standalone platform
Offer a wide range of payment options
Create combinations of monetization options
Use analytics for both your videos and marketing
Take control of your income
You can do all of this – and much, much more – by using Uscreen. You can find out more about us, and what we offer, by clicking here or watching the video below:
5. Set Your Prices
Next up, let's look at how to set prices for your eLearning business.
In the video below one of our resident video experts, Nick Nimmon, will talk you through a tried and tested strategy for setting prices for online courses and eLearning businesses.
Check it out:
6. Market Your eLearning Business
The final step is to begin marketing your eLearning business. This is where having an existing audience really helps!
I recommend you start by identifying your existing marketing channels, like…
your newsletter
social media feeds
YouTube channel audiences
community forums
…and promote your new platform there.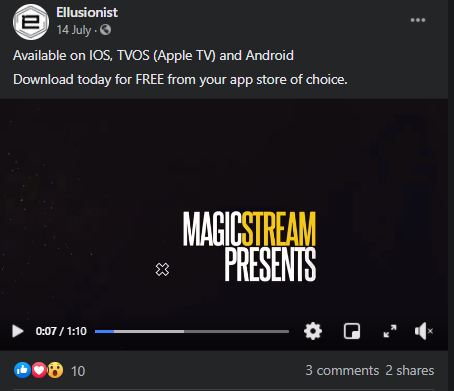 You should also consider using YouTube to create a marketing "funnel". This is where you share:
Top-level videos to engage potential and new audience members
Middle-level videos to begin educating them
Bottom-level videos, like trailers, to point them towards your platform
You can learn more about how to create a YouTube marketing funnel here.
Better still….
You can use Uscreen's marketing tools to build more comprehensive and effective marketing campaigns. With them, you can:
send abandoned cart emails
create "reduce churn" sequences
offer high-converting free trials
share promotional coupons
connect with 1000+ tools via Zapier
…so you can build tailored campaigns to market your eLearning business, your way.
Bonus: Join Uscreen's Instructional Video Business Accelerator
We created the Instructional Video Business Accelerator for those of you who are serious about starting an eLearning business.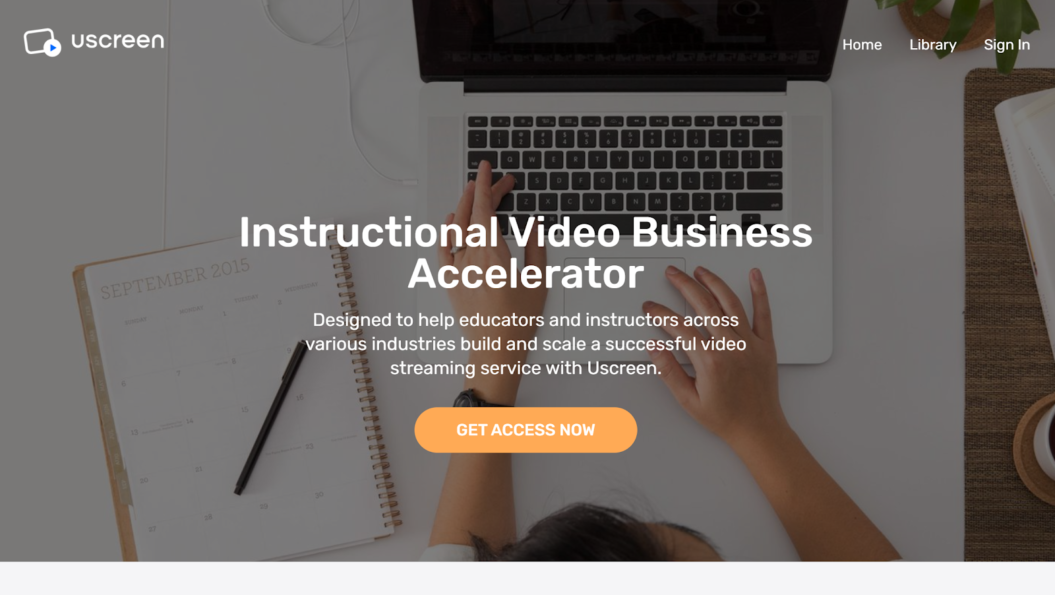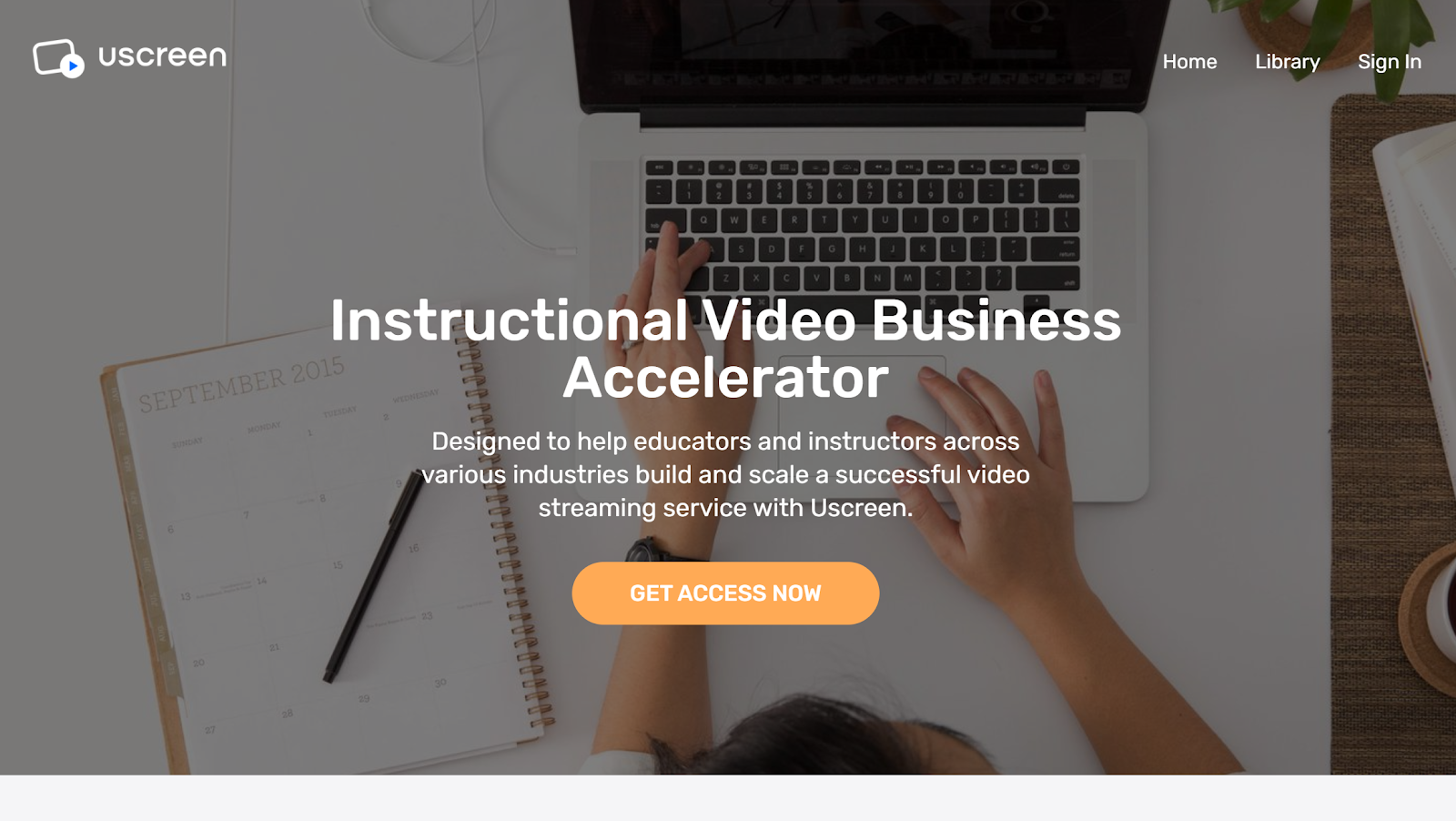 The Instructional Video Business Accelerator is a self-paced program that helps you learn the core skills you need to build a long-term eLearning business. It's made up of hours of video tutorials that will help you:
Create your eLearning business.
Record impactful video lessons.
Build a community of excited students.
Effectively market your platform.
The Instructional Video Business Accelerator is automatically accessible to all eLearning Uscreen clients. Start your free trial to get access today! Be sure to check eLearning as your industry while signing up.
Wrapping This Up…
There has never been a better time to start an eLearning business. COVID-19 has changed the way people want and need to learn, and the demand is higher than ever.
If you want to learn more about the key skills you need to launch and grow your own eLearning platform, be sure to check out Uscreen's Instructional Video Business Accelerator!