If you want to launch an online course business but can't decide between using Kajabi and Teachable, you've come to the right place.
We know picking the right platform to host your online courses is a big decision. And, figuring out which tool is right for you can be confusing. Which is why we're here to help!
In this comparison guide, we're going to put Kajabi vs Teachable to help you decide which of these online course platforms best suits your needs.
Let's go!
Kajabi vs. Teachable: Which Is The Right Course Creation Platform For Your Business?
Kajabi and Teachable are online platforms that let you create and sell courses and coaching sessions.
Launching your online learning business using one of these independent services, instead of an open marketplace like Udemy, gives you more control over your:
Brand.
Course structure.
Pricing.
Customer outreach.
Personally, we like the sound of that.
Though the platforms may sound like they give you a similar end-product, Kajabi and Teachable each offer different tools and functionalities to help you run your business.
We won't call them "pros and cons," because they're both strong options, but they do work better for different types of online learning businesses.
So we're going to help you figure out which tools and functionalities will work best for your business and the educational content you want to create.
We'll explore how Kajabi and Teachable stack up in the following categories:
Course Creation & Structure.
Content Organization.
Content Delivery.
Branding & Customization.
Tools & Integrations.
Community Tools.
User Experience.
Marketing Tools & Capabilities.
User Information & Analytics.
Pricing & Scalability.
The more information you have, the more prepared you'll be to successfully launch your course!
1. Course Creation & Structure
Your courses are the foundation of your business, so the first step in choosing the right online course platform is making sure it offers the course builder you need.
Kajabi and Teachable start you off with pre-designed course templates that allow you to upload all your content and create individual lessons.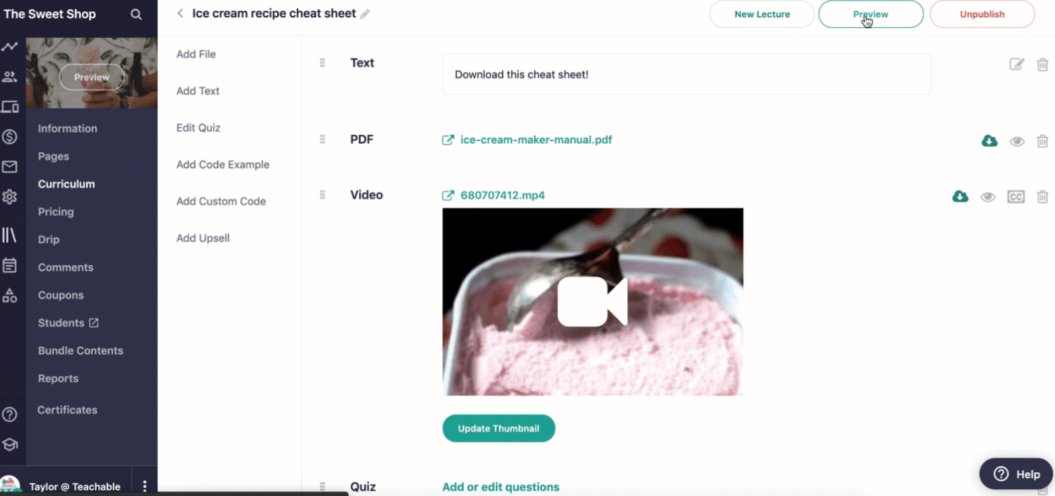 Both platforms offer standard course layouts that are well suited to classes with linear progress paths. You can easily create follow-along courses that follow a more "traditional" model.
But, the tools do look a little different if you try to create something more complex or less traditional, such as:
A single video mini-course.
A membership site where users can access multiple lessons.
That's where Kajabi stands out.
They offer a range of templates called "blueprints" that help you structure all different types of classes: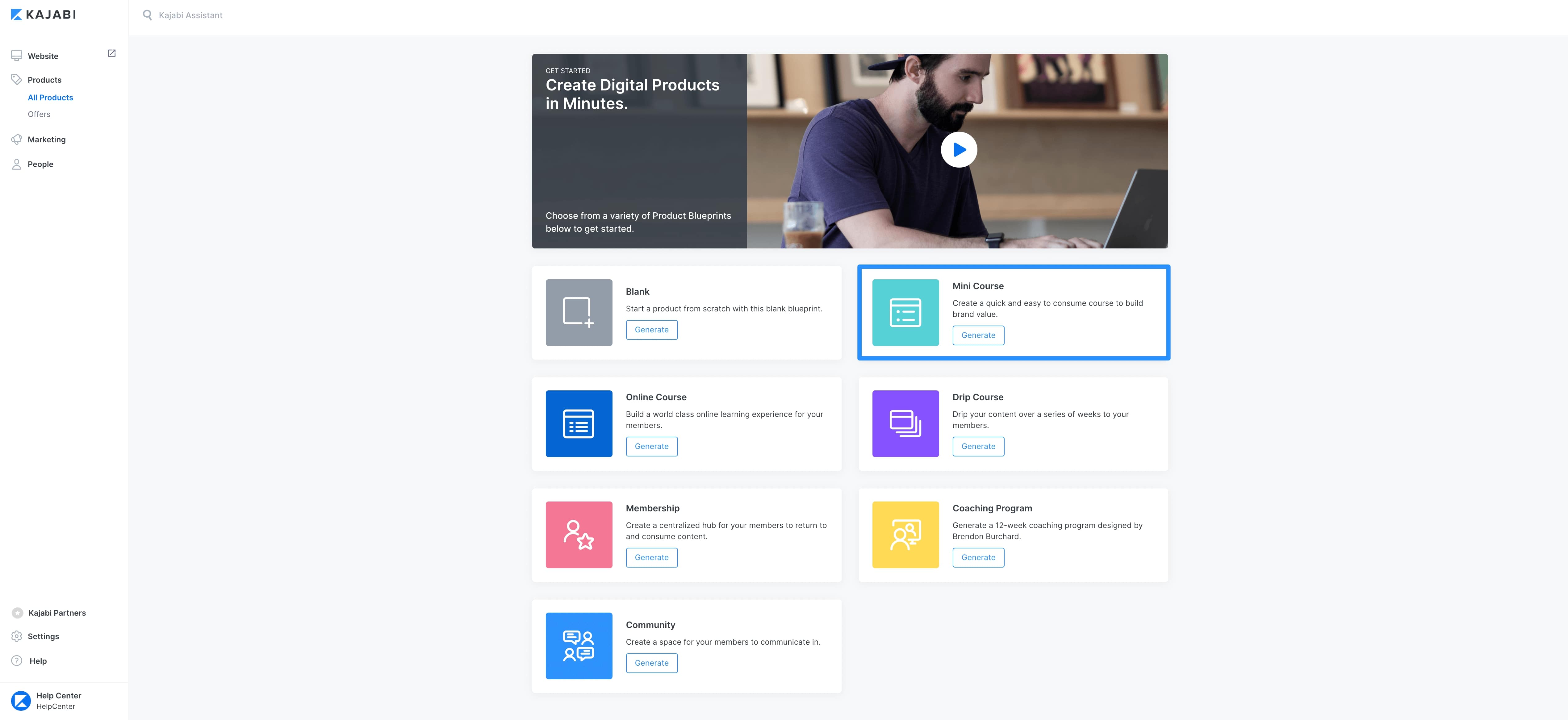 Whether you want to create a lengthy, in-depth course or a single instructional video, Kajabi's pre-designed layouts make it possible.
For example:

Kajabi's "Momentum" layout is designed for membership courses because it allows users to view a wide variety of content: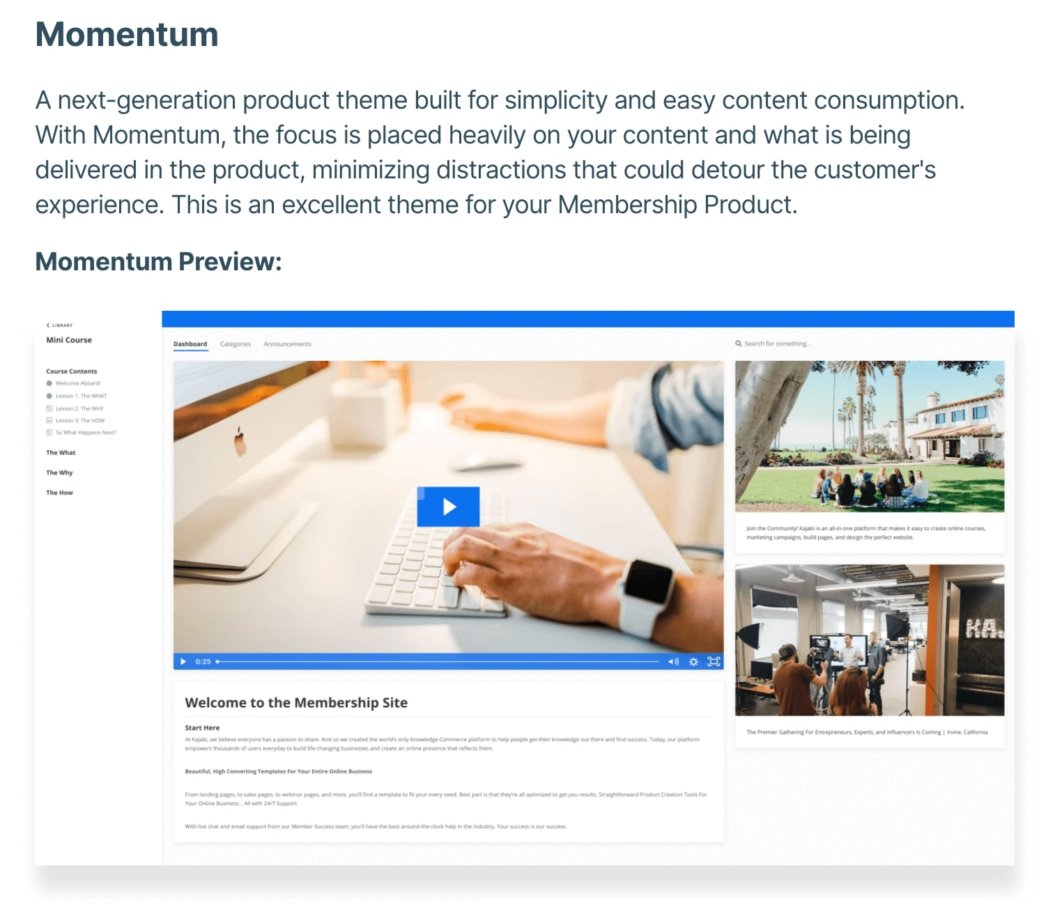 Kajabi also offers "Mist" as a template for "single-post products with downloads," which makes creating mini-courses with downloadable extras easy: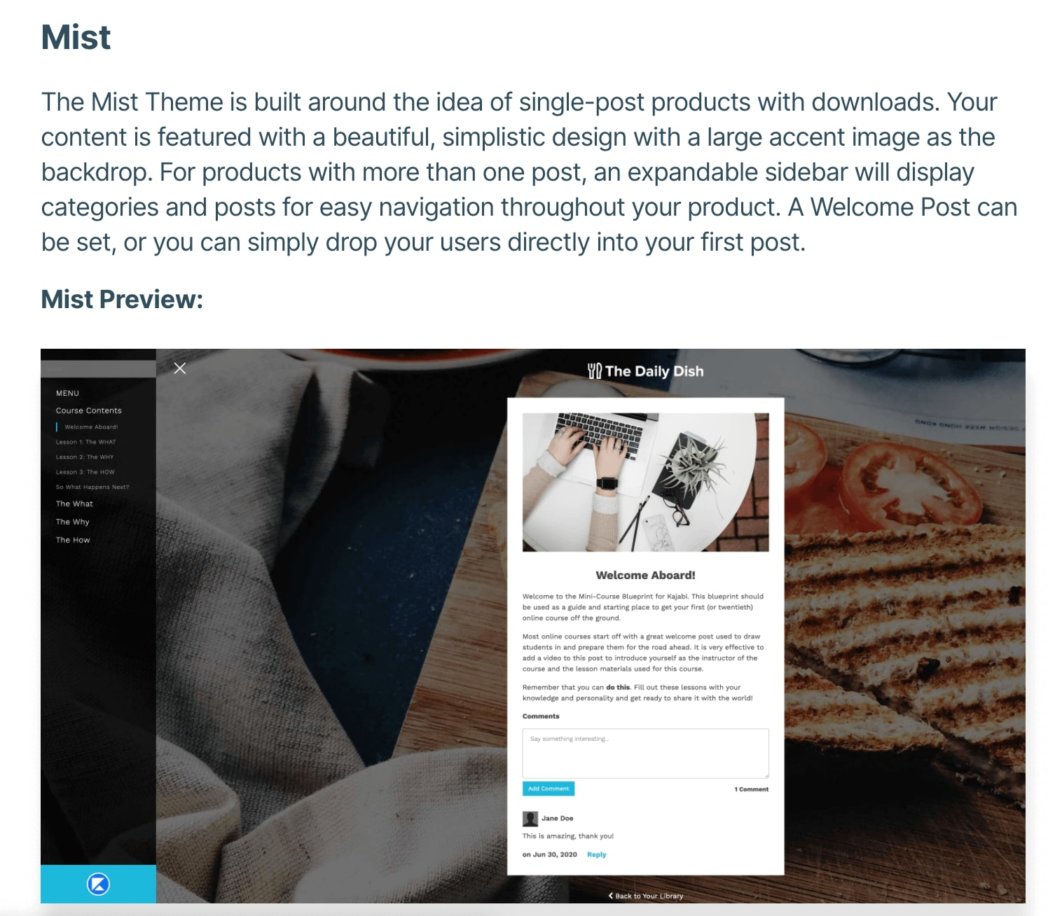 Teachable has fewer course structure options, but the ones they do have work well for simple, straightforward courses and may be better suited to beginner course creators.
They offer 3 basic templates with the basic necessary elements, including:
Navigation menus.
Thumbnails.
Author bios.
However, we'd like to note that these 3 templates are actually very similar:

According to the Teachable website, the only differences between them are the locations of the course menu, author bio, and course image in each one.
For many people, this is all you need! A simple template makes the platform easy to navigate if you're a first-time course creator, and it's an easy learning experience.
💡 The Takeaway
Kajabi has more in-depth course creation options, which open up a world of possibilities if you plan to offer complex courses or certifications.
Teachable gives you fewer course design options, but the simplicity of the design makes it ideal for new instructors or those who want to offer a wide variety of classes.
2. Course Delivery
Next, you'll have to decide how you want to distribute your courses to your students.
Both Kajabi and Teachable offer a few different ways to release your learning material after purchase, including:
Make all course content available as soon as the student pays for the class.
Make content available over a set period of time (also known as a "drip course.")
Drip courses are divided into multiple smaller sections.
You can control when those sections are released, like by setting them to "unlock" at scheduled intervals (for example, every Monday at 10AM sharp.)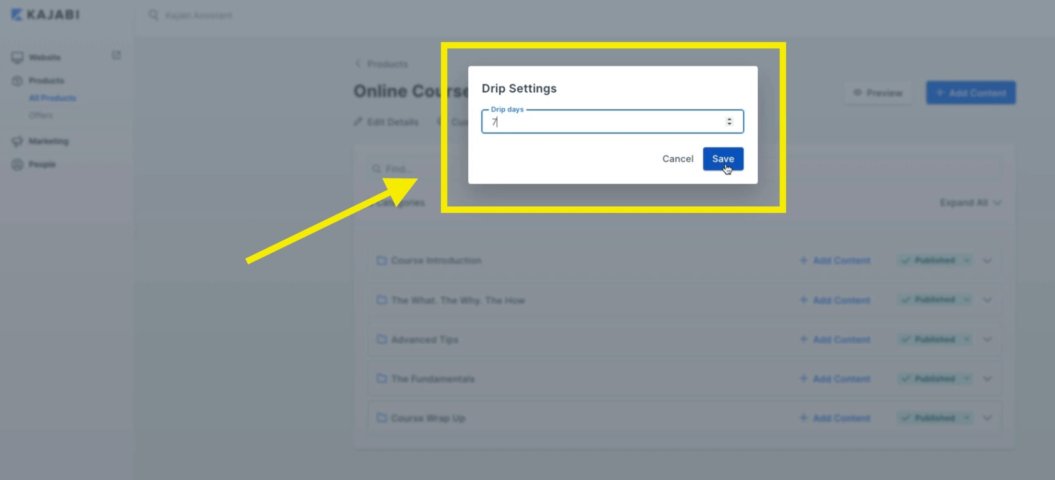 Modules can also be locked until the previous lesson has been completed.
You can set a requirement for students to either click a "Mark As Complete" button, or have them pass a graded assessment before moving on to the next level.
Kajabi only allows you 2 ways to control your content delivery (locking or "dripping") which means you have fewer "autopilot" options. This makes the platform ideal if you plan on staying more involved with your students and directly overseeing their progress.
Teachable takes a slightly different approach.
Their platform gives you more ways to control and automate how students progress from one lesson to the next. For example:
You can manage "course compliance" settings, which means students are required to complete a certain task before they can access the next course section, such as:
Watching 90% of a video.
Interacting with lesson content, such as audio or text files.
Completing a graded evaluation.
Better still, these options can all be toggled on and off from an easy to use section of your dashboard: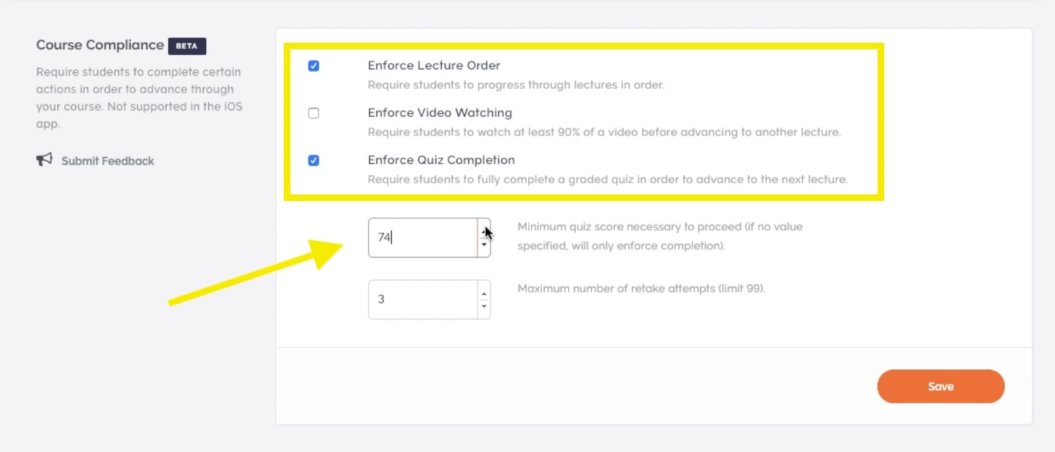 Doing this allows students to work at their own pace while still ensuring that they're absorbing all the information and not skipping ahead.
💡 The Takeaway
Kajabi has fewer ways to automate course delivery. This makes it ideal if you plan on being more involved in the learning process and readily available to students with questions.
Teachable offers ways to control and automate how students interact with your content. If you're a new course creator or plan to take a more hands-off approach, this is a great option.
3. Content Organization
Once your course structure is established, you'll need to organize your content in a way that gives students a clear view of their learning path.
Kajabi's platform lets you use menus, categories, and subcategories to organize and guide students through content-heavy courses: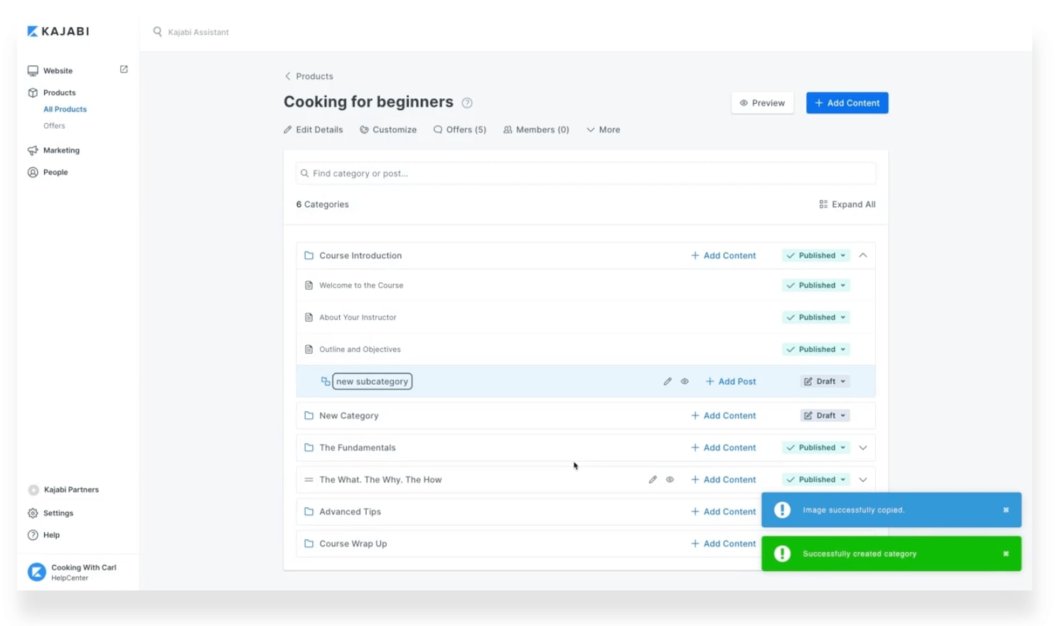 This organization shows up on the side menu and also acts as a syllabus for students to move through the lesson.
Kajabi lets you upload videos to accompany the learning content, and also attach other resources like documents or PDFs for students to download.
Teachable's content organization strategy is slightly less elaborate in comparison.
They do let you upload a wide variety of supplementary material directly into lessons, such as video, images, and PDFs which can also be downloaded. But there are no categories or subcategories, which can be a drawback for advanced courses.
However, for courses with a simpler structure, this straightforward framework can help students easily progress through lessons and keep them on track.
💡 The Takeaway
Kajabi is ideal for large, content-rich courses that would benefit from a detailed navigation menu and syllabus to guide students through.
Teachable is well-suited for straightforward courses and gives you the ability to enhance them by embedding lots of supplementary material directly into lessons.
4. Branding & Customization
Selling under your own brand is a powerful tool for independent online educators and coaches.
A consistent brand presence across your course page and social media builds trust in your business, shows your value, and positions you as an authority in your field!
Kajabi's website builder offers multiple customizable templates so you can create the exact look and feel that you want for your brand. Using their editor program, you can play around with:
Visually appealing themes.
Customized colors and layouts.
Video backgrounds.
Branded site headers.
And, as you can see, there are plenty of options to choose from: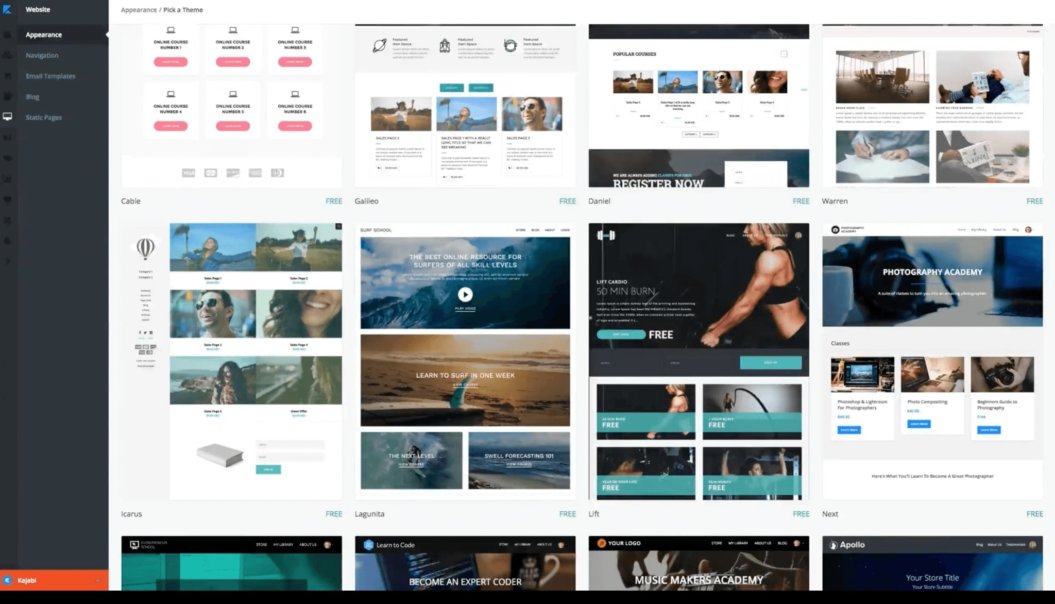 Teachable offers a convenient drag-and-drop content uploading system, which also works as a sort-of website builder. You can customize your logo, background color, and typography.
But:
The options are limited and all Teachable courses tend to look like they were created on Teachable. That is unless you upgrade to the highest tier plan to access their Power Editor.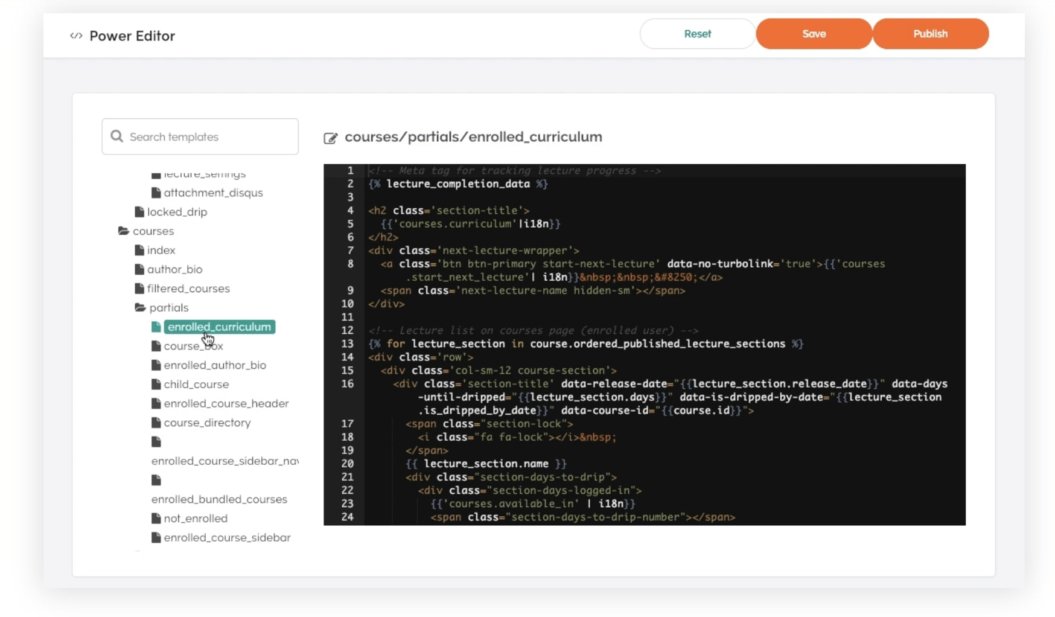 However, the catch is that you have to write and insert the code yourself. If you're not a coding expert, this option might be harder than it's worth.
Kajabi and Teachable both offer a landing page builder.
Landing pages are individual pages that visitors are directed to when they click on a link. They act as call-to-actions (CTAs) and guide visitors to take a specific action (such as opting into a newsletter or buying a product) And they're proven to help sell products and services more effectively.
As with the rest of its customization process, Kajabi provides plenty of design options for your landing pages.
They offer a wide variety of templates for just about any purpose, such as:
free PDF downloads
webinar signups
discount codes
…all in exchange for the viewer's contact information.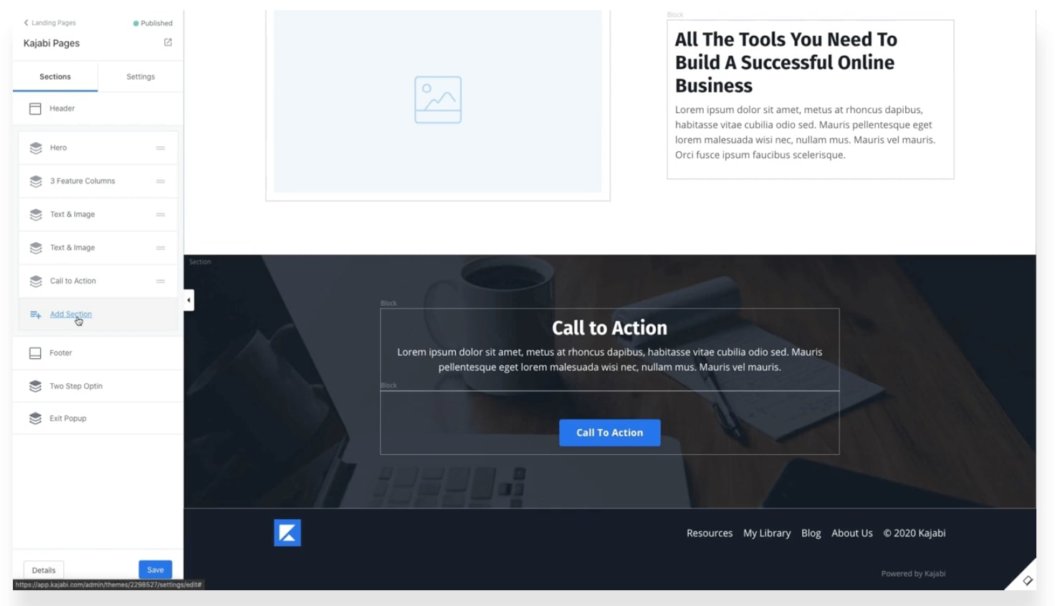 On the other end of the spectrum, Teachable allows landing pages for individual courses, and instructors are limited to 3 pages per course:
A course description landing page.
A sales page.
A checkout page.
Just like the course templates, their landing page templates are simple and offer limited customization options. If you want more variety you'll have to buy third-party software.
The amount of use you'll get from landing pages depends on what types of courses you're offering and who you plan on selling to.

However, landing pages have the highest conversion rates of all sign-up forms at 24%, so having the ability to create them is a plus for your business!
💡 The Takeaway
Kajabi's customization tools and landing page templates help you quickly and easily build a memorable brand. If you already know what look and feel you're going for and feel confident navigating the software, this is a great option.
Teachable has fewer ways to customize branding and pages. However, they do enough that a customer will know they're doing your course! So, if you're just starting out with a logo and a general branding idea, this may be a better option for you.
5. Tools & Integrations
The right built-in tools are hugely important for your online learning business because they can take a lot of "busy work" off your plate and streamline your workflow.
Kajabi and Teachable both come with their own built-in tools to help you save time and money. However, each platform's tools serve different business needs.
Kajabi is designed to be a one-stop shop for creating, selling, and marketing your courses.
It offers a wide array of powerful tools including sales funnels, email marketing campaigns, and various automations.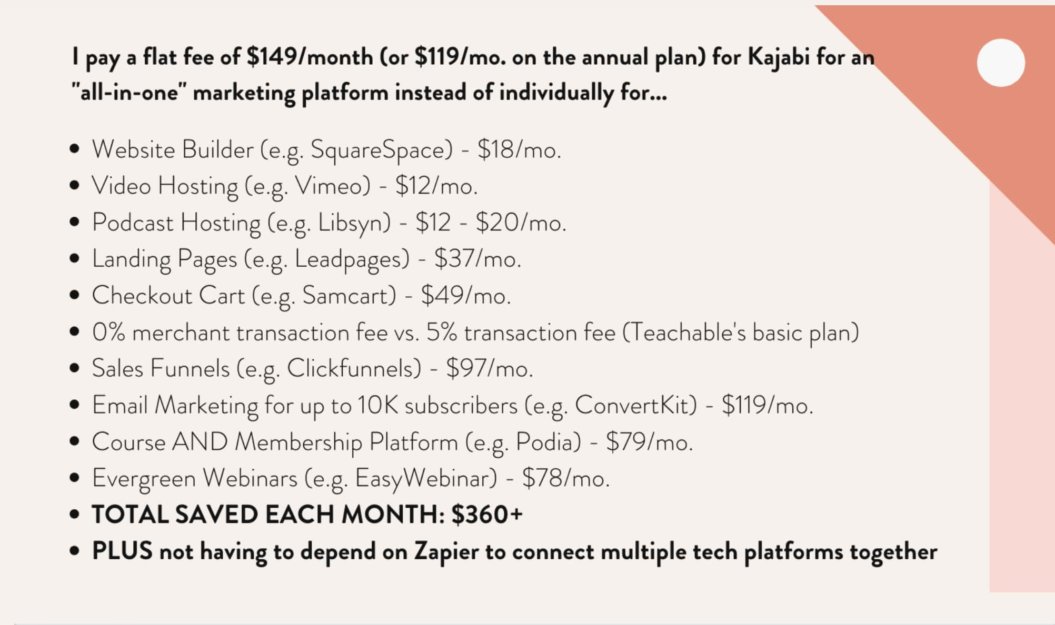 The magic of Kajabi, as shown by Ellen Yin's price breakdown above, is that you can use their platform without investing in any additional software.
Everything you need to launch a course, grow your customer base, and level-up your business is built into their platform. But, there is a downside.
Kajabi's built-in payment options are limited to Stripe and Paypal. For different payment methods, you have to use a separate Zapier integration
Teachable has chosen to focus their native tools on making all aspects of course creation more intuitive, with features including:
Built-in payment processor.
Native certificate creator.
Detailed user analytics.
These tools ensure that the platform is easy to use if you're new to the course creation game, and give you a good "starter pack" of tools to help you get up and running.
In any case…
If you do want to expand outside Kajabi or Teachable's native tools, both platforms offer a selection of commonly-used integrations. If you're already using a third-party program to run parts of your business like…
email marketing tools
customer analytics
payment platforms
…you can integrate these automations and services so you have access to all your data in one central location.
Here's a breakdown of the integrations for each platform:
| Integrations | Teachable | Kajabi |
| --- | --- | --- |
| Circle.So | ✅ | ❌ |
| Google Analytics | ✅ | ✅ |
| Facebook Pixel | ✅ | ✅ |
| MailChimp | ✅ | ✅ |
| ConvertKit | ✅ | ✅ |
| Sumo | ✅ | ✅ |
| Segment | ✅ | ✅ |
| Zapier | ✅ | ✅ |
| Drip | ❌ | ✅ |
| ActiveCampaign | ❌ | ✅ |
| ClickFunnels | ❌ | ✅ |
| AWeber | ❌ | ✅ |
Both tools offer similar integrations, but Kajabi does integrate with a few extra platforms and could be a deciding factor if your business currently relied on these tools.
However, both Kajabi and Teachable offer Zapier integrations that allow you to connect your business to over 750 other apps, so it's worth checking to see if your tool is compatible there!
💡 The Takeaway
Kajabi's extensive list of features and integrations provides everything you need to run a business. You don't have to buy third-party software, which saves you time and money.
Teachable offers fewer built-in features, but it's a solid foundation with all the necessities. If you plan to eventually expand your business beyond the basic features, you can integrate more tools whenever you want.
6. Community Tools
Building a learning community within your online course can help keep students engaged and connected to the course material.
However, the level of community tools you need in your online platform all depends on the type of business you're running.
If you're running large, involved courses that would benefit from a connected group space, Kajabi offers an integrated community feature.
You can use a "community" page blueprint to create a forum where users can go to interact. You can engage and communicate with members by:
Setting topics for discussion.
Creating announcements.
Pinning important posts at the top of the community feed.
Members benefit from having an exclusive space dedicated to their group and their course, where they can build connections and get to know each other more.
Better still, they can make the experience more personal by creating their own avatars, custom profiles, and sending each other direct messages.
Having this feature as part of the Kajabi platform means that users can access everything in one place, instead of leaving the page to visit, say, a Facebook group.
You can even create a pricing tier where learners only get community access, if your customers are more looking for a peer group.
However…

If you don't have the time or resources to moderate a forum, Teachable offers a more manageable solution. This is great for one-person businesses or small teams.
Students can interact with you and each other by commenting directly on the course page: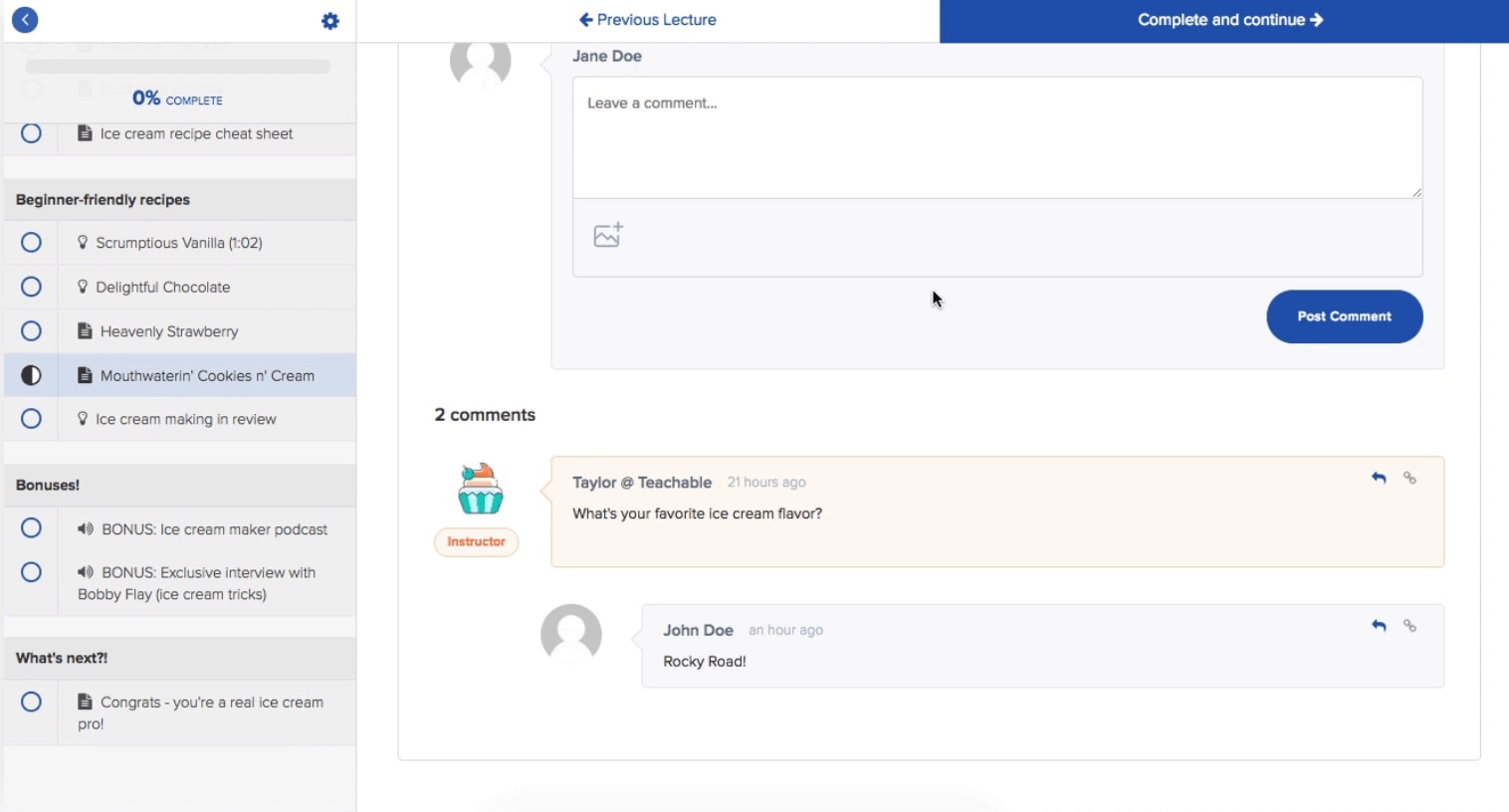 The system is simple but effective!
And best of all, you can always use Teachable's third-party integrations if you want to expand and create separate forums, message boards, and other spaces for students.
💡 The Takeaway
Kajabi works best if you want to build an active community and monetize interactions with students.
If you want to keep community interactions simple (and your students don't require as much direct support), Teachable is the way to go.
7. User Experience
An accessible and user-friendly interface can help you create a better learning experience for your students.
Kajabi and Teachable both provide learners with a simple, easy-to-use dashboard. But, which one is right for your business?
As far as navigation goes, Kajabi's design is intuitive and visually appealing.
Their navigation menu shows a clearly labeled breakdown of all lessons within the course, including categories and subcategories. This can help students navigate through even the most content-heavy course.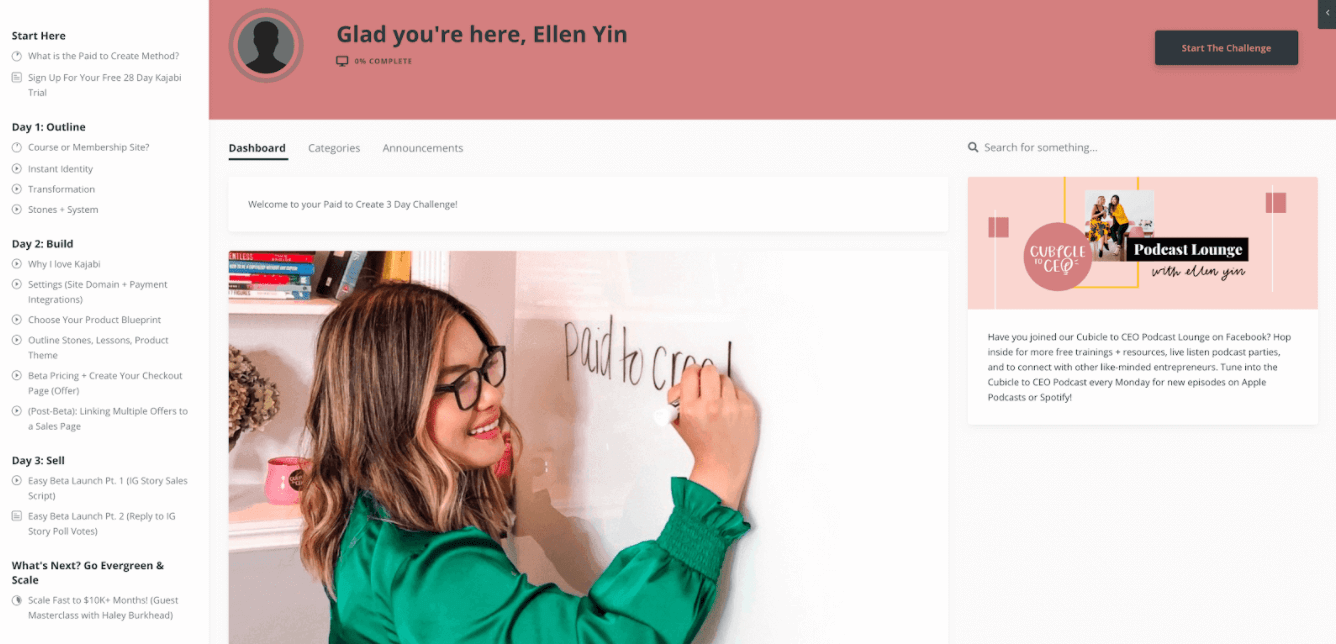 This menu also offers small progress indicators built-in, so students can keep track of where they've started and stopped.
Whereas Teachable uses a well-organized sidebar menu, so students can easily see which lesson they're currently working on: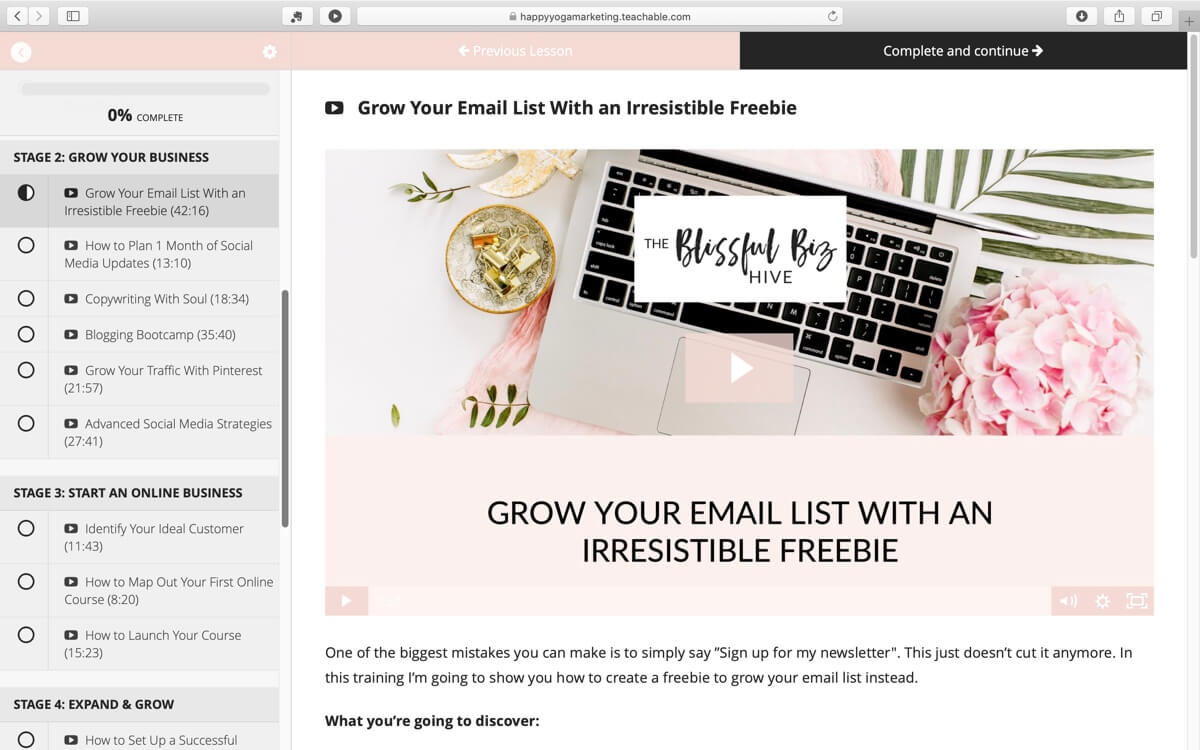 Teachable also displays an overall course progress indicator on the student's dashboard, which is a helpful visual representation of how far they've come.

The layout is clean and uncomplicated, just like the rest of Teachable's service. The only potential sore spot in their user experience is the login process.
In a survey of Teachable students, Videofruit noted:
When we surveyed our clients, a couple of them noted Teachable's confusing sign-up process. When a new student signs up, they have to create login credentials for both your course and Teachable. Then your course will show up in the student's main Teachable dashboard every time they login. This isn't a huge deal, but it can be a bit confusing to use two logins for the same platform.

Videofruit
Last but not least, you can make your business even more user-friendly with an app that lets students access your courses on the go.
Kajabi recognized the demand for mobile learning and recently released brand new apps with a range of functionalities for both iOS and Android devices.
Teachable also offers an iOS app, but it could do with an update and more availability on different platforms.
💡 The Takeaway
Kajabi and Teachable both have similar, easy-to-use interfaces that let students navigate courses quickly and easily.
The only major differences are Kajabi's convenient mobile apps and simple login process.
8. Marketing Tools & Capabilities
The right marketing tools can help you grow your presence in an easy and effective way without expending too much valuable time and money.
That's why Kajabi offers a huge array of marketing automations, which they refer to as "pipelines."
Pipelines are marketing funnels that guide customers from landing pages to sales without requiring you to coordinate or monitor the process.
Here's one example of how a Kajabi marketing automation works:
Customers land on an opt-in page that offers a free giveaway in exchange for an email address. The follow up email links to…
…a landing page with more videos and a detailed explanation of your benefits, where they see…
.,..a CTA, which, when clicked, brings them to…
…a sales page with an introductory offer!
This comprehensive marketing toolbox allows you to gradually nurture new prospects and guide them towards a purchase.
But, these tools are arguably best suited to marketers with experience building effective sales funnels.
Teachable's marketing tools, on the other hand, are on the simpler side, meaning the platform is ideal for people at any level of marketing experience.
They include some useful tools, like:
Simple email marketing campaigns.
Product upsells at checkout.
Tracking audience location for more targeted ads.
Landing pages and sales pages for individual courses.
For some business owners, these are all you need!

If you have your own marketing strategy, a pre-existing audience, or are just starting out, you might not need all the extra sales features.
But for people who want a more targeted, driven sales approach, Teachable's native marketing tools might not be enough. And, the lack of a free trial option is a little frustrating.
In fact, Uscreen found that 52% of people who sign up for a free trial on a video streaming service convert into monthly subscribers when the trial ends.
But, if you prefer working with a few solid standalone marketing tools, Teachable will work for you.
💡 The Takeaway
Kajabi's comprehensive automated marketing features make it easy to reach lots of new customers and quickly build a large following.
But if you're a new course creator, you already have a large public following, or you've created an inexpensive, universally appealing course that'll sell itself, Teachable has the tools you need.
9. User Information & Analytics
After you've launched your course, you can continue to grow your sales by learning from the data your initial customers have given you.
Accessing your user data can help you see what's working well – and for who! – which can help you improve your service and understand your target audience. This is an important way to retain customers and gain new ones!
Teachable and Kajabi both offer very similar analytics tools that help you observe:
Individual course completion rates.
Course popularity.
Video and audio interaction.
Page views.
Opt-in results.
Total payments and sales.
These data analytics are one area in which Kajabi and Teachable are equally matched. For example, take a look at the "Video Statistics" feature for each platform.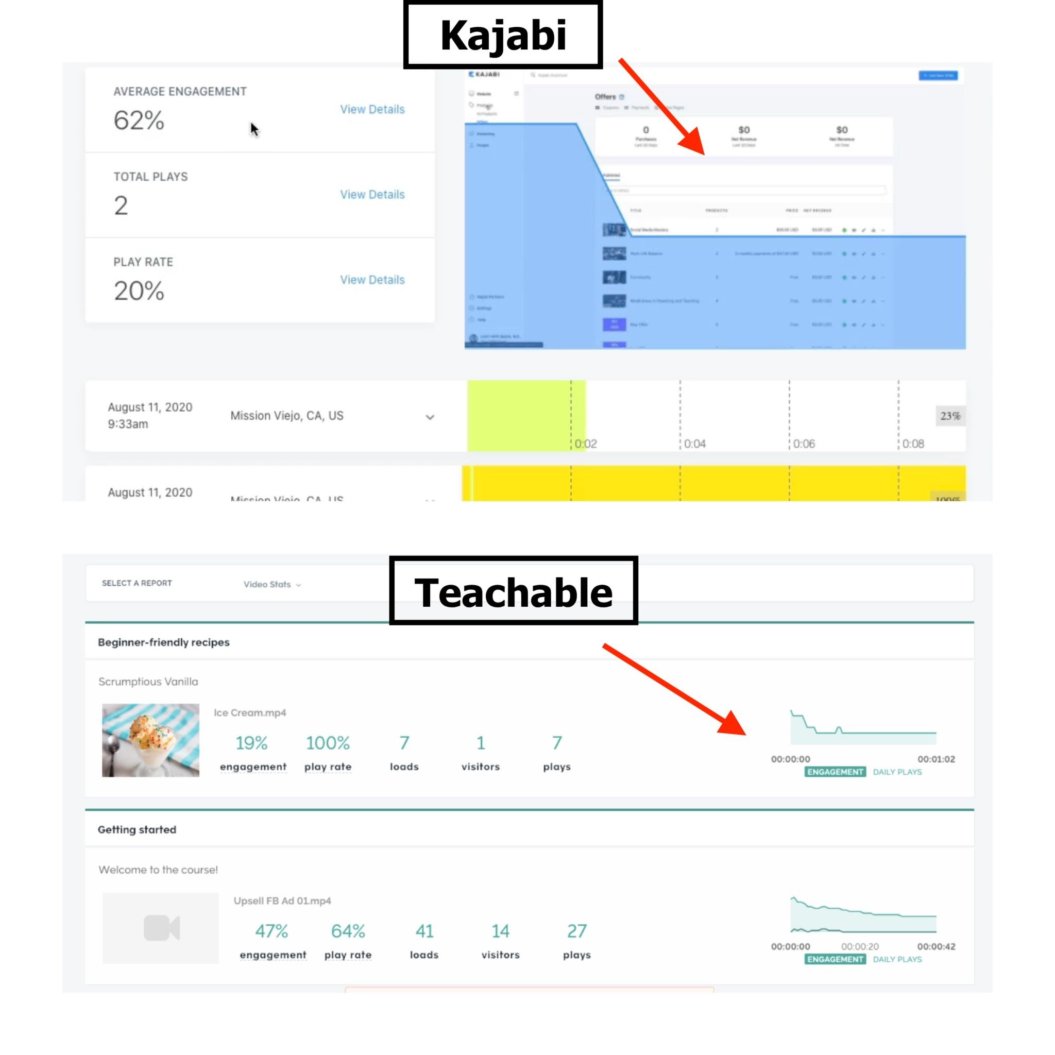 They show the same type of video viewing statistics in a very similar format. And the rest of the analytics tools between the 2 platforms offer more of the same need-to-know user information.
To give you even more ways to measure your online course activity, Kajabi and Teachable also offer easy integration with Google Analytics.
Finally, both platforms offer third-party integration forms and surveys. These can help you gather feedback from members, which is a great way to engage them and also see where you can make improvements.
💡 The Takeaway
Both Teachable and Kajabi give you the ability to own your audience and use data to further improve your business.
10. Pricing Plans & Scalability
The final question is – what do all these features cost?
We've got the answer.
The bottom line is that Kajabi is more expensive. But, you may get more bang for your buck.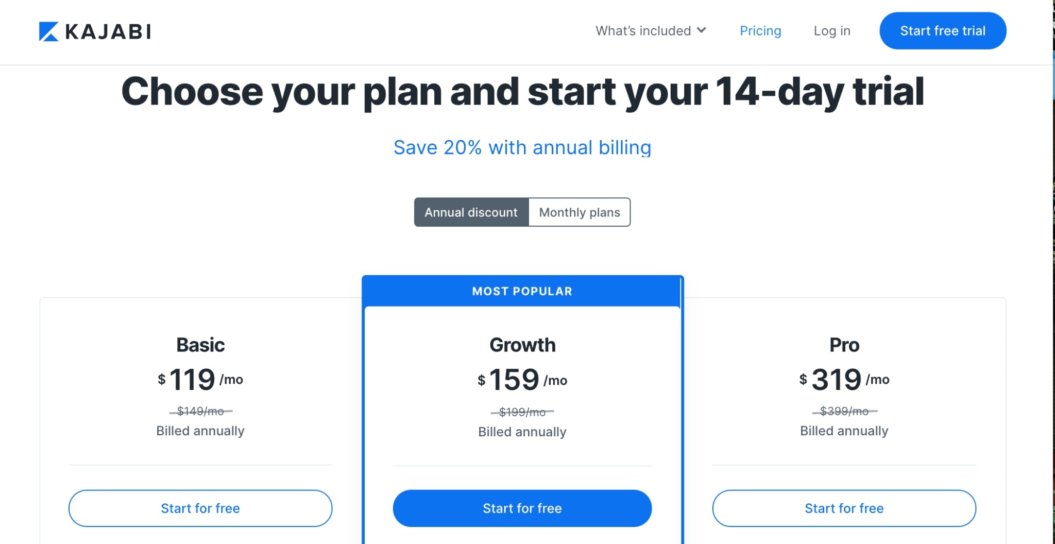 Because all the necessary tools are included, Kajabi pricing plans include a lot of extra features for your money.
But the downside is that they limit the number of courses and students you can have, which could potentially limit scalability and growth.
Kajabi's highest-tier Pro plan allows you to create up to 30 digital products (courses, coaching sessions, etc.) and enrolls up to 20,000 students.
However, if you're planning to create complex courses and sell them for a higher price point, this is more than enough to generate a great profit.
Teachable pricing is definitely the more affordable option.
Their lower-priced plans can be attractive if you're a new course creator, or you aren't ready to invest a lot of money yet. They even offer a free plan (although it doesn't include access to tools or features and acts more like a trial service.)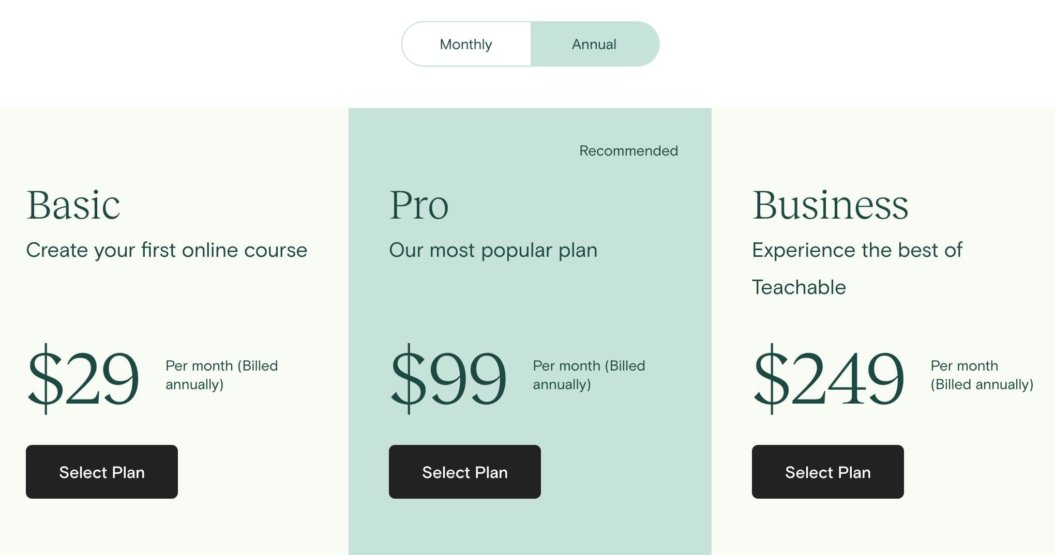 Teachable also offers 3 paid plans – the Basic plan, Pro plan, and Business plan.
The Basic plan is geared towards creators launching their first course, so if you're looking for a more professional plan, you should opt for either the Pro or Business tier.
Teachable also charges per-course transaction fees for the Free plan (10% per signup, +$1) and the Basic plan (5%.) Plus, they charge processing fees depending on the payment method and the country your student signs up from:
US Card Fee: 2.9% + 30¢.
US Paypal Fee: 3.49% + 30¢.
International Card Fee: 3.9% + 30¢.
International PayPal Fee: 4.99% + 49¢.
But Teachable does allow for unlimited courses and students. This means you can limitlessly scale your online business!
💡 The Takeaway
If you're running complex, more expensive online courses, Kajabi's integrations make the higher monthly price worth it.
However, if you plan on scaling by running more courses and charging less, Teachable's unlimited student capacity and lower overall cost are ideal.
Conclusion
Phew!
You made it through this (yes, very extensive) comparison of Kajabi vs. Teachable.
Now, it's over to you to use this information to decide which platform best fits your business.
To quickly recap:
Kajabi offers a more robust tool, with more features, but also carries a heftier price tag. The tools are great for people well versed in online course creation and online business.
Teachable's approach is much simpler – which means less customization and marketing options – but that can make it a more user-friendly experience if you're a first-time course creator.
Launching your courses on the right platform will truly showcase their value and help your online learning business take off.
FAQs
1. What are my other options besides Kajabi and Teachable? 
Uscreen is a fantastic platform on which to build an online learning business. We offer a detailed and searchable catalog for all your course videos, as well as the ability to live stream course content.

With Uscreen, you can create your own mobile and OTT apps to let customers access your online learning platform anywhere, anytime. Plus, your entire service comes with white label customization, which means you can build a brand that stands out from the crowd. 

However, as we said, there are different platforms to suit different business needs. So if you'd like to evaluate some other options, check out our roundup of the 15 Best Online Course Platforms here. 
2. How do I choose a good online course platform?
Before choosing your platform, you should take stock of your own business goals. Then you can evaluate different platforms and decide if they have what it takes to meet those needs.

You'll want a platform that…

– lets you build your courses quickly and easily
– includes all the features and integrations you'll need
– offers marketing capabilities if you plan on promoting yourself

…and most importantly, works for your budget.

The best online platform will ultimately let you make a profit while not taking too much time or effort.
3. What's included in Kajabi and Teachable plans?
All Kajabi plans include access to all native features. This platform doesn't offer a free plan but does offer a 2 week free trial period. After that, you can choose from:

– Kajabi Basic: $149/month. Includes 3 courses and pipelines, unlimited landing pages and marketing emails, chat support, and automations.
– Kajabi Growth: $199/month. Includes 15 courses and pipelines, 24/7 chat support, and an affiliate program. 
– Kajabi Pro: $399/month. Includes 100 products and pipelines, as well as access to a code editor.

All Teachable plans include unlimited members and unlimited courses. The rest of the plans offer different features, such as:

– Teachable Free: Includes simple non-graded quizzes and email support. 
– Teachable Basic: $29/month. Includes integrations, email marketing features, and course creator training. 
– Teachable Pro: $99/month. Includes Zapier triggers, graded quiz scores, completion certificates, course compliance features, and product upsells.
– Teachable Business: $299/month. Includes advanced developer customization, custom user roles, bulk student imports, and group coaching calls.
4. Is Udemy better than Kajabi and Teachable?
If you're a serious course creator or coach who wants to monetize your products, an independent platform like Kajabi or Teachable is the way to go.

This is because they allow you to create your own custom brand, market yourself the way you want, and most importantly, keep all the money you make. You can also create subscriptions and memberships to generate passive income.

On a marketplace like Udemy, you don't have control over customization or branding, and your class is positioned right next to all your competitors. You also can't connect with students because you don't have access to their data. Finally, Udemy takes a cut of all your sales.

To have complete control over your business, you'll want to use a platform like Kajabi or Teachable. 
5. Do Kajabi and Teachable integrate with WordPress?
Yes – each platform can connect to WordPress in different ways.

Kajabi lets users run a native blog, so instead of linking 2 different platforms, users often choose to simply migrate their blog and other WordPress data over to Kajabi. That way, you can have your blog, website, and online courses all included in one central location.

Teachable is great for courses but does not support a blog, while WordPress is mainly a blog site and requires lots of plugins to run a course. For this reason, some course creators choose to link their WordPress site directly to their Teachable courses using the Zapier integration, which automatically sends data from one platform to the other.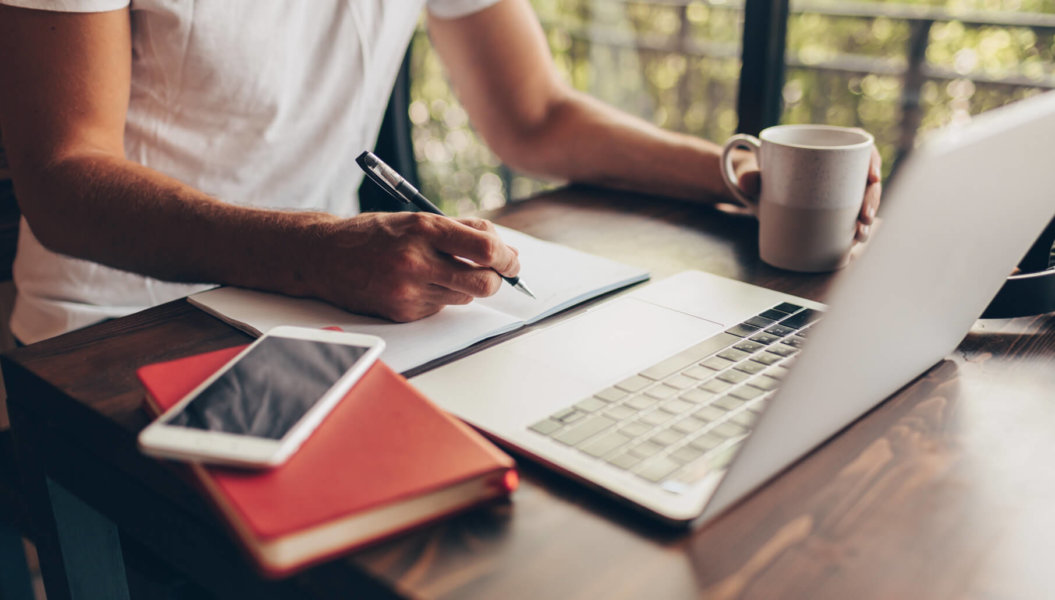 15 Best Online Course Platforms for 2021 (Comparison Guide)