Imagine for a second that every year on your birthday, someone hits the reset button on your career. And even though you keep your knowledge and the money you've made, you have to start afresh — find a new job, and rebuild your network.
That's very similar to what happens when you sell online courses. People can only buy each course once so, to grow your impact (and bank balance) each month, you have two options:
Create and launch new courses to your existing audience.
Find and nurture new people to buy your old course/s.
If you want to grow an online course business that allows you to build on past successes, transition to memberships.
***Memberships are a subscription-based revenue model where users pay a small recurring fee to access your content and community, instead of a large one-time fee for a single course.
Why memberships are the answer
The more obvious reasons to transition from courses to memberships are the predictable recurring revenue, and compounding growth.
If you price your course at $299 and make 30 sales this month, you earn $8,970. If you only get 20% of this month's sales next month (6 new course sales), you get only $1,794.
But let's assume that each month, you manage a generous 105% growth in sales compared to the previous month. In month 12, you'd earn $15,342.
Apply those same metrics to a membership program selling at $15 per month and retaining only 50 in 100 subscribers (well below the industry average's 93 in 100) each month. Revenue starts out slow but climbs steadily and reaches $55,829 per month in the 12th month.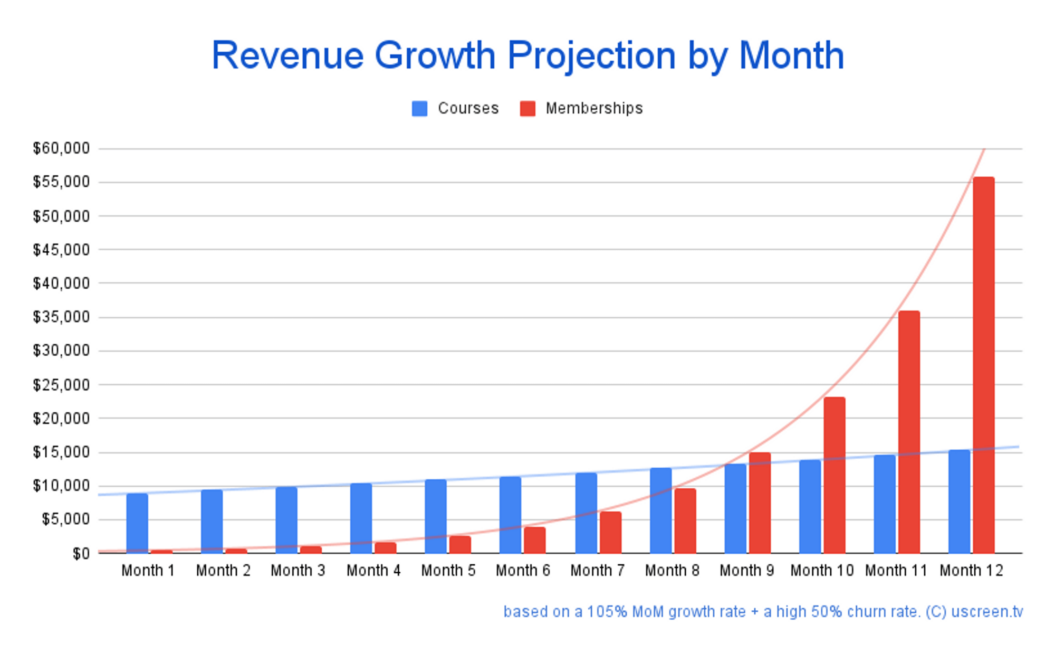 But there are so many other reasons why memberships rock:
Better experience for buyers
Beyond the content, buyers get a community that encourages them to consume the content, take action, and get results for themselves.
The community experience in memberships:
Helps people get answers to questions faster than they would from typical support, when they ask fellow members.
Gives people friends with shared interests — that they want to come back to. You could take a month off and people will still be there because of their bond with other community members!
Allows people to feel genuinely celebrated when they reach milestones.
Makes people feel appreciated for helping other community members.
These are all factors that make a good customer experience.
Communities differentiate a membership, can help keep subscribers engaged, and gives them an additional reason to keep returning to the platform. And because people stay subscribed, you can focus more on creating content, and less on digital marketing campaigns — further increasing your impact.
Lower costs of acquiring new customers
The costs of acquiring new customers are constantly rising, so it makes sense to retain more people. Memberships give you a way to do just that.
The most effective form of marketing is word-of-mouth, with 93% of consumers choosing to at least, research the mentioned brand.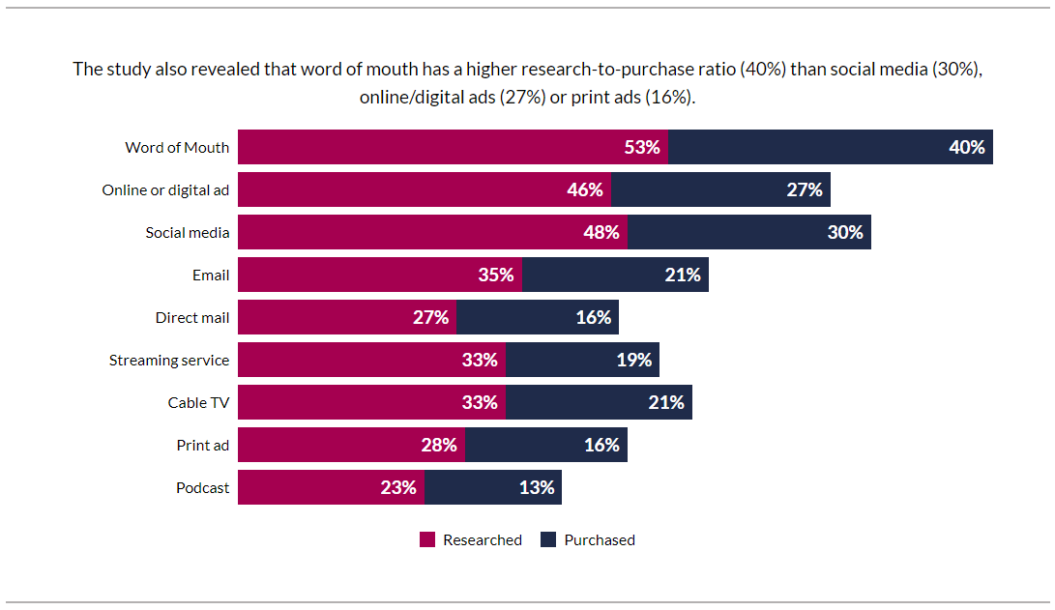 The way memberships are built around community makes it more likely that people will recommend your program to their friends. For one, people will always share results with the rest of the community, and that reminds others of the value of your program.
Also, memberships typically have lower signup fees compared to single courses, so more people are likely to buy memberships over courses because it's a smaller risk.
More monetization options
Because memberships allow you to build a brand — not just a business, you can sell almost anything you want.
We've seen creators monetize digital products, merchandise, affiliate marketing, coaching calls, sponsorships (you have an engaged community and that's invaluable to sponsors!), and more on the back of their memberships.
Increased perceived value (especially over time)
With memberships, subscribers get access to other perks like monthly live calls, and a community.
Those alone make memberships the more appealing option to your audience. But memberships often offer more content than a typical course would too. And as time passes, the content library grows — offering even more value to the subscriber for less money.
Memberships have a sense of continuity, something 'more' that your audience would want to be a part of. Whereas, courses feel like a once-and-done deal.
How to go from online course creator to membership business owner
Going from course to membership is a little different than starting a membership from scratch. But if you're already a video entrepreneur, you're on the right track. Follow this complete guide step-by-step to make the transition:
Click here to watch the video -> youtube.com/watch?v=yQa7bKUpO2k
Prepare your audience for the move
Your audience will need some sort of preparation to get excited about the shift. They need to see that you're providing new value, not discounting your old course content.
The best way to prepare your audience is to 'build in public'. That's basically sharing the process of creating your new platform (your membership) on social media, with your email list, and everywhere.
Being open about the process of switching from course creation to membership also gives you the opportunity to answer questions and get feedback — which will ultimately lead to a stronger membership product.
Some things you could share to build and maintain trust with your audience during the transition include:
Why you're switching to a membership platform. Some good reasons are better support, community, and more useful content delivered faster. You want people to understand that the community feature will be a place to personally interact with you and with each other, and that they're going to get new content released at specific intervals.
A proposed switch date. Give people a heads-up so potential customers can either hold off on their purchase or buy now if they only want your course.
How you're choosing a membership platform. When you talk about the membership platforms you're considering and why, you show that you care about your user's experience.
A loyalty discount for current buyers. Since most of your membership content will be videos from your course at first, giving course buyers a discount (e.g 50% the first year) is a great way to make them feel special. You should add this to the announcement email you send your students, just remember to put an expiry date on it.
Details about accessing the old course. People who've bought your course should still have lifetime access, after all, you had a deal. Let them know that even though they'll get added benefits from the membership, it's completely optional to subscribe if they only want the original course.
Tip! If you use a platform like Uscreen to manage your membership, you can create a custom collection for your course and give students access to that only. That way, you still get to manage everything from one platform instead of using a separate online course platform like Udemy.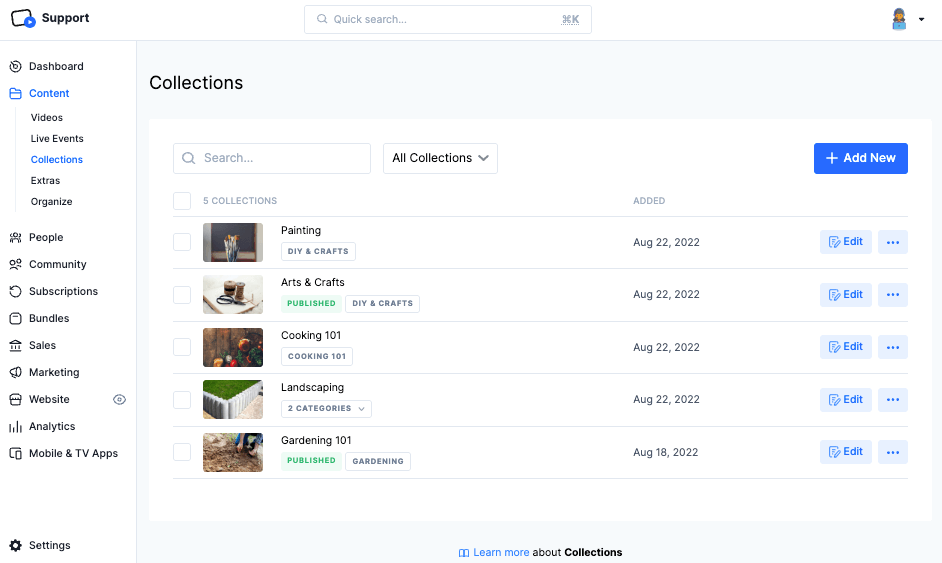 If you're unsure how to approach preparing your audience, remember this golden rule of empathy: How would you want to be treated?
But also remember that whatever decisions you make today will affect the membership long term. 50% off for life may sound good in the beginning, but would it make sense when year 2 rolls by?
Plan your membership content
An idea of what content you'll share, and how often you'll deliver will help you better position and sell your program. Your users will have a much better customer experience and stay longer thanks to planned content too.
You'll also understand how much time investment you need to make to create the kind of content you want to offer. That way, you can set realistic content goals and expectations.
Find your first few topic or theme ideas
Check out other membership programs in your niche to see what they're creating. If they have a public catalog, you may find some themes to replicate. Sometimes, you'll find themes just by looking at the landing pages too, like in this one from The Bloom Method.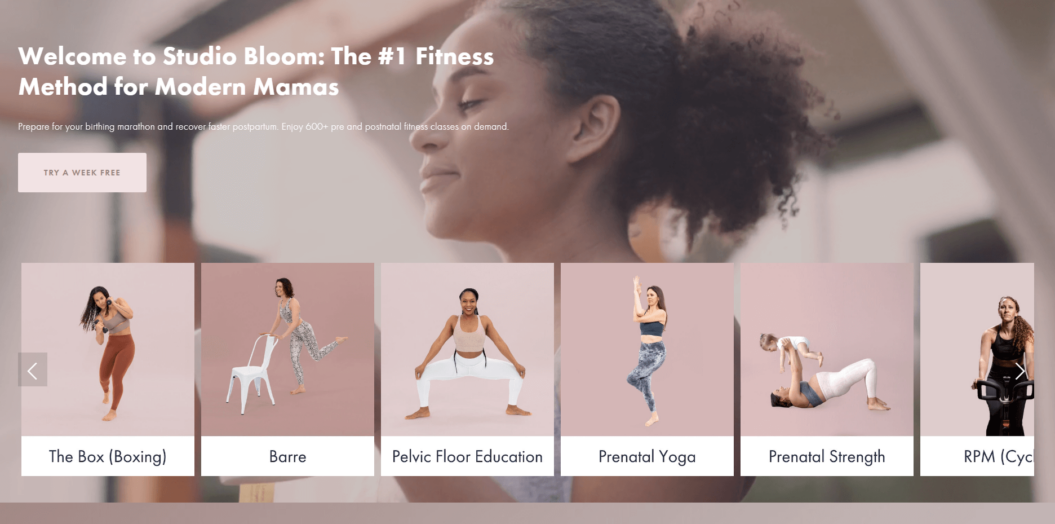 Alternatively, look through your emails to find questions students have asked you, especially those questions that come up frequently. You can now answer them in-depth with membership content!
You could also ask your social media audience and students what they'd like to see in your membership. Take some of the popular suggestions and create a LinkedIn poll to see what to prioritize.
Design content structure and pathways
Because memberships have more content compared to the typical course, structure will help remove overwhelm for your members.
Once you've settled on a few themes, break down each theme into sub-topics. For instance, with the theme prenatal yoga (from the Bloom Method example above), you could break it down into:
Breathing
Core engagement
Pelvic floor
Then break it down further into bite-sized ideas that teach only one thing. In this example, the sub-topic pelvic floor may break into pelvic floor strength, and pelvic floor mobility.
So you'd have a pathway that looks like this:
Membership: Yoga for moms
Topic (category): Prenatal yoga
Sub-topic: Pelvic floor
Lesson: Pelvic floor mobility
Decide your content formats and delivery method
Memberships offer more content than a typical course, but that content doesn't have to be long-form videos every time.
Posting weekly journal prompts in the community, or going live once a month for a workshop are just two of the many ways to make a membership valuable.
But you don't have to go live either. Elite Guitarist only uploads content to its membership content library, for instance — no live interaction.
Find a few content types and formats that you enjoy creating and know how to work with those. Some examples to choose from:
Video tutorials
Guest interviews
Product walkthroughs (like an unboxing or review video of fitness equipment)
Webinars or live streams
Worksheets, templates, workbooks, checklists, and cheat sheets.
PDF guides or reports
Podcasts
Quizzes or contests
If you're not sure, other membership site owners prioritize community, courses, live calls, workshops, and templates.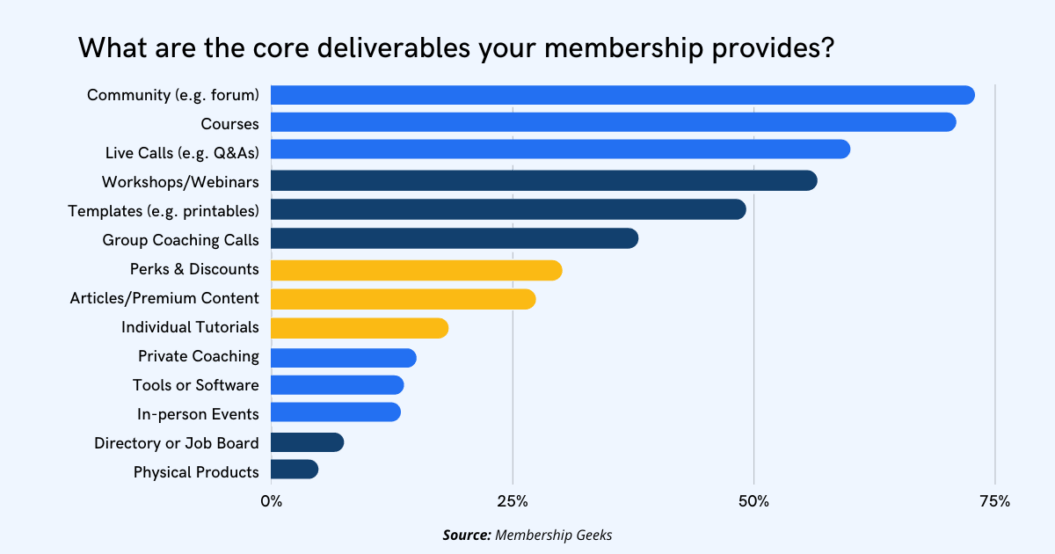 Develop a posting frequency that doesn't interfere with your lifestyle
Scaling your online course business should mean more than just the money. Your business should fit into your lifestyle too, not dictate it.
Before you promise your audience any posting frequency, record one video to see how long it takes you.
Document and time everything from the ideation stage, to the filming, editing, and uploading to your membership platform.
Then decide how many times per month or week you can afford to dedicate that same time and energy without disrupting your life.
There's no wrong answer here, while a membership needs new content on a regular basis, the community aspect can make up for a lot of things.
You could post only once a month like scrapbooking instructor Frances Long. Or post one video per week as Jason David did with the Family Faith education platform My Tribe while growing his catalog.
Tip! You don't have to create all the content in your membership. Consider the Dog membership owner, Tyler Muto has partnerships with other dog trainers who contribute content to his membership catalog. It ends up being a huge bonus for both your members and for scaling without overburdening yourself.
Choose a membership platform to create your site
The platform you choose to host your membership on will affect your customers' experience.
You have 3 options:
Hire freelancers to custom-build your membership site
Hack learning management (LMS) plugins together to build your site on content management systems like WordPress
Use a specialized platform like Uscreen to build your video membership site without writing any code.
Choose based on how technical you are, and if you don't mind extra technical headaches down the road.
If you go the membership site platform route, look for a platform that offers:
A website and landing page builder
A high-quality video player
Tiered membership options
Full data ownership and security
Marketing and retention tools
Payment processing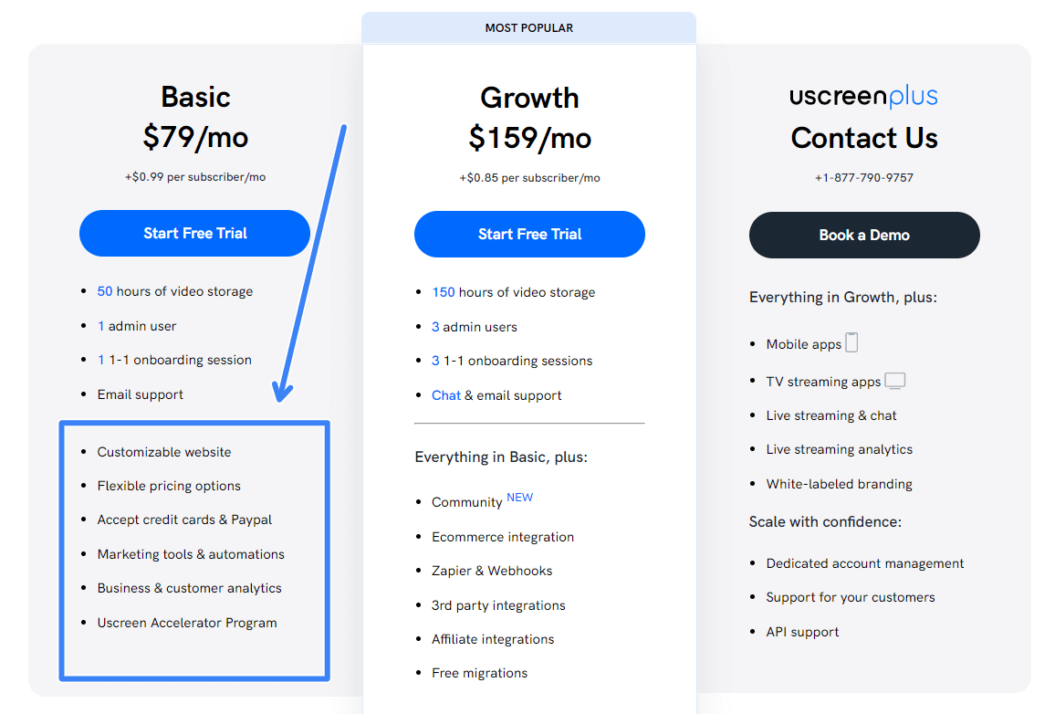 Once you've settled on a platform, create a membership website and landing pages that tell your users' before and after story.
My IELTS Classroom does a great job at this on their website homepage. They call out the offering, show who it's for, and tell the before-after story of the ideal customer.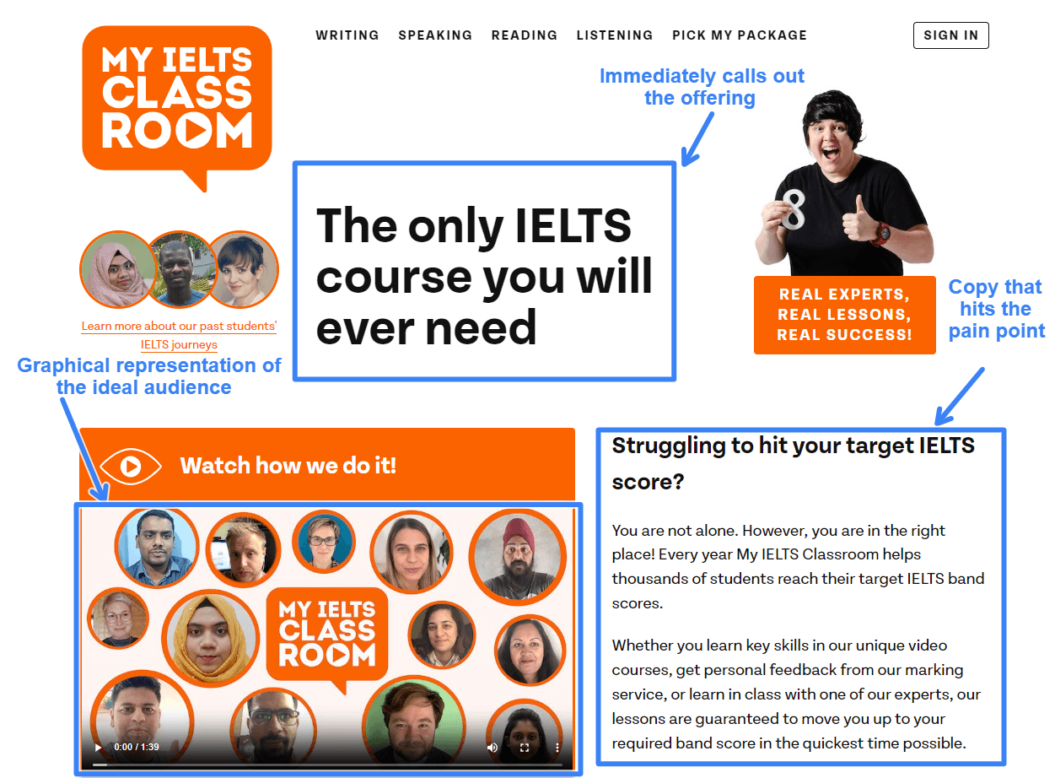 Other elements to include on your membership website include:
What people get when they join (e.g. videos, live streams, a Facebook group or dedicated community)
Social proof or reviews (you can use some from your course)
Contant and pricing information
Some free-to-watch content
If you're looking for inspiration, here are some examples of memberships on Uscreen.
Find the right pricing for your membership
The right membership pricing will help you stay affordable to users, without underselling your value.
We recommend finding your right price with value-based pricing. That's a pricing strategy that helps you look beyond the labor and production costs of your membership. Instead, you'll focus on your membership program as an experience and price based on the perceived value that members believe that experience brings them.
Look at what the people you're building your membership for are willing to pay. For example, a professional filmmaker is more likely to pay $79 a month for filmmaking tutorials, compared to a hobbyist who may draw the line at $19 per month.

But don't just ask your target audience what they're willing to pay, they may not even know themselves.
The Van Westendorp's price sensitivity meter is a great tool for figuring things out. Ask course students, and social media followers questions like:
At what price would the product be so cheap that you would question its quality?
At what price would you start to think the product is expensive?
At what price would you consider the product a bargain?
At what price would you think the product is expensive but still acceptable?
We created a survey form template you can use. Just make a copy, tweak it, and send it to your audience.
Plot the responses in percentages on a graph to find your range of acceptable prices.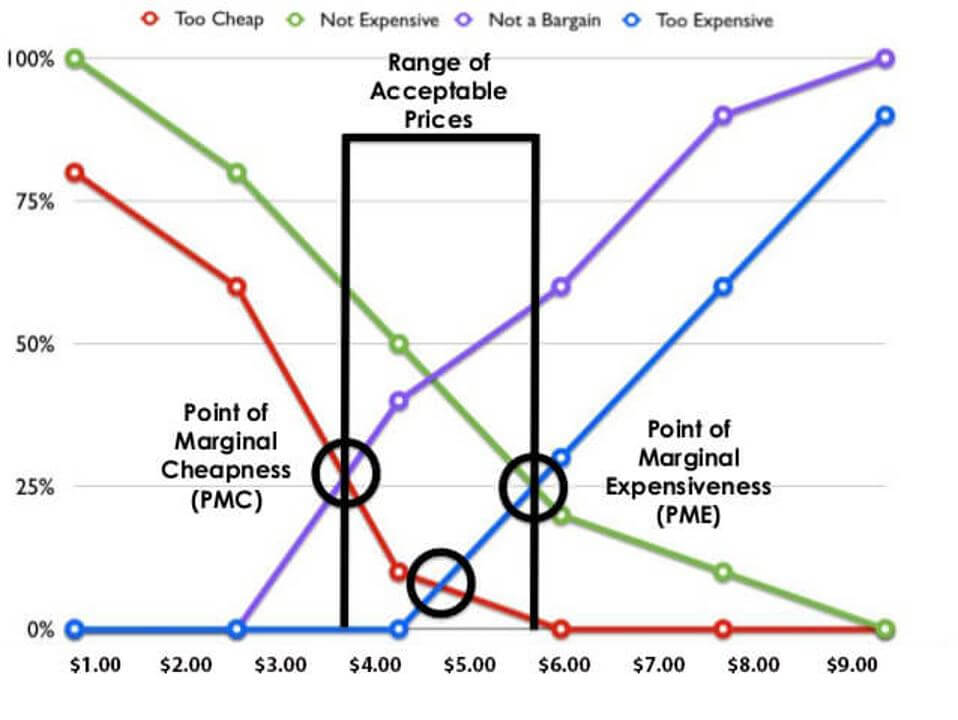 Launch and market your new membership
If you've already been preparing your audience for the switch, you've done a great job with pre-launch.
Now you need to send emails and make social media announcements about your launch.
In your email marketing, include:
A subject line that highlights the most important benefit course students will get from the membership. e.g. 'Never give up on yoga again ✅'
A question or a short story that pokes at the pain point that your main benefit solves. e.g a story of how you couldn't fit yoga into your schedule after you had kids, and how that affected your health and wellness
A description of the benefits and transformations your membership will bring. e.g a community of moms that motivate each other to keep growing
A loyalty discount for your course students e.g 50% off the first year.
A clear call-to-action.
For your ongoing marketing, you need a robust marketing strategy. The one-time payment model of traditional courses justifies converting buyers who may not even go through your course. But with memberships, you only want engaged buyers — people who know for sure that they want your program.
Here's a typical sales funnel that we've seen work for many Uscreeners:
Invest in content marketing. Create videos around each membership course' topic on YouTube, Instagram, and other social media marketing platforms.
Create a freebie and a landing page where people can sign up for the freebie in exchange for their email address. This will serve as your lead magnet.
Mention the freebie in your videos, and link to the landing page in video descriptions.
Send drip emails promoting your paid program to the people who sign up for the freebie.
Bonus: Optimize for increased earnings
These tips will help you get the most ROI from your membership marketing efforts.
Guide learners to results and advocacy
Word-of-mouth, user-generated content, and other forms of brand advocacy are the most effective form of marketing.
Customer experience helps trigger brand advocacy, but nothing beats results. If I join your fitness program and I'm evidently fitter 6 months in, you best believe I'll send you all the referrals I can. I may even post on social media.
The way to get members results is to enable them to take action. Here's how:
Create a culture for sharing and celebrating wins in your community. People will see that others are getting results and be motivated to try for themselves.
Set up reminder or milestone emails. These will remind people to consume your content again. If you have an app, set up app notifications too. And share member success stories in these reminders where you can.
Create paths within the program so it's easy to find the content they need. The sheer amount of content that memberships offer can lead to overwhelm for members. If you use a platform like Uscreen, you can create collections to guide people through a specific transformation.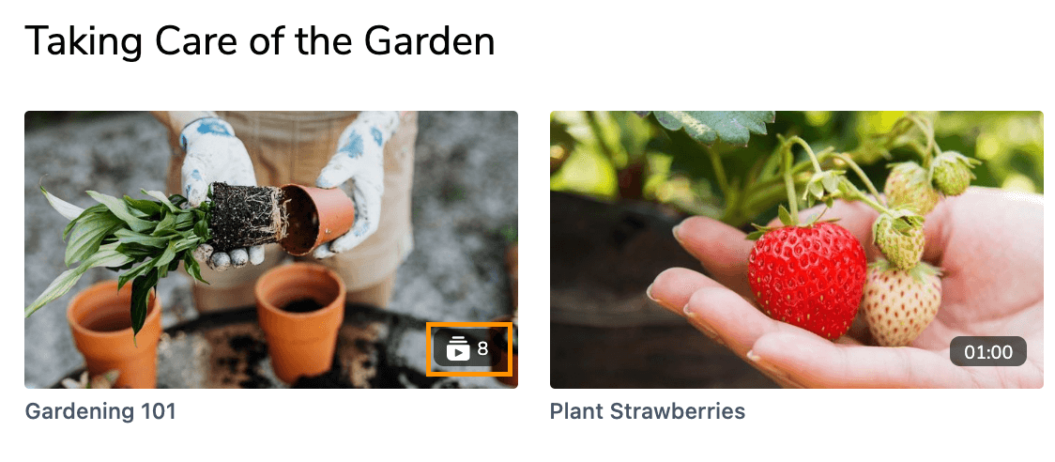 Increase your conversion rates with user feedback
Feedback — whether negative or positive — can be an invaluable tool to grow your membership. Negative feedback points out where your membership is lacking so you can fix it. And positive feedback can be turned into testimonials that you add to your landing pages, and share on social media.
Email your members to ask for feedback at least once a year. Also, let them know in every communication that you're open to feedback. You can add a line to your email signature for example.
You can share a form that allows members to submit anonymous feedback if they prefer.
Actively collect feedback too. In your community, members will subtly leave positive or negative feedback in their conversations with other members. Some will talk about results, but pay attention to the ones that talk about the customer experience as well.
Improve on the negatives, and ask for permission to use the positives in case studies and marketing.
Increase the average purchase value
If you're working hard to send people to your sales pages, it makes sense to shoot for the highest revenue possible on the sale.
The smartest way to do this is with membership upsells. In fact, our users saw their revenue grow 6.5x in the first four months of using upsells.
Uscreen's upsell feature was a game-changer! I even reworked my advertising strategy and my landing pages around it. I now funnel everyone into the monthly plan and let the upsell feature do the work. It took our revenue and our subscribers through the roof!

Jason David, MyTRIBE
You target people who are about to buy a monthly membership and automatically offer them a last-minute discount on the annual membership during checkout.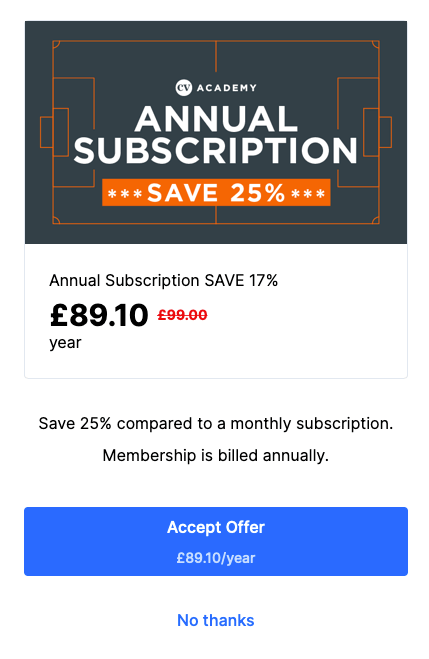 If they choose to accept the offer, they'll be charged the new amount. If they choose to continue with the monthly subscription, the popup will go away and they'll be charged the original amount.
But is membership the right fit for you?
If you have multiple courses that the same person would be interested in, then yes, a membership is the right fit for you.
But if your course topics are scattered across different buyer personas, you'll have a hard time monetizing memberships. And honestly, since you have to build a different audience for each of your courses, I'd wager you're working too hard to sell your courses too.
Your growth will depend on the number of launches (resets) you can manage without burning out.
Instead of thinking in terms of individual courses and audiences, think about the power of a membership community. Community leads to faster feedback, a better program, more impact, brand advocacy, and more monetization opportunities. There's no better way to scale.
Growing an online course business FAQs
How can I grow my online course business?
Through community! A community will spread the word about your online course to their family and friends. They'll even share about you online. Transition your online course business to a membership community to grow your reach, income, and impact.
How can I make my online course profitable?
A membership is the best way to make your online course profitable. Even though they aren't very profitable right out of the gate, the recurring subscription continues to grow. And because memberships come with community, you'll find people from your community marketing your program for free leading to explosive growth in income over time.