Are you considering a coaching membership site instead of private clients? You're in the right place.
Creators have become a source of entertainment and education. As a result, "creator-educator" businesses have risen, where creators help their audiences transform.
Moving into a coaching membership site can create sustainable income and positively impact countless lives.
Curious how it works? Let's dive into how to create a membership site to grow your coaching business.
What is a coaching membership site?
A coaching membership site lets coaches offer subscribers exclusive content, resources, and support for a recurring fee. These websites allow coaches to earn a sustainable income while offering clients guidance and a sense of community.
Benefits of launching a coaching membership business
Let's look at a few top benefits of launching this type of membership site.
Recurring revenue
The biggest win of launching a coaching membership site is predictable income. A Membership Geeks report found that 81.5% of creators enjoy subscription-based revenue streams because of the stability.
Members pay an annual or monthly fee to access coaching materials and resources. For example, you may charge $49 monthly to access your membership site platform. As long as customers remain subscribed, you earn consistent passive income.
Community building
Humans are social creatures. We're not meant to be alone all the time, and connecting with others is critical for our mental well-being. Coaching membership websites build a sense of belonging and support among customers.
Your coaching membership site could include a private forum where customers can share their experiences, ask questions, and offer support to one another.
For example, B Tribal Fit offers a dedicated online community area for members to share their successes and struggles.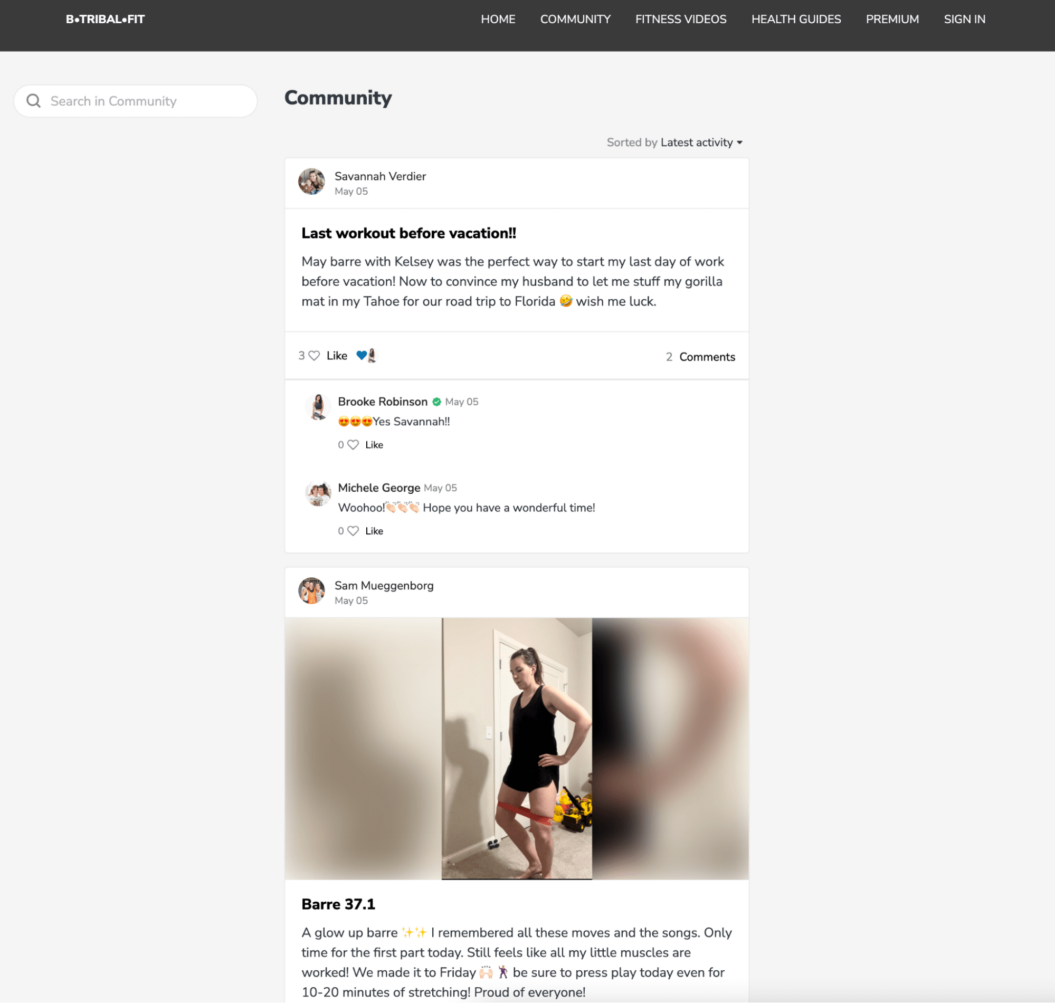 Customer engagement
A good coaching membership site helps you build strong relationships with customers. You can provide personalized coaching, address their needs, and foster open communication.
Your site may include features like Q&A sessions, discussion forums, or group coaching calls to interact with customers.
Live streaming is another great way to connect with customers using Uscreen. You can schedule time each month to check in with members from your website or membership app.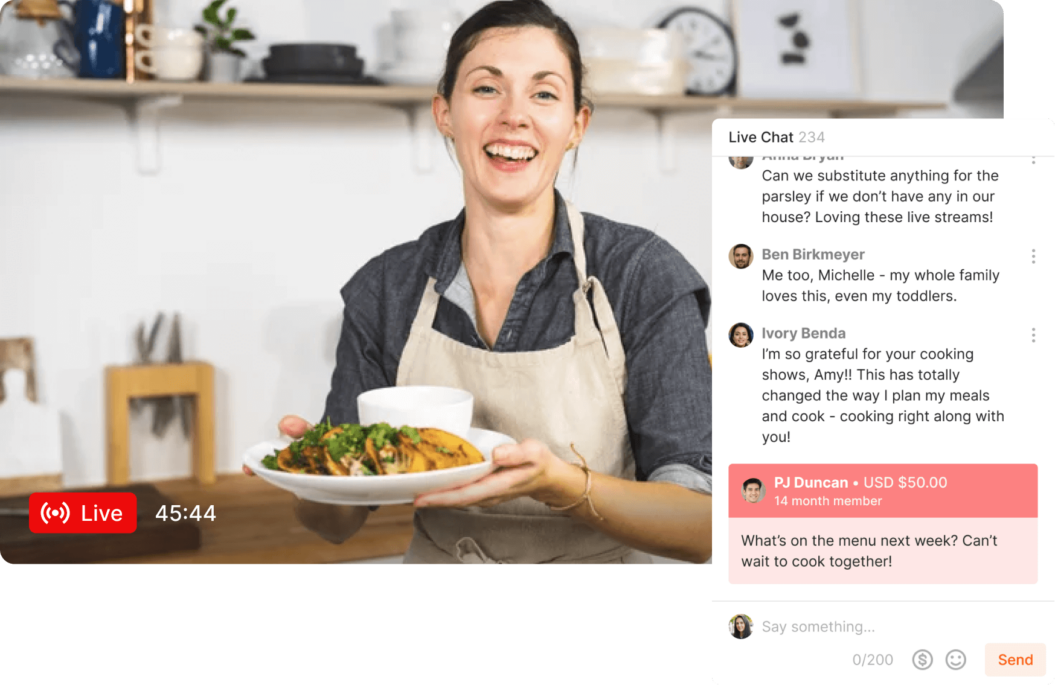 Types of coaching membership models
Video content
Using video content, you can guide members through topics, strategies, and exercises using prerecorded or live videos.
Say you're a golf coach, creating a video library of workout routines and exercises would be helpful for members. BirdieTime, for example, provides golfers with over 400 video lessons and 12 coaching plans from top coaches and tour players.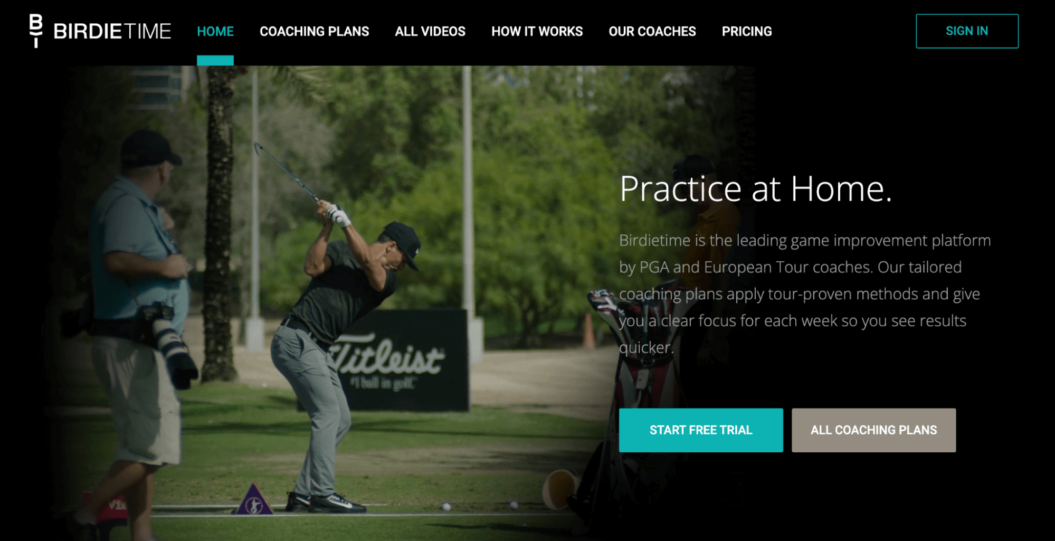 Courses
Course-based coaching sites provide structured, comprehensive programs to help clients learn new skills and achieve specific goals. You may offer one-time courses about a specific topic, or 12-week programs members stick to over time.
GUE, a brand that helps people become better divers, offers different courses on all things scuba diving. You might take a one-off course on preparing Doubles, or enroll in a 5 part series about Deco Troubles.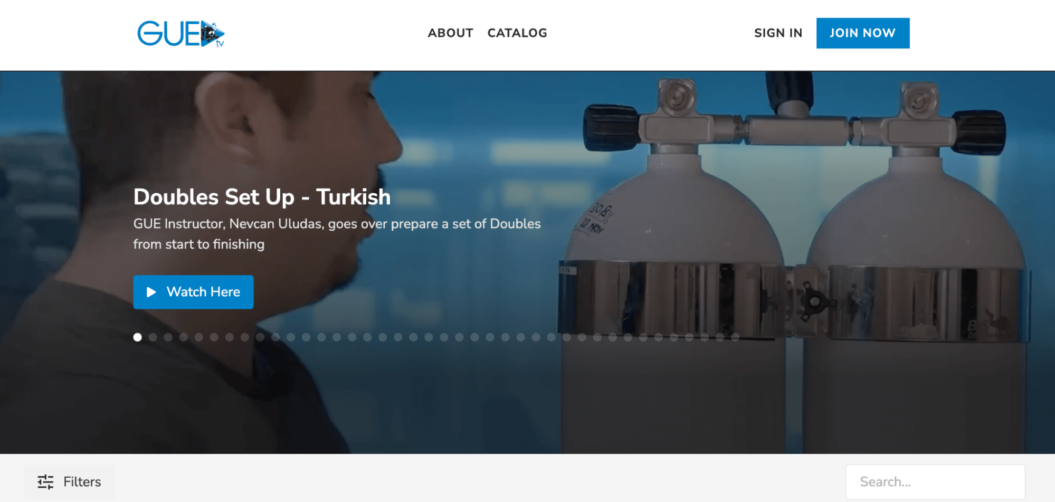 How to launch a coaching membership site
1. Determine your niche
Figuring out your niche involves identifying the specific area of coaching expertise you want to focus on for your membership website. If you target a specific niche, you can better cater content to your audience's needs and stand out from competitors.
For example, if you're an expert in helping people improve their public speaking skills, you may create a video membership site focused on Public Speaking Mastery. You can take that niche even further by offering public speaking skills for executives or senior managers. It could be a more precise and potentially more profitable niche.
Notice how Elite Guitarist, for example, has a very specific niche. If you sign up for its membership, you'll learn classical guitar from expert instructors online. Not rock. Not blues. Just classical guitar.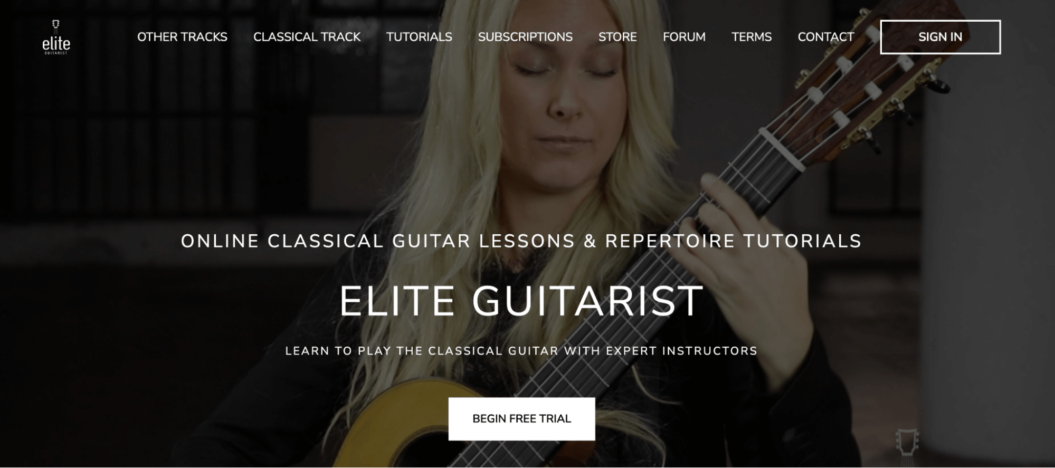 To find the right niche for you:
Assess your expertise: Reflect on your coaching experiences and identify your unique strengths and knowledge. Decide what areas of coaching you are most passionate about and have the most experience in.
Research the market: Say you decide "prenatal yoga" is your niche, investigate the market. Use tools like Google Trends and social media platforms to gather data on what people seek regarding coaching services.
Evaluate profitability: Consider factors like market size, competition, and potential income streams to determine profitability. Income streams may include membership fees, private coaching, digital product sales, and video monetization.
Test your niche before committing to it. Create and share content around the topic online. Gauge audience interest through social media engagement, email list sign-ups, or even a small pilot group. This will help you refine your niche and guarantee there is a demand for your expertise.
2. Choose a membership website platform
Imagine you're a master chef and must choose a kitchen to create your masterpieces. A well-equipped kitchen will help you to prepare food effectively, while a poor kitchen will hinder your success.
Think of a membership website platform as the kitchen of your coaching business. It gives you all the tools to perform at your best, from hosting your content to managing payments and encouraging member interaction.
Uscreen is an all-in-one, user-friendly video membership site platform. With Uscreen, you can scale your income, build your audience, and own your brand. Over 25,000 creators have already built thriving memberships with our high quality custom websites and apps.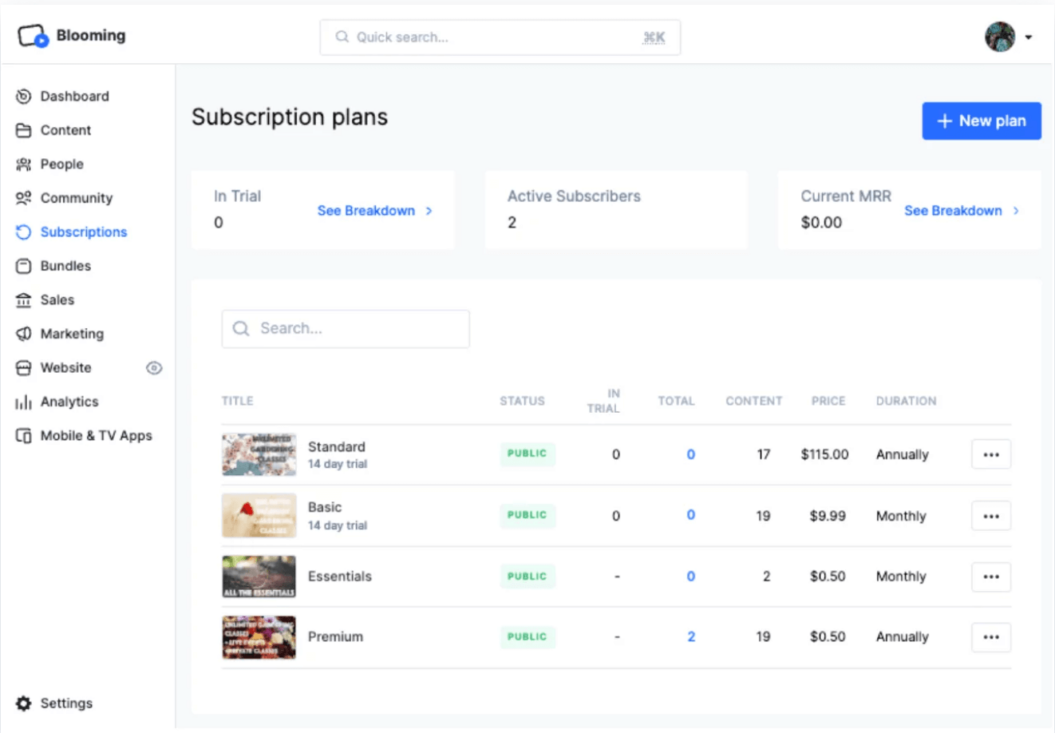 Uscreen also offers customization options to match your coaching program and brand style. Simply choose a best-in-class template and make a few tweaks, then you're ready to launch.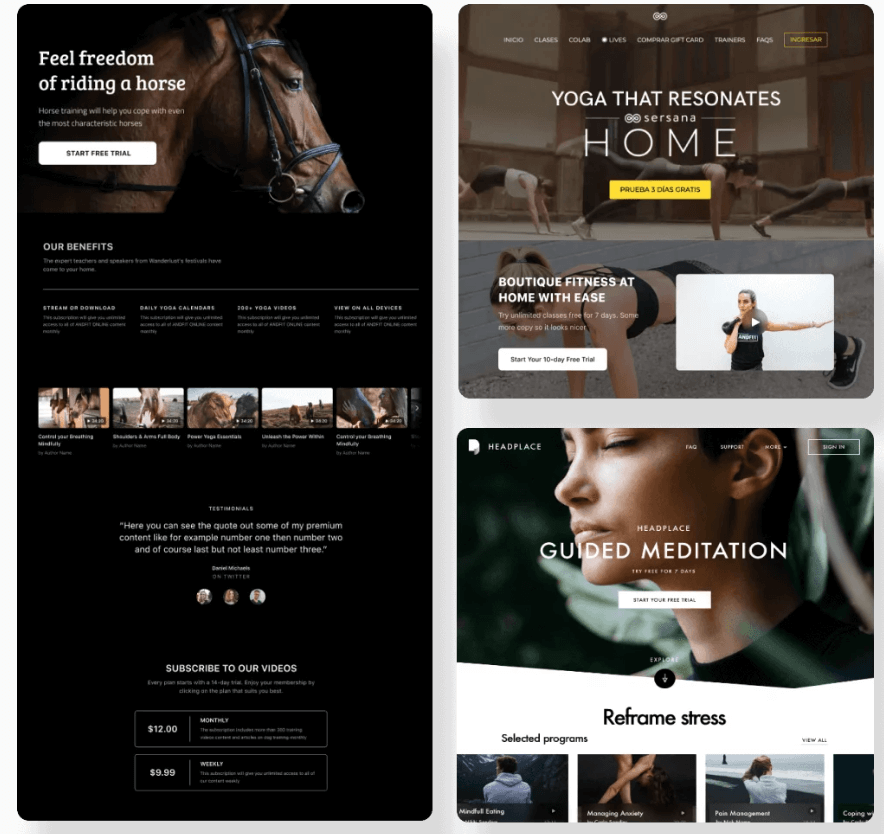 You also get access to features like:
Advanced live streaming capabilities.
Integrated growth-focused marketing and automation tools.
Secure automatic content backups.
Popular checkout options like PayPal, Stripe, and credit card.
Integrations and plugins with Mailchimp, Hotjar, Profitwell, LinkedIn, and more.
Start your free 14-day trial of Uscreen today.
3. Establish membership tiers
Your membership pricing strategy can make or break your online business. If you charge too little, you won't be profitable. If you charge too much, you may scare off price sensitive customers. That's why many creators have membership tiers.
Membership tiers are different levels of access, benefits, and pricing options available to members. A 2022 report found that 32% of memberships have multiple levels, with an average of 3 tiers.
Let's put this into play for your coaching membership website. Consider three membership tiers: Basic, Premium, and Elite.
| | | | |
| --- | --- | --- | --- |
| Membership tier | Benefits | Pricing | Audience |
| Basic | Blog articles, newsletters, community forums. | Low or free | Beginners with limited budgets. |
| Premium | Exclusive video content, group coaching, live webinars. | Moderate | Students wanting to invest in growth. |
| Elite | Unlimited one-to-one coaching sessions, personalized training plans, access to special events. | Highest | Students looking for comprehensive coaching experience. |
Basic: In this tier, you can access blog articles, newsletters, and a community forum. It would be low-cost or even free, making it accessible to beginners or those with limited budgets.
Premium: In the next level up, Premium paying members would get access to exclusive video content, live webinars, and one-on-one coaching sessions. Prices will be moderate, targeting those who want to invest in their own growth.
Elite: The Elite tier is for those seeking a comprehensive coaching experience. At this level, you could offer unlimited one-on-one coaching, personalized training plans, and exclusive access to special events. Pricing reflects the increased value and personalized service.
Paid membership tiers will be based on your target audience's needs. Take into consideration the benefits and resources for each tier, and decide on a price your audience is willing to pay.
For reference, data shows that memberships charging between $25 and $49 per year tend to make money on average compared to higher price ranges.
4. Create members content
Members-only content is the whole reason people sign up for your membership. It involves all the video courses, templates, workshops, coaching calls, articles, and more.
The new content you create depends on your niche. Let's take the postnatal yoga membership example from above. If you're running this type of website, you may offer the following types of content:
Exclusive instructional yoga videos demonstrating safe and effective postnatal yoga poses and sequences.
Guided meditation recordings to help new mothers relax, manage stress, and cope with the emotional challenges of motherhood.
Educational articles on easing back pain, breastfeeding support, and benefits of postnatal yoga for mental well-being.
Interactive quizzes to help members track progress and identify areas of improvement.
Membership community discussion boards where members can share their experiences, ask questions, and offer support for each other.
⚡TAKE ACTION: Develop a content strategy by outlining the types of content you want to create, and establish a schedule for regularly updating and adding new resources to your website.
5. Market your coaching website
The biggest challenge for any membership website is marketing it. There are so many channels available, and not all of them will work. It's better to focus on one or two channels and become known on them, rather than put your brand on every social media platform.
For my membership program, Peak Freelance, we've tested every channel you could imagine: paid ads on Reddit, organic Facebook, Instagram Stories, and TikTok.
Here are a few channels that actually work:
YouTube
YouTube is a tried and true platform for getting more members. Video creators often post shorter clips on YouTube to build trust with potential subscribers. Then, upsell them into a coaching membership.
See how SarahBethYoga, which has over 1.64 million subscribers, regularly posts 5 to 30-minute videos to help viewers stretch and become their best selves. They can upgrade to her membership program if they want access to Sarah Beth's mobile app and complete content library.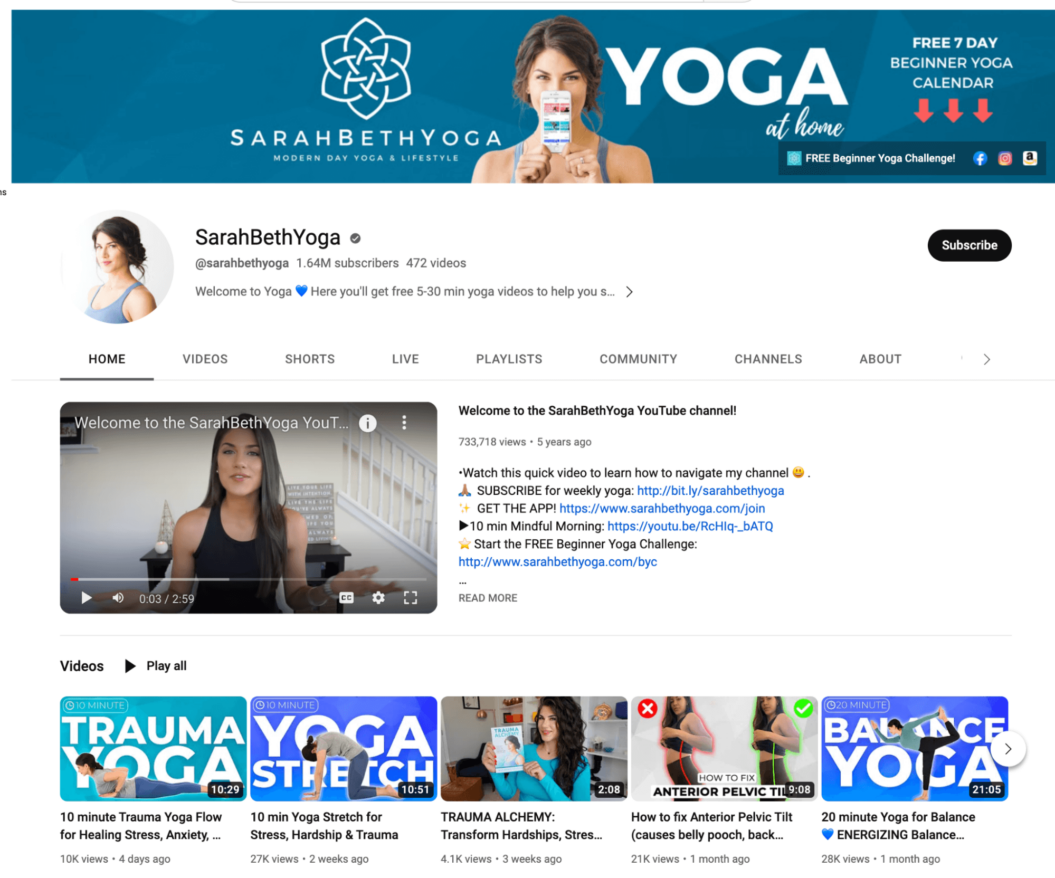 Instagram and TikTok
If you're trying to attract everyday people, Instagram and TikTok are your best friends. You can post short educational clips and collaborate with influencers to build your audience.
You aim to get people to sign up for an email list or subscribe to your YouTube channel. These platforms do well for free trials or signups, but not always for paid accounts.
Blogging
Blog posts help build awareness for your brand. By creating and sharing valuable content on your blog, you can capture your ideal client's attention and get more signups.
Blogging is a great way to build credibility in your niche and rank for certain terms on Google. That way, when people search for particular issues they are having, your website shows up.
🧠 Learn: The Truth About Membership Site SEO
LinkedIn
You want to get on LinkedIn if you're selling coaching services to business owners and professionals. The platform has excellent organic reach versus sites like Facebook. You can drive LinkedIn users from the platform to something free, like an email list or community.
A quick testament to LinkedIn: This one LinkedIn post, which reminded followers about our free community, earned us 112 new members in two days. Crazy.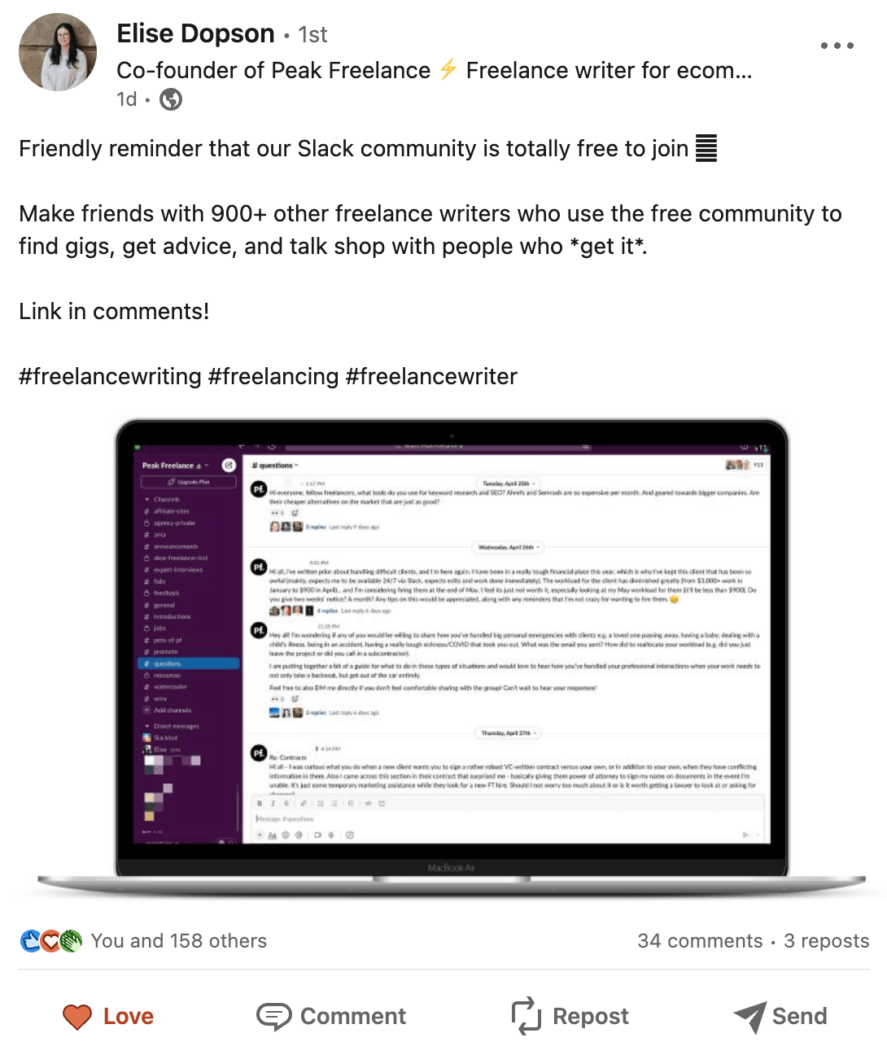 Email list
Talk to any coach or creator-educator, and they'll say the same thing about building an email list: It rocks.
Kaleigh Moore, an entrepreneur and founder of the Freelance Writing Coach podcast, adds to this, "my email list is the biggest tool for promoting my coaching offering. It's part of my first email on my welcome series just to get people familiar with the fact that the offering is there."
"From there, I continue to promote it in an automated welcome series and work it into the occasional newsletter."
An email list is your place to connect with subscribers every week and share fun tips, insights, and stories. You can also pop a sales message in your email every so often to promote your email list.
Referrals
Despite loving her email list, Kaleigh adds that "the biggest source of new coaching clients was through referrals from happy past clients. When people were curious about my coaching services, but felt on the fence, I let them talk to past clients and closed 95% of those."
With Uscreen, you can easily set up a referral program from your dashboard under the Marketing tab. When someone shares the link, and the referred user signs up and pays for a membership, the referrer gets 30 free subscription days.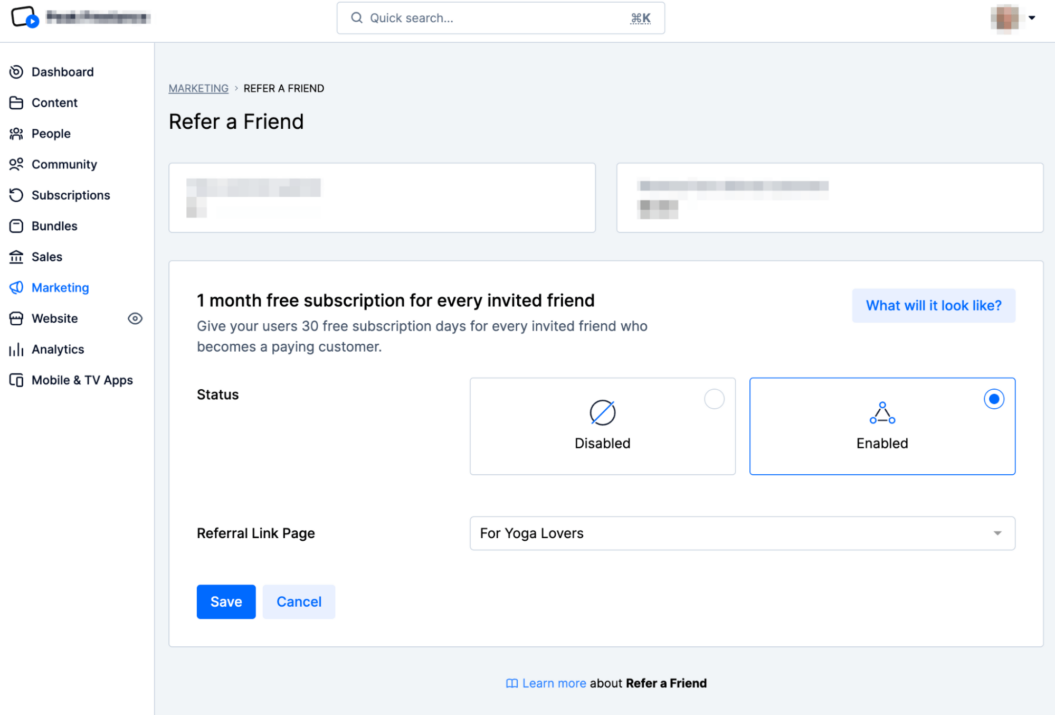 Coaching website examples
SquashSkills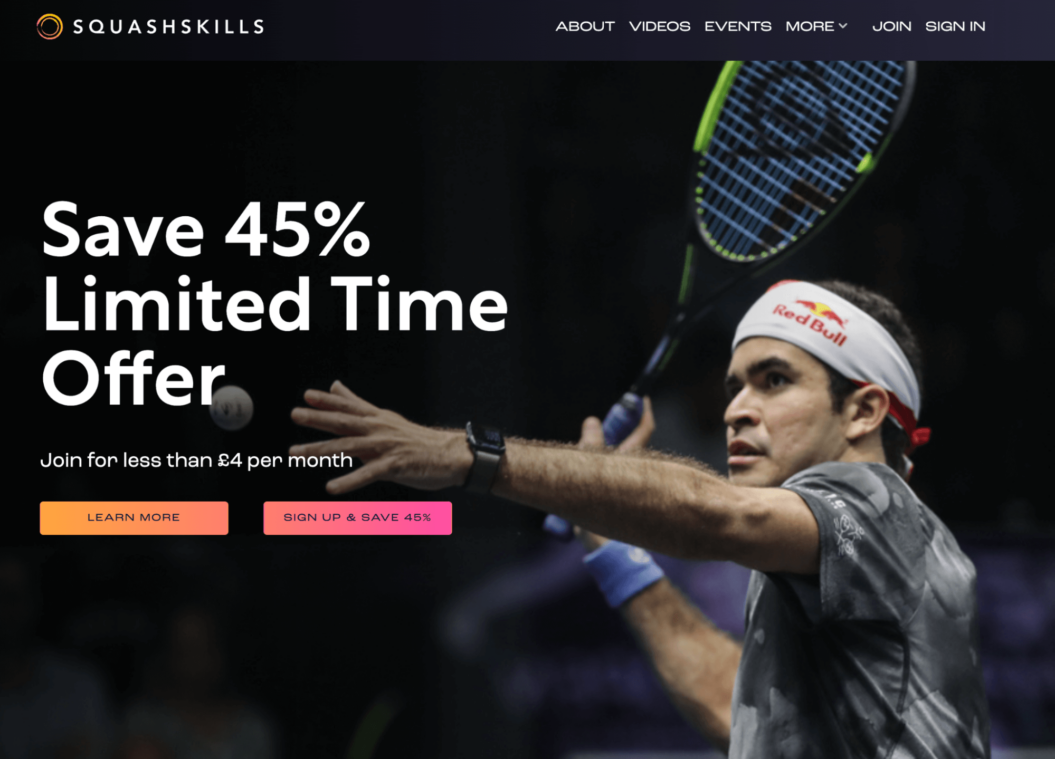 Founded in 2012 by former Welsh Champion Jethro Binns and former World Number One Peter Nicol, SquashSkills is the leading online coaching platform for squash players.
Members get access to personalized training programs, solo practice routines, and the ability to connect with top coaches for feedback, advice, and support. All for as low as £85 per year on SquashSkills annual plan.
Get It Done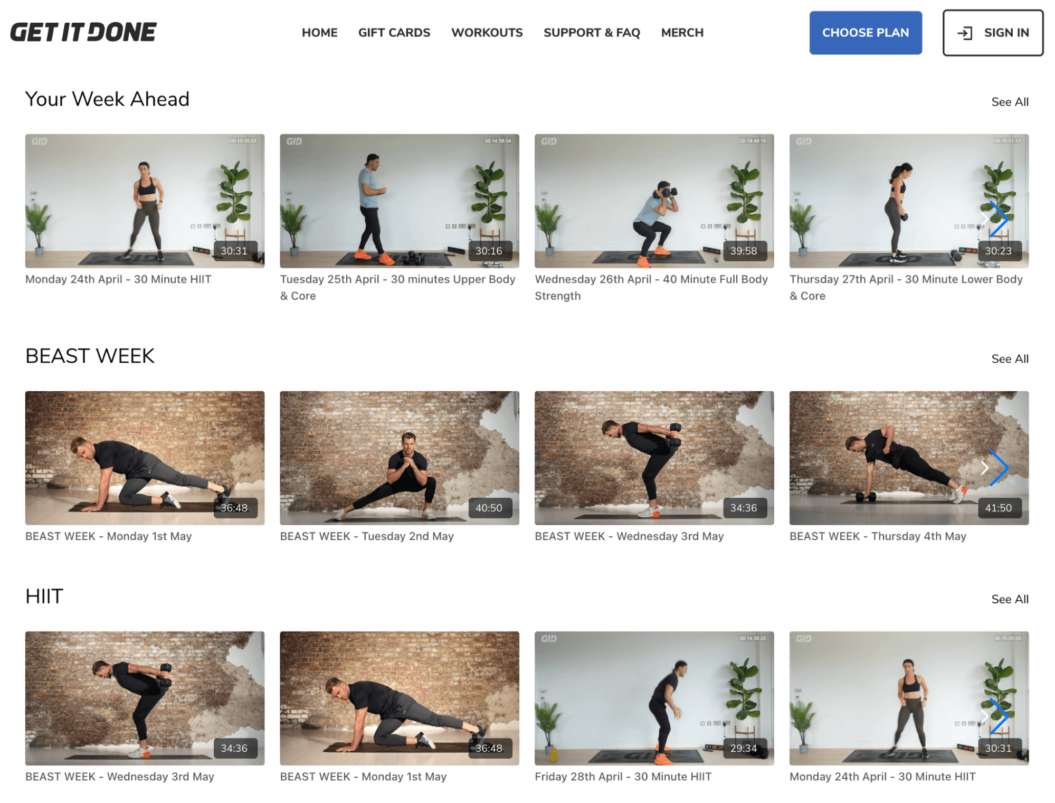 Get It Done is a fitness coaching platform run by personal trainer and fitness influencer Bradley Simmonds.
The membership coaching site is packed with yoga, core, strength, boxing, and pilates workouts members can access on demand, from any device. For £22 a month, you can get access to live classes, catch up videos, and personal messages from Bradley himself.
Women's Golf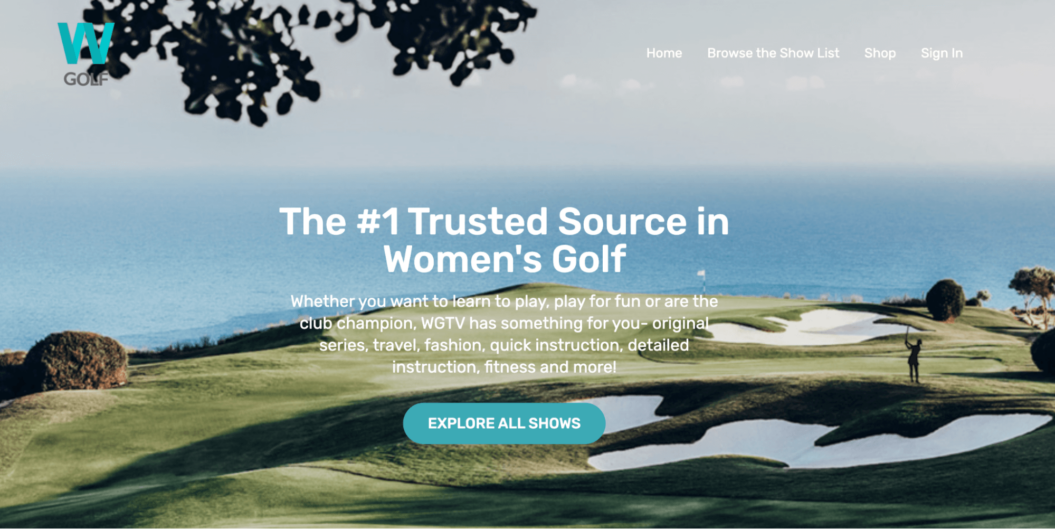 Women's Golf is a leading membership site for women in golf. The platform, which is all video based, offers members lessons in everything from golf, fitness, travel, fashion, and more. Women's Golf also provides members with exclusive access to series with the top coaches on the green.
Launch a successful membership site with Uscreen today
Take advantage of this opportunity to revolutionize your coaching business. Switching to a coaching membership site will secure your financial future and empower countless individuals.
With Uscreen, you can get your membership site up and running quickly and generate income. Ready to get started? Sign up for a free trial today!