Once upon a time, online learning existed separately from traditional in-person learning.
And then, everything changed…
COVID-19 arrived and quickly disrupted how we learn. Schools closed, classrooms moved to Zoom, and people wondered if things would ever go back to normal.
But, we wonderful adaptable humans found ways to interact via the internet that would show us just how much we can accomplish together–even when we're apart.
Better still, we've learned that eLearning is 3 things:
Convenient & accessible: you can learn anywhere, anytime.
Flexible: there's more opportunity to learn in bite-size chunks without committing to a multi-year degree.
Diverse & innovative: the accessibility of online learning lets people from different backgrounds and locations participate.
It's also given us plenty of opportunities to rethink the future of learning. Because even when physical classroom doors open again, virtual will still play an important role in how we teach, coach, and learn!
In fact, by 2026, the global eLearning market is expected to grow by 270%. That's a big deal!
Which means…
If you were looking for a sign to start and sell online courses, this is it. The eLearning industry is booming and you could be part of that growth. 
In this post I'm going to show you:
Class is in session.

Why now is the best time to launch your eLearning business

Think about it this way: learning never stops.
We need it to upgrade our skillsets for jobs; to dive deeper into our passions, and to hopefully make the world a better place. These are things that aren't likely to change anytime soon!
Which is why eLearning is here to stay. I mean, just take a look at the numbers:
22% of adults in the U.S. say they've consumed more instructional content online during the pandemic.
That's a lot of growth, especially when you consider that the eLearning market was already predicted to grow to $325 billion before the coronavirus changed everything!

But we're seeing changes in more than just the size of the industry. Consumers are changing, too.

Research shows that consumers are looking for 3 specific things when searching online: inspiration, instruction, and ideas. All of which are easily delivered through eLearning content!

We believe this shift in the industry is going to stay beyond the end of the COVID-19 era for 2 good reasons:
Because it's convenient & customizable for the student: the learn from anywhere concept gives students the flexibility to learn where they're most comfortable. Additionally, they can personalize their learning online–for instance, the ability to record or replay a lesson allows them to learn at their own pace.
Because it's convenient & profitable for the instructor: offering eLearning content means you can create one lesson and share it continuously. And, if you own a brick-and-mortar business, you can increase your reach beyond your local area!
And, the news is even better if you want to create video-focused eLearning content.
According to a Forrester report, people are 75% more likely to watch a video than read print, and they absorb 50% more information via moving pictures and sounds.
This tells us that video is the format that people want to learn with, and it will help you to generate the most revenue.
In the rest of this post, we're going to explore whether eLearning is the right choice for you and your content, and look at how you can get started.
Let's go…
What is eLearning, and is it the right niche for your content?
eLearning (or electronic learning) is a type of education that takes place online and with the support of electronic resources.
In other words…
It's whenever someone turns to the online world to learn new information or skills. This could be anything from an eBook through to a fully-fledged online course.

For example:
Dog training – how to teach your dog to sit
Dance tutorials – how to do TikTok dances
Makeup tutorials – how to use mascara
Language lessons – how to speak French like a local
If you're unsure whether the content you want to create is eLearning or not, all you need to do is consider whether your content intends to educate or instruct. If the answer is yes, then 9 times out of 10 it's probably eLearning.
Sounds like something that applies to you? Read on!
2 Types of eLearning for your Business
Let's take a look at the 2 main types of eLearning that you can use to build your new business.
The first type is Synchronous Learning, which refers to an instructor and student interacting virtually in a specific place at a specific time.
This type of learning leans heavily on video conferencing, and might look like a Zoom university classroom, a live stream music lesson, or a 1-on-1 language tutor.
Benefits: Students get to participate in real-time. Improvements in bandwidth and technology made this type of learning popular with educational institutions that needed to quickly move online.
Disadvantages: The time constraints of a completely live learning environment can create issues, particularly when paired with technology. Not to mention the fact that live instruction takes up a lot of time and energy!
Asynchronous Learning refers to learning that generally happens on one's own time.
For both student and instructor, this type of learning is by far the most flexible. A language learning app like Duolingo, or video-on-demand makeup tutorials like Signature TV are great examples of this.
Benefits: Students can learn at their own pace, while instructors can create at their own pace.
Disadvantages: There is a higher risk of apathy or churn if you don't engage your students with extras to excite and motivate them (i.e. online worksheets, live stream Q&A).
With 2 different ways to go about starting an eLearning business, you might be wondering which is the right choice.
Well, I'm going to let you in on a little secret:
You can use both.
As an eLearning business owner you have a unique opportunity to harness the power of both models to generate recurring revenue.
Let me show you how…
How to start your eLearning business
First off:

I highly recommend you use video as your core content. As you saw before, it's the most accessible and profitable way to run your business.

It also gives you the best opportunity to take advantage of both synchronous and asynchronous learning styles to create the ultimate educational video business.
The ideal video business has these 2 components:
A video-on-demand website of your educational or instructional content (asynchronous learning).
Live streams and webinars to increase engagement and create a more premium experience (synchronous learning).
Here's an example of what I mean…
Red Wall Tutorials is the online offshoot of the renowned, Millennium Dance Complex.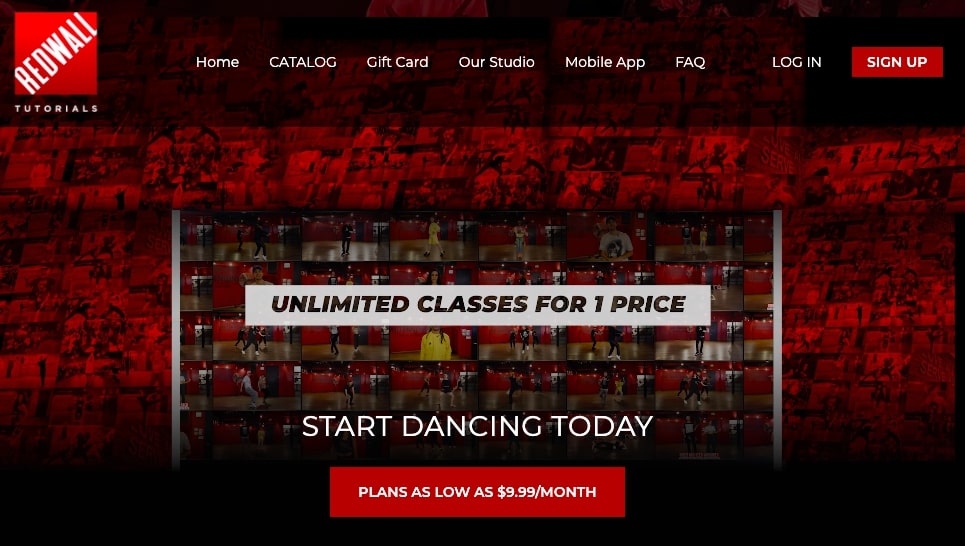 With a catalog of video-on-demand dance tutorials filmed from their Los Angeles studio, students locally and globally can learn from the comfort of their own homes.
They'll also be adding free live classes for members in the near future–a great opportunity to offer a more interactive, personalized experience.
With the addition of live streaming to your own VOD website, you have the perfect recipe for eLearning business success.
Here are a few reasons why…
A VOD website gives people immediate and constant access to video content–something they've come to expect in this day and age.
VOD can become an excellent secondary source of income–there's no limit to how much profit you can make!
Check out this article if you're interested in learning more about the benefits of using both live streaming and VOD.
The Takeaway
A+ if you made it all the way to the end!
Here's a recap of what we learned:
The eLearning market is growing!
eLearning content is content that intends to educate or instruct.
A combination of video-on-demand and live streaming is the ideal business model for a profitable video business.
How to get started on your eLearning business with a video-on-demand website.
Here's a bonus:
You can learn how to launch your own eLearning website from start to finish with this full guide; How To Start Your First eLearning Business in 2021.
While it might seem like a big step, launching your eLearning business with video is a move that ultimately gives your content and your students the best chance for success.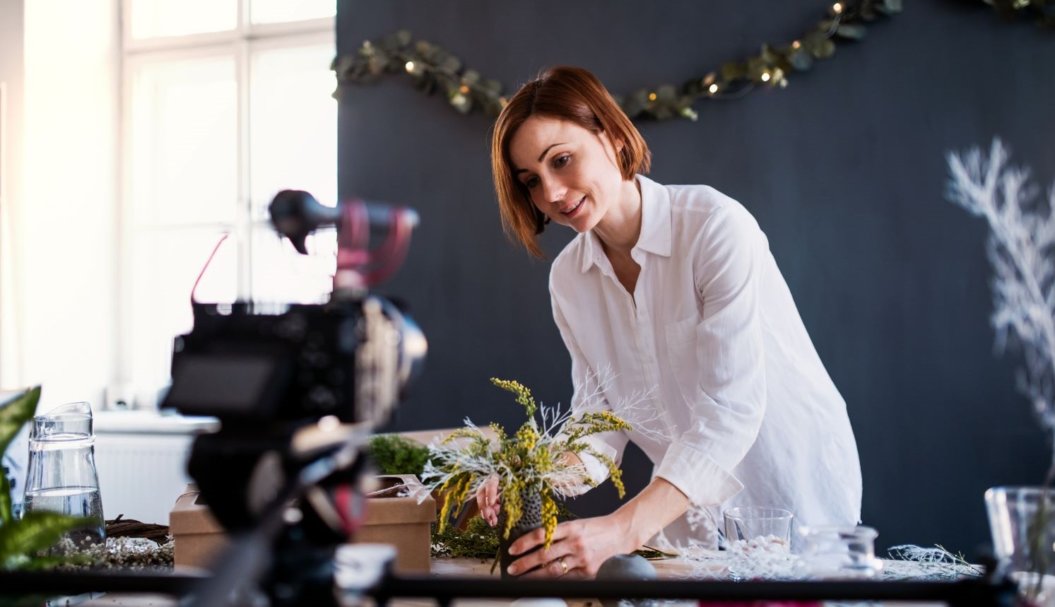 How To Start Your First eLearning Business In 2021
Full Guide