The coronavirus is here. It's officially a pandemic.
It's causing people to stock up, slow down, and stay home.
If your business relies on people being at your physical location, you've probably noticed a severe drop in attendance. And, well…
Now feels like a really good time to panic.
Experts say the coronavirus isn't going away any time soon, with 150 million Americans expected to contract it in the coming months. Worse still…
Lots of industries are hemorrhaging money; airlines are going under, gym attendances are dwindling, and local businesses are seeing dramatic declines in sales.
All of which begs the question…
What can you do to save your business?
Well, the best thing you can do is take your business online. In fact, experts project that online businesses will boom thanks to coronavirus. And, yours could be one of them.
This isn't just a good quick-fix while corona is going on, either. Taking your business online is a realistic way to future-proof it, and ensure you never find yourself in this position again.
In this article, we're going to show you how to quickly launch a live streaming website so you can survive coronavirus, and create a sustainable future for your business.
Better still…
You'll provide a sought-after service for people who are stuck in their houses, bored. With more and more countries coming under lockdown, people are turning to the internet to escape.
Let yours be one of the websites they find.
If your business has been affected by COVID-19, you're not alone. We have a helpful and free guide that has saved 1000+ businesses since the outbreak. No email required.
The Live Streaming Contingency Plan
Live streaming presents a great opportunity to:
Avoid losing customers: by engaging the people who won't come to your venue
Be socially responsible: by putting your customers' health and safety first
Gain a new audience: by providing a service to those people trapped at home
We've seen lots of canceled events use live streaming to great effect.
Stanford has used Facebook Live Video to continue offering seminars; the Thessaloniki film festival chose to live-stream its movies; the Pope is even streaming morning mass.
Now, community-focused businesses in affected areas are looking to use it too. Why?

Because live streaming can empower businesses beyond events. It's not just for gamers and Q&A sessions, it can be used by…
teachers

speakers

influencers

fitness instructors

yoga teachers

moviemakers

musicians

visual artists
…to connect with a typically in-person audience in a new, coronavirus-safe way.
Better still, it offers the quickest possible way for you to get started. You can utilize free, easy-to-access equipment, and begin growing the online portion of your business instantly.
(We recommend launching a fully-fledged online video streaming business as the ultimate long-term contingency plan. You can learn more about that, right here.)
Let's take a closer look at getting you set up and ready to go.
How To Launch Your Live Stream Contingency Plan
We're going to show you how to launch a live streaming site using Uscreen today, in just three easy steps!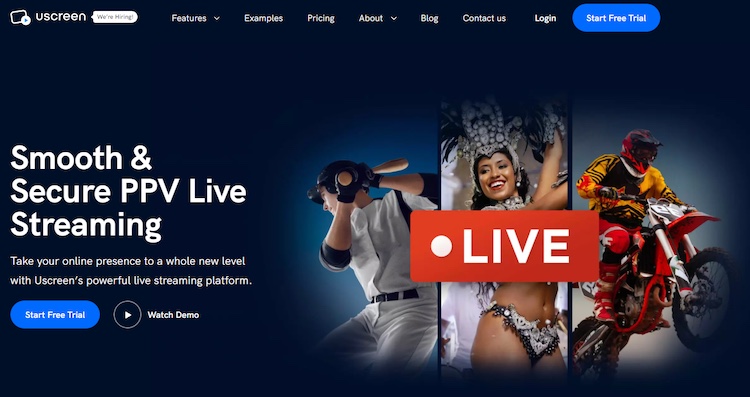 Here's how to do it…
Step 1: Create Your 1-Page Website.
The first step is to create a simple landing page, like this one here: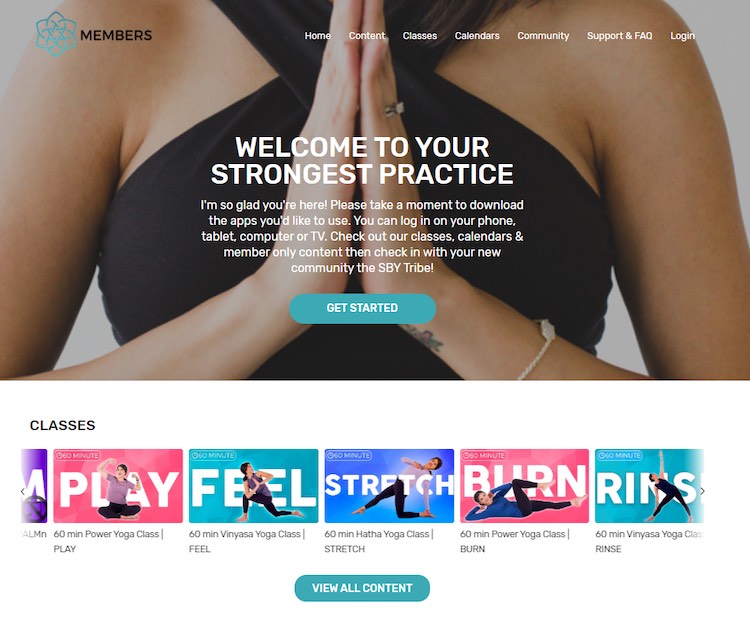 You can use any of our 11+ website templates to do this. You can easily select the look, style, and feel of your website, as well as include your own branding.
We recommend keeping this to a minimum at first. You should just get your website to a point where it represents your brand and is ready-to-go! We have quick video tutorials in our help guides to help you every step of the way. 
You'll then want to include sections about:
Who you are

What you do

Why you're offering live streaming

How much you're charging
This will help existing customers verify it's you, and provide insight to new people who come across your service. (We'll explain how to promote this later on.)
The final step will be your monetization options. How you choose to charge for your live streams will depend on your niche. There are three options we recommend you explore.
Per-stream: you can charge customers a fee for each stream they want to access
Subscription: users pay a monthly fee to access all streams
No charge: you allow customers to access your streams for free
For example, if you're a yoga instructor, you could:
Charge per video (like how people would pay per class)

Charge a subscription fee (like they would pay at studio)
If you're an event planner, you could:
Charge per streamed event

Charge a flat fee to access all videos
You may also choose to not charge a fee, especially if you want to provide a service to your already-paid members, and prevent them from leaving your service while coronavirus rages on.
Step 2: Gather The Software And Equipment You Need
To live stream you're going to need equipment and software.
The first thing you'll need is an internet-ready camera. These are typically:
Your smartphone.

Your computer's built-in webcam.

An external webcam you can connect to your computer.

DSLR camera with an HDMI output.
Your camera should ideally have a minimum of five megapixels. This will help to produce a high-quality stream where the most important elements are visible.
Depending on how your stream will be set up, you should also consider:
Tripo

ds: to ensure your camera stays in a stable position
External microphones: to improve the sound quality
The second thing you'll need is a reliable internet connection. You'll need a minimum of three Mbps per second to ensure your stream doesn't drop off.
If you're using your smartphone, you could also use your mobile data, but you will need to speak to your service provider about usage costs.
The final thing you'll need is streaming software. This allows you to broadcast from your camera to your Uscreen website.
We recommend you look for a provider with these technical capabilities:
Video Codec – H.264 (Main Profile)

Audio Codec – AAC
Great – 1080p 30fps
Bitrate – 5000 kbps

Keyframe Interval – 2 seconds
Good – 720p 30fps
Bitrate – 3500 kbps

Keyframe Interval – 2 seconds
Works – 480p 30fps
Bitrate – 1000 kbps

Keyframe Interval – 5 seconds
We recommend you use OBS because it's free, and you can select Uscreen from their list of available tools: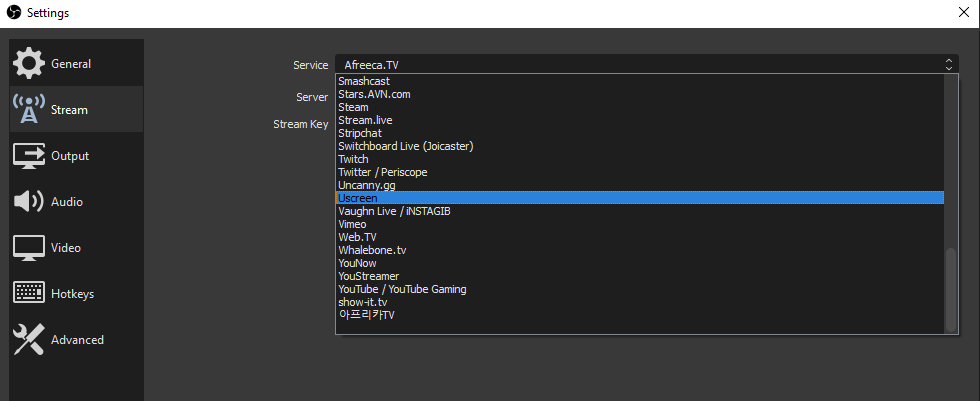 We have a full setup guide on how to stream to Uscreen with OBS right here.
We also have complete guides to set up with other services that you can find below:
Step 3: Alert Your Customers
The final step is to broadcast a message to them using all of your available marketing channels, including:
Social media

Email lists

Community forms

Adding it to your company's official website

Calling or texting your clients personally
You want to ensure everyone who could benefit from your live stream service is aware of it. And, don't forget to remind them of the benefits of using it.
Namely: they get to enjoy your service, without leaving the safety of their homes!
You're Ready To Go Live!
Once you have:
Launched your site

Chosen your monetization method

Gathered the required equipment

Alerted your customers
Then you're ready to go live!
All that's left to do is switch the camera on and start doing what you do best.
Before you go, we just want to wish you and your business the best for this tough period. Stay safe out there, and don't take any unnecessary risks. If in doubt, follow the WHO's guidelines.
Ready to launch your live streaming website?
Let's get you started