Signing up for an OTT platform can be confusing and stressful.
Between the sales jargon, live-chat advisors and "special features", you can't help but wish someone would give you a straight answer, right?
Well, don't worry; we gotchu.
Before you commit to any OTT platform, take some time to run the OTT services you're looking at through our thorough checklist.
It will help you to decide which company has your best interests at heart, and which is going to leave you wishing you'd spent your time (and money) elsewhere.
So, if you want to be confident in your decision and ensure you don't get shortchanged, follow through the next 19 questions with me and find the perfect OTT service for your online business.
The Basics: Simple Questions To Determine Quality
With this first set of questions, we're going to get some of the most basic (and most important) parts of the process out of the way. Basically, let's sort the wheat from the chaff.
If you don't get positive answers to all of these questions, I'd recommend you look for a different service. There is no excuse to not offer these with today's technology and services – they're basic OTT rights!
1. Do They Provide A Web Platform?
The ability to build a website and have your own domain is crucial for an OTT platform. Why?
Because web content is the cornerstone of streaming. People still use their browser to access video content, especially if it's attached to a course or is more convenient. It's also a more trusted place to make payments for many people.
Take Netflix as an example. 42% of their customers sign up via desktop, and 22% use it for their day-to-day viewing. So, the ability to create a website should not be overlooked.
If you want to learn more about creating a video website, be sure to check out the Uscreen guide right here.
2. Can You Fully Customise Your Website?
Customization of your website is also important.
Your business will have a recognizable brand attached to it, and your OTT platform should enable you to design and create a website to your liking. This can be done with templates or a unique design.
This customization is also a good indicator of how much control you'll have when it comes to creating your OTT apps.
3. Can You Accept Global Payments?
OTT services are available to people in the majority of WiFi connected countries. Meaning, your product is going to have a wide-reaching potential audience.
To ensure you can take advantage of this – even if it's just the odd payment from Asia, Africa or anywhere else – you'll need the ability to accept global payments. Make sure your OTT platform provides you with that feature.
4. How Long Does The Service Take To Set Up?
The average set up for an OTT app is between 30 and 60 days.
If the OTT platform you're considering says they need a longer period, turn away. You can find a quicker and more professional service elsewhere. We actually deliver OTT apps within weeks, and you get instant access to start designing and launching your video website.
On the flip side, if they're offering less than 30 days – say an "OTT-in-a-week" offer – you should also be cautious about their ability to deliver the product they promise you because apps do take time to develop.
5. Do They Offer Free Updates And Maintenance?
As your OTT platform improves its service, do they offer to update your apps to the latest version for free? And, when they're making updates, do they offer to perform maintenance on your website and apps, or are you expected to maintain your apps?
Free updates and maintenance should be standard for any package you buy, so triple check before you commit to anything.
6. How Much Work Do YOU Have To Do?
The OTT setup process should be relatively "hands-off" for you.
You'll be expected to provide brand requirements, guidelines, and specific requests before work has begun. And, you'll be able to make changes and edits afterward.
But the actual putting together of the product? That should be done by their team of developers and not require much input from you.
You just hand over the assets and the service provider should do the rest.
Functionality: Is The Platform Easy and Versatile?
If your OTT platform survived the last set of questions, it's time to look at functionality. Here we'll find out if their product is easy to use and makes for a positive experience.
Let's take a look.
7. Can You Categorize Your Videos?
One of the simplest, but often overlooked, features is the ability to categorize your videos.
This makes your users' experience better because you know where all of your content is and you can control how they browse your library to find the content they're looking for. It makes finding the videos they want, on the topics they care about a lot easier.
To take it a step further, does the platform you're looking at have the option of custom-filtering? By allowing your viewers to filter your content by duration, author, intensity, difficulty, or literally anything you want, you can guarantee a personalized experience for your users.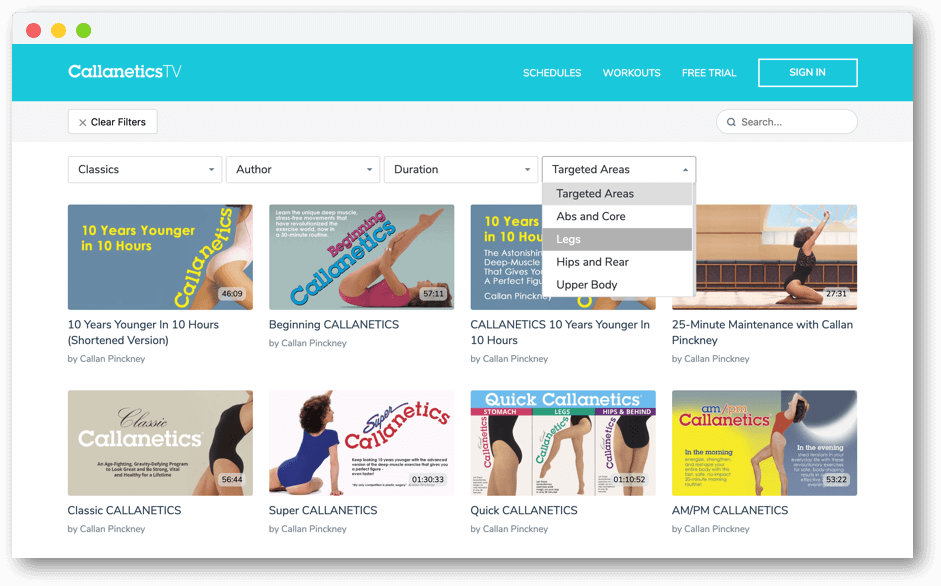 8. Can You Bulk Upload Your Videos?
The goal of your OTT platform is to make sure your workflow is as seamless and frictionless as possible. Which is why bulk uploading is a key feature of your chosen service.
Regardless of quality, you should be able to bulk upload videos to get as much content on your site as possible.
After all, nobody likes the feeling of being handcuffed to their computer waiting for their sixth video to upload.
9. Do They Provide Analytics For Both OTT Apps And Web?
Your OTT platform should also make life easier by providing the data you need for both your apps and video website.
This data can help you make informed decisions to grow and improve your online business. This should include video-specific metrics, like:
Most watched videos

Viewing times

Average view duration

Viewer sessions by country

Viewer session by device type

Bandwidth usage
But also business and audience data, such as:
Churn rates

Monthly revenues

Most popular apps

Coupon usage reports

Affiliate marketing reports
Without this analytical data, you're kind of using a "hit and hope" strategy to grow your business. So, be sure your over-the-top business makes use of these.
10. Do They Offer A "Buffering Free" Guarantee?
This is a direct indicator of the quality of the servers they use. Your videos should be readily and easily accessible while being free from this:
Because nobody enjoys waiting for their videos to load.
11. Do They Provide You With Marketing and Community Tools (Or Integrations)?
The perfect OTT platform will be the central "hub" for your online video business. That means it needs to be connected to all of your marketing and promotional tools.
At a basic level, you should be able to integrate with your email marketing software and to see statistics about the traffic to your website. But there are also extras like:
Abandoned cart emails:

Helping you can recoup some of your "lost" sales

Reduce churn toolbox:

Helping you keep your customers for longer

Coupon management:

Helping you create and manage coupons

Affiliate marketing:

Allowing you to create unique links and track sales from affiliates

Try-again-for-free: Helping you send a second free trial to those who didn't convert the first time
Commenting: Enabling you to engage with your audience directly and create a strong sense of community
Posts: Allowing you to communicate with your members via posts feed
On top of the native marketing features that come with your platform, you should know what kind of integrations you can connect with to take your marketing efforts to the next level.
The exact package you get will vary from platform to platform. So, it's worth questioning your sales advisor to see what tools they can provide you with.
OTT Success: Is the Platform Future-Proof?
If your platform has made it this far into the checklist, it sounds like you're on to a winner. Now, there's just one final set of questions to make sure the platform you choose is visionary and will help you grow and industry trends change.
In this section, we're going to look at the OTT apps they provide and ensure they make the grade. Sound good to you? Then let's dive in.
12. Do They Offer the Big OTT Players?
Are they offering you the OTT apps on the devices you actually need to grow your business? There are big players in the industry you'll want to target having apps for – even if you don't start off on all of them.
Knowing that you can create all the apps you know your audiences need is a good sign of growth and longevity with your chosen OTT platform. Make sure your OTT platform has options.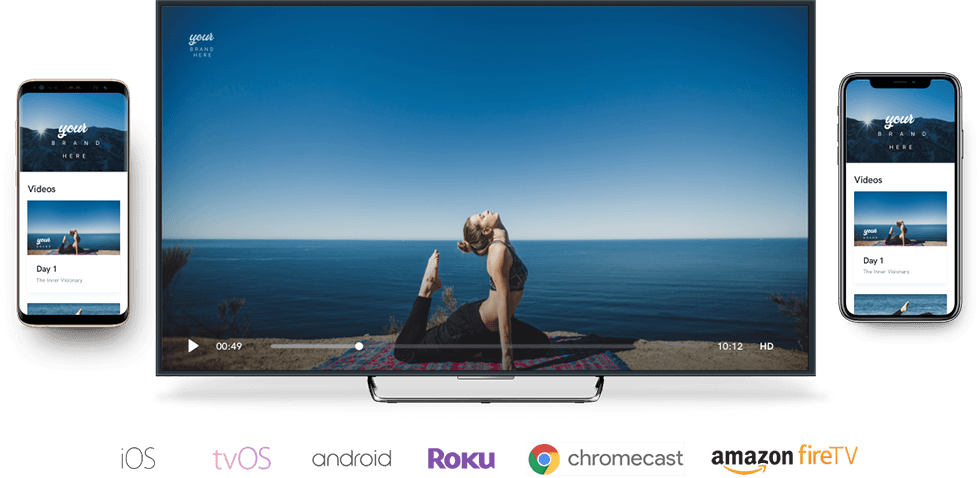 13. Can You Customize And Brand Your Apps?
Like your website earlier, are you able to brand your apps and leave your mark on them?
Your branding should be visible on every platform you're going to connect with your audience on. And, it should feel like a professional part of the product they've bought.
The OTT platform should have this as part of their service.
14. Do Their Apps Support Chromecast and Airplay?
I know we talked about app variety before, but this one is especially important.
You need Chromecast and Airplay functionality. If you don't have it, you could lose out on potentially thousands of customers.
Google's Chromecast currently has around 35% of the over-the-top device market share, and Apple TV is sitting at around 15%. Without the ability to play on either of these devices, you could be losing 40% of the entire OTT user base.
This is a must-ask question and could be a dealbreaker.
15. Do They Provide Content Protection?
Your content security is paramount.
Everything you create and upload, especially to OTT apps, should be under lock and key. Nobody should be able to get access to your videos (or course content) to share on .torrent websites or the dark web.
16. Do The Apps Allow Secure Downloads?
Downloads are an important part of OTT.
Your users – especially in niches like fitness, yoga or education – will want to be able to download videos to their device to view on-the-go.
Does your OTT platform allow you to do this securely with protection for both yourself and your customer?
17. Can Users Perform In-App Purchases?
Finally, do their apps have the capability to make in-app purchases?
Although we pointed out earlier that many customers will want to sign up to your service through their desktop, many want to buy inside their app. Especially if you're offering upsells to premium content or downloads.
18. Can You Livestream?
Livestream is simply the future of video. Think about it – the potential to reach thousands upon thousands of new customers with just one click of a button? Imagine what you can do with that.
The video live-streaming market is growing at an alarming rate, and it's projected to more than double in growth by 2021 to become a more than $70 billion industry.
Research indicates live streaming encourages more audience engagement and retains viewers longer than prerecorded video. In fact, 80% would rather watch live-video than read a blog.
So even if livestreaming isn't something you plan on delivering to your audience in the near future, know that the day will come when you'll need to do it to stay competitive. So just make sure your OTT platform will support your decision (morally and technically) when the day comes.
After all, it's better to have it and not need it than to need it and not have it.
Let's Assess
So, how did the OTT platform you were considering perform? Did it pass all 19 questions, or did you find they were lacking in some areas?
I hope you found this checklist useful and it was able to help you find the right product to suit your needs. But, if you're still looking, there is one option left you to look at…
Uscreen.
We offer all 19 of the above features, and a whole lot more. If you've not had a chance to view our service yet, you can do so here!