When it comes to selling your videos online, you need to find the right platform to partner with to ensure the long-term success of your business.
You've already come across Muvi (it's quickly building a name in the video monetization industry, for sure) and you want to square it up against some of the more established video content management platforms in the market.
That's how you've landed here, and now we're going to guide you through making the right choice for your video business.
Since video is our thing, we've pulled together all of the information you'll find valuable as you look for a new video hosting platform.
We'll be walking you through 5 of the best alternatives to Muvi:
So let's get started by taking a look at what Muvi is all about.
Disclaimer: The information below is accurate as of today (02/16/22).
6 Reasons to Explore Muvi Alternatives
Muvi does have some good stuff going for it, but for small businesses and content creators with ambitions to scale, it's far from perfect.
As well as having some questionable information on their website – in the form of inaccurate comparison charts for their competitors – there are other, platform-related negatives.
The main points that you'll often hear raised about Muvi include:
The website templates that you can use to create your platform are very limited.
There are more templates that you can buy from a Muvi marketplace, but the prices start from $1,999 and you'll need to pay for any additional customizations.
On the backend, it's not an easy-to-use or intuitive experience – there's a steep learning curve when you get going.
Pricing starts with very high minimums – $399 per month is the lowest package – which is a high price to pay when you're a small or medium-sized business looking to kick-start your video monetization.
Once you sign up for one of the packages, there can be high charges if you go over your bandwidth or streaming allowances, unless you buy extra in advance.
While the customer support team is accessible 24/7, there are quite a few user reviews saying response times are slow and that it can take multiple tickets being opened to get the service needed.
If you're already using Muvi and are exploring alternatives, some of these issues probably feel familiar.
They're the upsides and downsides to Muvi, let's explore the pricing in more detail.
Muvi pricing
As we just covered, the lowest-priced tier with Muvi is the Standard package at $399, plus extra monthly charges to run mobile and TV apps.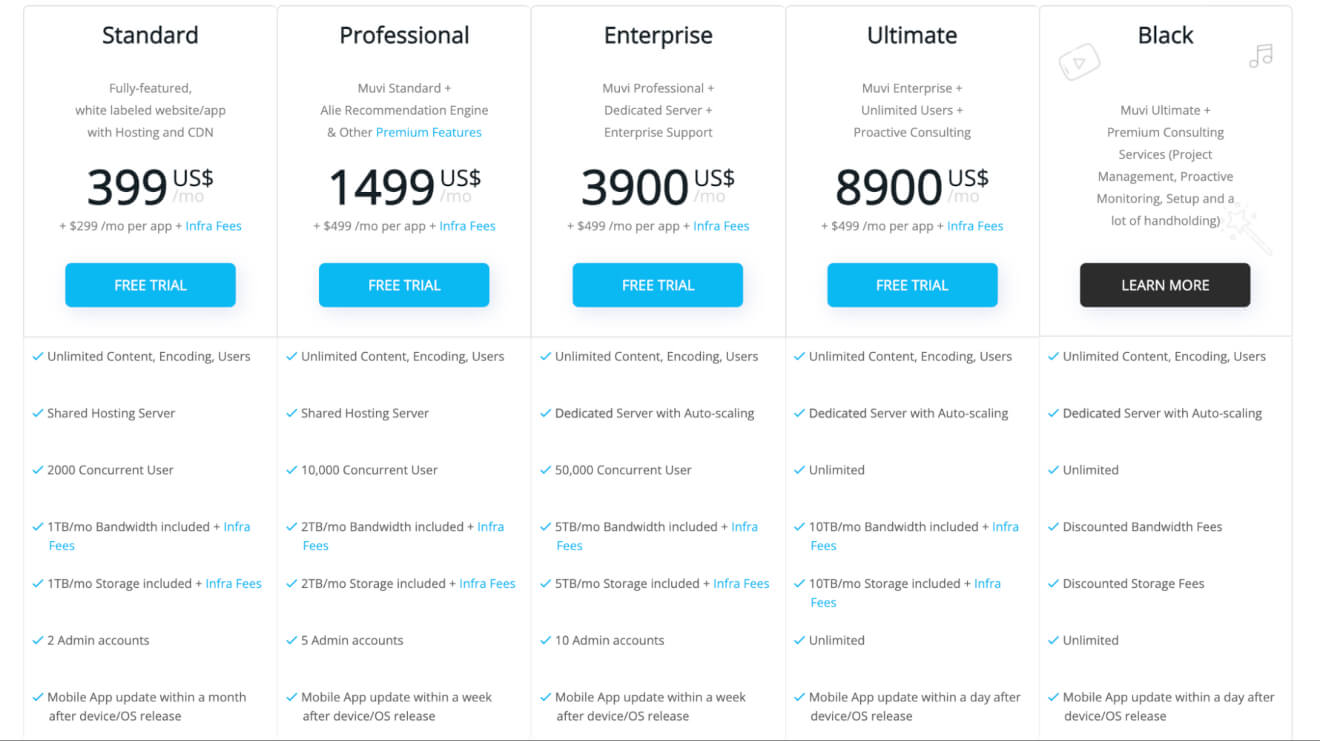 You can have up to 2,000 users at one time, 1TB of storage, and up to 1TB of bandwidth on a shared CDN, plus you can pay for add-ons like a recommendation engine and live chat with viewers.
Moving up through the tiers, you can have more users, your bandwidth and storage increase, plus you get a hike in the monthly fees for apps.
Dedicated servers and CDNs also become available at higher pricing levels.
That's how Muvi does things, now let's take a look at a video monetization platform that can support your business without taking a huge chunk out of your bottom line.
1. Uscreen
Selling videos online is what we know best here at Uscreen.
We're an all-in-one video monetization platform where you can host your videos on your own branded website – with loads of templates and customizations available – and live stream to your fans through your site or through a mobile or TV app.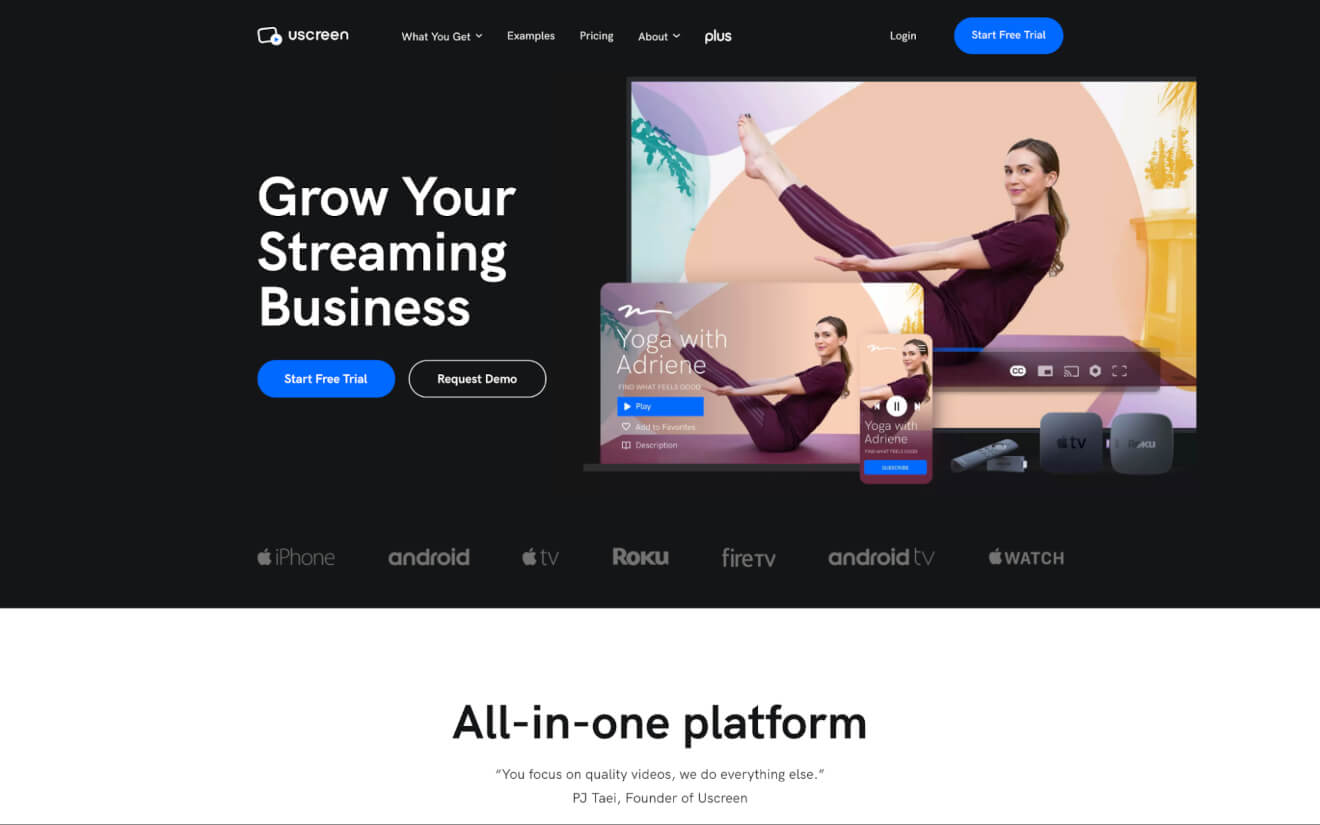 You can sell your content how you want, with subscriptions, bundles, one-off sales, and tiered pricing that lets you build your business how you and your target audience want.
We work with all kinds of businesses that monetize video content, including:
Online fitness classes.
Yoga studios.
Kids educational and entertainment content.
Classes and tutoring for all ages.
Independent film & TV content, and more.
Here's how some of our customers are smashing it with their setup.
It's simple with Uscreen.
Build, launch and manage your membership, all in one place.
Example #1: Kweli
Kweli hosts movies, documentaries, and series that celebrate black stories from around the world, from indie content to award-winning films.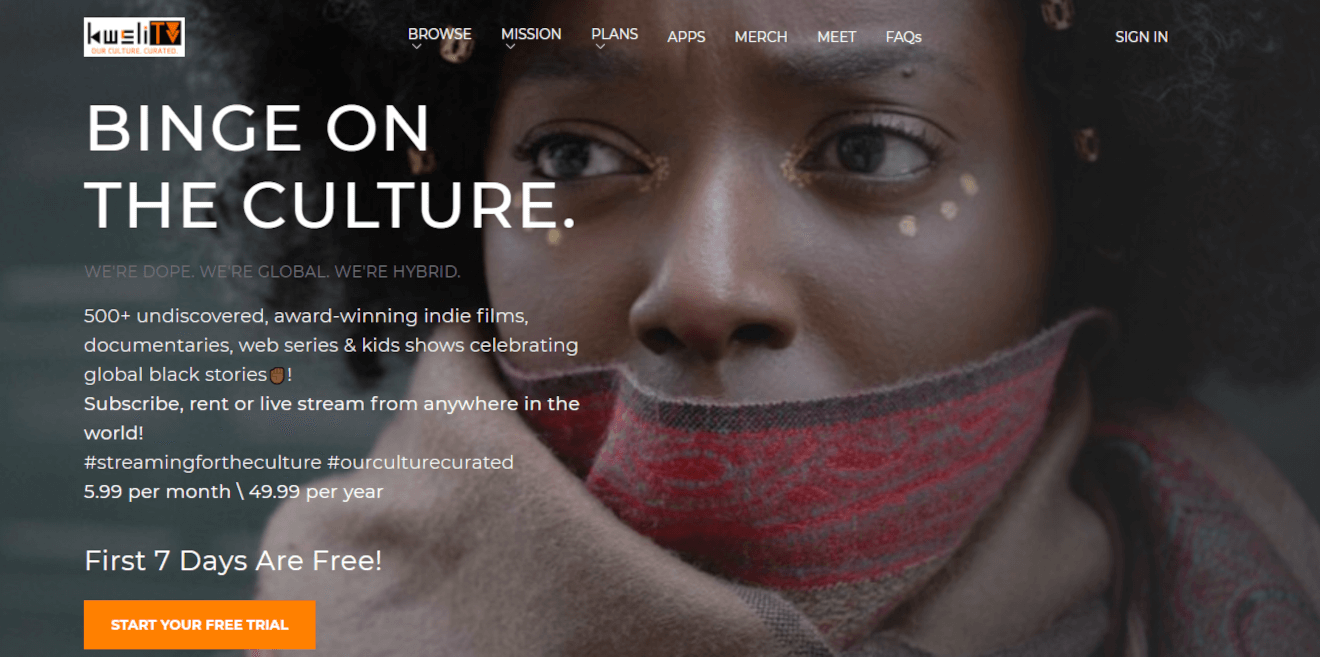 There's a broad and deep range of content available and the pricing model allows for various ways to access it.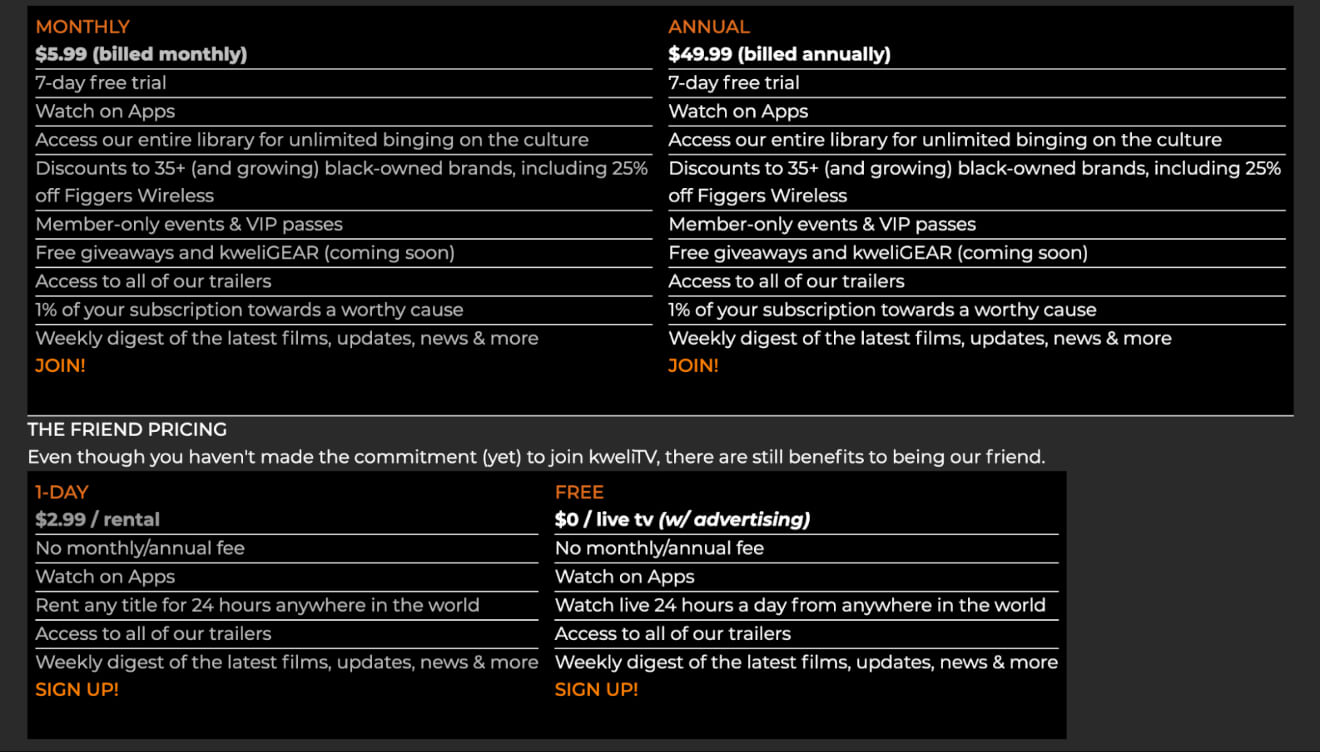 Along with a discount for signing up for the annual package, you can even choose to pay a rental fee for one-day access.
Kweli also live streams content for anyone to access and has all the videos available on the apps they've created with Uscreen, too.
Here's another way you can harness the power of our platform.
Example #2: Boothaus Live
Boothaus is a leading German nightclub that lets its global fanbase watch live streams of DJ sets as well as previously streamed and pre-recorded content.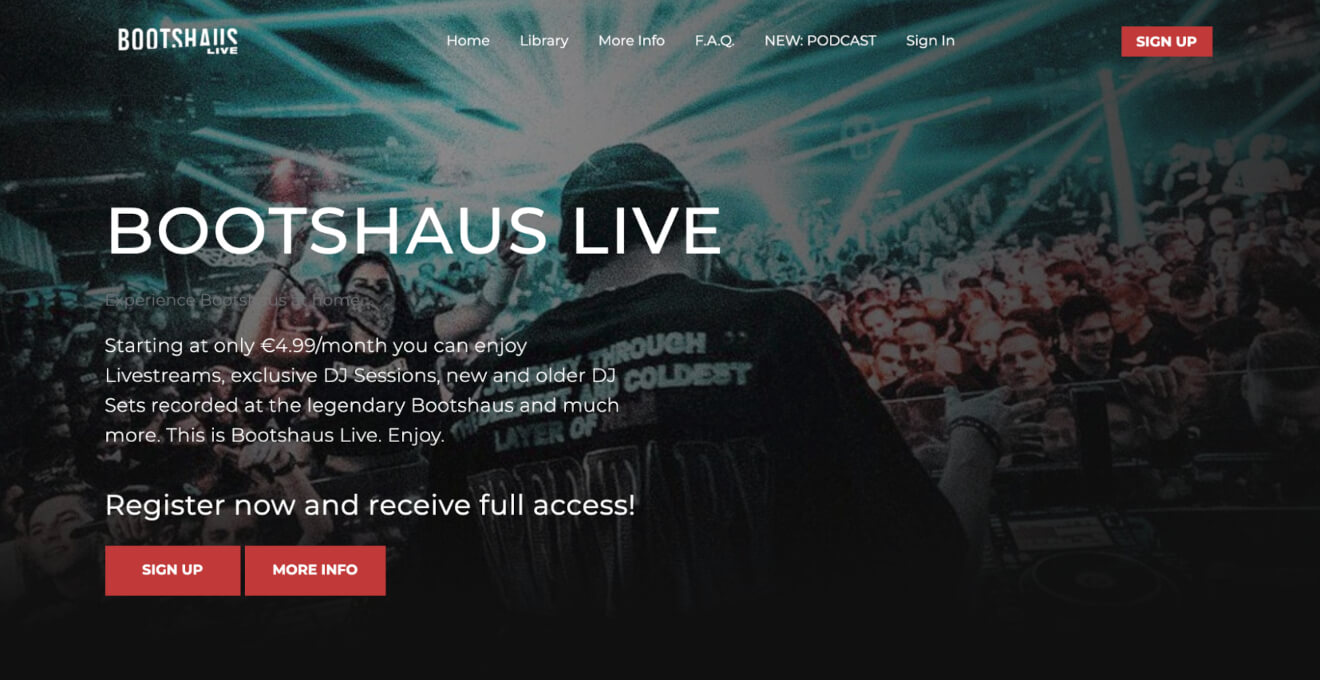 The back catalog of content is split into easy-to-filter categories, which could just as easily be used to host a TV series or a dance tutorial course.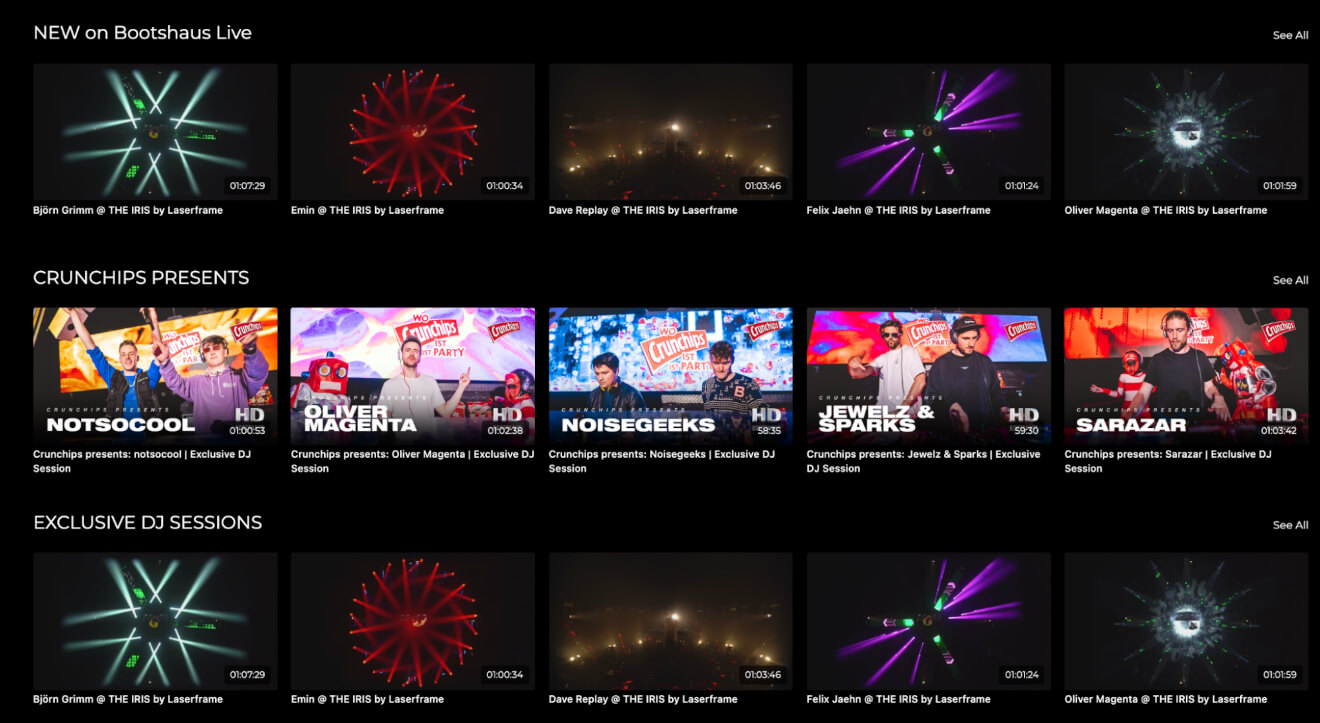 Boothaus even offers mobile and TV apps so that music-lovers can access video on the go or stream a set into their living room and feel a part of the action.
That's just a couple of ways you can monetize your videos using Uscreen, now we're going to dive into the features you could be offering.
Uscreen features
When you choose to use Uscreen for your video monetization site, you get:
Video streaming in Full HD quality with easy uploads of files up to 13GB played on an HTML5 player that's fully customizable.
Screen-in-screen viewing, captioning and subtitles, and the option to add chapters and create playlists.
Your own branded website and domain that you create with a drag and drop builder using a range of templates.
Live streaming with live chat, countdowns, and mobile notifications to your users to ensure you engage your audience.
Monetization through tiered memberships, rentals, bundled sales (to sell training and courses for example), and freemium content options.
Payment processing through Stripe, PayPal, Authorize.net, or Uscreen's own payment gateway with fast payouts to keep the revenue flowing.
Marketing tools like upsells, down sells, coupons, discounts, "try it again for free", free trials, and abandoned cart sequences.
The data and tools you need to run an affiliate marketing program with your loyal customers and share revenue with content owners.
Shoppable videos that let you add an in-video product link so your viewers can click directly from your video to your eCommerce store or on your affiliate link and make a purchase.
Video analytics about your users and your content so you can learn what engages your audience and how to improve their video experience.
Full ownership over your members' data including their email addresses so you can contact them directly with your email marketing campaigns.
Integrations with the rest of your marketing and sales technology stack including Google Analytics, Mailchimp, and Zapier so you can create automations.
That's a whole lot of functionality, here's what our pricing plans look like.
Uscreen pricing
Looking to learn more about the plans and pricing that Uscreen offers? Check out our pricing page to find a plan that works for you!
Uscreen's all-in-one platform has helped more than 11,000 creators, brands, and entrepreneurs monetize their content online and build a successful video business.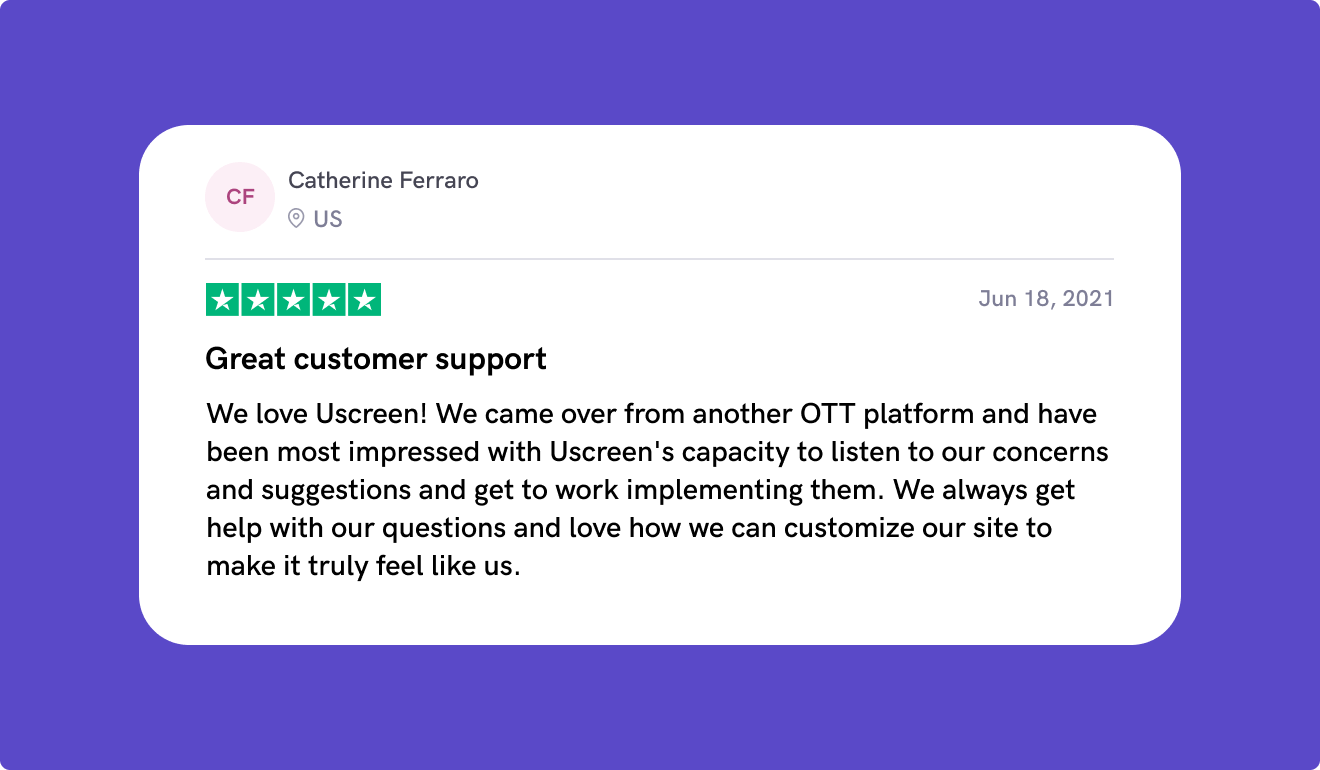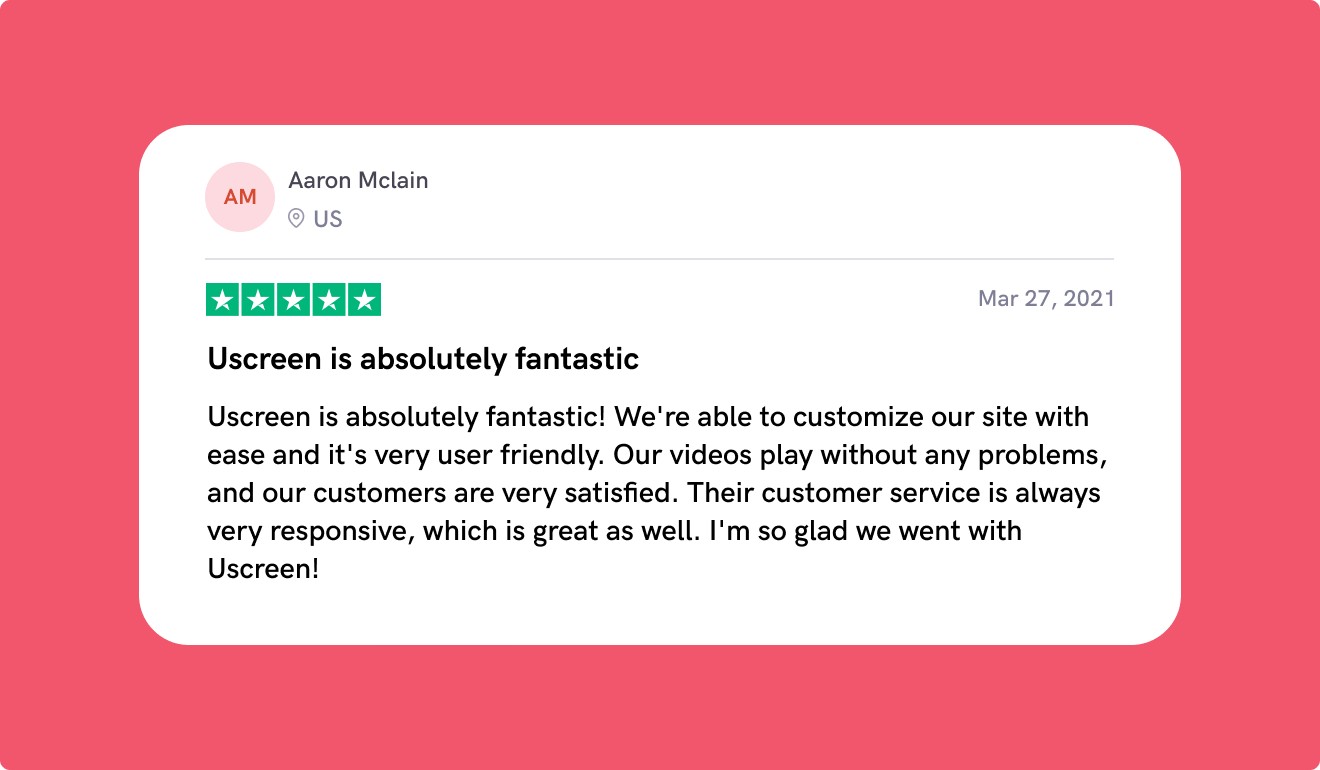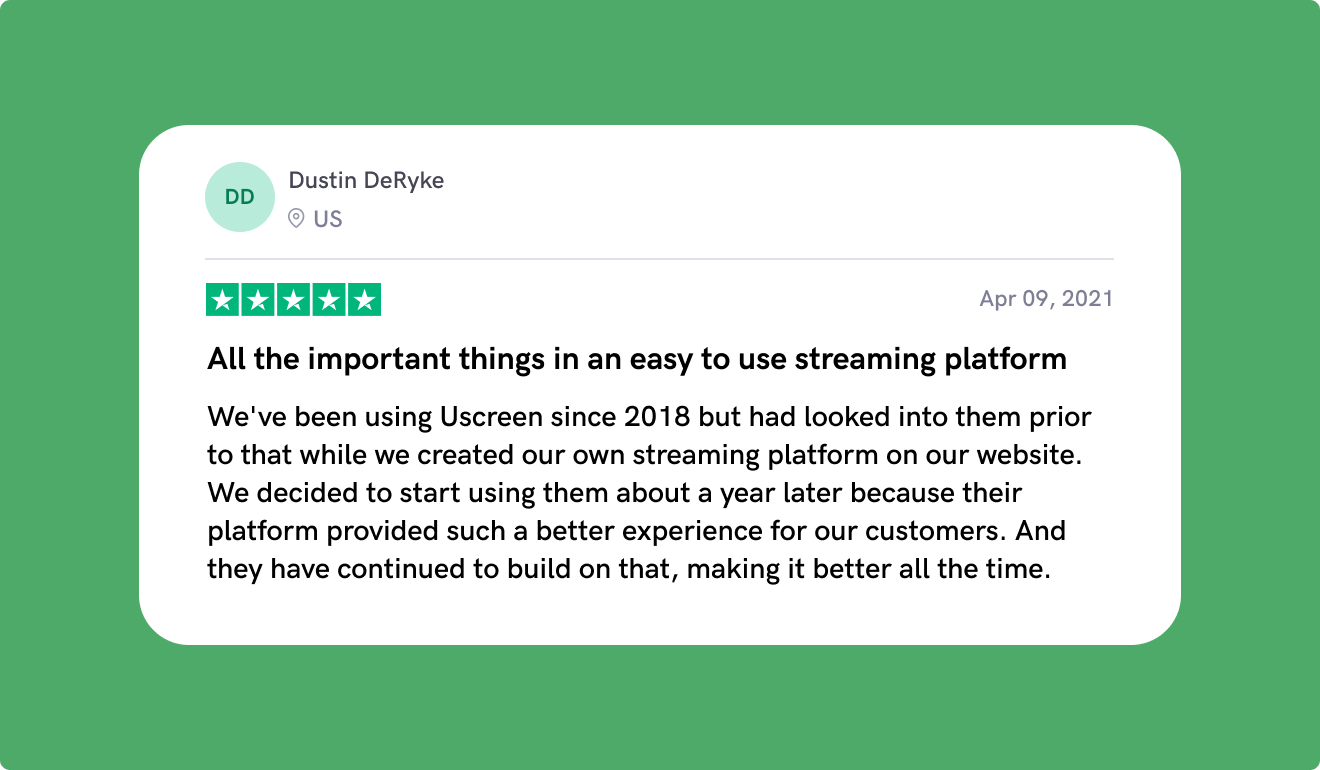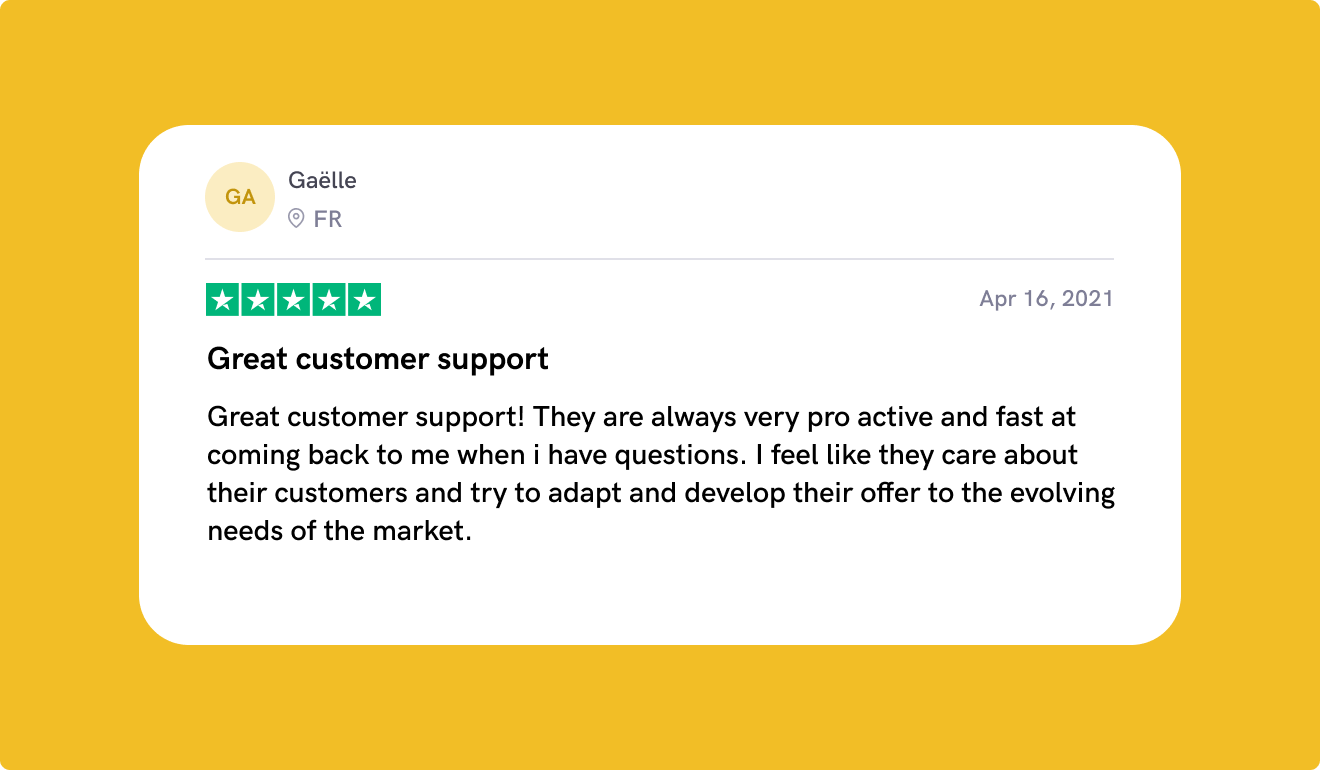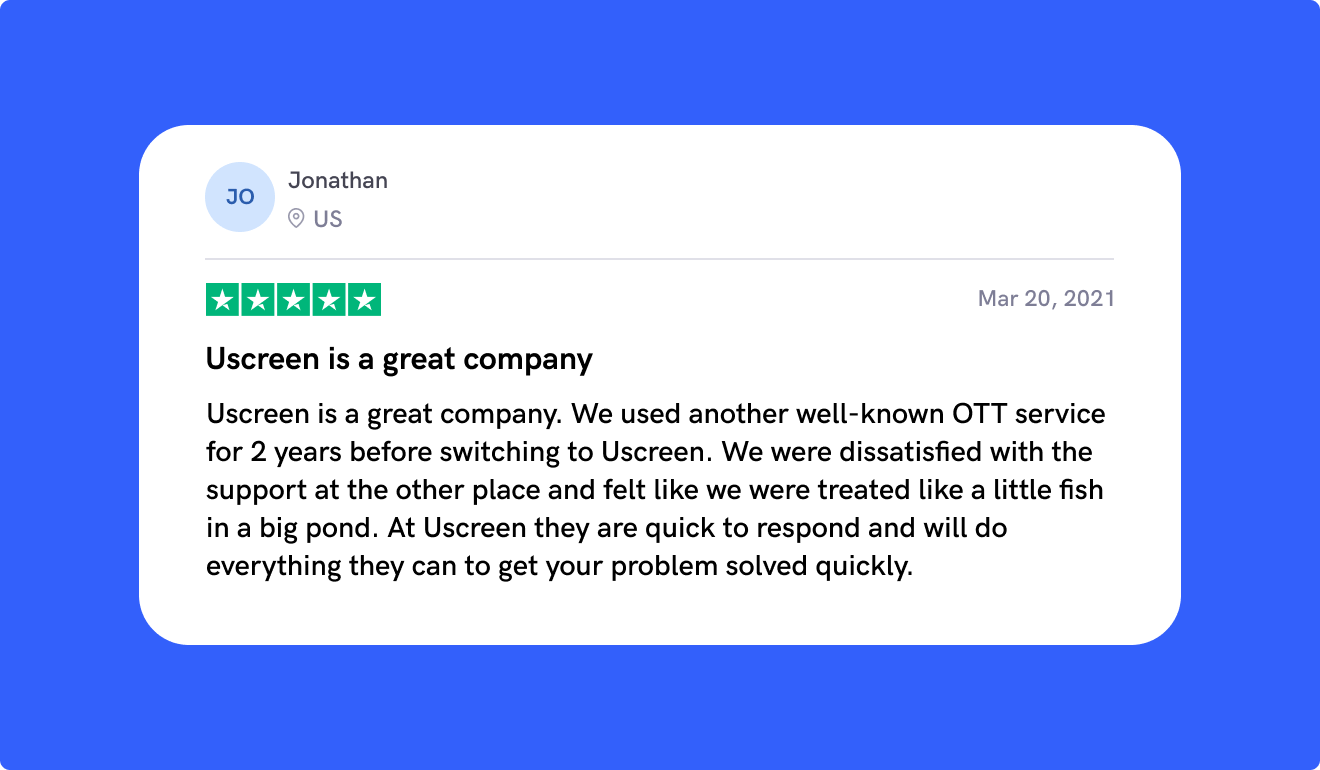 Source: TrustPilot
That's all that's awesome about us, what are the other Muvi alternatives on the market?
It's simple with Uscreen.
Build, launch and manage your membership, all in one place.
2. Kaltura
Kaltura is an enterprise-level video solution for all your brand's events, eLearning, and video-on-demand (VOD) needs.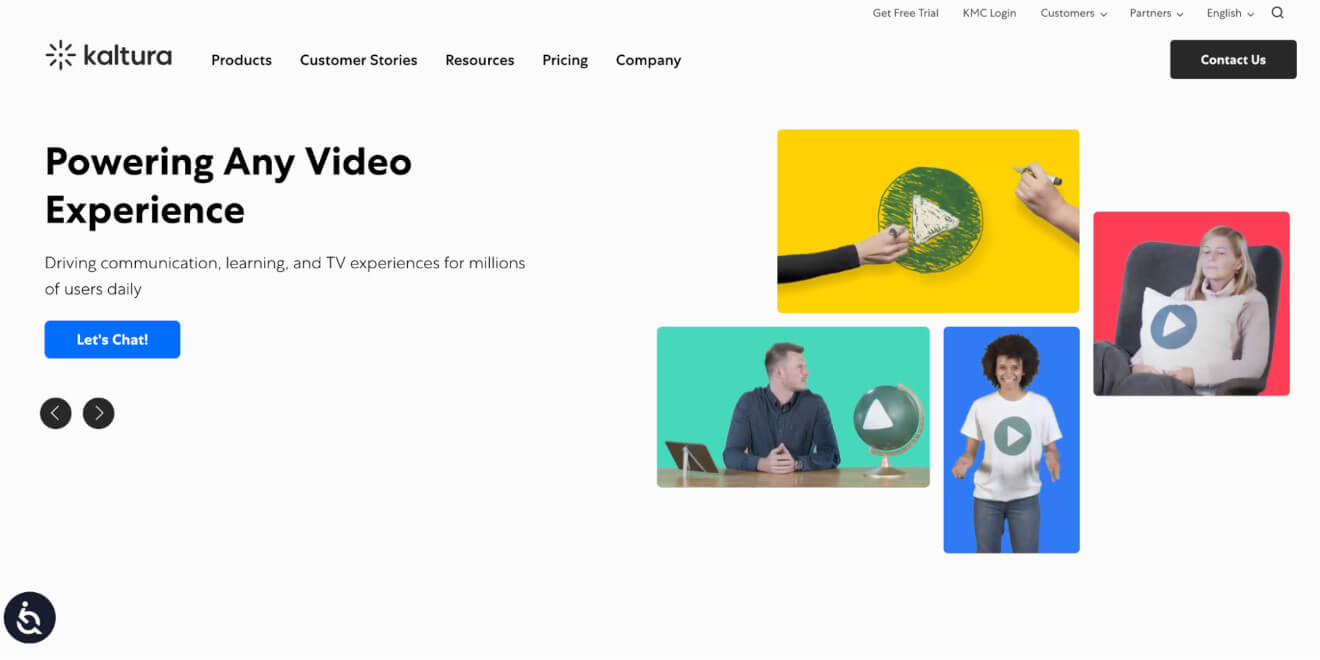 There is a range of different products on offer, but we're going to focus on the tools they offer for your video monetization needs.
Kaltura features
If you opt to use Kaltura as your video platform provider, you can:
Upload videos for streaming in 1080p quality with unlimited file sizes.
Stream your videos on a custom HTML5 player or use the open source framework to create your own player.
Integrate the Kaltura cloud TV player into your own website.
Use it as a live streaming platform for events.
Monetize your content through some of the most popular ad servers, pay-per-view (PPV), or SVOD models.
Integrate your payment gateway of choice to take payment for your content that's behind a paywall.
Add data to boost your video SEO such as tags and metadata.
Use your own website to increase your monetization options with eCommerce.
Access detailed video analytics to learn about your audience behavior and how your videos are performing.
View and download your subscriber list so you can contact them for marketing your other products.
Use an API to create integrations with your other marketing and analytic tools.
Let's see how much this costs.
Kaltura pricing
When we recently checked the website, Kaltura didn't offer any specific pricing information for these services.
You can get a 30-day free trial but for a quote, you'll need to contact them directly.
Another video streaming solution is next.
3. JW Player
The video streaming platform JW Player targets large businesses and content creators.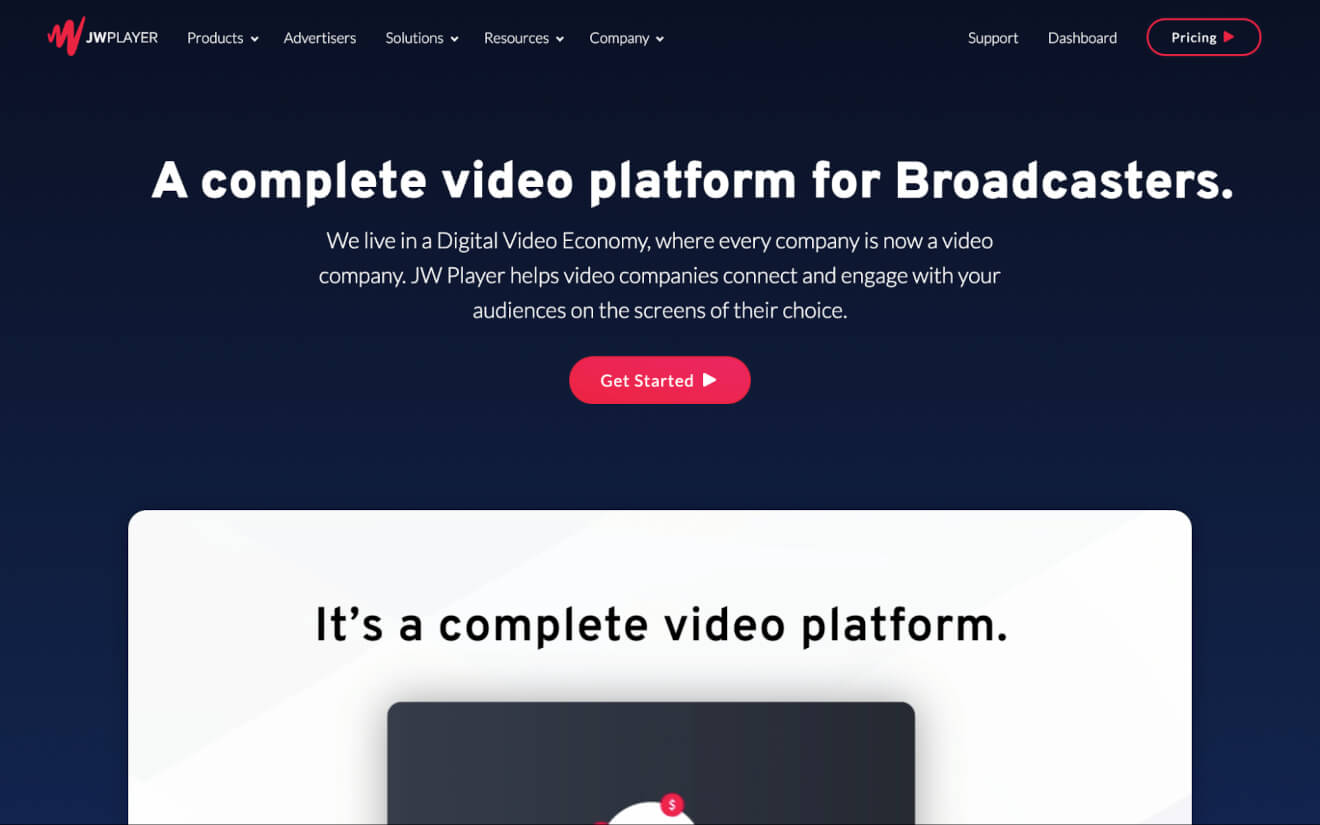 They primarily focus on video monetization through advertising, so it's suited to organizations with very large audiences.
Here are the features that the platform offers.
JW Player features
Companies that use JW Player get:
Video hosting in 1080p resolution with a maximum file size of 25 GB each, with chaptering and captioning capabilities.
A custom video player that can be coded with HTML plus a range of skins to easily change the player's appearance.
Videos that can be embedded on your own website or shared by your fans on their social media pages.
Live streaming to your website or mobile apps for up to 12 hours at a time.
Monetization features, including AVOD and support for SVOD including video recommendations to keep viewers engaged for longer.
SEO support with tags and metadata and built-in player optimization.
Deep analytics that covers users and videos so you can optimize content and improve ad revenue.
Pricing is next.
JW Player pricing
After an initial 30-day free trial, the Starter plan gives you a video gallery viewable with the HTML5 player and limited hosting and streaming.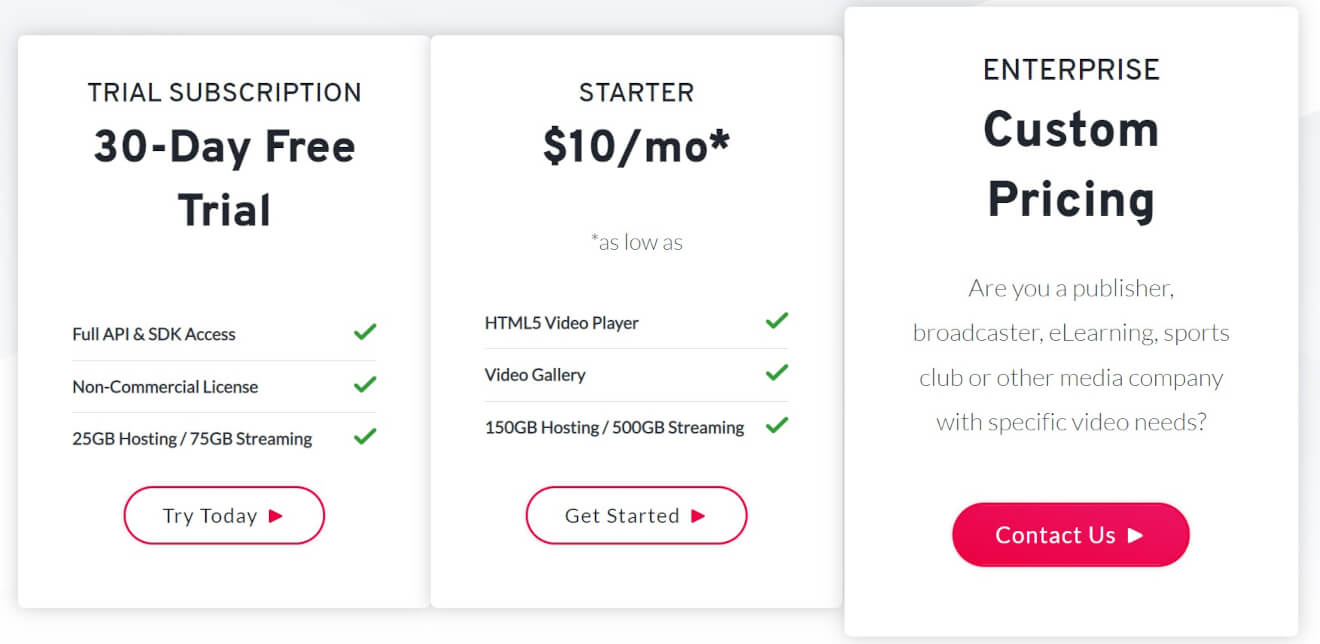 Enterprise pricing will require you to fill out the contact form to discuss your options.
Here's a different take on a video monetization platform.
4. Mighty Networks
Mighty Networks is a platform designed for monetizing your communities and followers.
You create your own site similar to a social network and your audience pays to access your content, including videos.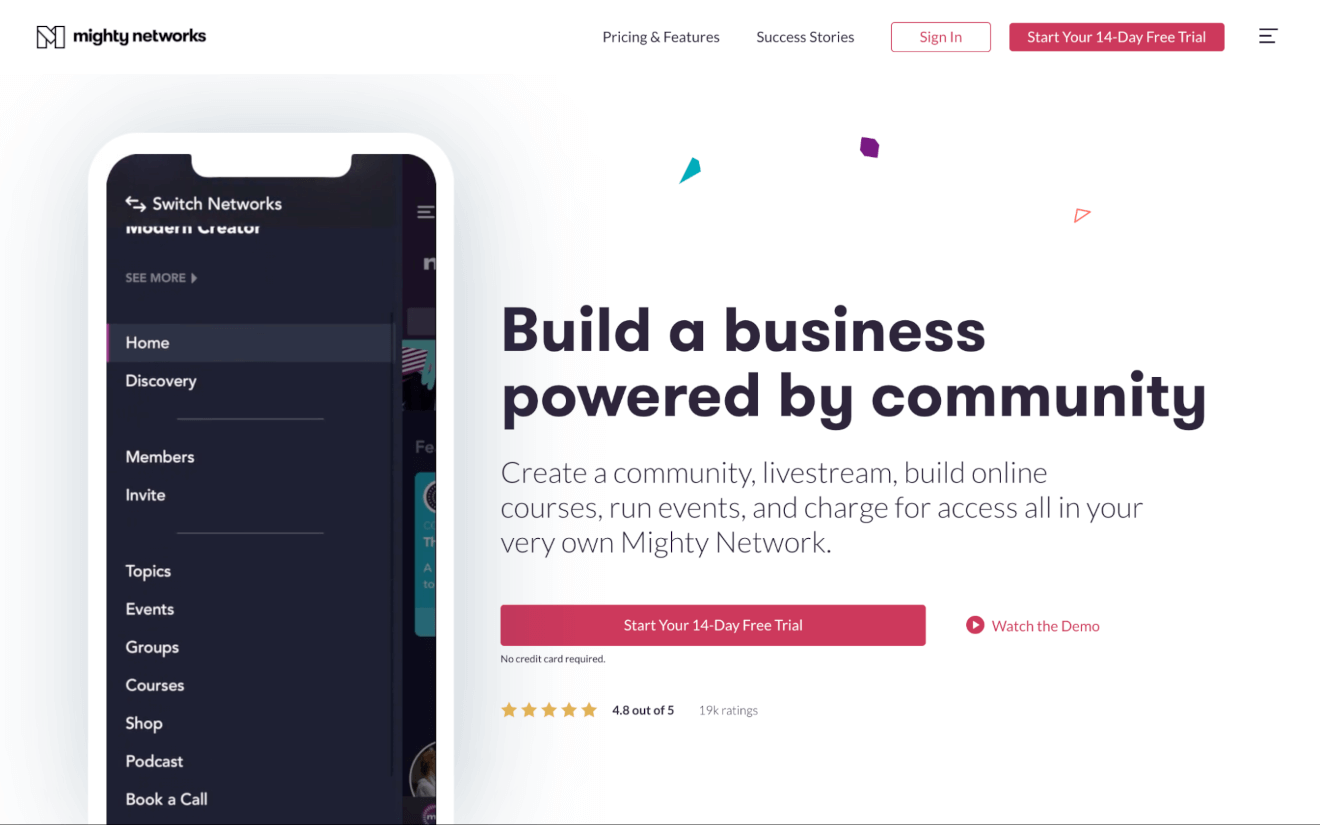 So how does Mighty Networks compare to the rest of these video streaming services?
Mighty Networks features
Using Mighty Networks means you can:
Host video in 1080p resolution with a maximum file size of 2GB, or you can embed videos from sources like Vimeo, YouTube, or Facebook.
Create a brandable website and app for iOS and Android.
Live stream content like classes and events.
Sell single-level or tiered subscriptions to your network, or sell one-off bundles.
Take payments through Stripe.
Offer free trials or a free tier on your subscription tiers.
Run an Ambassador Program where your members get recognized (but not financially rewarded) for inviting people to your membership site.
Have your homepage indexed so you have the opportunity to appear on search engines.
Run audio streaming, upload images, and other rich media content that can be sold for a one-off fee or as part of your membership price.
View analytics about your members and your posts.
Download the full list of your members and their email addresses.
Integrate Zappier so you can create automations in your network.
Heading over to the money.
Mighty Networks pricing
There are 3 pricing options with Mighty Networks, the lowest being The Community Plan which lets you create your network, live stream for up to 2 hours, and create a mobile app.

The Business Plan adds on the ability to monetize your courses and has 4 hours of streaming and higher storage limits.
For more features with the Mighty Pro plan, you'll need to take a demo.
Our 5th video management and monetization platform is next.
5. Brightcove
Brightcove is a long-established SaaS business that offers video hosting and content management for everything from marketing videos to corporate communications.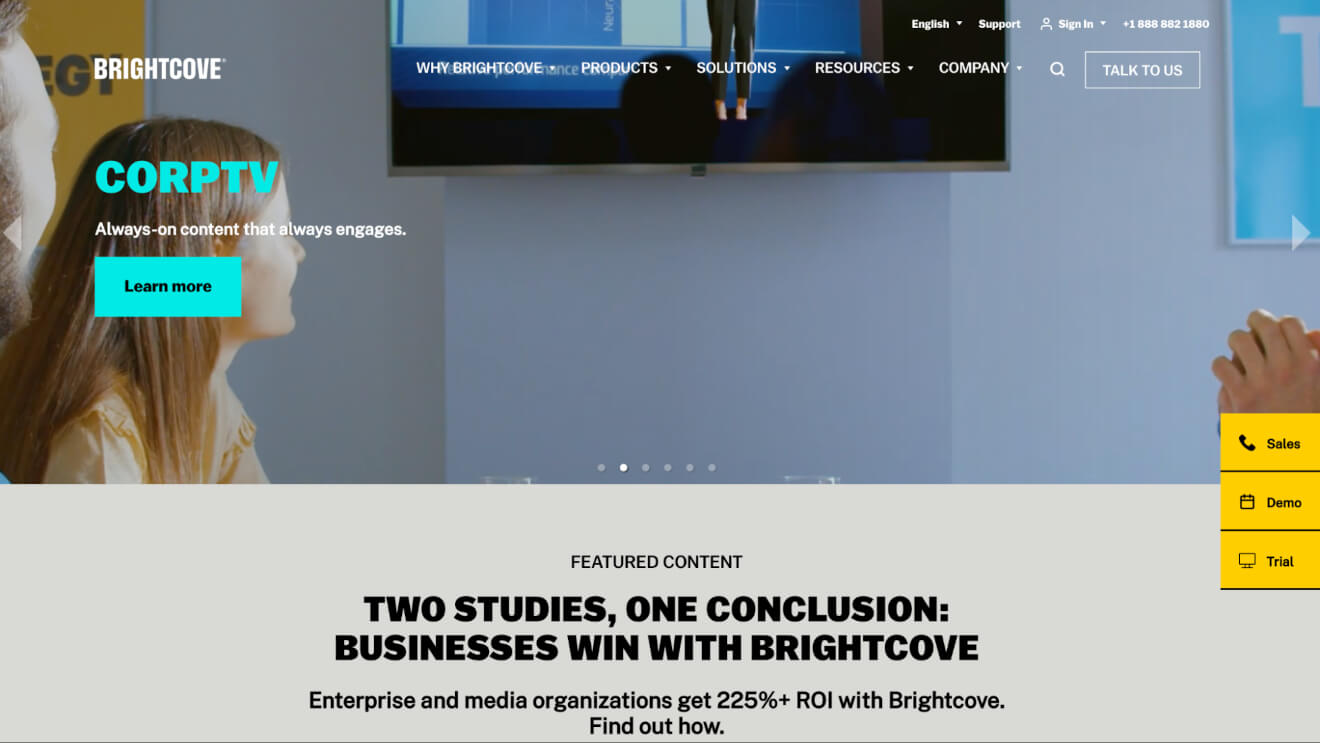 Since you're here to look at platforms that help you monetize your videos, we're going to hone in on those features specifically.
Here's what you get.
Brightcove features
Businesses hosting with Brightcove OTT can:
Host video in up to 1080p quality with no file size limits.
Create branded video galleries and a branded video player for your content, or embed your videos on your own website.
Live stream your events to your audience as part of Brightcove Live, a different product to the OTT solution.
Monetize your content through AVOD, SVOD, or TVOD models.
Use discounts and free trials to grow your audience.
Take payments using a Stripe integration through the App Marketplace.
Create video sitemaps and site schema to improve your video and site SEO.
Use eCommerce integrations to monetize other content through Brightcove.
View analytics and data about video performance and the actions of each viewer watching your content.
Integrate a range of tools you can find in the Brightcove Marketplace for analytics, marketing, your CRM, digital rights management (DRM), and more.
We're looking at the pricing structure, next.
Brightcove pricing
Truth is, finding Brightcove's pricing can be a bit tricky. You'll have to reach out to a representative to get a quote.
That's all the video monetization platforms to consider as Muvi alternatives, so let's bring this to a close.
Now Over to You
If you're keen to find options aside from Muvi or just starting to look for the best way to monetize your video content, there are plenty of options out there.
From enterprise-level solutions that focus on monetizing content through advertising like JW Player, to creating your own custom video website to sell subscriptions and PPV content – we've shown you some of the best Muvi alternatives available.
Are you looking to create a new video-based business or migrate your current site to a new, supportive provider?
Check out what Uscreen has to offer with a 2-week free trial and see how we can make your video business shine.
It's simple with Uscreen.
Build, launch and manage your membership, all in one place.