OTT Advertising Definition
OTT advertising stands for over-the-top advertising and is advertisements that are delivered over the internet through streaming services.
You've likely experienced over-the-top (OTT) advertising more than a couple of times in your life.
OTT ads are the advertisements you get when consuming content on a streaming service, be it a show on Hulu or a newly released movie on Amazon Prime Video.
If you're one of the many people who have ditched cable TV and started to use video-on-demand (VOD) platforms to watch content online, you've probably seen these ads.
But what if we told you that OTT advertising can be great for content creators like you, too?
In this guide, we'll go over everything you need to know about OTT advertising, including the benefits, challenges, and costs that come with it.
Let's get started.
What Is OTT Advertising?
OTT advertising is when ads are shown when you're using a VOD service, be it subscription on-demand, ad-based video on demand, transactional video on demand, or premium video on demand.
OTT advertising can often be confused with online video (OLV) advertising. Both fall under the video advertising umbrella, but OLV ads are delivered on video content on websites. Whereas, OTT ads are delivered through streaming devices.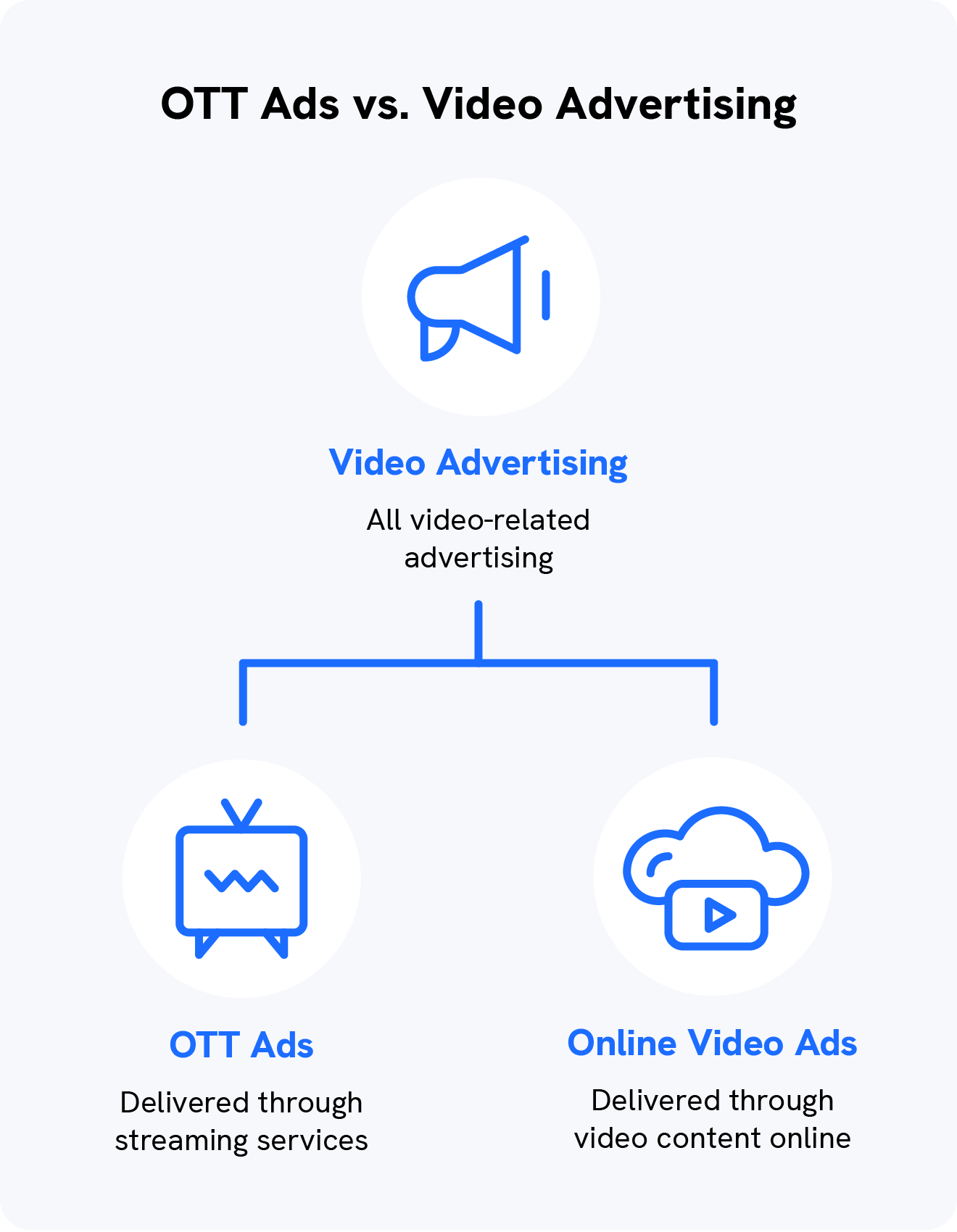 Before we dive into the world of OTT advertising, let's go over what OTT media is.
OTT stems from the term "over-the-top," referring to internet-based media services that bypass traditional broadcast, cable, or satellite services to deliver content directly to viewers.

Once more, a streaming television service is among the most common OTT platforms, as it delivers film content through the internet. That means, when you're watching your favorite movies and shows on Netflix, Hulu, or Disney+, you're using an OTT platform.
When advertisements show up on these platforms, that is OTT advertising.
But there are also a couple of different ways you can stream TV, with plenty of fun acronyms for you to add to your arsenal. Let's take a look at what some of those are: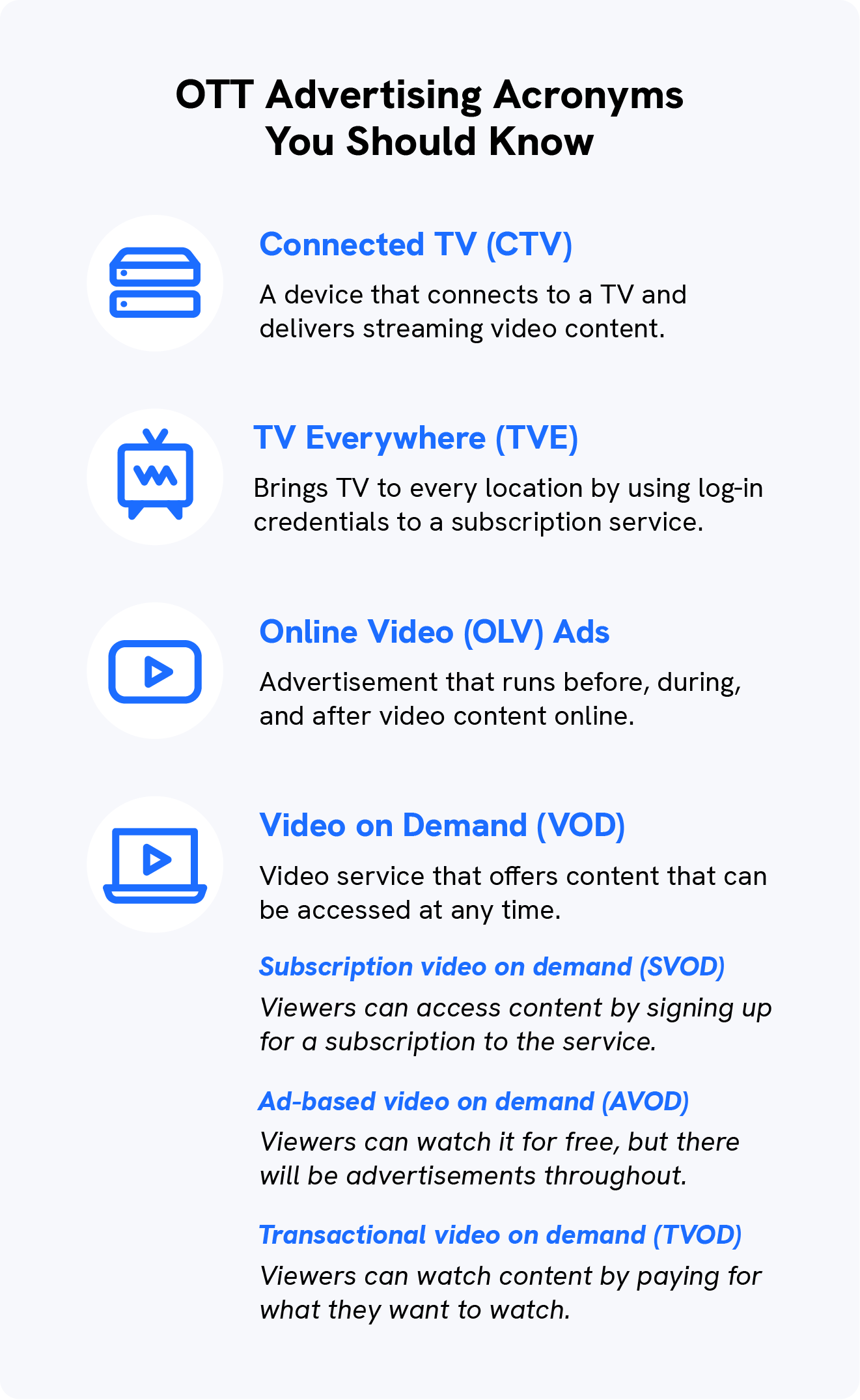 Since OTT advertisement is done through platforms online, brands and content creators get a chance to target a more specific audience. They can tailor it to people who would likely purchase their product instead of a larger audience.
It's simple with Uscreen.
Build, launch and manage your membership, all in one place.
And What Are The Benefits Of OTT Advertising?
Nowadays, consumers prefer to watch ad-supported streaming, which made OTT platforms become increasingly popular.
OTT advertising has also become more common, which brings advertisers many benefits, including that it:
Allows you to better target viewers since it lets you segment audiences based on specific metrics and interests, like locations or devices used.
Helps minimize ad spend waste since your ads will be viewed by people who are likely to be interested in your brand instead of creating ads for a broad audience.
Increases engagement since it lets you re-target ads to your audience through different channels.
Lets you measure and optimize ads, meaning you can discern which ones bring more conversions and which ones you need to optimize in future campaigns.
So, if you're a content creator and already have your own video-on-demand platform, maybe it's time to start using OTT advertising, considering its many benefits.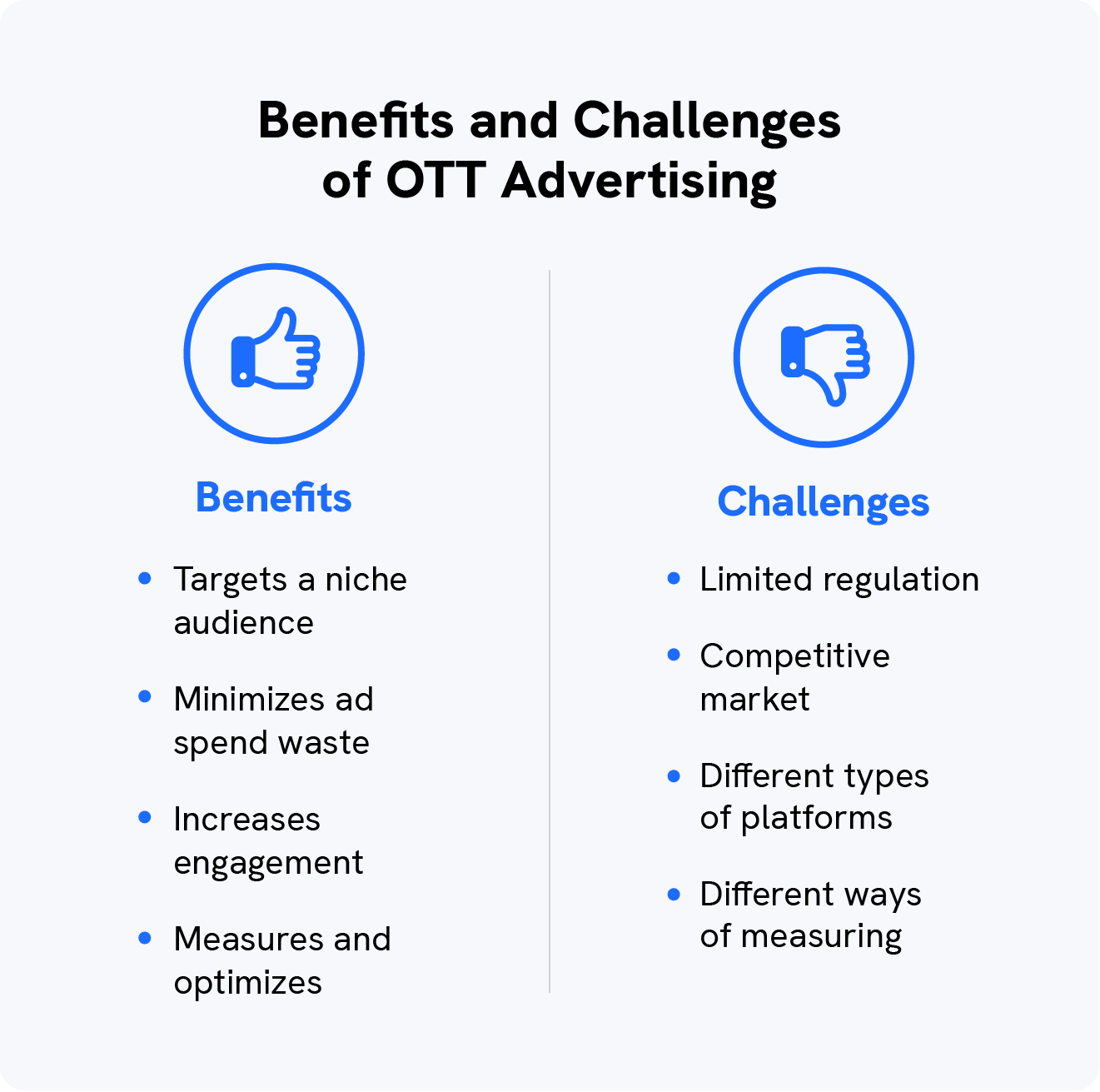 But What Are The Challenges of OTT Ads?
There are a couple of things to consider before going all-in and fully investing in OTT advertising.
OTT ads also come with a couple of challenges, including:
Limited regulation: the low regulation of OTT ads can lead to poor quality ads and sometimes even ad fraud.
Competitive: smaller brands might find it difficult to compete against bigger brands with larger advertising budgets.
Different OTT platforms: with so many OTT platforms, each of them will have a different way of delivering content, and some apps will have less functionality.
Different performance measurements: each OTT platform also has a different way of measuring how ads are performing, which makes it difficult to create one standard report for all platforms.
Although these are some of the challenges of OTT ads, as OTT platforms evolve, so will OTT advertising capabilities, which will bring improvements and new features.
OK, And What Is The Cost of OTT Advertising?
The cost of OTT advertising will depend on the pricing model and type of campaign you choose to go for.
Typically, there are 2 ways to buy OTT ads: guaranteed insertion orders (IO) and data-driven programmatic buys.
Advertisers and creators can buy OTT ads through guaranteed IO, which gives you guaranteed impressions. So, you can buy them with a set price or set a number of impressions and the prices are based on reach and frequency.
A data-driven programmatic process is priced based on real-time bidding.
On top of choosing which buying method is right for you, you'll also need to consider pricing models for OTT advertising.
Here is how OTT ads can be priced:
Cost per impression (CPM): you pay based on how many thousand impressions your ad receives. They typically cost $30 to $40 per thousand impressions.
Cost per view (CPV): you pay based on how many times your video was viewed. Pricing varies.
Cost per completed view (CPCV): you pay only for ads that were played the whole way through. Pricing varies.
Cost per viewable impression (VCPM): you pay based on when the ads were viewed for at least 2 seconds. Pricing varies.
Cost per house (CPH): you pay based on the total time of hours your OTT ads were watched. Can also be the cost per second (CPS) watched. Pricing varies.
Cost per interaction (CPE): you pay based on whether people clicked on your ad. Pricing varies.
Finally, if you want to keep your OTT ad costs low, there are a couple of things you can do:
Compare platforms' ad pricing.
Look for short duration ads, which cost less.
Narrow down your audience.
Analyze which ads work better than others.
Limit the number of times your ads are shown.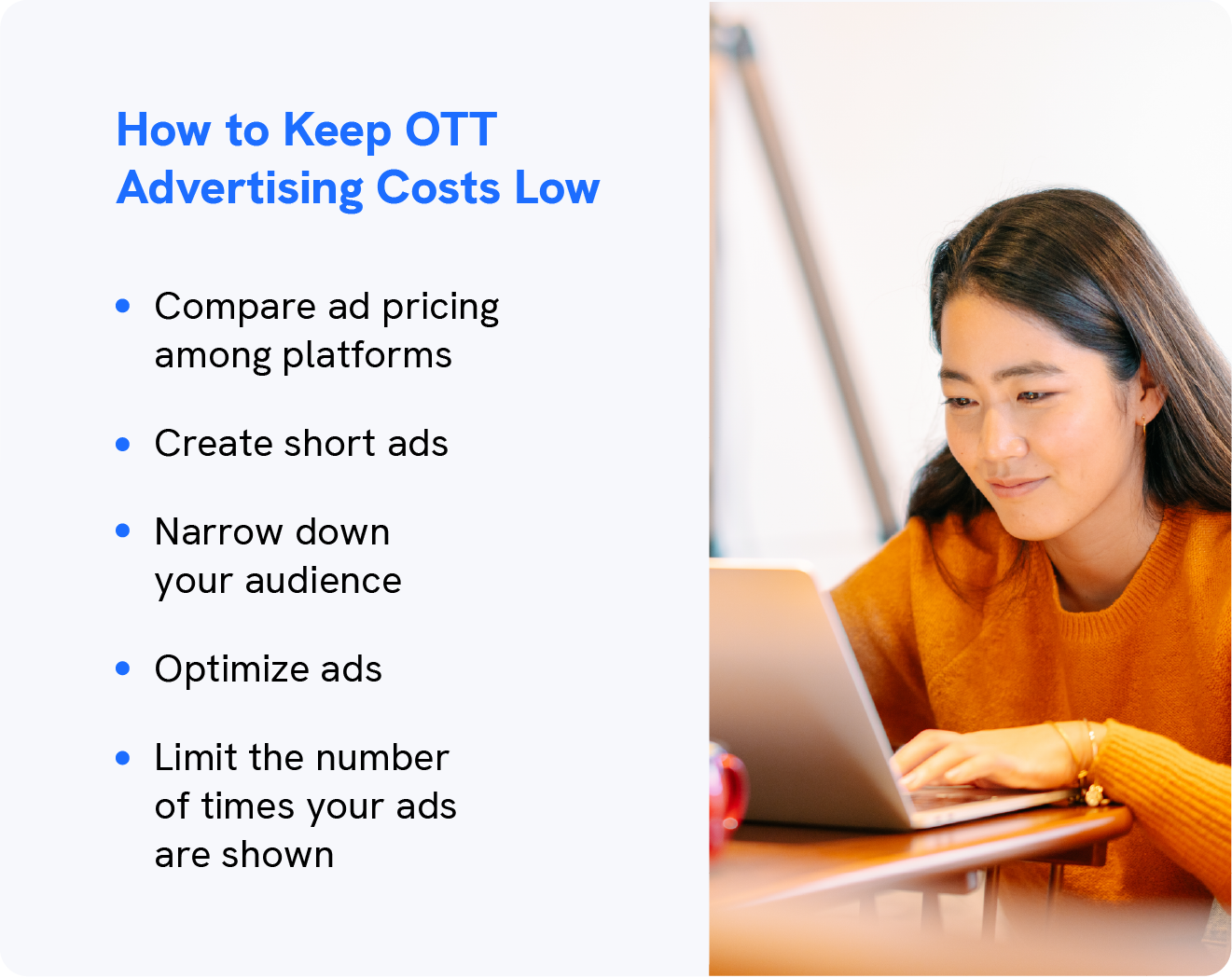 Now, How Do You Create OTT Ads?
You can start creating OTT advertising in a couple of different ways:
Publisher direct: purchase ad space straight from the OTT streaming platform. Examples: YouTube and Hulu.
Platform direct: purchase ad space from the provider of the OTT device. Examples: Roku and Amazon Fire TV.
Programmatic: purchase ad space with automation through a demand-side platform. Examples: DoubleClick Bid Manager and Dataxu.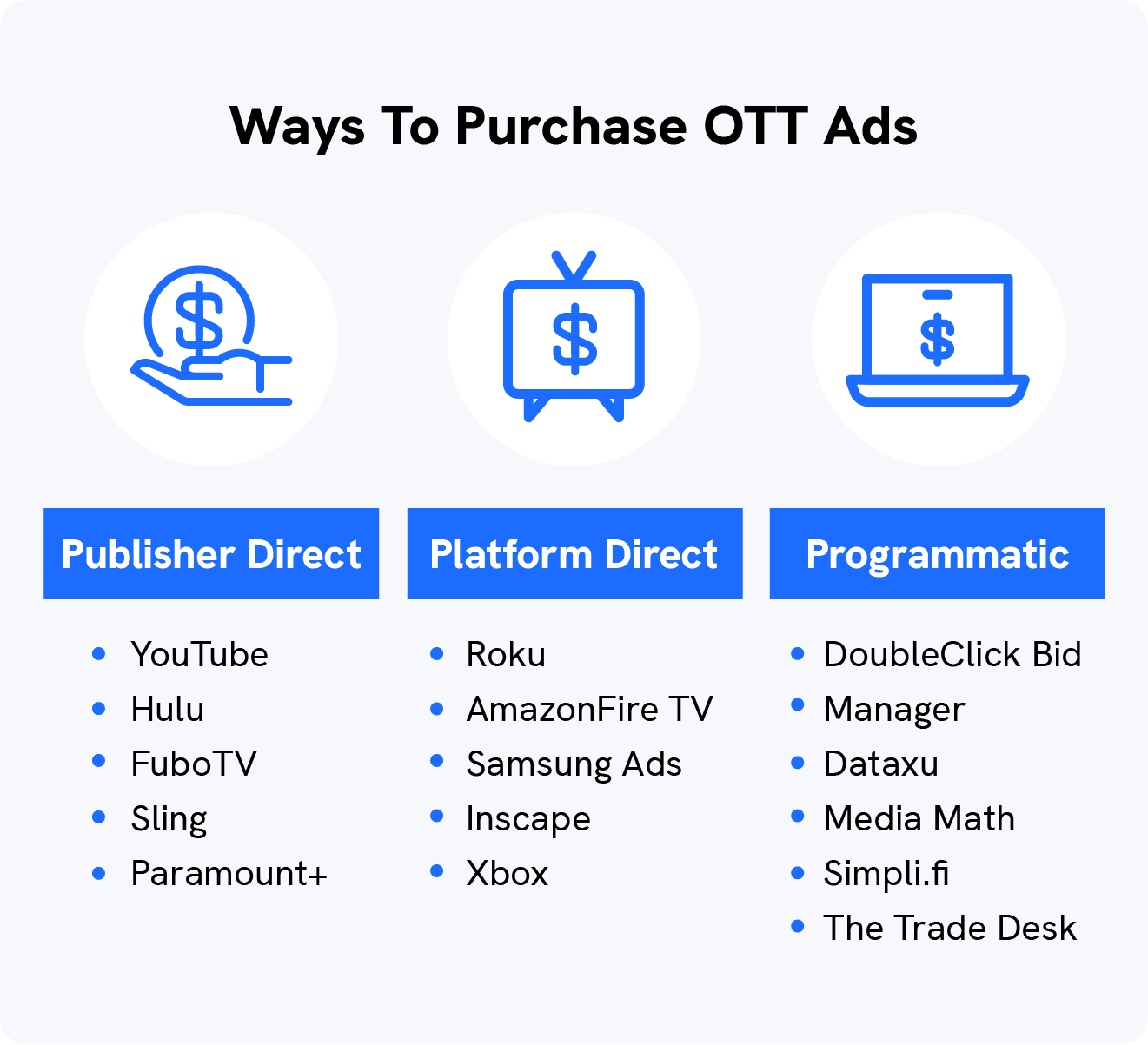 And if you want to be successful with OTT advertising, there are a couple of best practices to follow:
Format it for multiple devices: create advertisements considering they will show on many different devices, from phones to TVs.
Target your audience: tailoring your ads to your audience and targeting them will increase your chances of high engagement.
Be relatable: create ads that will make viewers want to watch it, so be creative and relatable.
Keep it short: for non-skippable ads, keep it short (15-30 seconds), so viewers will watch the whole thing instead of looking at their phone when the ad is playing.
Test and optimize: regularly check the performance of your ads and see if they are doing well or if they need some tweaking.
Make sure your OTT ads are appropriate and current to your audience. Keep up with the trends and what your audience likes when creating the best ad to attract them.
And What About The Future of OTT Advertising
Wondering if it's worth investing in OTT advertising now? Statistics show that it's indeed a trending advertising tactic, since OTT ad revenue is expected to reach $119 billion by 2023.
With many people choosing streaming services over regular TV, OTT advertising will become even bigger.
Since services that offer OTT ads allow subscriptions and pay-per-view services, this gives advertisers a chance to target the right audience (the one that's watching content similar to their brand).
And with the growth of these services, advertisers will have better tools on how to reach the right audience, which will surely come with different advertising opportunities.
Wrapping It Up
It seems like everyone likes to OTT and chill every once in a while, so now might be the best time to start OTT advertising.
If you want to create your own OTT ad and start making money from your content online, we'll show you everything you need to know, just book a demo with us.
It's simple with Uscreen.
Build, launch and manage your membership, all in one place.
OTT Advertising FAQ
Still have questions about OTT advertising? We have answers.
What Does OTT Stand For?
OTT stands for over-the-top, referring to internet-based media services that bypass traditional broadcast, cable, or satellite services to deliver content directly to viewers. It can be applied to OTT media services and advertising that plays on them, meaning OTT advertisements.
Where Can You Use OTT Ads?
OTT advertising can be shown on many different platforms, from connected TV devices, such as Roku and Amazon Fire TV, to streaming services like Hulu and YouTube TV. 

And the way the OTT ad is displayed will depend on the platform being used. They can be: 

-Skippable or non-skippable.
-Shown before, during, and after the video.
-Displayed on the menu pages and sidebars.
Why Is OTT Advertising Trending?
OTT advertising and media services are trending up as people switch from using cable TV to streaming services. 

And brands and content creators favor OTT advertising because it can provide a more targeted and niche audience, increasing engagement and minimizing ad spend waste.

How Is OTT different from IPTV?
Both OTT content and internet protocol television (IPTV) deliver content through the internet. But OTT content goes through an open network and IPTV uses a private network. 

Usually, IPTV is provided by an internet provider, is more controllable, and usually needs a provided box. 

OTT, on the other hand, is more affordable and doesn't require any specific equipment aside from a device, such as your phone or tablet.

How is Over the Top Advertising Delivered?
OTT advertising is delivered through streaming services and connected TV. You'll likely experience OTT advertising when using Hulu, Disney+, and even YouTube.