You're a creator with a fierce following. You've assembled a group of people who share similar interests, qualities, and core values as you.
The problem? While people are hopping into your inbox and commenting on your social media posts, there is no virtual home for your community to engage with each other. Followers have to go on a scavenger hunt to find opportunities to connect.
An online community groups people together and provides them with a safe place to talk, network, and access premium resources.
This step-by-step guide shares how to build an online community that people love, with techniques on how to monetize your community and earn more revenue for your creator business.
What is an online community?
An online community is a group of people with shared interests and values. Members communicate via email, direct messaging, or comments sections within your community area to discuss topics most interesting to them.
The benefits of starting an online community
An online community provides modern creators with four distinct benefits:
Build stronger relationships with your audience. Community members have direct interaction with you on a regular basis. This can strengthen relationships, which in turn, can increase metrics like customer lifetime value, word-of-mouth referrals, and brand awareness. It also allows you to differentiate your content and brand from other creators.
Monetize your community. Earn a living by running a paid community, securing brand sponsorships, or upselling online courses. Each can drive consistent income for your creator business.
Create a source of feedback for new ideas. Community members know your brand best and they're often invested in seeing it—and you—improve. Whether you're brainstorming new premium content or exploring potential sponsors, the people in your online community are often willing to provide free feedback in exchange for the value you give.
Decrease customer support costs. Managing support tickets is something you didn't sign up for when becoming a creator. A support community takes these mundane tasks off your plate; people can see FAQs or ask fellow members for help.
"My best tip for anyone considering starting their own online course or building an online community would be to just go for it," says Carol Ann Neil, creator of Focus With CA Neil.
"If you have a passion and something to share with others that you know will benefit them, don't let self-doubt hold you back. You never know where each new path will take you. Sure it can be scary and overwhelming at times, but it's also one of the most rewarding and exciting things you'll ever do!"
5 types of online communities
Before we dive into the step-by-step process of creating an online community, let's explore the five types of community you might want to consider:
Membership communities. A membership community gives people exclusive access to something—such as a community chat feature or premium content—in exchange for a recurring fee. The advantage of this format over any other type of online community is that it provides consistent, predictable revenue.
Social media communities. A social media community is housed on a platform like Twitter, Facebook Groups, or Reddit. They're open—and typically visible—to anyone with a social media account.
Brand communities. Brand communities are created by businesses in a bid to engage their customers and increase brand loyalty. Sephora, for example, hosts its own online community where customers can discuss beauty products, enter competitions, and post photos of their favorite looks.
Learning communities. Learning communities exist to help people learn new skills. Educational facilities like schools, colleges, or universities often use this type of community to encourage students to keep learning. The subreddit /r/Piano is an example of a learning community.
Event communities. Event communities bring people together who are attending a specific event—be that online or offline. HubSpot's online community is an example of this. The brand launches INBOUND, a subsection on its community forum, just before the INBOUND conference.
How to build an online community
Define a shared interest and core values
Choose a format for your community
Decide on a price point
Pick a community platform
Customize the member experience
Create community guidelines
From thinking of your idea to building the foundations, let's explore how to start an online community from the ground up.
1. Define a shared interest and core values
An online community is a place for people with common interests and values to come together. A solid understanding of themes and topics is the starting point because it gives all members a strong sense of belonging.
Define who you're serving by identifying the three Ts:
Trouble: What pain point does your community solve for your target audience?
Traits: What characteristics do your ideal members share?
Transformation: What is your ideal member's end goal and how can you empower them to reach it?
Prolific creator, Jay Clouse, says a lack of purpose was a challenge in the early days of building The Lab. He says: "I didn't really have a clear purpose for the community other than "a place for like minded people." This is true, but it's so common that it doesn't really mean anything anymore.
"Now, I say The Lab is for professional creators to experiment and grow together. We literally share experiments in the community where we break down specific approaches to problems, our hypotheses, and the results."
Jay adds: "It's truly fantastic—members get the benefit of learning from the experiments of OTHERS making their own experiments more effective. So, next time, I'd be more specific in both who this community is for and what this community will do/provide for that person."
2. Choose a format for your community
The ideal format depends on the type of online community you're creating. The one you decide on isn't cemented in stone, but it helps create the vision for your community.
Event communities, for example, might be best suited to a social media group that reactivates itself each year when the event rolls around. In this case, members have clear expectations—they should only plan to participate in the community once per year.
"Planning ahead is key! When building my first community, I didn't take into consideration how busy I'd be in those first few months. Now, I'm able to prepare in advance and set myself up for success (while saving time) doing things like mapping out the member experience, creating a launch-specific content calendar, and putting together onboarding materials for members." —Adaire Smithwick, Community Manager at Uscreen
Creators looking to monetize their content might be better choosing a membership community format that provides members with educational or inspirational content.
In this case, you know how much content needs to be produced over the year. Members also understand exactly what they're signing up for, how often to check back in, and how they can extract value from the community.
3. Decide on a price point
Online communities can be free or paid.
If you're undecided on which route to take, start with a free community. This model is best for new creators who are just starting to establish their audience, or prefer to monetize in other ways—such as brand sponsorships, affiliate deals, or selling digital products.
Paid communities, however, are ideal for creators who want stable monthly revenue. Payment can be a one-time or recurring fee. We take a blended approach at Peak Freelance. We offer a free Slack community for freelance writers. Our paid community, which costs $49/month, offers premium content—including courses and templates—alongside the Slack group.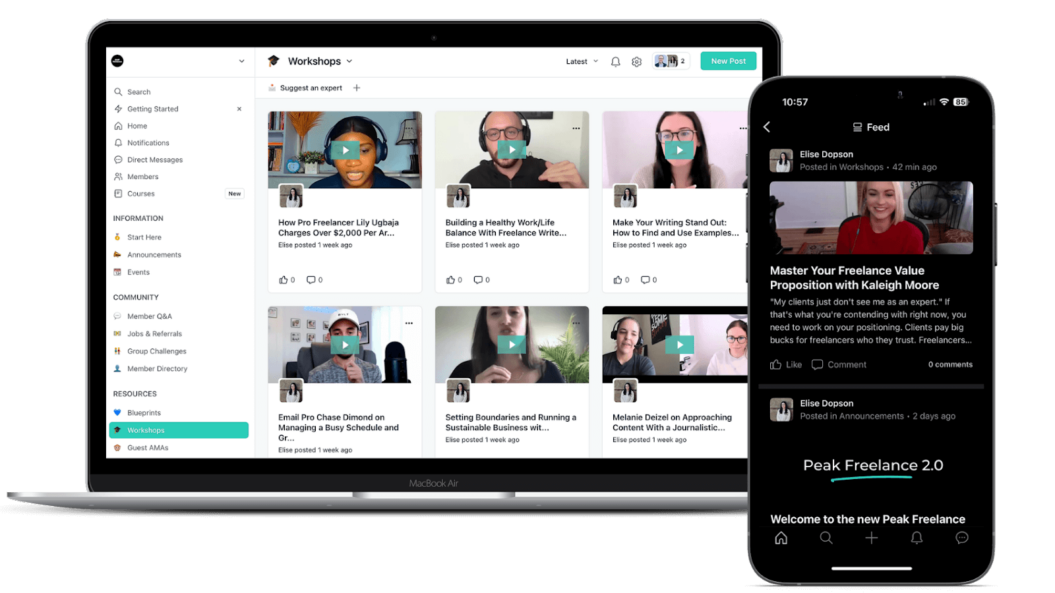 If you choose to go down the paid route, survey your audience to find the right price point. It might be useful to take In the Lab+'s approach and start with a lower price point before building up to a more expensive community:
"We weren't sure what to expect, so we had a lower price point and people started signing up like crazy. That, and knowing how to make content, really allowed us to get where we are today with Uscreen, actually building a consistent base of customers." —Navin Ramharak, COO of In the Lab+
Taking a look at what other creators in your niche are charging can also give you a rough idea of what the market is willing to pay.
But if you're an established creator with a ton of content to provide, don't be afraid to bump up the price of your paid community. The value is often enough to entice loyal followers into joining your community.
4. Pick a community platform
Once you've decided on a pricing model, next on your agenda is finding a platform—also known as the virtual home for your online community.
Popular online community platforms include:
Social media groups. Many creators start their first community on a social network like Facebook Groups, LinkedIn, or Reddit. Though most creators migrate away from these platforms because of their limited customization options, as well as the risk of hosting a community on public platforms (think temperamental algorithms and unpredictable account deletions.)
Instant messaging apps. Tools like Slack or Discord allow community members to communicate. That said, they're particularly hard to manage if you're offering more than conversation in your community. There is no way to effectively upload or save valuable content within instant messaging apps. 
Branded portal/website/apps. Platforms like Uscreen are the best option for creators who want ultimate control over their online community. You can upload a greater variety of content, personalize the user experience, and monetize your audience. You're also not at risk of a platform shutting down and deleting your entire community.

Once you've chosen a platform to build on, create your channels (also known as groups, threads, or circles) to help members navigate your community.
Decide whether these channels should be public or private, how it serves your community, and the way you want members to interact with it.
Stick with a handful at first and expand when demand is there. Too many channels can be overwhelming to new members and potential customers.
"I think people easily over-complicate things when they start online communities. Focus on just a few channels—more can be added later as the need arises. It's better to start slim and keep communication easy and centralized. At Herizon, we usually have ongoing conversations only on 1-2 channels." —Viivi Marttinen, Community Manager at Herizon
Finally, make sure your platform has a sign-up option to eliminate the logistical nightmare of registering new members manually.
Uscreen allows creators to build an online community on their own branded website or mobile app. Anyone visiting your landing page can join your online community—no manual registration required.
5. Customize the member experience
Member experience is the most important part of the process.
A poor experience means people will leave soon after joining. A positive experience, on the other hand, convinces people to stick around—increasing both customer lifetime value and the likelihood of them referring friends to your online community.
Build an onboarding experience that includes:
A welcome post to introduce new members and get them familiar with the community. (Bonus points if you can create a welcome video that helps them navigate your community dashboard)
A checklist or milestone map to set expectations
A personalized list of helpful resources
Community guidelines
Herizon's community manager Viivi Marttinen also prompts new members to book a meeting when they join the community—something she says helps "get to know them and their needs early on.
"I constantly scan for content ideas from our community members in meetups, and from the questions and conversations people have on the community platform."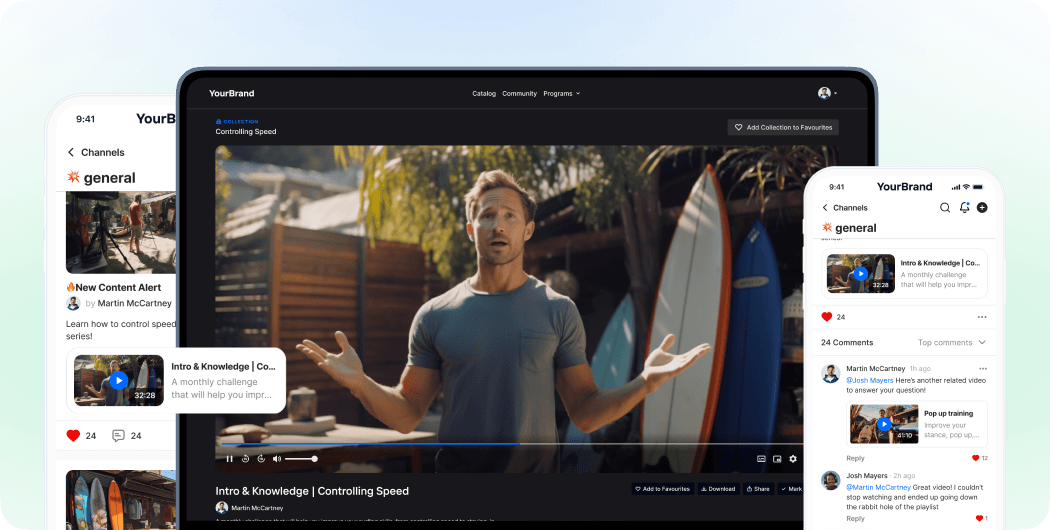 6. Create community guidelines
The biggest indicator of a thriving community is whether community members feel safe.
Community guidelines are rules that keep everyone on the same page. Every member should follow these rules—those who don't should be removed immediately.
Your community guidelines should include:
The importance of treating others with respect
What content is prohibited
Acceptable language (e.g. are curse words allowed?)
How to interact with members on the community platform
Who to contact in the event of a guidelines breach
Superpath is a great example of how to communicate rules on the community sign-up page—a tactic that tells new members what to expect before they join.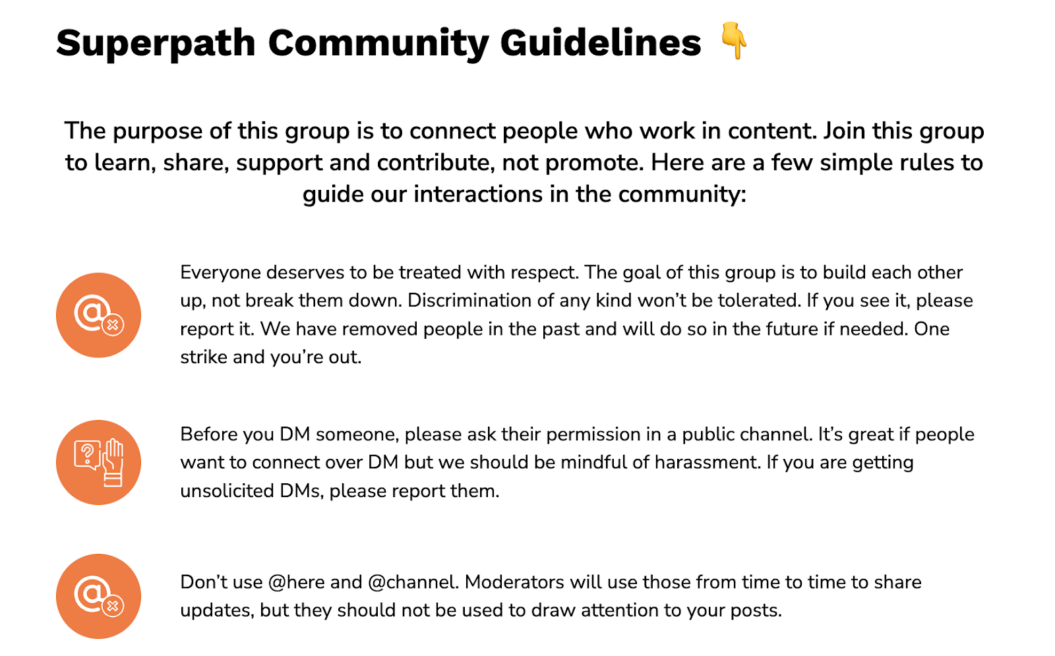 How to grow an online community
Once you've built a space for your online community , the next step is to find your founding members.
UNITE method is Uscreen's proven methodology for creating thriving membership communities. It stands for Understand, Navigate, Identify, Tell, and Engage.
Let's explore how you can use it to grow a successful online community.
Promote your community online
The most effective digital marketing strategy for an online community is to lean on your existing audience.
You could:
Post about your new community on your active social media platforms
Give your email newsletter subscribers priority access to your community
Introduce yourself in forums like Reddit, Quora, and Facebook Groups
Reach out to past connections—like the people who have already purchased your online course
If you have a large audience, consider a launch campaign to get everyone excited. Tease the new community 2 weeks before it goes live. Build a waitlist so you can anticipate demand and welcome a large volume of people on launch day.
Jay Clouse used this method to get his first few community members: "Before I even put up a sales page, I was dropping bread crumbs in my newsletter and social media.
I told people that I had built a community, and if they were willing to join me without having anything to see publicly yet, they would be rewarded with 50% off pricing for life. 
"Folks who really knew and trusted me took me up on that offer," Jay says. "Not only did those members receive 50% off the price at the time, the retail price has increased since then! So they are getting an incredible bargain for jumping early."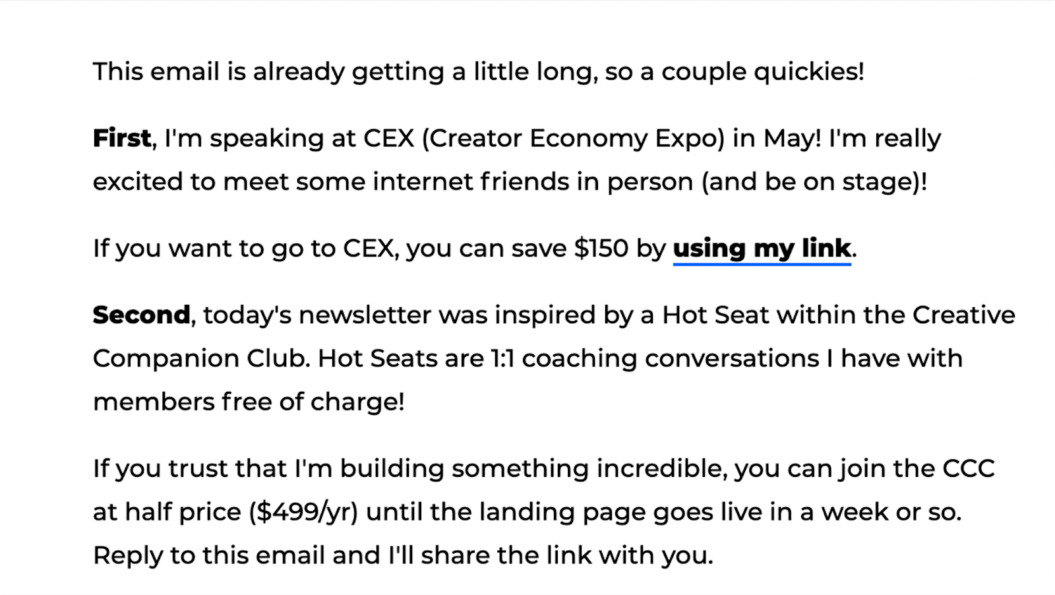 Provide value with exclusive content
Exclusive content gives potential members a reason to join your online community. It can also help with member retention—people must stay active in your membership in order to access the content. 
Digital product ideas to engage your community include:
Templates
Workbooks
Podcasts
Workshops or masterclasses
Online courses
Create a feedback loop by asking existing members what type of content they'd most likely to see in your community.
It's an approach Jarrod Saracco took when building the World Gym International community: "In my personal experience, and from what we've seen across our network, the at-home workout, or on-demand type of streaming seems to be most popular. 
"Especially the 30-minute or less type of workouts with everybody working from home; being teachers, parents, and all kinds of things."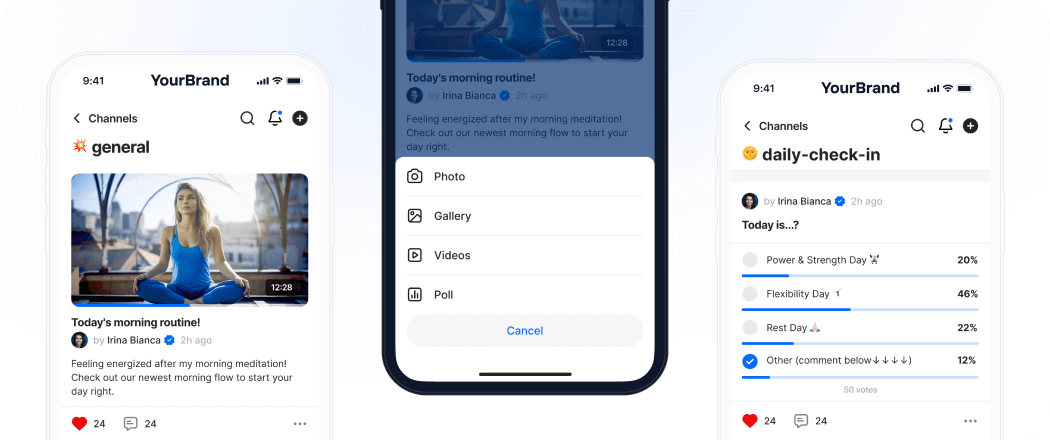 Collaborate with other creators
Collaboration builds a diverse community. You'll cement your community as the go-to place for something, especially if you're not the only voice contributing to the discussion.
Find creators who serve a similar audience to your own. If your community is a place for pet owners to talk about the Labrador dog breed, for example, find dog trainers with their own online community and collaborate by:
Offering a deal or discount on each others' premium content
Doing a Q&A for each others' communities
Hosting a joint webinar or live stream
Engage with existing members
Use your community to provide members with a safe space to collaborate with each other and become an integral part of each other's lives. When customers feel connected to you and other people just like them, they're more likely to stick around in the long run.
Experiment with the following community engagement strategies to get the ball rolling: 
Encourage people to ask and answer questions
Host member challenges
Run a poll or survey
Organize events or virtual conferences
Reward your top members—those with the highest engagement rate or most useful content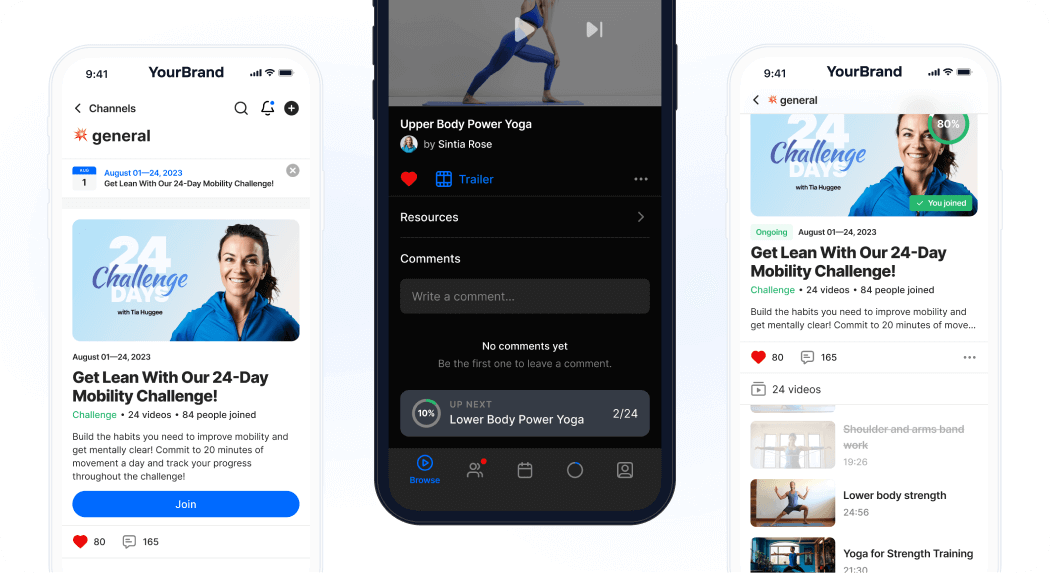 "The hardest thing I've experienced so far with starting this community is how difficult it can be to cut through the noise out there on social media and get your message out there," says Aaron Frank, creator of The ADHD Project.
"Making a consistent routine where you can regularly share content and actually engage with your community is the key to actually building."
Aaron continues: "These things happen over time; you don't wake up one day with a million followers. You get there one step at a time by giving actual value to your community every day—multiple times a day. If you can master the art of showing up, the results will come."
Encourage members to build relationships
Over time, your online community should become increasingly self-sufficient.
That's not to say you should vanish from the group entirely. Your voice is still important (and likely a big reason why people joined).
But as Tyler Hakes, founder of Top of the Funnel, explains: "If you're leading the discussion and you are the driving force between all of the interaction and engagement that's happening, then it'll sputter and die.
You have to find ways to "light small fires" around the community—things that encourage people to talk, engage, interact, or refer people."
Simple community building techniques to encourage member participation include:
Inviting members to share their own content, learning experiences, or success stories
Pairing members with similar goals, experience, or interests and encouraging them to have virtual coffee chats. (We automate this at Peak Freelance using Intros.AI)
Using user-generated content to not only convince existing members to stick around, but to promote on social media and attract more members
"A community really is only as good as its leadership," Geraldine Anello, founder of Handy Women summarizes. "No community is self-led ever. When leaders leave, the community becomes mayhem, simply from the amount of people in it. So it's a constant balancing act."
Build your online community with Uscreen
Building an online community is a powerful asset in any creator's toolkit. Not only can you tap into community members when creating new products, but you can monetize your group and earn consistent revenue.
Use these tips to build an engaged community—but don't feel disheartened if your community doesn't explode in popularity overnight.
As community and business owner Geraldine Anello, summarizes: "Building a community is the opposite of going viral. Instead of quick growth and quick end of the growth, a community is slow growth but long term growth."
How to build an online community FAQ
How can I start my own community?
Start by defining the shared interest for your community. Then, choose a format, decide on a price point, and choose a platform to host your community. Finally, customize the member experience and onboard your first community members.
What makes a good online community?
Thriving online communities encourage members to participate in the discussion. Whether it's a Q&A post or interactive live stream, community hosts that encourage member participation have a better chance of acquiring and retaining members.
How do online communities make money?
Creators can monetize their online community by making paid channels, selling premium content such as online courses, securing brand sponsorships, or promoting affiliate links.