Everyone and their dog can go live on social media nowadays.
Running a live stream with your phone and selfie stick through your Instagram or YouTube app might cut it when broadcasting to friends, but businesses need to up their game.
That's where live stream software comes in.
To get your live streams looking professional and polished, you need to invest time and some cash into a new tool.
We know what we're talking about when it comes to live streams – our users streamed hundreds of thousands of hours of content in August 2021 alone – so we're going to look at:
Exactly what live stream software is.
The best live streaming platforms and what they can do for you.
How you should go about choosing the software for your content creation.
That's a whole lot of information, so let's cut to the action.
Disclaimer: The information below is accurate as of today (11/30/2021).
Comparison Table
So many streaming platforms, so little time!
We're going to really dig into the 10 best live streaming platforms, but we know that everyone's looking for something a bit different.
After looking at all the tools available and the most popular types of live streams our customers and streamers generally do, here's our take on the best live stream platforms by use case.
Got your eye on a couple already?
Let's check out exactly why you need live stream software, then we'll get down to the details of the platforms you want to check out.
What is Live Streaming Software?
Live streaming software enables you to broadcast content from your phone or camera, process it through your computer, send it across the internet, and show it to your viewers in almost real-time.
The software that you need as a content creator is known as an encoder.
Here's how an encoder helps getting your event, webinar, gaming session, or gig out to your audience:
Connect your camera and sound equipment to an encoder, usually your computer with special software.
The encoding software compresses your video and audio into a file type that can be shared across the internet.
Your computer sends that data through your internet connection to servers on a content delivery network (CDN) using RTMP (real-time messaging protocol).
The CDN – which is a network of connected computer servers – delivers the data to your viewers' screens in real-time.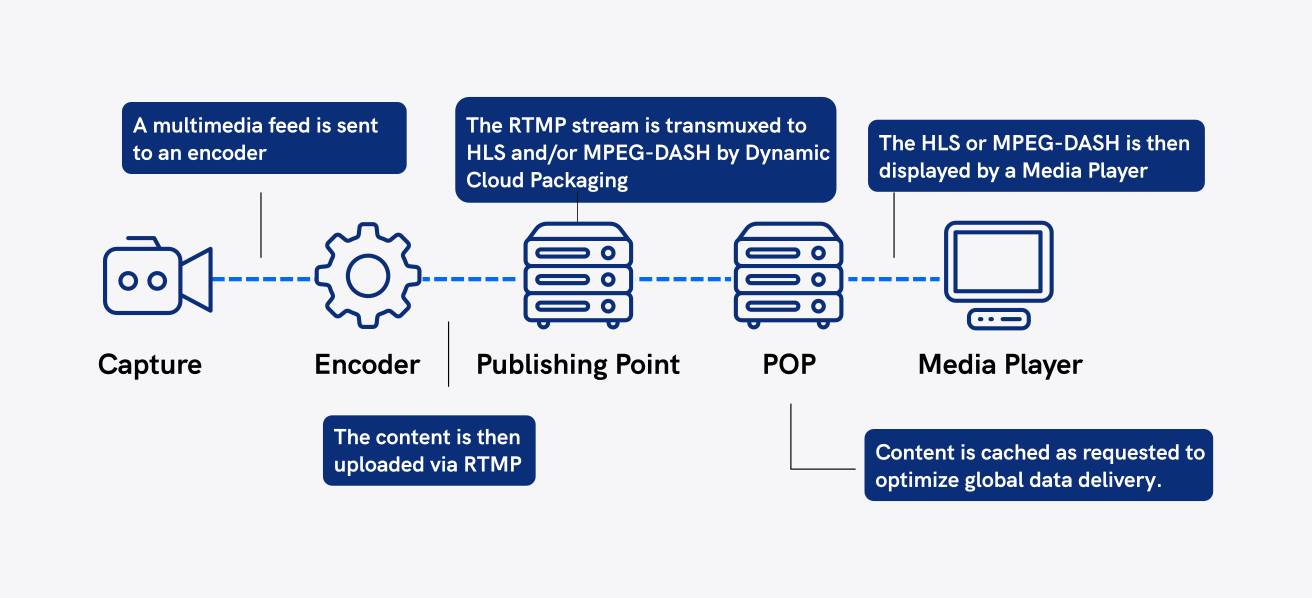 It might sound a little complicated, but once your content goes through the encoding software on your computer, everything else is taken care of.
What's important is choosing the right live streaming software to make sure you can reach the people you want on the streaming platforms they use.
It's worth noting that you can get hardware encoders that do the data compression without going through your computer, but these encoders are heavy-duty and expensive – it's unlikely you're going to need one until you hit mega-star status.
What is RTMP?
RTMP stands for real-time messaging protocol and is a vital piece of coding that gets your live stream onto the internet.
Without getting too deep into the technical stuff, RTMP is what connects your computer to the servers and allows your live stream data to make it onto the network.
You don't need to know the ins and outs of the technology, but you do need to know that you need it!
When you're looking to run a live stream virtual event for your Uscreen subscribers, you need to choose a live video streaming software that uses RTMP.
We'll be sure to point it out as we go through our list – at least now you know what we'll be talking about!
It's simple with Uscreen.
Build, launch and manage your membership, all in one place.
The 10 Best Live Streaming Softwares
We believe the best live streaming softwares available are:
Restream
StreamYard
OBS
Switcher Studio
Ecamm
Wirecast
StreamLabs
Zoom
Livestorm
XSplit
… so we're going to give you all the details about each of them.
1. Restream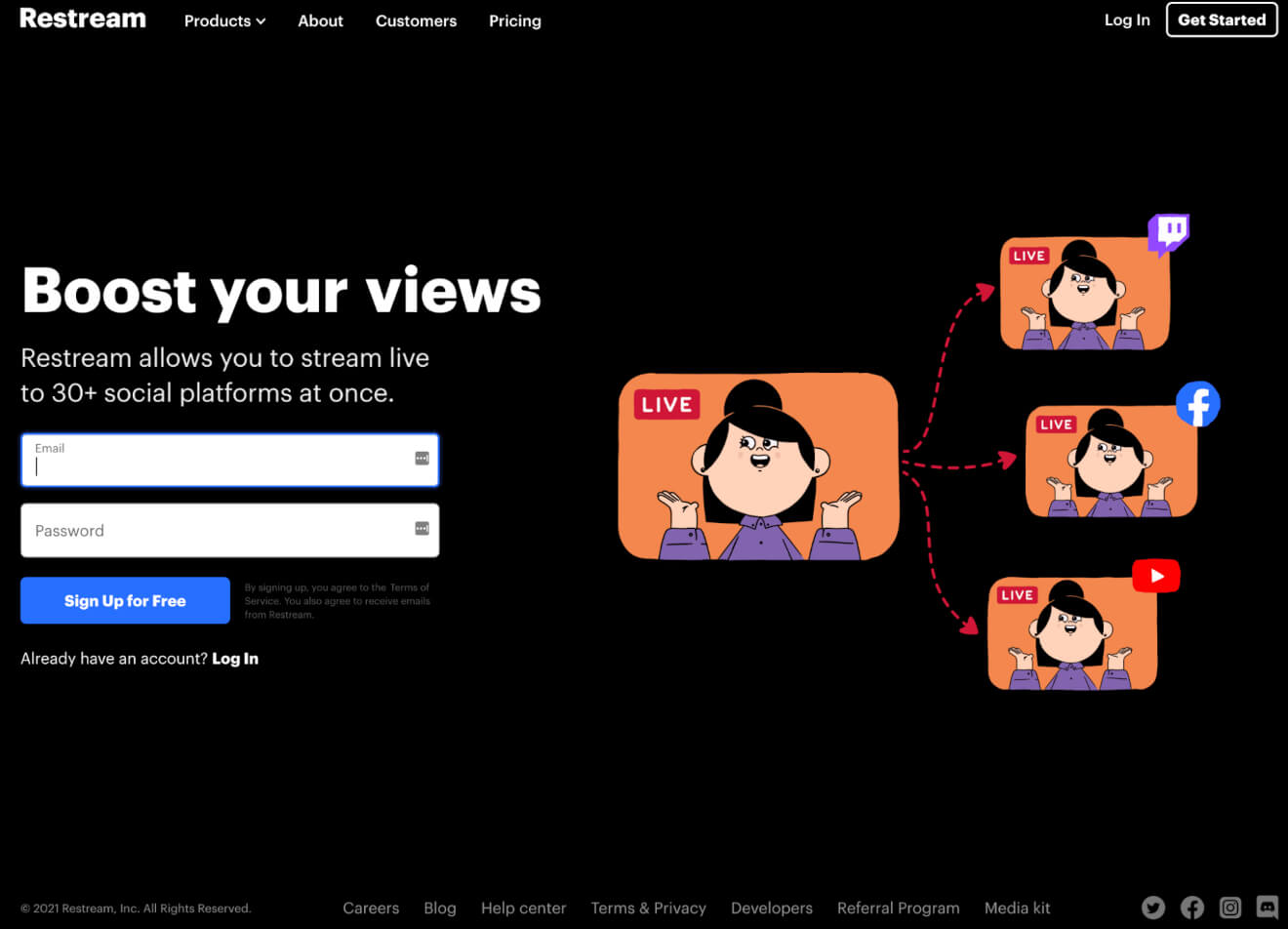 Restream is a software as a service (SaaS) that lets users stream their content to over 30 different platforms at the same time.
Every month, more than 8 million live streams are encoded through the software and over 600 million people watch the content.
The platform is used by everyone from gamers in their bedrooms to Fortune 500 companies.
What do all these millions of people get when they use Restream?
Restream features
When you decide to use Restream, you get:
A browser-based software that lets you live stream from both Windows and Mac.
Full HD quality streaming with no bitrate limits.
The option to stream to more than 30 different social media and broadcasting platforms, a custom location, and even another channel on the same platform, like your Facebook profile and business page.
An event scheduler so you can upload your content and have it stream to platforms like Facebook and YouTube while you're busy elsewhere.
Chat options that bring together comments from across social media into one feed as an overlay on your stream.
The option to live stream to both your channels and your guests' channels with Restream Pairs.
Up to 10 remote guests who you can feature in your live stream at the same time.
Screen sharing, plus a big selection of overlays, themes, and backgrounds to use on your stream.
The option to add your own graphics and logos without Restream branding.
Analytics data about your live stream broken down by platform, with details about viewer numbers and chat engagement.
Hi-res audio and the ability to add background music – plus you can record your audio and video files separately.
RTMP compatibility.
Stream recordings and storage.
That's everything streamers can do with Restream, how much does it cost?
Restream pricing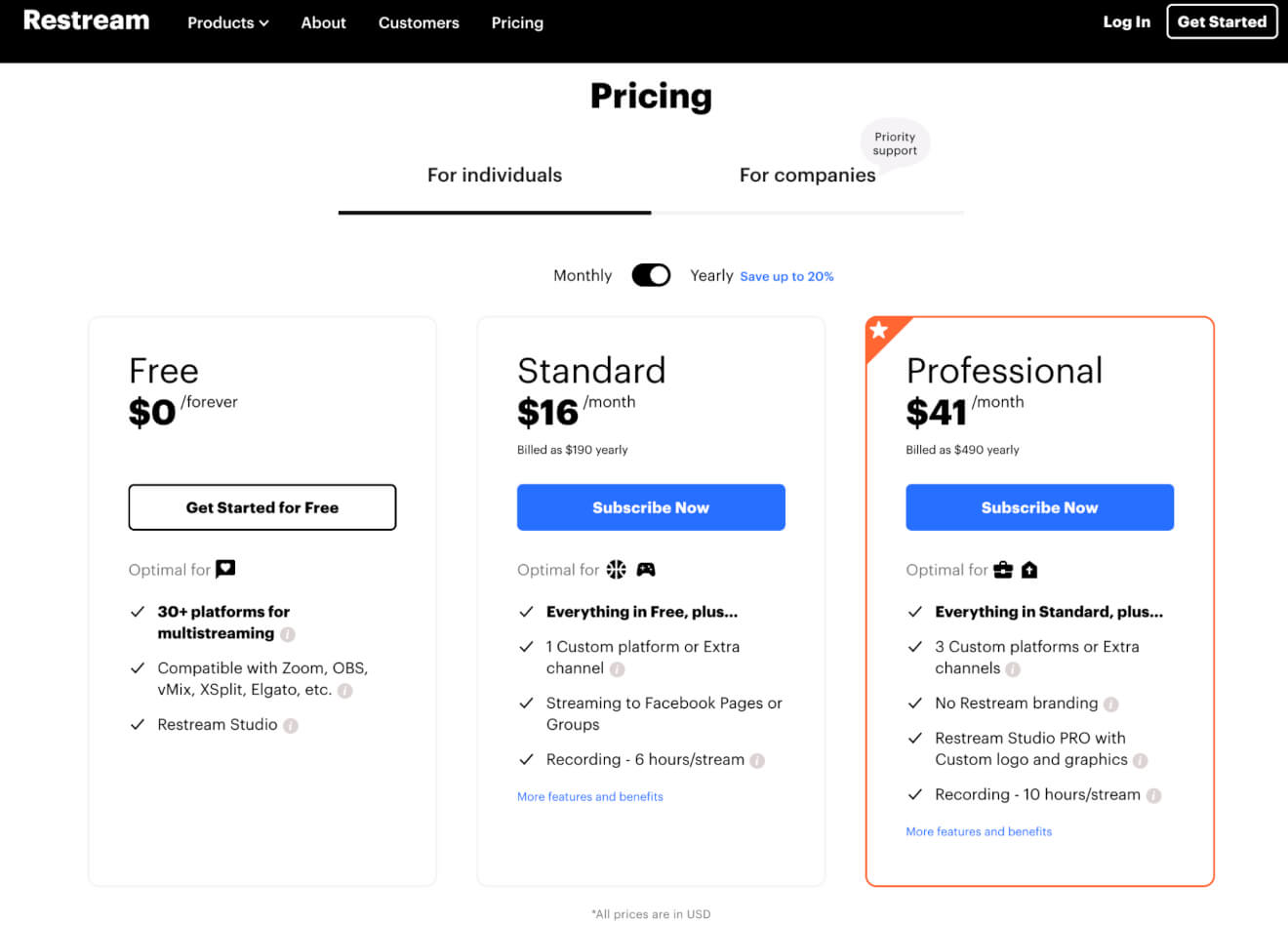 Restream offers three main pricing tiers, with a couple of more business-focused ones, too.
The free plan on Restream lets you access the 30+ streaming platforms it works with, is compatible with other popular streaming tools, and gives you access to Restream Studio tools.
The Standard package also lets you stream to a custom location or a second channel on the same platform, adds Facebook Pages and Groups as streaming locations, and lets you record and store your streams.
Up at the Professional package, you get 3 extra channels or custom platforms, Restream branding removed, the chance to add custom graphics with Restream Studio PRO, and a higher recording and storage allowance.
The higher-end Premium and Business options increase your recording and storage time and add on a couple more features like fail-safe back-up and priority customer support.
Let's check out another tool to help you go live.
2. StreamYard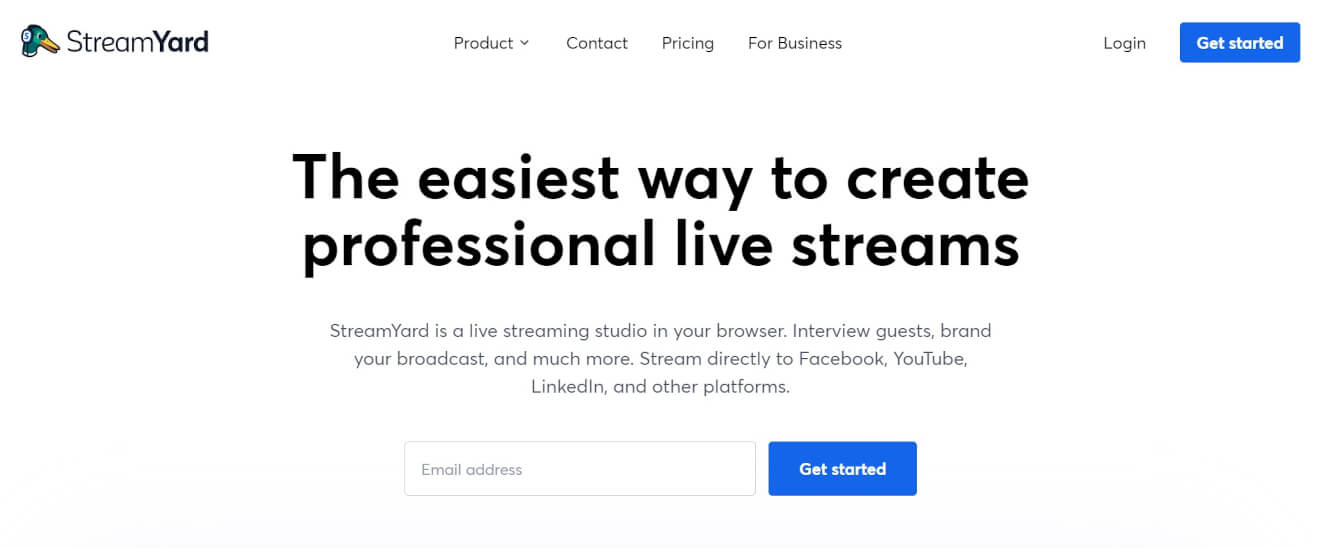 StreamYard makes going live easy and can deliver your stream to a range of different platforms.
The tool works for pretty much anyone who wants to go live, whether you're an influencer, creator, brand, or entrepreneur.
If you want to speak directly to your audience, StreamYard lets you do just that, along with the millions of others who already use it.
We're going to check out the functionality you get with the platform, next.
Streamyard features
If you sign up to use StreamYard, you'll be able to:
Use the software in your Chrome, Edge, Opera, or Firefox web browser to stream in up to 1080p quality.
Stream across 8 destinations such as Facebook Live, YouTube Live, Twitter Live, and custom locations like Uscreen.
Schedule live streams to any of the popular platforms, including setting up events and having your followers get a notification.
See all the comments on your live stream in StreamYard and select the ones you want to display on the screen.
Bring in up to 10 guests on your stream for interviews or interactions, each with their own audio recording, plus a private chat just between you and them.
Customize and brand your stream with your own colors, logo, overlays, backgrounds, and you can even use your green screen for extra effects.
See the total number of viewers that are watching during your stream and see analytics on each platform that you streamed to.
Share the audio from a different source like another video or program to your stream and share your screen.
Stream with RTMP to custom destinations.
Run pre-recorded streams and record your live feed to store on the platform.
Let's look at the pricing.
Streamyard pricing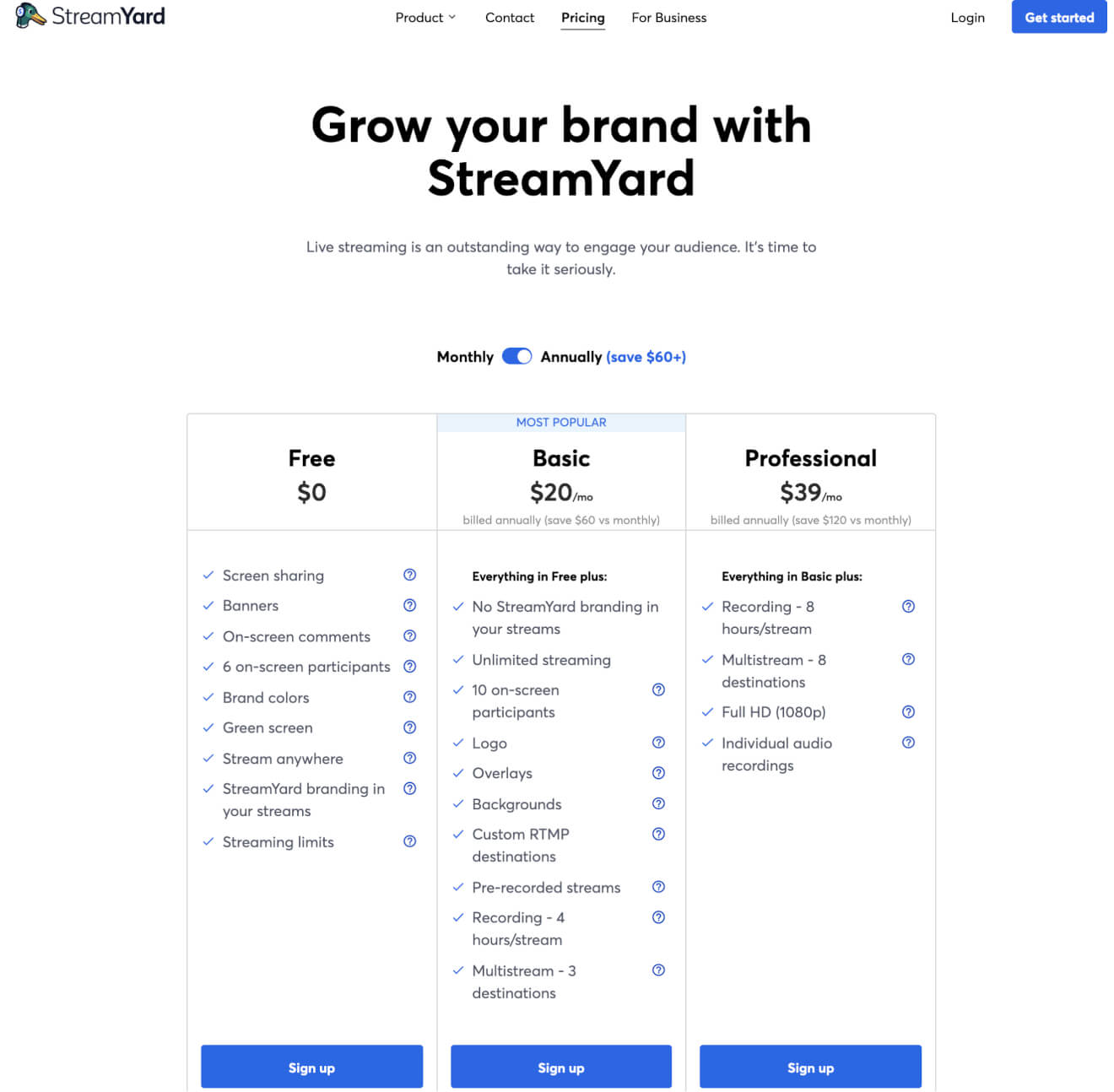 You can pick one of 3 tiers when you use StreamYard.
Without paying anything, you can go live and share your screen, add banners, show comments on screen, and have up to 6 people on your stream, along with some other features.
On the Basic plan, your stream is customizable and the StreamYard branding is removed, you can multistream to 3 platforms, and access custom RTMP destinations, plus record and stream pre-recorded content.
The highest price tier is Professional, which means you can stream across more platforms, live record more of your content, stream high-quality video, and record everyone's audio separately.
Now we're going to look at some free streaming software.
3. OBS Studio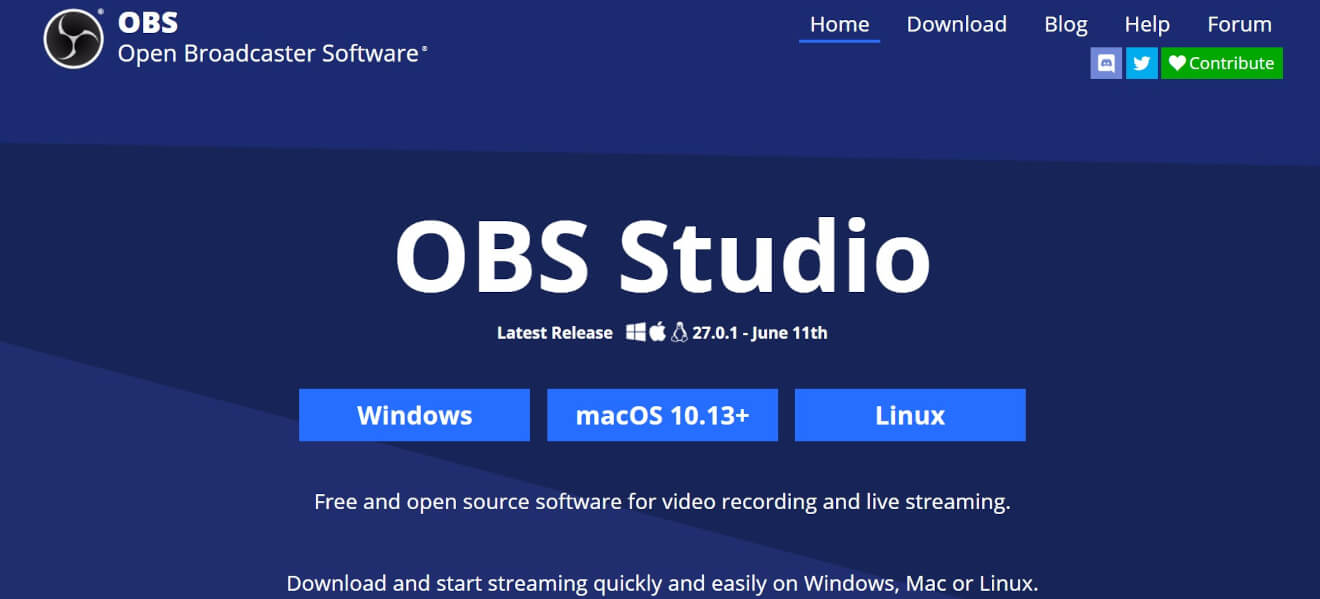 OBS Studio, or Open Broadcaster Software, is an open source software for video encoding that's completely free to use.
The tool is sponsored by the biggest names in live streaming – YouTube, Twitch, and Facebook.
Because it's a free system, there isn't customer support or any demos available, which is worth noting when you're comparing streaming programs.
It may be missing customer support, but you do get a lot of other features with OBS Studio.
OBS Studio features
Choosing to use OBS Studio means you can:
Download the live streaming software onto your Windows, Mac, or Linux computer and stream in up to 1080p.
Use multistreaming so your content goes live on Facebook Live, YouTube Live, Twitch, and more.
Create and schedule events for your streams using Windows Task Scheduler.
Add a chat overlay to your stream so you can see what people are talking about in one window.
Include graphics, motion graphics, text, banners, panels, and overlays, including your logo, to your stream.
Bring in guests to your live stream when you combine OBS Studio with other tools like Zoom.
Use lots of different sources on the broadcasting software, including your webcam, web browser windows, capture cards, and more.
Set up an RTMP feed in your OBS stream.
Have detailed control of the audio input including VST plugin support.
Use an array of plugins when you need an NDI (network device interface) and other advanced features like scene switchers.
Time for the costs.
OBS pricing

OBS Studio live stream software is free to use and is constantly being developed and improved by software developers around the world.
If you like the tool and appreciate the value and increased monetization options it brings to your content, you can make a one-off or recurring contribution.
Scroll a little further for the next live stream software encoder we've got.
4. Switcher Studio
Live streamers who make their content only on iOS can find Switcher Studio on the App Store on their iPhone and iPad.
As streaming software options go, it's the most limited in terms of access since it only works on one OS.
It does still have a whole lot of use cases, like virtual selling, live experiences, events, and internal communications, so it does get used by some big names in broadcasting.
What do you get from Switcher Studio?
Switcher Studio features
Here's what the tool brings to your live production:
Streaming across up to 9 iOS camera inputs through the app in HD quality.
Broadcasting to Facebook, Twitch, YouTube, and most other video streaming platforms.
Displaying the comments from your stream directly on your feed and run live polls that your viewers can see in real-time.
Bringing in up to 5 guests on your stream and have them share their screens to your broadcast.
Adding graphics, logos, overlays, scoreboards, and animated texts with no branding or watermark from Switcher Studio.
Accessing analytics through an integration with Google Analytics, or track your data on the platform you cast to.
Switching between the 9 inputs wirelessly and automatically.
Streaming to any platform that uses RTMP.
Storing up to 250 pieces of media to use in the live editing of your streaming.
The pricing model is coming up.
Switcher Studio pricing
Everyone gets access to the same features that we've just gone through with Switcher Studio.
As you can see, the price changes depending on how long you sign up for after your initial 14-day trial.
The next live stream software for YouTube and more is…
It's simple with Uscreen.
Build, launch and manage your membership, all in one place.
5. Ecamm Live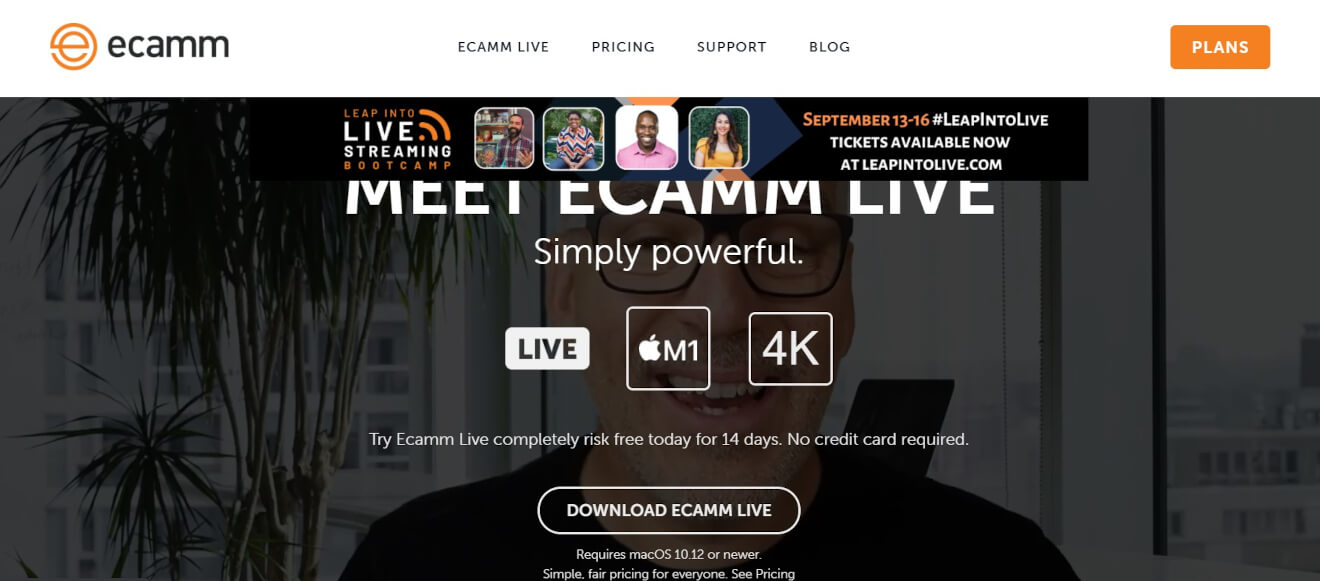 Ecamm is for any streamer – professional or just starting out – as long as you use computers and phones in the Apple ecosystem.
Over a quarter of all mobile phones globally use iOS, and they get to use this streaming solution across some of the most popular live-streaming platforms.
Ecamm has a few different apps available, so we're going to focus on Ecamm Live so we're comparing oranges with oranges.
Here's everything Ecamm Live is capable of.
Ecamm Live features
Users of Ecamm Live can:
Download Ecamm Live to Mac desktop to start streaming.
Stream to either Facebook, YouTube, Twitch, or LinkedIn or connect to Restream or Switchboard to multicast.
Schedule events on their Facebook, YouTube, or Restream feeds.
See comments and reactions from their feed in real-time and select them to show on the screen.
Invite up to 4 guests in their stream, with a standard split-screen or a customized layout.
Add logos and graphics with drag and drop overlays, including animations on screen, countdowns, and scrolling tickers.
Access analytics for feeds through the platform that hosted the content and see the viewer count as they stream.
Connect DSLR, mirrorless cameras, and iPhones and control audio with the in-built audio mixer.
Use RTMP connections to stream to most video hosting platforms.
Roll pre-recorded content and use green-screen effects during streams.
Pricing is next.
Ecamm pricing

Anyone interested in using Ecamm can get a free trial for 14 days that lets you use the standard and professional live streaming features with an Ecamm watermark on your content.
After that, you can choose from the Standard or Pro plan.
The big differences between them are that, with the Pro version, you can do live interviews, widget overlays, audio monitoring, and Facebook crossposting.
The sixth live streaming service we've got for you is next.
6. Wirecast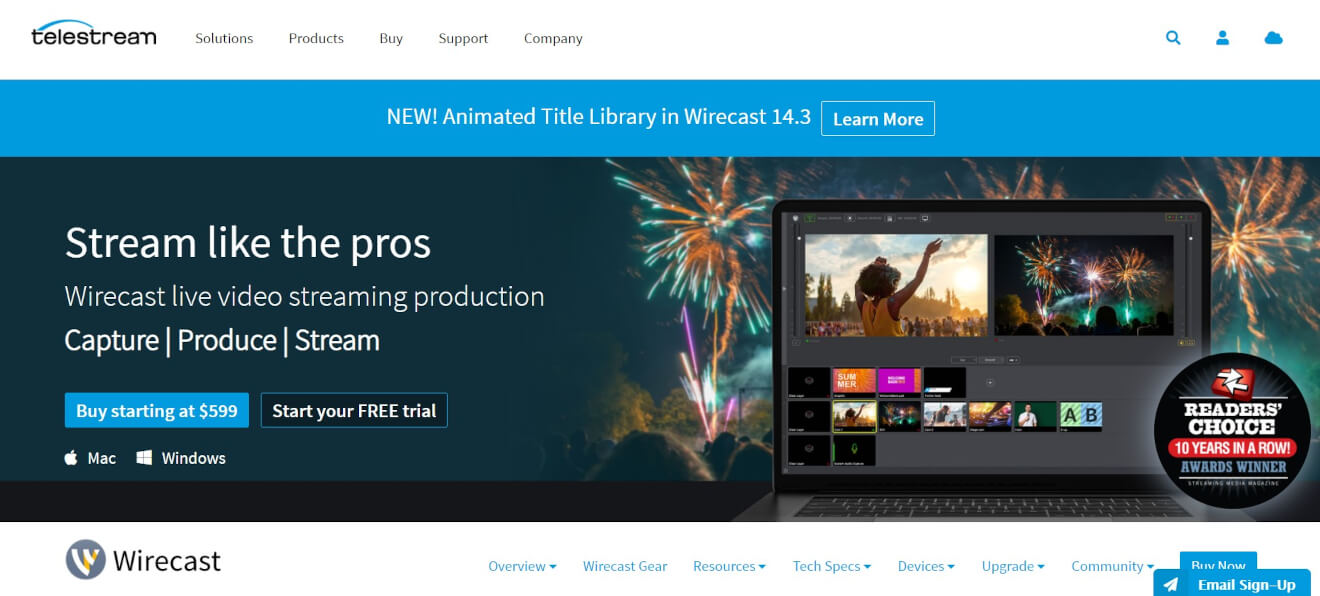 Wirecast is a livestream service from Telestream that lets you capture, produce and stream live content.
Along with software tools, Wirecast also offer their users hardware solutions called Wirecast Gear, but we're going to focus on what you can do just with your computer and its tools.
That's exactly what we're looking at now.
Wirecast features
Using Wirecast means that you get:
A software download for your PC or Mac that lets you stream in up to 1080p video quality.
The option to stream across common platforms like Facebook, YouTube, and Twitter, plus other destinations with multicasting available.
A scheduler for live stream events on YouTube, Facebook, and LinkedIn.
Facebook polling and a live Twitter feed on your streams, plus a private chat feature for people included in your live stream.
Up to 7 remote guests in your stream.
Customization options include adding your logo and other graphics, and access to a library of lower-third and full-screen animations.
Unlimited inputs for audio and video plus a professional audio mixer that can ingest and mix multiple sources.
Live instant replays, timers, screen sharing, clocks, and scoreboards to add to your streams, plus you can organize your content into playlists.
ISO recording to save your streams in raw form to enable better editing.
RTMP coding and SRT so you can stream to most places.
Chroma key and green screen effects on streams.
On to the money.
Wirecast pricing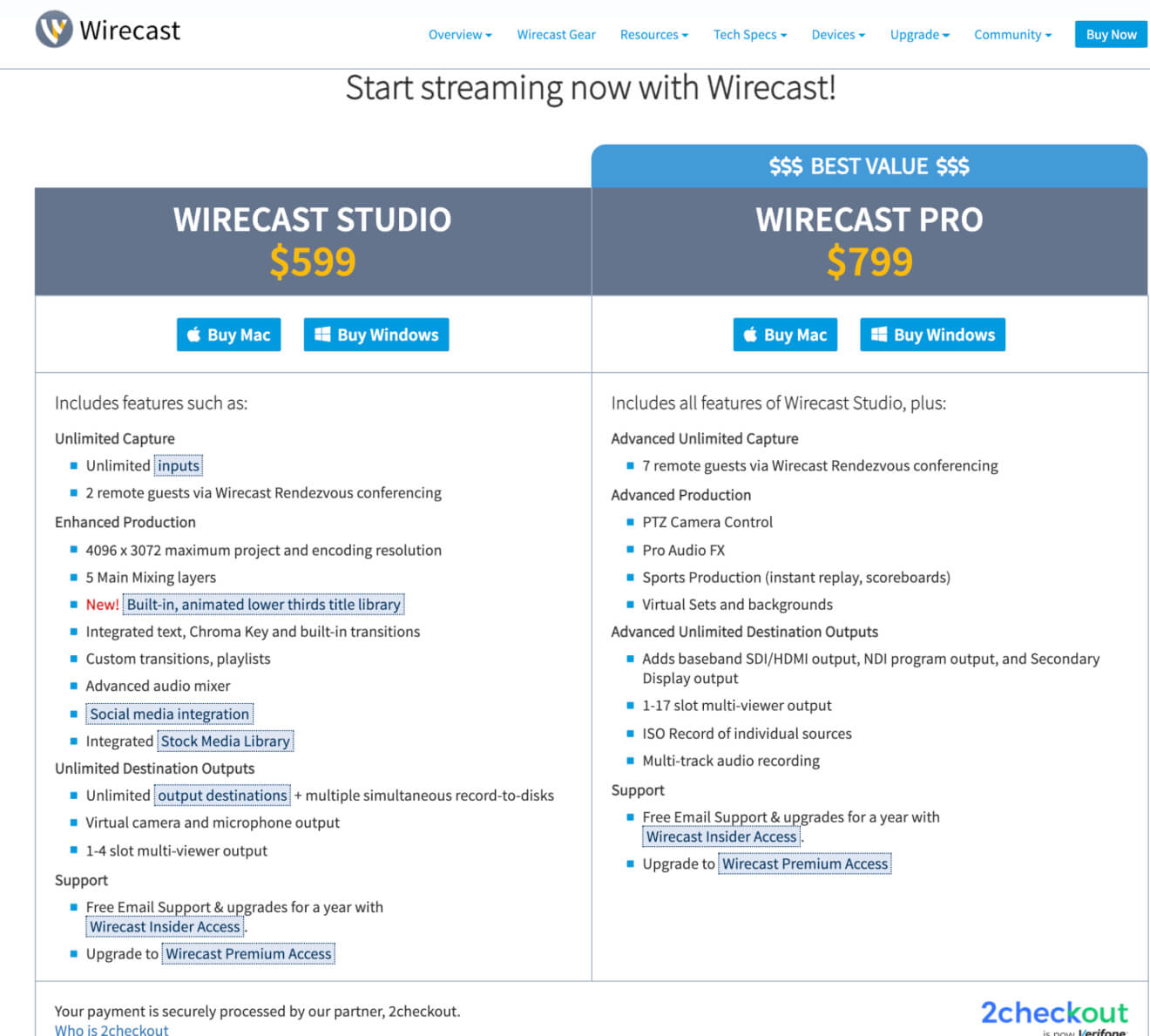 You get two pricing options with Wirecast, Studio or Pro.
With Wirecast Studio, you get unlimited inputs and outputs, 2 guests, and a range of production tools.
On the Wirecast Pro plan, you can bring in up to 7 guests and get access to additional features for advanced production and output destinations.
Moving on to the seventh live broadcast software we've got for you.
7. Streamlabs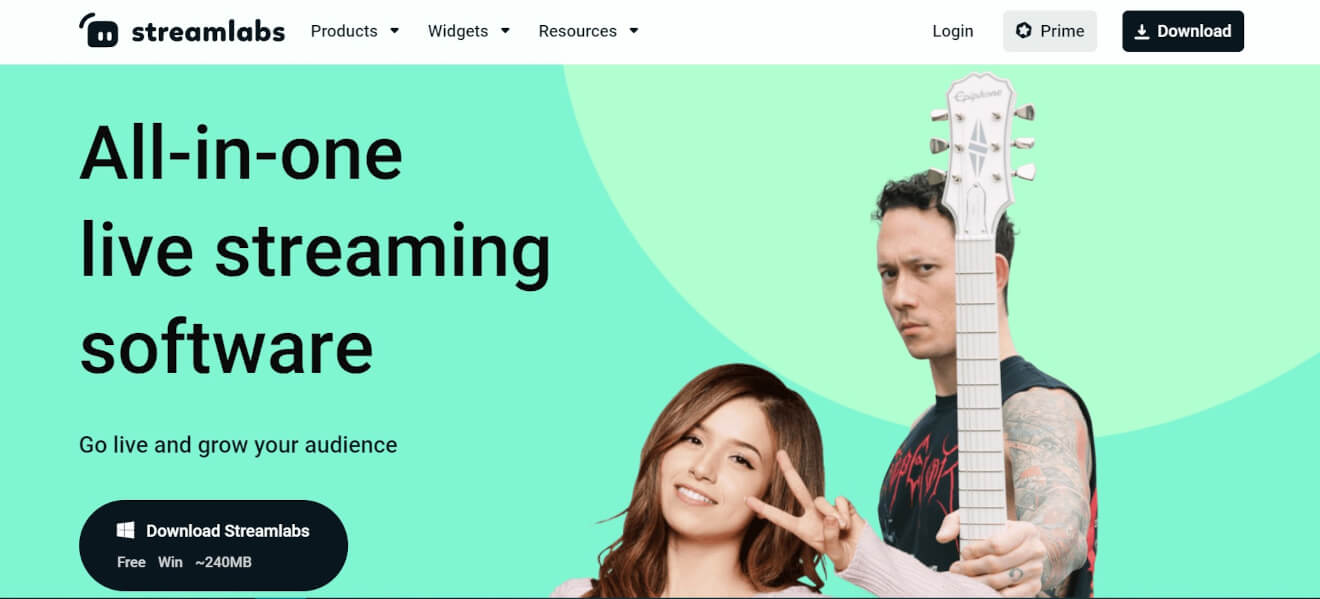 Streamlabs is a different take on OBS and uses the same basic coding, which means you'll often see it get called Streamlabs OBS.
It does some things a little different from OBS, with one of the big differences that Streamlabs uses more CPU – you'll need some more powerful gear for this than with the original OBS.
That being said, what exactly do streamers get with Streamlabs?
Streamlabs features
When you start using Streamlabs, you can:
Download software for Windows that lets you stream in 1080p video quality.
Stream content simultaneously across multiple platforms like Facebook, Twitch, YouTube, and more custom platforms.
Use a widget – similar to an integration – that'll let you schedule your live streams.
Overlay your chats on screen and highlight events like when a viewer tips you.
Use theme templates and add graphic overlays, including your branding.
Access analytics for your stream data through a widget.
Have a range of audio inputs and use virtual cameras to add extra angles to your stream, including adding guests.
Add custom stream locations using RTMP.
Play pre-recorded content in your stream and select your audio and video sources.
Record your streams and access the video recording from cloud storage.
Use the Streamlabs app to use your phone as a remote control for your streams.
What it costs is up next.
StreamLabs pricing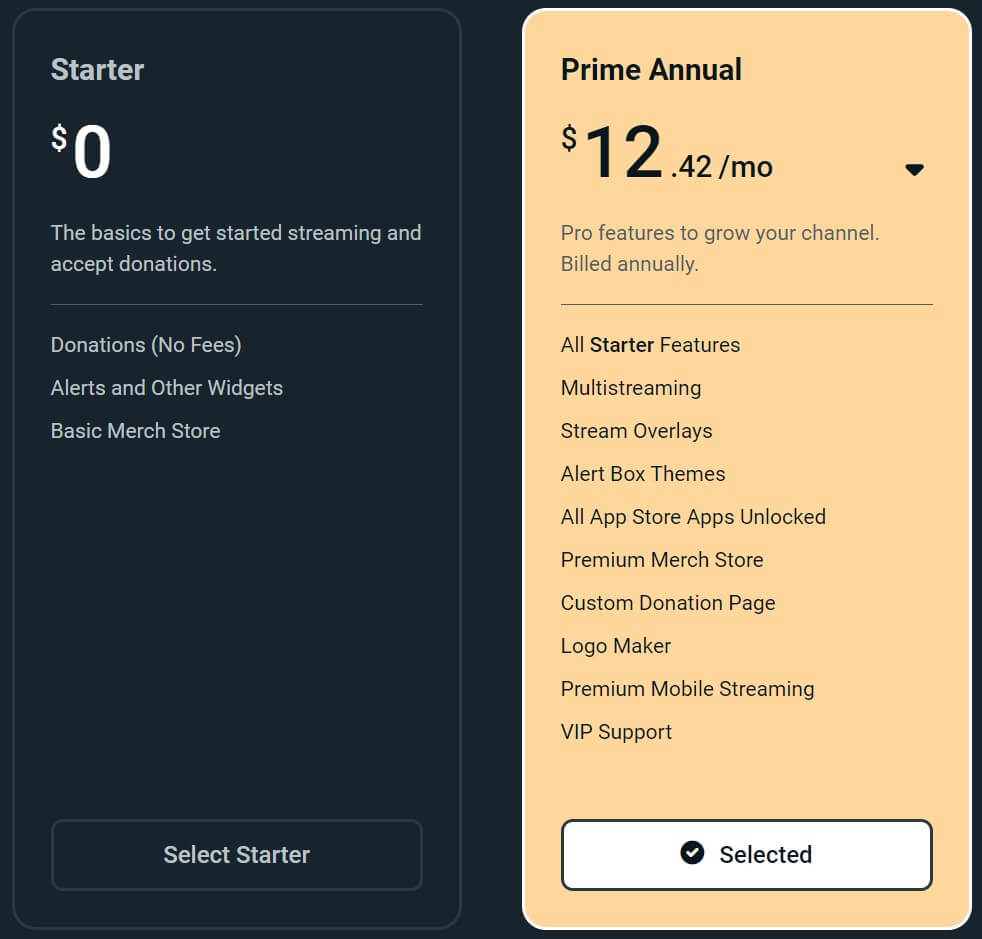 Unlike its big brother, Streamlabs does have a paid version, called Prime.
You get access to extra features such as multistreaming, overlays, apps, mobile streaming, and more.
Let's get to the next one.
Don't just take our word for it: more than 11,000 entrepreneurs, brands, and creators have leveraged Uscreen's all-in-one platform to build successful video businesses and monetize their content online.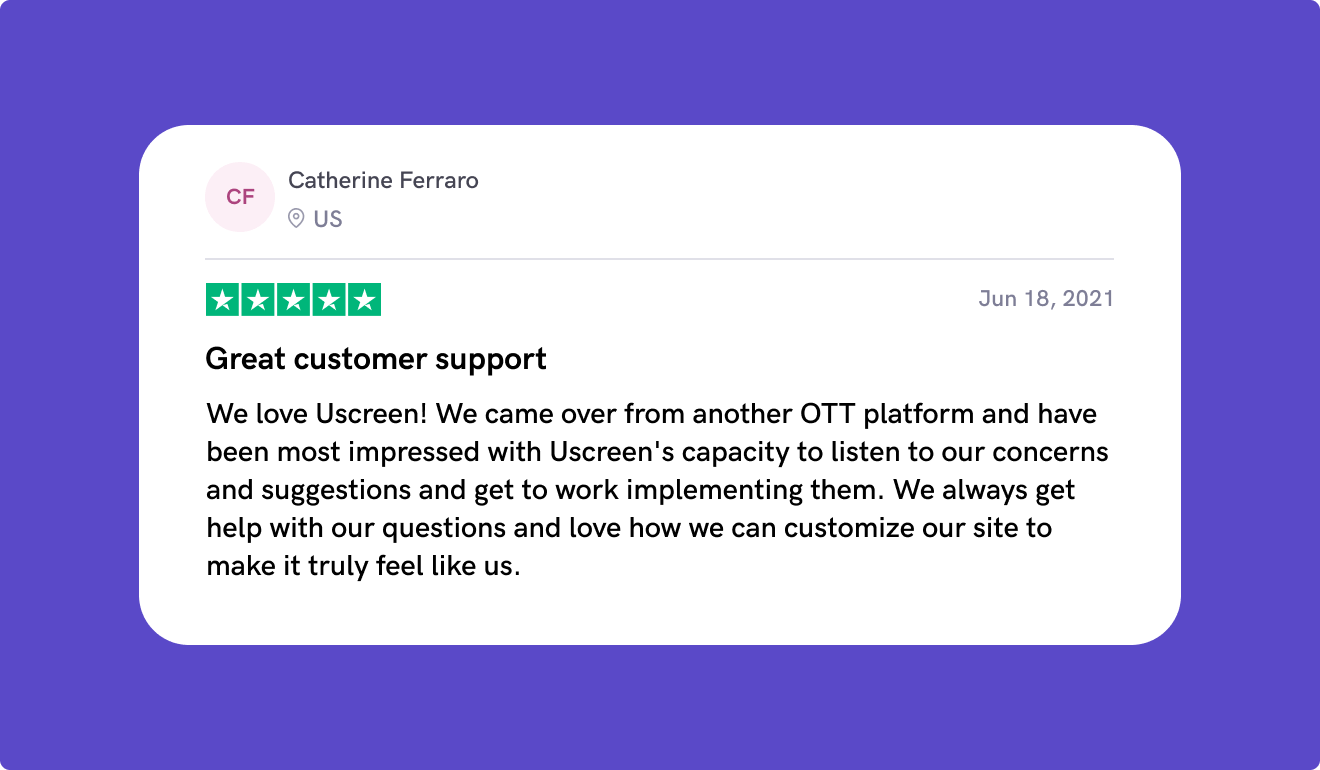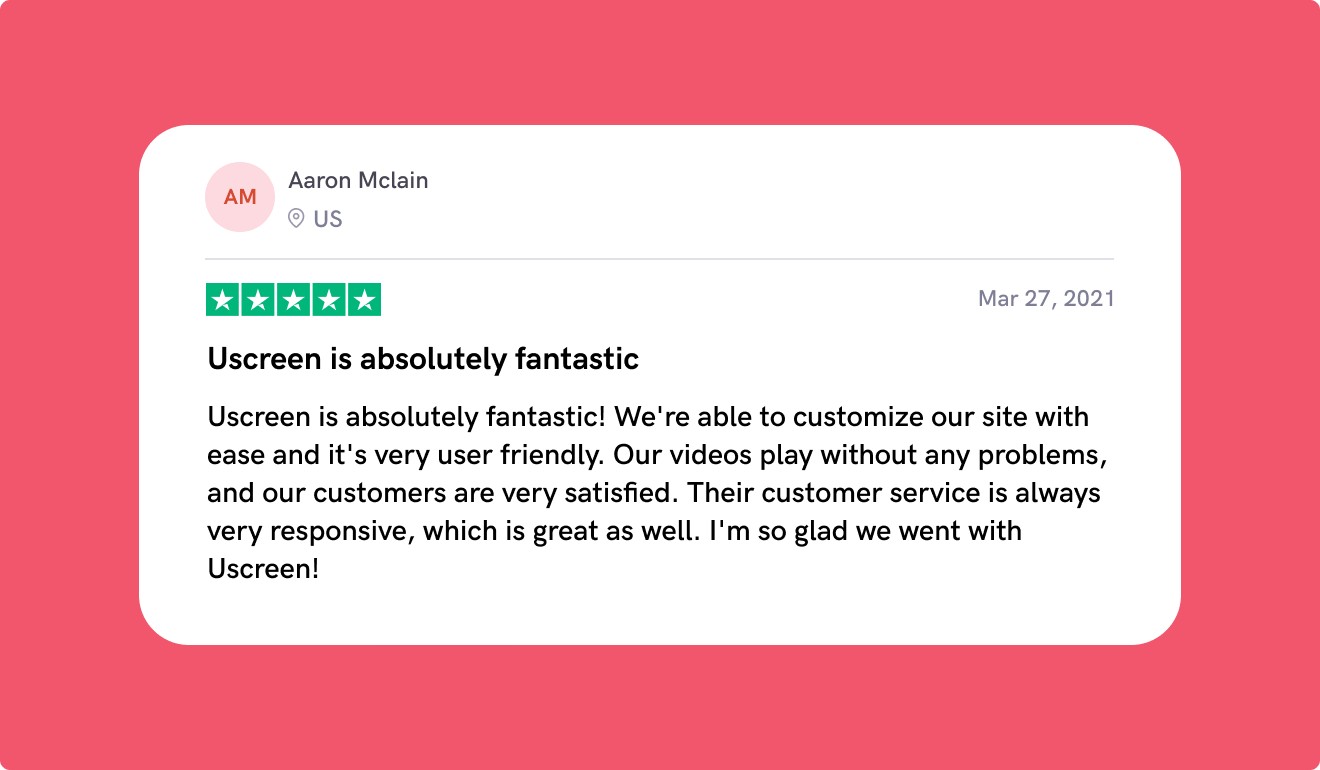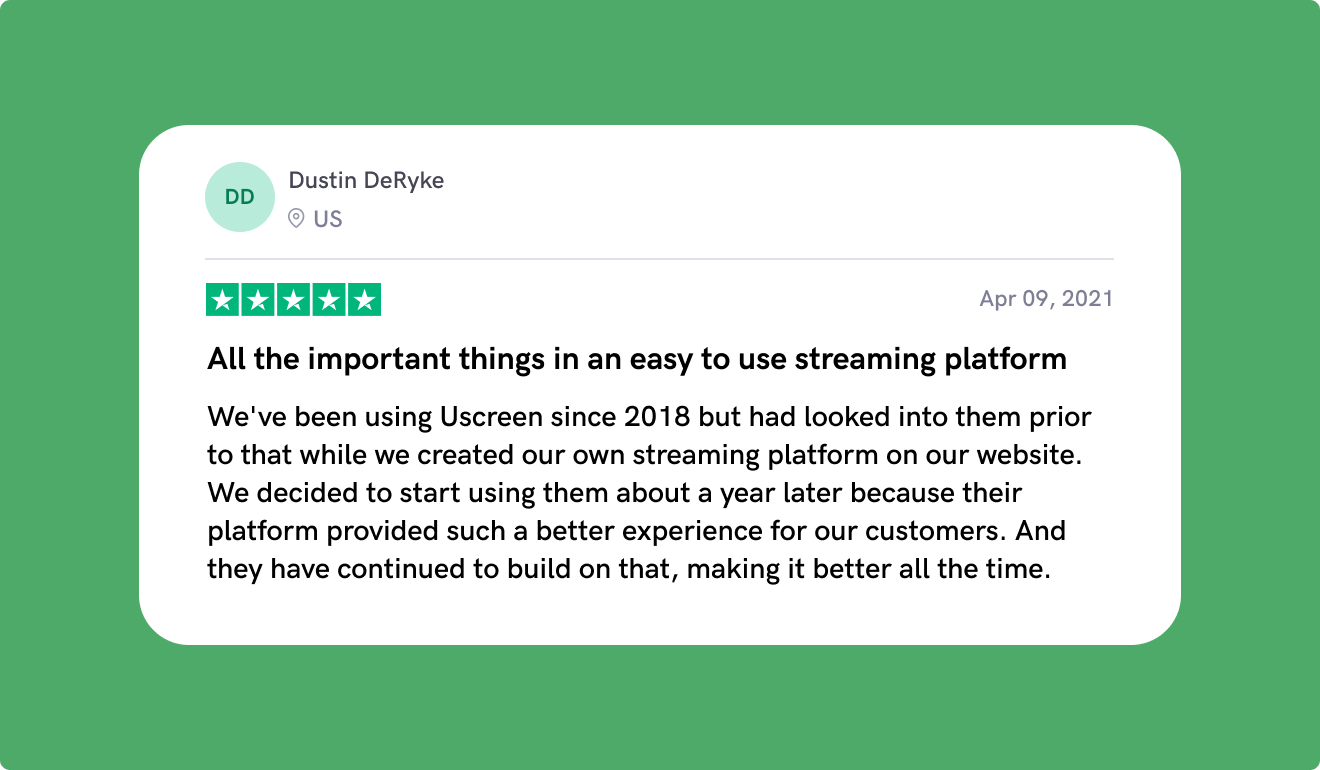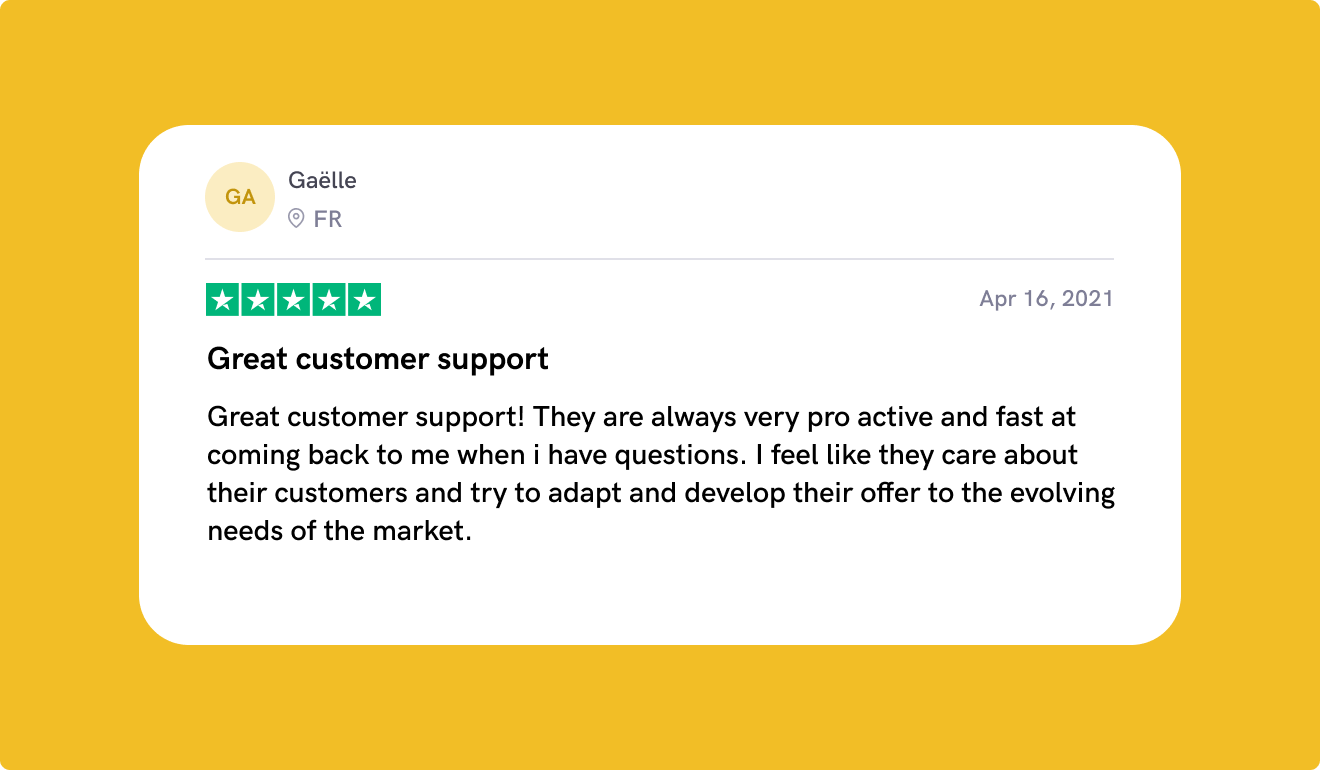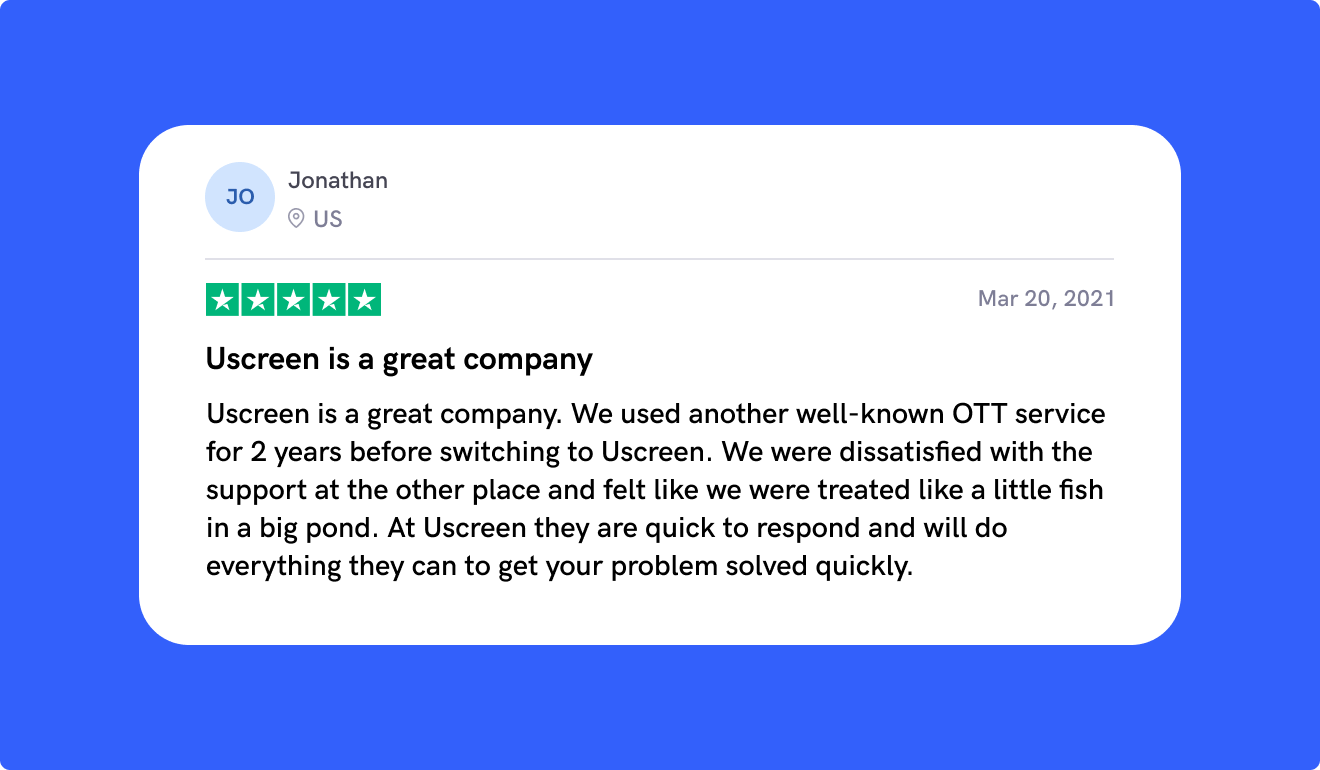 Source: TrustPilot
8. Zoom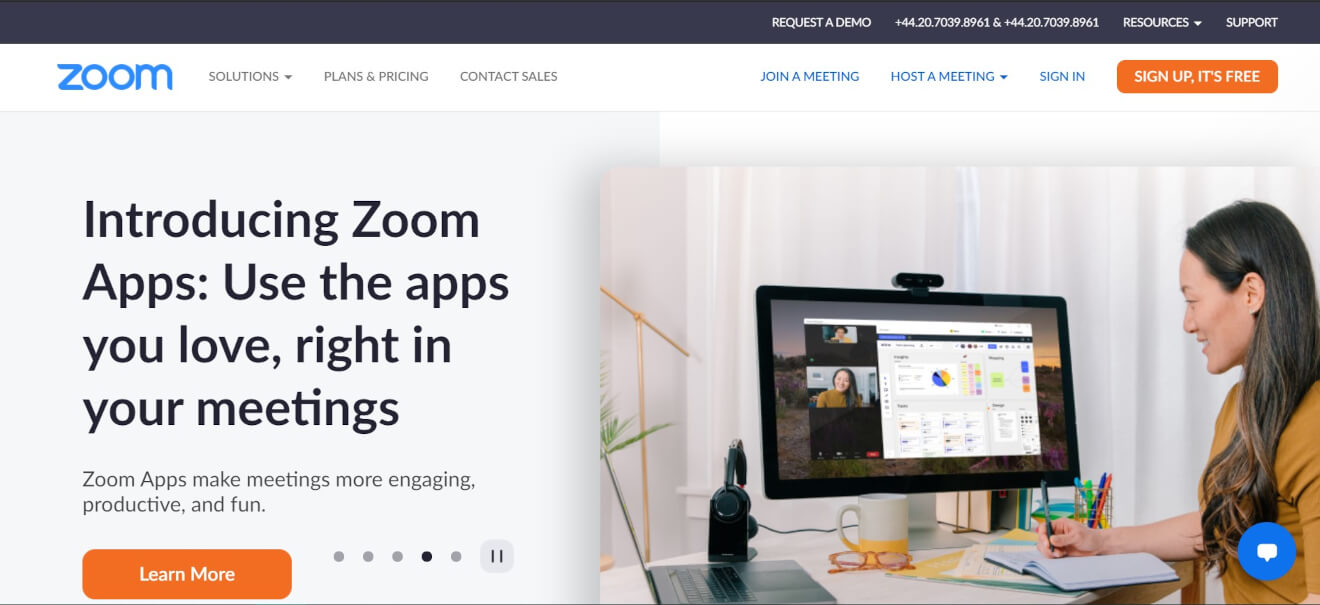 Zoom became a household name during the pandemic when businesses and schools started live streaming meetings and classes.
That may be how most people know Zoom, but for comparison's sake, we're going to focus on Zoom Events, which is how you can stream webinars, gigs, events, and shows.
You may not be familiar with what Zoom Events does, so we're going to break it down for you.
Zoom features
Choosing to stream content through Zoom Events means you get:
A streaming platform in your browser that broadcasts in up to 1080p quality, with viewers able to access your stream through their Zoom desktop, mobile app, or browser.
An events hub to schedule events and store recordings after the fact, with your own branding on the page.
Live chat during your event plus a "lobby" where attendees can meet and interact away from the event.
The option to invite speakers into your stream as panelists, with up to 100 allowed depending on your pricing plan.
Analytics about your event sales and registrations, as well as data about attendance, Q&A sessions, and other information.
RTMP support so you can stream to custom locations.
Let's see how much this new package of features costs.
Zoom pricing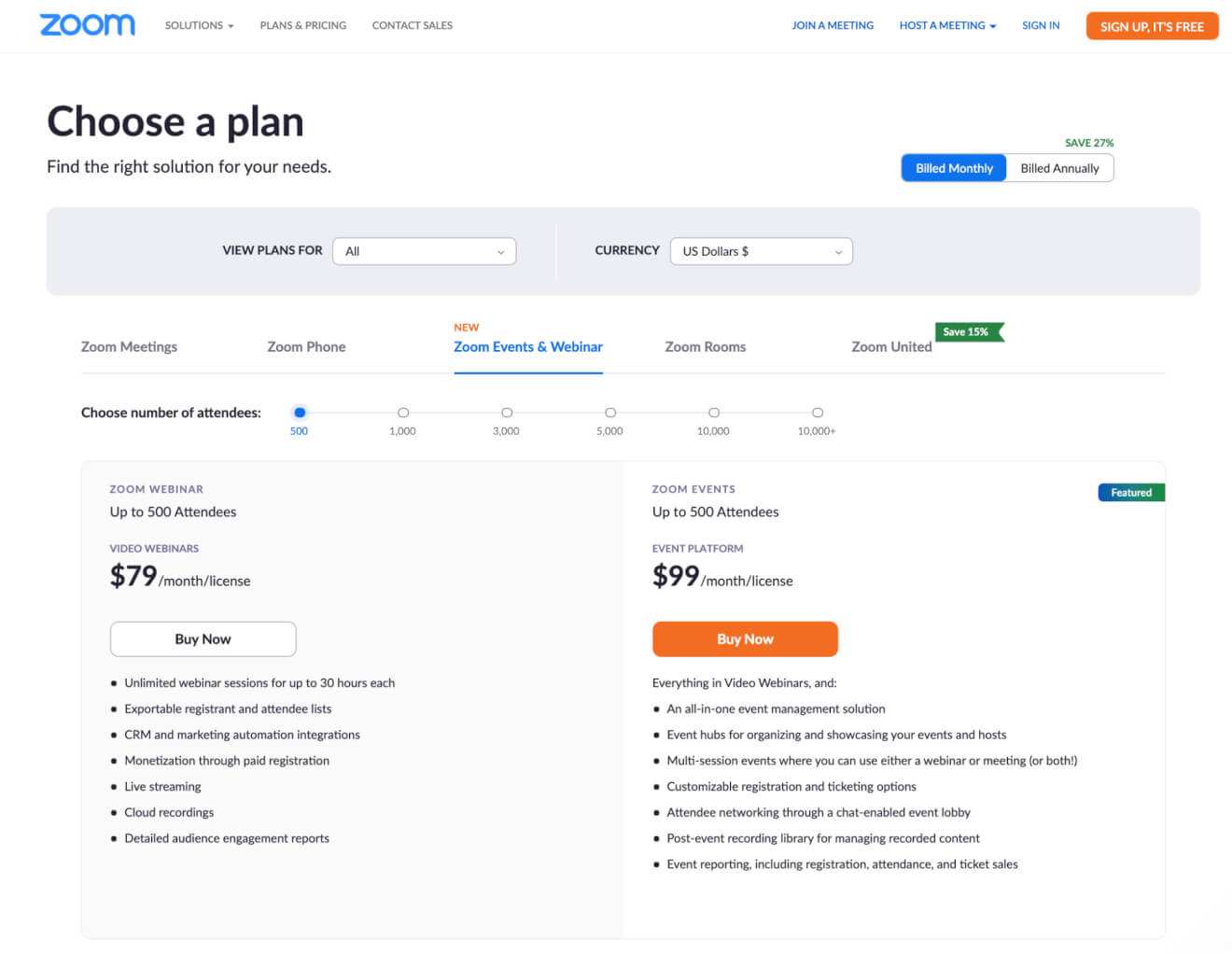 The price you pay to host Zoom Events will depend on how many attendees you want to enable; our screenshot is showing the pricing for up to 500 people.
With the Events plan, you get all the features included in the Webinar plan like a CRM solution, streams for up to 30 hours, and cloud recording.
You can also use extras like event hubs, sell tickets, track registrations, and get reports at the end.
Next on our list of the best streaming software is…
9. Livestorm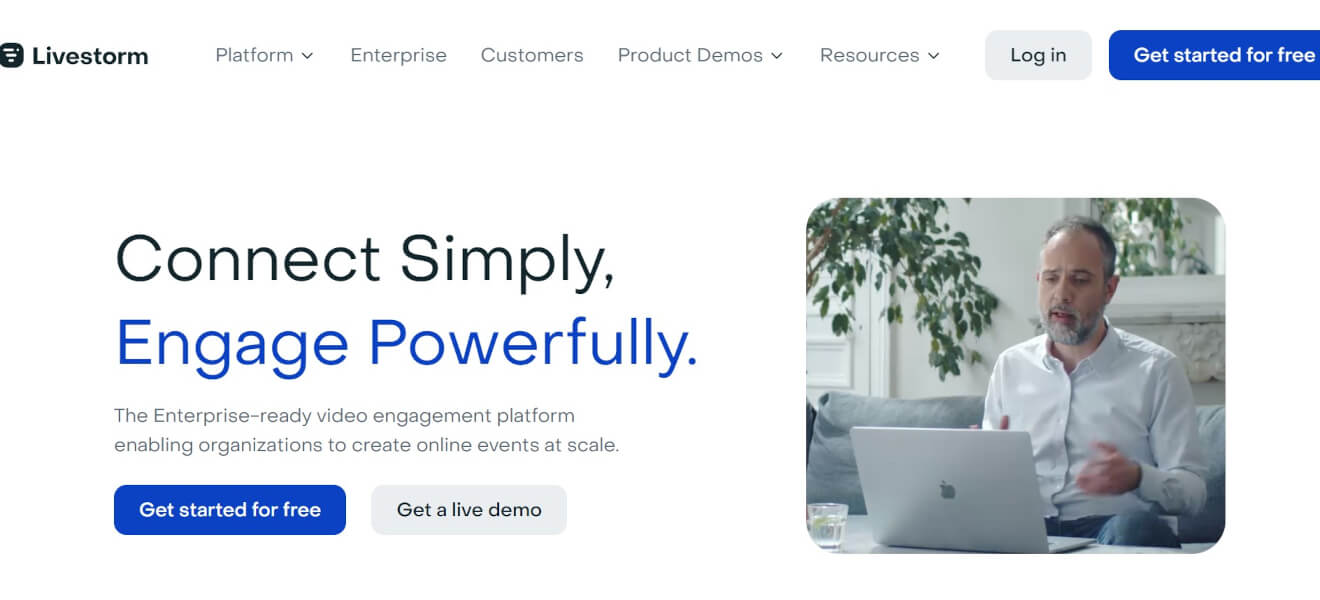 Livestorm is a platform that has a strong focus on hosting webinars, meetings, and events.
They say that it takes as little as 8 minutes to get a live stream class or meeting up and running. It's quite user-friendly.
Let's see what the full feature package looks like.
Livestorm features
As a live streamer using Livestorm, you can:
Use any browser to stream your video content in up to 1080p resolution.
Embed live streams from other platforms into your Livestorm account.
Schedule multiple sessions of a live event to Livestorm with the same registration page for each one.
Use built-in chat tools including upvoting questions and running polls during your stream.
Invite up to 12 guest speakers at once, with anyone in attendance able to be invited to talk.
Add your brand colors and logo to your event or webinar registration pages.
Share your screen with participants.
View detailed analytics about your traffic sources and each person who registered.
Broadcast with one microphone and one web cam or external video device.
Record and replay live sessions.
We should note that Livestorm doesn't support RTMP custom locations.
From the features to the costs.
Livestorm pricing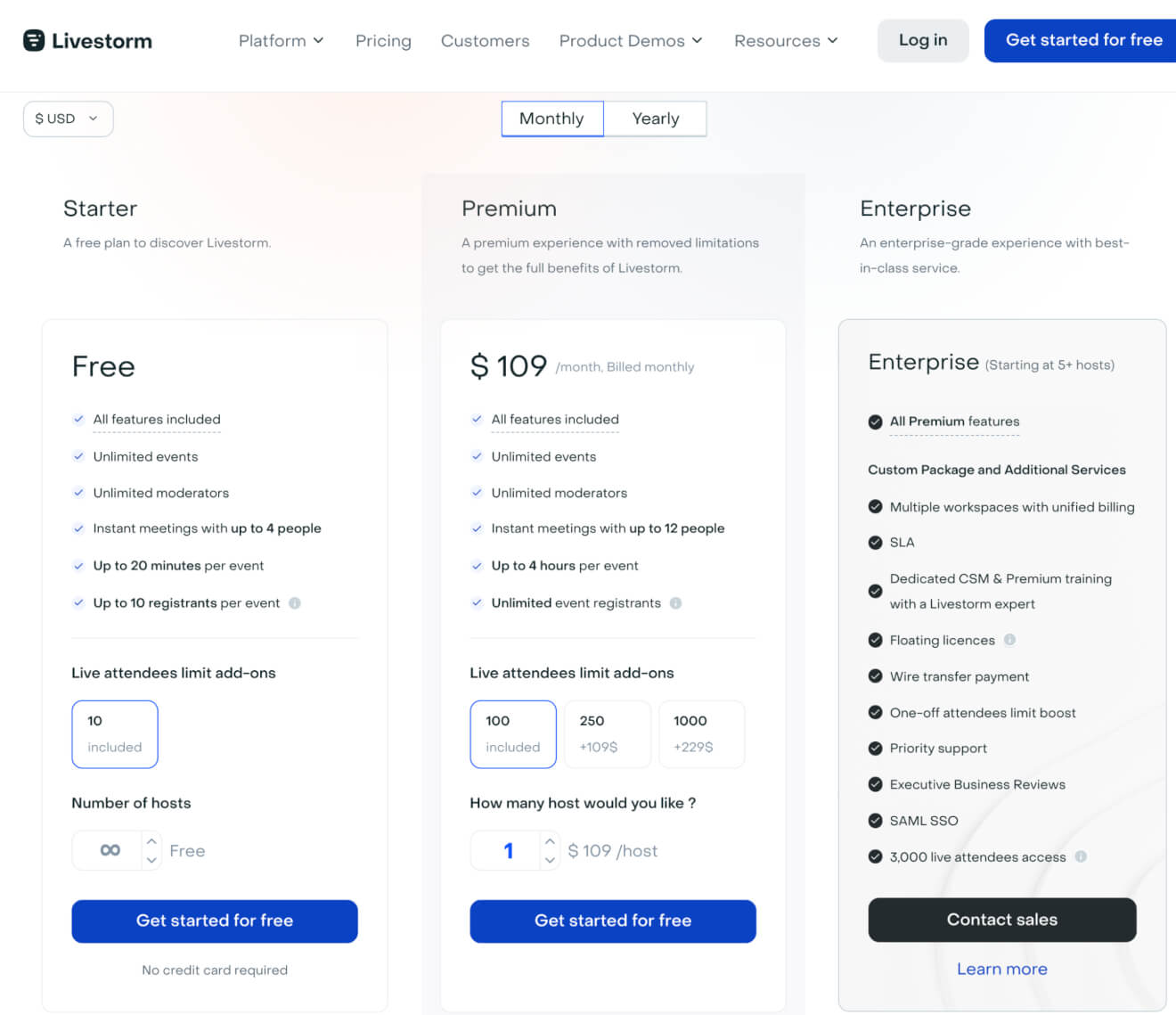 You can choose from 3 plans with Livestorm.
The free version – Starter – gives you meetings for up to 4 people, a maximum streaming time of 20 minutes, and up to 10 registration and participation spots.
On the Premium plan, these numbers increase to 12 people in a meeting, a maximum stream of 4 hours, unlimited registration spots, and 100 participation spots.
The Enterprise plan adds on a range of business features such as different payment methods and priority support, plus up to 3,000 people participating in your event.
There's one more streaming software to look at.
10. XSplit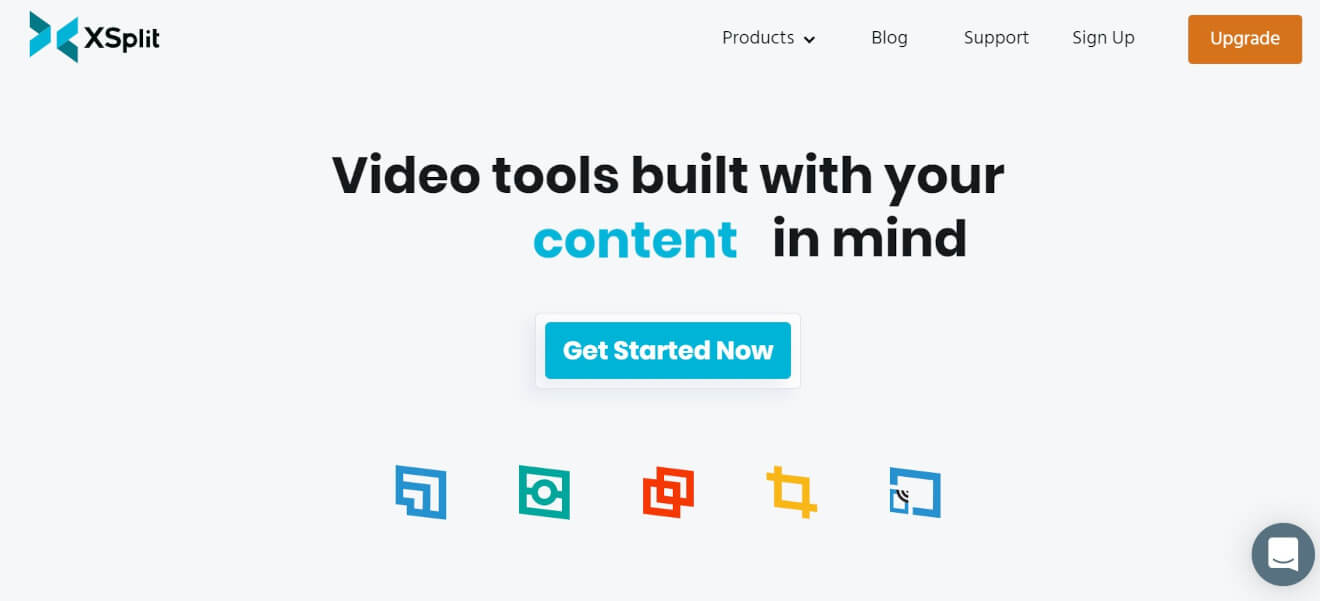 Xsplit has a few different tools available, including Xsplit Gamecaster which is optimized for Twitch, Facebook, Mixer, and YouTube gameplay streams, but the primary one and the one we're interested in here is Xsplit Broadcaster.
Though the other tools they offer can be pretty handy in your live stream effort, too.
For the last time, let's look at the features offered by this software.
XSplit features
Xsplit users will be able to:
Download the Windows-only software to your PC and stream video in up to 4K for playback, which can be watched live in up to 1080p.
Multistream to YouTube, Facebook, and Twitch with native integrations, or a range of other custom locations.
Use chat plugins to pull chat from different sources and display it all in one place.
Add guests to your stream using video conferencing tools like Skype or Zoom.
Drag and drop media like images, GIFs, and logos onto your stream and add overlays and custom transitions for full customization.
Use multiple audio and video inputs to create your stream.
Use the Connect: Webcam tool to make your mobile device into another camera input.
Stream to any host that uses RTMP codes.
Use chroma key effects, green screen, and other special effects when you use the VCam tool.
Record your stream including multiple audio tracks and camera sources for content repurposing.
Last time for the pricing.
XSplit pricing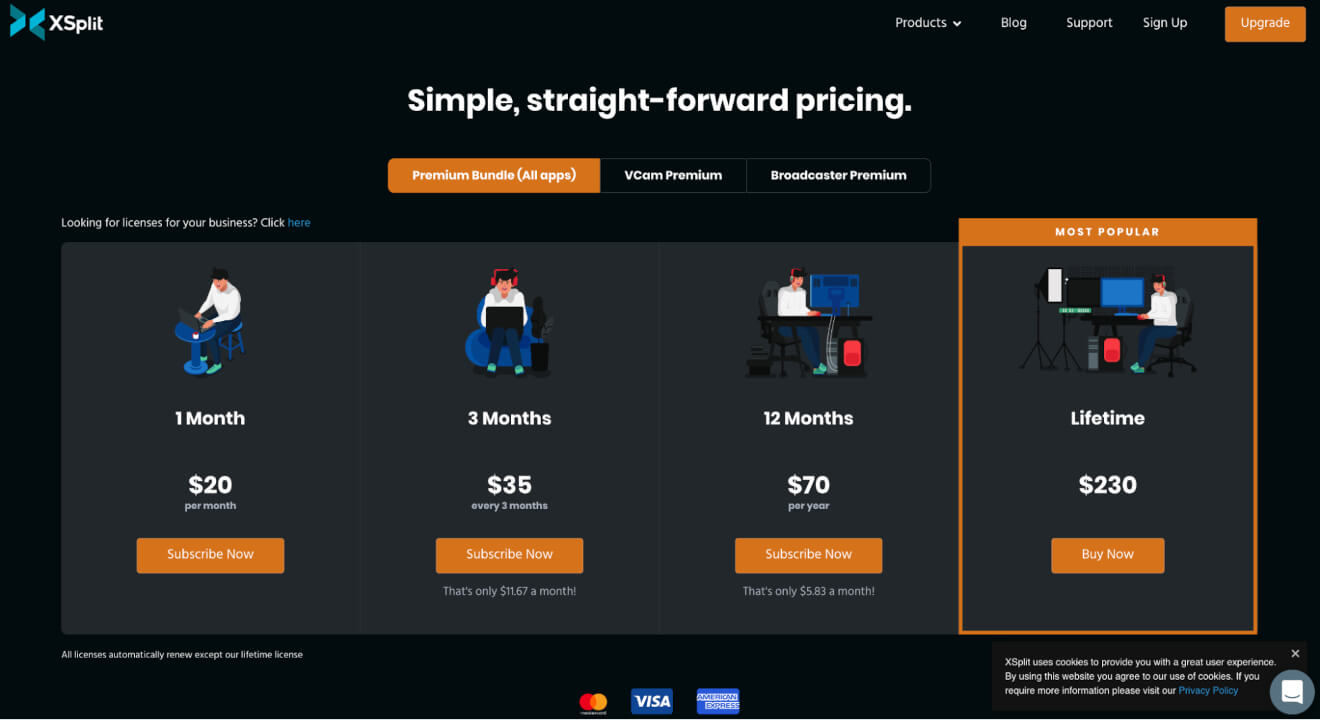 The pricing for Xsplit has three different packages with a range of pricing depending on how long you sign up for.
Our screenshot shows the price for all the apps that the company makes, meaning you can use your phone as a camera and use special effects during your streams, among other cool features.
You can choose to just use VCam effects tools or only Broadcaster tools for lower price points, as well.
That's the important details of all ten of our best live streaming platforms, but what are the things to really look for when picking the right one for you?
It's simple with Uscreen.
Build, launch and manage your membership, all in one place.
How to Choose a Live Streaming Software
You've got a lot of live stream software to choose from, so making a decision isn't going to be easy.
Even though quite a few of the tools we've looked at are free or at least have free trial versions, they all have a bit of a learning curve, so you don't want to be trying every single one before you find the perfect software for your needs.
We reckon there are 4 deciding factors when it comes to which live streaming software you pick.
Factor #1: Compatibility

Possibly the most important consideration is whether your software works with the operating systems you use and the live streaming hardware you've got. 

Got a team who all have different hardware? Streaming with your phone? Need to use external cameras? 
Like we covered at the top, a streaming tool that uses RTMP is really important to make sure your stream is compatible with as many live-streaming platforms as possible. 

Take a look at the tools you use and specs like the GPU and make sure that the platform you pick will work across all of them. 

Factor#2: Features

There are lots of elements that all the tools we've looked at have in common, but not all of them have all the bells and whistles you want. 

It'll depend on the type of streaming you do, if having your live chat on screen is important to you, and if you want to have funky graphics and cool overlays.

Take some time to think about what you want to do on your live streams, as well as the stream settings you'd want to have control of, then make a list and start ticking things off.

Factor #3: Scalability

When you're just starting out live streaming, a simple user interface and the option to go live on a couple of platforms is probably all you care about. 

However, as a creative entrepreneur or growing brand, you need to think about the future of your live streaming and video efforts. 

Now, maybe you're just doing unboxings and how-tos in your area of expertise, but someday soon you might want to… 

– bring in guests and co-hosts
– add different camera angles
– drop in pre-recorded content
– run Q&A sessions
– put a paywall on your content using Uscreen

…and lots of other things that could require more customization, with an API for example. 

Like we suggest when picking an OTT video platform, you need to find a tool that can scale with the ambitions you have for your business.

Factor #4: Pricing

There are some really great free options for live streaming platforms, such as OBS, and other great tools with free trials and free tiers like Ecamm and Restream. 

Choose a platform that works with your forecasted revenue from monetizing your Twitch or YouTube streaming, for example. 

YouTube Monetization: 8 Ways to Earn Money on YouTube in 2021

Your live stream tools will be an investment but you do need to ensure you get a return. 

That's our guide to the best live streaming software for YouTube, Facebook, Twitch, and even for streaming your content to your Uscreen membership site. 
Time to wrap things up.
Now Over to You
We're done!
Those are all the best live streaming softwares available on the market, plus our guide to picking the right one for your video business.
Live streams are a great way to engage with your audience and build an onlinea sense of community – you're directly interacting with the people you want to reach.
It's an important way to up the game for your video business by running Q&As for your fans, live fitness classes for your members, or coaching sessions for your students.
Looking for a way to monetize your video streaming efforts?
Request a demo and we'll show you how we can help.
It's simple with Uscreen.
Build, launch and manage your membership, all in one place.
Frequently Asked Questions (FAQs)
Still got questions?
We don't blame you, there's a lot to take in here.
Here are the questions our customers ask us a lot when they're setting up their live streaming, and our expert answers.
What is the best streaming software?
We reckon the 10 best live streaming software available are:

-Restream
-StreamYard
-OBS
-Switcher Studio
-Ecamm
-Wirecast
-StreamLabs
-Zoom
-Livestorm
-XSplit
What do you need to stream?
The live streaming equipment you should have includes: a camera and audio equipment; a platform to stream to such as YouTube, Facebook, or Uscreen; a computer with a good graphics card from Nvidia, AMD, or Intel; and an encoder like Restream, StreamYard, or OBS. 
Is OBS better than Streamlabs?
OBS is the OG of software video encoders and tends to get software updates and upgrades often. However, Streamlabs is based on the same tech and has some extras that make it more user-friendly, like graphics, overlays, and customer support. For a beginner, OBS is a great option, but for more advanced features we think Streamlabs just pips it.
What is the best streaming software for low-end computers?
OBS probably uses the least power of all the live stream software we've looked at, making it very compatible with low-end computers. Streamlabs isn't far behind so can also work for less powerful computers. Both are browser-based so don't require any valuable storage space on your hard drive, either.