If you're focused on building your membership site, statistics are a great place to start.
Membership site statistics give you insight into market trends and consumer preferences. This helps you tailor your membership strategies and improve ROI.
They also help you benchmark your performance and discover new opportunities.
Use the membership site statistics below to guide your business strategy in 2024.
General membership site statistics
A paid membership can be a great way to build an online community, share exclusive content, and generate a recurring revenue stream. There are different types of memberships and types of eLearning, from online communities with forums to online courses.
These statistics cover some of the basics of the membership site industry. Learn more about which types of businesses are embarking on the membership journey, how they're getting new members, and more.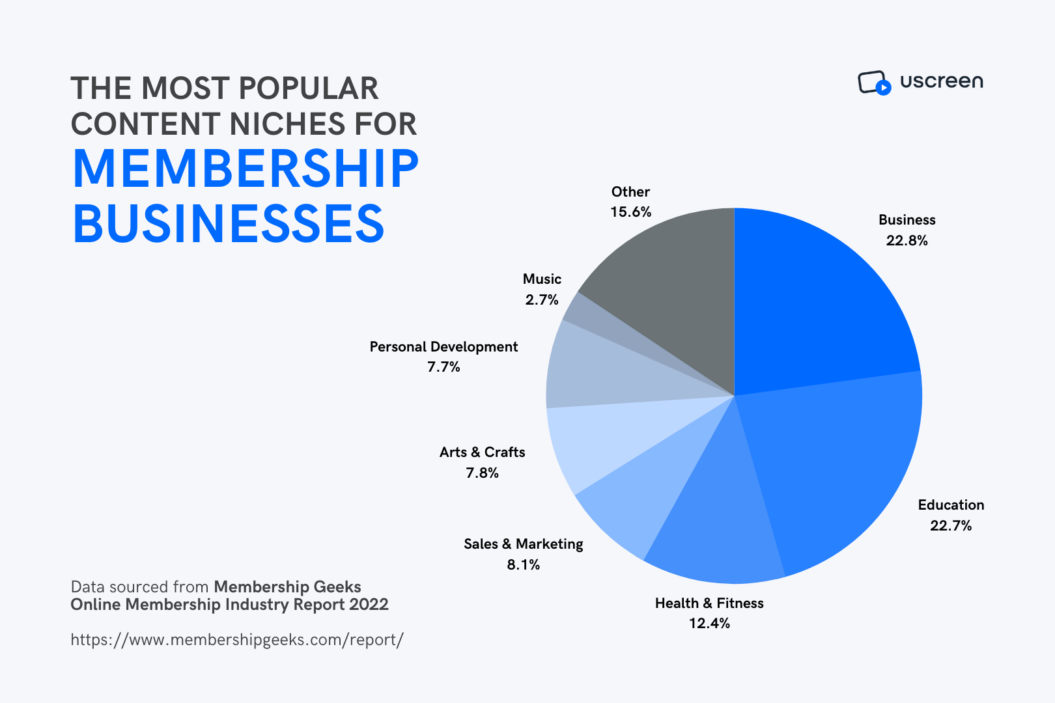 67.6% of membership sites are B2C compared to 32.4% in the B2B industry. (Membership Geeks)
The top reason for wanting to start a membership site is to generate a stable, recurring revenue stream. (Membership Geeks)
Membership websites are a relatively new strategy with majority (66.8%) having been created within the last 3 years and just 9.3% being over 7 years old. (Membership Geeks)
88% of membership site owners report enjoying running their membership business. (Membership Geeks)
42% of established membership-based businesses have had over 1,000 people join over the lifetime of the business. (Membership Geeks)
The most common type of membership site (22.8%) relates to business and entrepreneurship. Education comes in as a close second with 22.7%. (Membership Geeks)
Member engagement and retention are reportedly the top concerns for membership sites. (GrowthZone)
76% of membership sites say email is the best way to re-engage members and generate renewals. (Marketing General)
67.3% of membership owners are unhappy with engagement levels within their community. (Membership Geeks)
Content marketing (27.4%), email marketing (25.1%), and social media marketing (15.1%) are the most common marketing strategies used to bring in new members. (Membership Geeks)
The average email conversion rate for membership sites is around 5.6%. (Membership Geeks)
Membership site financial statistics
Online membership subscriptions can be a great way for entrepreneurs to generate an additional revenue stream, and the industry is only growing.
Learn more about the financial data behind the membership industry, as well as how much your business could earn by adding on a members-only portal.
45.2% of established membership businesses bring in 6 figures each year. 6.9% bring in 7 figures. (Membership Geeks)
63.5% of membership businesses report their income increasing over the last year. (Membership Geeks)
Only 14.7% of membership businesses rely fully on subscription income. Others have additional revenue streams. (Membership Geeks)
The average member lifetime value is $846.81. (Membership Geeks)
36.9% of B2B memberships and 47.4% of B2C memberships cost between $25-49 per month. (Membership Geeks)
56.8% of membership sites landed on their price point through guessing or listening to a gut feeling. (Membership Geeks)
Pricing is one of the biggest reasons subscribers cancel their memberships. (Brightback)
The membership management software market is expected to reach USD 8.26 billion by 2029. (Maximize Market Research)
Other than membership, the most common revenue streams offered by these businesses are coaching and consulting, online courses, paid workshops, and digital products. (Membership Geeks)
Membership site growth statistics
Yet another important factor for business owners to research is the growth potential for a membership site. These stats below share that while membership and subscription services are seeing a positive economic situation, many membership owners still face challenges.
However, as long as you create a great user experience for your members and reach your target audience with the right messaging, you should be able to create a successful membership site.
Membership site model statistics
The membership site business model is still relatively new. However, it can be a great success. Your membership site could be a standalone product, or it could be an add-on for your team to upsell to customers.
Learn more about how some businesses model their membership sites and which ones might perform better.
Uscreen membership statistics
As a bonus, we've done some digging into our own data. Across all of the memberships that have built and hosted their businesses with Uscreen, we've noticed some interesting trends.
From the impact of membership apps, to the benefits of a membership community, here are some of the most noteworthy statistics we've pulled from our internal data: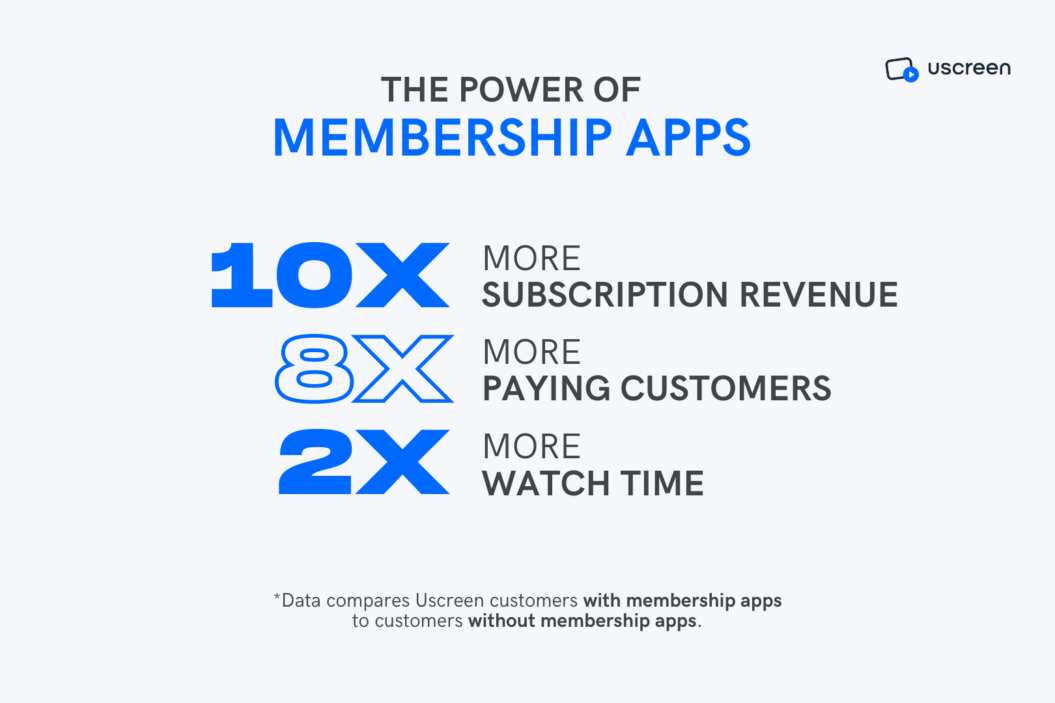 Membership businesses that have their own branded OTT apps have generated 10x more subscription MRR than those without. (Uscreen)
Memberships with apps have 8x more paying members than those without apps. (Uscreen)
Uscreen customers with apps have more 10x more daily and monthly active users compared to memberships without apps. (Uscreen)
Memberships see 2x more watch time on their branded membership apps compared to their branded membership website. (Uscreen)
Members who are engaged in a membership's community are 2x less likely to churn compared to non-engaged members. (Uscreen)
Membership businesses that host regular livestreaming events generate 2.5x more monthly revenue compared to those that host no live events. (Uscreen)
Build your own membership site today
Moral of the story? Building a membership site is probably a good idea. It has little to no overhead to get started (you just need to pay the fee for your website platform and dedicate the time to build out your content) so there's no reason not to give it a try if it could make sense for your business.
Consider centering your membership site around video content. Uscreen can help you create the perfect membership site to start bringing in new and recurring revenue.
Membership site statistics FAQ
Are membership sites profitable?
Membership sites can be a great way to earn recurring revenue. While the profit depends on how much money you put into your platform costs, promotion strategy, and content creation, you can easily earn 6 figures in revenue from your membership site.
Marketing Geek shares that while most membership sites earn less than $50,000, the average annual income is nearly $200,000.
What is the best platform for a membership site?
The best membership site platform for you depends on your needs. However, Uscreen is a fantastic option if you want to create a premium library of video content. With a beautiful interface and easy-to-use functionality, you can easily monetize your videos with a membership.
How do membership sites make money?
You can have a free tier or free trial for your membership site, but the most basic way that membership sites make money is through charging a monthly or annual fee to be a member. Members then get access to premium content and other perks to make the cost worth it.