Video is king. In fact, 92.1% of global internet users watch digital videos each week.
As a creator, video is a goldmine because people are willing to pay subscription fees to get on-demand access.

If you've been thinking about how to create a subscription website to monetize your content, we've created the best and fastest path to get your site up and running.
In this article, you'll learn:
Let's jump right in.
Why You Should Launch a Video Subscription Website
I know already know why, skip to the how-to!
Research shows that 65% of Americans are subscribed to 3 or more subscription video on demand (SVOD) services. And that includes more than just the big entertainment platforms like Netflix and Disney+.
Better still, video subscription sites are one of the best options for building a stable and consistent income.
Why?
Because people want to pay for video content when it's:
Convenient: people are happy to pay for a one-stop-shop where they know they'll find the content they love, instead of fighting through the hundreds of pieces of content in their news feeds or channel guides.
Familiar: subscription services have become the new normal. Research shows that SVOD is the most popular type of subscription service.
Perceived as more valuable: research suggests that people who pay for a service frequently in smaller amounts are more likely to engage with it in the future.
Supportive for their favorite communities: people love to support their favorite creators and will contribute significant amounts of money to help them keep creating.
Ad-free: people want a seamless experience watching their favorite content, meaning they want it without ads.
Convinced? Here's how you can launch your own video subscription website…
A Step-by-Step Guide to Building A Video Subscription Website
Building your own video subscription website sounds overwhelming. You've done your initial research, and there are many pieces involved: from buying a domain name to choosing membership plans to thinking about Google Analytics.
The best place to start deciding which technical solution is right for you.
Step 1: Pick the right site-building method for you
When it comes to building your own video membership site, you have 3 options:
Lease a video-native website from a specialized membership platform (recommended).
Hire a developer to build a customized website for you.
Build your own membership site using WordPress site, Wix, and other similar platforms.
1. Lease from a video membership platform
A video membership platform, like Uscreen, is an all-in-one solution that you can use to build a full-on membership site and host your video content without writing a single word of code.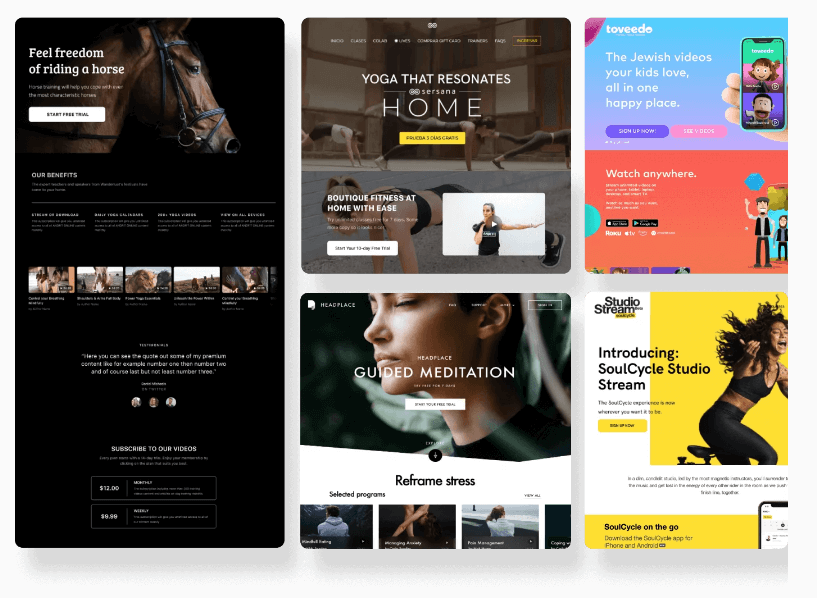 This cost-effective, time-friendly option will help you get your video subscription site up and running seamlessly.
A good membership platform will let you:
Host your videos on a custom domain.
Customize your website with a website builder (like our drag-and-drop page builder).
Accept credit cards for one-off and recurring payments with a built-in payment gateway (like Stripe and/or Paypal).
Offer different membership levels with multiple subscription plans.
Build an engaged online community.
If you're interested, find out how Uscreen compares to other membership platforms and why you need to launch your own video membership site with us!
2. Hire a developer to build a membership website for you
If you've got cash to spend and at least 3 to 6 months to spare, you can hire a professional developer to custom-build your membership website.
This is the most expensive site-building method because your developer will have to build a customized product from scratch. So, you could be looking at paying $60 to $100+ an hour.
If these costs sound reasonable, you can find developers on websites like Upwork or Freelancer.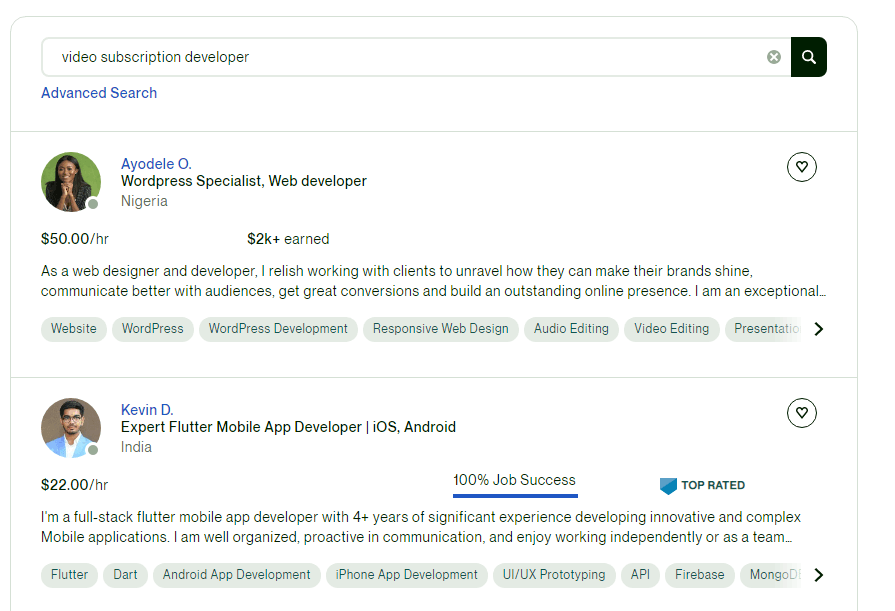 You'll want to make sure the developer you hire has specific experience in web design for gated content and native video-hosting.
We also recommend having that developer on retainer to maintain your site and make sure it's always optimized and secure.
Now, if you have the time but are strapped for cash, this next option could work for you…
3. Build your own DIY video membership website
This is a cost-effective solution as long as you're willing to spend the energy learning and dealing with all the moving parts that come with it.
You can use Wix which has a built-in website builder that helps you design your subscription site.
Or, you can build your video subscription site from the ground up using WordPress.
This means you'll need to find and integrate website design templates (i.e. WordPress Themes).
But, whether you use Wix or WordPress to build your video membership site, you'll need to figure out:
Video-hosting solutions.
Membership plug-ins and membership management software (like MemberPress or MembershipWorks).
e-Commerce functionality.
Payment gateways.
You're looking at spending hundreds of hours on building everything and dozens of hours each month on maintaining it.
Plus, you may still need to have a developer on retainer to fix any bugs and make sure your website is secure and updated.
Step 2: Upload your existing video content
Once you've built your site, you can upload your existing video content. The process of uploading videos will depend on the method you chose.

When using Uscreen: All you have to do is drag and drop the videos into the 'Content' area of your Uscreen dashboard. Or you can sync with your Dropbox account to upload directly from there.
When working with a developer: you'll have to discuss with your developer where you'll host the videos and how they will be displayed on your website.
When building your own site: if you're using a WordPress website, you'll need to think about hosting the videos and organizing the videos using a WordPress plugin.
Now, uploading existing videos is only the first step. You'll also have to think about your process on how to add new videos regularly and how your users will navigate all of the videos in the library.
Step 3: Organize your content to optimize the user experience
With your videos uploaded, it's time to organize your content catalog. This means categorizing and displaying your videos in an optimal way that'll boost sales, engagement, and improve user experience.
That's why you need to make sure your content catalog is appealing, optimized, and easy to use. Your videos are only as good as the customer's ability to find them, and if you make that browsing experience easy and enjoyable for them, you'll increase customer retention.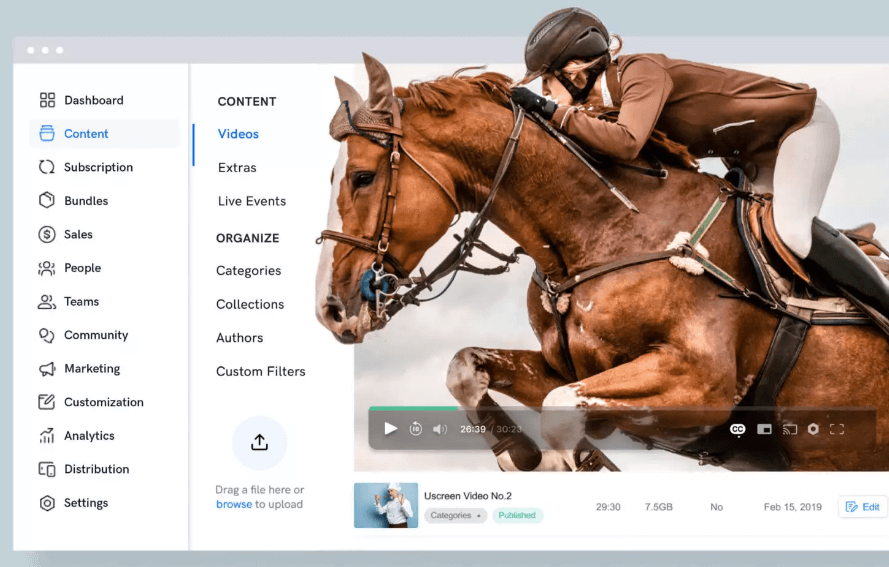 With Uscreen, you get really granular ways to organize and present your content.
Aside from having individual videos that make up your whole video library, you also get to have:
Categories: the first level of organization, your categories are the umbrella genres that all your videos fit into.
Custom filters: the second level of organization that'll help your viewers find the content they want easier. For example, if you're creating a fitness video subscription website, your filters can be based on the length of the workout, the difficulty, or even the trainer leading the class.
Collections: a group or series of videos to be watched consecutively. For example, if you're a fitness trainer within a specific category, you can have a 7-day workout routine with a playlist of 7 videos.
These functionalities give you a lot of options to create a structure with your videos regardless of what niche you operate in.
In fact, we've seen many creators move from different platforms like Kajabi, over to Uscreen because they want a better browsing experience for their viewers.
Creators like Momma Strong and FaderPro, for example, are some of the Kajabi-to-Uscreen-converts who love the Netflix-style design Uscreen has to offer.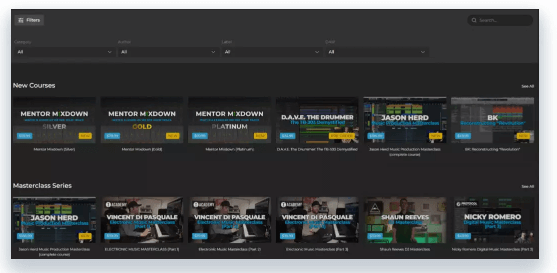 So, whether you're creating a world of education, entertainment, or inspiration, you can organize your videos in a way that makes them easy to find and follow.
Step 4: Choose the membership model or subscription plans to offer
Your content is the foundation of your business, which is why you need to make sure you can package and sell your content in ways that match your business model.
You'll have to think about member-only types of content and other add-ons for the different membership options.
With Uscreen, there are 5 ways you can package your content on your video subscription website:
Paid all-access membership: where you offer a flat rate to be paid over a certain time period (i.e. every month, year, quarter, etc) that includes access to all your premium content.
Tiered membership: where you offer different membership levels at different pricing plans, with subscribers getting more access the higher the price. (i.e. Basic plan with access to certain content and a more expensive Premium plan with access to what Basic has and more).
Pay-per-view access: where your viewers can buy or rent specific content on a one-off basis. This works for both single videos or a collection of videos.
Hybrid: where you offer both types of member-only content (i.e. tiered or all-access) and the ability to buy or rent courses on a one-off basis.
"Freemium" plan: this means offering free basic access to your service, with the option to upgrade to a paid plan that includes access to premium content, so you can easily attract new members.
We also recommend offering a free trial to your paid membership. Research shows you can convert up to 52% more customers by offering a short free trial to use your site.
It's simple with Uscreen.
Build, launch and manage your membership, all in one place.
This empowers your non-members to overcome their own sales objections. They can get a hands-on look at your membership site, experience all the perks, and decide if it's right for them.
Step 5: Customize your subscription website
Now for the fun part…
It's time to customize your video website!
If you're using Uscreen, we have several customization options you can choose from that'll make your brand shine through.
Our most popular tool is our plug-and-play page builder, which lets you build a stunning website with everything you need, like a…
Homepage
Contact page
About page
FAQ page
Product page
…and other landing pages you need.
Step 6: Set up marketing tools and integrations
Once your site is ready to go live, it's time to set up automated marketing tools that'll help you reach more people and earn more money.
We recommend you set up these 3 marketing tools before you launch:
Email list: a tool that allows you to collect email addresses of potential customers (i.e. MailChimp).
Subscription upsell: a built-in Uscreen feature that allows you to offer point-of-purchase upsells of your membership subscriptions to customers.
Abandoned cart: a built-in Uscreen feature that automatically contacts people who leave the sales process before completing their purchase.
That way, you can build a solid foundation for the long-term marketing of your business, grow your sales, and recoup any potential 'lost' income from on-the-fence customers.
Even better, you'll find that on the Uscreen dashboard…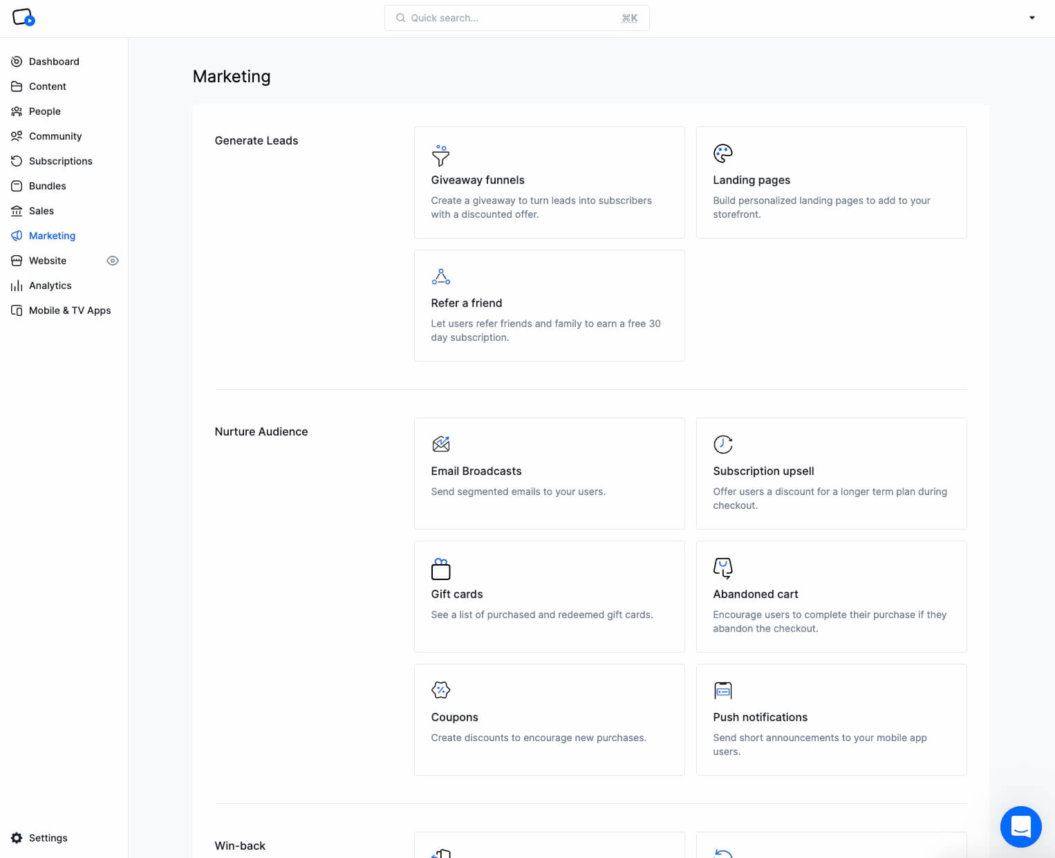 …you can access a full suite of marketing tools to help you launch, grow, and retain customers. These tools also help you:
And, if you have your own preferred tools – like email marketing software – you can use our API and integrations to create an even more personalized experience.
If you want to learn more about Uscreen's video marketing tools, check out this video:
Why You Need To Create A Subscription Video Website With Uscreen
Uscreen is a platform made with creators in mind. Our philosophy is simple, your success is our success.
We've helped over 25,000 creators who've generated a total of more than $100 million in revenue. And our data shows that the average Uscreen creator makes over $12000/month!
We want creators to do what they love and live off of it comfortably. Take Your Book Of Memories (YBM), a video membership site that offers DIY photo album-making tutorials.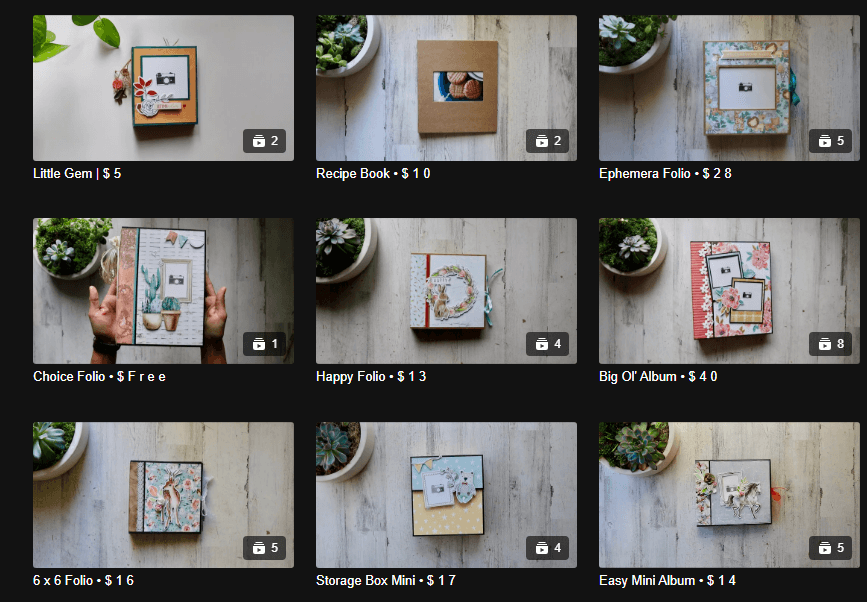 Their founder, Frances Long, originally started on YouTube in 2017 and quickly experienced the limited potential of YouTube monetization.
Previously, Your Book Of memories generated a meager $480 monthly in YouTube ad revenue when she had 15,000 subscribers and 600,000 total views.
Frances realized that if she wanted to get paid what she's worth and keep doing what she loved, she had to take control of her income and monetize her videos away from YouTube.
So, in January 2019, she launched her own subscription website with Uscreen!
And the results were great…3.7% of YBM's YouTube subscribers converted to their subscription site.
And just from that, YBM saw an 855% increase in monthly revenue in 4 months, all from her existing content.
Instead of relying on YouTube as a monetization platform, Frances uses her YouTube channel as a powerful marketing funnel to generate leads for her paid, exclusive content.
We've seen many creators and entrepreneurs launch with Uscreen or convert to Uscreen from other video platforms like Vimeo.
Why?
Because at Uscreen you get more than just a video monetization platform, you get an all-in-one membership management platform with native video hosting and built-in marketing and customer relationship management tools.
It's simple with Uscreen.
Build, launch and manage your membership, all in one place.
Scaling Your Video Website? Piece of Cake!
Once you have a good process of uploading new videos, you'll want to consider scaling your website. Scaling means increasing your revenue but without putting in more extra work!
Meet Cakeflix, a video membership site that offers an extensive library of online courses for all things cake: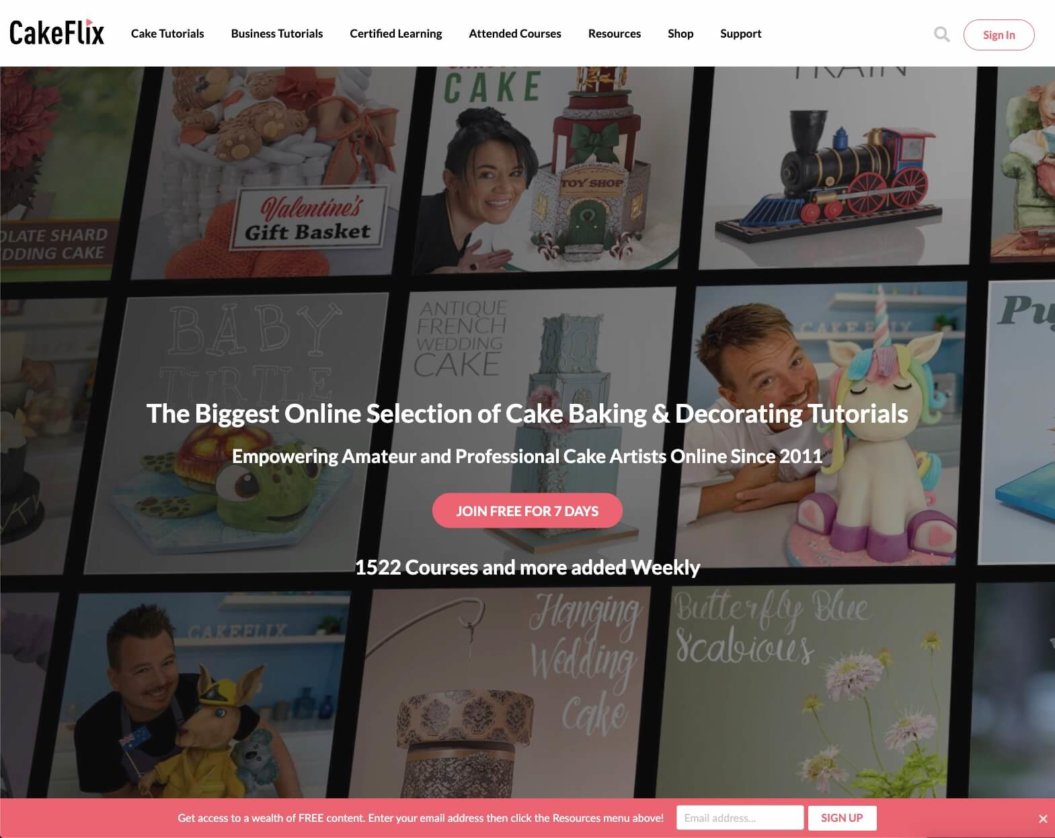 They provide a lot of free cake decorating tutorials on their social media platforms and have a YouTube channel where they've built a large following.
But, they found that monetizing free content by itself was hard.
Their income would fluctuate, and they had to spend a lot of time and effort expanding their social reach for a small and unpredictable return.
So, Cakeflix created a video membership site for their most dedicated supporters who want to improve their decorating and baking skills.
Now, their subscribers can access premium video-based lessons and a community to share their experiences with.
To top it all off, Cakeflix leveraged their paying community and launched OTT apps.
That's because Cakeflix knows that some of their viewers will need to watch the content in the kitchen (i.e. on their phones, tablets, or even TV), without having to carry their laptops around and waste precious table-top space!
By launching these apps, Cakeflix was able to:
Retain existing customers who prefer watching content natively on their favorite devices.
Reach a whole new subsect of customers who only watch content on OTT devices.
In fact, we found that 65% of video streaming is done on TV and mobile apps. And, OTT apps can grow your audience and revenue by up to 30%!
So, instead of hiring a developer to launch their apps (which usually takes between 3 to 6 months and can cost anywhere between $10k and $20k), Cakeflix decided to scale and upgrade their business with Uscreen!
With us, they get a:
Cost-friendly option.
Technically hands-off solution.
Dedicated team to support and maintain their app (for free) after launching.
Full-on OTT platform ready to go with all the features they have from their subscription site and more!
Uscreen creators can easily launch a wide range of OTT apps – as part of a package – like Roku, Apple TV, Apple Watch Fitness, iOS, Android, and more!
If you're looking for inspiration, check out our list of creators from 4 different niches who successfully launched their OTT apps with us.
It's simple with Uscreen.
Build, launch and manage your membership, all in one place.
Wrapping It Up…
You have many options when building a video subscription website. It all depends on your goal, resources, and know-how. The easiest and best path is using a solution like Uscreen.
With Uscreen, you have everything you need, from building a custom website to managing all of your videos in one place. If you're in the content creation game for the long run, you should also think about scaling your business with OTT apps!
Pick a site-building method (leasing from a provider, like Uscreen, is the recommended option).
Upload your existing video content.
Organize your content for the best user experience. 
Choose what type of subscription plan you want to offer. 

Customize your subscription website. 
Set up marketing tools and integrations.