Online video is growing faster than ever.
Cisco reported that by 2022 online videos will make up more than 82% of all consumer internet traffic. That's 15 times higher than what it was in 2017!
With all this growth in video consumption, you may be worried about your video platform getting lost in the mix. And, you want to make sure your business is positioned to grow.
If you're a marketer or video streaming business owner looking for upcoming online video trends then stick around, we're here to help you anticipate what lies ahead for online video.
In this article, we'll lay out the 6 online video trends that you should know about for 2023 and beyond.
Lets go!
Trend 1: Live video is booming
The first trend you need to know about is live streaming.
In 2020, we found that watch time for live content is up by 250% over the last year and the number of live streaming events available has increased by 300%.
This growth was supercharged by Covid-19. With lockdowns in place all around the world, live streams helped people:
Build more authentic connections with their favorite brands.
Recreate their in-person experience at home.
Safely navigate Covid-19 restrictions.
Google Trends data showed that searches for live streaming platforms almost doubled after March 2020 (during the outbreak.) So, potential customers are actively looking for live streams to engage with.
And we saw lots of businesses adapt to meet that demand. For example, IAMAG produces live videos specifically for their subscribers to interact with artists.

Our internal research shows that between March and August of 2020:
Social media platforms have also started to prioritize users who use their live streaming features
because it gets people to use their platforms for longer (more on that later). In fact, research shows that live streams can hook viewers up to 10 or 20 times longer than pre-recorded videos.
Take Instagram Story suggestions, where live streams are given priority over pre-recorded Stories: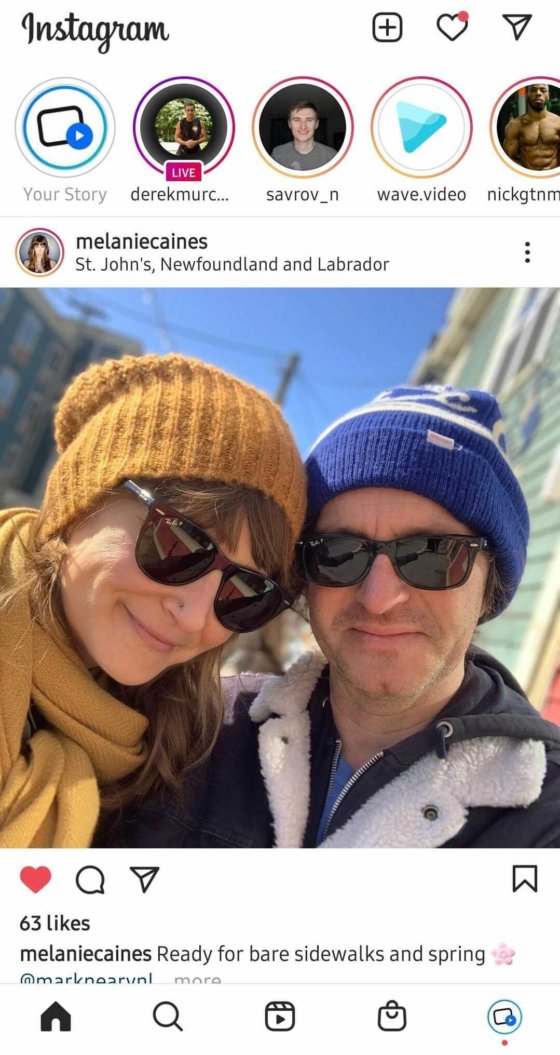 Live video can also help with your brand awareness and marketers should leverage live streams in their video marketing strategy.
For example here at Uscreen, we host live informational webinars and a lot of them have more views from non-subscribers.



Live streaming is no longer exclusive to crazy events like the space jump in 2012.
They've become a sure-fire way to connect with the most engaged members of your target audience. The ones that want to watch and connect with your business in real-time.
Trend 2: Video traffic is becoming more reliant on search engines
In 2021 it's estimated that the average person spent 100 minutes per day watching online video.
That means there are a lot of people looking for videos like yours, and Google and YouTube's search algorithms are actively trying to send them your way.

For example:

If you head over to Google and enter a search term with clear intent – like a "how to" – there's a high chance that search will display a video carousel ahead of all other results: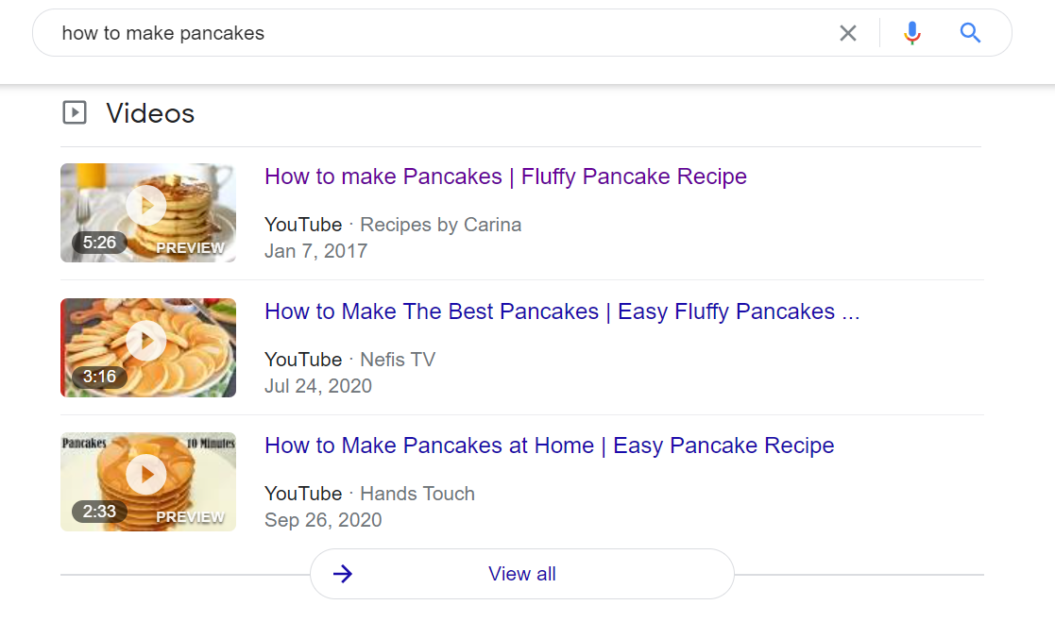 This means that online video is a core part of search results. It's front and center of the world's largest search engine. So, you need to optimize this part of your content marketing strategy!
The good news is:
YouTube dominates the video search market by over 90%. So, you can hit two birds with one stone by optimizing your video content for YouTube!
One of the best ways to do SEO for YouTube and Google is by using the right keywords to tag, describe and title your videos. You can learn more about how to do that in sections 4 and 5 of our article How To Get More Views On YouTube.
Trend 3: Less is more with video production
It seems like every few weeks there's another new camera or camera accessory launching that has all the tech YouTubers buzzing, just like with the release of Sony's ZV-1 camera: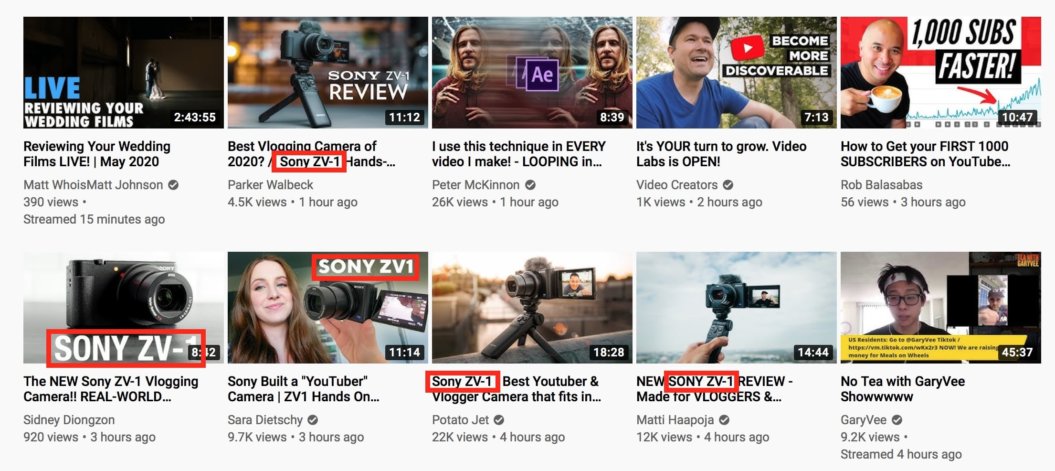 Trends like…
4K cameras
8K cameras
High-speed cameras
Drones
360 cameras
… and much more are filling up the market. And you might feel that to get your content to the next level you need to buy the latest equipment or video editing software.
But, updating your gear is a hefty investment and there will always be something new around the corner. (Who has 1000s of $$$ to drop every few months?)
Just because there's new and shiny gear doesn't mean you have to buy it!
It's better for you to tell a good story with normal equipment than a mediocre story with the best equipment. Take social media influencers, for example.
They'll often use their phone camera to film their videos.
To make sure they're being heard and seen, they focus on making compelling content that provides value all while filming with their 1080p or 4K phone cameras.
In fact, we spoke to video experts who all recommended that you focus on your storytelling.
While having the best equipment can make your videos look more professional, the most important part of your video, however, is the content itself. You could spend thousands on professional equipment but if the content is bad, it will all be a waste. On the other hand, if your content is great, people won't be paying much attention to whether it was filmed on an Arri Alexa or just on someone's phone.

Ollie Burrows
Videographer at Contrast
You should master the equipment you have now before moving on to something more complicated.
If you're not sure how adjusting your aperture and ISO affects your image then there's a good chance you still have work to do in understanding and how to get the best image out of your smartphone. For example, Filmic Pro is a great app to help with just that.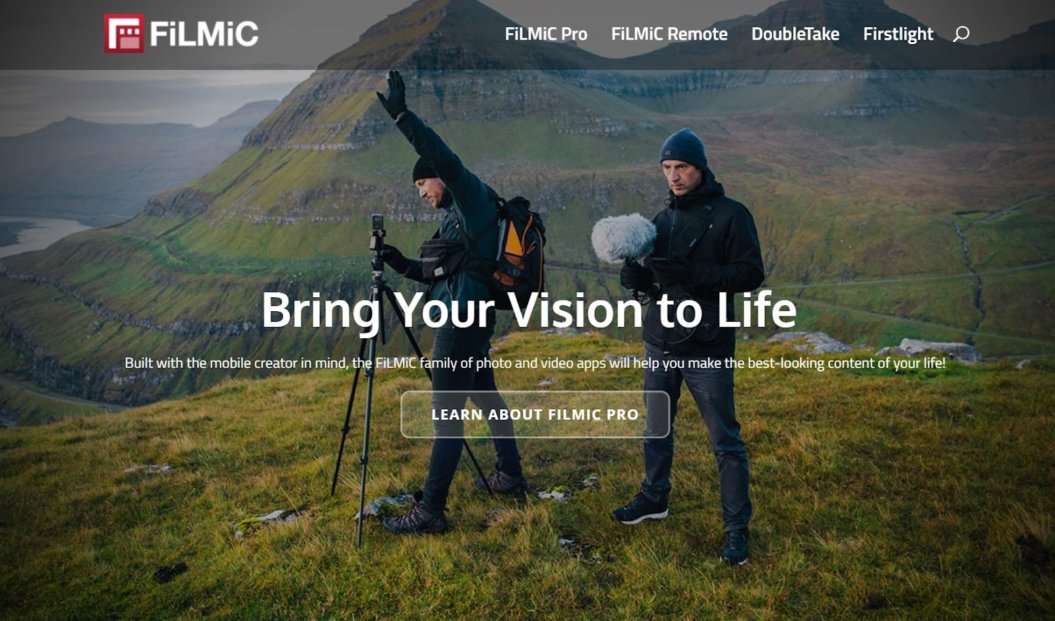 You can watch our video on how to make better videos without spending any money with 6 simple tips.
Trend 4: Video content is going over the top
The Covid-19 pandemic accelerated cord-cutting for a lot of us.
More and more demographics want to have increased control, save money, and avoid adverts when watching content. This drives people to use OTT apps and services over standard cable channels.
In fact, eMarketer predicts that by 2022 people will spend more than an hour a day watching videos on a subscription OTT service.
So, to reach your viewers and capitalize on that rising watch time, you need OTT apps. OTT allows your viewers to access video content natively on their favorite device, like their:
smart TVs
game consoles
streaming boxes
mobile devices
…and more. And, if people can't access your content at their convenience, they'll find other brands that can.
Big media companies are also riding the OTT wave by releasing their very own OTT services like:
We've also seen our own Uscreen customers leveraging the OTT gold rush. In 2020, roughly 50% of Uscreen customers ordered at least one new OTT app!
As a video business owner, you should consider investing in OTT apps because they'll help you:
Reach more people.
Provide a better video streaming service.
Earn more money.
Trend 5: Social media platforms will push short-form videos
Short-form video is the new black and it's here to stay.
In response to TikTok's explosive growth (and our ever shortening attention spans), all social media platforms are pushing short-form videos.
You can see this with Instagram Reels, YouTube Shorts, and Snapchat Spotlight.
And much like live streaming, social media algorithms are prioritizing users who use these new short-video features.
The place we recommend focusing a lot of attention on is YouTube Shorts.
Viewers like to interact with short-form content. And, Shorts can be an easy way for you to attract attention and nudge people to go check out your latest video.
The goal here is to get seen and direct more traffic towards your channel and video business.
Making YouTube Shorts is a great place for you to repurpose some of your paid content. Which gives your viewers a teaser of what your videos are like and entices them to follow your brand.
You can create a YouTube Short using Youtube's video creation tools or upload one created elsewhere.
Trend 6: Using vlogs for video marketing
Vlogs are one of the most popular forms of video content online.
Research suggests that 52% of marketers say videos help them build trust with potential customers. And what better way to connect with viewers than through a vlog?
Vlogs are a great way for you to humanize your brand through on-demand content. People love watching other people's lives, routines, habits, and behaviors. There's a reason reality TV shows are so popular.
Data shows that as of 2018, 34% of social video viewers watched vlogs on YouTube at least once a month. The only types of content that are more popular are explainer videos and educational videos.
Vlogging boomed during the pandemic because of quarantine measures. People used technology to compensate for the lack of human connection.
In fact, #WithMe videos, where creators shared an activity to do with their viewers, grew by 600% after quarantine began.
Bon Appetit, a food magazine that's been around since 1956, is a great example of how to use vlogs in video marketing to make your brand more human.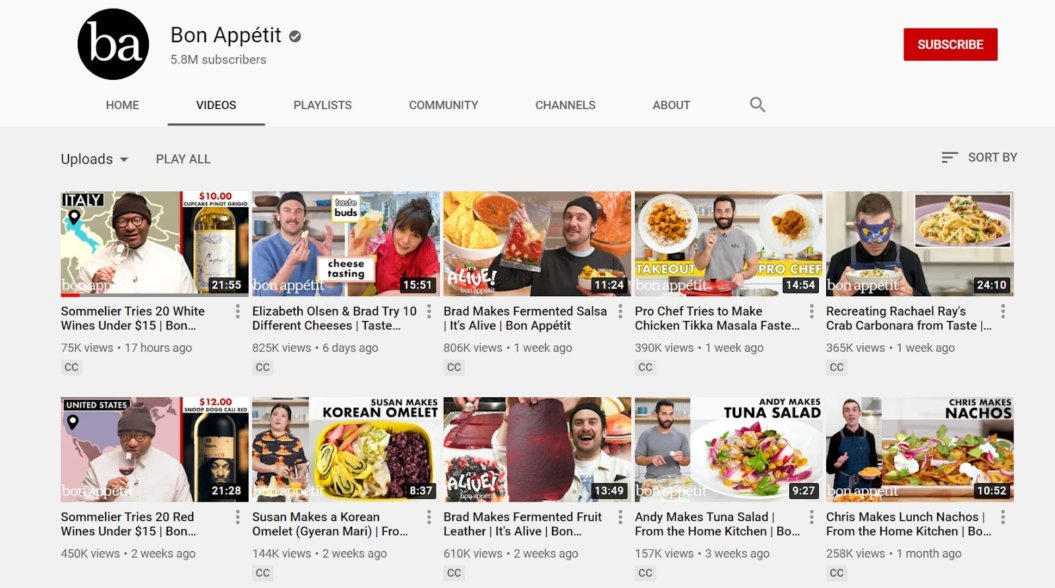 They've grown immensely on YouTube recently. A big part of that is their unique approach to their channel. Their camera work is good, the video editing is stylish, and like any good show, there's a cast of familiar characters that regularly appear in their videos.
All the videos are in the company's test kitchen and during the pandemic, they changed their in-person guest appearances to virtual cook-alongs.
The rawness of vlogs makes your brand more authentic and approachable.
Summing this up…
Video consumption is on the rise. Here are the 6 online video trends that every marketer and video business owner should take away for 2023:
If you want to grow your business and stay ahead of the curve, make sure to leverage these 6 online video trends in your business strategy.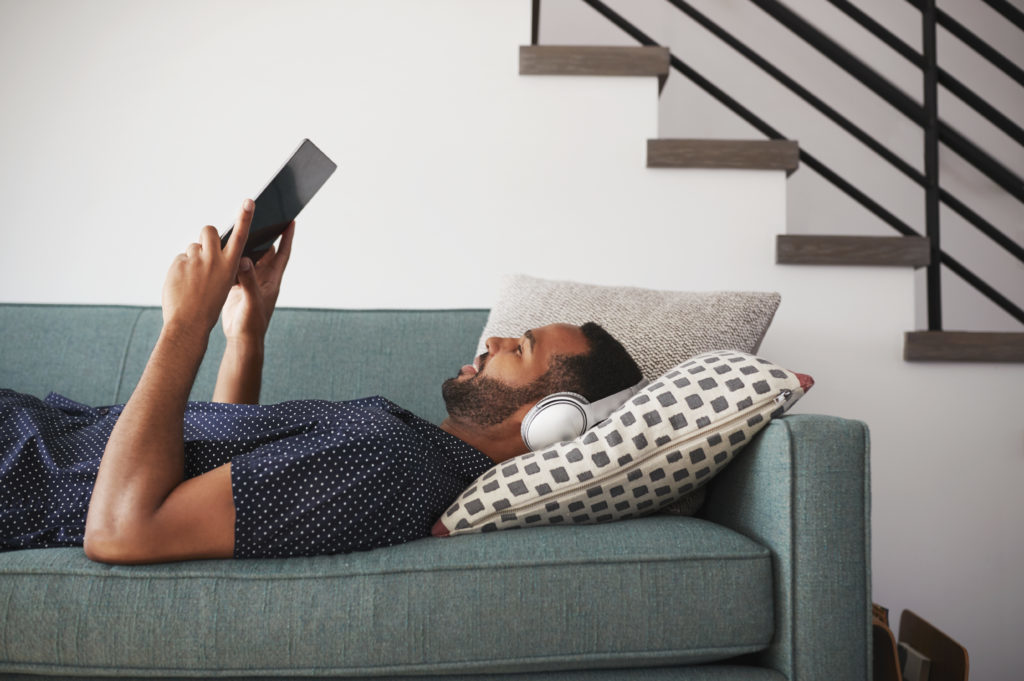 OTT Content:
What we learned from 1.1 million subscribers