Curious about how your earnings stack up against other content creators?
Or are you hoping to get into content creation but you're wondering how much you can make?
Then buckle up: This is exactly where you need to be!
Sensational stats about how much top-earning creators make are everywhere.
What's a little harder to find in one place, though, is info about what more ordinary creators are making.
You know, creators you can relate to.
Well, until now…
We've gathered data and facts to give you a picture of how your creator peers are faring.
We're looking at the top 4 platforms:
YouTube
Instagram
TikTok
Twitch
And we'll wrap up with a single strategy that creators are using to generate an average of $12k/month, passively!
Let's dive in.
General State of Creator Economy: How Much Do Content Creators Make?
Context matters, so let's start by highlighting a few key facts for you to keep in mind.
Linktree's 2022 creator economy report says only 12% of full-time creators make more than $50k/year. For part-timers, that drops to 3%.
According to Convertkit's creator report, 67% of full-time creators started making content more than 3 years ago. Over 25% started growing their audience 10 years ago.
Here's where it gets interesting: 77% of creators depend on brand sponsorships rather than monetizing their content directly.
This is a way to make money, sure. But many creators want to focus on quality content and explore other income opportunities on their own terms.
Relatable, huh?
If you're among creators who want to make money solely off their content and maybe explore other monetization opportunities after that, there's a hot new trend that's in your favor!
The Influencer Marketing Factory has found that 58% of online content consumers would pay up to $15 each month to access their favorite creators' content.

Among them, 15% of consumers are already paying for subscriptions to access creators' content, according to Global Web Index's 2022 creator economy report.
Okay, so consumers want to get content this way. But are your fellow creators adapting?
Yes! An analysis by Cornell University researchers shows at least 61% of creators are trying to make money by directing subscribers off-platform.
So if you're yet to hop on this train, maybe now's the time.
And that's why, as promised, we'll tell you the strategy these creators are using to make $12k a month.
Alright then. Let's get into the first platform, YouTube.
1. How Much Do YouTubers Make?
Creators on YouTube make money through:
Advertising revenue (through the YouTube Partner Program and Google AdSense).
Channel memberships.
Super Chats and Super Stickers.
YouTube Premium.
Shorts Fund.
Super Thanks.
Brand sponsorships and partnerships.
YouTube is now rolling out ads for YouTube Shorts, which will be another way for creators to monetize. Besides these ads in short-form videos, creators can make money from a $100 million pool set up by YouTube called the Shorts Fund.
To receive a Shorts Fund payout, a creator needs to make at least $100. Shorts Fund earnings are also capped at $10,000.
Creators typically make $3 to $5 per 1,000 ad views from YouTube videos. This is known as the CPM, or cost per mille. It's known to fluctuate. For example, at the end of financial quarters when ad cycles refresh.
CPM differs depending on your:
Niche.
Average age and demographic of the target audience.
The type of ads placed in your YouTube videos.
Let's say your CPM is in line with the average we've just given. If your YouTube channel receives 10,000 views a day, that works out to between $6,000 and $11,000 per year.
YouTubers can use some of the platform's features to make money off-platform, notably the merch shelf.
Sell Merch has found that a YouTube channel with 11,000 subscribers will make around $70 a month or $840 per year selling merchandise.
Super Chats, Super Stickers, and Super Thanks are all donation-based features that live stream viewers can use to tip creators.
How much you can make with them differs based on how engaged your audience is. But you can use a free tool like Playboard.co to see the exact amounts other creators in your niche are making with these features.

2. How Much Do Instagram Creators Make?
Instagram creators and influencers are making money through:
Creators' shops.
Affiliate marketing.
Brand sponsorships and partnerships.
Reels ads (Instagram keeps 45%).
Live badges (between $0.99 and $4.99 with a $250 limit per viewer each session).
To make money with Instagram Reels ads, you need at least 10,000 followers and an account that adheres to the Partner Monetization and content guidelines.
Business Insider revealed that Reels typically earn creators $1,000 per million views. Besides ads, creators who make reels can make money from the Reels Play bonus program.
A spokesperson for Meta shared that creators can make a maximum of $35,000 after getting 50 million views.
That works out to $0.70 per thousand views.
Now, you should know, at least for now, there's no clear figure to bank on for this social media platform.
Here's an example:
Creator Jackson Weimer was offered $8,500 per month if his Reels got more than 9.28 million views.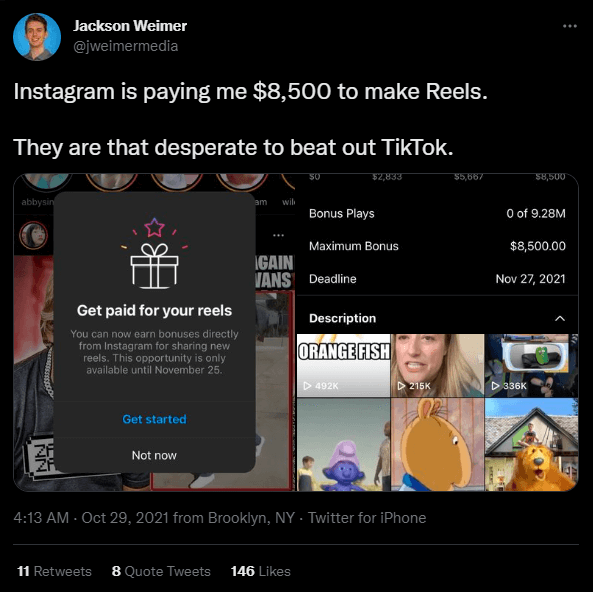 Five months later, he got a notification saying he could still earn $8,500 per month from the program. But this time, he'd need to get 84.02 million views! That's 9x more views for the same payout!
That's the kind of treatment that would send any video content creator on the search for a platform they control and can earn stable revenue from.
That said, sponsored posts are the main way Instagram creators make money from their content.
Another investigation carried out by BI showed charging brands $100 for every 10,000 followers is a popular but unofficial formula.
HypeAuditor spoke to 1,865 Instagram influencers and found that the average influencer makes $2,790 from their account.
The survey found that brand sponsorships are by far the most lucrative way for creators to make money.
Instagram content creators with over a million followers typically charge at least $1,000 per sponsored post.
Micro-influencers with 1,000 to 10,000 followers make $1,420 per month.
Mega-influencers, those with between 100,000 and a million followers, make $15,356 per month.
A large chunk, 40.15% of that, is through brand promotion.
Other creators are leveraging their following to launch and promote their own products.
3. How Much Do TikTok Creators Make?
Creators on TikTok make money through:
Live Gifts between 25 and 1000 TikTok coins.
Tips.
Tiktok Creators fund (available to creators based in the US, UK, Germany, France, Spain, and Italy).
Sponsored posts.
The TikTok creator fund is known to pay between 2 and 4 cents per 1000 video views, according to findings by the Digital Marketing Institute.
TikTok has stayed hush-hush about what its creator fund pays. Luckily, some top creators have blown the lid off that secret.
SuperSaf's earnings as shown below would have been $151.88 based on the exchange rate on that date.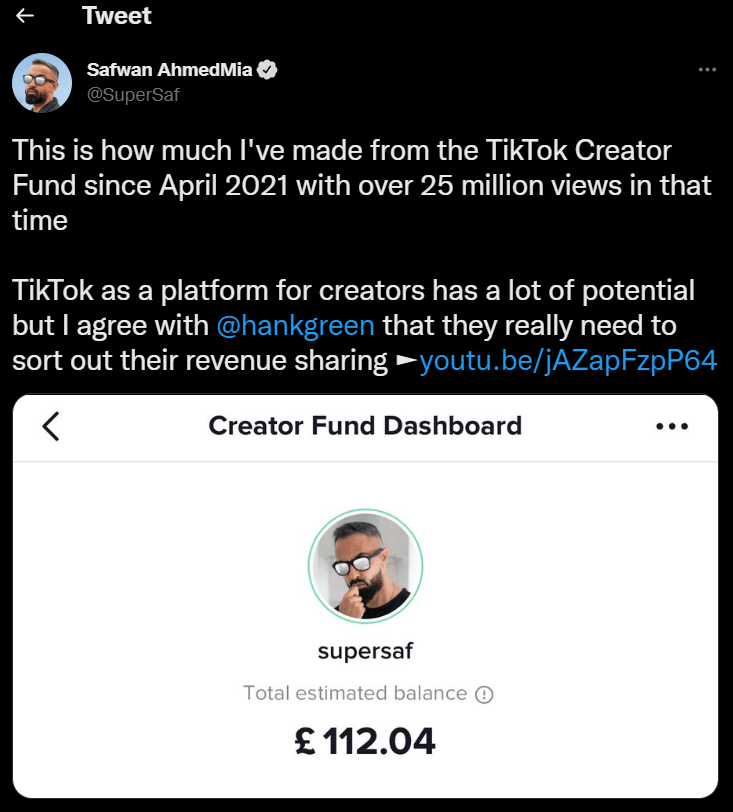 Mr. Beast chimed in: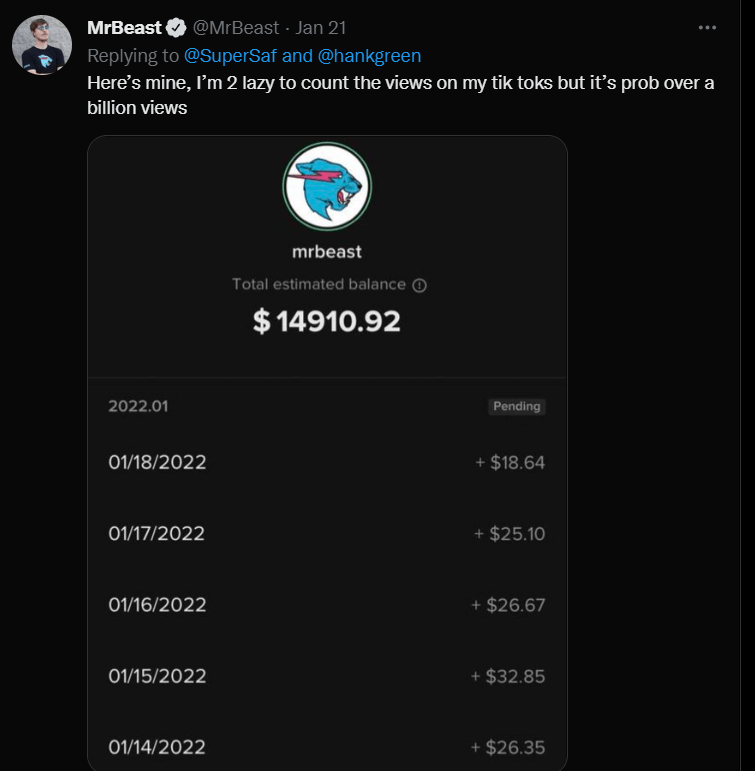 By some accounts, creator fund payouts average out to between 2 and 4 cents per 1000 views.
A million views earn you between $20 and $40.
That's most likely why TikTok is discouraging creators from seeing the fund as a main way to make money.
In a statement to Engadget, a TikTok spokesperson said it's one of several alternatives while highlighting the creator marketplace.
That makes sense since, as we just covered, brand partnerships are in fact how most TikTokers are making decent money.
The TikTok creator marketplace is where creators and brands can connect to collaborate on marketing campaigns.
Before you can join, you'll need:
More than 100k followers.
At least 3 videos posted in the last 28 days.
To be over the age of 18.
More than 100k video likes in the last 28 days.
Statista reports TikTok creators with under 5,000 followers make an average of $181 per sponsored post, while those with more than 5 million followers make $4370 per post.
In line with this, IZEA reports that TikTok creators with more than 1 million followers make an average of $3,514 per post.
And now, over to Twitch!
4. How Much Do Twitch Streamers Make?
Donations.
Advertisements.
Subscriptions.
Sponsorships.
For subscriptions, Twitch's 3 tiers determine whether the revenue share is 50/50, 60/40, or 70/30.
Your earning potential on Twitch depends on whether you're an affiliate or partner. You'll only be promoted to partner once your following and engagement reach a certain level.
The only guidelines Twitch gives for reaching partner status are that you should:
Have a "healthy" ratio of organic to raided viewers.
Show you have a large following on other services and platforms.
That second condition means, if you want to make a significant income from Twitch, you'll also need to invest a lot of effort elsewhere.
There are 7.57 million active streamers on Twitch and 73% of Twitch's user base is under 34 years of age.
Donations from live viewers are called Bits on Twitch. Each is equal to $0.01 or 1 cent.
Streamers can also use pre-roll and mid-roll ads, although this is generally an unpopular monetization method on the platform. It's mostly used when the streamer is, say, taking a bathroom or snack break.
Like other platforms, Twitch was hesitant to say how much its creators make. But a recent data breach made that public.
Streamers on Twitch need to be in the top 0.015% of streamers to make $67,521, the national average household income in the US.
In the top 100, $32,850 per month (0.0013%)
In the top 1000, $7,063 per month (0.013%)
In the top 10,000, $904 per month (0.13%) — this is before we get to the top 1%.
StreamScheme surveyed Twitch streamers and found 72.8% of regular streamers with small followings were yet to make anything at all.
Among those making money, most are earning less than $100 a month.
Uscreen: How Content Creators Are Making $12k Per Month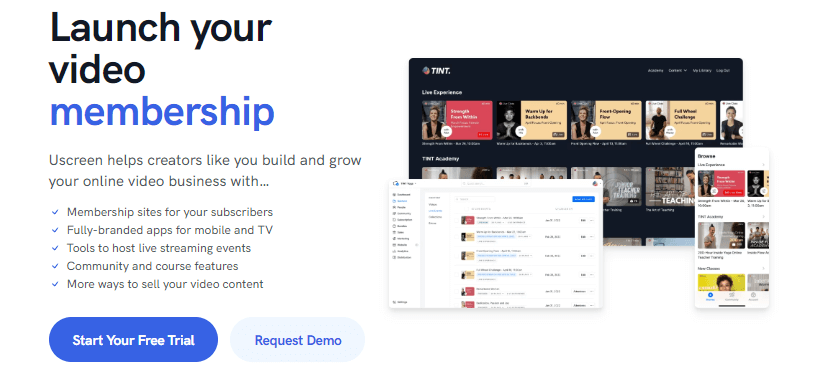 Uscreen has a different place in the creator economy than the top 4 platforms we've gone over.

It's fueled by that trend we touched on earlier of creators wanting to own their platforms and audiences. Their audiences also want to pay them directly for access to exclusive content.

Here's where we tell you how things are going from our front-row seat.

Creators building their platforms with Uscreen are making an average of $12,000 every month.

These creators are completely in charge of how they monetize their content. Oh, and while those 4 other platforms grab a huge cut of creators' revenue, Uscreen lets creators keep everything they make.
Here's how they are making that money:
Tiered subscriptions: members pay a monthly or yearly fee for access that matches the tier they've chosen. This makes up most of the income creators make with Uscreen. And it has the benefit of being consistent month after month.
One-time sales: A viewer pays for a video once and has permanent access to it.
Rentals: A viewer pays for limited-time access to a particular video they like.
Bundles: A viewer pays for access to a set of videos and digital add-ons that you, the creator, have curated for them.

And that's just how they sell their content. Creators on Uscreen can make more money by using shoppable videos to sell merchandise and digital products.
Creators using Uscreen also get to choose if they'd like their own branded apps. Imagine that: your own app where your subscribers view your content exclusively!
Over 25,000 creators from across the world have built their video streaming websites and apps with Uscreen!
Wrapping This Up…
There you have it: That's how much your fellow creators are making on the top 4 platforms.
In our view, the most exciting news here is the strategy creators like you are using to rake in $12k per month.
If that sounds like something you want to give a try today — of course it is! — the opportunity's here.
You can start a 14-day free trial of Uscreen now and join the hottest trend creators are using to make money today with their own platforms.