If you're considering selling a video course online, you may know Kajabi. It bills itself as a knowledge commerce platform, and lets users create custom sites to sell their video courses, single videos, and other digital content.
But is it the best way to go? Or is there a Kajabi alternative that makes it easier to sell and distribute your digital content?
When it comes to selling videos, Uscreen lets you sell more products (including more than one video course), have more users, and distribute your content with branded apps—all for less money than Kajabi.
Let's break it down.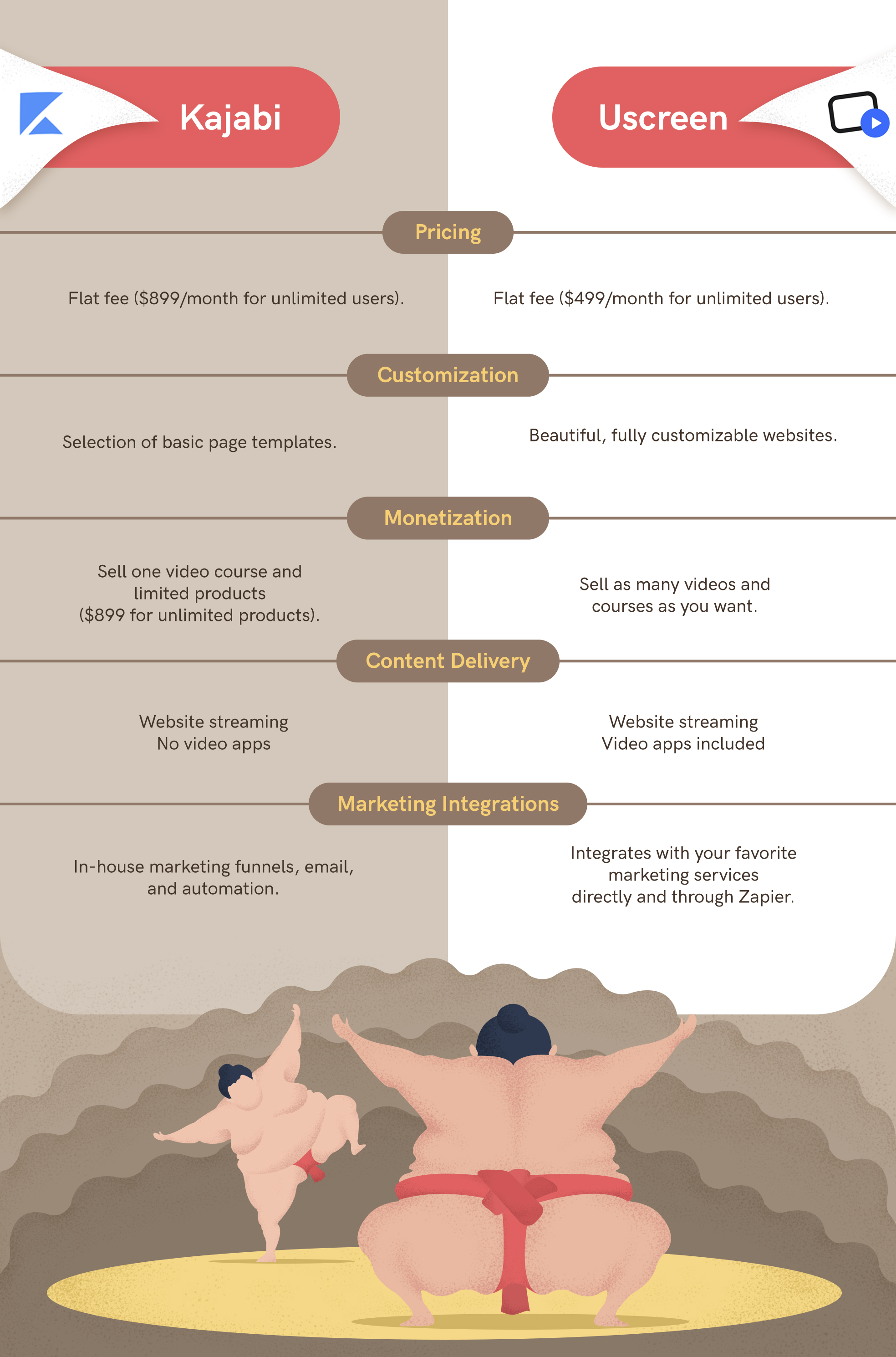 Kajabi: Knowledge Commerce
Kajabi is a "knowledge commerce" platform that lets you sell a video course to subscribers. It includes a basic site builder, some analytics, and email marketing automation.
Users can sell a limited number of products, based on their subscription level, and one of those products can be a video course. You'll also find single videos, clothing, and even expeditions on Kajabi stores.
There are also capabilities for enterprise users, though you'll have to get in touch with Kajabi to find out what they are.
Uscreen: Video Commerce
Uscreen is focused on video commerce. There's the option to sell other content as well, like ebooks and presentations, but it excels in video. Users of the service sell single videos, full video courses, and video-on-demand subscriptions.
The service lets you build a custom website, automate email marketing, access advanced analytics, and even release your own branded apps.
A complete CMS makes uploading, storing, and selling easy.
Now let's take a look at some of the specific differences between the two services.
Pricing
Here are Kajabi's pricing levels:
Basic

$129/month ($103/month paid annually)

5 products

1,000 active members

Pro

$389/month ($311/month paid annually)

100 products

10,000 active members

3 sites

Affiliate program

Ability to remove Kajabi branding

Premium

$899/month ($719/month paid annually)

Unlimited products

Unlimited active members

10 sites

Affiliate program

Ability to remove Kajabi branding
Check out the Kajabi pricing page for more details.
Here's how we price our services at Uscreen:
Basic

$149/month

Unlimited video storage

Unlimited streaming

Up to 250 users

Beautiful templates and customization

Email support

Pro

$299/month

Up to 1000 users

3rd party integrations
Live streaming

Advanced customization

Affiliate marketing

Pioneer

$499/month

Unlimited users

Your own native branded apps (iOS and Android)

Group subscriptions
API access
The Uscreen pricing page gives you the full story.
Both services charge the standard Stripe fee of 2.9% + 30¢ for each credit card transaction, too.
That's a lot to take in. What's important to note is that with Uscreen, you aren't limited to a certain number of products—which means you can sell as many videos and courses as you want. And that you get unlimited users and storage for $499. For unlimited users on Kajabi, you'll need to step up to the $899/month plan.
You'll also have to upgrade to the Pro Kajabi plan if you want to remove branding, which is a must if you want to create a professional-looking site.
$499 for branded apps is a great deal, too, as we pointed out in our comparison with Vimeo's OTT service.
Customization
You want your site to look as professional as possible to show viewers that you know what you're doing. A great-looking site shows potential customers that they're going to get high-quality content.
Kajabi provides a few templates that let you build a basic site with a few pages. These sites are, frankly, not very professional-looking.
The customizable templates are certainly easier than trying to build a site from scratch, but potential customers will notice that you've put together a simple collection of pages. Each Kajabi sites looks basically the same.
Uscreen's site templates are built to be beautiful and professional-looking. Not only that, but they let you customize a wide range of features to get exactly the look and feel you want. Your brand comes through, and that's important.
To see some of the awesome sites our customers have created, check out our Customer Examples page.
Monetization
How are you going to make money with your site? It's an important question for any aspiring entrepreneur.
Both services offer an array of pricing models. You can charge for single pieces of content create your own Netflix-like streaming service. Kajabi also lets you offer payment plans, while Uscreen makes it possible for users to rent your videos for a limited period of time.
And if you're interested in affiliate programs, you can get that from either service. Recruit your users to market for you!
The biggest difference when it comes to video courses is that Kajabi only lets you sell a single one.
If you're looking to monetize videos, Uscreen gives you the ability to create as many courses, single pieces of video content, subscription plans, and other types of video monetization as you want.
Most Uscreen users offer subscription plans that give users access to all of their video content. This creates a reliable, predictable source of income. And as long as you keep putting out great videos, your customers will continue paying!
Content Delivery
Both services let viewers stream your videos online, which is convenient for everyone (Kajabi hosts and embeds videos via Wistia, while Uscreen offers our own hosting and delivery).
But Uscreen also lets you create branded apps that users can download on iOS, Android, Roku, Chromecast, and more. It's a great way to share your content with a larger audience—some of our members put the ability to stream directly to TVs to great use with their fitness channels.
Having those apps available across different platforms also adds to the professional image of your brand.
Both services also allow you to distribute other types of content. Ebooks, documents, and audio recordings are great add-on items to upsell your customers. And you can provide quizzes and assessments to see if your video course participants are learning the material you're teaching.
Marketing Integrations
Both services offer robust email marketing and automation services. Kajabi created their own in-house marketing options, while Uscreen integrates with the services that you're already using.
Sendy, MailChimp, Disqus, and Facebook all integrate directly with Uscreen, giving you and your customers the ability to use features that you're familiar with.
And with Zapier integration, Uscreen integrates with hundreds of other apps, giving you a great deal of flexibility in the services that you use. Choose the best marketing software for your business, and Uscreen will work with it.
What Do You Want to Sell?
Above all else, Uscreen lets you sell, rent, and distribute as many videos and online courses as you'd like. Kajabi limits you to a single course, significantly reducing your earning potential.
Video is a valuable medium, and limiting yourself to a single video course could seriously curtail your ability to earn money.
And because you get a better-looking site with Uscreen, you'll be able to convert more leads into customers.
What it all comes down to is that Uscreen lets you earn more money with your videos. And isn't that what we're all trying to do?