There's no shortage of turn-key live streaming platforms today. But picking one isn't just a matter of signing-up and going live. You'll need to consider all of your short-term and long-term goals, list the features you'll need to make them happen, then find the right live streaming platform that has the features on your list.
Here are 6 steps to help you find the perfect live streaming solution for your needs:
Let's dive deeper into each step:
Step 1: Identify Your Core Target Audience
It's no secret that you need to know who you're creating content for. But it goes deeper than just having age groups and gender skews.
Identifying your audience on a deeper level helps you tailor content to their interests. You're then able to create live streams that are more intimate and valuable.
How do you identify your core target audience? Here's a collection of 6 questions to ask yourself to uncover who they are:
What major challenge or problem is my audience trying to solve?
What are the secondary issues or challenges?
What emotions do they associate with experiencing these challenges?
What solutions have they tried?
How have those solutions failed?
What do they expect from a solution?
While these questions refer to challenges and solutions, don't let the verbiage throw you. Audiences join live streams to gain something, whether for entertainment or to learn about a new industry report.
By uncovering what they are after, you're able to deliver the goods.
Step 2: Define Your Goals
Once you've identified your audience, you need to define goals for catering to your audience. This part is relatively easy. Answers to the audience identification questions will point to what your audience wants from a live stream experience.
Defining goals also adds structure to your audience engagement. For example, you should be able to identify a collection of unique challenges that can be explored in-depth. These challenges can be positioned as individual live stream events, all geared towards solving the major challenge.
To define your goals, you'll need to establish what stage your audience is in your funnel.
As the buyers move from the top to the bottom of a funnel, they transform from problem-unaware to problem-aware, educated, and then ready-to-buy.
The type of goals you set for each stage will vary. For instance, if you don't have many viewers on your YouTube channel or social media channels, you'll need to create more TOFU content to attract them. You can create live videos on topics problem-unaware viewers need to learn about.
Here are goals to consider at each stage of the funnel:
Top-of-the-Funnel
Audience growth
Increased views
High engagement
Watch time
Middle-of-the-Funnel
Audience growth
Increased views
Watch time
Click-throughs to your website and landing pages
Bottom-of-the-Funnel
Increased views
Conversion rate (number of views to sign-up, sales, .etc)
Step 3: Research Your Competitors
Create a table of your top 5 competitors where you'll gather competitive intelligence.
Follow these 5 steps to uncover how they use live streams and benefit from them:
1. Identify Their Platforms
Check which platform(s) they broadcast through. Today, brands often use more than one platform, but it may not work for you. Knowing which gets the most viewers can help you identify a platform where your audience thrives.
2. Find Out What Types Of Live Streams They Produce
Knowing what types of live streams your competition hosts is important. It helps you identify other important topics you may want to explore. It also indicates how their funnel is growing.
3. Research their Monetization Strategies
While live streaming monetization has been covered as a stream-specific feature, there are other ways to generate revenue from live videos.
For example, are your competitors offering special discounts to live viewers along with purchases via links in the live stream description? Or are they mentioning sponsors who've paid for advertising during the live stream?
Having identified how your competition monetizes live video, note these as options you might use.
4. Research their promotion channels
Promotion is how your competitors are driving viewership and engagement to their live streams.
To do this, research their marketing strategies and see how they're promoting their live event. Remember, you only need a high-level overview of their promotion strategy.
Start with checking their social media and YouTube channel. Then check their websites and other marketing channels. If they have an email newsletter, sign up for their newsletter, and pay attention to how they use email marketing to drive traffic to their live streaming platform.
5. Conduct a SWOT analysis
A SWOT analysis helps you identify your competitors' Strengths, Weaknesses, Opportunities, and Threats. As you research your competitors, it's helpful to conduct a SWOT analysis to better position your live streaming offer.
Without going into great details, write down what you consider as your competitors' core SWOT.
Step 4: Align Your Goals with Features You Need
Competitive insights in-hand, it's time to find the features that will help you meet your goals.
As live streaming platforms come with varying functionality, you'll need to create a shortlist of features you'll need. Here's a comprehensive list you can use as a guide:
Video Content Management System
Content management systems simplify the storage, access, and use of video content you produce. You're able to categorize, manage, and distribute videos from a single platform.
Live Video Monetization Options
Monetization is a core feature most video creators look for. It allows you to generate revenue through built-in features, including services like pay-per-view and subscription.
Auto-record to VOD With Monetization and Distribution
Live video shouldn't last for a moment. Auto-record to VOD allows creators to make recorded live video available to subscribers with the option of monetization.
Global Payment Processing
Monetizing live video can be tricky when selling access to live events, with payment processing being an often complex component. Live streaming platforms that include global payment processing act as quick and easy-to-use solutions that limit the friction of collecting payment for access.
Go-live Notifications
Notifications help drive attendance. They typically come in the form of in-app and email alerts.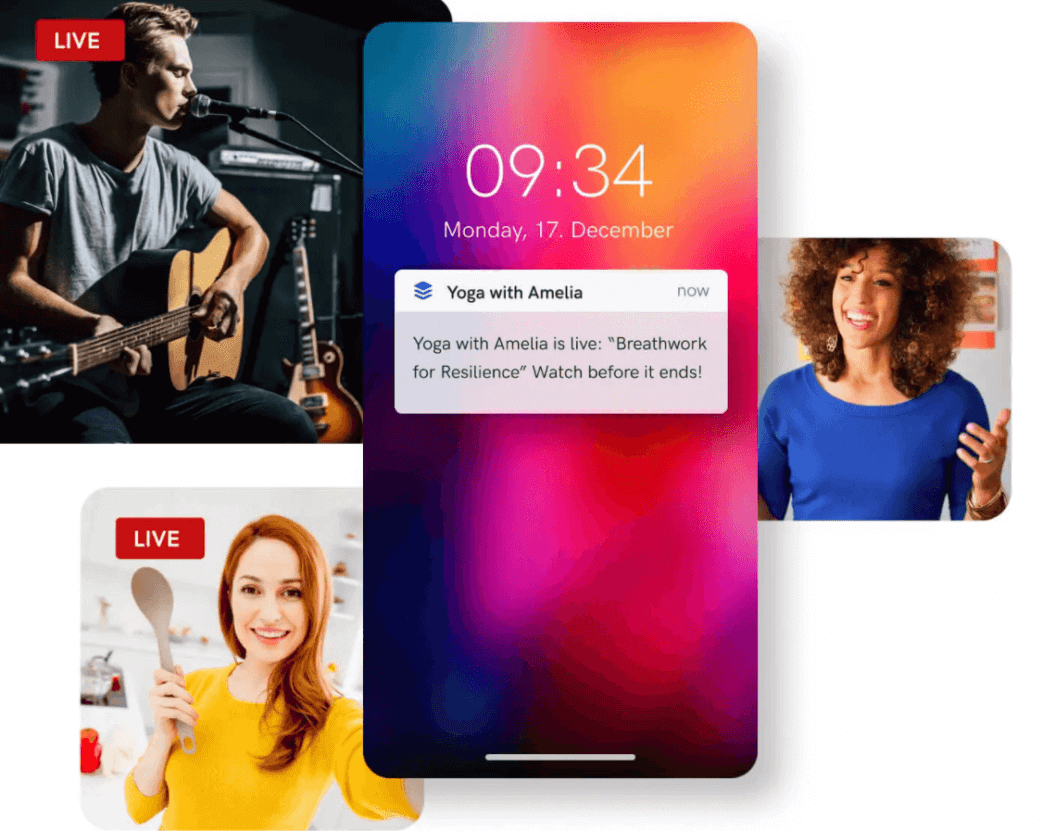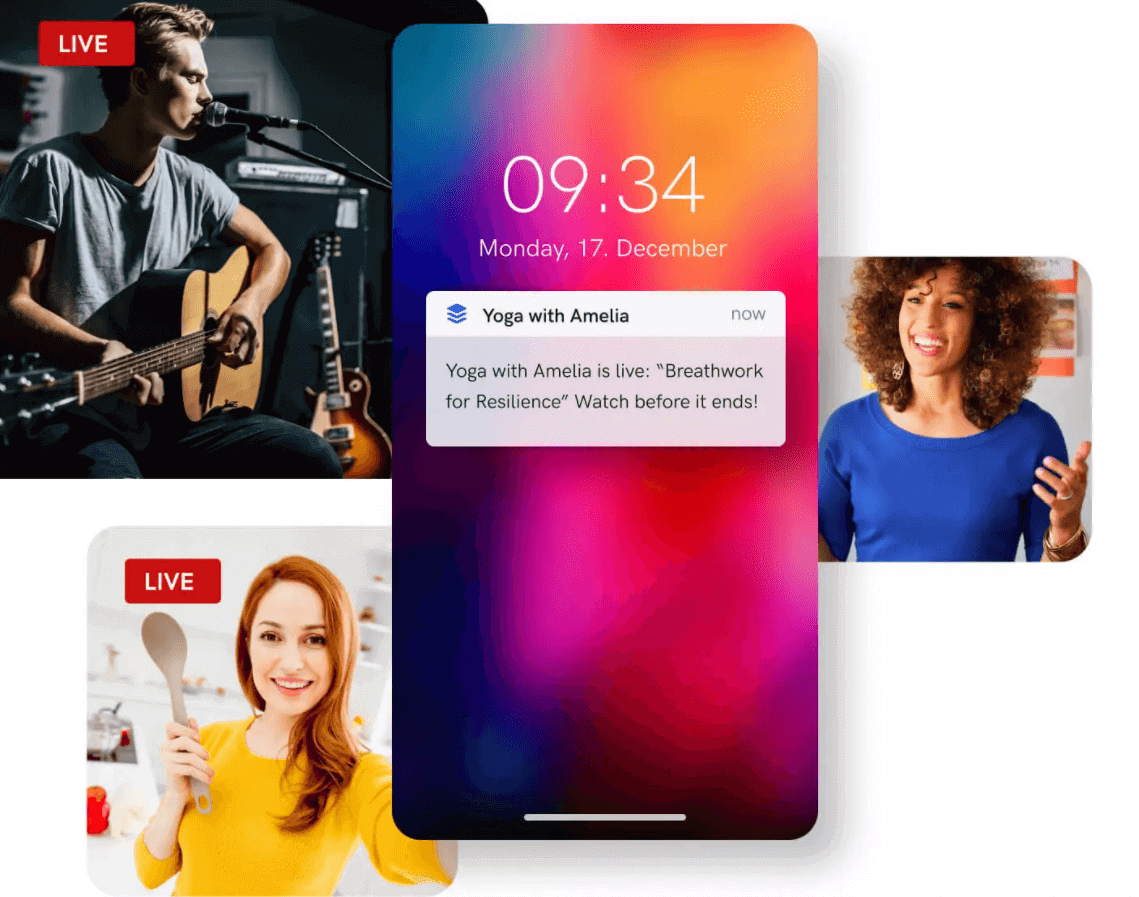 A Branded Streaming Platform
Most live-streaming platforms broadcast via their public sites, making it impossible for video creators to stream from any privately-owned websites. While this may seem like less hassle, it presents creators with a major challenge.
First, most live streaming platforms limit the amount of viewer information creators have access to. You only ever see on-screen names. Without access to contact information, you won't be able to run targeted marketing campaigns for your audiences.
This means you never own your audience information.
Second, using live streaming platforms like Facebook or YouTube means your organic brand exposure is extremely limited. Streaming directly from a branded domain name helps position your brand as an industry leader and offer a better experience for your audience.
It also allows you to control every other element that viewers see on your site, unlike social network branded pages and competing channels.
A Fully-customizable Website
Building a site capable of hosting live streams offers unlimited branding benefits. Live streaming platforms like Uscreen offer fully-customizable websites. Anyone can build a high-quality live streaming website fast and without the need for coding skills.
Pre-registration Pages
Give your audience the opportunity to preregister for live-stream events and build engagement with a pre-sales page.
Live Event Countdown
Create excitement by showing a countdown to your next live stream.
Live Chat and Engagement Tools
Drive engagement and make your live stream more personal through chat and engagement tools.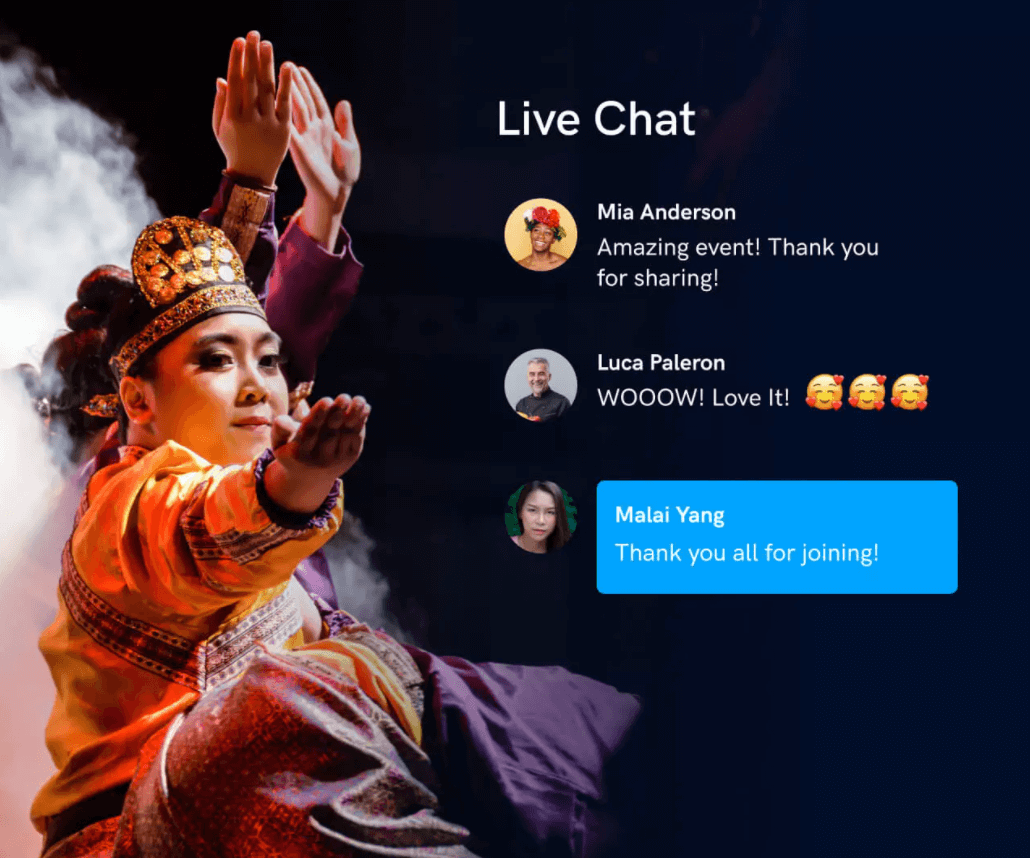 Coupons & Gift Cards
Create discounts & promotions to entice your viewers to join your paid live stream. Your audience can purchase digital gift cards for their friends and family to redeem on your store.
Landing Page Builder
Promote your live-stream event and drive engagement using landing pages. Live streaming solutions like Uscreen offer easy-to-use landing page builder, with ready-to-use blocks for creating a high converting sales page for your live event.
Live Streaming to Web and Branded OTT Apps
Offer Over-The-Top (OTT) live streaming to your audience by streaming live to web browsers and branded OTT apps for various devices.
Video Editing and Embedding Tools
Edit and share live-stream events without using third-party tools.
Advanced Live Video Analytics
Track and measure audience attendance, engagement during live events.
While not an exhaustive list, these are features worth looking for in your next live streaming platform.
Step 5: Match The Platform With Your Audience
It's a common mistake live streamers make.
They go live on every available platform and stretch themselves too thin.
Just because you can live stream on more than one platform, it doesn't mean you should.
Focusing your efforts and attention on one platform helps you to optimize your live stream. Your audience on that platform will start to get used to seeing you live and also begin to engage more frequently. And because you're not stretched thin, you'll be able to respond to all comments and better engage with that audience.
Finding the right fit for your audience also depends on the platform and the demographic of its users. Check our recent live streaming statistics research to learn more about the audience demographics on top live streaming platforms.
Next, use your competitive intelligence, combined with the video platform user demographics to identify where your audience is.
Important: while your competition may have a thriving audience on Facebook, you may have a larger audience on Instagram. In that case, test Instagram first. See how well followers take to a series of live streams before trying out Facebook or any other live streaming platform.
Step 6: Get Started with Live Streaming
You're in the final stretch.
With a clear idea of who your audience is, what matters most to them, where you'll set up shop to live stream, and a monetization plan, it's time to pull the trigger and go live.
Bring your ideas together and plan your live stream by creating an agenda by identifying a core topic and building out talking points.
Take the time to research your topic and create an event that adds value to the lives of your viewers.
And lastly, be sure to get the word out as much as possible to attract a large audience. While you may have followers and fans, using tools like email and paid ads can increase reach and pull a larger audience.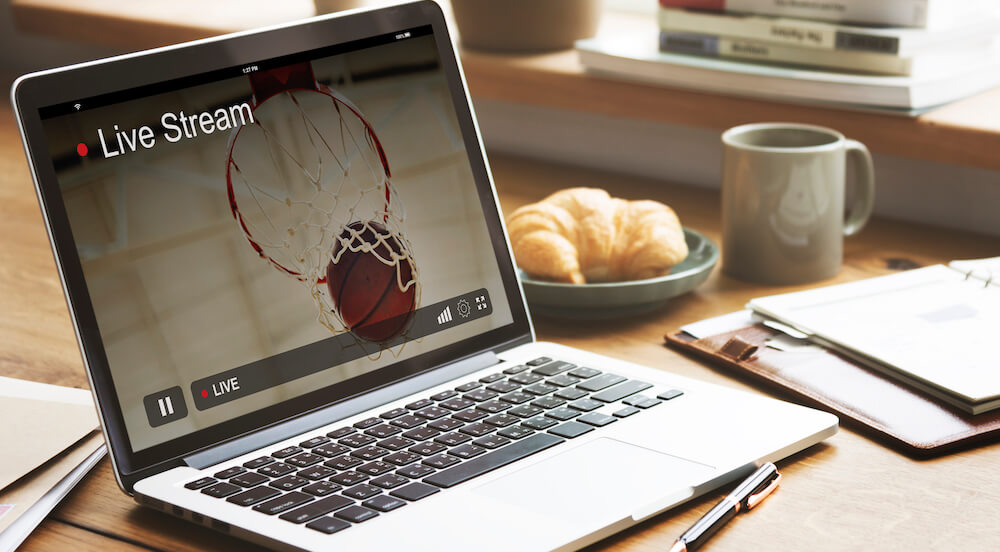 How to Live Stream Like a Pro- Beginners Guide
Final thoughts
Finding the perfect live streaming platform requires more than signing-up and going live. To get the best results for your live stream, you'll need to uncover who your audience is, what they want, and where they are.
You'll also need to find a platform that helps you achieve brand and audience-specific goals, whether you're selling products and services through live streams or capturing leads. Your choice should be easy to work with and help your brand grow.