When it comes to sharing your video content with the world, YouTube is probably the first platform that comes to your mind. But there are also creators out there who are hardcore Vimeo fans.
And as a serious video creator looking to build an online presence around your content and monetize it in the future, which platform should you go for: YouTube or Vimeo?
Before picking the right platform for your content, you'll need to weigh a lot of information. The good news is that we've got you covered!
We know the video streaming market, so we're going to get into details about:
Monetization.
Marketing.
The viewing experience.
How much control you have.
Plus, we'll give you a few other details that should help you decide where to go.
Ready? Let's do this.
It's simple with Uscreen.
Build, launch and manage your membership, all in one place.
So, What Are the Key Differences Between YouTube and Vimeo?
YouTube is a video-sharing platform that allows anyone to upload and watch content. It's also the second largest search engine in the world, after Google.
Ever since its launch in 2005, YouTube has grown to be a massive platform, with over 51 million channels and 2 billion users.
And the list of stars who have become millionaires after gaining massive followings on the platform just keeps growing.
Put simply, YouTube has the biggest inventory of video content on the internet.
On the other hand, Vimeo is a video platform that hosts and streams video content with a focus on being a place for businesses to share their content.
The business model for Vimeo is a Software-as-a-Service (SaaS), with over 200 million active users and 1.5 million creators paying to host their content on the site.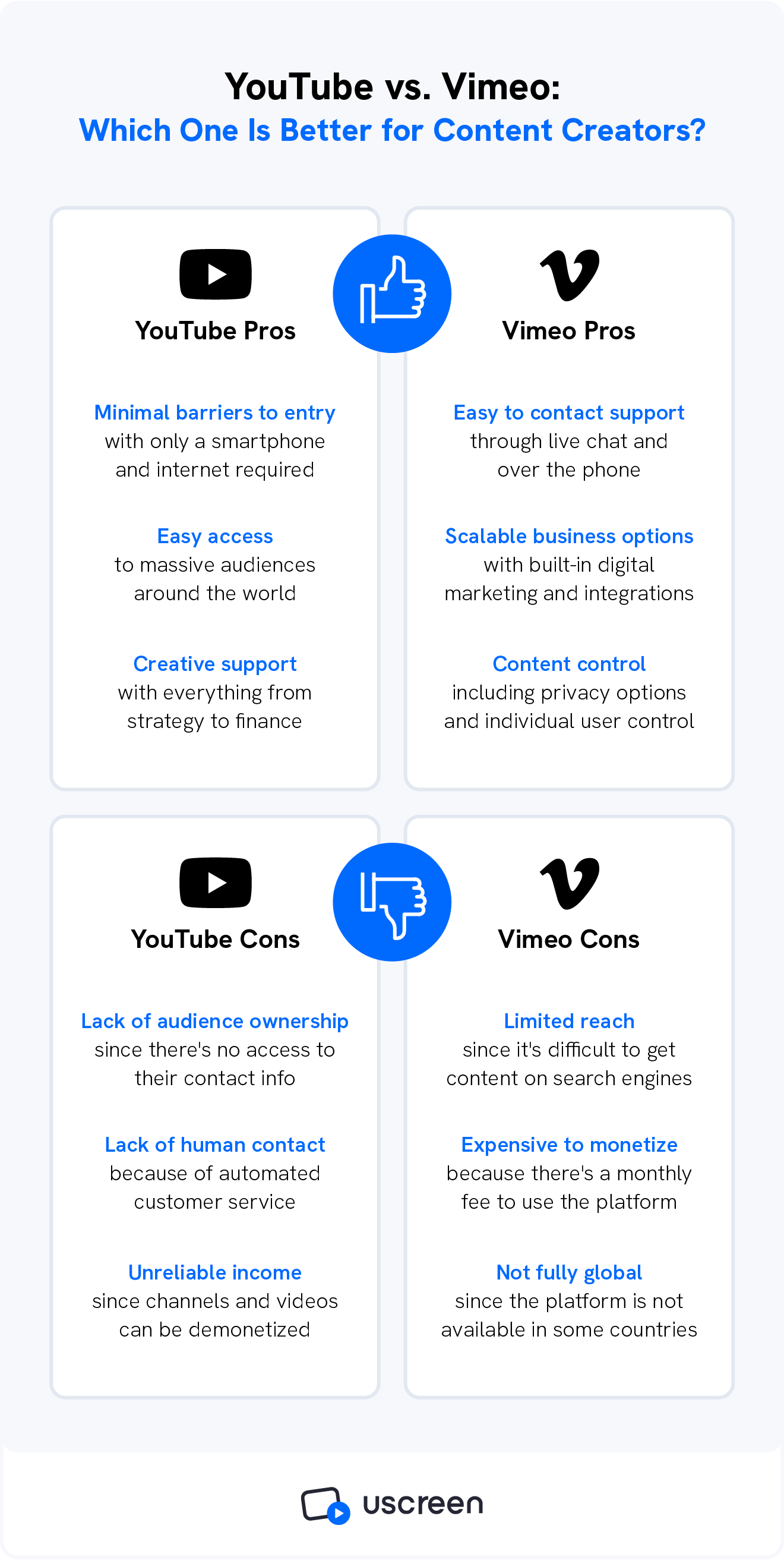 Now let's dive deeper into the difference between Vimeo and YouTube.
1. Monetization
?Winner: Vimeo
You need a monetization plan when choosing to create video content for a living. So, how you're going to earn your money will be key to picking your video hosting platform.
Making money directly on YouTube requires you to already be a successful creator who's posting popular video content.
There are a couple of ways you can monetize your content on YouTube:
Ad revenue: after meeting the requirements, you'll get a share of the revenue the company makes from running ads on your videos, which is reported to be a 45/55 split in favor of the creators.
YouTube Premium: a YouTube Premium subscriber gets to watch all YouTube content without ads, so when they watch your videos, you'll get paid from their subscription.
Channel Memberships: allows fans to support their favorite content creators and get access to special features and exclusive content for a monthly subscription fee.
To monetize your content with Vimeo, you can either rent it, sell it, or have your users subscribe to your channel once you're paying for the Pro plan or higher.
Being able to choose your content monetization strategy means you can pick an option that works for your audience and your future plans.
You might want to offer your audience ad-free viewing, and out of these two platforms, only Vimeo can guarantee that.
The amount of money Vimeo takes from your earnings depends on various factors, like your buyers' local tax rate and currency. You can expect to see 10% plus transaction fees deducted from your gross earnings.
Now you know how the money works, let's see what you get to learn about your audience.
It's simple with Uscreen.
Build, launch and manage your membership, all in one place.
2. Analytics
?Winner: YouTube
Analytics is how you begin to understand your audience and their relationship with your content.
To improve your content, you need to know what videos are getting watched, when people click away from your content, and, ideally, where they go next.
With YouTube Studio, you get a huge range of data that you can dive into and obsess over — if you're that type of person.
It's all information natively held by YouTube, and you can find data for your channel in general and for each individual video.
On YouTube, you can find information about:
Total viewers, watch time, and subscriber numbers.
How your viewers found your channel.
How much of your content is being watched.
Ages and locations of your viewers.
It all gets broken down using charts and other types of data visualizations to make it really accessible.
YouTube analytics is available to everyone; whether you post videos to share between your friends or you're a brand with a subscriber base of millions, you're able to get the exact same data.
With Vimeo, you get access to some data in the background, too, but it's pretty sparse compared to YouTube.
The way you use Vimeo will be different from YouTube, so some data is different and isn't as in depth.
Some data points and metrics you get with Vimeo include:
What percentage of your audience watches up to different points in your video.
How your audience is finding your site.
Whether they're watching from phones, tablets, or computers.
How many videos have been viewed and how many of them were watched to the end.
One plus for Vimeo is that because they offer native publishing to social platforms, you get data about your likes and comments on each.
You also get more advanced data options when you start to pay for your Vimeo account, such as where your viewers are located and video performances over time.
Now that analytics are covered, we'll jump over to the next difference between Vimeo and YouTube.
3. Video Editing Capabilities
?Winner: Vimeo
When you're looking to show off your skills as a content creator, you need the editing tools to support that.
In YouTube Studio, you get access to a basic video editor that should help while you're getting started.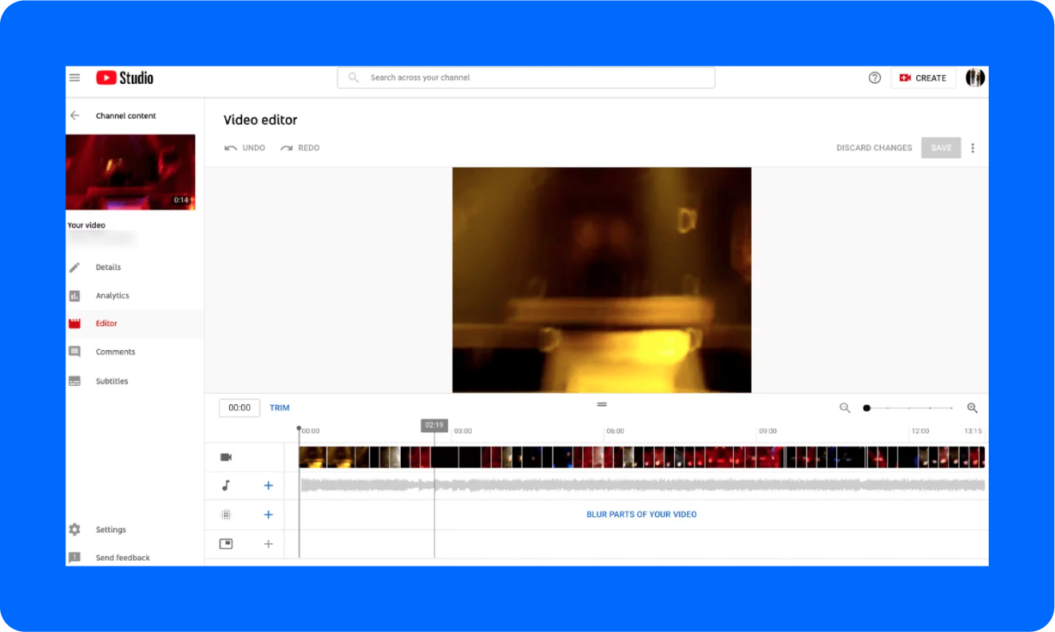 With YouTube, you're able to…

trim your video
add music
blur parts
add end screens

…but you can't have more than one stream of raw footage at once, meaning you can't jump between two different camera angles.
You do, however, get access to a vast library of royalty-free music and sound effects through the YouTube Audio Library.
Vimeo's video editor gives you more options than YouTube.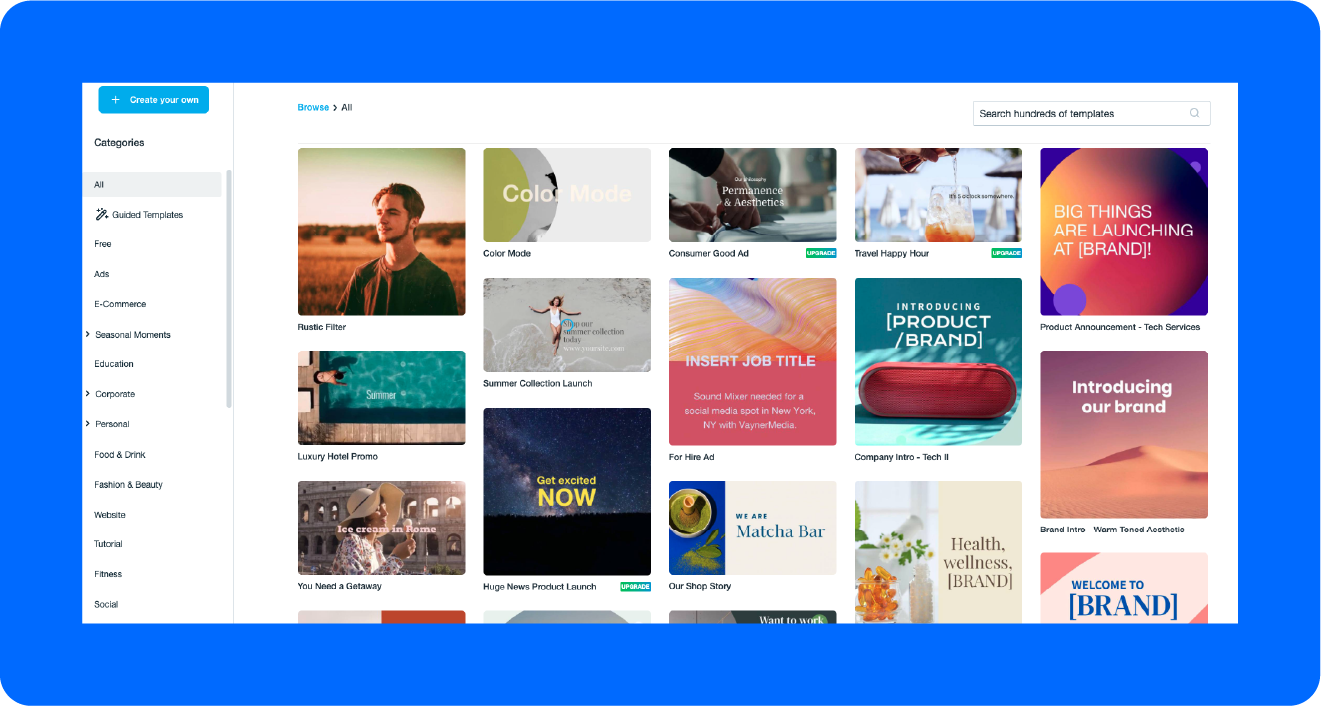 With Vimeo Pro and higher, you get unlimited access to…
stock videos
music
images
video templates
…which can help get your video marketing efforts off the ground quickly. There are lots of templates to choose from on Vimeo.
Plus, you can add text, stickers, frames, and filters to your content during the editing process. The templates are pretty easy to use and you're guided through uploading the type of images.
Like YouTube, it's not a full video editor that can compete with professional software, but it has a reasonable range of features to get you started.
4. Video Quality
?Winner: Vimeo
Video quality is also an important factor when it comes to showing off your skills as a content creator.
When you initially upload your video to YouTube, it's processed in low resolution so that it can get uploaded as quickly as possible.
On YouTube, it can take several hours for your video to be processed into 4K or 1080p quality — the exact time will depend on the file size.
YouTube recommends uploading your video as "unlisted" until the high-resolution processing is finished if you want to ensure only the highest quality video is available to viewers.
On the other hand, Vimeo helps you give your viewers higher quality videos, with streaming possible in up to 8K resolution.
Vimeo has a higher bitrate, which helps with better video and sound quality, although the best quality will only come with the paid plans.
That's how both platforms help you make videos. Now let's look at who is going to be able to watch them.
5. Audience and Community Building
?Winner: YouTube for the audience, Vimeo for the community
You want your video to reach the right people — people who resonate with your message, love your products, or find you absolutely hilarious — so choosing the right platform is vital.
As we covered a little further up, the potential audience for your content on YouTube is huge — 2 billion viewers kind of huge.
Within that 2 billion, there are going to be people who love what you do, no matter how niche your product or content is.
Although YouTube doesn't give you access to your audience's email addresses or social media profiles, you still get enough information about the people who watch your videos to remarket to them across Google platforms.
Your interactions with your community are primarily through the comments section of your videos or during live streams.
Unlike YouTube, Vimeo isn't the type of place most people would go to browse through videos and find fresh content.
This means it's up to you to find your audience and serve them your Vimeo content.
You need to do this by creating a website and embedding your videos or publishing your video content to your social media.
Social media is a great way to build a community, and you can keep your engagement in one place rather than having comments spread across your social media and YouTube accounts.
As a creator selling content through Vimeo, you're able to gather information about your buyers and subscribers.
You can add a custom contact form to your Vimeo player to request your viewers' email addresses so they can choose to be contacted by you directly, which can be a valuable revenue stream.
Moving from audience and community building, we're now getting into marketing and SEO.
6. Marketing and Search Engine Optimization (SEO)
?Winner: YouTube
Being able to market your content through sharing and search engine optimization (SEO) is going to be part of your plan to make money as a creator.
With YouTube, while you have access to a huge market, there's a lot of competition to get your videos featured in relevant search results or to start trending.
There are tools available, such as TubeBuddy, which can help you optimize your videos on YouTube by telling you the tags your competitors use for similar videos and making sure you don't miss a step during the video upload process.
You can also set chapters, or timestamps, for your videos, which helps your video cover more space on the SERP when your video ranks, like this: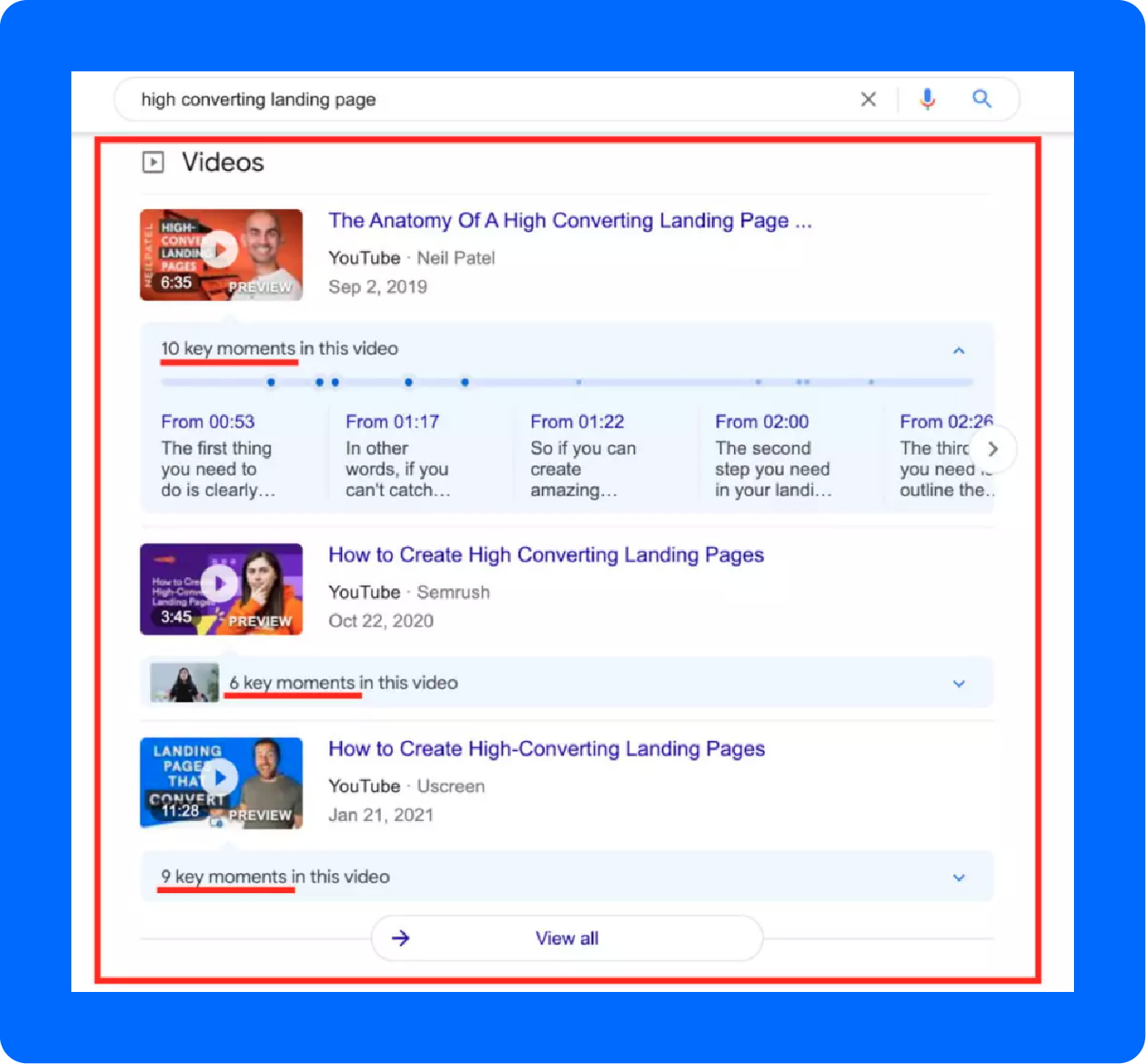 On YouTube, you can also live stream your content for free, including having a countdown and notifying your subscribers about your stream.
There are other marketing options available to you on YouTube, such as adding links in cards in your video and in your description to your landing pages, and end screens that can drive traffic back to your website.
The way you market content hosted on Vimeo is going to be different.
One of the advantages Vimeo has over YouTube when it comes to sharing your videos is a customizable player.
You can add your own colors and logos to your Vimeo player, so when you add a video to your website, it'll match the rest of your theme.
There are other marketing tools available with Vimeo as well, but you need to be on the Business plan or above to take advantage of them.
You're able to:
Customize the final screen of a video and choose related videos to show users.
Add calls to action (CTAs) on your videos to increase sales or clicks.
Generate leads and customer data, which you can then download.
Integrate your current marketing or CRM software with Vimeo.
In terms of SEO, you can add a description and alt tags to your videos at any time and you have customization options for the thumbnail and the video URL.
All of these can help boost the SEO of your video content, although it's unlikely to ever get the type of organic reach that you'd get on YouTube.
7. Privacy
?Winner: Vimeo
Being able to control how private — or public — your content is can be an important factor to consider when comparing YouTube vs. Vimeo.
In YouTube Studio, you can change the privacy of your video at any time, toggling between public, private, and unlisted.
You can even take it down and reschedule the video, so it becomes private until a date and time you choose.
To share a private YouTube video, you need to add the email addresses that you want to be able to access it, and they'll get a notification saying they can watch the video.
Only those email addresses you've added can watch the video, so make sure you use the email address the person uses to log in to YouTube.
It's worth noting that you can only add 50 people at a time, so if your community is bigger than this, a private video on YouTube isn't a great solution.
To get more than basic video privacy on Vimeo, you need to upgrade your account from the basic package.
From Vimeo Plus upward, you're able to change your video privacy settings so that:
Only people with a link can view your content.
Your videos can only be accessed with a password.
Your video can be embedded but isn't searchable on the Vimeo platform.
You can control whether your video can be downloaded.
The video can be embedded anywhere or only on specific domains.
These privacy options give you a lot of control over your content and can prevent it from being shared in places you'd rather it not be seen.
If you choose one of the monetization options that Vimeo offers, you can also add a paywall to your content, which allows you to charge a subscription or one-off fee for people to view your videos.
Vimeo vs. YouTube: Which One Should You Pick?
Vimeo may be a better platform for filmmakers and people looking to make money from their content directly, whereas YouTube is better if you're looking to build a big following and possibly become an influencer.
When you start out creating content, you need to figure out what you want to achieve in the long run and then look for a platform that'll help you get there.
Vimeo offers a lot more control over who can access your content, allowing you to host it on your website without it being searchable on their platform and giving you the chance to control access through a paywall.
YouTube is where people get famous, though.
It takes a lot of work to get big money coming in from YouTube, and you'll need to be savvy at marketing your content to land deals or build communities outside the platform.
As well known as these two platforms are, they're not the be-all and end-all of video content and monetization. There are other ways to earn income from your content and other platforms that offer real benefits.
Here at Uscreen, we hit the mark with some features that you can't get with either Vimeo or YouTube.
Some of the different options we give you include:
Subscription, pay-per-view, transactional, rentals, multi-tiered subscription, and more monetization features for on-demand and live videos.
Branded mobile apps for iOS and Android, as well as TV apps for Roku, Apple TV, and Amazon Fire.
A customizable website to host your content and community, including landing pages to support your marketing efforts.
Tools to help you retain members and reduce your customer churn.
Gift cards, coupons, discounts, and "Try Again for Free" marketing tools to drive subscription sales.
A deep bench of integrations to support your email marketing and automations.
We're geared toward helping entrepreneurial creators and established businesses earn money from what they produce, generating revenue from video streaming.
While Vimeo and YouTube definitely have their place in the market, we offer a unique way to support your video content business as you scale in the long term.
It's simple with Uscreen.
Build, launch and manage your membership, all in one place.
Wrapping It Up
There you go! We've covered pretty much everything you need to know about YouTube vs. Vimeo as platforms to host your content as a filmmaker or creator.
It comes down to what you hope to achieve with the videos you're making.
Want to be found easily by people browsing the internet? YouTube.
Need to add videos to your website that can't be found anywhere else? Vimeo.
Looking to build a strong community of paying members in one place? Uscreen.
There are options we offer that set us apart from these two platforms, and if you want to check out exactly how we can be the solution your business needs, you can start a free trial or get a demo of everything we've got.