The creator economy has grown to a $104 billion USD industry over the past few years
And there are no signs of this trend slowing down.
The average person still scores the internet for hours every day to "fan girl/boy out" over new video content from their favs.
If you're a creator and want to capture a larger piece of the $104 billion creator economy pie, you'll need to know what video membership site is best for you.
This article will dive into YouTube Channel Memberships, and whether it's a right fit for you.
We'll cover:
What are YouTube channel memberships?
A YouTube channel membership is a platform feature that allows your biggest fans to support your content with a paid subscription. With memberships, you create different tiers in exchange for various members-only perks.
Perks include things like custom emojis, badges, live streams, chats, and bonus content only members can access.
YouTube channel memberships are a good idea if you already have a robust YouTube following of fans who are likely to subscribe in exchange for perks.
How do you qualify to start a YouTube channel membership?
Before you dive into how YouTube channel memberships work, you need to know if you qualify.
The minimum fan funding requirements are:
Your channel must be part of the YouTube Partner Program (YPP)
You must be at least 18 years old
You must agree to YouTube's terms and policies
You must reside in one of the locations where channel memberships, Super Chat & Super Stickers, and Super Thanks are available
In addition to the above, you must also meet the following requirements to offer YouTube channel memberships:
You must have over 1,000 subscribers
You must live in one of the available countries
Your channel cannot be set as "made for kids"
Your channel cannot have a significant number of videos set as "made for kids"
Your videos cannot have claimed music
Keep in mind, you also have to meet certain qualifications once you turn on YouTube channel memberships to remain active.
You can't create just any content and perks you want for subscribers. You have to follow YouTube's guidelines—some of which can be quite limiting.
For example, you can't offer 1:1 meetings, contests for only some of your members, or downloads of content that is on YouTube.
If you're looking for more control in setting up a membership video site and want more freedom with the perks you offer, look into an alternative video membership platform.
How does a YouTube channel membership work?
Once you've checked your eligibility, you can turn on channel memberships. Do this by going to the "Monetization page in YouTube Studio, and clicking on the Memberships tab. From here, YouTube will guide you through a step-by-step process.
Each YouTube membership channel will look slightly different—but everyone starts out by setting up membership offers.
Your offer will include different perks for each tier. You can add up to five tiers, and you can pick your own name, offering, and price point for each. Let's look at some examples.
Rose and Rosie – 4 membership tiers

Rose and Rosie have almost 1M subscribers and a thriving membership community. On the right of their profile page, you'll see a join button. When subscribers click this button, a pop-up appears with the option to join different membership tiers.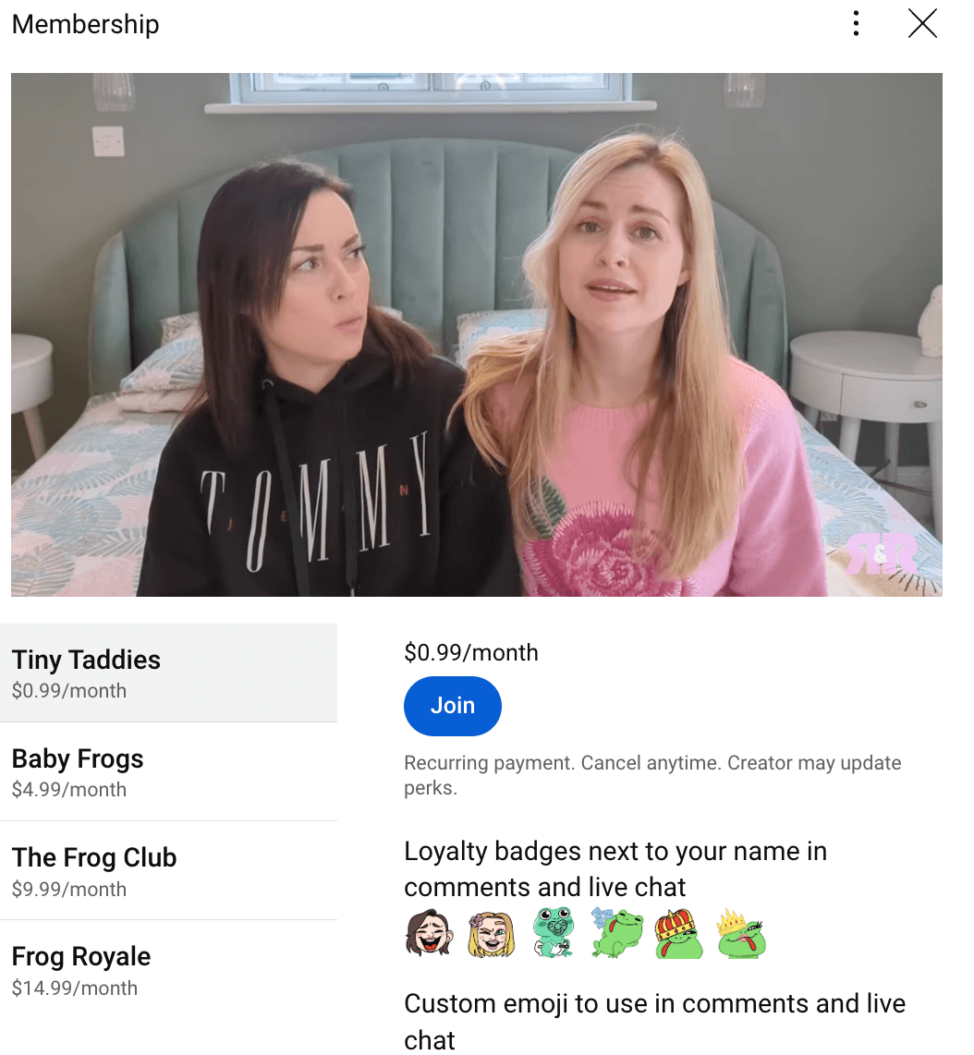 Rose and Rosie offer 4 different tiers, ranging from $.99/month for the "Tiny Taddies" to $14.99 for the "Frog Royale" members.
New members of each different tier get different membership perks. At the highest paid membership level, people get all the perks the lower tiers have, including loyalty badges, custom emojis, a members-only live stream, and an exclusive video at the end of the month. In addition, they get access to:
Personalized video message raffle
Members-only live streams
Members-only podcast
Dinner with Rose and Rosie once a month.
Hughwizzy – 3 tiers

Hughwizzy is another popular YouTuber with a membership account. But the difference in his membership offering and Rose and Rosie's show how it's possible to customize membership tiers to your community.
When you click on "join," there are three tiers, ranging from $3.99 to $19.99 in price. You'll also notice he offers loyalty badges and custom emojis, but they are significantly different in style from Rose and Rosie.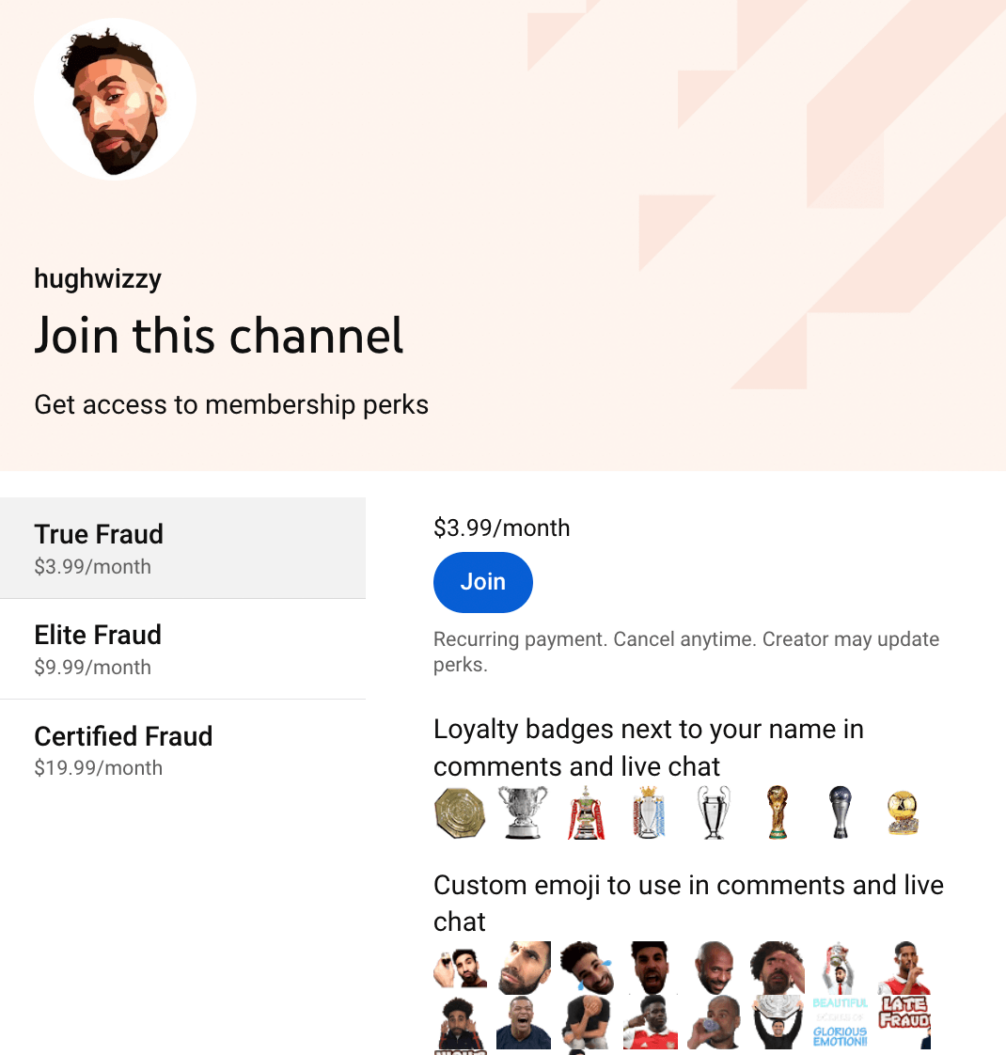 Hughwizzy also requires a higher subscription price for his highest tier than Rose and Rosie, but the only additional offering is member-only exclusive YouTube videos.
Perks can you offer your YouTube channel members
As illustrated in the examples above, you can get creative with customizing your YouTube channel memberships—as long as your offerings remain within the bounds of YouTube's guidelines.
Here is a breakdown of what you can include in your membership offers:
Videos
Live chats
Custom emojis
Custom badges
Live streams
Milestone chats
Member recognition shelf
Members-only community posts
The cost of using YouTube channel memberships
Now that you know how YouTube channel memberships work, one pressing question remains: What is the cost?
How much you earn from YouTube channel memberships varies depending on how many subscribers you have, what tier level they pay for, and how much you charge.
However, no matter what you charge, YouTube will take a 30% cut of your earnings.
What kind of creators should use YouTube channel memberships?
To understand if YouTube channel memberships are the best way to monetize your videos and connect with your community, it's important to understand your current personal brand and business goals.
YouTube channel memberships are great for creators with:
A large YouTube following
An audience who prefers engaging on YouTube
A strong and recognizable personal brand
A desire to monetize but not to create a full-fledged business
Take YouTuber Don Townsend, for example.

He has over 178K subscribers and works within a niche that's popular on YouTube. He creates reaction and review videos to anime and story game play.
His already loyal audience can support his content with one of his two membership offerings for either $6.99 a month or $14.99 a month.
While there are benefits of YouTube channel memberships for the right type of creator, there are also several drawbacks—especially for creators who want to build a thriving online membership site.
Limitations include:
High YouTube cut. YouTube takes 30% of all your earnings! (Yes, we used an exclamation point because that's an alarmingly high cut.)
Algorithm changes. When you build your audience on a platform you don't own, you're at the mercy of YouTube's algorithm. In other words, if YouTube decides to stop prioritizing your content, you're in trouble.

Remember when the high-profile gaming YouTuber Markiplier had an incident in 2019 where his fans were banned from YouTube for spamming emotes during a live stream? This wasn't a direct suspension, but it shows how much control YouTube has over your audience.
Lack of control. YouTube has stringent terms and conditions. They also have a ton of rules on what memberships can and can't include in their offerings. If your audience will respond to different incentives, seek out another option.
Changing pricing structures. YouTube has a habit of changing its pricing structure. There is no guarantee that you will be able to charge what you're charging, or that they won't change their cut of your earnings.
Choosing the right video membership platform depends on your goals, audience, and the type of content you want to produce. If you have a big audience on YouTube and like YouTube's guidelines, it may be a good option.
But if you want to own your audience and build a bigger and more flexible membership community, look for an alternative solution.
The best YouTube channel membership alternative
Let's say you've decided YouTube isn't the right fit to help you grow your membership community. What alternatives are out there? We recommend an independent video membership platform.
What is an independent video membership platform?
Like YouTube channel memberships, independent video membership platforms allow video creators to monetize their content directly through subscriber memberships.
With an independent video membership platform, creators can still earn income from viewers who pay a recurring fee for access to exclusive content, perks, and community interaction.
The main difference is creators have total control. You control what your website looks like, what's included in your content library, what perks you offer, and what your prices are.
Independent video memberships are built specifically for creative entrepreneurs who want to turn their content membership into a full-fledged profitable, scalable business—without the limitations of YouTube.
With an independent video membership platform like Uscreen, you have:
Full flexibility
Well-designed homepage
Branding control
Worldwide reach
Monetization control
Video on demand options
Community memberships features and forums
Live streaming capabilities
No ads competing with your content
Not to mention, it's more affordable and easier to make more money.
Take the YouTube channel Your Book of Memories, for example, where Frances Long teaches people how to make their own beautiful scrapbooks from scratch.
As a YouTuber, her revenue stalled at around $380 a month—despite having thousands of subscribers. So, Frances started a premium independent video membership website where she sells access to her tutorials.
She offers a monthly payment and annual membership.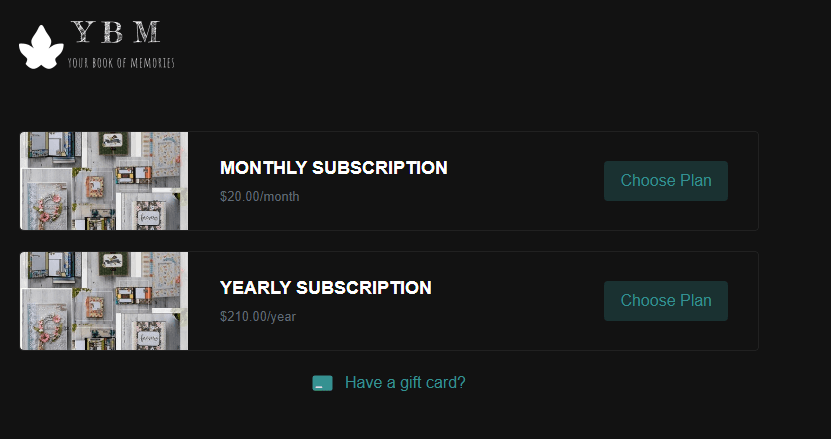 The result?
She went from earning $380 to $4,000 a month in just 4 short months.
And that's just one example of a YouTuber who has pivoted to an independent video membership business and dramatically increased their income.
The best part is Frances Long didn't have to delete or neglect her YouTube channel. She can now use it as a conversion tool to drive more people to her Uscreen membership site.
Choosing the best video membership channel for your needs
The video membership channel you choose will depend on your goals.
If you want to earn more money from your current YouTube channel, you can explore a YouTube channel membership.
If you want to expand what you offer on YouTube with a more flexible and affordable membership platform, Uscreen is for you.
Learn more about how you can grow your revenue and foster community growth by booking a Uscreen free trial.
YouTube Channel Memberships FAQ
How is offering a YouTube Channel Membership different from the YouTube Partner Program?
YouTube Channel Membership is a feature available to YouTube Partners where viewers can pay a monthly fee for access to exclusive badges, emojis, and content.
The YouTube Partner Program is YouTube's monetization system that allows content creators to earn money from ads, channel memberships, and YouTube Premium revenue.
How do I turn channel memberships off and on?
As a channel owner, you can turn channel memberships on or off in your YouTube Studio. YouTube creators can go to the Monetization tab, select Memberships, and there you can enable or disable the feature.
Remember that turning off memberships will result in all active members losing their membership benefits and you'll need to reapply if you want to enable it later.
What cut does YouTube take from my channel membership?
YouTube takes a 30% cut of the revenue generated from channel memberships. This means if a viewer pays $5 for a membership, YouTube keeps $1.50 and the creator gets $3.50.
What do I get with my YouTube channel membership?
When a viewer becomes a member of your YouTube channel, they pay a recurring monthly fee in exchange for special perks you offer like exclusive badges, new emojis, Members-only videos, live chats, or other exclusive content.
The specific perks depend on the tier of membership and are set by the channel creator.