If you are reading this article we know three things to be true:
You want to create a video-streaming website and OTT app(s)

You're thinking about using Vimeo OTT/VHX

You want to consider the Vimeo OTT/VHX alternatives before you commit
"So, is Vimeo the best option for me?"
It's a question we get asked a lot, especially since Vimeo acquired VHX in 2016. And we completely understand why people are asking that question.
Choosing a video monetization platform to run your business with is a big deal.
The platform you decide to use will influence your entire business's potential for success. So you want to make sure you get the most for your money and the right tools to run and grow your business long-term. And since migrating from one platform to another is an undeniable hassle, you'd rather get it right the first time around.
(After all, there are few worse feelings than buyer's remorse. Especially when the fate of your business hangs in the balance!)
So, in this article, we want to show you a real Vimeo OTT/VHX alternative that charges you way less for way more.
Looking for a more visual,
side-by-side comparison?
Learn More

Note: Information in this article is valid as of April 22, 2019. It is reviewed and updated every six months, or whenever any major changes in information occur.

No time to read this article now? Download a free PDF version of this blog post (all tips and links included).

About Uscreen
Hi, we're Uscreen…
… a turnkey video monetization platform that helps content creators, like you, sell their videos online on their own video streaming websites and OTT video apps.
Who we are and what we do
Since 2015, we have been helping video content creators – like you – start and grow their own profitable OTT businesses. Since then, we have celebrated successes with over 5000 creators to date – an outcome we're incredibly honored by and proud of.
The Uscreen family is a 20-person strong team of incredibly talented and caring individuals, joining forces from all around the world to bring you the most advanced video monetization platform ever. Our company is remote in nature, and our team members are gravitated to one another by their common passion of seeing and helping video creators succeed in monetizing their videos online.
We write about it. We make videos about it. We teach it. We live and breathe it.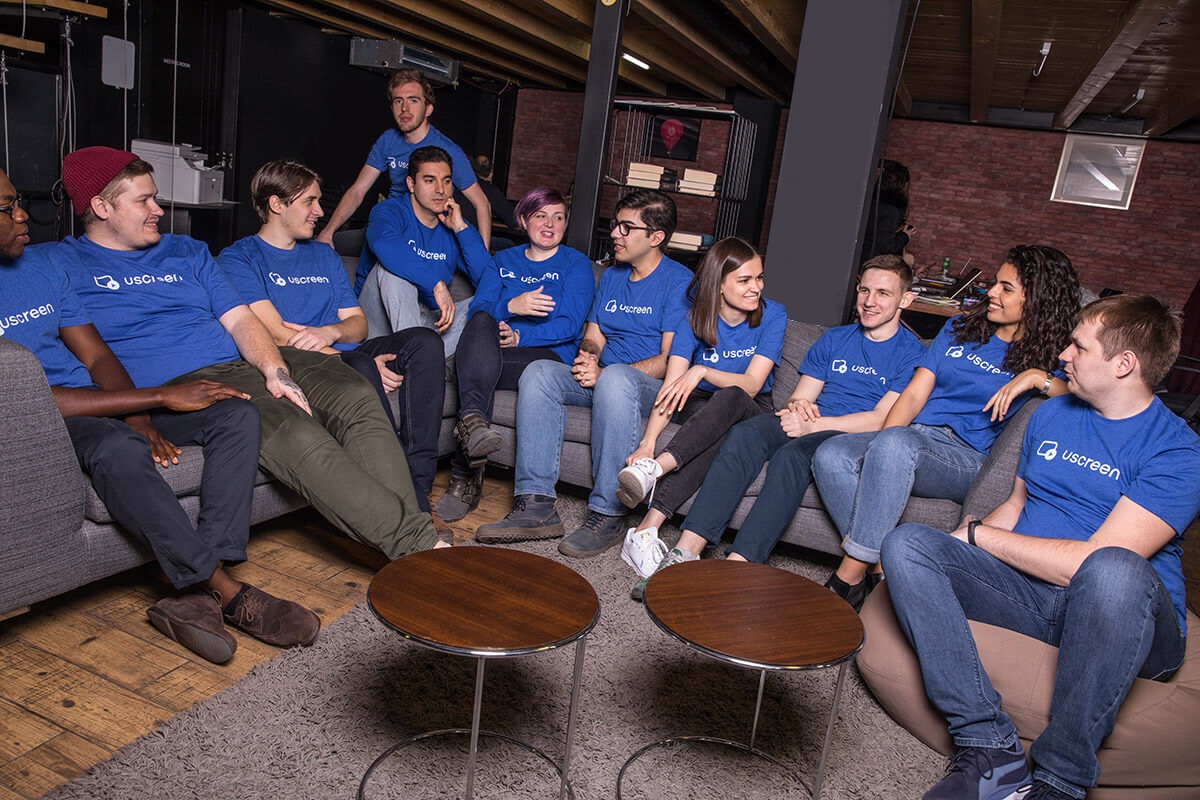 Learn more about us and the history of Uscreen right here.
How Uscreen works
Our platform is an all-in-one solution that makes it easy to create, launch and market your OTT video apps and streaming website.
From building beautiful websites and apps with zero coding, to managing your marketing and payment processing, Uscreen has got you covered. We give you the tools you need to build your community and grow your income all within Uscreen.
The way it works is simple. All you have to do is:
Sign up for an account (

free 14-day trial

)

Upload and organize your content

Set your price

Customize your website's look and feel

Connect payment gateways

Set your own domain name

BAM! Start marketing your service and making money!
Bonus step: Launch your apps for mobile devices and TVs.
And you can do all of this within your Uscreen admin area.
For more details on exactly how Uscreen works, you can visit the process breakdown right here.
We're honored to have been trusted by over 1000 video businesses so far, serving more than 1.1 million happy streamers, in 188 different countries. Some of our most successful forward-thinking customers include:
Our customers earn an average of $3,800 a month and we ensure they keep every penny of it.
Okay, that's enough about us. Let's talk about you…
Uscreen might not be for you
You might think after our brief introduction that the point of this post is to convince you to use Uscreen. But, it's not.
Instead:
We want you to find the right solution for you and your business.
We think Uscreen is great, but we know it isn't for everyone. So, we want to lay out the facts and show you how Vimeo OTT/VHX and Uscreen stack up side by side.
Let's get started.
For a more visual comparison, check out our Uscreen vs Vimeo OTT comparison page.
Pricing: What's The Cost Of Growing Your OTT Business?
Vimeo OTT/VHX has quite a complex pricing structure, so we are just going to focus on their main costs.
To run your OTT website and apps with Vimeo OTT/VHX, it will cost you:
Monthly cost:

$1 per subscriber, per month

Uploading video hours fee:

One free hour of video uploading, after which you must purchase more video upload hours at :

10 hours = $99

25 hours = $149

50 hours = $199

OTT video apps:

$6000 a year per app paid upfront ($500 per OTT app) OR $20,000 upfront for all apps
Upload fees and apps aside, this means that if you have 500 subscribers who pay you $10 per month, you would pay Vimeo OTT/VHX $500 a month.
500 x $1 = $500 to Vimeo OTT/VHX
This price would increase every time you add new subscribers. So, if you had a marketing drive and grew to 1000 subscribers, you would then pay Vimeo OTT/VHX $1,000 per month. This pricing model is called a Revenue Share model, where your fee for Vimeo OTT/VHX increases every time your platform grows.
To see the full Vimeo OTT/VHX pricing and additional costs page, click here.
By comparison:
Uscreen charges a flat fee with no revenue share or cost per subscriber, making it easy for you to predict your Uscreen fees every month – no surprises. Uscreen offers three set plans:
Basic plan: $99/month

Pioneer: $399/month (includes 2 OTT apps)
For additional apps, we charge $200/app.
We charge no hidden or extra fees. We specifically don't charge video uploading time – with us, it's unlimited and free, always.
Let's compare the monthly cost for growth up to 2500 subscribers on Uscreen and Vimeo OTT/VHX platforms:
We'll compare Vimeo OTT's $1/subscriber pricing plan (no apps) to our most expensive and profitable plan, the Pioneer plan, which costs $399 per month and gives you:
Branded Website

Branded iOS App

Branded Android App

Advances features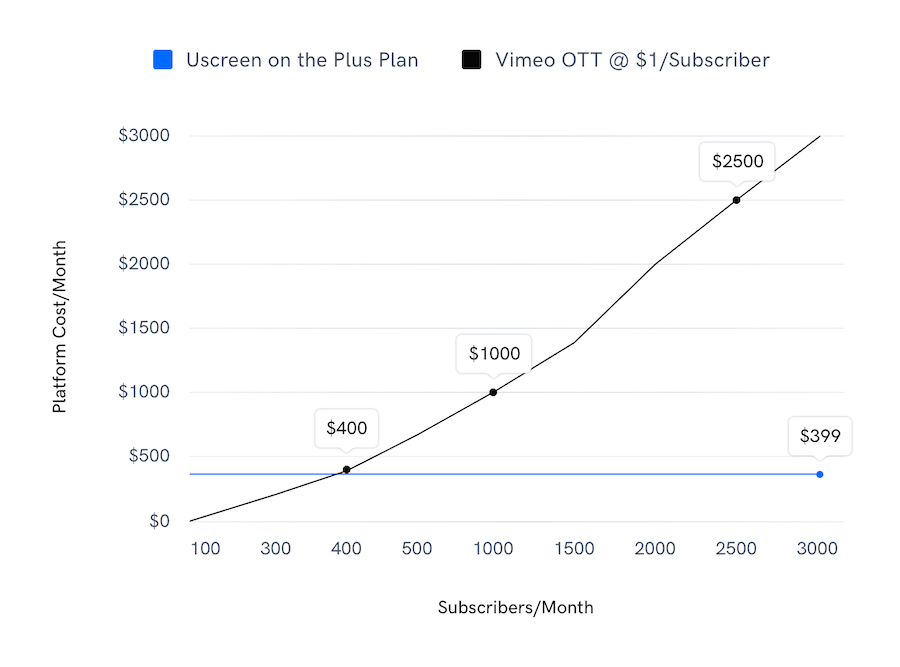 So which platform will cost you less?
The answer to that question depends on how much you plan to grow and where you see your video streaming business going.
If you don't see yourself ever having more than a few subscribers or launching any OTT video apps, Vimeo OTT/VHX is definitely the more affordable option for you.
Vimeo OTT/VHX is the perfect option for those who…
just need somewhere to host a video or two to distribute their content,

know their subscriber base will

never

exceed 400 users,

don't want OTT apps (because honestly $6000 upfront a year per app is just

way

too expensive)

have no plans to grow their video service and don't need robust marketing tools (which we will talk about in the next sections).
However, if you plan to grow beyond 400 subscribers and add OTT apps to your VOD service, Uscreen is the platform that will cost you less and support you to grow the way you want to. Once you hit 400 subscribers, Uscreen instantly starts costing you less than Vimeo OTT/VHX would and continues to be consistent no matter how much you grow.
Not to mention that if you're already on the Pioneer plan, you automatically get two OTT apps, and then only pay $299/month for any additional apps after that (versus $6000 upfront/year/app with Vimeo)
Finally, none of these price comparisons includes Vimeo OTT's extra charges into the calculation, such as uploading fees, coupons fees, API fees, etc.
But hey! Price isn't everything, right? So let's look at what you get for your money on each platform.
Customization: Will Your Site and Apps Match Your Branding?
Vimeo OTT/VHX and Uscreen both offer high levels of branding and customization for your OTT apps. We both allow you to create fully branded apps that your customer will never realize are being powered by other platforms.
The only place where we differ is the number of customizations we provide.
Vimeo OTT/VHX has three editable themes to work with, whereas Uscreen offers you nine editable themes and is constantly adding more.
We also provide theme editing features to ensure your video-on-demand website is SEO friendly and can be optimized for your target keywords.
Once you choose a theme and install it to your website, Uscreen also allows you to customize everything about your theme to make it completely yours.
One of our simplest but popular customization features is the ability to categorize your videos. This makes your users' experience better because you know where all of your content is and you can control how they browse your library to find the content they're looking for. It makes finding the videos they want, on the topics they care about a lot easier.
We also allow your viewers to filter your content by duration, author, intensity, difficulty, or literally anything you want–which is a feature exclusive to Uscreen. Vimeo does not give you this freedom, depriving you of guaranteeing a personalized experience for your users.
As you can see on the Callanetics website below, you can create custom categories for your videos: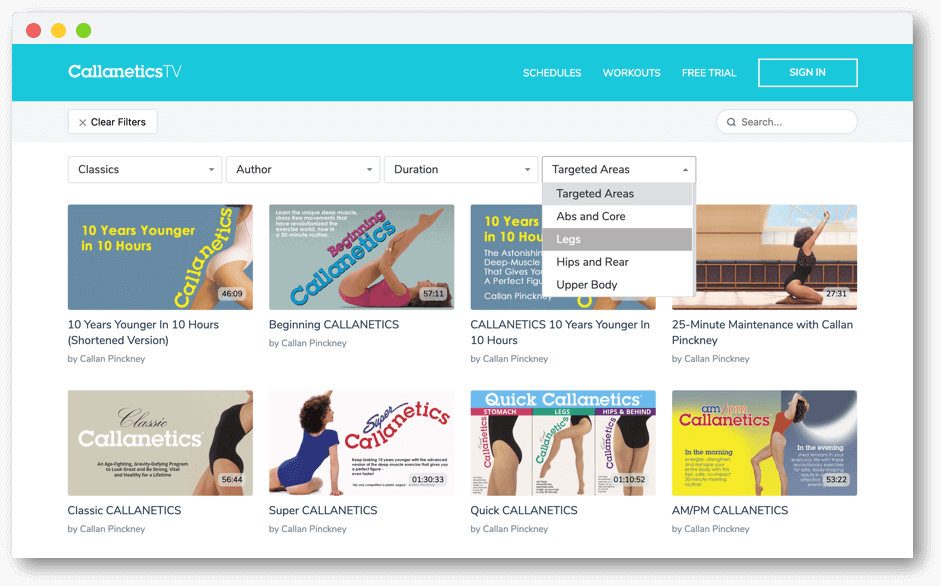 This enables your customers to seamlessly find the videos they need and view the content most relevant to them.
Marketing Tools: Who Helps You Grow Your Business?
You aren't just making videos; you're running a business.
Your video platform should give you the tools you need to make growing that business as easy and as simple as possible.
Vimeo OTT/VHX's marketing integrations revolve mostly around social media. They allow you to upload to your feeds in one-click and perform an unlimited amount of interactive live streaming.
They will also provide you with some YouTube-style analytics data, so you can see metrics like your total reach, views, and audience interactions.
This is great if you're a well-established brand with tried-and-tested sales funnels. You can simply add your videos as another element of an already effective marketing strategy.
At Uscreen, we take a slightly different approach.
We wanted to give content creators a comprehensive suite of video marketing tools, so you can access the insights you need to grow your audience and revenue.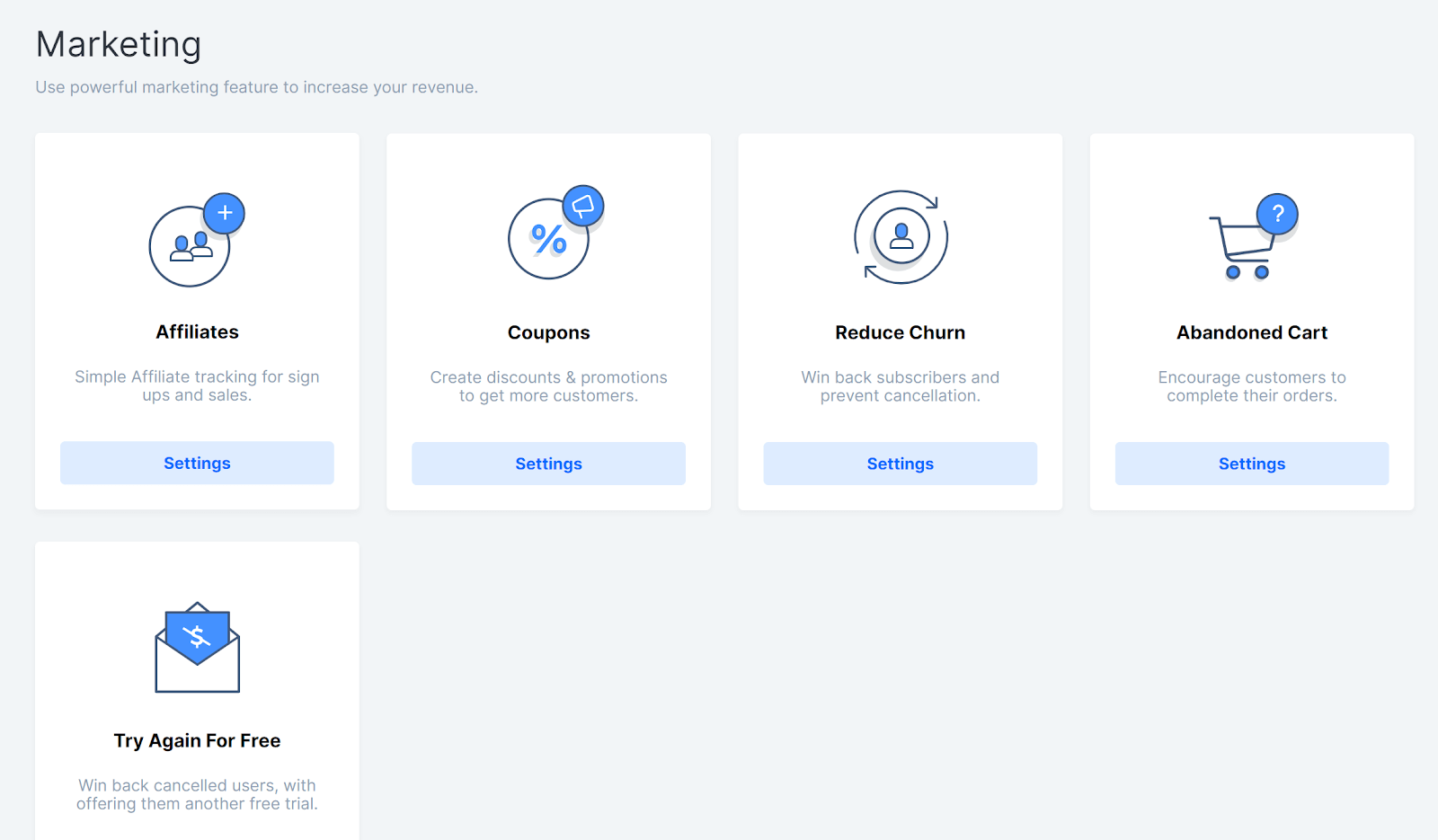 With Uscreen you are able to:
See complete marketing analytics data

Add affiliates to your marketing

Reduce churn rates and win back subscribers

Offer promotional coupons
As well as use our 1,000+ app integrations to add any external tools you need to help market your business more effectively.
Basically, Uscreen is a one-stop-shop for all of your video business growth needs.
Third-party App Integration: Can You Use Your Preferred Tools?
How you run your business is a personal decision; you should be free to use the intuitive tools and platforms that you trust.
That means your platform should allow you to integrate with:
Marketing tools

Productivity tools

Analytics platforms

Collaboration tools

Communication platforms
This will help you get the best results from your business.
Vimeo OTT/VHX has limited integrations with these third-party tools. They offer a modicum of social media integrations, and access to channels like Slack to communicate with team members.
But, that's really all you can do.
Uscreen allows you to connect with 1,000+ different apps and services, including:
MailChimp

Constant Contact

Zapier

Sales Force

Google Sheets
Directly from your Uscreen dashboard.
Meaning you can create the workflows and systems you need to effectively run your business.
Audience Ownership: What Happens If You Migrate Away?
When you grow your business using a platform like Vimeo OTT/VHX or Uscreen you gather a lot of audience information like:
Names

Email addresses

Customer profiles

Video analytics data (watch times, etc.)
This data is essential for running and scaling your business. And, while you're using a platform you won't really notice who "owns" this data because it's in your dashboard.
The problems arise when you:
Decide to move to another platform

Want to export this data to use in a third-party tool (like MailChimp)

Want to export it to hang it on your wall – because honestly, that's your right. You've earned that.
Vimeo OTT/VHX makes it notoriously hard to extract customer data from their platform, which can leave much of the information trapped in the platform. So, when you migrate away, you are worse off.
On the other hand:
Uscreen allows you to export all your customer data in one-click.
This means you can use marketing tools outside of Uscreen, or leave our platform altogether and take your audience with you.
We'd like you to stay with us because you want to, not because you have to.
Suggested read: Who Really Owns Your Audience?
Support: Who Can Help You Out Of A Tight Spot?
Support is another way of saying "peace of mind".
You want to know that, if something goes wrong with your OTT apps, there is help on-hand to get you out of a tight spot.
Vimeo OTT's support is mostly online.
They have an in-depth library of resources to help you self-diagnose and solve basic problems. And, if that doesn't help, you can contact their team through chat.
If you're tech-savvy and know your way around a website's code, this is a simple but effective option.
At Uscreen, we take it a step further. We think it's better to speak to a real person. That's why we offer phone support for all of our customers, so we can talk through a problem and solve it together.
If you find you have an issue in the middle of the night, we also have 24/7 online support, so there is someone looking out for your website around the clock.
And, if you don't want to speak to anybody, you can always just refer to our help center.
Geo-Access: Is Your Content Available In Your Customer's Location?
Video on demand is a worldwide phenomenon.
There are only 197 official countries in the world, and we have the data to show that Uscreen videos are regularly streamed in 188 of them!
This means it's important that your videos are available in all locations, to ensure you can connect with a wide-reaching audience.
Vimeo OTT/VHX has a decent level of access to many areas of the world. The English-speaking nations are all covered, as well as a number of territories in Europe, Africa, and Oceana.
However, Uscreen is the only OTT platform able to boast almost worldwide coverage. We can stream videos in many locations that are known to be hard to stream to, and that Vimeo OTT/VHX doesn't stream to, like:
Mainland China

Malaysia

Indonesia
Which are all countries with huge demand for OTT apps and services.
And there you have it!
Vimeo OTT/VHX is a great video sharing platform.
They paved the way for many companies – like Uscreen – and showed the world there was a way to share and monetize videos outside of YouTube.
Although their video functionality is of the highest quality, where they fall short is in helping you start, run and grow a video business. Especially if you want to use OTT apps.
Uscreen gives you a lot more for your money and encourages you to grow your business, by giving you the tools you need to do it effectively.
We'll never ask you for a revenue share or penalize you for growth. Instead, we will work together to help you create the video business you (and your audience) deserve.
You can learn more about Uscreen through the link below…