If you've been searching for a VOD or OTT platform for your online video streaming business, then you've definitely heard of Vimeo OTT/VHX.
I mean, it's Vimeo! They paved the way for many companies – like Uscreen – and showed the world there was a way to share and stream videos outside of YouTube.
And because of their big household name, a lot of video streaming business owners decide to trust in Vimeo OTT to launch and run their online VOD websites and OTT apps.
We think Vimeo is a viable option, but might not be suitable for every case scenario.When it comes to choosing the right solution to host your online video business, it's really important that you make an informed decision. Maybe Vimeo OTT will be a great option for you, and maybe Uscreen's robust features will better suit your needs. We're here to help you figure that out.

No time to read this article now? Download a free PDF version of this blog post (all tips and links included).

So what's it to us here at Uscreen to be telling you all of this?
Uscreen isn't just a platform for us. We care a lot about the video entrepreneurs community and their success.
And the success of a video business starts with finding the right platform that suits you, your needs and long-term goals. But we're finding that people aren't doing their due diligence before they sign up with VOD and OTT providers, often committing to platforms that aren't right for them. And it's not because these people are lazy, not at all! It's because this information is simply hard to find online.
So we decided to help out by breaking down all VOD and OTT providers into organized and clear information in one single place. This Vimeo OTT/VHX vs Uscreen breakdown will hopefully be a helpful guide when it comes to deciding if Vimeo OTT/VHX is right for you.
This is not to convince you to choose Uscreen over Vimeo OTT, rather to be empowered by information to make a calculated decision about the video-on-demand platform you choose to go with.
Here are the main things you'll need to consider when choosing between Vimeo OTT and Uscreen:
Fees and Pricing : Tiered packages vs per-subscriber fee
Customization: How far can you take your VOD website and OTT apps?
Marketing and growth tools: Which platform has the tools you need to succeed?
Note: Information in this article is valid as of May, 2020. It is reviewed and updated every six months, or whenever any major changes in information occur. If you see anything here that you know for a fact is incorrect, please do let us know so we can update it immediately.
1. Fees and Pricing: Tiered packages vs per-subscriber fee
Vimeo OTT offers three pricing plans, and the lowest one is based on a per-user structure for self-served accounts (their Starter plan).
You can think of Vimeo OTT/VHX's pricing structure as pricing that grows as you grow, based on your usage. Their pricing depends on a number of variables like number of hours of uploaded videos, coupon usage and even one time sales. You can see the full Vimeo OTT/VHX pricing and additional costs page, click here.
Uscreen by comparison:
Uscreen pricing is based on a tiered approach, making it easy for you to predict your fees every month. Each tier includes a certain number of users and one time sales. For example: in the Basic plan you get 300 subscribers included in the plan, and on top of that, you also get 300 one time sales (pay-per-view) per month. In other words, if you wanted to calculate your Uscreen fees per-subscriber, you'd be paying under $0.50 per each subscriber on the basic plan and even less on each next tier.
Pro plan includes 1000 subscribers and 1000 one time sales, but also includes live streaming and a number of advanced marketing features and integrations.
Custom plan is, as the name suggests, customized to your needs based on your plans to sell more than 1000 subscriptions or one time sales per month, if you want to add branded apps, etc. The pricing is laid out from the start and as you grow, you can upgrade from one predictable tier to the next, instead of paying for each new subscriber.
While this pricing model can seem more expensive for people just starting out, for anyone scaling or planning to have even 100 active subscribers, the Uscreen's easy-to-predict pricing tiers will start paying off in no time
Uscreen's Pricing Plans
Fair and consistent pricing every time
Pricing page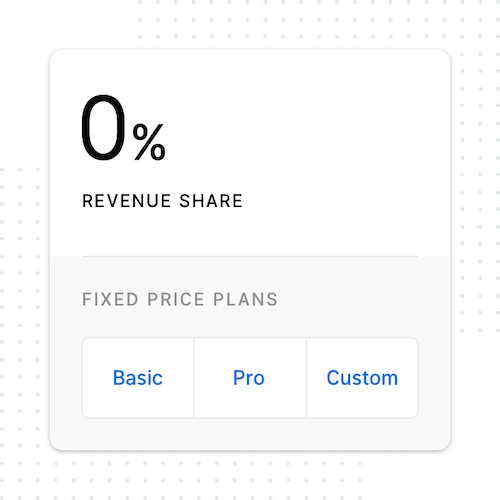 So which platform will cost you less?
The answer to that question depends on how much you plan to grow and where you see your video streaming business going.
If you don't see yourself ever having more than a 100 subscribers or launching any OTT video apps, Vimeo OTT/VHX is definitely the more affordable option for you.
However, once you hit 100 subscribers, Uscreen instantly starts costing you less than Vimeo OTT/VHX would and continues to be consistent no matter how much you grow. If you plan to grow beyond 100 subscribers and add OTT apps to your VOD service, the pricing will be an even bigger factor for you..
But hey! Price isn't everything, right? So let's look at what you get for your money on each platform.
2. Customization: How far can you take your VOD website and OTT apps?
Vimeo OTT/VHX and Uscreen both offer different levels of branding and customization available for your VOD website and OTT apps, or even the way you organize your content. We both allow you to create fully branded apps, that your audience will never realize are being powered by other platforms.
The only place where we differ is the level of customizations we provide.
Vimeo OTT has 5 built-in themes for you to work with, whereas Uscreen offers you over 10 editable themes and is constantly adding more to your themes gallery.
Uscreen has a theme editing features to ensure your video-on-demand website is SEO friendly and can be optimized for your target keywords.
We also allow your viewers to filter your content by duration, author, intensity, difficulty, or literally anything you want–which is a feature exclusive to Uscreen.
This enables your audience to seamlessly browse and find the videos they need and view the content most relevant to them.
Take a look at how easy it is to navigate the filters and categories on the Uscreen-hosted VOD website, Callanetics website:
If you want to learn more about how to make a perfect video catalog, here's a video you might want to watch.

3. Marketing and Growth Tools: Which platform has the tools you need to succeed?
You aren't just making videos; you're running a business.
Your video platform should give you the tools you need to make growing that business as easy and as simple as possible.
At Uscreen, we give you robust marketing and analytics tools.
The Uscreen platform packs a comprehensive suite of video marketing tools, so that our clients can access the insights they need to grow their audience and revenue.

With Uscreen you are able to: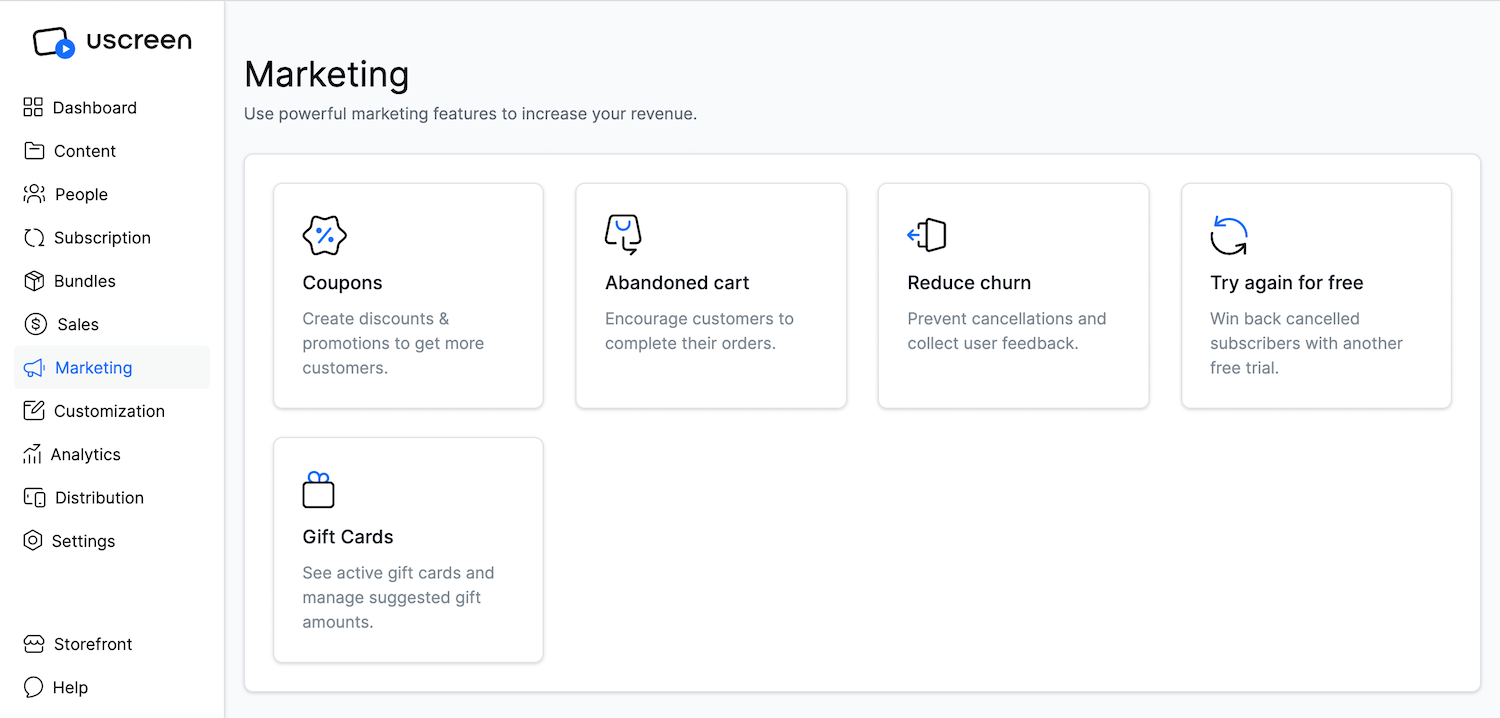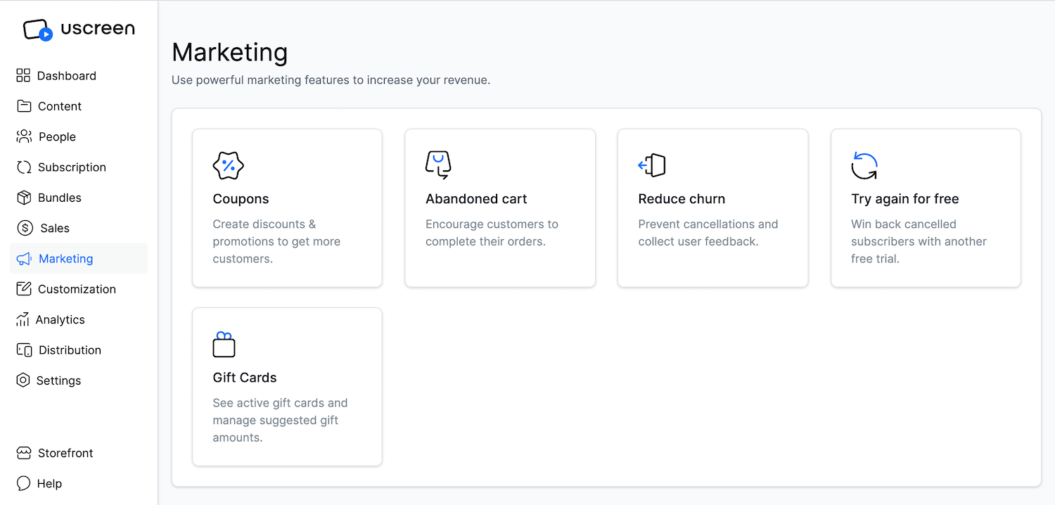 Reduce churn rates and win back subscribers

with built-in email automation

Set up and send out "Try again for free" email campaigns to try and gain back lost customers

Leadzen lead generation tool (in beta, coming Summer 2020)

Community building tools (coming Fall 2020)
Basically, Uscreen is a one-stop-shop for all of your video business growth needs. But, even so – besides having built-in features, as any growing business, you want to make sure that you can integrate your video streaming service with your prefered third-party tools.:
Marketing tools

Productivity tools

Analytics platforms

Collaboration tools

Communication platforms
Uscreen allows you to connect with 1000+ different apps and services, Uscreen also includes a list of built-in integrations which do not require any advanced knowledge of webhooks. They are easy to use click-and-connect integrations.
Zapier (which allows you to connect to over 1000+ other apps with no coding required)

Google Analytics

MailChimp

Facebook

Mixpanel

Google Tag Manager

Chartmogul

Wistia

Rewardful

Twitter

LinkedIn Pixel

Refersion

Hotjar

Drip

Profitwell
And we are regularly adding more integrations for you to choose from.
Meaning you can create the workflows and systems you need to effectively run your business.
And now you're up to date!
Vimeo is a strong household brand name in the online video hosting and streaming space, and Uscreen is a growing company with a big hart and even bigger stack of features.
Now you know what to expect of both Vimeo OTT and Uscreen, you will know what to look for to decide which of these two platforms will be right for you.
Interested in a live 1-on-1 demo?
Book now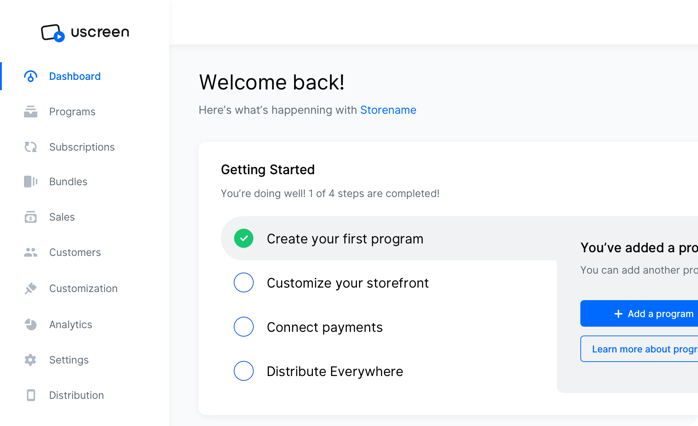 About Uscreen
Hi, we're Uscreen…
… a turnkey video monetization platform that helps content creators, like you, sell their videos online on their own video streaming websites and OTT video apps.
Who we are and what we do
Since 2015, we have been helping video content creators – like you – start and grow their own profitable OTT businesses. Since then, we have celebrated successes with over 11,000 creators to date – an outcome we're incredibly honored by and proud of.
The Uscreen family is a 50-person strong team of incredibly talented and caring individuals, joining forces from all around the world to bring you the most advanced video monetization platform ever. Our company is remote in nature, and our team members are gravitated to one another by their common passion of seeing and helping video creators succeed in monetizing their videos online.
We write about it. We make videos about it. We teach it. We live and breathe it.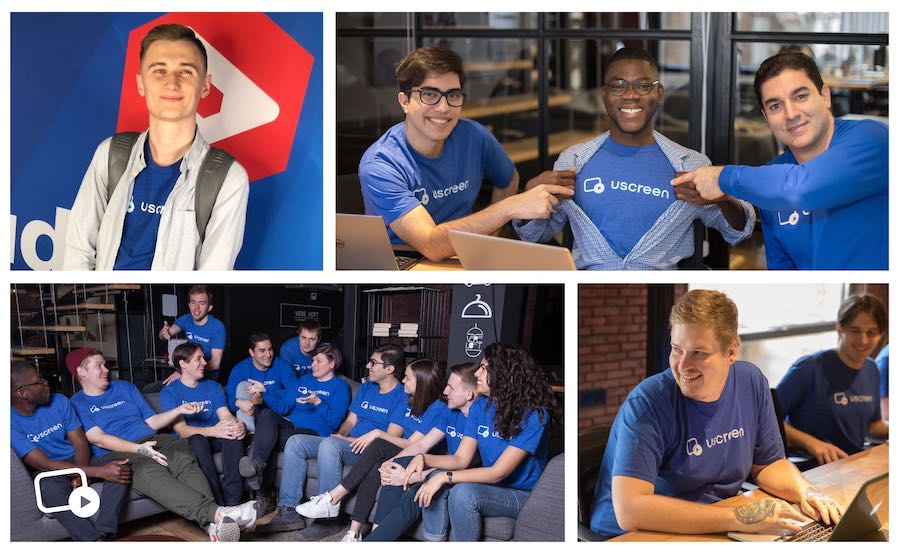 Learn more about us and the history of Uscreen right here.
How Uscreen works
Our platform is an all-in-one solution that makes it easy to create, launch and market your OTT video apps and streaming website.
From building beautiful websites and apps with zero coding, to managing your marketing and payment processing, Uscreen has got you covered. We give you the tools you need to build your community and grow your income all within Uscreen.
The way it works is simple. All you have to do is:
Sign up for an account (

free 14-day trial

)
BAM! Start marketing your service and making money!
Bonus step: Launch your apps for mobile devices and TVs.
And you can do all of this within your Uscreen admin area.
For more details on exactly how Uscreen works, you can visit the process breakdown right here.
We're honored to have been trusted by over 1000 video businesses so far, serving more than 2.2 million happy streamers, in 188 different countries. Some of our most successful forward-thinking customers include:
Our customers earn an average of $7,000 a month and we ensure they keep every penny of it.