YouTube search trends show how the popularity of topics on YouTube are compared to others.
Here's a translation for content creators: YouTube search trends can be the secret sauce to creating a successful video content strategy and growing your audience.
That's because grasping what's trending on YouTube and knowing how to find the latest video trends can help you produce videos that are more likely to reach a wider audience, or even go viral.
Of course, since trends ebb and flow, keeping track of YouTube search trends can be difficult. That's where this YouTube search trend guide comes in.
We'll go over some of the best ways to spot trending YouTube topics, as well as what is trending on YouTube right now.
Ready to keep up with the trends? Keep reading.
So, Why Are YouTube Search Trends Important?
YouTube search trends are important because they're an indicator of what people want to consume on YouTube and, therefore, what topics you should consider creating YouTube content around to attract more views.
After all, with people spending so much time on YouTube, you need to tailor your content to where people's eyes already are and what they're already searching for.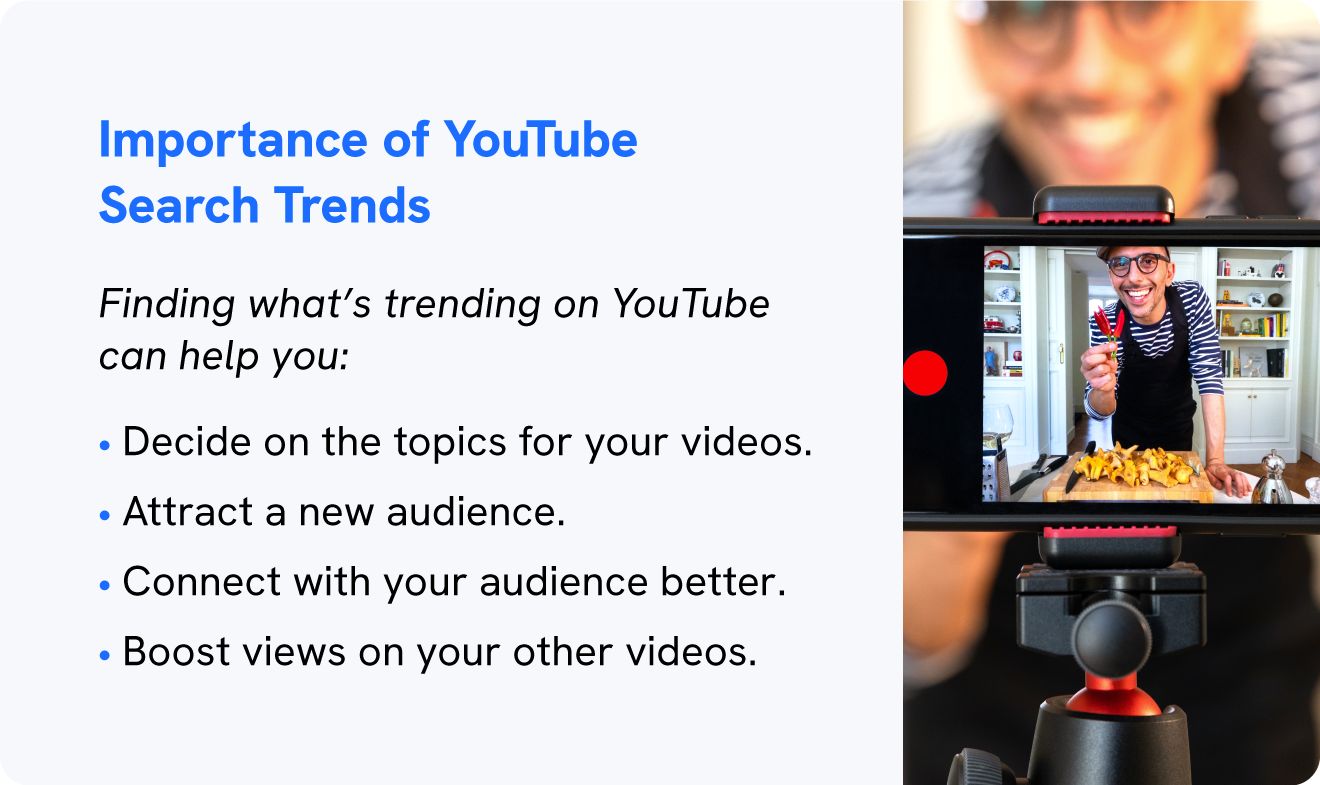 And that's where YouTube trends come in. Leveraging what's trending on YouTube can help you:
Decide on future topics.
Attract a new audience.
Connect with your target audience.
Boost views on other videos on your channel.
That's because by following current YouTube trends, you increase the chances of your videos getting recommended on users' home pages and getting clicks since it's a hot topic.
YouTube search trends will show you exactly what people are interested in watching so you can create your videos accordingly.
It's simple with Uscreen.
Build, launch and manage your membership, all in one place.
Well, Where and How Does One Find YouTube Trends?
When it comes to finding YouTube search trends, you might be surprised that YouTube is only one of the places you can research. There are several other platforms and tools you can turn to.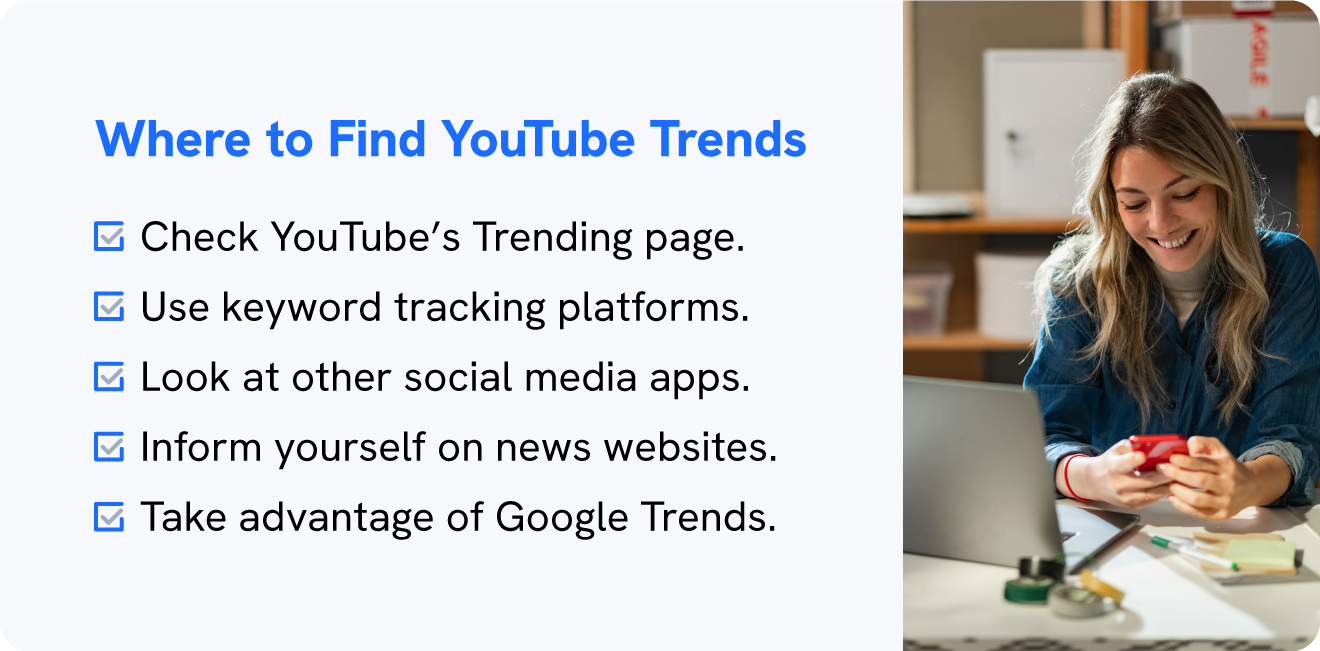 Let's take a look at some of the tools you can use to find the best YouTube trending topics.
1. Check YouTube Trending Videos
One way to find what's currently trending on YouTube is by looking at YouTube's Trending page.
To do that, just go to YouTube and click Explore and then Trending. This will lead you to a page with different video categories you can browse through.
The Trending page will show you what's trending right now in each category, from music and gaming to movies, sports, and more. YouTube also has a section for trending YouTube Shorts and creators on the rise.
It's worth noting that the YouTube Trending page is updated every 15 minutes, and it's different from your homepage, which will show content that's personalized to you.
For a video to show up on the Trending page, YouTube takes into consideration:
View count and how quickly it generates views.
Where views are coming from.
How the video is performing compared to recent uploads.
When the video was posted.
💡Content Creator Tip
When creating content for your YouTube channel, head over to the Trending page on YouTube and take note of what's trending around your niche, aka the category you want to show up in.
2. Use Keyword Tracking Platforms
Using the right keywords is very important if you want your content to generate more views. But how you do you find them?
To find the most searched keywords on YouTube, you can use a keyword tracking platform, such as SEMrush or Ahrefs.
These platforms take into consideration the search volume — or how many people are searching for that keyword in any given time.
If you want to find keywords to target with SEMrush, you can use their keyword research tool to find which keywords are trending in your niche.
Filter the results to show which keywords have a video displayed in the search result on Google. This means it could be a potential keyword to target with your videos.
You can also use their YouTube rank tracker and social media tracker tools to understand how your content is performing and what you can do to improve it.
Another option is using Ahrefs to find keywords trending on YouTube by using their YouTube keyword tool to search for trending YouTube searches and also discover new keywords.
Using these tools can be beneficial to find trending topics and help you write the perfect video titles and descriptions. This way, it will target the right keyword and audience.
💡Content Creator Tip
Pay attention to the titles and descriptions of videos trending on YouTube. Then, head over to a keyword tool to find similar keywords that also have a search volume.
3. Turn To Social Media and News Sites for Trending Topics
Taking advantage of trending topics around the world can be a great way to spark some creativity for your YouTube content while targeting popular search terms.
Take a look at what's currently trending on social media by looking at the Explore page on Instagram or the Discover page on TikTok.
On Instagram, you can search for keywords around your niche and see how many times those keywords have been used. Also, you can see what kinds of reels and videos are being posted under that keyword.
On TikTok, if you go to the Discover page, you can see what hashtags, types of videos, and sounds are trending.
You can discover new topics to target by looking at the most searched or used hashtags.
One other way to find trending topics around the world is by looking at the news. Make a habit of looking at the News tab on Google or Facebook to see what's on the homepages
This way, you'll know what's also trending on other platforms and places that you can use to inform your YouTube content strategy.
💡Content Creator Tip
When checking for trends on social media and news sites, write down topics and hashtags you see most often. Then, do some brainstorming to see how you can fit these trending topics into your video content strategy.
4. Leverage Google Trends
Google Trends is another great tool to inform your video content strategy.
Aside from showing trending searches on Google, they also have a YouTube Search filter that shows you how popular a topic is.
To find YouTube search trends using Google Trends, simply search for a topic and select YouTube Search. Then, you'll be able to see results regarding interest over time and by region and related topics and queries.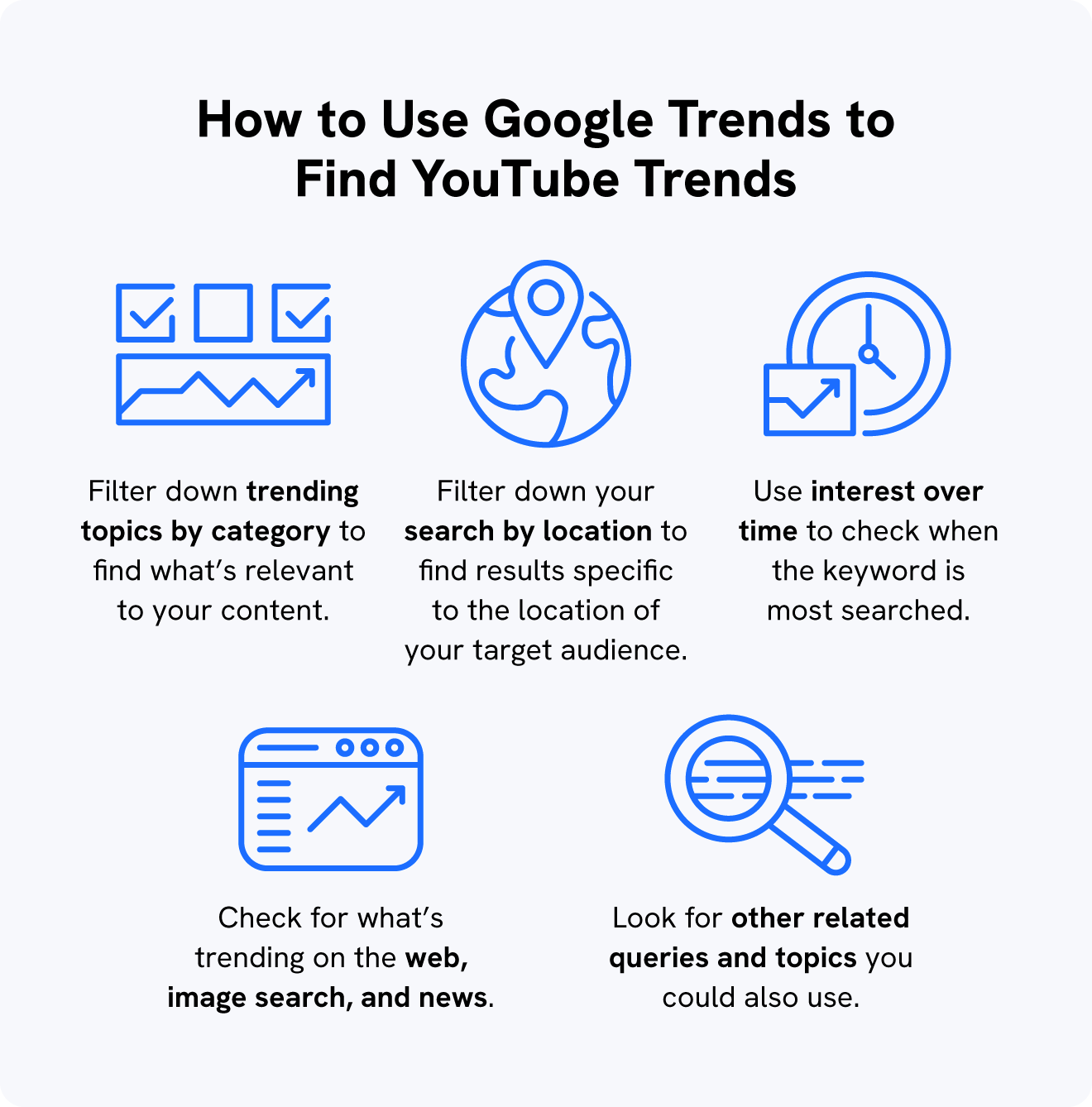 Take full advantage for Google Trends with these tips:
Use Google Trends categories: filter trending topics and results with categories like beauty and fitness or games. This way you can find what's more relevant to your content.
Discover regional trends: filter your search by location, such as worldwide or United States, to find results specific to where your target audience is and in which regions trends are most popular.
Observe seasonal trends: check the interest over time for your search to see if there are any trends or times where the keyword is most searched.
Change up your search types: check what's also trending on the web, image search, and Google shopping to identify potential new topics.
Find new keywords to target: deep dive into the related queries and topics to find what's trending upwards that you could also target.
Related queries and topics will have a score on a scale from 0 to 100, where 100 is the most commonly searched query, and 50 is only searched half as often.
You can also see these results by rising keywords, and specify which had the biggest search frequency since the last time period. And if you see any terms with "Breakout," it means it had a higher than average increase in searches.
This way, you'll be able to find out when the topic you searched is most popular, as well as find new possible topics to target.
💡Content Creator Tip
Let's take a look at what the results for "fitness class" look like on Google Trends with YouTube Search.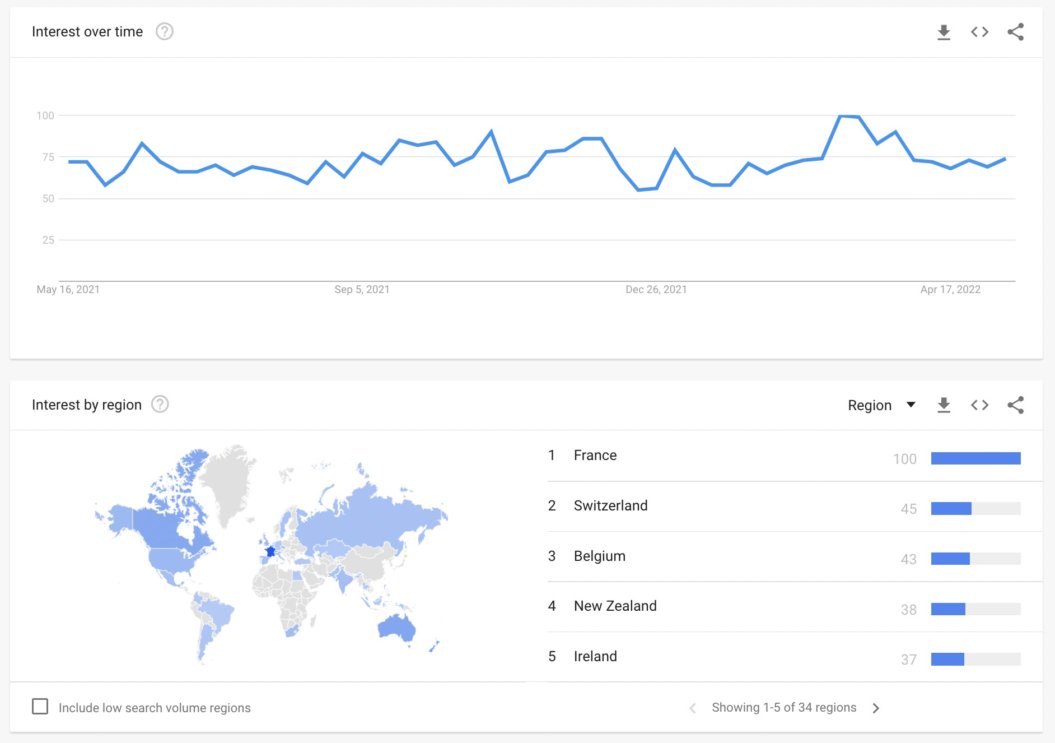 You can see that the interest over time is quite high with a couple of peaks throughout the year. This could be good to target since it's searched all year long.

It peaks around January, which could mean people are searching for fitness classes at the beginning of the year as a New Year's resolution.

We can also see that France has the highest searches worldwide, along with a couple of other countries in Europe.
And looking at the related queries, we can see that Zumba is a topic that shows up a lot, as well as dance fitness classes.

If you want to infuse this into your content, you could release some Zumba fitness class videos around the beginning of the year.

To put a special spin on this, you could even begin a New Year's fitness dance class challenge using the best European songs of all time. OK, we may have gotten carried away there…
Tips for Using YouTube Search Trends For Video Content Strategies
Now that you know how to find what's trending on YouTube, how do you use it for your content strategy?
As we saw, YouTube will take into account the video's performance in order to recommend it to people. However, you have to leverage YouTube search trends the right way in order for your research to pay off.
Let's go over some tips on how to use what's trending on YouTube to inform your content strategy.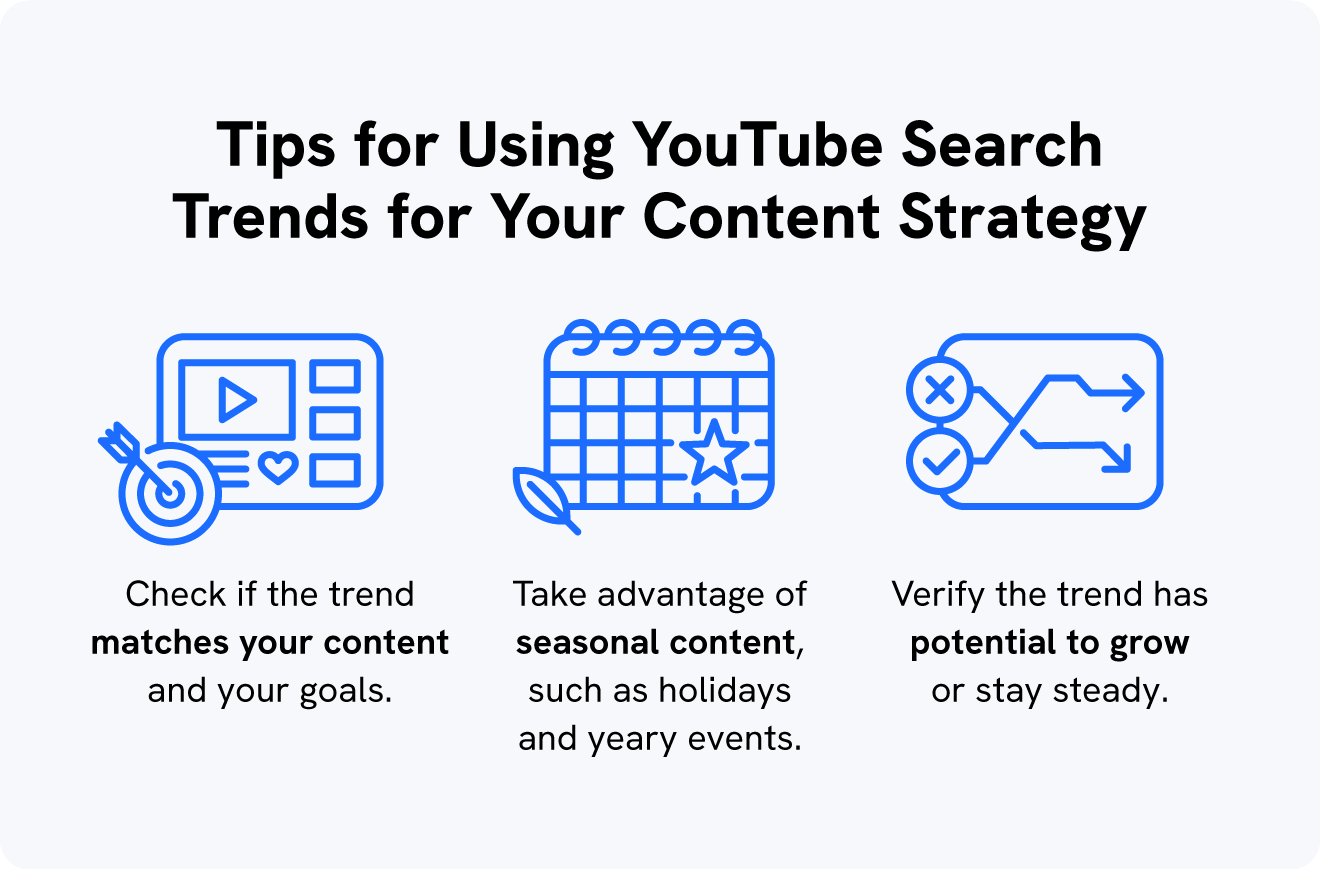 1. Consider Your Content and Goals
Bringing in traffic to your YouTube channel is great, but bringing the right traffic is even better.
You want to make sure the audience that comes across your content will interact with your video, watch your other videos, and subscribe to your channel.
When using YouTube search trends to come up with a content strategy, you need to think about your goals. Ask yourself these questions when picking a content topic to focus on:
Who are the people that would watch my videos?
What kind of content do I like to create?
What is the goal I'm trying to achieve with my content?
Does this topic relate to the content I create?
This way, you'll make sure your content is aligned with the YouTube trend you are planning to pursue.
For example, let's say you want people to feel inspired to sign up for your online course on meal prepping after watching your videos.
You can look at what's trending around the cooking niche and see what audiences are searching for. Is it healthy meal prep recipes? Or maybe meal prep on a budget?
This way, you'll attract the right audience to your videos and increase the chances of people signing up for your online course.
2. Check Growth Potential
One other thing to keep in mind when picking a trend to follow is whether it has growth potential.
Even if a topic is booming at the moment, it could be forgotten soon after.
You want to aim for a YouTube search trend that's likely to bring you traffic for a long period of time. This will mean less work for more traffic in the long-run.
You can use Google Search Trends or a keyword tool to find whether the topic recently had a spike in searches that could potentially go down, or if it has a steady growth with small spikes throughout the year.
You'll want to go for the latter to take advantage of the year-round search volume.
You could still go for a topic that went viral as long as it will match your content and goals to bring the right traffic to your videos.
Let's say you make YouTube videos for kids and you want to see what your next video could be about.
You search for "how to make slime," which was a very popular topic a couple of years ago.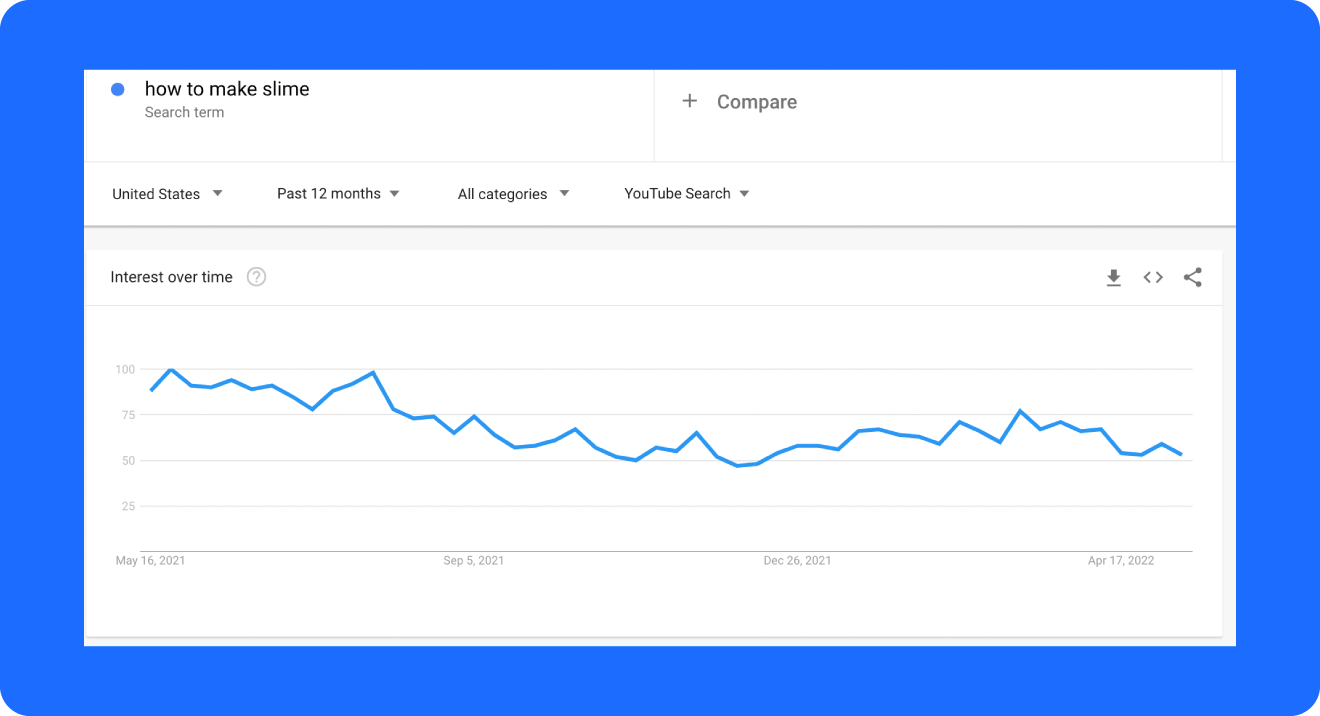 You can see the interest over time is still pretty good. But then if you search for "fidget spinner pop it," which is also a topic that went viral. You can see the interest is going down.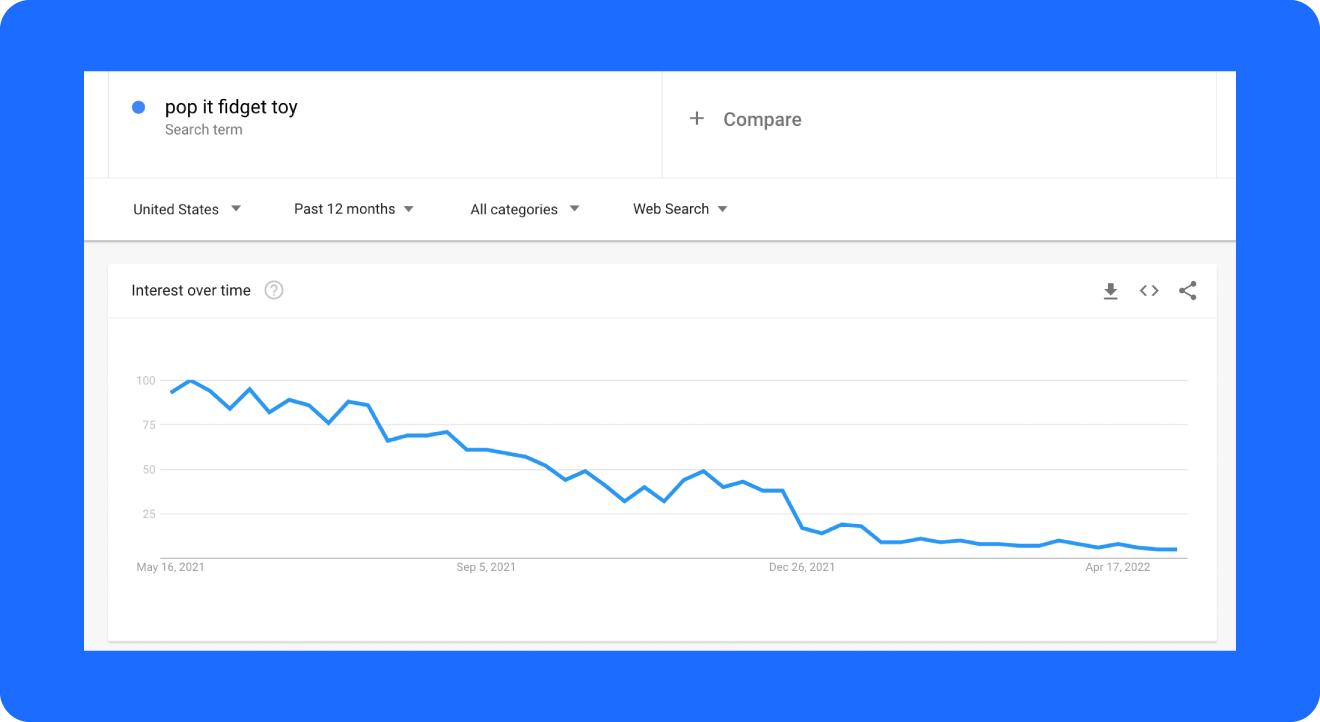 It can be difficult to tell whether a topic will continue to gain popularity over time but prioritizing your content goals while targeting searches that have a potential to grow can be a good way to leverage YouTube search trends.
3. Take Advantage of Seasonal Content
You can also take advantage of seasonal content by creating videos at the right time of the year.
Seasonal content is when you create content surrounding a topic that becomes more popular during certain times of the year.
For example, you'll see people will search for "how to baste a turkey" mostly during November because of Thanksgiving.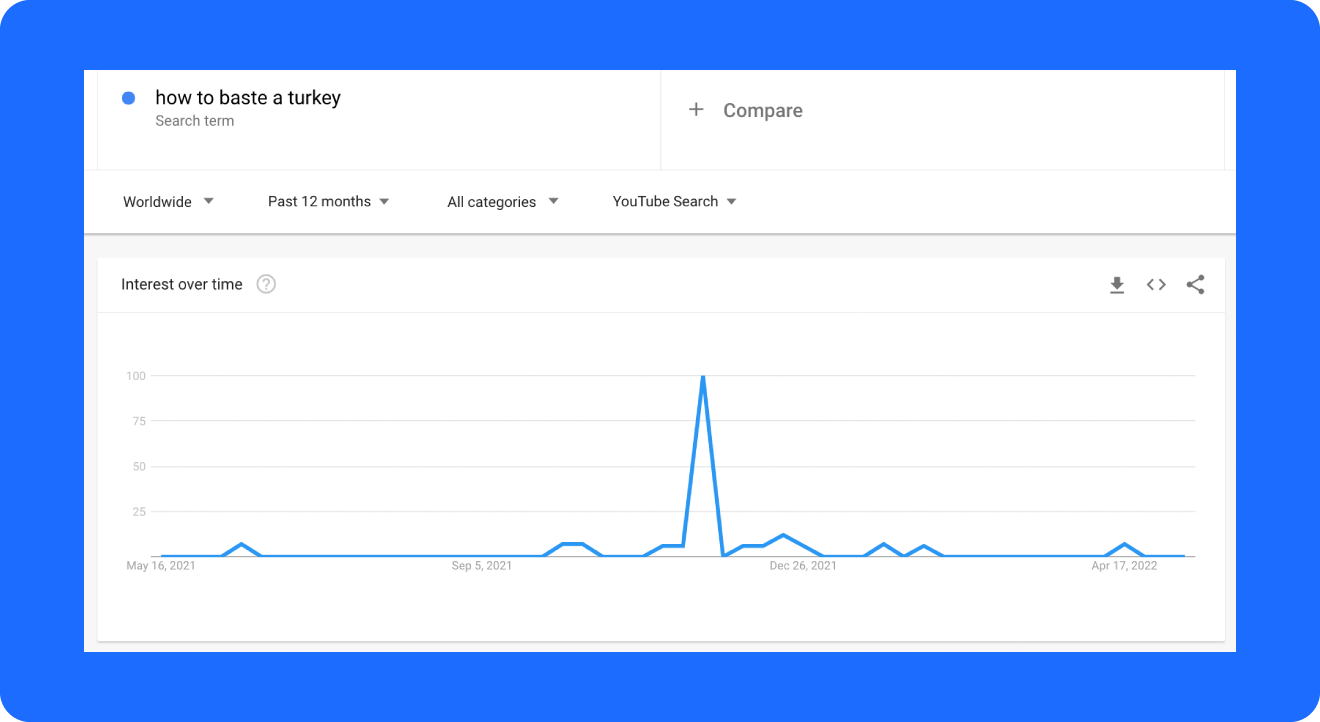 Taking advantage of seasonal trends can help you predict potential searches and will prepare you to have content ready to release during the peak times.
When looking for YouTube search trends, try to think about popular holidays or things that repeat every year. Then, see if you can fit that in your content strategy.
Care To Share Some YouTube Video Trends for 2023?
Wondering what's trending right now? We did the heavy lifting to inform you of some YouTube search trends that video content creators should know.
Aside from YouTube Shorts and live streaming becoming more popular recently, you might be surprised by some common video formats trending on YouTube.
Subscribers decide: have your viewers decide on the subjects of your video, like your outfit, what game you'll play, or what you'll do for the day.
Challenges: come up with a cool challenge. These can be food challenges, couple questions, or 24-hour challenges. You can even collaborate with other YouTubers for this one.
Immersive shopping: create a video where viewers can watch you go shopping, or film a shopping haul showing everything you bought.
360 video: record videos using a special camera that lets your audience see from every angle and even watch them with virtual reality headsets.
Gaming: gaming videos are still a popular trend on YouTube. Create videos showing your gameplay, characters, or even start live streaming on YouTube Gaming.
Current events: cover events and dive deep into the history behind them to explain it to viewers in simpler terms.
You've probably seen a couple of these YouTube video trends on your home page, so optimize your content to appear on other home pages as well.
Wrapping This Up
There you go, our best tools and tips for understanding YouTube search trends and how you can start using them to inform your content strategy.
Focusing on YouTube trends can be a great way to bring more views to your videos and help you make more money with your videos online.
If you want to make even more money from the traffic you bring from YouTube, you might consider using a video-on-demand platform likes Uscreen to create exclusive content for your subscribers.
It's simple with Uscreen.
Build, launch and manage your membership, all in one place.
YouTube Search Trends FAQs
Still have questions about YouTube search trends? We have answers.
How Do You Find Trending Searches on YouTube?
You can find trending searches on YouTube by looking at YouTube's trending page, but also by using keyword tools and Google Search trends. 
What Is Most Searched on YouTube Today?
"Pewdiepie" is the most-searched thing on YouTube to date, with an average of 4.6 million searches per month. 
How Does The Trending Page on YouTube Work?
The trending page on YouTube is updated every 15 minutes. With every update, the trending videos can move up or down. YouTube takes into consideration these metrics to include them in its Trending page: 

– How many views the video has. 
– Where the views are coming from.
– How quickly it generates views.
– The video's age.
– How the video is performing compared to other uploads.