If you want to increase the number of views on your videos — and in turn, revenue — one of the number one rules is that you need to be promoting your YouTube channel.
But if you put all of your creative juice into your videos and run out of ideas for how to promote them, we've got the best strategies.
We've compiled 22 tips for how to promote YouTube videos so you can start monetizing your content online, including:
Ready to start promoting your videos?
It's simple with Uscreen.
Build, launch and manage your membership, all in one place.
1. Post Regularly
Starting with the basics: our first strategy for how to promote YouTube videos is to post regularly and on a schedule.
If your video collection is small and you post only every once in a while, viewers might see it as a lack of commitment or that your channel lacks fresh content.
By posting regularly, you'll have more videos to promote that can reach a wider audience, and you'll show viewers that you're always up to date with the trends.
Establishing a posting schedule also lets viewers know you're committed to your channel, and they'll know when to expect the next video, which builds anticipation.
That's why you see a lot of YouTube channels that have which days of the week they post on the header.

Here's how you can start posting on YouTube regularly:
Choose how often to post: look at your workload and how many quality videos you're able to release a week.
Decide which days of the week to post: consider posting on Fridays, Saturdays, or Sundays, which are the best days to post on YouTube.
Batch create videos: pick a day or two each week to create a bunch of videos so you can edit and schedule them together.
Schedule all your videos ahead of time: create a content calendar with which videos you'll post each day, and schedule them to go live ahead of time.
This way, you'll make sure you're posting enough content to promote and keep your viewers interested. Plus, they'll know exactly when to come back for your next video.
2. Use Creative Video Titles
Do you ever click on a video from a YouTuber who's new to you just because of the title?
That's because the title of your videos is one of the main things that drive people to click on them.
Whether you want to go for trendy titles or an out-of-the-box one, making sure your titles are creative and attention-grabbing is key to promoting your videos.
Your video titles should:
Be descriptive: viewers should know what the video is about by reading the title.
Be short and to the point: write your title in 60 characters or less to make sure the complete title shows up on the Recommended Videos page.
Create an emotional connection: use your title to give people an emotional reaction or bring a benefit to the person reading.
Spend some time thinking of video titles. You can also look at what other creators are doing or ask friends to help pick the title they'll most likely click on.
3. Optimize With Keywords
Using the right keywords is also key to bringing more traffic to your videos.
Many times when you're looking for an answer to something on Google, you'll see a couple of YouTube videos recommended as responses.
Targeting the right keywords will increase your chances of showing up on those search results.
What's more: YouTube is the second largest search engine in the world, so people search for all kinds of answers and tutorials there. Yes, even "how to cook microwave popcorn."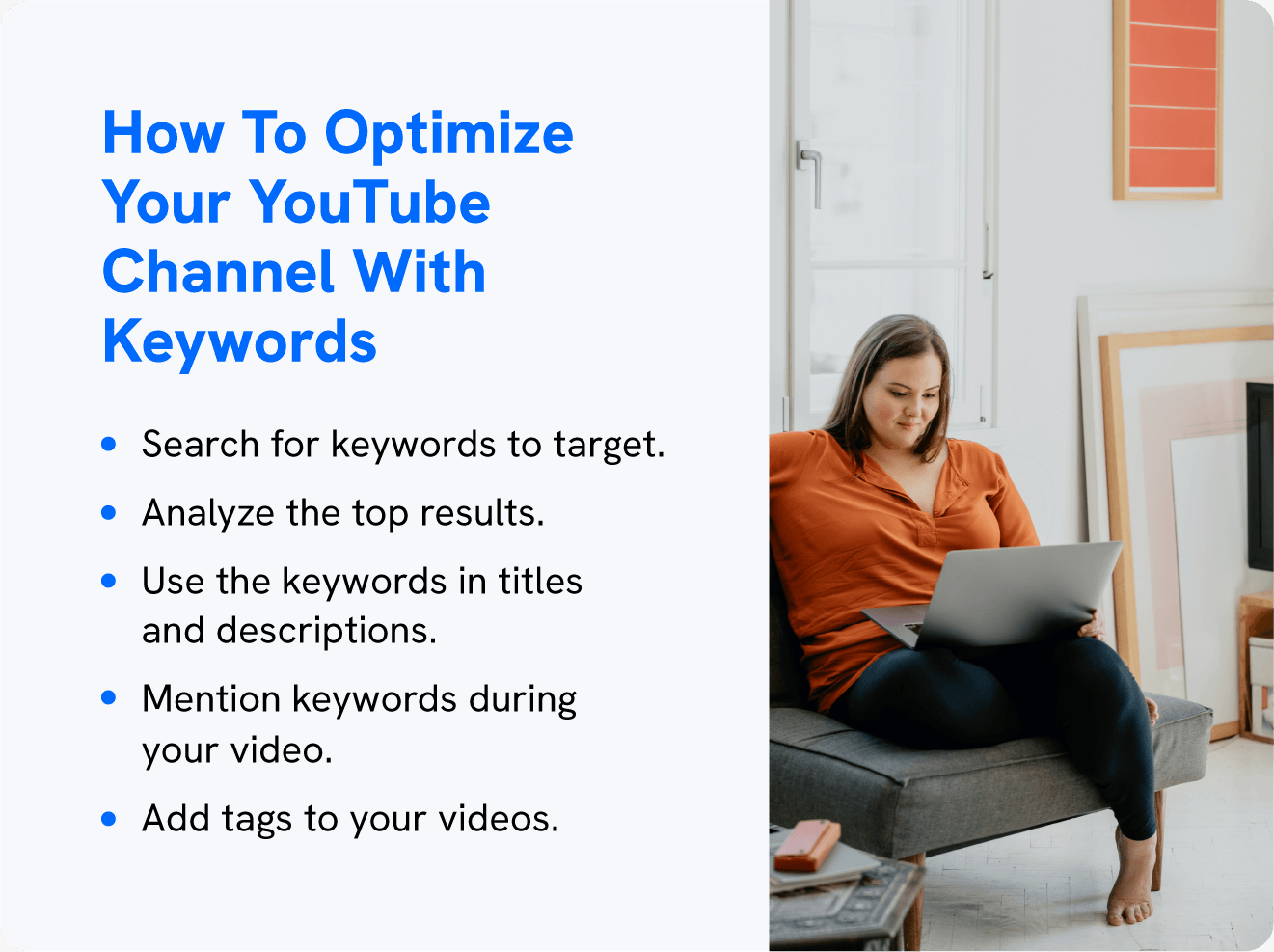 Here's how you can start optimizing your videos with keywords:
Search for keywords to target: you can use tools such as Ahrefs, the Trending page on YouTube, Google Trends, and YouTube's autocomplete feature.
Analyze the top results: search for the keyword you want to target, then check if the results align with your content creation and if you can create a video that would rank at the top.
Use the keywords in titles and descriptions: when posting your videos, make sure to include the keywords you're targeting.
Mention them during your video: try to mention your keyword a couple of times during the video to help YouTube understand what the video is about.
Add tags to your videos: to give more context to what your video is about, add various tags that describe the video.
Be sure to include the keywords sparingly to avoid keyword stuffing.
4. Design Eye-Catching Thumbnails
Thumbnails are also very helpful when it comes to driving traffic to your videos.
Just like catchy titles, eye-catching thumbnails make people want to click on your video without even thinking twice.
Your thumbnail needs to summarize in only a couple of words the most impactful part of your video or the biggest benefits people will get from watching it.
Instead of having YouTube create a random thumbnail for your video, make sure to personalize your thumbnails to encourage people to click on them.
Your thumbnail should:
Include descriptive text, like 2-3 words that will stand out to people.
Use strong colors, such as blue or contrasting colors.
Add faces, like a reaction during your video.
Include symbols, such as arrows and circles.
Use clear branding and add your logo to keep thumbnails standard.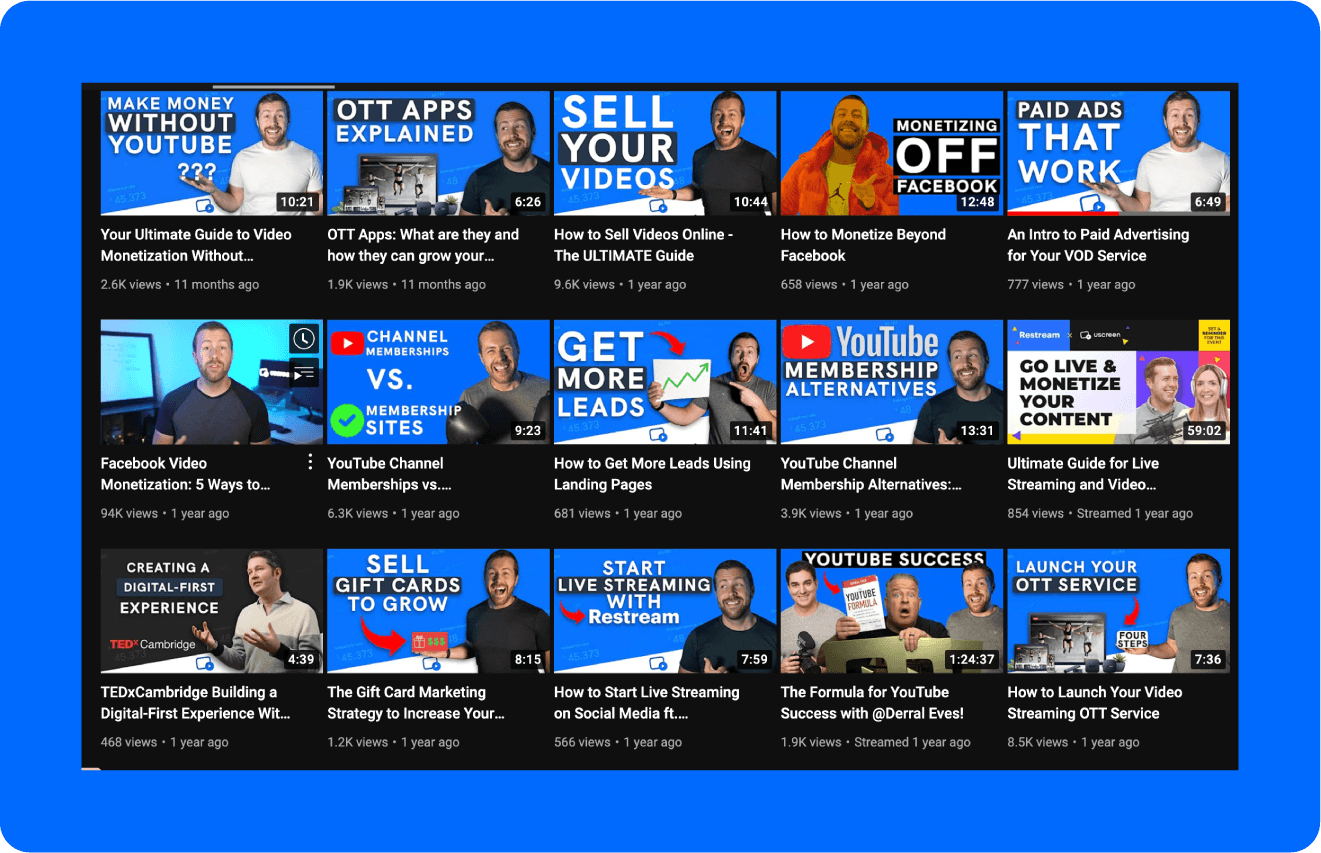 Creating branded thumbnails will help catch viewers' attention and help them recognize your video right away.
5. Engage With the YouTube Community
YouTube is a big community of creators that can be helpful when it comes to promoting YouTube videos.
Stay in the loop with what's going on in the YouTube community by:
Keeping up to date with any new feature releases on YouTube's blog.
Interacting with other YouTube channels.
Building relationships with creators.
Joining YouTube creator groups on social media.
Subscribing to channels that are similar to yours.
By interacting with the YouTube community, you'll increase the chances of other YouTubers sharing your video, and you'll know what the competition is doing.
This also gives them a chance to interact with your videos, which can lead to YouTube recommending it to more people.
Plus, you'll be able to get even more tips from other creators that could help you create better videos and increase your views.
6. Understand Your Target Audience
If you want to promote your videos and actually have people watch them, you need to understand who your target audience is.
Creating and promoting YouTube videos for the right audience will lead to more people watching and interacting with your content.
Always ensure that the content you're delivering is in line with who you're targeting and what your audience is used to, since that's what they are expecting to see and what they like to watch.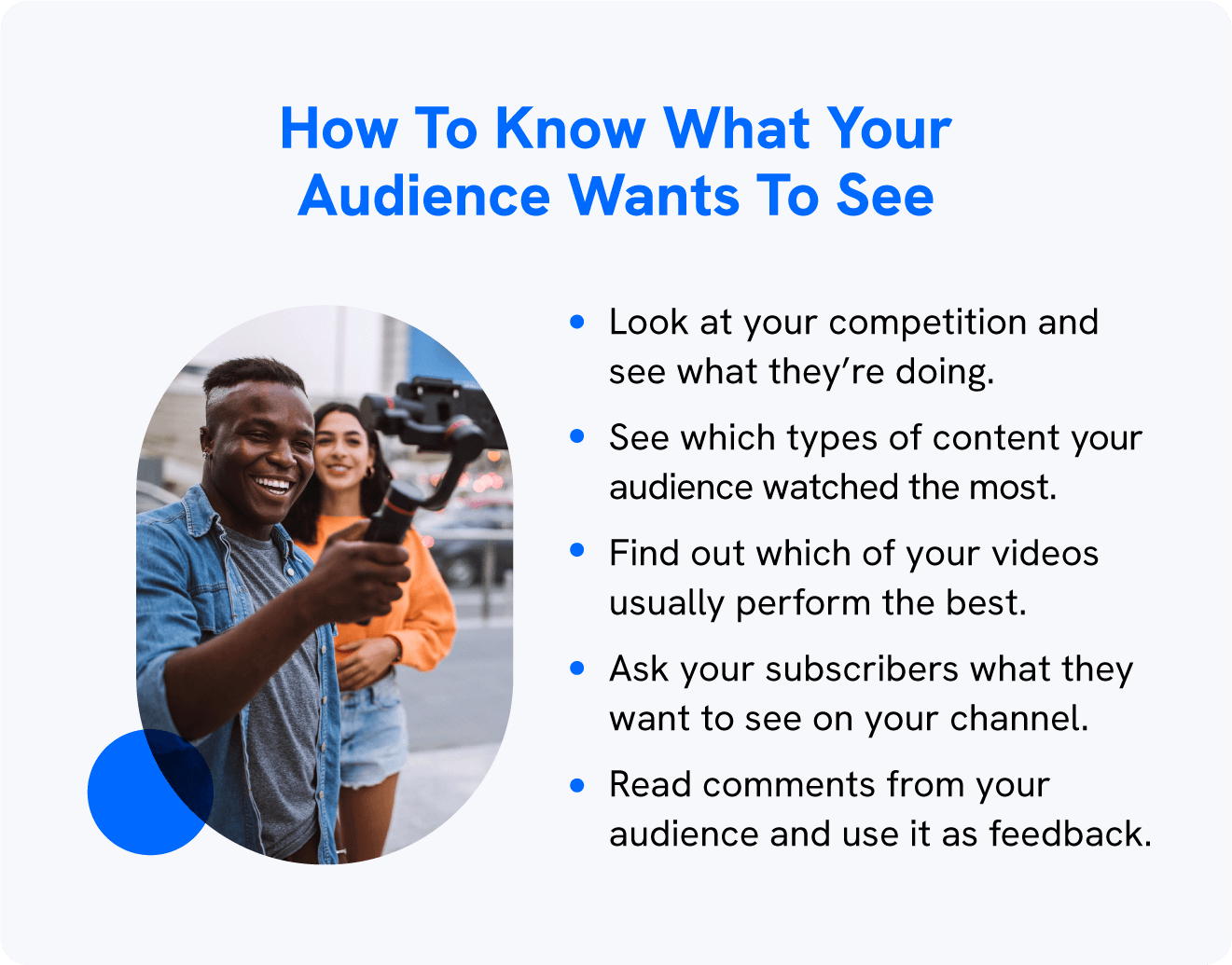 To find out more about your target audience, you can:
Look at your competition and see what they're doing.
See which types of content your audience watched the most.
Find out which of your videos usually perform the best.
Ask your subscribers what they want to see on your channel.
Read comments from your audience and use it as feedback.
Interacting with your audience and seeing what they enjoy watching from you helps you provide even better content that they will likely recommend to others.
7. Cross-Promote Your Channel and Videos
You can also do some YouTube promotion on other social media platforms, such as Instagram, Facebook, and TikTok. This way, you'll reach an audience beyond YouTube.
You can cross-promote your videos by:
Sharing an Instagram Story that your new video is live.
Posting a snippet of your video as a TikTok.
Reposting your YouTube video on Facebook.
Automatically sharing your YouTube videos to social media.
To help with the cross-promotion, you can also embed your videos on your blog or any page you usually share content.
If you're embedding your video on your blog, you can create a blog post expanding on or summarizing the things you mention in the video.
You can also promote your YouTube channel and videos by starting email marketing. Build your email list with subscribers to remind them of new videos and share updates and insights on your videos.
Another way to promote your YouTube videos is by creating a community with your subscribers. You can create a private community on Facebook or on a platform like Uscreen.
This way, you can connect with your subscribers on a more personal level and keep them updated on when your videos are coming out.
8. Run Giveaways and Contests
Everyone loves YouTube giveaways and contests — what's better than a chance to win something for free?
Many people will run contests with the sole purpose of promoting their YouTube channel and videos.
Even better, contests and giveaways also help with engagement, since most of the time your subscribers will have to like or comment on your videos.
When creating a contest or giveaway, make sure to follow YouTube's policies.
Here's how to run a giveaway or contest on YouTube:
Come up with the rules: decide what the main goal is, and whether viewers need to comment, like, or subscribe.
Decide on the prize: come up with a good prize to award the winner, like your merch or a gadget.
Create a special video: share a video that explains the rules and what the winner will get.
It's a good idea to ask subscribers to like, comment, and share the video as part of the rules so they can help you promote your YouTube content.
Keep in mind that posting contests and giveaways too often may cause people to feel uninterested in participating. You want to keep your audience excited about new ones, so spread them apart by a couple of months.
9. Create Playlists and Series
One way to promote several videos is by creating playlists and video series.
When you create a video series that covers one topic over a couple of videos, viewers will want to keep watching and click on the rest of the videos after watching the first one.
In order to create a video series, you should:
Come up with a topic or story related to your niche that could expand into different parts.
Create the videos and make sure to end each one in a way that will make people want to continue watching.
Mention at the end of the video to watch the next part of the series or when to expect the next one.
Add a YouTube card at the end that includes the next video, or add videos to a playlist.
The same goes for playlists. If you organize your videos into playlists, YouTube will automatically start playing the next video on your playlist.
To create a playlist, you need to:

Note which videos are related to each other or part of a series.
Click on "Save" for each of the videos.
Add to an existing playlist or select "Create a new playlist"
Creating a playlist or series helps bring people back to your channel since they'll want to see if the next part is already up or if you have other good playlists to watch.
10. Start Live Streaming
Streaming keeps getting bigger and better, and most social media platforms now let you live stream.
When you go live on YouTube, you'll have a greater chance of getting your content seen by a newer audience.
Whether someone is searching for a live stream or it gets recommended to them, live streaming can reach new viewers who could potentially watch your content on YouTube regularly.
The great thing about live streaming is that viewers get a chance to know who you are and they get to interact with you in real time.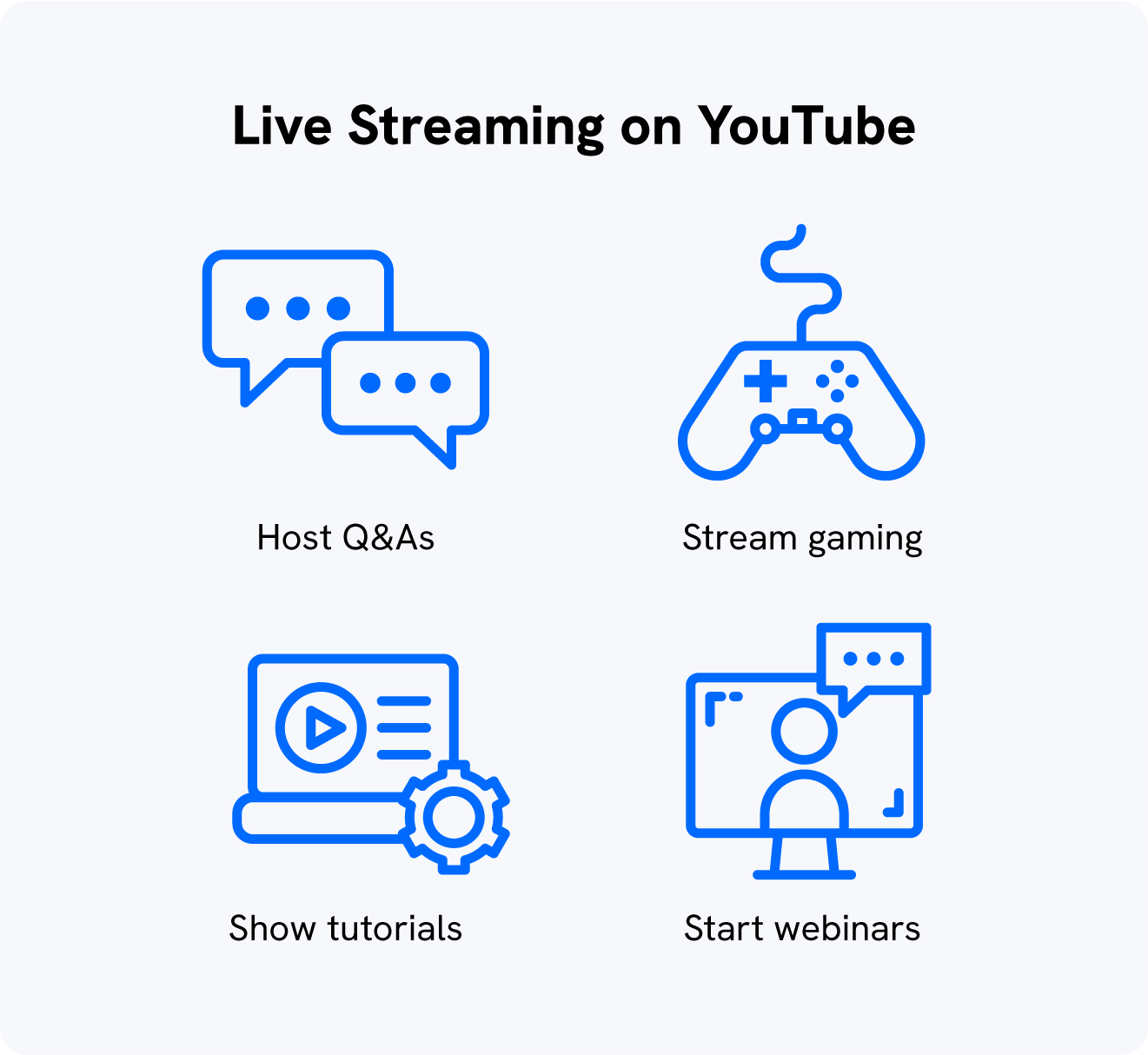 Live streaming gives you a chance to expand your content in a new direction. You can live stream:
Q&As.
Gaming.
Tutorials.
Webinars.
Updates.

Or you can just go live to hang out with your online friends and start to build a connection with your audience.
11. Release High-Quality Videos
You might already be doing this, but releasing high-quality videos is very important to promote your YouTube channel.
That's because if your content is high quality and brings value to viewers, they'll automatically want to share your videos with others. This can even help you rank on YouTube.
Aside from having the right video production equipment and editing well, you need to be providing content that people want to share.
To do that, you should make your video:
Entertaining.
Surprising.
Helpful.
Valuable.
If your videos are low quality or unbeneficial, viewers will likely skip it. So as long as you have a high-quality video that provides valuable content, the higher your chances are of getting it shared.
12. Consider Doing Collabs
If you meet a creator in your niche and you hit it off, you should consider doing a collaboration.
Doing collaborations with other creators can help you reach a wider audience and promote your videos to their viewers..
Collaborating can also be fun, as you get to share tips and create content together, and you'll likely learn something new from them.
If you want to create a successful collaboration video, you need to find the right person to do it with. This means finding someone:
With similar content.
Who has a similar passion.
With a slightly similar audience.
By finding the right partner, you'll have a greater chance that their audience will also be interested in your content.
Plus, working with someone who you're comfortable with may lead to even more collabs in the future.
13. Run Advertisements
If you have the extra budget, running advertisements is another good way to promote your YouTube videos.
Running ads will surely get you more visibility for your content, but it will require you to spend some money.
Luckily, YouTube makes it easy to advertise on their platform. They offer a variety of advertisement opportunities, such as:
In-stream ads.
Non-skippable ads.
Overlay ads.
Display ads.
Bumper ads.
Sponsored cards.
What's even better is that you can use your own videos on your page and make it into an ad on YouTube.
It's also good to create a video specifically for the ad, including a call to action at the end, targeting a more specific audience, and with a clearer goal in mind.
To create an ad on YouTube you have to:
Upload the video you'll use as an ad to YouTube.
Create an ad campaign.
Configure your campaign by choosing your budget and strategy.
Select the target audience you want to reach.
Pick the ad format.
Finish configuring your ad.
Then you can start monitoring your ads to see what performs best and brings the most views to your YouTube videos.
14. Make Your Videos More Interactive
Making your videos interactive is another way to help promote YouTube videos.
Interacting with your viewers allows you to build a relationship with them, which in turn encourages them to recommend your videos to others.
You can make your videos more interactive by:
Asking viewers to comment an answer to a question you ask in the video.
Requesting that they pick the next video topic.
Hosting Q&As where you answer your viewer questions.
Creating videos where your followers pick what you'll do next.
Aside from making your videos interactive, you should also spend some time answering the comments on your videos and liking them.
Set aside some time each week to go over all of the comments on your videos and address any feedback your viewers have — even the negative ones.
15. Find Out What's Trending
If you want to promote YouTube videos, you also have to find out what other videos are trending on YouTube, so you'll have higher chances of getting your video recommended to viewers.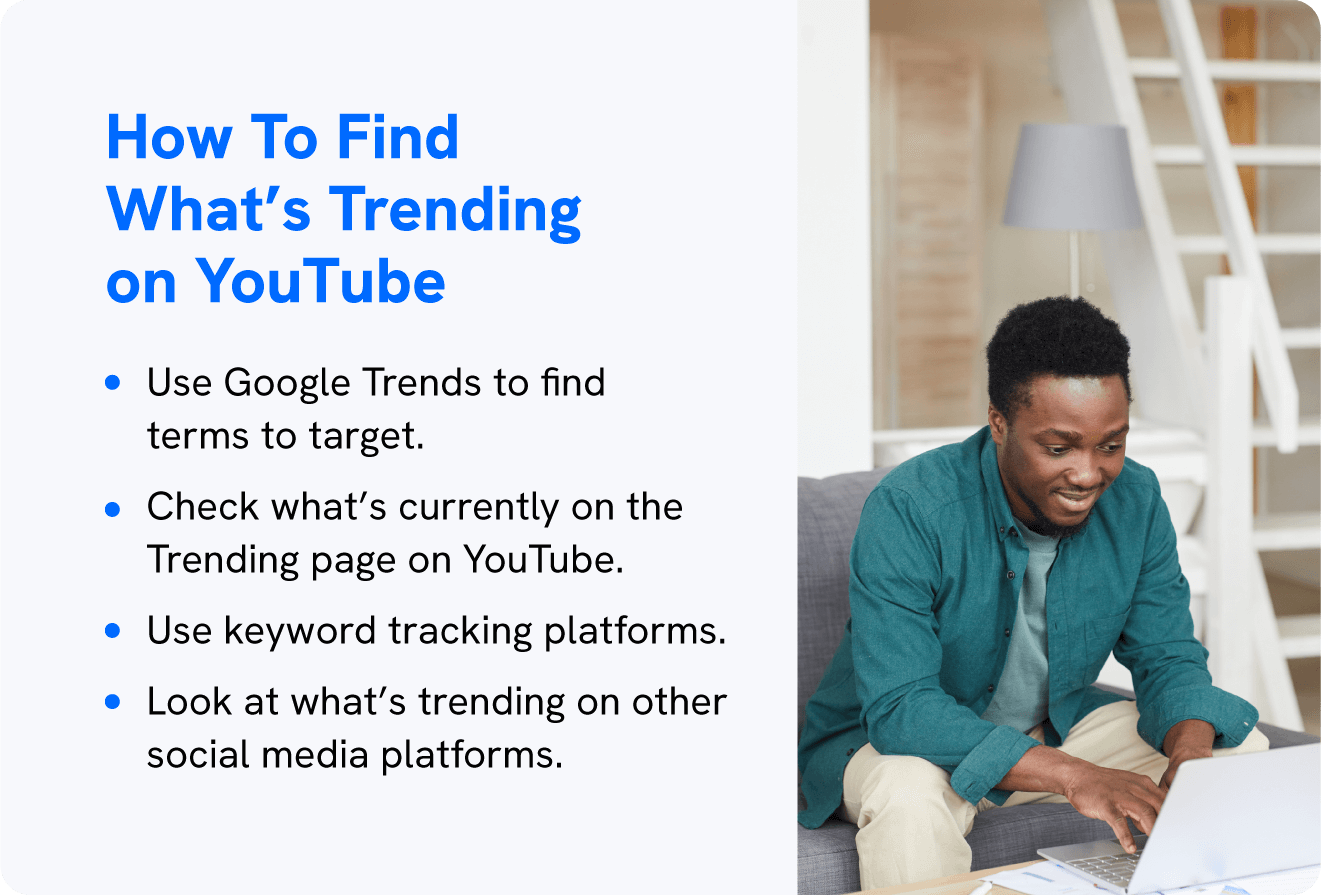 You can find YouTube trends by:
Using Google Trends to find terms to target.
Checking what's currently on the Trending page on YouTube.
Using keyword tracking platforms.
Looking at what's trending on other social media platforms.
Once you find what's trending on YouTube, you can decide if it aligns with your content and how you can create videos that will trend like others.
Join trends that make sense for your channel and you'll have better chances of getting your video recommended.
16. Share YouTube Shorts
YouTube Shorts is a fairly new YouTube feature you can start taking advantage of.
With YouTube Shorts, you can share short videos, similar to TikToks and Reels, that catch people's attention in just a couple of seconds.
Since YouTube Shorts are so short, there are more chances of people watching them and showing up on their timelines.
YouTube shorts can help you:

Drive traffic to your YouTube channel if viewers enjoy your content.
Get more subscribers from the exposure.
Start building a community for your content.
What's more, you can also monetize your YouTube Shorts aside from only using them to promote your content.
17. Look for Seasonal Content
Content on YouTube also varies by season. For example, summer, Thanksgiving, and Christmas allow unique opportunities for different content.
Keep an eye out for any holidays or seasonal events going on that you can create a video about, since these will help you get more views and shares.
This is also a great opportunity to host themed challenges or contests and interact with your viewers in a different way.
One example of seasonal content that's been a hit on YouTube every year is Vlogmas. During Vlogmas, YouTubers will release a video every single day during December, leading viewers to anticipate the next video.
Look for seasonal content opportunities on:
YouTube Explore page.
Competitor pages.
Or just look at your own calendar and try to come up with a cool idea to keep your viewers engaged.
18. Try Virtual Reality
Virtual reality is here to stay, with many companies investing in it in recent years.
But did you know that YouTube also allows you to post virtual reality videos?
They let viewers watch it with pretty much anything: On your phone, VR headset, even with cardboard. This means you can attract a wider audience with this unique video format.
Since VR is so unique, it brings your content to a new level, which helps with promoting your videos.
Virtual reality on YouTube is also a growing community, so you'll get a chance to connect with people with the same interests and start collaborating.
YouTube lets you create virtual reality videos in two different formats:
VR180: lets you film with a 180º view, which helps viewers immerse themselves in a different way than regular videos.
360º: lets you film every single angle at the same time, which is great if you want to show action that's happening all around.
If you want to create virtual reality videos to attract a new audience, you can check out Virtual Reality on YouTube to see what it would look like.
19. Promote on YouTube Itself
You got the cross-promotion down, but you can also promote your videos on YouTube itself.
Other than creating video series and playlists as we mentioned above, you can also try a couple of strategies to get more views on YouTube by promoting within your own channel and videos.
You can promote other videos on your own channel and videos by:
Adding links to related videos in the description.
Telling your viewers to watch your related videos on your channel.
Creating an end screen for your videos asking viewers to check out more content and subscribe.
Including cards throughout the video that link to other related videos.
💡How They Did It
Take, for example, The Tonight Show With Jimmy Fallon YouTube channel. They add an end screen to every one of their videos with other recommended videos and a subscribe button.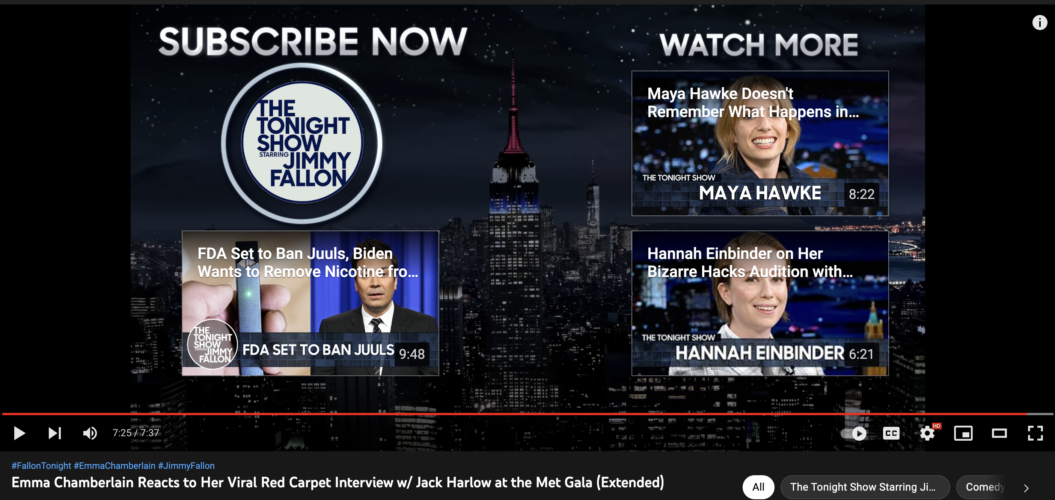 By using this strategy, you'll be able to direct people to some of your other videos, and they'll likely want to watch them if they contain related content.
20. Include a Call to Action
You should always add a call to action to your videos to help with your YouTube promotion.
That's because asking your audience to engage with your content is also another effective way to promote YouTube videos.
Sometimes a good ole reminder to like and comment is enough to make people do it. And you can do that by:
Asking questions throughout the video and telling viewers to answer in the comments.
Telling them throughout the video to give a like if they are enjoying the content.
Asking them to share your video with someone.
Starting your introduction by asking them to subscribe to stay updated.
Requesting in the video description for viewers to interact with the video.
You can also mention at the end of the video that you have other similar videos that they can check out on your channel.
21. Have a Compelling Profile
Making sure your YouTube profile is compelling is another effective way to help promote your YouTube videos.
That's because if someone wants to reach out to you for a brand deal or they want to subscribe to your channel, they'll notice how professional your profile looks.
In order to have a compelling profile, you should:
Make sure it's complete with all the information about you.
Have an eye-catching header with information about when you post videos.
Use clear branding, including the same color palette and icons.
Create a good channel description with keywords you want to target.
A compelling profile makes your YouTube channel look more professional and shows that you are committed to posting content.
This way, you'll be able to promote your YouTube channel with your own profile.
22. Create a Channel Trailer
Do you ever visit a YouTube channel and their channel trailer starts playing, and you're suddenly watching the whole thing?
That's a good channel trailer.
Channel trailers help viewers learn more about a YouTube channel they can potentially subscribe to.
Think of your channel trailer like a movie trailer: you want to make people watch the movie by showing a couple of snippets.
When creating your channel trailer, you should:
Make it short and sweet, and relay your message in just a couple of seconds.
Catch the viewer's attention at the beginning of the trailer.
Include snippets of some of your videos and what they'll get from watching your videos.
Add a subscribe button to the video.
But if you're short on time, you can also use one of the videos on your channel as a channel trailer.
Prefer learning about how to promote YouTube videos on video? We got just what you need.
Wrapping It Up
There you go: 22 fresh tips on how to promote YouTube videos.
How many of these are you going to try out?
If you're looking to make money with your videos, Uscreen is a great video monetization option.
Plus, you can use these YouTube promotion tips to draw more people to your video-on-demand business.
It's simple with Uscreen.
Build, launch and manage your membership, all in one place.
How To Promote YouTube Channel FAQs
Still have questions about YouTube promotion? We have the answers.
How Do I Promote My YouTube Channel?
There are many different ways to promote your YouTube channel, including: 

• Promoting it on other social media platforms. 
• Promoting it on YouTube itself. 
• Running advertisements. 
• Live streaming. 
Can I Promote My YouTube Channel Without Social Media?
Yes, you can promote your YouTube channel without social media. You can, for example: 

• Run giveaways and contests.
• Do collabs. 
• Use creative video titles. 
• Promote it in your own videos. 
Can I Promote My YouTube Video for Free?
Yes, most of the ways to promote your YouTube videos are free. You can promote your videos by: 

• Cross-promoting on other social media platforms. 
• Starting to live stream. 
• Making your videos more keyword optimized. 
How Do You Get 1,000 Subscribers on YouTube?
You can get 1,000 subscribers by using our tips on how to promote YouTube videos. It's a good idea to break down your goals and try to achieve them little by little.