YouTube has paid out over $30 billion to its creators in the past 3 years.
That's a lot of money.
And, if you're wondering how you can get a slice of that big ol' money pie, you've come to the right place.

In this article, we're going to show you exactly what you need to do to earn $10,000+ a month for your YouTube channel using YouTube shorts.
Let's get started…
What are YouTube Shorts?
I know what YouTube Shorts are! Take me to the money making steps.
YouTube Shorts are a video format that allows users to upload short-form, 'TikTok' style videos on YouTube that are:
Vertical (or at least square).
Up to 60 seconds long.
Segmented, have music, trending sounds, or original audio added.
And they currently have (on average) 15 billion views, per day. Yes, that's billions with a very large B.

To create a Short you can film and edit directly through the YouTube app (much like TikTok and Reels), or elsewhere and then upload to YouTube if that's more your style.

Just like we've done on our YouTube channel here:
They then live on the Shorts shelf, found on the YouTube homepage, allowing them to become an evergreen spoke in your content wheel.
In September of 2020 Shorts began beta testing in India, with users able to see and create 15-second videos. They performed incredibly well, with reports of 3.5 billion cumulative daily views.
With success in India, the beta was released in the U.S. in March 2021, with daily views passing 6.5 billion. Shorts were then launched in over 100 countries.
So whether you're a seasoned creator or relatively new to the platform, just like looking to monetize on Instagram, Shorts could be the right path for you.
How To Get Started With Shorts
It's incredibly easy to get started with YouTube Shorts.
You can, in theory, make money from your first video if you meet the eligibility criteria:
You have a YouTube channel.
You've uploaded a Short within the last 180 days.
Your content is in line with YouTube's community guidelines.
Your videos are classed as original content (so no TikTok or Instagram watermarks).
Sounds simple, but what does the monetization model look like?
How Much Can I Earn From The YouTube Shorts Fund?
Shorts monetization comes from YouTube's $100 million Creator Fund (Yay, no ads!). Chunks of this fund are then paid out to reward creators, like you, each month.
This looks set to continue to the end of 2022 as YouTube collects feedback from creators to decide on a 'long-term program specifically designed for YouTube Shorts.'
But what you want to know is how you can get a piece of this $100 million payout…
YouTube's official line is that they will pay creators between $100 and $10,000 per month. The amount you get will be based on engagement and views.
This is great…for already established influencers…who have other streams of income.
This reward-based system puts you in direct competition with other creators. Your income is dependent on the performance of your videos and those of other creators on the platform, possibly outside your niche.
And, the more people that enter the fund, the less money there is to go around…
As a content creator who wants to guarantee your monthly earnings, it makes sense to invest in a paid platform like Uscreen (where creators earn on average $12000+ a month).
It's simple with Uscreen.
Build, launch and manage your membership, all in one place.
With a paid platform you have control over your income whereas Shorts monetization is completely at the discretion of YouTube.
While they've said they will start to trial Ads within the Shorts shelf, this doesn't guarantee an ad revenue scheme anytime soon.
With that in mind, there are a few ways to please the algorithm angels and boost your chances of an invite to the fund:
Use trending sounds.
Add the hashtag #shorts into your description and/or title.
Post original videos (remove all watermarks).
Play with the length of your videos.
Try different types of videos.
Take advantage of the use of 'polls' on your channel.
To monetize your YouTube Shorts videos, you'll just have to keep posting and promoting content in the hopes that you'll get that Willy Wonka golden ticket.
How To Claim Your Money
Once you get an invite to the creator fund you'll need to actively go and claim your money. The process looks like this:
Agree to YouTube's terms and conditions and have your Google AdSense account connected.
Between the 8th-10th of each month, YouTube sends an email to let you know that you have a Shorts bonus to claim.
You can then claim this up to the 25th of that month (p.s. If you don't, the money goes!)
Your bonus is then paid into your Google AdSense account on the 21st and 26th of the following month.
And then the cycle of creating, posting, and praying begins all over again.
Spill The Tea: Is It Worth It?
If you're already part of the YouTube Partner Program and/or creating content for other platforms, you might be asking yourself whether the payouts are worth it? Well, it depends.
And here's why…
Short-form content is still in its infancy. And while it may feel like these vertical video clips have been around forever (pandemic TikTok addiction anyone?) it's still early days with all to play for.
YouTube wants to put up some serious competition to the likes of TikTok, Snapchat and Instagram Reels. The potential for YouTube Shorts creators here is huge…if you're happy to play the long game…and hope the monetization policies change.
If you want to revive a quiet channel, or if you just love YouTube and have been hit by recent demonetization; Shorts may be the answer to boost engagement and make you some money.
Action Lab Shorts is a great example of this. Their original channel went 2 years without posting a single video and then one Short racked up half a million views.
They quickly began posting more short-form content and now have a dedicated Shorts channel with over 2 million subscribers and millions of views.
They're a great example of how your YouTube Shorts performance can boost the growth of your channel. But can you make more money with them?
Let's take a deeper look…
A Better Way To Make Money With YouTube Shorts
If you think of Shorts as the start of your community engagement rather than the end, then you can take full advantage of its organic reach to guide your followers where you want them to be…
…your paid membership site.
As a video content creator, you want to have your community fully engaged with you all in one place.
This is where Uscreen comes in…
Our platform allows you to directly monetize your branded video-on-demand (VOD) content and live streaming. With a whole host of other ways to personalize the experience for your user, such as:
A completely customizable website to host your video and other content.
The ability to create landing pages that easily direct your customers through your sales funnel.
Access to a range of payment models and full control of your pricing.
In-app purchases.
The ability to run promotions and give out coupons.
Access to a range of payment options like PayPal, Authorize.net, and Stripe (or the Uscreen gateway).
Acceptance of payment from 130 international currencies.
Sounds good, right?
It's simple with Uscreen.
Build, launch and manage your membership, all in one place.
How Your Book of Memories Made Money with Uscreen's Paid Community
While many creators use YouTube as a way to make money, the truth is that it's still incredibly difficult to make enough as a YouTuber alone. And while Shorts remove the bottleneck of the YouTube Partner Programme, it may not be all it's cracked up to be.
Let's take a look at an example of how to monetize your video content, reliably and consistently, with a paid streaming service…
Your Book of Memories (YBM) is a video streaming service full of high-quality, DIY memory album instructional tutorials.
Frances Long, the founder of YBM, originally started on YouTube in 2017 and quickly experienced the limited potential of YouTube monetization.
Despite her YouTube channel growing quickly to over 17,000 engaged subscribers, and accumulating over 600,000 views on her channel, YBM was generating a meagre $380 a month in YouTube ad revenue.
Frances realized she had to monetize her videos somewhere other than YouTube if she wanted to keep doing what she loves and see a fair return on her investment in time and money.
So in January of 2019, Frances joined Uscreen to transform YBM into a highly profitable private video streaming service.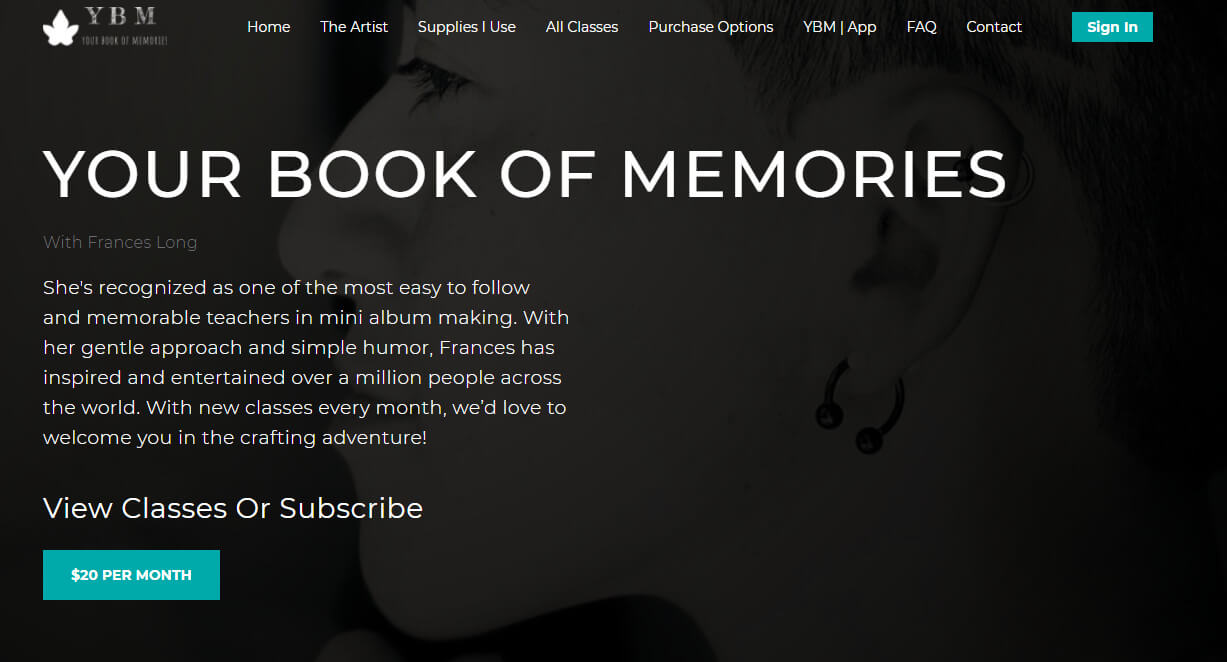 YBM saw an 855% increase in monthly revenue in just 4 months, without the need to produce any new videos. 3.7% of YBM's YouTube subscribers converted to the paid streaming service.
So instead of relying on YouTube as a video monetization platform, Frances now uses her YouTube channel as a lead generator to increase paid memberships on YBM.
It's fair to say that we want you to make money, whether in long or short-form videos. And we're always finding ways to make it easier for you to do that. With Uscreen you get:
Support with your affiliate marketing program to give you more revenue stream possibilities, all in one platform.
Access to lots and lots of data about your videos to calculate revenue share.
Full access to your user data so you can make informed decisions about your marketing strategy.
If you're serious about making on-demand original video content that you're in control of, building your community and making a sustainable income – Uscreen is a game-changer.
Conclusion: The Long And Short Of It
In short (pun fully intended), YouTube Shorts are a bit of a mixed bag. While there is the opportunity to monetize them it's not all down to you.
But, and it's a big but, Shorts are an extension of an already incredible platform for creators. And YouTube has said the Creator Fund is one of the first steps in their 'journey to build a monetization model for Shorts on YouTube'.
So if you love creating YouTube videos, want to build them into a wider marketing strategy, or use them as a space to experiment – Shorts are worth the time investment.
Two ways to make extra sure they're worth it?
Market with YouTube: use your channel as a tool to build a loyal community and generate leads.
Lead them to your Uscreen video membership platform: create a standalone website where you can sell your videos on a subscription basis.
And who knows, that golden ticket could pop into your inbox real soon!
It's simple with Uscreen.
Build, launch and manage your membership, all in one place.