Are you looking to use video to sell your products?
If you answered yes, then you're in the right place.
Whether you're…
in e-commerce and want to increase your sales using video
already selling videos and want to use them to also sell other products
…then creating shoppable videos is the way to go.
In this guide, we'll give you everything you need to know about shoppable videos from what they are all the way to how you can make your own.
Let's jump right in…
What Is A Shoppable Video? And Why Is It Useful?
A shoppable video is an interactive, lead-generating video that features products you want to sell and allows people to buy products directly from the video.
When people watch the video, interactive elements pop-up that viewers can click on to buy the featured products.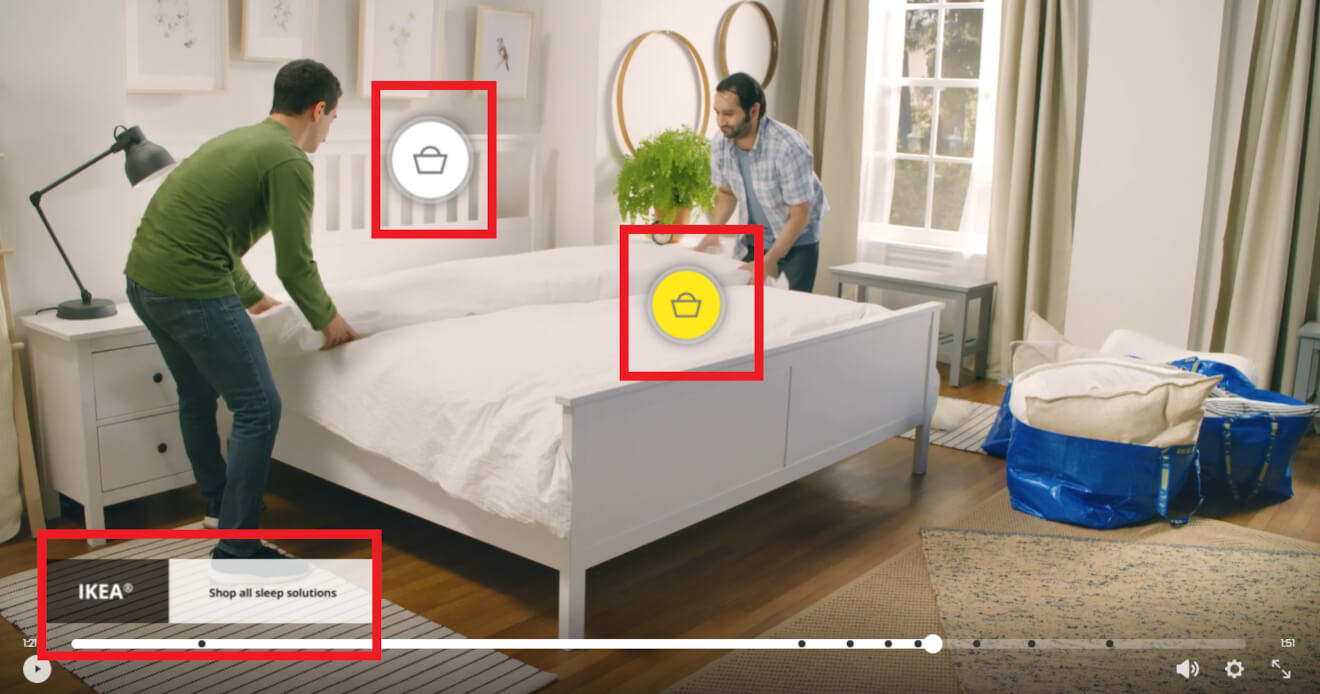 Whether you're someone who sells physical or digital products, shoppable videos can help you:
Create a seamless buying process: this creates a great user experience because the buying process is streamlined; a potential customer clicks on a product link, they're taken directly to the product page where the customer can add it to their shopping cart for checkout.
Increase consumer engagement: research shows that the click-through rates are 10x higher in interactive videos than passive videos.
Drive conversion rates: studies found that these videos can increase conversion by 30%.
A lot of brands have reaped the rewards of this video marketing strategy.
For example, Ikea created an interactive shoppable video in collaboration with National Geographic.
The video features bedroom and bedding products from Ikea. Their goal was to:
Create a stronger connection between the customer and their brand.
Increase customer engagement and time spent with the content.
Optimize their user experience.
And they succeeded!
How did they do it?
Well, at the start of the video, the viewer is told that it's interactive by being prompted to 'click' and skip ahead to see the solution.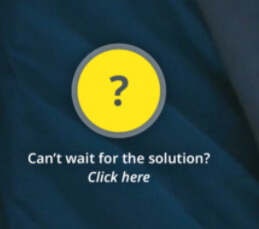 Then a series of product links pop up as they appear in the video – these are known as product hotspots.
When viewers click on these hotspots, they're taken to a product page where they can continue shopping or return to the video.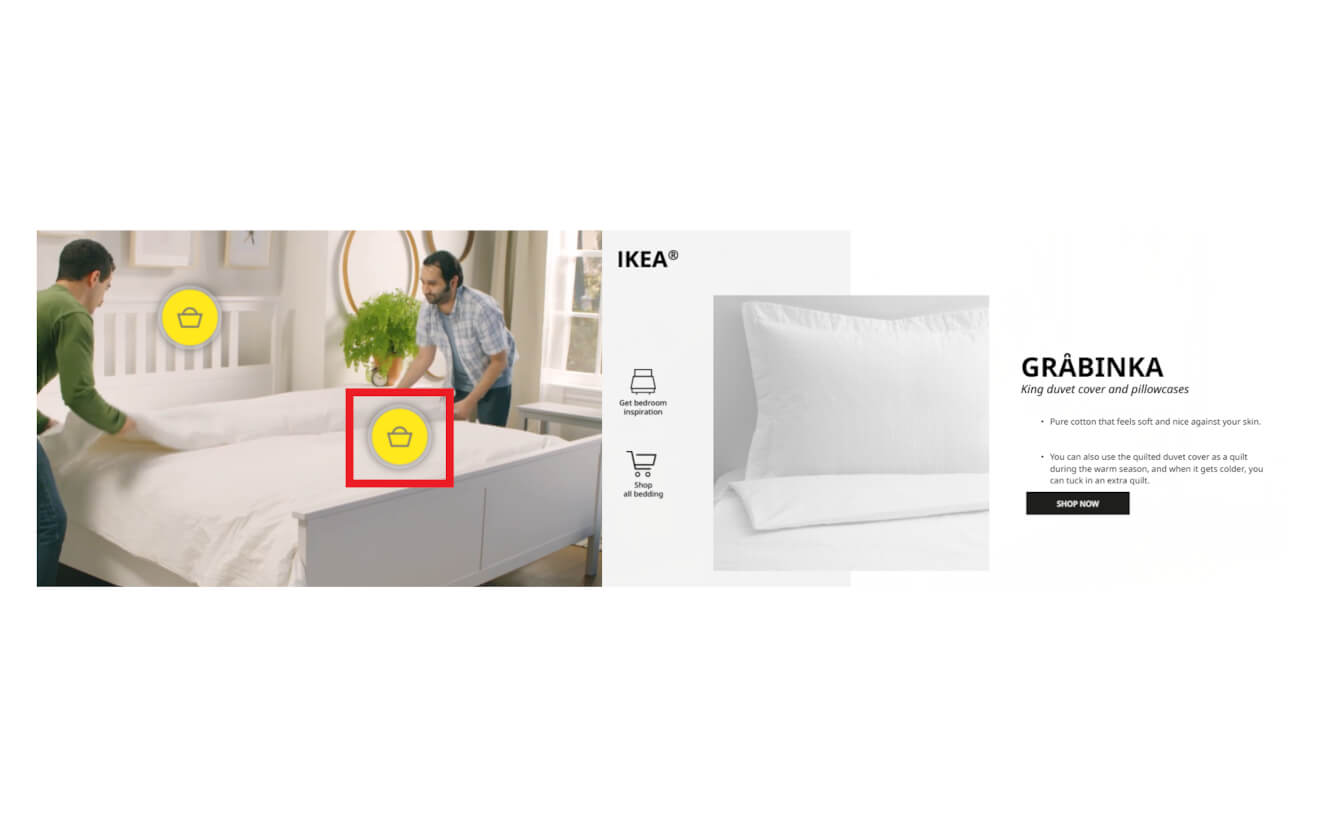 From their video ad, Ikea saw:
Almost 4x more interactions per active viewer.
An average of 1 minute spent on interactive product shots.
50% of product hotspots explored.
That's because they created a fun and interactive experience for potential customers. It got viewers engaged and moved them down the sales funnel both faster and easier.
Now that we've covered what a shoppable video is and how it can help your business, let's talk about where you can use them…
Where Can You Use Shoppable Videos?
You can create shoppable content to publish on your:
On-demand video streaming service.
Social media platforms.
E-commerce store.
Let's get into each one…
1. Create Interactive Shoppable Videos For Your Streaming Service
If you have a video streaming service and you sell branded merch, digital products, or affiliate products to make extra money, then shoppable videos are a surefire way for you to increase sales.
Think about it, you already have the attention of a paying audience that loves your brand; this makes them highly likely to buy additional products that you recommend or that they've seen you use.
In fact, studies found that these videos increase buyers' intent to purchase by 9x. Better still, 41% of viewers add a product to their shopping cart after watching a shoppable video.
If you want to get in on that action you can turn your existing and future videos into interactive shoppable content.
For example, Bulldog Online, a virtual yoga studio, market their merch with product overlays on relevant videos: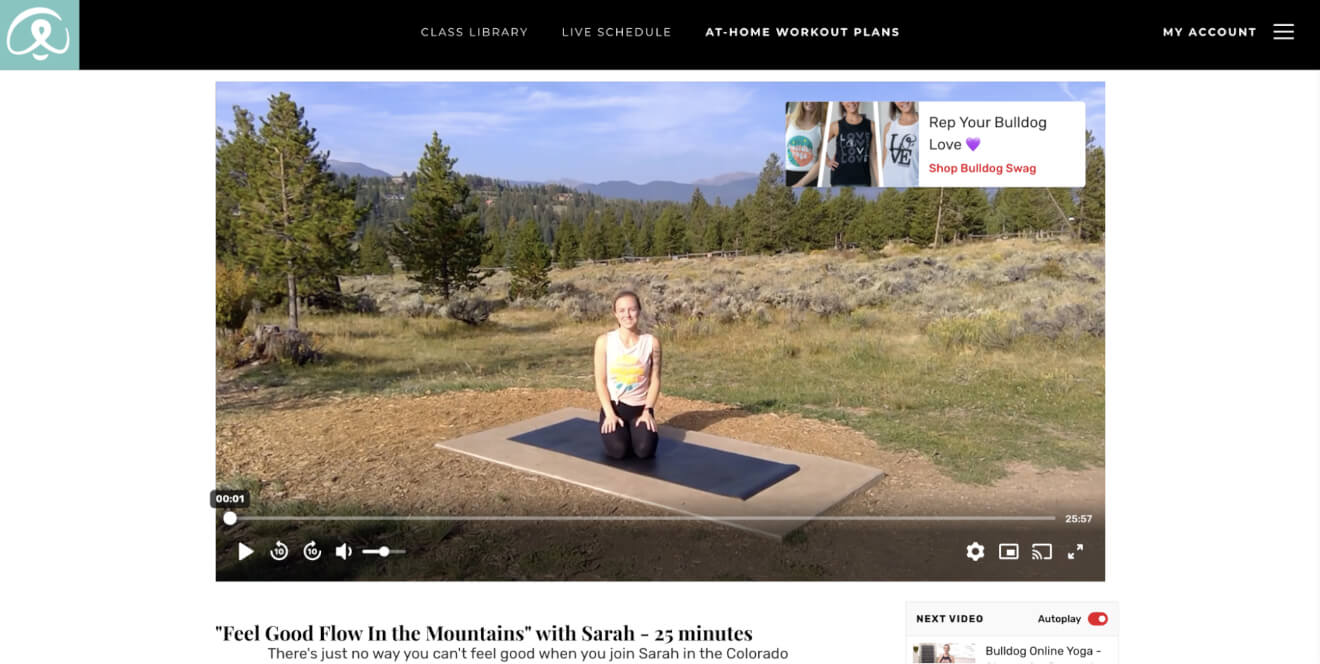 For an indirect way to get people to check out your online store, you can repurpose old videos by adding product overlays.
You can also create videos with the specific intent to sell your merch by:
Wearing or using your products for a soft-sell approach.
Encouraging your customers to click on your product links for a hard-sell approach.
Either way, shoppable videos should be part of your marketing strategy if you plan on selling products.
If you're looking to streamline the buying process on your video on demand site, skip ahead to see how you can create shoppable videos using Uscreen.
It's simple with Uscreen.
Build, launch and manage your membership, all in one place.
2. Publish Shoppable Content On Social Media Platforms
You can also create shoppable videos for your social media.
A lot of social media platforms like TikTok, Instagram, and YouTube, are starting to incorporate e-commerce functionality on their platforms. 
In fact, Instagram and TikTok have partnered with Shopify, an e-commerce platform, to let influencers, and retailers create shoppable content.
These can be published as part of the brand's feed, story, or come up as a shoppable video ad.
Shoppable content pushes viewers to the brand's shopping tab with a call to action (CTA) – which creates a direct link to their online stores.
Even YouTubers can activate the Merchandise Shelf so their viewers can see a carousel of up to 12 products under the video they're watching.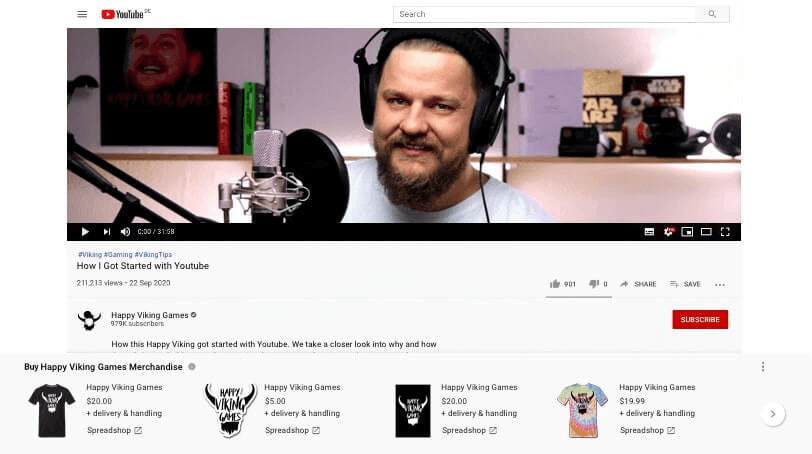 Even better, YouTube has announced that they will make ads more shoppable by adding product images directly under the ad to push viewers straight to product pages.
Ultimately, you can get creative with what your shoppable video looks like on social media and how you want it to reach your viewers.
You can create product placement videos that indirectly market your products or, you can create highlight videos that directly showcase your products to viewers.
Either way, social platforms are a great place to publish interactive videos because people are already scrolling and looking to interact with content.
Speaking of interaction…
3. Use Live Streams To Sell Products
Shoppable video experiences can also come in the form of live streams.
Your audience wants to interact with you in real-time and you can leverage that to sell products.
For example, China's famous live stream salesman, Li Jiaqi, sold $1.9 billion in goods using a live stream shopping video.
This trend is being adopted by major e-commerce and video platforms like Amazon and YouTube as we speak.
Amazon has launched Amazon Live, a shoppable live stream platform, where celebrities, influencers, and brands can sell their products through live videos:

And, YouTube is building an 'organic live shopping experience' to make it easier for their users to buy and sell products.
They found that 89% of viewers trust creator's recommendations on products, so they decided to streamline the buying process even more through live video shopping: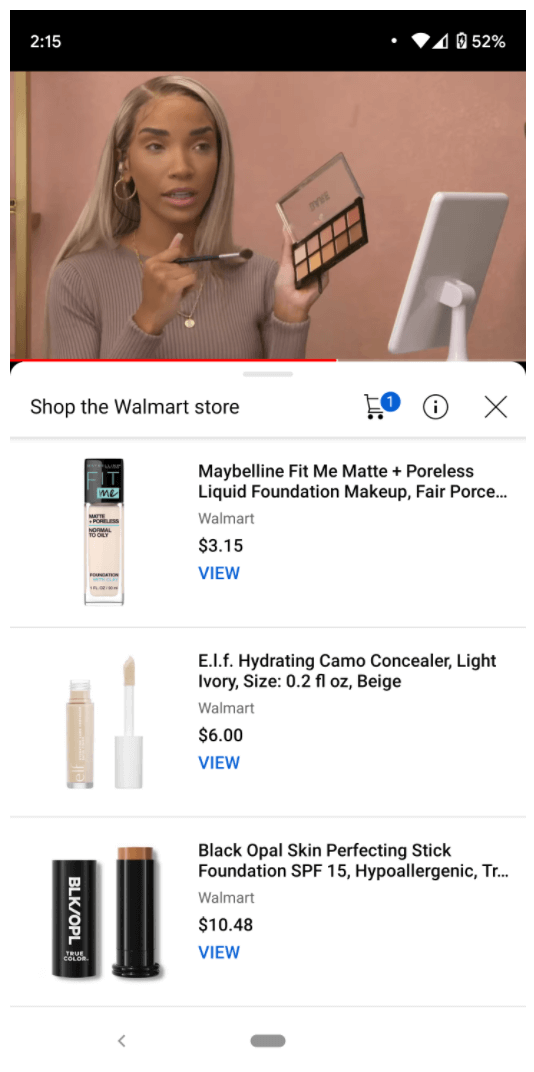 Live stream shopping is a really lucrative form of online video.
It can work for both streamers who want to sell their merchandise or affiliate products, and brands who sell goods as their main source of income.
This brings us to our next section…
4. Create Product Films For Your E-Commerce Store
If you have an e-commerce platform that focuses on physical products, you can create a custom shoppable video that showcases your products.
Just like Ikea did!
This is a tried and tested video marketing technique that can increase your sales, build a better customer relationship, and create a great user experience for potential customers.
A lot of brands have leveraged custom shoppable video ads as part of their content marketing strategy.
Take Ted Baker for example, they've created an interactive experience using video…
…where they market seasonal products that customers can easily shop.
Customers are instantly aware that the video is interactive thanks to the 'Shop The Film' button.
There are also clear calls to action (CTAs) to shop each piece, where viewers can go to the product page and add the pieces they want to their shopping cart.
Now, website visitors have a simplified buying process that lets them easily find the pieces they're intrigued with.
The world of video shopping is exciting and versatile, and in the next section, we'll show you how you can create your own shoppable video content with Uscreen.
Our all-in-one platform has helped more than 11,000 creators, brands, and entrepreneurs monetize their content online and build a successful video business.r word for it: more than 11,000 entrepreneurs, brands, and creators have leveraged Uscreen's all-in-one platform to build successful video businesses and monetize their content online.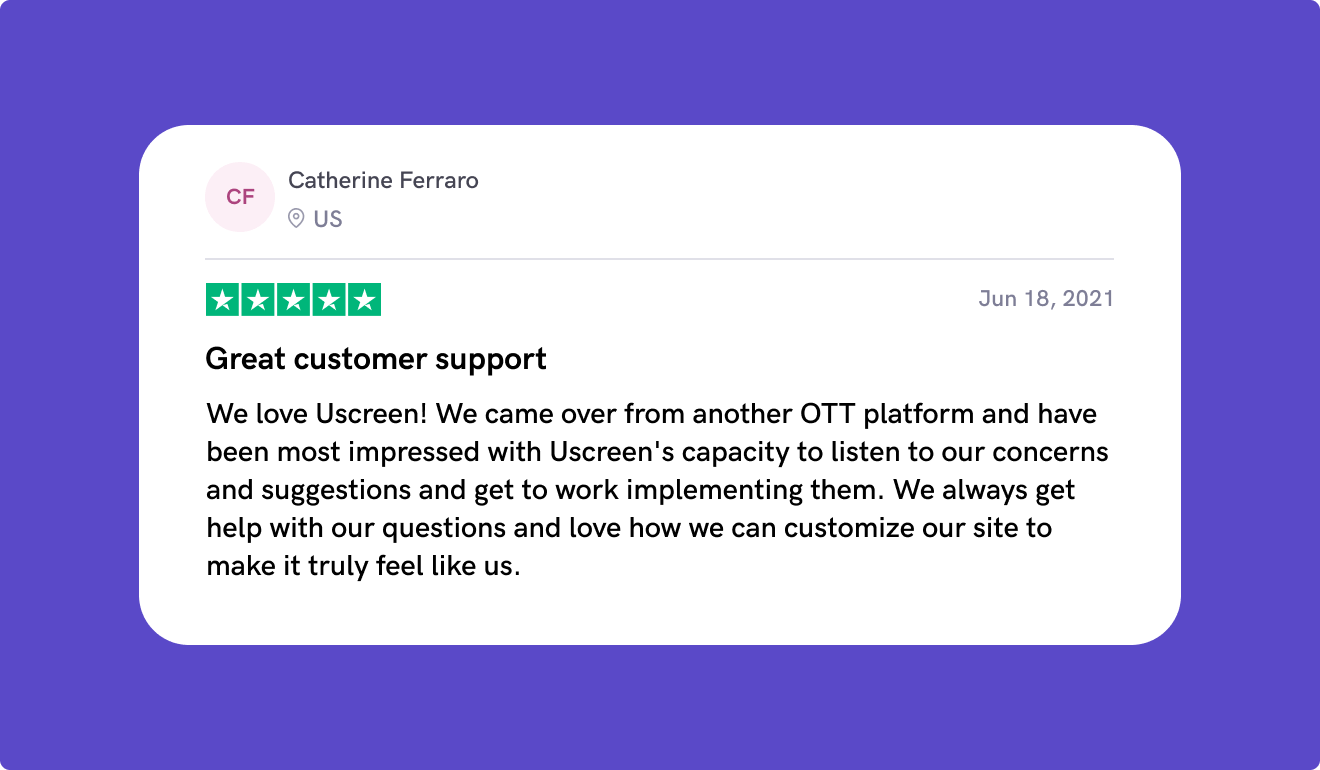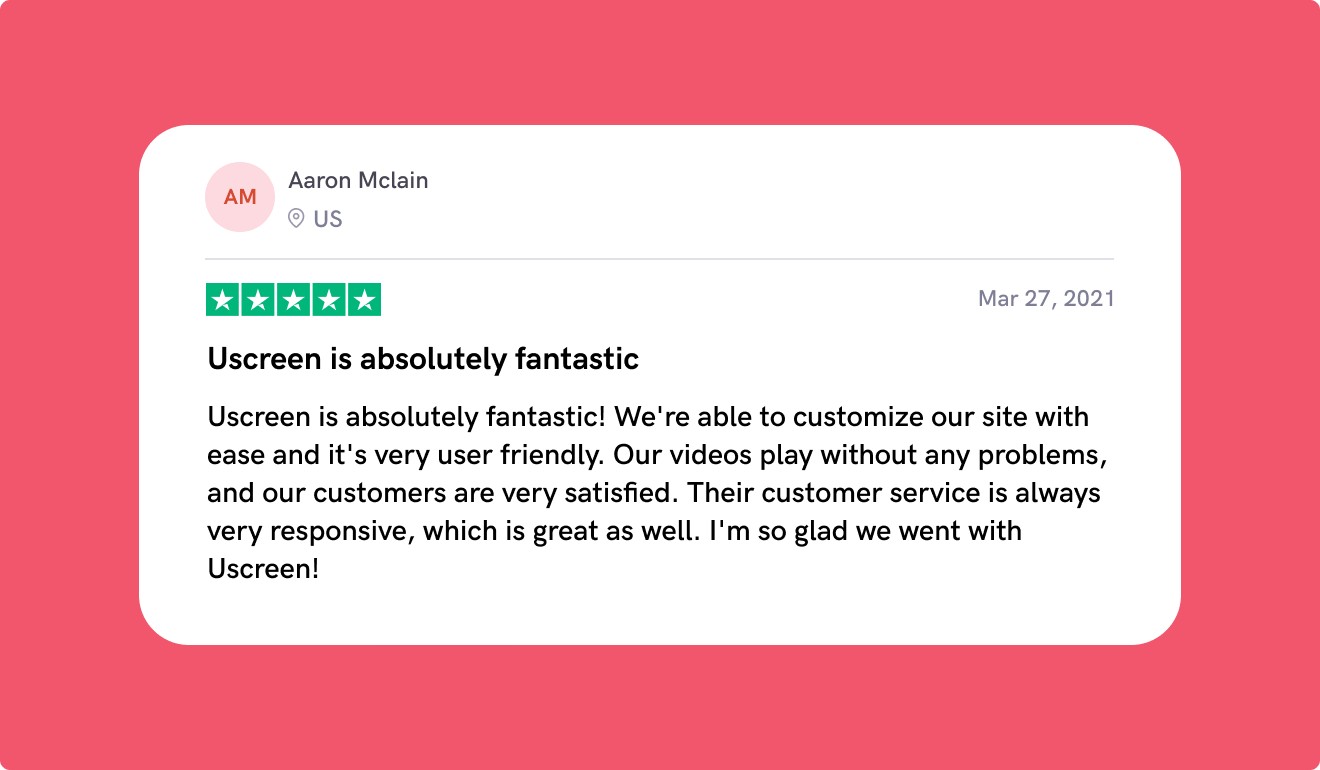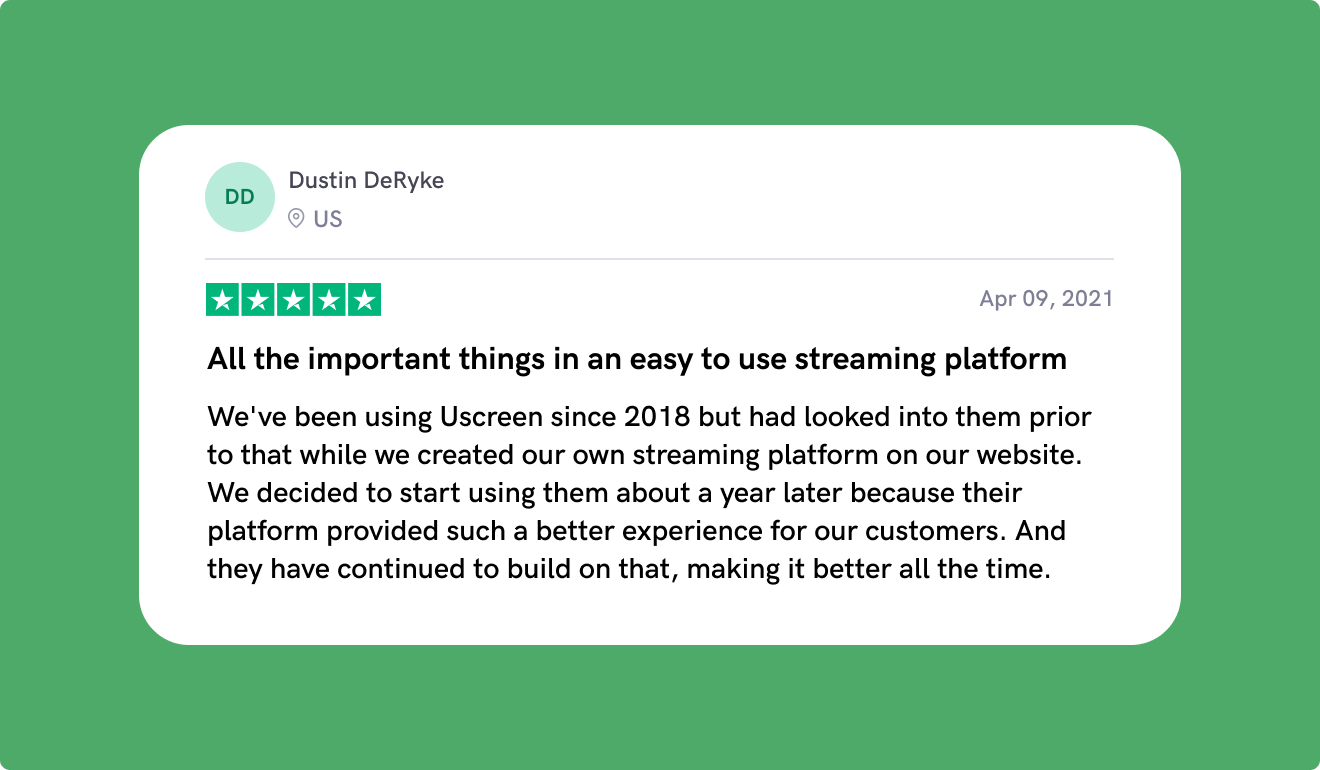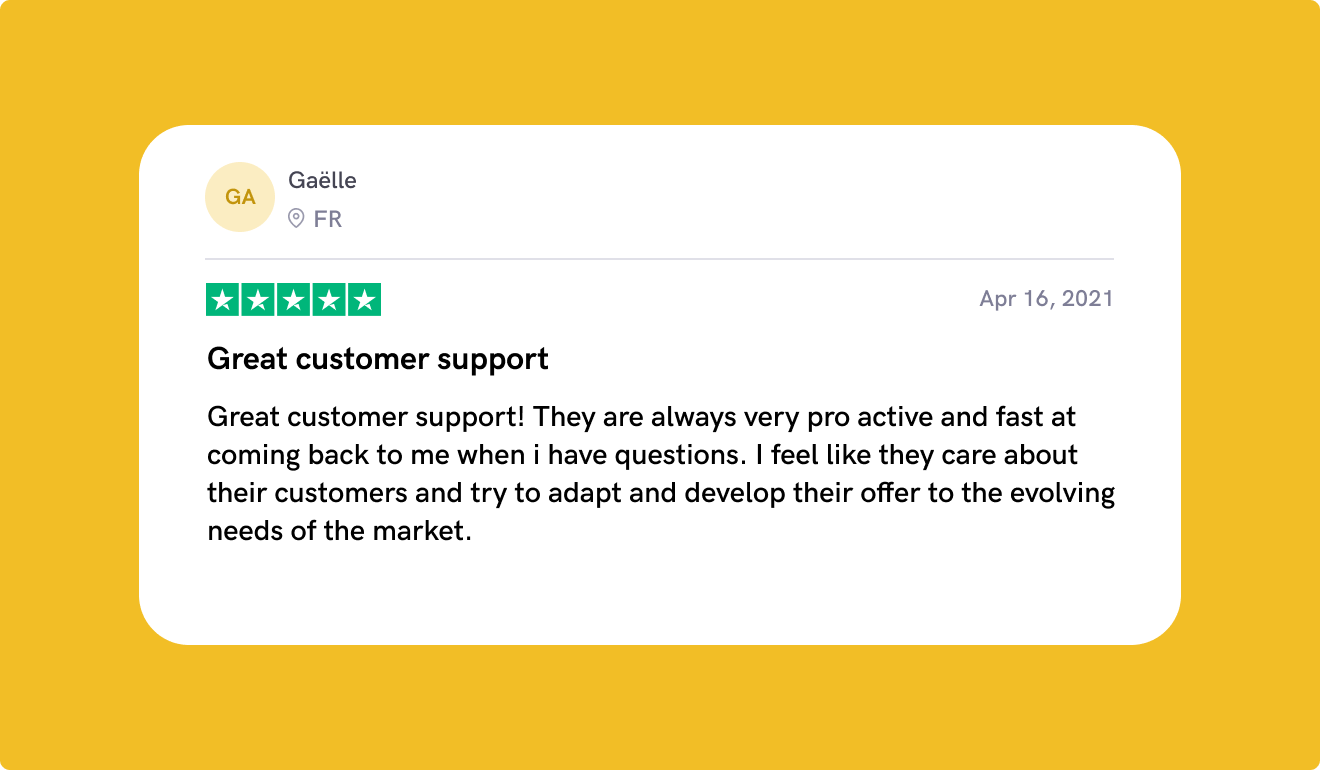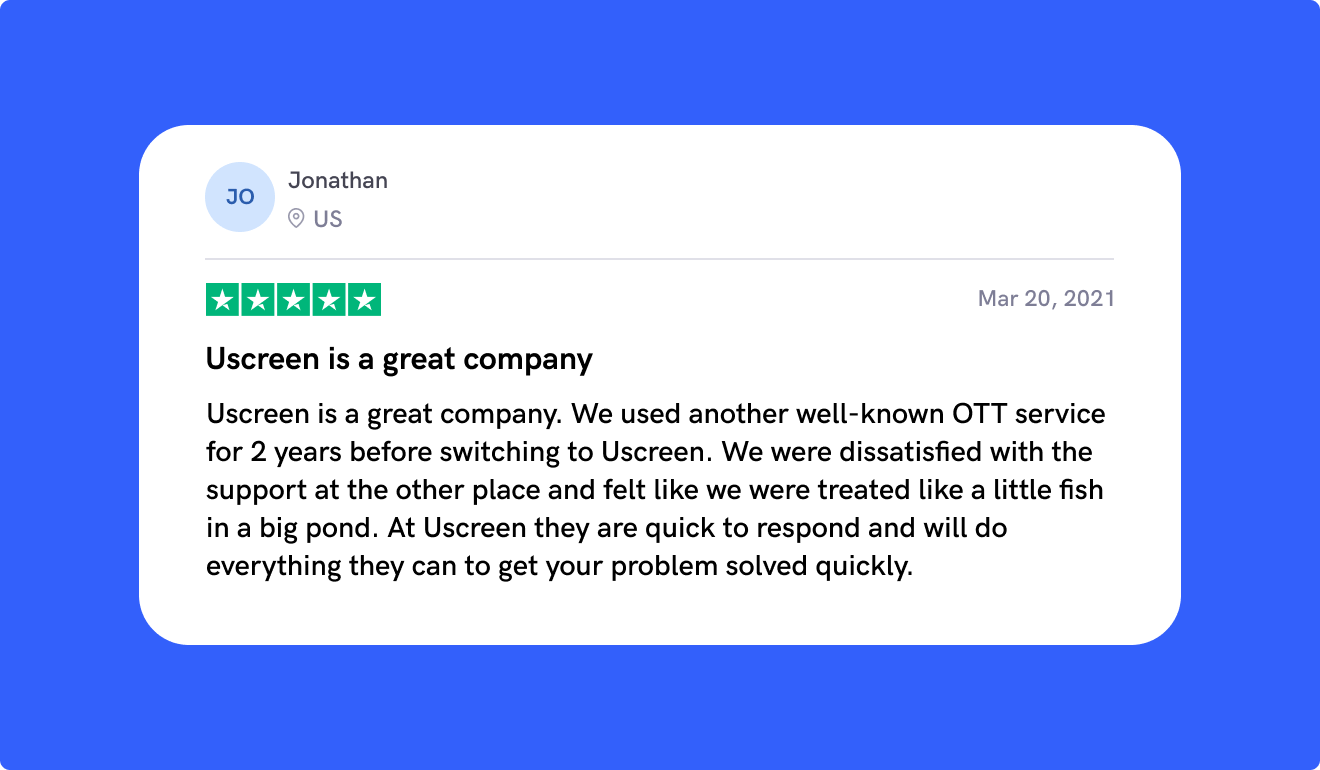 Source: TrustPilot
Get started with Uscreen now, the first two weeks are on us!
How To Create A Shoppable Video Using Uscreen
If you're a Uscreen customer with content that you'd like to make more money from, you can use our built-in e-commerce tool to make your video content shoppable.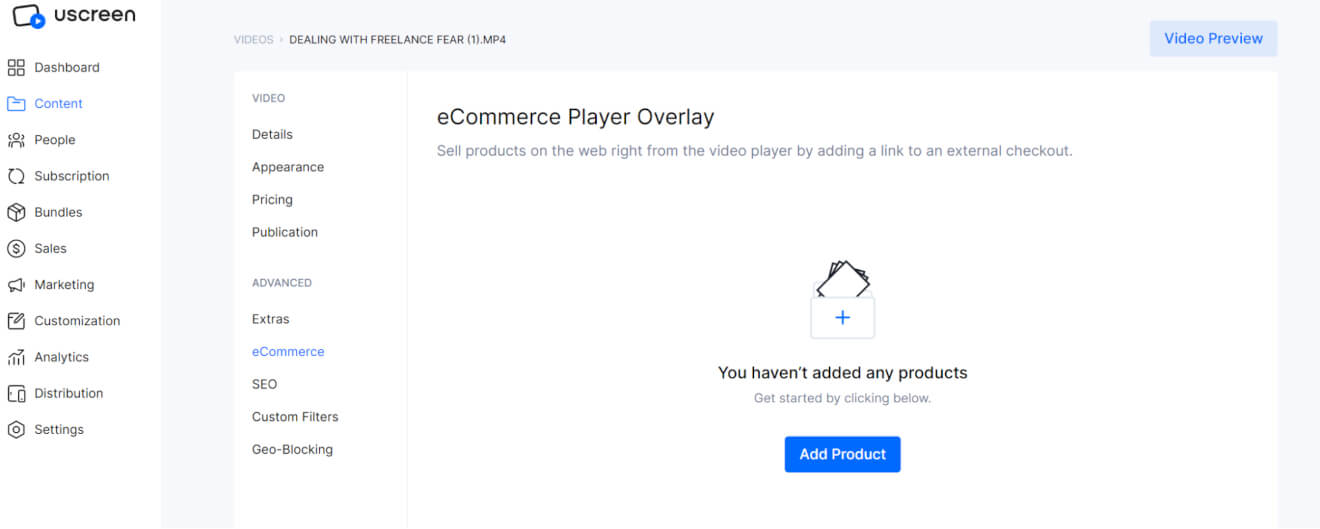 To do this you'll need to have (or set up) an external e-commerce store, like Shopify, or have affiliate links.
💡Endless Opportunities With Uscreen's E-commerce Feature
With Uscreen's e-commerce feature you can send viewers anywhere. Whether you want them to fill out a digital survey or buy physical/digital products from an external store; so long as you have a URL to direct your views to, you can make any video interactive.
You'll then need to decide which of your existing videos work best as product placement videos. As a starting point, you should look for videos where you're:
Using branded merch.
Wearing branded merch.
Using affiliate products.
Talking about affiliate products.
Using digital products.
After picking which videos you want to turn interactive, you can add relevant product information like the:
Product page URL.
Title.
Price.
CTA text.
Image.
Once you have all of these in place, choose how long you want the product overlay to appear on the video. (We recommend leaving it up for at least 20 seconds.)
Then decide when you want your product hotspots to appear during the video. These should be placed as soon as the product you're promoting appears.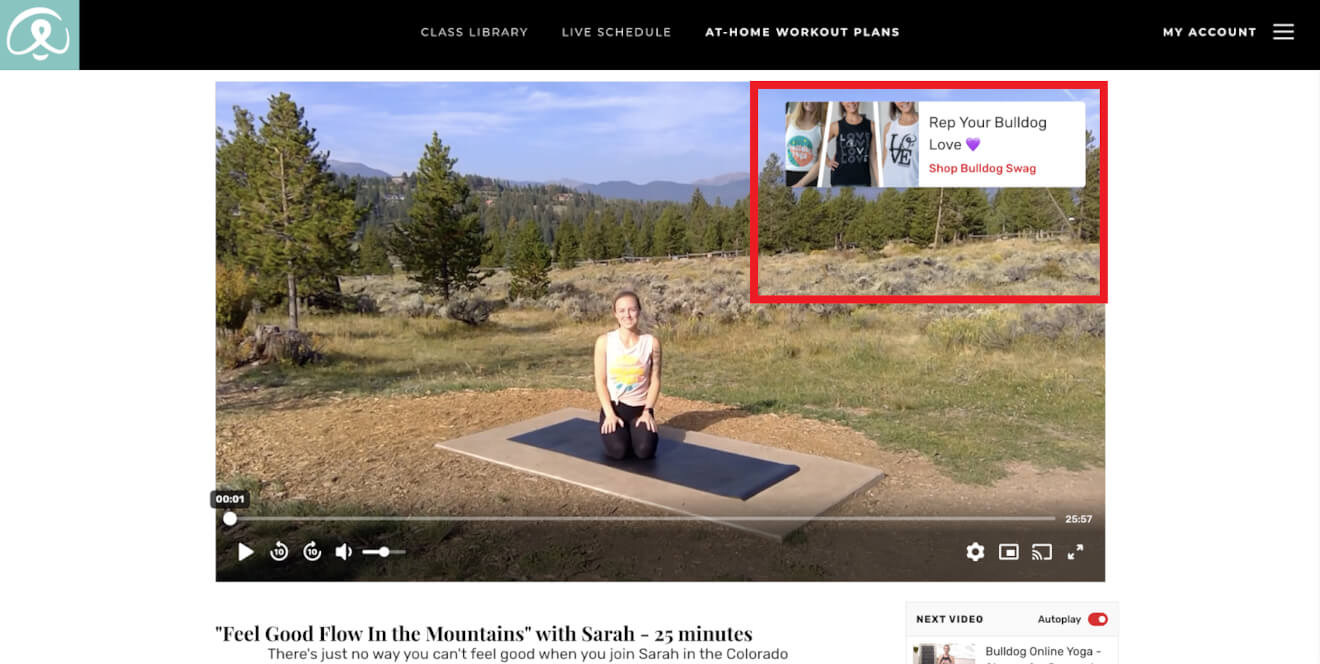 Now, if you want to improve on your shoppable content strategy in the future, you can start creating videos specifically to sell products.
We suggest you make it clear to the viewer early on that your video is interactive.
This makes sure that viewers are in the right state of mind to buy products, which can increase your engagement and conversions.
To film your shoppable on-demand content you can…
create a product film (like Ikea or Ted Baker's videos that we mentioned above)
talk directly to your target audience and encourage them to interact with the video
show the product's functionality by using it or wearing it
…but the most important thing to remember is to get creative with it, test your ideas and see which techniques work better.
If you want to learn more about our e-commerce tool and how you can use it for your video streaming service, check out our help guide here.
Wrapping it up…
That's it! A full go-to-guide with everything you need to know about shoppable videos.
To quickly recap, shoppable videos are clickable videos that feature products you want to sell.
They can be used in a lot of places like your:
Video on-demand platform.
Social media platforms.
Live streaming content.
E-commerce platform.
And if you're a Uscreen customer, you've just hit the jackpot!
Because, we have our built-in e-commerce tool you can use to turn your videos into interactive, and shoppable content.
It's simple with Uscreen.
Build, launch and manage your membership, all in one place.