If your bread and butter is creating videos on YouTube, and your audience is growing — you should be getting paid for that.
With some YouTubers making up to $54 million dollars in 2021, you might be wondering how you could start bringing home the bacon.
Well, it's no piece of cake, but there are a couple of different ways to start monetizing your YouTube videos.
Wondering what they are?
Well, that's precisely why we're spilling the beans on how to make money on YouTube. Let's dive into 8 effective strategies for 2023:
Now, enough with those food puns, let's talk monetizing your YouTube videos.
1. Turn Your YouTube Channel into a Marketing Funnel
If you're looking for the best way to make money from YouTube, you should consider combining it with your own video-on-demand platform (VOD)
Here's why:
YouTube works as a video search engine. This is where you can grow your brand awareness and use it as a marketing platform.
But, creating your own video-on-demand platform is what will bring you the money you're really looking for.
This way, you'll have your own Netflix-like platform where you can charge a subscription and offer exclusive video content on a video-on-demand platform like Uscreen.
Then you can use YouTube as a means to market your video-on-demand platform by:
Generating traffic.
Generating leads.
Building brand awareness.
Bringing the right audience to your platform.
Here's a step-by-step way to do it:
Create your own VOD website and apps
Upload your content library
Add a .tv domain
Regularly add new content to your platform
Start promoting your platform on YouTube
Turn your YouTube channel into a marketing funnel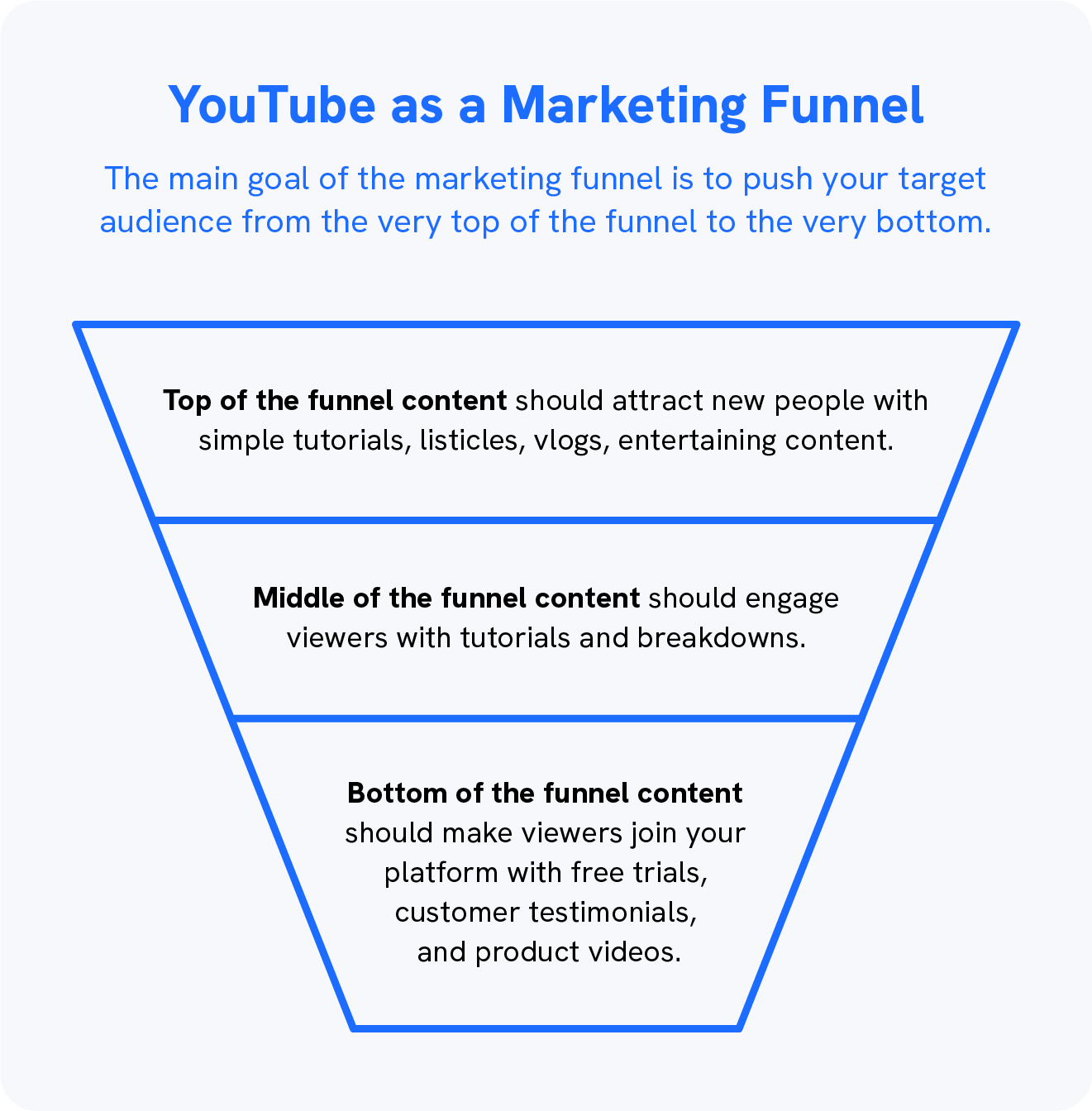 Our platform, Uscreen, will make it easy for you to create your own VOD platform and set up your own apps. And you'll also be able to create your own community and host live streams.
This is why we think using your YouTube channel together with your video platform is the best way to make money on YouTube.
Now that we have the best option laid out for you, you can still take advantage of all the other ways to make money on YouTube.
It's simple with Uscreen.
Build, launch and manage your membership, all in one place.
2. Join the YouTube Partner Program
The YouTube Partner Program allows you to get revenue sharing from the ads you include in your content. This program also provides content creators access to YouTube's other resources and monetization features.
Let's go over the steps of setting it up:
Meet the requirements: Have 4,000 watch hours in the previous 12 months and a minimum of 1,000 subscribers.
Go to your YouTube Account
Select YouTube Studio
Click "Other Features," then "Monetization"
Read and agree with terms and eligibility requirements
Create or connect a Google AdSense account
Set monetization preferences
Once your partner program application is approved, here's what you'll get from it:
AdSense: Get ads on your videos based on your content and visitors, and you'll get ad revenue based on the number of people who view or engage with the ads.
YouTube Premium: Allows subscribers to watch videos without ads, and you'll get part of the fees they pay for their Premium account when they watch your content.
Channel Memberships: Let your subscribers become paid members in exchange for exclusive content and perks.
Super Chat and Super Stickers: Your fans can pay to get their message on the live chat highlighted during streams.
Merchandise shelf: Gives your fans an opportunity to buy your official branded merchandise showcased on your watch pages.
3. Start Affiliate Marketing
Did you know that when you buy a product recommended by a YouTuber, they might be getting a percentage of your payment?
Affiliate marketing is a big part of how YouTubers make money. In fact, more than 80% of brands now have affiliate programs.
If you have an engaged audience and often recommend products to them, then you should consider becoming an affiliate partner.
Here's how it works: Content creators will partner with a brand that will provide a custom link or special codes to be able to track the sales generated. Then they'll pay a percentage of the sales made through the link shared.
And here's how you can set up affiliate links to start making money on YouTube:
Partner up with an affiliate marketing program. Amazon Associates, ClickBank, and ShareASale are some common ones.
Create custom links to products you'll feature or share on your videos. These products can be anything from clothing to equipment to services.
Reference the product on your video, and include the links in the description field. Some creators will permanently add links for the equipment they use to create their videos or the items that viewers are always asking about.
Collect your earnings from the qualifying purchases!
Now let's check out other ways to make money on YouTube.
4. Sell Your Products and Merch
YouTube merch is everywhere, from mugs to t-shirts to even socks, it can be a lucrative product — with the bonus of seeing your fans repping your brand.
Selling your merchandise is another way to make money on YouTube and will allow your subscribers to embrace your brand and create a sense of community.
As we mentioned, YouTube has a merchandise program that lets you add your branded products to your watch page from plenty of merch platforms and retailers.
But you can also use a print-on-demand service that will place images or text onto products, print and ship them for you. Here are some popular ones:
If you always wanted to see someone walk around with your name on their shirt — aside from your family during your high school football game — here's how you can get started:
Come up with a product idea: Think about what your audience would like to wear or have, and think about how it will look. Shirts and hoodies are the most common merch, but you can go beyond that and create mugs, socks, or sweatpants.
Bring your product to life: You can choose to outsource it and hire someone to design what you want on your products. Or if you're into design, you could design it yourself.
Create a shop: Pick a platform for your merch and create your storefront.
Set up YouTube Merchandise Shelf: Make sure to connect your merch platform with the Merchandise Shelf so they can be displayed on your watch page.
Promote products: Tell everyone your merch is beautiful and ready to be repped. Start wearing it on your videos, or even do a merch launch video. Get everyone to become your walking billboard.
5. Find Sponsorship Opportunities
Although this section is not #sponsored, there are brands out there that would love to sponsor you — yes, really!
Sponsorships are also a very lucrative way to make money on YouTube, and brands are always looking to sponsor. In fact, in 2021, brands spent over $603 million on sponsorships.
According to WebFX, YouTubers with 10K subscribers could charge $200 for sponsored videos, and ones with one million subscribers can charge as much as $20,000.
As you can see, finding sponsorship opportunities can be a good way to make money on YouTube while supporting a brand you love. You can include sponsorships in product reviews, how-to content, or even when vlogging.
Want to start getting paid to talk about the brands you love? Here's how to do it:
Find brands to partner with: Look for brands that you regularly use or that align with your brand and reach out to them with a pitch. Or consider a sponsorship platform such as TinySponsor or YouTube BrandConnect.
Negotiate a deal: Build a relationship with the brand, show what value you can bring to them — meaning, how many subscribers you have and how high-quality or unique your content is — and negotiate a price.
Then you'll be ready to include #ad #sponsored in your content.
What's next?
6. Get Paid Through Your Fans
If you have fans who support you, many would also want to pay to support your content. There are a couple of ways your fans can support you:
Membership sites: Create a membership site on platforms like Uscreen where members can access it to receive exclusive content and rewards.
Super Chat: Host live streams on YouTube and add a tipping jar that your fans can contribute to in order to highlight their comment on the chat.
Channel Membership: Encourage your subscribers to become paid channel members so they can support you and receive member-only perks.
Join a Donation Platform: Platforms such as Tipee let your subscribers support you with recurring or one-time donations.
Online community: Create a paid online community where you can get closer to your subscribers and create more engaging discussions.
You can include all of these into your monetization strategy so you can make money on YouTube. If you engage with your audience often and continue to create content for them, they'll also support you more often.
It's simple with Uscreen.
Build, launch and manage your membership, all in one place.
7. Use Crowdfunding
If you often create projects or even need better production for certain videos, crowdfunding can be a good way to make it happen.
Crowdfunding lets your subscribers and fans support your project by pitching in. Usually, depending on the amount paid, they will get perks such as having early access to the project or a seat to an exclusive Q&A.
Do you have a project that needs funding, or would you like to make your content more professional with better equipment? Here's how you can use crowdfunding:
Set up an account with a crowdfunding website such as Kickstarter or Indigogo.
Add a project and what the funding will be used for. It's also a good idea to include a couple of perks supporters will get depending on the amount donated.
Promote the campaign on your YouTube channel and social media, and keep a link to the crowdfunding on your video descriptions. You can also release a trailer or snippet of the project you want to make.
Now, on to our last strategy for how to make money on YouTube.
8. Start Licensing Your Content
Our last tip for how to make money on YouTube is through licensing your content.
But what does that mean?
If you have a video that went viral, or the media and other brands are usually interested in replaying your content, you can license your videos to them and they will pay you to use it.
Here's how to do it:
Have your contact information available and current on all of your platforms — especially YouTube. That way, media outlets and other brands can easily reach out to you.
Set up a video rights marketplace account like Jukin Media and license your videos through them. It will be more easily accessible to parties that want to pay for your videos.
Having your content go viral can happen at any time, and if it does, embrace it!
Wrapping It Up
Whether you decide to try all of these tips or just one or 2 of them, we highly encourage you to pair your YouTube channel with a VOD platform to boost your YouTube revenue.
If you want to try it out for yourself, request a demo from us, and we'll teach you all the things Uscreen can do for you and your YouTube content.
It's simple with Uscreen.
Build, launch and manage your membership, all in one place.
Making Money on YouTube FAQ
Still have questions about making money on YouTube? We've got answers.
How Many Views Do You Need on YouTube to Make Money?
To start monetizing your videos on YouTube, you need to become part of the YouTube Partner Program, which requires you to have reach 4,000 watch hours. 
Can a Beginner Make Money on YouTube?
Anyone can start making money on YouTube, as long as they are producing quality content, increasing their views and subscribers, and following YouTube's policies. 
How Many Subscribers Do You Need on YouTube to Make Money?
If you want to monetize your YouTube channel using the YouTube Partner Program perks, you need to have at least 1,000 subscribers.
How Much Money Can You Make on YouTube?
How much you make on YouTube will vary depending on the strategies you use. The highest-paid YouTuber of 2021 earned 54 million dollars by using these different strategies.

From AdSense revenue, a YouTube Channel can receive on average $18 per 1,000 ad views.